There's no way around it: Pets hold a special place in our hearts. One great way to capture a treasured memory of your pet is to do some pet photography! But to get the best images, you're going to need the right camera.
In this article, we share the best cameras for pet photography. Whether you're a pro or you're on a tight budget, you're bound to find the perfect camera on our comprehensive list.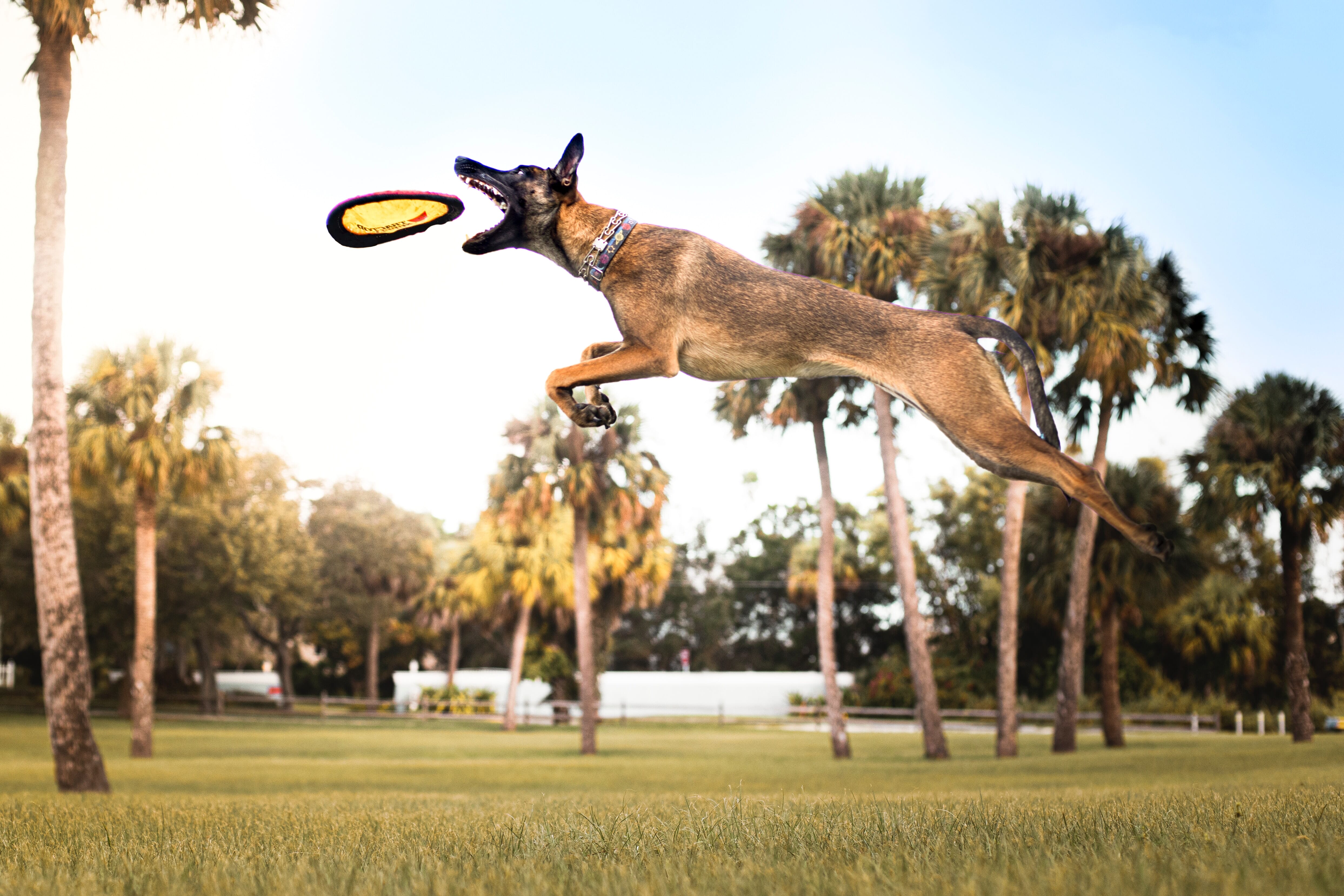 When you buy through links on our site, we may earn a commission at no cost to you. We evaluate products independently. Commissions do not affect our evaluations.
1. Canon EOS 6D Mark II
Best DSLR
Great for hobbyist pet shooters
From its touchscreen to its fast shooting speeds, this DSLR is a great camera for casual and more serious pet shooters.
Pros
Durable construction
26 MP sensor with Dual Pixel autofocus
Excellent touchscreen LCD
Good price
Cons
Some high-ISO noise
Limited dynamic range
If you peruse pet photography forums and social media accounts, the Canon EOS 6D Mark II pops up fairly frequently because it has a lot of nifty features that pet photographers all over the world favor.
For starters, the 6D Mark II is highly durable. You can head into any pet photoshoot and feel pretty confident you'll leave with a camera still intact. The weather sealing gaskets also help prevent dirt, sand, debris, and slobber from getting into the sensitive components of the camera, so a romping dog can get pretty close to your gear without issue.
Next, the 26 MP sensor does a decent job in both daytime and nighttime sessions. The 6 frames-per-second burst mode helps freeze various fun moments, while the 45-point Dual Pixel AF system helps you get consistently in-focus images.
Finally, the Canon EOS 6D Mark II sports a vari-angle touchscreen LCD, which is great for photographing pets. You're able to adjust the screen and easily capture lower angles without hurting your back in the process!
2. Canon EOS 5D Mark IV
Best for professionals
The Canon EOS 5D Mark IV isn't exactly new, but it's rugged, fast, and takes great images.
Pros
30 MP sensor with excellent low-light capabilities
7 frames-per-second shooting
Very fast AF system
Extremely durable
Cons
Expensive
Bulky and heavy
The Canon EOS 5D Mark IV was released way back in 2016, yet it's still one of the most popular DSLRs on the market.
What makes the 5D Mark IV so special? To start, the camera produces a beautiful 30 MP images, which allows you to crop in when shooting pet portraits and still get a high-resolution result. The large sensor is great for low-light photography, so indoor lifestyle portraits of a pet using just a room lamp are a real possibility! And the seven frames-per-second continuous shooting speeds make capturing action images easier.
The 61-point autofocus system is quite powerful, and the AI-Servo mode can be fully customized. For instance, if you're looking to capture dog sports, you can set the AI Servo to avoid obstacles and capture erratic subjects.
That said, the body is quite large and bulky, so your arms may get tired over time (here, a tripod or monopod will help!).
3. Nikon D3500
A great budget pet photography camera
The Nikon D3500 offers surprisingly great images and is perfect for the beginner or intermediate shooter.
Pros
Solid 24 MP sensor
Great image quality
Works with Nikon's SnapBridge app for photo sharing
Good ergonomics
Cons
LCD doesn't offer touch functionality
The Nikon D3500 is older than rival cameras, but it still gets great results, and it's an especially solid choice for beginners. Newbies will love the camera's Guide mode, and more experienced shooters can still take control via the standard manual options.
The LCD doesn't use touch technology, and the camera has an optical viewfinder, but beginner photographers may not be bothered by these limitations.
The D3500 shoots up to 5 frames per second, and while this isn't the fastest for capturing your pet in action, images are at full resolution and nicely sharp.
This is a good camera for shooting in low light, and the included kit lens has image stabilization to enable you can work handhold at slower shutter speeds. (With pets, handholding your camera is often the only option; they're just too fast to allow for tripod photography!)
This little DSLR won't break the bank, and it's a great starter camera or upgrade for the beginner or intermediate pet photographer. It also works with Nikon's SnapBridge app for fast photo sharing. This can be useful if your clients want to see and/or rate the images you've taken!
4. Sony a7 III
Best Mirrorless
The best mirrorless pick for professionals
The a7 III's features make pet photography so much easier. Sure, it's pricey, but it's well worth the money!
Pros
Very durable construction
10 frames-per-second shooting
Very accurate Animal Eye AF
Tilting LCD screen
Cons
Expensive
The menu is an absolute mess
You can't talk about mirrorless systems without immediately mentioning Sony, and the Sony a7 III is at the top of the pack (especially for pet photography!).
For starters, the a7 III is significantly smaller than any DSLR on the market, so it's great for travel or casual pet shooting. The construction is durable, and those sharp puppy teeth won't puncture the metal frame.
The a7 III boasts a 24 MP full-frame BSI sensor, which is a fancy way of saying that the images are going to be gorgeous. Pair this with a 10 frames-per-second shooting speed, and you'll be able to capture pretty much any action shot you can imagine (with lots of sharp details, too).
The in-body image stabilization system allows you to avoid camera shake at slower shutter speeds, which is especially helpful when capturing evening shots of a dog playing in the yard.
What makes this camera especially incredible, however, is the very impressive Animal Eye AF. Even in the most insane conditions, the a7 III will find the pet's eye and lock focus as it moves. This removes a lot of difficulty and guesswork and allows you to focus on capturing a beautiful moment.
5. Canon EOS M50 Mark II
A versatile mirrorless camera for pet photography
The M50 Mark II takes great still photos, plus its small, light frame is perfect for casual pet photography.
Pros
Compact and lightweight
Great image quality
Fast and accurate autofocus
Excellent value
Cons
4K video isn't great
The Canon M50 Mark II is an APS-C mirrorless setup that offers you plenty of pet photography flexibility; it's also far more affordable than the Sony a7 III listed above.
The Canon EOS M50 II produces high-quality still photos in both JPEG and RAW, and the autofocus is able to handle fast-moving pets so you can nail those top-notch action shots.
The M50 Mark II also comes with options for fully automatic shooting in addition to powerful semi-automatic modes like Shutter and Aperture Priority. These are very useful when you want to capture pet photos without having to waste time fiddling around with manual settings. If you would like to use it in full Manual mode, however, one quick tap and you're all set!
The maximum continuous shooting speed of 10 frames per second means you can catch some great action shots of your pets with ease. At the end of the day, this camera is a great choice for beginners or those who want to get more serious with their pet photography.
6. Fujifilm X-T30 II
A fast (and stylish!) choice
The X-T30 II can shoot at 30 frames per second. Need we say more?
Pros
Excellent autofocus performance
Compact and lightweight
Very fast Burst mode
Cons
No in-body image stabilization
Another great mirrorless model is the Fujifilm X-T30 II, which is compact, powerful, and perfect for those looking to upgrade from a point-and-shoot or bridge camera to a high-spec model.
The X-T30 II boasts great autofocus capabilities, and it delivers sharp, color-accurate images in both RAW and JPEG.
Unfortunately, while the included kit lens offers image stabilization, the camera body itself isn't stabilized. So if you plan to shoot frequently at longer shutter speeds, you may prefer a camera like the a7 III. On the other hand, the X-T30 II does offer good high-ISO performance, so you can increase the ISO (and the shutter speed) in low light without too much worry.
One thing that makes this an incredible camera for pet photography is the astonishing 30 frames-per-second shooting rate. This means you'll never miss a single movement! To achieve this high rate, you do have to compromise, though: Your files will experience a 1.25x crop.
That being said, if you want the full image, you can shoot at 20 frames per second using the silent electronic shutter, which certainly isn't bad!
7. Panasonic Lumix GX85
A great compact choice
The GX85 may be small, but it has a nice set of features and comes at a reasonable price.
Pros
Very good image quality
Accurate and consistent autofocus
Good value
Cons
Sensor is only 16 MP
The Panasonic Lumix GX85 is a mirrorless camera that will suit enthusiasts, as well as professionals looking to get a smaller second camera.
The GX85 may not seem flashy, but it includes a whole host of autofocus modes that'll help you nail focus on your pet. You can also use the touchscreen to focus even while looking through the electronic viewfinder. For pet photos, we'd recommend the GX85's tracking and face/eye-detection modes, but it's always good to have other options.
Beginners will like the 24 scene-based modes, while more experienced shooters can take advantage of the manual and semi-automatic controls.
This camera comes with two compact lenses: the 12-32mm (f/3.5-5.6) and the 45-150mm (f/4.0-5.6). These cover a combined focal-length range from wide to mid-telephoto, which always comes in handy if you want to get a variety of pet shots.
While you only get a 16 MP sensor, the sensor captures clean and highly detailed images, so don't worry too much about the image quality!
8. Olympus PEN E-PL10
A great entry-level camera
The PEN E-PL10 offers impressive image quality and accurate autofocus. Its battery life is great, too.
Pros
In-body image stabilization
Excellent image quality
Long battery life
Cons
AF tracking system not as accurate as other cameras
If you're looking for an entry-level mirrorless camera that's still highly capable, then the Olympus PEN E-PL10 is a great choice.
The E-PL10 has an in-body image stabilization system, which will help you take sharper images in low light while handholding the camera. And the battery will last a long, long time, too; you can often do a full day's shooting without needing a recharge.
The camera's autofocus is very good, but the downside is that it does struggle when tracking moving subjects. This makes it tougher to shoot moving animals, but if you're willing to put in the effort, you can make it work.
Image quality is great, especially when shooting in RAW, though the color saturation can be a bit intense in Auto mode (we'd recommend sticking to a semi-automatic mode instead). At the end of the day, the E-PL10 is very much an entry-level mirrorless camera – with a price that reflects this.
9. Canon PowerShot SX740 HS
Best Point and Shoot
Good budget choice for beginners
This powerful little compact camera is great for on-the-go pet photography.
Pros
Small and lightweight
40X optical zoom
Image stabilization
4K/30p video
Cons
Doesn't support RAW shooting
Our budget choice is the Canon PowerShot SX740 HS, and while a point-and-shoot like this one won't do for professional pet photographers, it's great for beginners who want something better than a smartphone camera.
The SX740 has a powerful 40x optical zoom that allows you to get great close-ups of timid or skittish pets like guinea pigs, and it features optical image stabilization to help you get sharper photos in low-light conditions.
This camera offers a variety of automatic shooting modes to cover most scenarios, plus it can capture 4K/30p video. It's very easy to use, and you can start shooting straight out of the box.
The SX740 is also great for traveling because it's so small and lightweight. You can go hiking all day with your dog and capture some great shots!
The one downside is that the SX740 doesn't support RAW shooting. This is essential for professional pet photographers who need to produce large, high-quality prints for their clients – but if you're a more casual photographer, you should do just fine shooting JPEGs.
10. GoPro Hero 10
Best for day-in-the-life shooting
Looking to see life from the perspective of your dog or cat? The GoPro Hero 10 makes it possible!
Pros
Incredible 5.3K video recording and 23 MP stills
Significantly improved stabilization system
Durable, waterproof build
Cons
Expensive
Is prone to overheating, so you can't record for too long
The GoPro Hero 10 might be unorthodox as a pet photography camera, but it can actually make for some pretty unique images! Although it wouldn't work for professional pet photographers hoping to make a living, the Hero 10 is great for capturing personal photos and content for social media.
One of the big reasons that GoPro has become so popular for pet-related content is that the company makes accessories that attach to pet harnesses and collars! You can capture content from the perspective of your furry friend, which makes for interesting stills and video that offers insight into the world of your pet.
The Hero 10 includes a front screen as well as a back screen. Although the front screen isn't particularly important for pet-focused photography, it can be useful if you're looking to take some selfies with your best friend. And the durability has been improved over the previous version: the Hero 10 is fully waterproof without any sort of extra housing or case. This is awesome for dogs that love to dive in the water!
The stabilization system has been much improved, so bouncy footage taken from the back of your pet will now appear smooth and comfortable, no matter how much Fido moves around.
And the camera yields 23 MP photos in JPG or RAW, which is not bad for such a little pocket camera. You also have the option of taking stills from your video footage. The camera's impressive 5.3K video offers whopping 16 MP photos (and you can also get 8 MP images from the Hero 10's 4K video mode).
Pick a Camera and Capture Your Furry Friend!
Ultimately, the best camera for pet photography will come down to a few key elements: your budget, your skill level, and how serious you want to get.
For DSLR enthusiasts, the Canon EOS 6D Mark II is a great choice, while pet photographers stepping into the mirrorless world will not be disappointed by the Sony a7 III, an autofocus monster that is worth every penny.
Finally, photographers who want an easy budget pocket camera will love the Canon PowerShot SX740 HS.
---
As an Amazon Associate, we earn from qualifying purchases. Certain content was provided "as is" from Amazon daily and is subject to change or removal at any time.