If you've found yourself getting hooked on gaming and connecting with other gamers, you're probably in the know about the streaming platform Twitch. If you've started a Twitich account and stream regularly or want to start streaming, it might be time to upgrade your camera to one of the best cameras for streaming on Twitch.
With the right camera, you'll be able to broadcast crisp footage to your friends and fans across the world so they can literally experience the thrill of the game with you! In this article, we look at both webcam and standard cameras, including some mid-spec mirrorless options!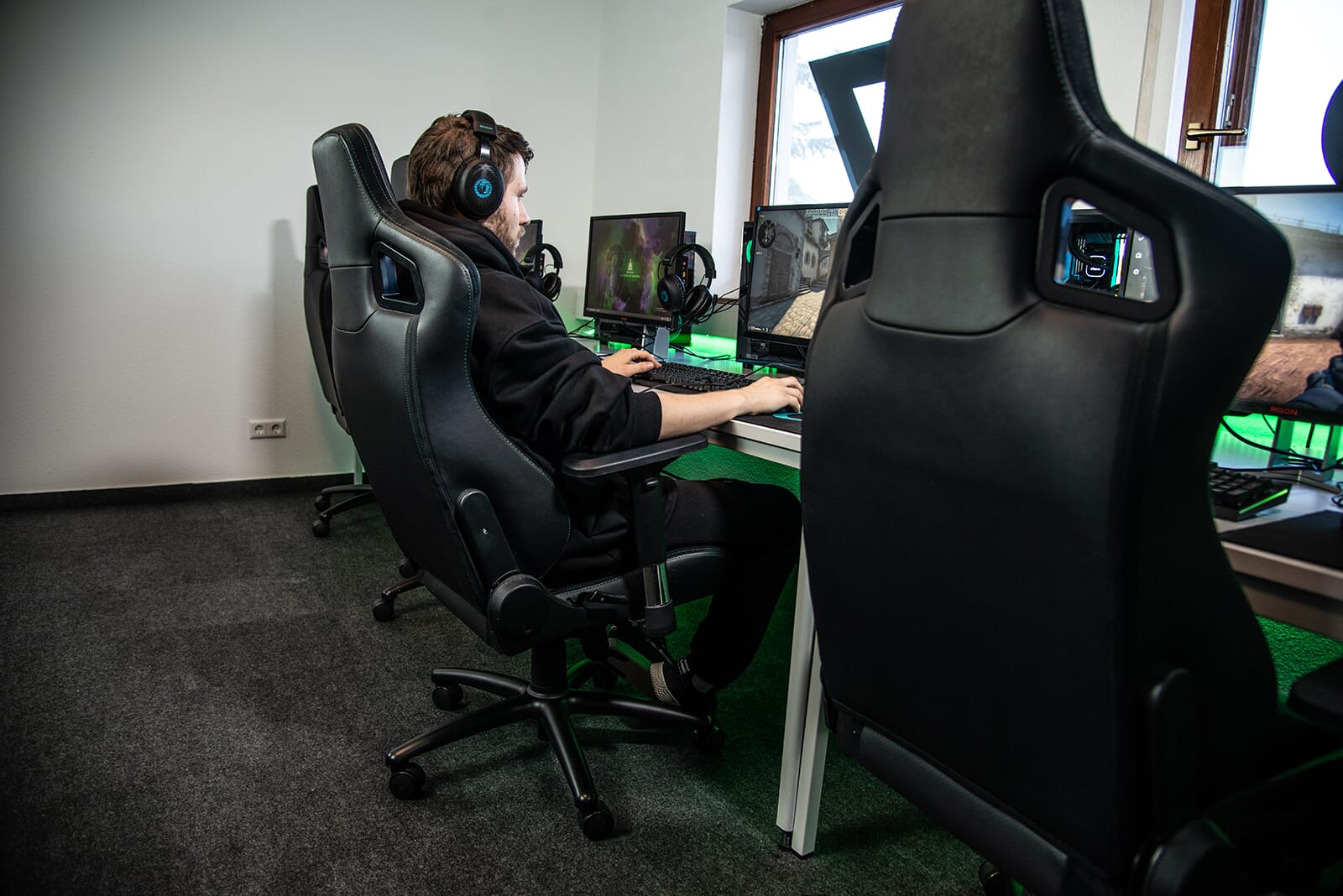 1. Canon EOS M50 Mark II
Our Pick
Great for advanced streaming setups
The M50 Mark II offers great recording quality, but also versatile features for creative streaming setups.
4K recording.
Excellent and responsive auto focus system.
Easy to use and mount.
More expensive than simple webcams.
One of the best cameras for streaming on Twitch has to be the Canon EOS M50 Mark II. This mirrorless camera is marketed as a vlogging camera and is incredibly versatile. If you have a little extra to spend and want to get the most out of your setup, this is the best option.
For Twitch streaming, it can be utilized as a webcam and can record in full 4K HD at 24fps. Alternatively, it can record in full 1080p HD at 60fps – perfect for fast-paced gaming. This compact mirrorless camera also benefits from a great autofocus system. It should easily be able to keep track of your movements and face while streaming.
The Canon EOS M50 Mark II is also ergonomic and easy to use. It has a standard tripod mount so you could easily use a tripod to get the best angles for your stream. You can also benefit from the range of Canon EF-M lenses to experiment with different setups for your video. For example, you could use the Canon EF-M 22mm f/2.0 STM lens for great wide-angle recordings of your streaming room.
2. Sony ZV-1
Great for facial tracking and lighting
The ZV-1 is another great camera that offers 40K recording and useful features like automatic exposure for faces.
Automatic Exposure for face lighting.
Full 1080p recording at 60fps.
Compact and lightweight design.
Not the cheapest option available.
The Sony ZV-1 is an alternative to the M50 Mark II. This is another great vlogging camera and is compact and lightweight too. It has a slimline design and is perfect if you do not have much space for a larger camera in your Twitch streaming setup.
The ZV-1 also has a high-quality ZEISS lens that offers exceptional clarity and contrast in your recordings. In terms of recording resolution, this compact camera can record at 4K UHD at 30fps, and full 1080p at 120, 100, and 60fps which is perfect for gaming.
It also has a decent hybrid AF system with real-time tracking. This is great if you regularly move in your streams and the camera needs to re-focus on your face. You can also easily use this camera for streaming by simply connecting a USB-C cable.
If you do not have an extensive lighting setup, the ZV-1 also has automatic exposure that tracks faces to ensure they always appear well-lit.
3. GoPro HERO9 Black
Great for small streaming spaces
The HERO9 Black is a great space-saver but still offers 1080p live streaming capabilities.
Excellent autofocus and stabilization.
High-quality 1080p HD live streaming.
Compact and lightweight design.
Not great for live previews of your streaming footage.
Many action cameras are also fantastic for Twitch Streaming. One of the best options available is the popular GoPro HERO9 Black. The HERO9 Black is the latest iteration of the HERO series and it has a range of upgrades and improvements.
This action camera is incredibly small and compact which means you can easily mount it on top of your TV/monitor, or in a corner of your streaming room. And you get the added bonus of being able to easily take it out and about! It has a great set of features and has a live steam feature capable of recording in 1080p HD.
Using this camera is also easy and it offers one of the quickest setups available. For smooth recording and quality footage, the HERO9 Black also uses HyperSmooth stabilization technology. This means stable video with great focusing and virtually no shaking or distortion.
If you want a versatile compact action camera for a simple streaming setup, this is a great option.
4. Logitech BRIO Ultra
Best Webcam Pick
Great for adding creativity to your streams
The BRIO Ultra is a great device with a host of useful features for Twitch streaming such as auto-exposure adjustments.
4K HD live streaming.
Automatic exposure adjustments.
Great tilt, zoom, and pan controls.
Only has a 7.2ft / 2.19m standard cable.
If you don't need something as complex as a mirrorless camera, a webcam is an easy-to-use basic setup. One webcam option is the exceptional Logitech BRIO Ultra. This is a popular webcam for Twitch streamers and offers some of the best recording quality available.
In terms of streaming specs, it can record in full 4K HD. To complement this, it also has a Right Light 3 system which automatically adjusts the exposure to eliminate any glare of backlighting conflicts. We also like that it works with a range of different capture programs for both Mac and Windows devices.
While streaming, you can also benefit from the versatile zoom and pan feature. It has a 5x digital zoom, and you can also choose from three different field-of-view options. This means you can experiment with different camera angles or make fun closeups for added entertainment.
In terms of size, this webcam is tiny. It has an overall size of just 1x1x4 inches so it can be mounted virtually anywhere!
5. Logitech C922x Pro
Great for streaming on different platforms
The C922x Pro is a cheaper alternative to the BRIO but still has 1080p 30fps recording.
Automatic light correction.
Small and compact design.
Excellent quality lens glass.
Doesn't have 4k streaming capabilities.
If you want something a little cheaper than the Logitech BRIO, the Logitech C922x Pro is a great alternative. This is another high-quality webcam from Logitech that offers full 1080p streaming at 30fps or 720p at 60fps.
It also has great compatibility and can work with various platforms including Windows 10, macOS X 10.9, Xbox One, Android, and Chrome OS. The lens itself is also premium with a great autofocus system and good contrast in varying light conditions.
We also like that this webcam has an automatic light correction feature and two built-in microphones so you can easily record your voice for live commentary during streams. For connectivity, this webcam has a USB connection, and a 5 ft cable.
6. Razer Kiyo Pro
Great for RGB lighting setups
The Razer Kiyo can deal with different lighting conditions due to it's adaptive STARVIS sensor.
1080p 30fps HDR shooting mode.
Wide-angle lens for more content.
Can record live at 1080p 60fps uncompressed.
Does not have 4K recording available.
While you may associate Razer with gaming mice and keyboards, they also produce a range of webcams. The Razer Kiyo Pro is a great option for streaming and would work well with other Razer equipment if you did PC streaming.
It has a large, ultra-sensitive sensor that can adapt to different lighting conditions while still giving great contrast and colors. For streaming, you can record live at 1080p 60fps uncompressed. While this may not be 4K, it should still be clear enough for a professional Twitch stream.
Alternatively, you can reduce the frame rate slightly and use the 1080p HDR shooting mode at 30fps. This will make colors pop and give a more balanced recording. We also like the wide-angle lens which gives you plenty of space to work with, and the compact design.
This is one of the best cameras for streaming on Twitch, especially if you utilize vibrant RGB lighting in your streaming setup.
7. Mevo Start
Great for wireless streaming
The Mevo Start offers quality wireless technology and 1080p 30fps recording.
Built-in WiFi for wireless use.
Great battery with 6-hours of life.
Small and smart design.
Only has maximum recording of 1080p at 30fps.
If you don't want cables strewn over your streaming setup, why not consider the Mevo Start? This is a wireless live streaming camera and webcam that operates via a Wi-Fi connection. The camera can operate up to 100 ft away from the Wi-Fi unit without any loss of quality or signal strength.
An added bonus is that this camera supports live streaming from various platforms including Twitch, YouTube, and Facebook Live. Aside from live recording, you can also simultaneously record to a microSD card if you want to utilize the footage afterward in other video content.
In terms of quality, this webcam can record in full 1080p HD at 30fps. You can also easily control the camera using the Mevo Camera App. This means you can change the settings or change the zoom and angle while streaming. If you want to create long marathon gaming streams, this camera also has a great battery that should last for up to 6 hours on one charge.
8. PlayStation 5 HD Camera
Best for PlayStation
Great if you have a PS5
This camera is the logical choice for PS5 users and has a great quality lens and design.
Simple controls for instant streaming.
Background removal tools.
Built-in stand for easy mounting.
Does not have any 4K recording options.
The PlayStation 5 is the next generation of consoles and has some awesome games for Twitch streaming. If you have a PS5, why not complete the set and utilize the PlayStation HD Camera? This premium webcam is built for use with the PlayStation 5 and offers great quality and accessibility.
It has dual wide-angle lenses for maximum viewing angles and can also be controlled by the DualSense wireless controller. This has a simple "create" button so you can start streaming in an instant. We also like that it has background removal tools that allow you to swap backgrounds without the need for a green screen.
The camera can live stream at 1080p 30fps and offers sharp and clear footage. For ease of use, the PlayStation 5 HD camera also has a built-in stand so you can easily mount it on top of your TV. If you have a PlayStation 5, this is an ideal webcam and a logical choice if you want to stream your games on Twitch.
9. Canon EOS M200
Great for creativity
The EOS M200 is a compact mirrorless camera with 4K recording.
Compact design that is easy to use.
A good range of recording options.
Interchangeable lenses.
May not have the most long-lasting battery.
If you want the versatility of a mirrorless camera, but don't want to pay the M50 prices, the Canon EOS M200 is a great alternative.
For video, this mirrorless camera can record in full 4K HD and 1080p at 60fps. It can also be used as a webcam which is the mode you would need for streaming. We also like the compact design of this camera and the LCD touchscreen that allows you to see live previews of your Twitch streaming.
Like the M50, you can also benefit from a range of interchangeable lenses, if you want to try different streaming setups. It is also relatively easy to use and has both Wi-Fi and Bluetooth connectivity. You can also control it using the Canon remote so you don't have to get up from your gaming during the middle of a stream.
10. Microsoft LifeCam HD-3000
Budget Pick
Great for beginners
The LifeCam HD-3000 is a simple but effective camera for those just experimenting with streaming.
Small and compact design.
Noise cancelling microphone.
Universal attachment base.
Can only live stream at 720p 60fps.
Lastly, we have the Microsoft LifeCam HD-3000. This is one of the best cameras for streaming on Twitch if you are just starting out or have a smaller budget. It is the cheapest option on this list and is a simple camera.
For live streaming, you can record at 720p HD 60fps at a 16:9 format. The video quality is excellent and the lens ensures great colors and contrast. It also comes with a noise-canceling microphone and a simple base that can easily be attached to many different surfaces.
While this webcam may not have the most advanced features, it is a great product for those just starting their Twitch streaming adventures.
Which is Camera is Right for You to Launch Your Streaming Career?
Once you have created your Twitch channel and edited your profile, a camera is something to consider. While streaming using just your audio is fine, a camera allows you to show your personality and help your followers become more invested.
As a result, understanding the best cameras for streaming on Twitch is important. The right camera for you depends on your expectations and goals, and budget. For example, if you just want to stream on Twitch for fun, a budget option like the Microsoft LifeCam HD-3000 could be a great choice.
Alternatively, if you want the best quality and versatility, a mirrorless camera like the Canon EOS M50 Mark II is a great option. There are also plenty of high-quality webcams such as the Logitech C922x Pro that offer simple functionality and HD recording.
---
As an Amazon Associate we earn from qualifying purchases. Certain content that appears on PhotoWorkout.com comes from Amazon. This content is provided 'as is' and is subject to change or removal at any time.