Instagram is wildly popular, and with its focus on visuals over text, it's a fantastic platform for sharing photos. Many rising photographers have used Instagram to break into the industry and build huge followings, and you can, too.
But Instagram's popularity is a double-edged sword. On the one hand, the platform comes with millions of photography fans who can admire your work. On the other hand, standing out from the crowd can be tricky. That's where a top-notch camera comes into play.
The best cameras for Instagram photos are easy to use, can capture stunning images, and offer excellent connectivity for quick uploads. They're also reasonably priced and relatively portable. With these factors in mind, I've shortlisted my favorite Insta-worthy options, and my top picks include budget-friendly mirrorless cameras, smartphones, and action cameras. Grab one of these models, and you'll be one step closer to creating the jaw-dropping images you've always dreamed of!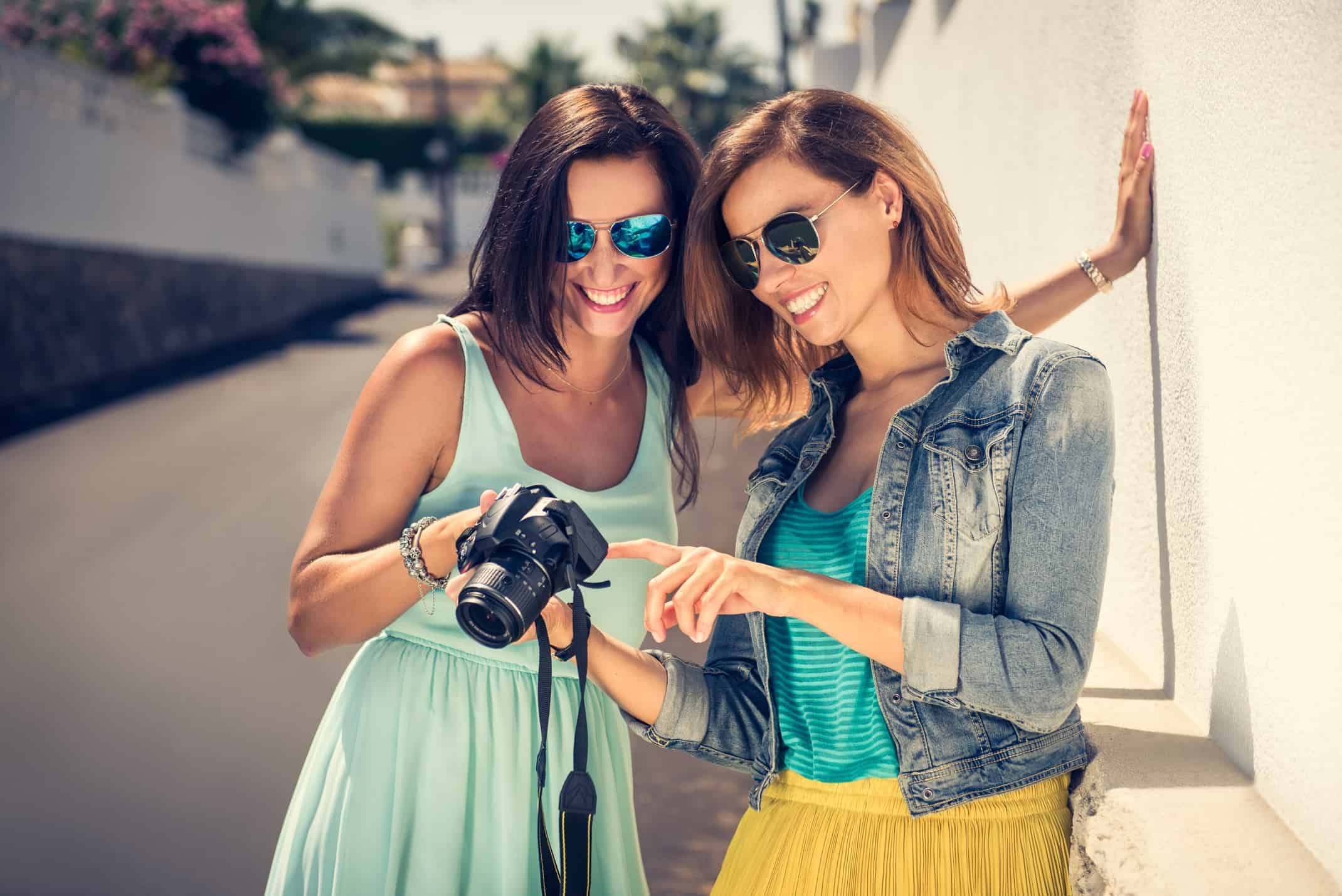 The Best Instagram Cameras:
When you buy through links on our site, we may earn a commission at no cost to you. We evaluate products independently. Commissions do not affect our evaluations.
1. Canon EOS R100
Our Pick
Great for beginners
If you want to learn how to use a mirrorless camera to take awesome Instagram photos, the Canon EOS R100 is a wonderful starter model.
Pros
24.1 MP sensor for high-resolution shots
Lightweight and compact camera body
Can use both RF and RF-S lenses
Comfortable to hold
Cons
Only has the older DIGIC 8 image processor
Doesn't have the latest Dual Pixel CMOS AF II system
The EOS R100 is currently the smallest mirrorless camera that Canon offers, and it's the perfect starter camera for Instagram enthusiasts looking to really delve into photography and develop their image-making skills.
The R100 comes with Wi-Fi connectivity so you can quickly transfer photos to your smartphone using Canon's companion app. This is super handy if you want to post live updates on Instagram during events.
In terms of quality, this camera is no slouch. I like that it has the same 24.1 MP sensor as my older M50 Mark II. Your Instagram photos should look stunning even when resized for smaller screens. Although the DIGIC 8 processor is a bit dated, the camera is responsive, and navigating through its simplified menus is a breeze.
The camera body is compact, making it comfortable to hold even if you've never used a mirrorless camera before. When picking your first Canon lens, I do recommend grabbing the 18-150mm zoom instead of settling for the standard 18-45mm model; while the kit lens is okay, I've found the 18-150mm to be significantly sharper, plus it's just more versatile thanks to the extra reach.
2. Nikon Z 30
Also Great
Great for travelers
The Nikon Z 30 is all about portability, so it's perfect for Instagrammers looking to photograph all around the globe.
Pros
Great for vlogging and streaming
Easy to connect to your smartphone to transfer images
Decent battery life
Compatible with amazing lenses
Cons
Doesn't have an electronic viewfinder
The Nikon Z 30 is incredibly similar to the EOS R100 and comes packed with features that make it a worthy alternative. It's primarily designed for vlogging, but the 20.9 MP sensor will ensure that your still photos have plenty of detail.
Some might complain about the lack of a viewfinder, but I don't think it's a major problem for casual photographers. If you're used to shooting with a smartphone, you likely won't even notice, and I myself generally do just fine without an EVF. The LCD touchscreen is large and flexible enough for you to easily frame your Instagram shots and preview them afterward.
The absence of a viewfinder also makes this camera smaller and lighter than the R100, and as a result, it's ideal for travel photography. You can easily carry the Z 30 on a selfie stick or a portable monopod for travel snaps and selfies, and you can store it in a small camera bag or just hang it around your neck as you go from one location to the next.
This camera is compatible with an ever-growing range of Nikon Z lenses, most of which have image stabilization. Coupled with the advanced AF system, you're pretty much guaranteed to get sharp photos every time.
3. Sony ZV-1
Great for flexible shooting
The Sony ZV-1 is highly compact, and images look amazing thanks to the 20.1 MP sensor and fast autofocus system.
Pros
Highly compact and lightweight
Various AF tracking features
High-quality LCD screen with tilt functionality
Large maximum aperture of f/1.8-2.8
Cons
No super-telephoto capabilities
The Sony ZV-1 is tailored for social media use and would be my go-to recommendation for anyone who doesn't care about interchangeable lenses. Its portability is fantastic, making it a great camera for travel photography as well as on-the-go shooting.
This point-and-shoot camera houses a 20.1 MP back-illuminated sensor, so you can expect your photos to look amazing even on larger screens. On Instagram, they'll appear incredibly professional.
The camera comes with a fixed ZEISS Vario-Sonnar lens that has an equivalent focal range of 24-70mm and a decent maximum aperture range of f/1.8-2.8. This allows for good low-light performance, and you get great versatility when zooming from wide-angle to telephoto.
For action-packed travel photos or bustling city shots, the camera's hybrid autofocus system is more than up to the task. Features like Real-Time Eye AF lead to fewer retakes due to focus issues. If you're looking for portability and flexibility without sacrificing quality, the ZV-1 is one of the best Instagram cameras you can buy.
4. Canon EOS R50
Great for intermediate photographers
The Canon EOS R50 features an improved AF system as well as other sophisticated features so you can improve your Instagram snaps with advanced techniques.
Pros
Upgraded Dual Pixel CMOS AF system
Comfortable and light to hold
Compatible with RF and RF-S lenses
Good low light performance
Cons
No in-body image stabilization
The Canon app can sometimes have connectivity issues
The Canon EOS R50 offers a bit more than the R100 and is a great fit for Instagram creators who already know a thing or two about photography. If you're looking to elevate your photos further, this could be the camera for you.
It still sports a 24.2MP CMOS sensor, but thanks to the upgraded DIGIC X processor, you get faster previews, quicker image processing, and an overall boost in performance. The Dual Pixel CMOS AF II system is especially awesome for action and wildlife photography, so if those are the kinds of shots you want for your Insta feed, the R50 will serve you well.
The camera also has Wi-Fi connectivity, making it super easy to link to your smartphone for direct uploads via the Canon companion app. Plus, I love the compact design of the R50. It's lightweight and the hand grip on the right side is comfy to hold; in my experience, it's the kind of camera you can easily carry for hours without issue.
5. Nikon Z 50
Great for Instagram stories
The Nikon Z 50 takes nice photos, and with 4K/30p recording capabilities, it can produce beautiful videos, too.
Pros
20.9 MP sensor for high-res photos
LCD touchscreen and EVF
EXPEED 6 image processor for fast previews and processing
Compatible with Nikon's best lenses
Cons
The AF system isn't as advanced as it could be
Much like the R50's relationship to the R100, the Nikon Z 50 is a step up from the Z 30 and is perfect for those who want to take their Instagram photography to the next level.
The biggest difference here is the built-in EVF, which prevents you from needing to rely solely on the LCD touchscreen when framing your shots. Composing with an LCD is certainly possible – as I noted above, it can be quite effective for some shooters – but I do find mirrorless cameras with an EVF easier to use in certain scenarios (if you're photographing action or are extremely particular about the details in your compositions, a viewfinder can make a big difference).
As far as specs go, you get a 20.9 MP sensor. Your photos will look sharp and detailed at full resolution, and they'll look even better when scaled down for Instagram. With a max shutter speed of 1/4000s, capturing sports and wildlife shots will be a breeze, especially when you use a powerful Z-mount lens.
Plus, the camera offers superb recording quality. You can shoot clips and shorts at 4K/30p, and you can switch to 1080p resolutions at 60 FPS for some cool slow-motion effects. The autofocus system also features various tracking modes, making it easy to focus on moving animals, cars, and people.
6. Sony Alpha 6100
Great for AF tracking
The Sony Alpha 6100 is perfect for Instagram photos of people and animals thanks to its Real-Time Eye AF and high-quality sensor.
Pros
Compact design
EVF and LCD touchscreen
Lightweight camera body
Cons
Does have an older processor
Sony offers some fantastic mirrorless options, and the older Sony Alpha 6100 still stands out as one of the best cameras for Instagram snaps. I like its compact design; it looks more like a traditional point-and-shoot unit than a mirrorless camera.
The sensor boasts 24 MP, and the autofocus system is pretty advanced and offers various tracking modes. This means you're less likely to end up with out-of-focus or blurry shots. The camera also includes nifty features like Real-Time Eye AF for both humans and animals, so you can capture tack-sharp portraits, pet photos, and even street shots on the fly.
With the camera's EVF and LCD touchscreen, framing your Insta pics will be a breeze. And thanks to the built-in Wi-Fi, you can quickly send files to your smartphone for immediate sharing. This camera is also compatible with a variety of excellent Sony lenses, which gives you a ton of options for keeping your images fresh and unique.
7. GoPro HERO11 Black
Great for action shots
The GoPro HERO11 Black is the best option for action-oriented Instagram content creators thanks to its durable build, excellent sensor, and image stabilization.
Pros
Surprisingly high-quality still photos
Good image stabilization
Various mounting options
Exposure control
Cons
ISO range is somewhat limited
Only includes the basic mounting buckle
Sometimes, a traditional mirrorless camera just won't cut it. This is especially true when you're looking to create action shots for your Instagram feed. In such cases, the GoPro HERO11 Black is the camera I like to recommend.
What I love about the GoPro is its portability. With various mounting options, you can easily strap it to your chest, head, wrist, or even an accessory like a helmet. This gives you tons of photo options, and the 27 MP resolution is actually better than many DSLRs. The image quality is top-notch, too.
When you're in the middle of the action and holding your camera still is virtually impossible, the GoPro's HyperSmooth image stabilization kicks in. The end results are nothing short of incredible: smooth photos without any motion blur.
While the HERO11 Black can't match the performance of the best low-light mirrorless cameras, the ISO range of 100-6400 does offer some flexibility. Plus, when you're posting small pics on a platform like Instagram, you won't notice any background noise.
8. AKASO EK7000
Great for beginners
The AKASO EK7000 is an affordable action camera for those looking to kickstart their Insta career and capture amazing action frames.
Pros
20 MP
Built-in Wi-Fi for quick photo transfers
Includes a waterproof case for underwater shots
Two batteries
Cons
Not as many features as the GoPro HERO11 Black
Doesn't include many mount options
If the GoPro is too pricey, there are action cameras available for under $100 like the AKASO EK7000. This model is an excellent alternative to the HERO11 Black and still packs a solid range of features for capturing amazing shots. If I were looking to grow an adventure-focused Instagram account on a limited budget, it would be my first choice.
The AKASO EK7000 comes with a 20 MP sensor that can compete with many DSLRs and mirrorless cameras. The image stabilization and portability of this camera make capturing sharp shots a breeze. Plus, it's so small that you can position it in a wide variety of places, such as your helmet, wrist, and chest.
The camera is perfect for sports enthusiasts or extreme sports Instagrammers who want to capture live-action shots. The basic kit even includes two rechargeable batteries for a combined usage time of 180 minutes. While the AKASO EK7000 may not offer the same quality as a GoPro, it's a fantastic starter action camera for aspiring Instagram stars.
9. Apple iPhone 14 Pro
Great for smartphone photography
The Apple iPhone 14 Pro boasts a highly capable camera setup that allows you to capture excellent images in restaurants, on the bus, and so much more.
Pros
48 MP main camera
5G connectivity for quick Insta uploads
Amazing Super Retina XDR display
Great battery life
Cons
Only renewed models available on Amazon
Expensive
I'm not the biggest Apple fan, but I can't deny the exceptional quality that the Apple iPhone 14 Pro offers Instagram photographers. The camera setup is simply amazing, which makes this one of the best models for anyone who prefers to avoid carrying around a dedicated camera.
The main camera captures 48 MP files, which outclasses most mirrorless cameras. And you get access to several additional focal lengths so you can capture a range of smartphone compositions, from ultra-wide landscapes to tightly cropped portraits.
Previewing photos on the iPhone 14 Pro is also a satisfying experience. Unlike some screens that make previews look dark or low-res, the device's 6.1-inch Super Retina XDR display ensures optimal viewing in any lighting. Plus, it renders colors beautifully when you're checking out your shots.
While the iPhone 14 Pro doesn't have the M1 or M2 chips found in iMacs, it does feature the A16 Bionic chip. This means you'll still enjoy fast processing and be able to use the best editing apps to enhance your images before sharing.
10. Samsung Galaxy S23 Ultra
Great for low-light smartphone photography
With a 200 MP main camera and advanced features like the Nightography mode, the Samsung Galaxy S23 Ultra will ensure your low-light Instagram shots look gorgeous.
Pros
Incredible resolutions
Great connectivity
Fast processor for photo editing and gaming
Nightography mode for clean low-light photos
Cons
The standard storage is only 256 GB
Expensive
I'm a Samsung user, myself, and I think the Galaxy S23 Ultra is a magnificent smartphone for photography. The device looks great and is packed with features, and if you prioritize functionality over camera tech, it's a top pick.
You get an incredible 200 MP camera, which is the highest currently available on any smartphone. Most mirrorless cameras don't even come close to that! This is complemented by features like Nightography mode, which lets you take sharp photos in low-light conditions with virtually no background noise and is hugely useful for serious nighttime landscape photography as well as more casual indoor photography. In my view, the Galaxy S23 Ultra is the smartphone to pick for astrophotography; the results really are unbelievably good.
The processor and battery can keep up with this powerful camera, and you can even comfortably use the smartphone for high-end mobile gaming. The basic model comes with 256 GB of storage, which might be a bit limiting. But there's a 512 GB version available, so if you prefer capturing your Instagram photos as larger RAW files instead of smaller JPEGs, which I do recommend for more serious shooters, make sure you get a version with ample storage space.
11. Google Pixel 7 Pro
Great for fast editing and uploading
The Google Pixel 7 Pro has a 50 MP main camera and is powered by the Tensor G2 processor, allowing for fast photo editing and smooth use of Instagram.
Pros
50 MP main camera
Excellent battery life of up to 24 hours
5G connectivity on any network
Cons
The telephoto camera is not as high resolution
The Google Pixel 7 Pro is another fantastic smartphone for photography, and it's a model that I regularly recommend thanks to its versatile camera setup.
The primary camera offers a 50 MP resolution and a wide-angle lens. You also get a 4x telephoto lens and a 12 MP ultra-wide lens, and I love the flexibility this trio provides. Regardless of the type of Instagram shots you're aiming for, these lenses should have you covered. The autofocus is also getting better, and while it might not match a mirrorless camera, you should still find it easy to focus on your subjects.
The battery life on the Pixel 7 Pro is amazing, too. Even if you're using your camera or photo editing apps nonstop, it should last up to 24 hours. And the Tensor G2 processor will handle the workload efficiently, allowing for smooth edits in Snapseed, Lightroom Mobile, and more.
12. OnePlus 11 5G
Great for budget smartphone photography
The OnePlus 11 5G features an incredible trio of cameras, and it doesn't cost a lot, either.
Pros
Superb trio of cameras for high-resolution photos
Great connectivity with 5G support
Fast processor
Decent battery life even when using the camera
Cons
Doesn't have brand-name prestige
Autofocus can't compete with mirrorless cameras
A smartphone brand often overlooked in favor of Samsung and Apple is OnePlus. But the OnePlus 11 5G really does have some serious photography capabilities and is a great choice for Instagrammers who want nice features without breaking the bank.
If you're willing to look past the big brands, you'll find a more affordable smartphone that still packs an incredible setup for photographers. It features a triple camera system with a 50 MP camera, a 48 MP ultra-wide camera, and a 32 MP telephoto camera.
The image quality is excellent, and I love that you can easily shoot in RAW format. That means you can significantly enhance your Instagram shots in a post-processing app before posting, and you won't have to worry about banding and other unpleasant artifacts.
The smartphone's color calibration is done by Hasselblad, which basically guarantees the different hues will look amazing. And yes, the OnePlus 11 does indeed offer 5G connectivity so you can instantly upload your shots. This model also offers 256 GB of storage, which may or may not be enough depending on your shooting habits and storage preferences.
Get More Followers with a Powerful Instagram Camera
As you can see, the best cameras for Instagram photos come in various shapes and sizes. The key is to find a model that fits the type of shots you want to create.
If you prefer a mirrorless camera that lets you switch out lenses, beginner models like the Canon EOS R100, the Nikon Z 30, the Sony ZV-1, and the Canon EOS R50 are all affordable and easy to use.
Alternatively, if you don't want a dedicated camera and just want a high-quality smartphone to get the job done, the top Instagram options right now include the Apple iPhone 14 Pro, the Samsung Galaxy S23 Ultra, and the OnePlus 11 5G.
Lastly, for action shots and vlogging content, the GoPro HERO11 Black is the cream of the crop. It's perfect for sports influencers, extreme sports enthusiasts, and travel vloggers who love to take photos while on the move.
---
Disclosure/Disclaimer: As an Amazon Associate, we earn from qualifying purchases. Certain content was provided "as is" from Amazon and is subject to change or removal at any time.