Disposable cameras might seem like a thing of the past – but they're certainly not dead, and there are still plenty of reasons to use one!
For starters, they're easy to use and carry around, plus they can produce some pretty good images that offer an authentic, nostalgic vibe. If you're interested in point-and-shoot film photography, disposable cameras might be a great way to get your feet wet.
In this article, we'll share with you the best disposable cameras on the market in 2022.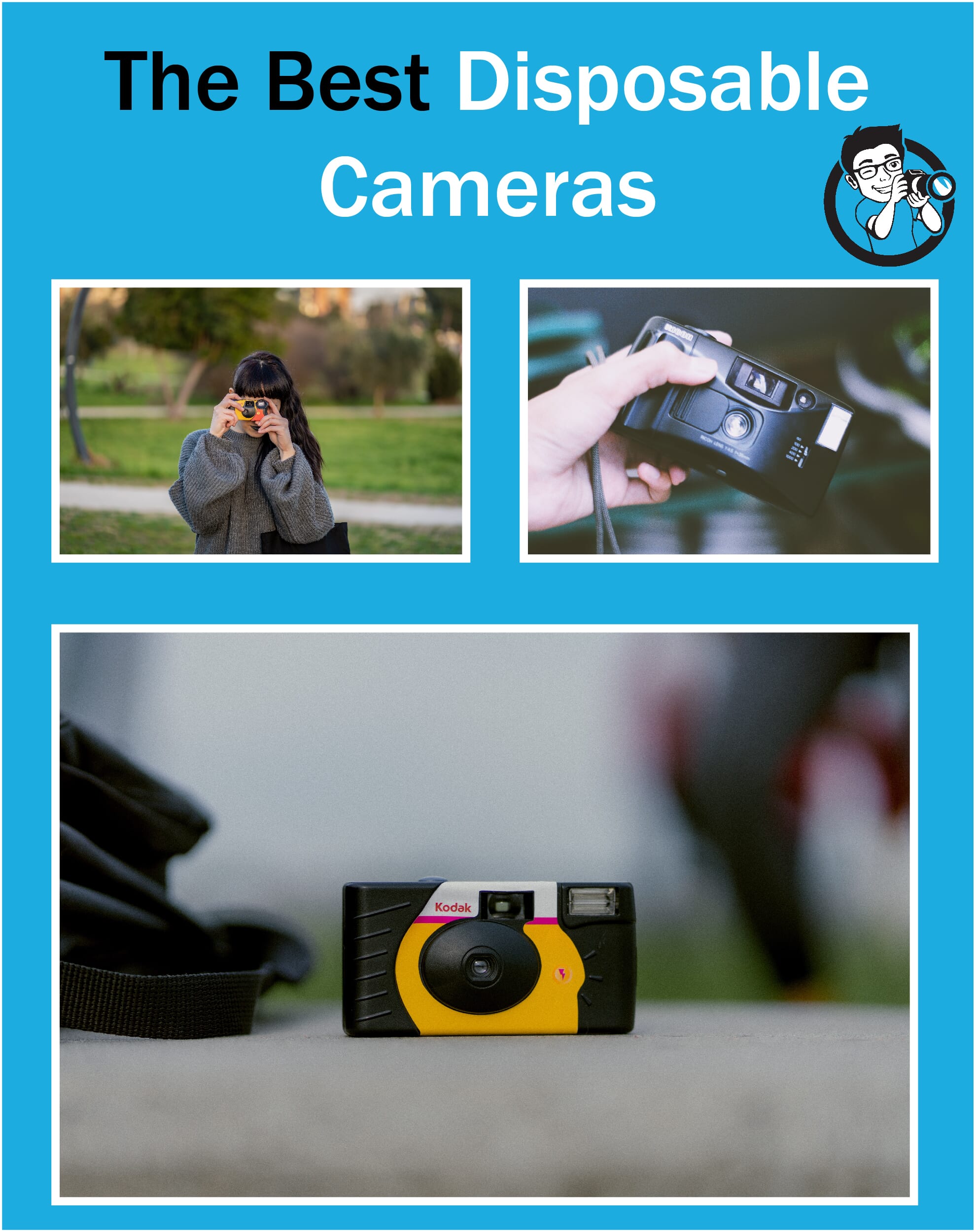 When you buy through links on our site, we may earn a commission at no cost to you. We evaluate products independently. Commissions do not affect our evaluations.
Where Can You Buy Disposable Cameras?
As we mentioned above, these cameras are a gadget of the past – so it can be a bit difficult to find them in most stores today.
But despite their scarcity, you can usually count on finding the best disposable cameras in two places:
In-person at stores with photo centers, such as Walgreens, CVS, and Duane Reade
Online retailers, such as Amazon, Walmart, and Urban Outfitters
Disposable cameras are still being produced and are sold frequently every day. You just have to look a bit harder (and our guide to the best disposable cameras will help you do that!).
The Best Disposable Cameras
Below, we feature the top-quality disposable cameras you can buy in 2022, starting with our favorite:
1. Fujifilm Quick Snap
Our Pick
Great for shooting indoors or outside
This versatile 2-pack of disposable cameras comes with a built-in flash, which makes them ideal for parties and weddings.
Pros
Flash range of 10 feet (3 meters)
Produces great vintage-effect photos
Very easy to use
Cons
Prints don't upsize well
The Fujifilm QuickSnap Flash 400 Disposable 35mm Camera (Pack of 2) is first on our list of best disposable cameras. It can capture sharp images with its 10-foot (3-meter) built-in flash, and you can take images both indoors and outside. This makes it a great choice for vacations, parties, and weddings.
The one downside to the QuickSnap is that the prints don't blow up very well; they lose quality, fast. That means the prints look best in their standard 4×6 in size. However, if you're happy with standard-sized prints and you want that specific vintage film look, this camera will do a great job.
The QuickSnap is loaded with Superia X-TRA 400 film, so it's ready for you to start shooting straight out of the box. With 27 exposures, though, you'll need to make every image count!
2. Fujifilm Disposable QuickSnap Waterproof Camera
Good choice for underwater photography
This 2-pack of disposable cameras is a great pick for kids at the beach (and grown-ups, too!).
Pros
Waterproof up to 17 feet (5 meters)
Easy to use
Produces good skin tones
Cons
No built-in flash
Not great for lower-light conditions
If you want to take your disposable camera underwater, one of the best choices is this Fujifilm Disposable QuickSnap Waterproof Camera 2-Pack.
Photo quality is very good in bright daylight, even when underwater. However, the 1/125s exposure does require brightly lit scenarios to produce photos that aren't underexposed, so it's no good in darker, murkier water. The Fujicolor Superia X-TRA 800 35mm film that is pre-loaded in the camera produces images with good skin tones, too.
It's super simple to use – just point at your subject and push down the lever. This makes it a good camera for snorkeling, beach trips, or shooting by the pool. Kids will have a lot of fun with this waterproof camera, and the tough, sealed case with a rubber wrist strap will take plenty of rough treatment.
3. Ilford B&W HP5 Camera
Unavailable
Great for casual shooting
This disposable camera is a great all-rounder; it's sharp, good in most lighting conditions, and inexpensive.
Pros
Built-in flash range up to 10 feet (3 meters)
Focus-free; sharp images from 3 feet (1 meter) to infinity
Excellent B&W photo quality
Performs well in most lighting situations
Cons
Plastic case is a little flimsy
For those who want to capture artsy black-and-white images, the Ilford B&W HP5 Camera is a solid choice. It features (preloaded) classic Ilford HP5 Plus 400 ISO film, which gives you superior contrast, tones, and exposure, though there is quite a lot of obvious grain.
Images shot with this camera are of excellent quality, and you will get quite many details even in the shadows. There's no need to focus, as the depth of field spans from 3 feet (1 meter) to infinity; this makes it great for grabbing those quick, spur-of-the-moment shots.
It has a built-in flash with a range of 10 feet (3 meters), so it's great for parties and weddings. One of the best things about the Ilford HP5 camera is its versatility. You can shoot in low light, bright light, with or without flash, and you should get well-exposed images that aren't washed out.
B&W disposable film cameras also tend to be cheaper than color ones, so if you are looking for some old-school monochrome images and don't want to spend a fortune, the Ilford HP5 camera is a great choice.
4. Kodak Funsaver 2-Pack
Best for low-light photography
The Kodak Funsaver offers beautiful image quality, and the ISO 800 film is perfect for shooting at night.
Pros
Exceptionally sharp images for a disposable camera
Good in a variety of lighting situations
Very easy to use
Built-in flash
The Kodak Funsaver (2-pack) comes pre-loaded with Kodak ISO 800 color film. It has a built-in flash for shooting indoors or at night, and it's lightweight and compact enough to carry around all day.
You can use the Funsaver in many photographic scenarios, thanks to the ISO 800 film. Plus, the Kodak film gives accurate skin tones, which makes it perfect for photographing people.
One of the most impressive things about the Funsaver is the clarity; most disposable cameras struggle with sharpness, but the Funsaver produces remarkably crisp images.
If you're looking for a camera for the kids, the Funsaver is a great buy thanks to its outstanding ease of use. The only downside is the flimsiness of the build, but that's to be expected with an inexpensive disposable camera!
5. Lomography Simple-Use Reloadable Color Camera
Get the Lomo look with this reloadable camera
This is a fun and versatile camera that's good value for money.
Pros
Reloadable
Comes with colored gel filters
Easy to use
Surprisingly sharp images
Cons
Flimsy build quality
Another disposable camera option is the Lomography Simple-Use Reloadable Color Camera. It's fun to use in plenty of situations, and it's very simple to just point and shoot.
This camera comes with 36 exposures and is preloaded with ISO 400 analog film at 400 ISO. It's also reloadable with ISO 400 color film, which makes it great value for money when compared to the price of a single-use disposable camera.
For a cheap, plastic optic camera, the Simple Use produces some surprisingly sharp images. While ISO 400 film doesn't give you the latitude to shoot in low natural light conditions, the flash makes it a good choice for parties and nighttime shots.
You can also get creative with the flash by using the color filters that simply slide over the flash. If you're looking to take some unique images, check out this Lomography Simple-Use Camera!
6. Lomography Simple-Use LomoChrome Purple
Great for creative images
This reusable camera produces some amazingly colored images with LomoChrome Purple 400 film.
Pros
Comes preloaded with unique LomoChrome Purple 400 film
Easy and fun to use
Built-in flash
Cons
LomoChrome Purple is a very niche type of film and won't suit everyone
The Lomography Simple-Use LomoChrome Purple is actually reusable. This gives it an edge over single-use disposable cameras, as you can reload with any ISO 400 color film once you're done with the Purple. One caveat, though: reloading film can be tricky if you've never done it before!
LomoChrome Purple film is almost like an infrared film, and it will give some amazing and unique colors that are especially good for landscapes, street photography, and cityscapes. Another handy feature are the colored gel filters you can put over the flash to give you even more creative options.
The built-in flash is powered by an AA battery, and the Simple-Use camera is very easy to work with. The one possible downside is that LomoChrome Purple is a very niche type of camera film; the color cast is very strong, so it isn't necessarily the best pick for a formal event! It's not for everyone, but those looking for a creative analog film will have a lot of fun with this camera.
Which Disposable Camera Is Right for You?
Disposable cameras are a fun way to take and capture unique, creative imagery. They are easy to use, small enough to carry around, and can be purchased at several online retailers as well as in select in-store locations.
But which disposable camera should you buy? If you're looking to get started with an all-around camera, grab the Fujifilm QuickSnap Flash 400 Disposable 35mm Camera (Pack of 2), which is versatile, plus it offers a beautiful vintage look.
On the other hand, if you're looking for a travel camera the kids can use at the beach, check out the Fujifilm Disposable QuickSnap Waterproof Camera 2-Pack, which is great for underwater photography fun.
Finally, if artistic photography is your thing, consider the Ilford B&W HP5 Camera; it only shoots in black and white, but in the hands of the right shooter, the results will be amazing.
---
As an Amazon Associate, we earn from qualifying purchases. Certain content was provided "as is" from Amazon daily and is subject to change or removal at any time.