There are so many ways you can print your images these days, from high-quality paper, canvas, and wood, to metal, acrylic, and now: glass!
Glass prints come with a slew of benefits, from a modern frameless aesthetic to preserving colors from fading for a tremendous amount of time!
But, as always, not all glass prints are created equal. Here is our list of six labs offering the best glass photo prints in 2023!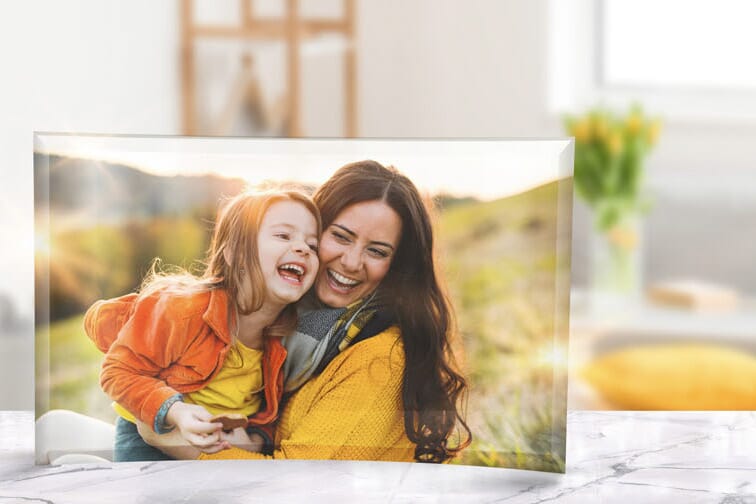 Best Companies for Printing Photos on Glass:
When you buy through links on our site, we may earn a commission at no cost to you. We evaluate products independently. Commissions do not affect our evaluations.
1. MyPhoto
Our Pick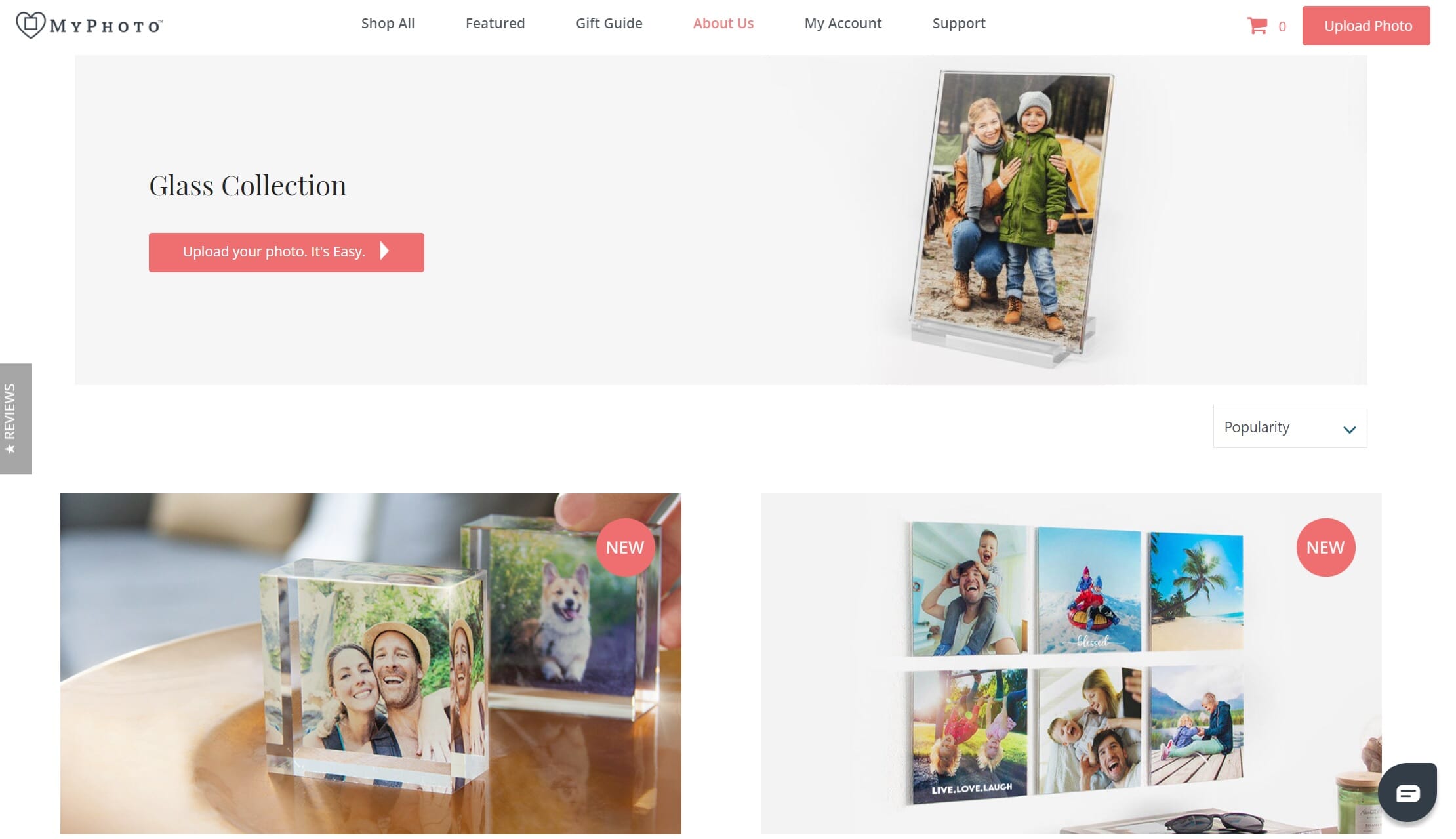 An impressive array of glass products
With so many glass products to choose from, the possibilities are endless.
Pros
An outstanding array of glass-exclusive products
AirGlass helps make gallery walls easy to design
Great price for the quality
Cons
Print sizes are small (MyPhoto offers nothing bigger than a 12″ x 12″)
Thanks to a tremendous amount of glass print products, MyPhoto blows many of the other consumer labs out of the water. Some products you can make out of your images include AirGlass, Miniblox, glass pads, diamond glass, dry-erase glass boards, paperweights, ornaments, and much more!
The AirGlass deserves mention for its ingenuity. AirGlass prints are made of the same glass as your cell phone screen, making the prints unusually lightweight and durable. The prints actually stick to your wall and are reusable, so you can mix and match them for some fantastic gallery walls.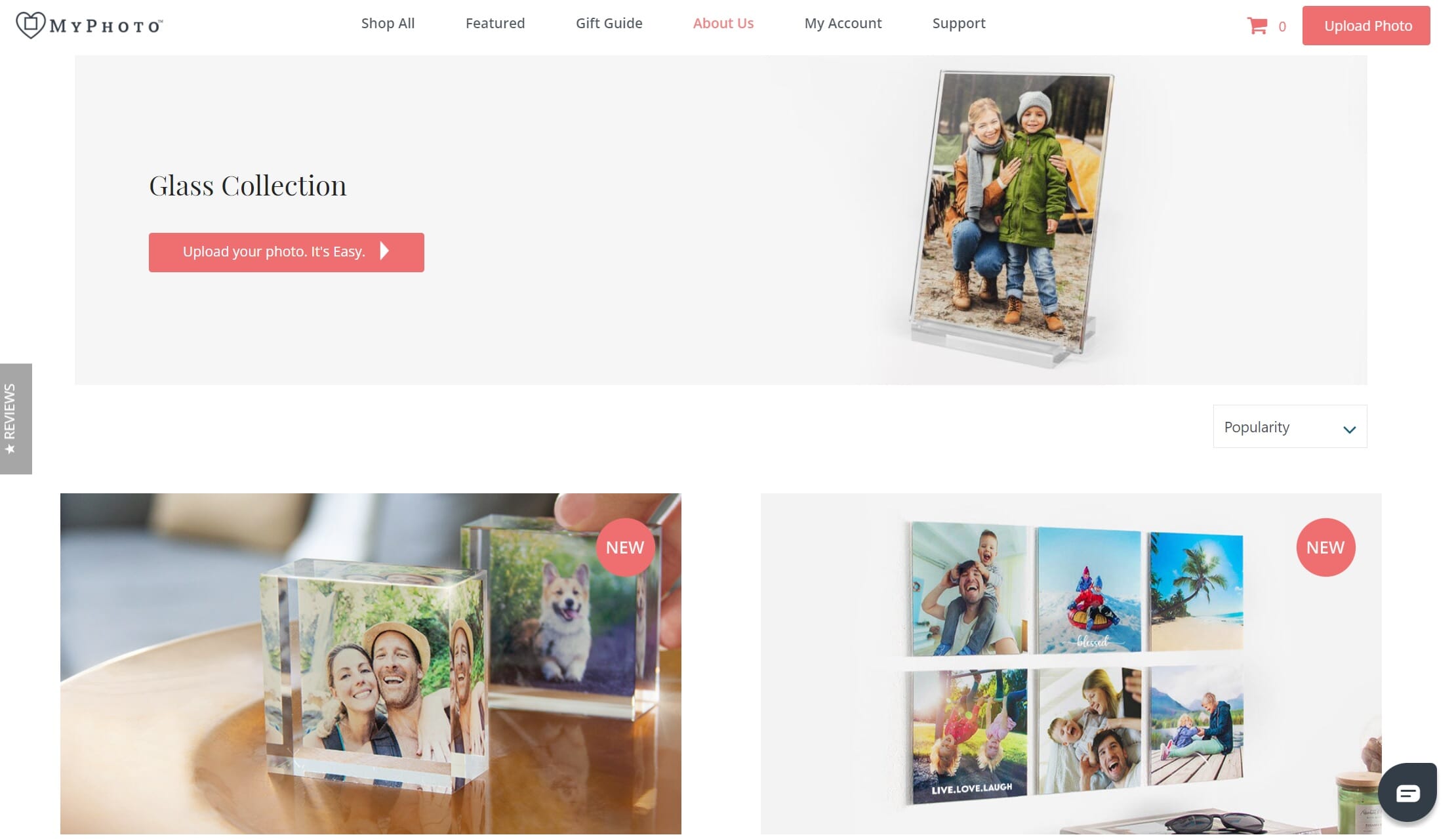 MyPhoto was started as a way to share snaps from your phone in a printable format (although they do, of course, accept photographs from DSLR and mirrorless cameras). As such, the company is quite good for consumer photographs, family snapshots, and memorable everyday pics – and they know how to work with cell phone resolutions!
2. Fracture
Also Great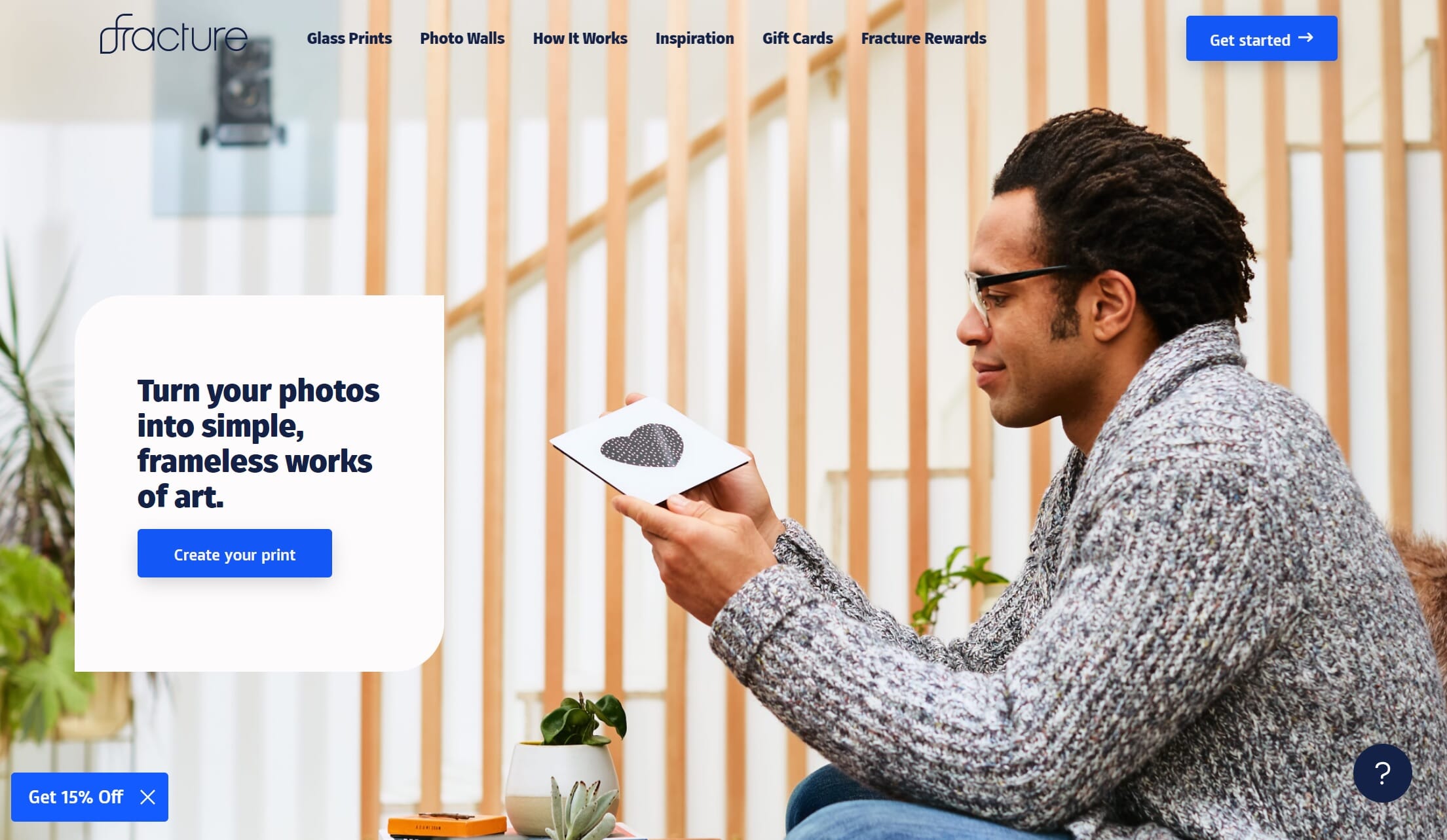 Another great glass print specialty shop
If you're looking for larger glass prints, this lab is the way to go.
Pros
Great quality glass products
Fast shipping
Good price
Cons
Sharp corners; the glass is not beveled
Packaging for shipping leaves much to be desired
If you're looking for pro-level prints in large sizes, then Fracture is a great option.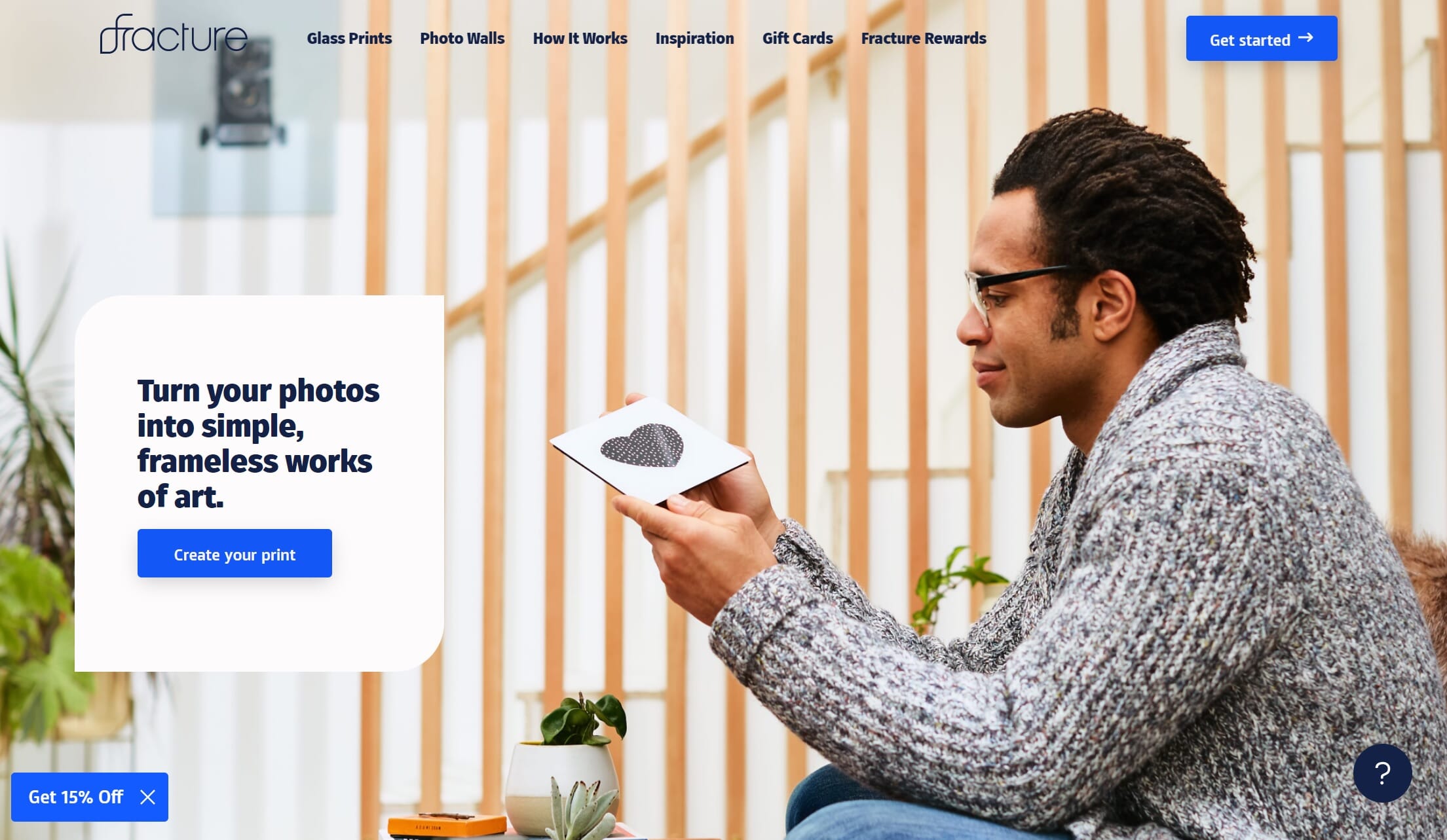 Related Post: Fracture Glass Print Review: Are Glass Prints Worth Your Money?
Although Fracture left much to be desired regarding shipping and packing, and the sharp corners could be seen as a hazard, the quality was superb – making Fracture a very worthwhile option.
4. Prints on Glass (Australia Based)
Best Pro Option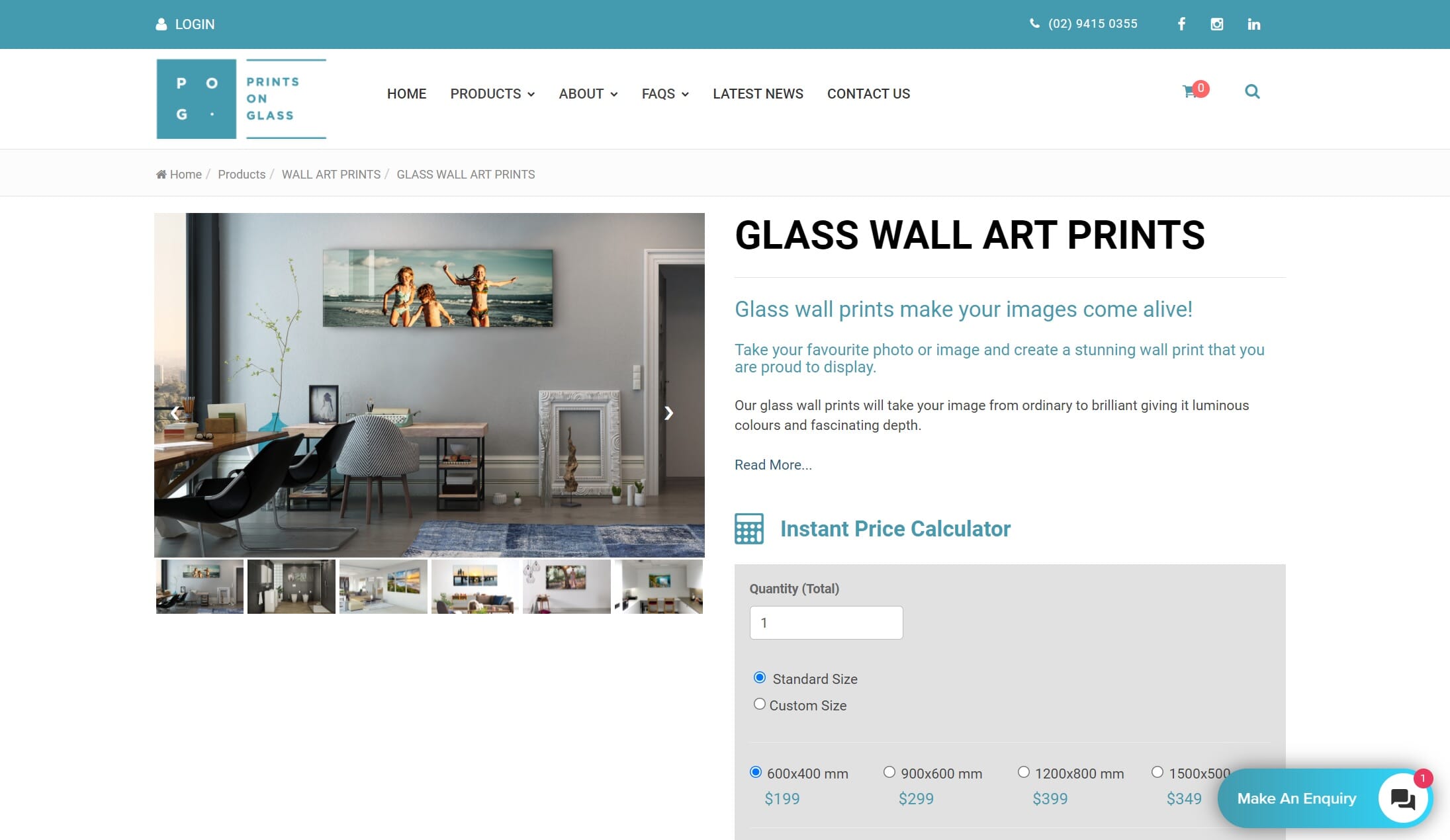 A professional lab with eye-catching offerings
Have a big, bold idea for a glass print? This lab can make even your wildest dreams come true.
Pros
Exceptional professional-quality glass prints
Available for custom size orders
Offers very unique glass backsplashes for kitchens and bathrooms
Cons
Australia-based; can make shipping to the USA long
Expensive
For professional photographers wanting to offer their clients a unique product, Prints on Glass is the perfect pick. Located in Australia, shipping may take a bit longer to the USA, but it certainly can be done.
The quality is absolutely exceptional and worth the wait (and worth the extra shipping fee for sending prints overseas!).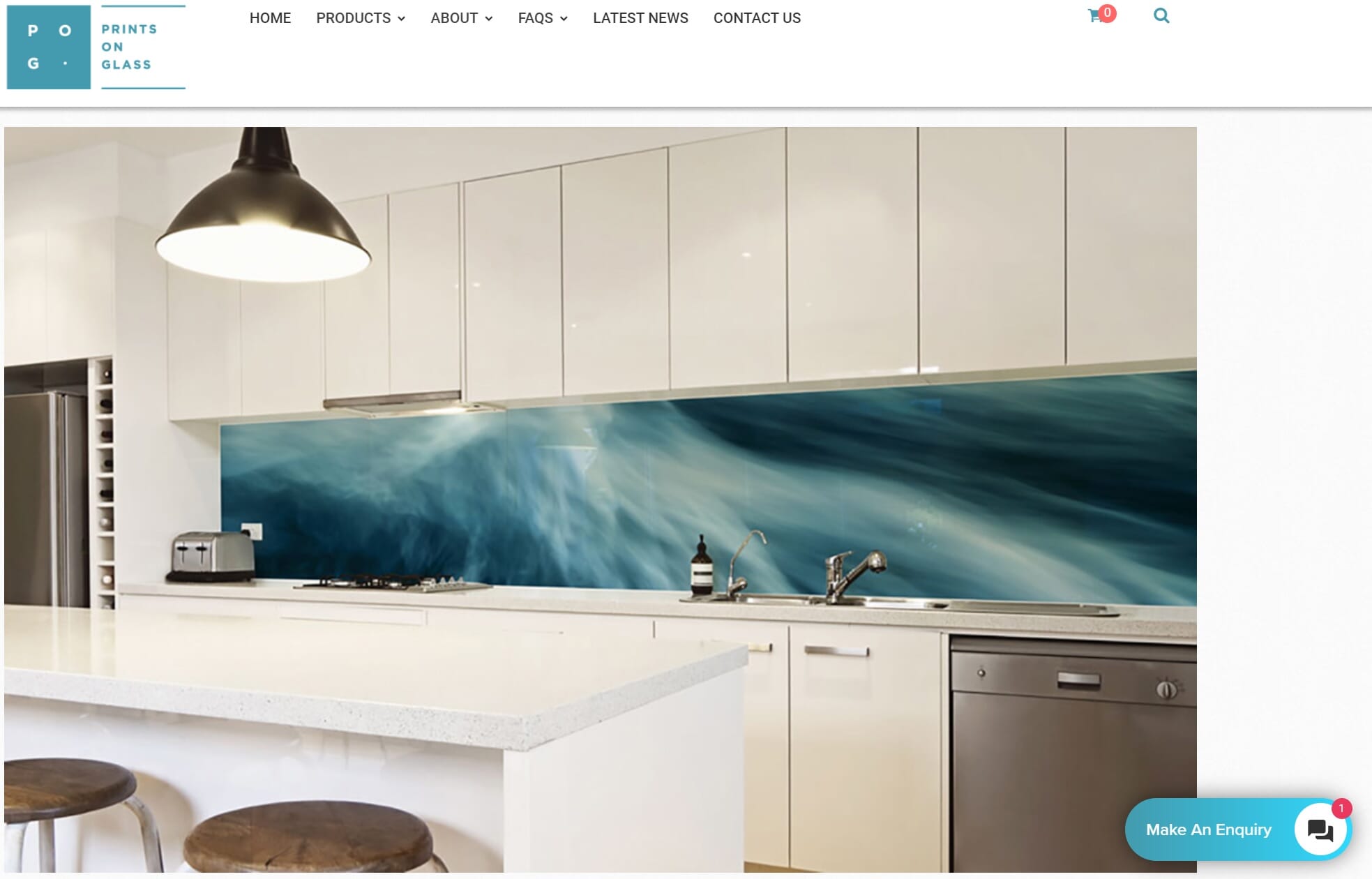 From standard to custom sizes, Prints on Glass can do it all. Images come out vibrant, beautiful, and exceptionally eye-catching, plus there's a guarantee on each offering.
What makes Prints on Glass even more incredible is their unique glass backsplash offering – you can actually make your photograph into a panoramic backsplash for the kitchen or bathroom! This fascinating treat truly makes your photography the centerpiece of a home's design. Their near-decade of expertise and tools can make even the most ambitious glass decor design a reality.
5. Cameo Glass Prints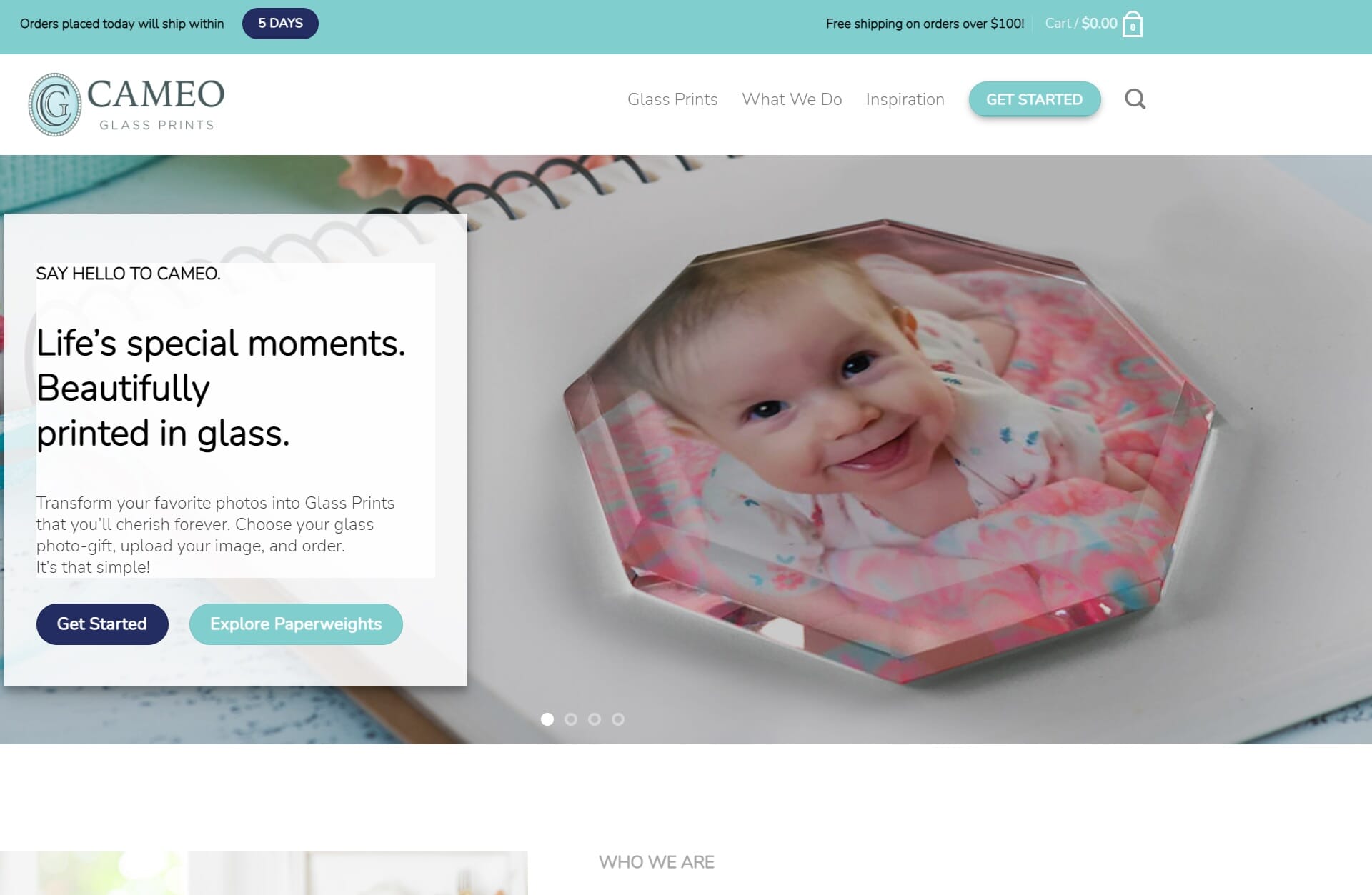 Unique glass print offerings
From serving trays to cutting boards, this lab offers glass prints for practical use.
Pros
Great glass product offerings, including the very unique glass trays and glass cutting boards
Gorgeous quality
Specializes in glass only
Cons
Limited sizes
A bit higher in cost than most consumer labs
Cameo Glass Prints is a lesser-known company that can transform your images into beautiful glass art. Cameo prints a wide array of glass shapes and thicknesses and is perfect for various glass-oriented products for your home. Some of their bestsellers include trays, paperweights, and flat prints! The curved glass offering makes for a beautiful display in front of a natural light source (such as a window), allowing the sun's rays to illuminate a vibrant image.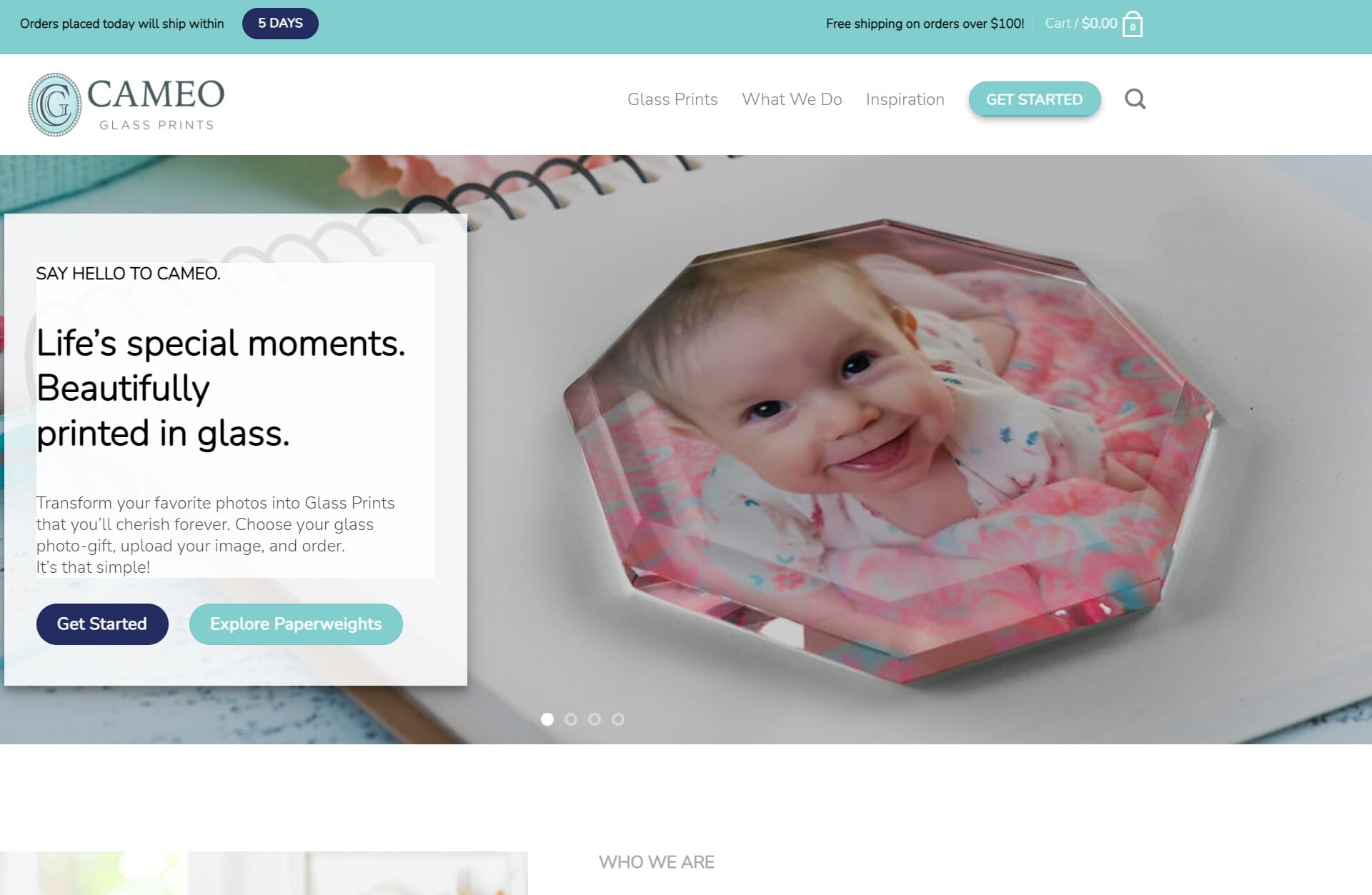 The glass trays are a unique product not offered by the other labs, excellent for commemorating special events! Glass cutting boards are another grand offering that you won't find elsewhere, both beautiful and utilitarian.
With this lab specializing exclusively in glass prints, you can be assured that you'll receive exceptional quality.
6. Shutterfly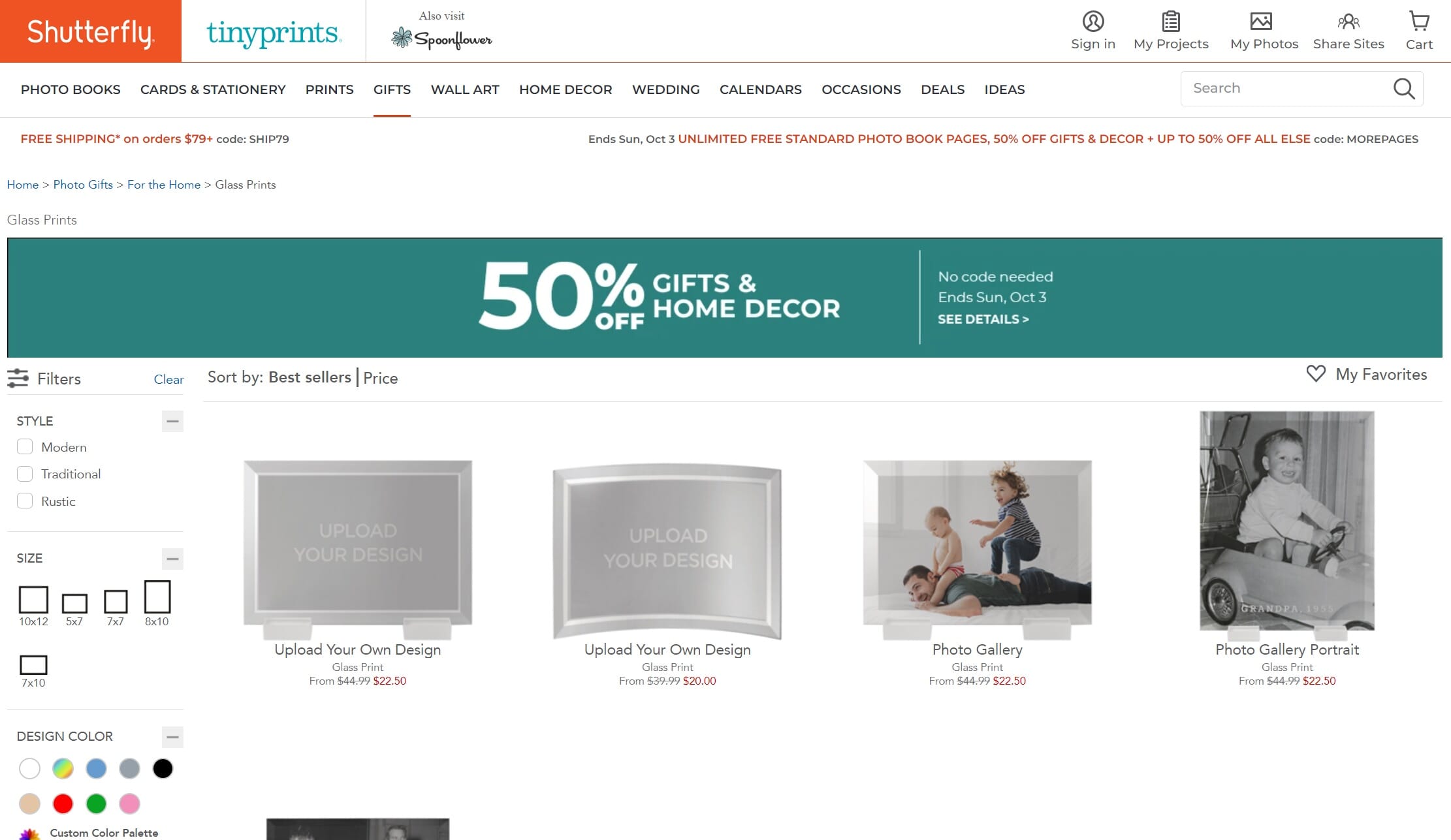 Jack-of-all-trades consumer lab
Known all over thanks to their great marketing campaigns, Shutterfly offers a tremendous number of printing services.
Pros
Many offerings
Affordable price
Prints let a lot of natural light pass through
Cons
Limited sizes
Intended to stand on shelves or desks, not hang on walls
Shutterfly is one of the most famous consumer printing companies in the world, thanks to its marketing campaigns paired with an easy-to-use interface. Although this lab is hardly a glass specialist – they offer a huge array of products – the quality is great for the everyday home!

The glass prints are, well, printed directly on glass. The printing is translucent, allowing plenty of natural light to flow through the images for a beautiful light and airy feel. The glass has a smooth beveled edge, which keeps it from being sharp and unpleasant!
Shutterfly offers their glass prints in both a flat and a curved option. Although their sizing is limited (at this time, Shutterfly only offers 5" x 7", 7" x 7", 7" x 10", and 10" x 12" glass prints), each print is offered at a very affordable and reasonable price.
Shutterfly's glass prints are not intended as wall art, but rather standing art, so each print order comes with its very own stand.
7. Snapfish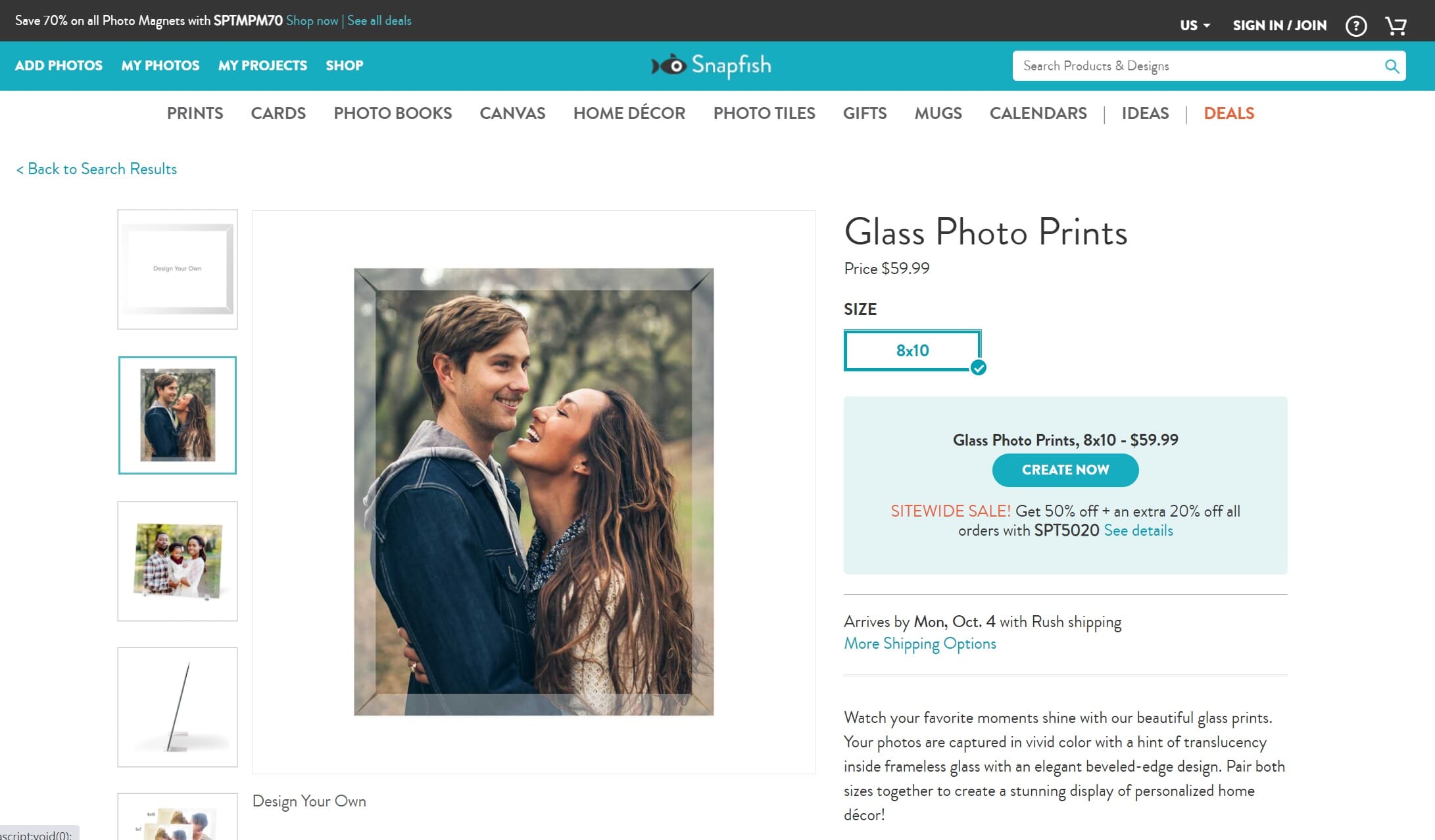 Another great consumer-friendly lab
Although very limited on glass print size, what they do offer is beautiful.
Pros
Offers different types of prints
Great quality in the glass print offering they have
No sharp corners
Cons
Only one glass print size available, 8″ x 10″
Pricey for its limited offering
Like Shutterfly, Snapfish is in the consumer jack-of-all-printing-trades marketplace. Although Snapfish offers fewer products than Shutterfly, the interface is just as simple, and is both web and mobile-friendly.

Snapfish only offers one size glass print, an 8" x 10", so the company certainly lacks versatility, but the result is exceptionally vibrant, detailed, and crisp. Each glass plate is thick with an all-around beveled edge and comes with really neat-looking acrylic stands.
The offering is a bit on the pricey side, but Snapfish does have very frequent sales and photo deals – so you're bound to find something within your budget.
Which Glass Photo Print Is Right for You?
The list does get narrowed to just a few options considering many labs don't actually offer glass (some claim acrylic as "glass", which it is not) – but our consensus is that for the consumer, MyPhoto or Fracture are a great choice.
For the professional, Prints on Glass is the way to go. MyPhoto may not create very large prints, but there is a slew of beautiful products as gifts and home decor. Prints on Glass goes the extra mile of being able to print custom sizes and full-on home decor backsplashes out of your photographs!
Cameo Glass Prints is also great, sitting right in the middle of consumer-oriented and professional quality.
FAQ
What's the difference between glass prints and acrylic prints?
Glass prints are vibrant and perfectly sealed from the elements. Acrylic prints are an alternative to glass, equally providing vibrancy and protection from fading – however, acrylic material attracts dust and great care must be taken when handling or cleaning. Acrylic is also more susceptible to scratches and cracking (when exposed to UV light). Glass does not attract dust like acrylic does, is safe in all conditions, but is heavier to hang on the walls. 
How should you format your photographs for printing? 
It's best practice to have your images formatted at a minimum of 300 DPI in the CMYK color space. Not doing so can cause a discrepancy between the print and the original photograph.
Does glass need a special hanger for the wall?
Glass is heavier than other materials, such as acrylic or traditional framed prints, so a stronger bracket and hardware for the wall may be required. Reference your print lab of choice for what hardware is recommended, as each lab has a different weight to their glass prints.