Finding The Best Monitor For Your New MacBook Pro
So you got yourself the brand new MacBook Pro (with that fancy Touch Bar) and now you are asking yourself: Which is the Best Monitor for MacBook Pro?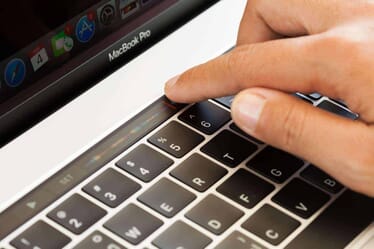 No doubt, you are at the right place! Because we just reviewed and compared the best external monitors for MacBook Pro Laptops.
Regrettably, Apple has put it's thunderbolt monitors to rest (aka stopped production & sales) and surprisingly entered into an agreement with LG to exclusively distribute the LG UltraFine displays. The problem? The Apple LG UltraFine monitor launch was a big mess, and user ratings haven't been that good (at the time of writing this post, 264 Apple customers gave the UltraFine display only 2.5 out 5 stars).
Considering that the LG UltraFine display is not to ready for prime time, we decided to look for alternatives and reviewed the best monitors for MacBook Pro users.
Note: If you are not familiar with the technical specification of a monitor, jump down to the monitor tech specs glossary section.
Best External Monitors for MacBook Pro (Top 8 in 2018)
DELL
LG
LG 27UD58-B 27-Inch 4K UHD IPS Monitor with FreeSync
LG Electronics 21:9 UltraWide 34UM88-P 34″ Screen LED-Lit Monitor
LG Electronics 34UC98 34-Inch WQHD IPS Curved LED Monitor (with Thunderbolt)
BenQ
BenQ 27-inch IPS Quad High Definition LED Monitor (SW2700PT)
Best 32″ Inch: BenQ 32-Inch IPS 4K Ultra High Definition LED Monitor (BL3201PH), 4K2K HD
Asus
 Ideal for MacBook Pro 15″: The ASUS Designo MX27UC 27" 4K UHD IPS-DP
Detailed Review: Best External Displays
DELL
1. Our Pick: The Dell 34″ UltraSharp Curved UltraWide Quad HD IPS Monitor
Pixel Per Inch: 109.68/220
sRGB: 99%

This Dell monitor is a great monitor and we picked it as the "best monitor for the MacBook Pro" .
The Dell U3417W FR3PK 34″ Screen has a curved display which improves your field of view by reducing reflections. The monitor is ideal for photo editing work (the color gamut is 99% sRGB) and connects well with the Apple MacBook Pro (by using a USB C to HDMI Cable).
No doubt, the Dell IPS monitor is an ideal external display for your MacBook Pro. It is a great monitor for photo editing work, considering the following tech specs:
First and foremost, the color gamut is 99% sRGB (pre-calibrated), which is close to perfect for photo editing tasks;
Second, the resolution is 3,440 x 1440 pixels, which provides a crisp and clear picture;
Third, the 1,000:1 static contrast ratio (not stellar, but respectable & sufficient for your photo editing tasks), and the 10-bit color support for vivid colors;
The highly rated Dell U3417W curved screen monitor is available for
$719.99 on Amazon.
2. Dell Ultra HD 4K Monitor P2715Q 27-Inch Screen LED-Lit Monitor
Pixel Per Inch: 163.18/220
sRGB: 99%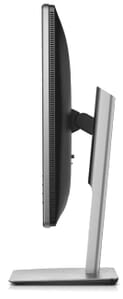 If you are not fond of a curved Dell display, you may want to consider the Dell Ultra HD 4K Monitor P2715Q 27″ as the best display for your MacBook Pro and all your photo and video editing work.
High Screen Resolution & 99% sRGB
The P2715Q is not the newest model (this LED-lit monitor was introduced in November 2014), but the monitor is still very good especially because of its high screen resolution of 3,840 x 2,160 pixels, which at 27 inches result in over 163 pixels per inch (or Ultra HD 4k).
Furthermore, the sRGB color gamut is really good. It is 99%, which is as good as the curved Dell U3417W monitor covered above. Plus, the display is based on the ISP technology, supports a high bit rate and the color contrast ratio is really high (2 million to 1).
Great Connectivity
Another plus point of this best-selling monitor is the connectivity: four USB 3.0 ports, a display port, mini display port and HDMI to connect your laptop. You can even connect (daisy-chain) another monitor through the DispalyPorts in and out ports (this won't work however with your Apple Mac Book Pro, as it works only when using Windows systems).
Related Post: Best Laptop Screens 2018
LG
3. LG 27UDh58-B 27-Inch 4K UHD IPS Monitor with FreeSync
Pixel Per Inch: 163.18/220
sRGB: 99%
The product highlights of the amazing LG 27UD58 27″ Monitor are quite impressive:
In-Plane Switching (IPS) Technology
Resolution: 3840 x 2160
178° Viewing Angle
1.07 Billion Colors
Furthermore, the FreeSync technology makes it a very fast response time monitor ideal for gamers. Even if you are not a gamer and just want a great monitor for your laptop/desktop and do your photo editing work, this monitor is a great pick!
Here are some feedbacks from photo enthusiast users (Amazon varified buyers):
The resolution looks as good as my iPad which is what I was looking for because I edit photos for web use and since most web users are using mobile devices, I needed what I was seeing as I was editing to match the end displayed result for the average user. This does it!
Bright, sharp, good color. Using for photo editing. Read more reviews.
Related Post: Best Desktops for Photography
4. LG Electronics 21:9 UltraWide 34UM88-P 34″ Screen LED-Lit Monitor
Pixel Per Inch: 109.68/220
sRGB: 99%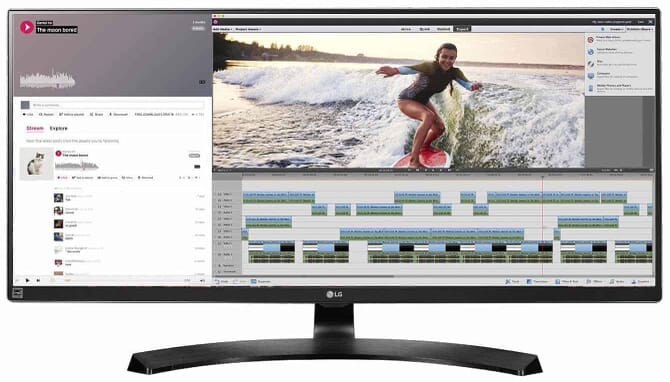 Key Benefits of the "UltraWide" LG 34UM88-P Display:
The LG 34 UM88C-P 34″ comes with 2 Thunderbold 2.0 Connection (you can connect compatible devices and transfer data @ 20-gigabists-per-second).
Amazing Sharp Images (3,440 x 1,440) and IPS.
Additional Features:

USB 3.0 Quick Charge (Charge Your Mobile Devices up to four times faster).
On-Screen Monitor Settings Control.
Screen Split 2.0 Functionality (display multiple windows at once.
Easy Setup and tilt/height adjustments.
Not so good about the LG 34UM88-P:
 The built-in speakers are not that great.
For heavy video editing, it may be difficult to connect two displays to your MacBook Pro 15″, as running two of these monitors at their native resolution (3440 x 1440 @ 60 frames per second refresh rate) may not work.
5. LG Electronics 34UC98 34-Inch WQHD IPS Curved LED Monitor
Pixel Per Inch: 109.68/220
sRGB: 99%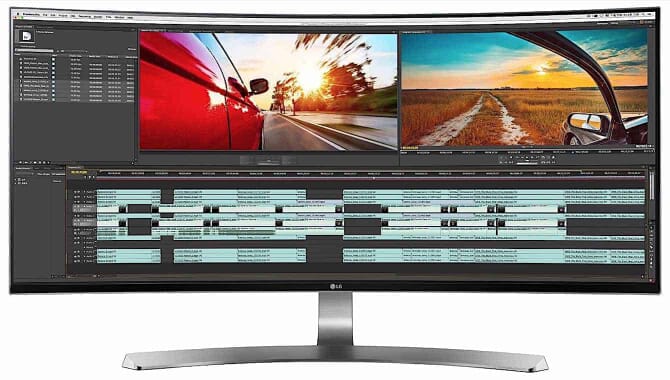 What's Different & Why the LG 34UC98-W 34″ Costs More
The LG 34UC98-W 34″ has the same specs as the display we just covered above (the LG 34UM88C-P 34-Inch 21:9 UltraWide QHD IPS Monitor).
So what's the difference between the LG 34UC98-W and the LG 34UM88C-P?
The LG 34UC98-W 34″ is a curved monitor. And by adding a few hundred dollars, you get 75 Hz (only with FreeSync enabled, without it 60 Hz) vs. the 60 Hz of the LG 34 UM88C-P.
Ultimately, it comes down to the curved display. Unless you need the additional Hz (refresh rate of the monitor) if you are into heavy gaming or lots of video editing.
Related Post: Best Tablets for Photo Editing
The New MacBook Pro only has USB-C Ports. Consequently, you may have to look for the best HDMI – USB-C connection cable if the monitor does not have USB-C.

What Is USB-C?

USB-C is equal to Thunderbolt 3 and is a next-generation industry standard that allows charging, data transfer, and video (all in one connector). For more information read the details on the Apple Website.

How Many Monitors Can The New Macbook Pro Connect?

Only the new 15-inch MacBook Pro with Radeon-Pro-GPU can control two external 5K displays or four external 4K displays (according to Apple's specifications). The 13-inch model with integrated Iris graphics supports an external 5K monitor or two 4K screens – always at 60 Hz.
BenQ
6. BenQ 27-inch IPS Quad High Definition LED Monitor (SW2700PT)
Pixel Per Inch: 108.79/220
sRGB: 99%
We already covered the BenQ 27″ IPS Monitor in our blog post about the best monitors for photo editing.
The BenQ 27 inch IPS HD LED, in fact, was picked as the overall winner. Here are the key featured summarized:
The BenQ SW2700PT 27" is a 27" monitor powered by IPS (In-Plane Switching) technology.
Display resolution of 2560 x 1440 pixels.
The contrast ratio is 1000:1.
Built-in calibration tool & a proprietary calibration application.
Support for 1.07 billion colors.
There is this quick 'mode-change' option named OSD controller that allows you to make that change whenever you want to use your monitor for anything other than photo editing.
A feature of the BenQ SW2700PT 27" is the detachable hood. This hood is a nice touch, especially for users who might be sitting in areas where controlling the ambient light may not be possible.
Related Post: 7 Best TVs to View Photos
7. BenQ 32-Inch IPS 4K Ultra High Definition LED Monitor (BL3201PH), 4K2K HD
Pixel Per Inch: 137.68/220
sRGB: 100%i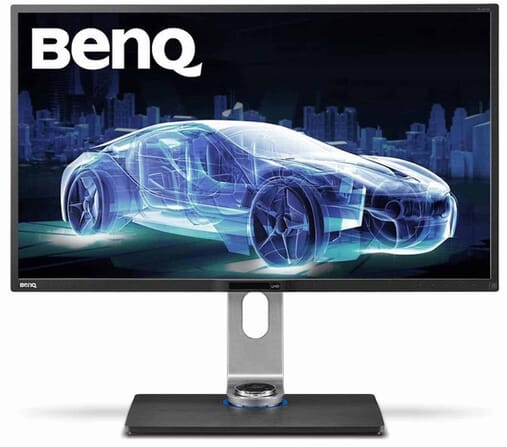 The BenQ 32″ IPS 4K HD LED Monitor is a notch better the the BenQ SW2700PT 27″. Apart from having a larger diplay, the BenQ 32″ is having a higer resolution and 100% vs 99% sRBG Color spectrum coverage allowing you to work with more than 1 billion vibrant colors.
Consequently, the BenQ 32″ IPS 4K is ideal for professional photo editing and image viewing and a preferred choice for those looking to add an external monitor to their MacBook Pro.
As a matter of fact, the 32inch BenQ is getting very positive reviews on Amazon.com; here is one such review comparing the monitor to the iMac:
Absolutely Stunning. That's all I can say. I use this monitor side by side with a 27″ iMac with 5k display. Looking at one another, they look like a match made in heaven.

The clarity of the screen is simply amazing! Watching 4k content on sites like YouTube are fantastic. The base for this monitor feels like it's solid steel. It weighs more than the screen! The rotation is butter smooth as is the tilt and riser. […]  Read all reviews here.
Asus
8. ASUS Designo MX27UC 27" 4K UHD IPS-DP (Best External Display if you have the 15″ MacBook Pro)
Update & Warning: What's not so good about the Asus Designo (And How You Can Trouble Shoot Known Connectivity Problems with the MacBook Pro).
Some users have reported a "Asus Designo – MacBook Pro Connectivity Problem". Here is how to fix this:
For 15″ MacBook Pro Users:

In order for 60 Hz to work:

Go to Menu

Switch USB Modus to USB 3.1

Then switch back to USB 2.

For  13″ MacBook Pro Users:

The USB-C cable won't work for the MacBook Pro 13-inch.
It will, however, work fine with an HDMI or display port cable.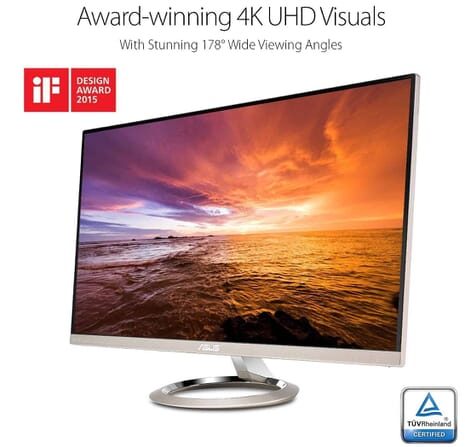 The ASUS Designo MX27UC 27″ 4K is a great pick in the category "best display for MacBook Pro 15-inch" because it has a superb display clarity, amazing 4K resolution (3,840 x 2116), IPS technology, and USB Type-C Connector (even though it works only with MacBook Pro 15″, not 13″).
Very Positive User Reviews
As a result of the great tech specs, the Asus Design is getting raving reviews on Amazon.com. Here is one example of a recent buyer:
Great monitor. Great price. Hooked it up to my MacBook Pro […]. Really happy with the price… Read all the reviews here.
Additional Features
Astonishing 100,000,000:1 contrast ratio.
Stunning 178-degree wide viewing angles.
Support for 1.07 billion colors.
2 x 3W stereo speakers  (co-developed with Bang & Olufsen).
Connectivity:

HDMI 2.0 port, the DisplayPort 1.2 port
or the DisplayPort connector available through the USB Type-C port.

ASUS Eye Care technology, which includes flicker-free technology and a blue light filter.
A hotkey lets you preview your photos on screen in their actual sizes prior to printing.
Related Post: Best Monitors for Photo Editing
Best External Monitor for MacBook Pro 15″ Users & Photographers
All specs considered, theASUS Designo MX27UC 27″ 4K is the best monitor for multimedia & photo enthusiasts and works perfectly for those who want to hook up their new MacBook Pro with a great external monitor.
The 27″ may not be as big as the below covered Dell 34″, but 27″ is in our opinion enough for all your photo editing task, especially if you are used to working on a 27″ iMac.
Here is another relevant and positive verified buyer review:
Love this monitor! I connected this to my MacBook Pro using a Hedgedock. It works great as soon as I plugged it in the screen is very vibrant. There is very little frame and the screen goes almost all the way to the edge. Read all reviews here.
When we selected the best monitors, we paid special attention to the screen resolution and the color gamut; both these parameters are very important for a good viewing experience, especially for photo & video enthusiasts.
Related Post: Best Laptops for Photo Editing
Monitor Tech Specs Glossary
As a photographer or photo enthusiast, you may or may not know what some of the tech specs mean when it comes to monitors (or displays, as they are called more recently). Therefore, we made a small glossary for you that briefly explains the most important parameters when choosing a new display:
Resolution: Number of pixels on a display (e.g. 3,440 x 1,440); The more pixels, the sharper the image. This rule of "more pixel = sharper images" however only works up to a point though. Once you have 220 pixels per inch (ppi), your eye can't see any more improvements. That's why Apple calls their screens now "Retina", referring to the maximum resolution your eye can process. (In this review blog post we calculated the ppi of all the monitors using the true.com Display PPI calculator).
sRGB: The sRGB color space/profile is based on how the three primary colors (red, green, and blue) play together and store data when they are combined with different new colors and shades. The sRGB value goes up to 100%, in which case there will be no mismatch when the data profile is sent to another device, e.g. printer or web browser. (There is a similar standard called Adobe RGB, but in this monitor review, we stick to sRGB, as it is the world's default color space).
Static Contrast: The contrast ratio describes the luminance of the brightest white to that of the darkest black that the display can reproduce. Everything above 800:1 is considered to be sufficient for photo editing work. It's important however to cross check that the contrast is static and not dynamic.
Response Time: This reference to how long it takes for the pixels to respond to the electrical impulses that change the color and creates a new picture. (This is more important for gamers and not so much a criteria for photo & video enthusiasts).
IPS: In Plane Switching Panels or IPS refers to a consistent viewing angle from different viewing angles. Having an IPS monitors is great for photo editing and superior to TN (Twisted Nematic) or VA (Vertical Alignment) panels displays.
Color Depth: This says how many distinct colors a monitor can display. The higher the bit the better the monitor (e.g. 10-bit color support is better than 8-bit).
Ideal Set-Up for Photographers
Laptop Stand & Monitor
You could potentially retire your desktop computer by creating a "spaceship-like workstation".
By using your laptop as a "desktop station" connected to an external monitor you remain fully mobile (no syncing between desktop & laptop required). At the same time, you remain fully operational when working on your home or office desk, just like working on a 27″ iMac.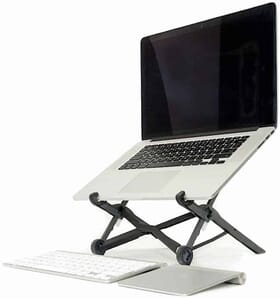 Once you have the monitor and the MacBook Pro Display setup side-by-side you can drag open windows between the screens and use both the displays for optimal task management.
How to set up an Extended Desktop from Your Mac
Connect and turn on your additional display.
Click the Apple () menu and choose System Preferences.
Choose Displays.
Click the Arrangement tab.
Make sure that the Mirror Displays checkbox isn't selected.
For more detailed instructions, visit the Apple Support Page on how to setup external monitors.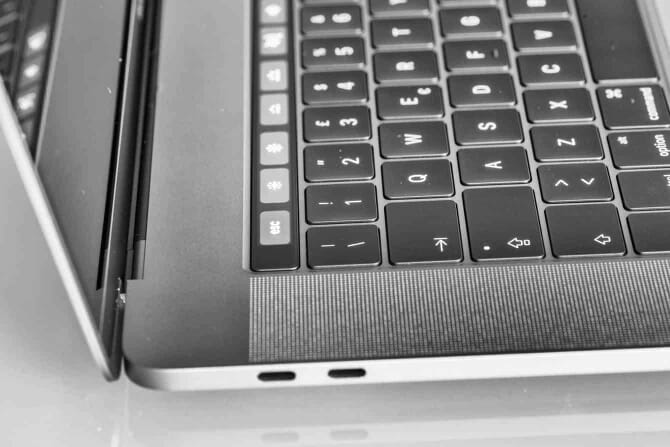 Connecting Your New Monitor with the MacBook Pro
If you buy any of the monitors with no USB-C connector, you may want to buy the above HDMI to USB-C adapter, ideal for connecting your MacBook Pro to an external monitor.
Also, you may want to buy this fancy laptop stand for placing your MacBook Pro next to your new external monitor:
Conclusion: Best Monitor for MacBook Pro
Our Pick for the "Best Monitor for MacBook Pro" is the Dell U3417W FR3PK 34″. It has everything you need as a photo & video enthusiast and MacBook Pro owner.
Another great option is the BenQ 32-inch IPS 4K Ultra HD LED Monitor. If you own the MacBook Pro 15″ (it has a different graphic card then the MacBook 13″), and just want to use a USB-C cable, then check out the ASUS Designo MX27UC 27″ 4K.
For any feedback on this article or if we missed out on any great or new monitors for the MacBook Pro, please leave a comment below.
---
Note: Amazon.com prices, reviews, and ratings were updated on 2019-07-19 - Product prices and availability are accurate as of the date indicated and are subject to change. Some product prices may refer to used/refurbished items. Any price and availability information displayed on Amazon sites at the time of purchase will apply to the purchase of the product. As an Amazon Associate we earn from qualifying purchases. Certain content that appears on PhotoWorkout.com comes from Amazon.com. This content is provided "as is" and is subject to change or removal at any time. For more information refer to our Affiliate Disclosure and Disclaimer.