For many photographers, pets are more than just loyal companions or family friends. They're also some of our most willing models. I know that I'm not alone in saying that pictures of my dog take up a significant portion of my Lightroom catalog. So, why not give your four-legged friends the appreciation they deserve with a professionally produced pet photo print? To do that, we'll help you find the best pet portrait company for your needs!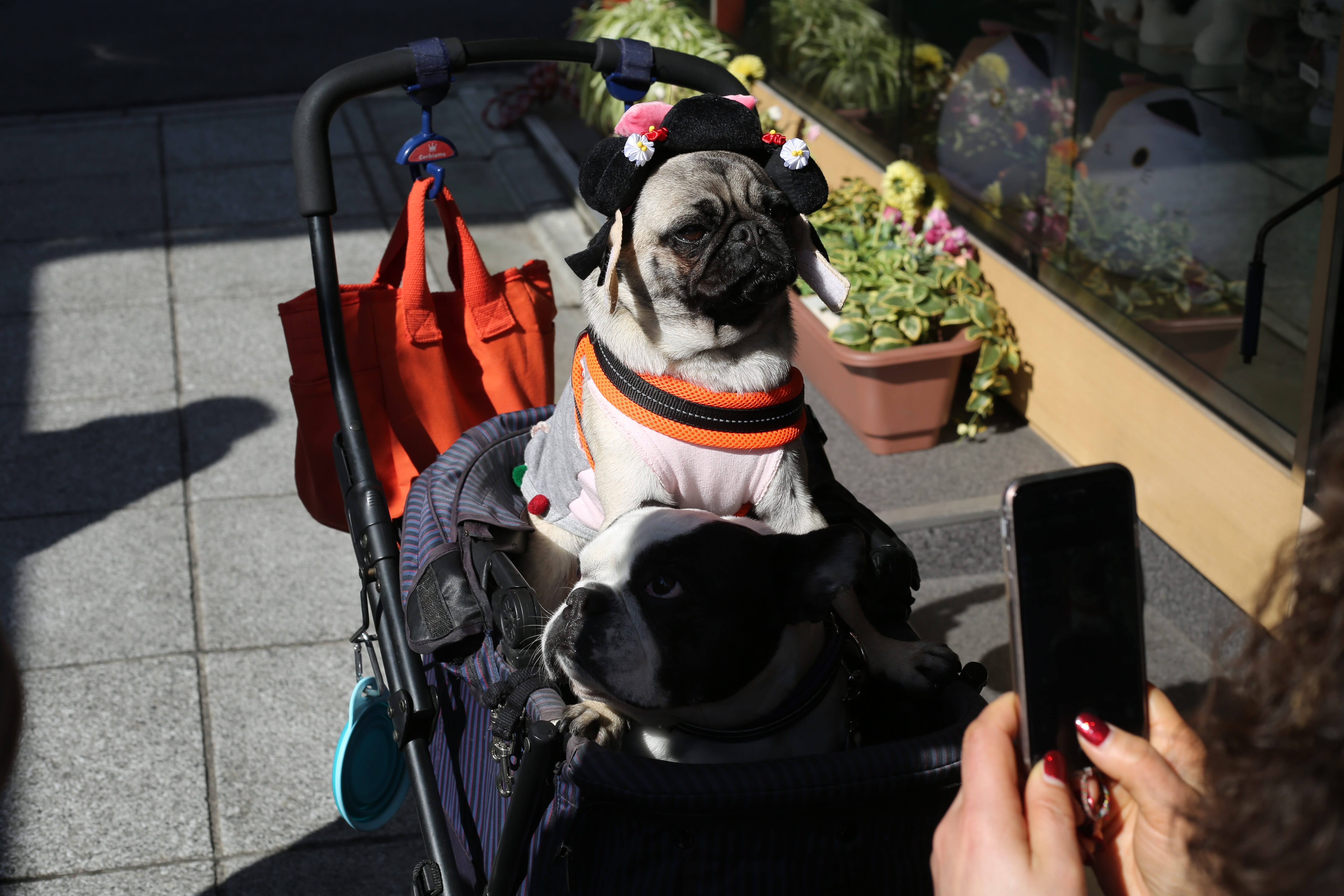 We've scanned through past reviews of the pet portrait printers to determine the best candidates for the job. From fine art photo printing to customized canvases, we want to provide you with the perfect product to capture your pet's personality.
PhotoWorkout's Best Pet Portrait Company Picks
What Makes a Great Pet Portrait?
As we all know, not all printers are created equally. Here are a few of the factors we kept in mind when making our best pet portrait company choices:
Image Quality. This one's a no-brainer. Whether it's a portrait, landscape, or food photo, no one wants to spend their hard-earned money on an ugly print. Make sure that the printer you choose can capture everything in crisp, vibrant detail. Whether your images come from a high-end DSLR or a camera phone, the best pet photo printers should not have any issues dealing with your image.
Related Article: Best Cameras for Pet Photography
We recommend doing your homework ahead of time and checking out previous customers' orders before committing to a printer. After all, you should only settle for the best for your four-legged friends!
Great Customer Service. As especially sentimental images, most of us attach a little extra meaning to our pet portraits than we would other photographs. So, finding a service that invests in getting your pictures looking perfect can be a big deal.
You never know what little tweaks your image may need, or what problems a particular printer might encounter. Getting past these hurdles is all part of the print process. However, paying close attention to quality control minimizes the risk of walking away unhappy.
Long-Lasting. For many of us, our pets are a part of the family. So, looking good isn't the only factor to consider. It's equally important to choose a product that will stand up to the test of time.
A nicely framed print or a high-quality canvas can become a treasured family heirloom when properly cared for. The best pet photo printers are often well aware of this, tending to use archival materials whenever possible. While it's tempting to save a few extra dollars, we recommend shelling out for durable materials if preserving your pet's memory is a priority.
The "Wow" Factor. Last but not least, we're always keeping an extra eye out for services that go above and beyond. There are hundreds of ways for print providers to stand out among their competitors. Some offer unique products for purchase. Others focus their energy on scene-stealing print effects. Any customization abilities that allow users to really make their prints their own are warranted extra points.
Putting a finger on what exactly makes a "wow" factor can be tricky, but it's hard to miss once you've seen it. Almost all of today's entries include special features that you'll have trouble finding elsewhere.
(PhotoWorkout's Top Pet Canvas Print Choice)
Author's Recommended Product: 16×16″ Canvas Pet Portrait ($79.00 USD)
We've championed Canvaspop for some time, but it's an especially tempting option for pet owners. Recently, they released their own line of pop-art-inspired personalized canvas pet portraits. If you want to take your pet's picture to make a statement and add some flair, this is the best pet portrait company for you.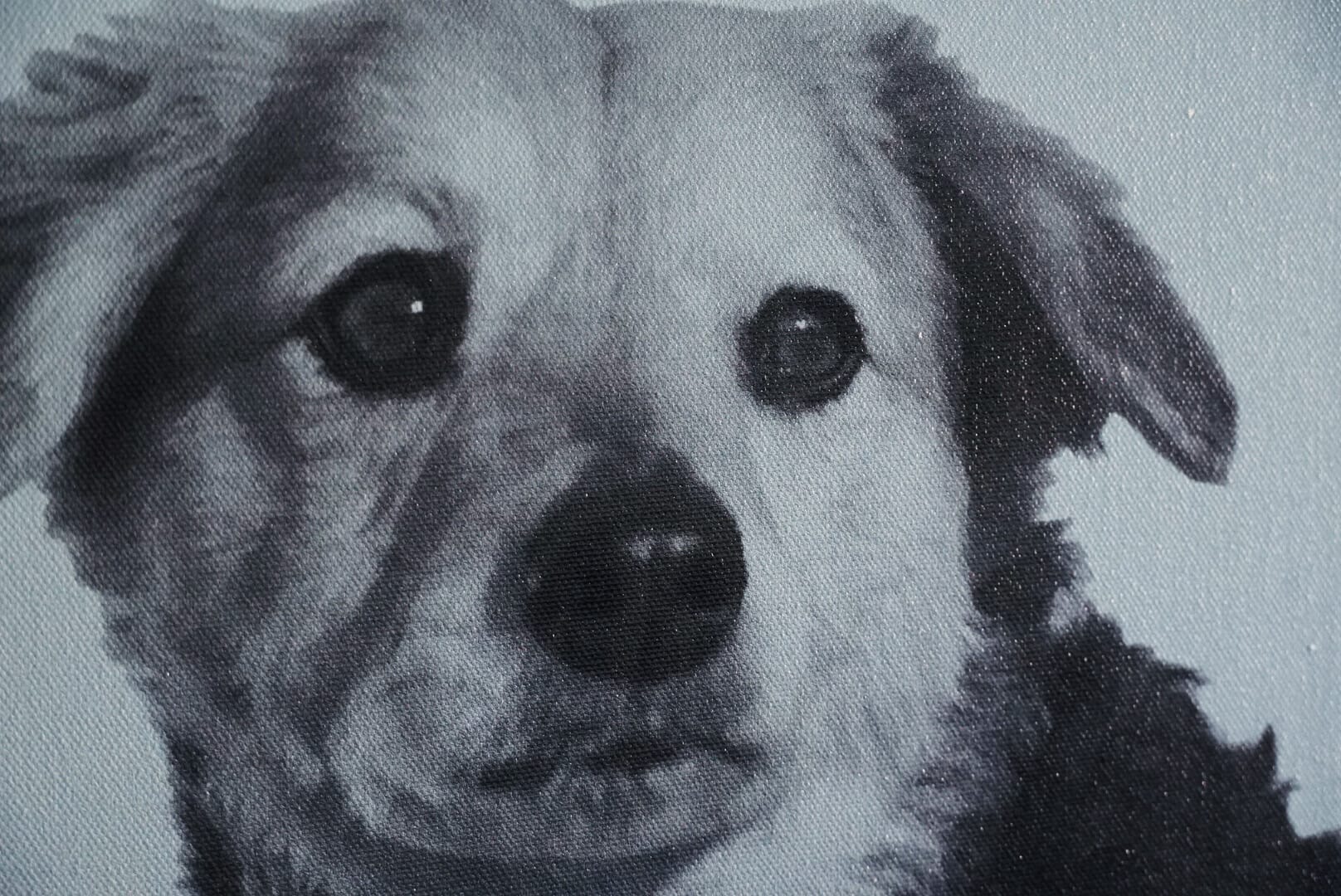 Of course, Canvaspop also provides more straightforward photo prints on canvas, as their name implies. Although their pet prints are available in only three square sizes, most Canvaspop items come in custom sizes. So, if the personalized pet portrait product doesn't fit your space or needs, don't fret – the classic canvas offers some flexibility.
Related Article: Canvaspop Pet Portrait Review
Both products are available for more or less equal prices, so making a decision on what to order comes down to a matter of personal preference.
An added bonus? Both traditional canvas printing and specialized pet portraits take a matter of minutes to upload and order. For those who don't want to waste time finessing on details, their streamlined workflow is about as good as it gets.
(PhotoWorkout's Top Pet Photo Print Choice)
Author's Recommended Product: 7.5×7.5″ leatherbound photobook, 26 matte photo pages ($59.49 USD)
I've found that not many US photographers are familiar with Saal's print service. Even so, this Hahnemuhle-certified studio is worth having on your radar.
Everything I've ever received from Saal has been beautiful. Aside from using high-quality materials, the digital lab maintains excellent print production standards. This ensures that your print matches its source file precisely. Careful color correcting and fantastic detail retention make them an easy favorite.
A major advantage to ordering through Saal is its affordability. All too often, high quality equates to a high price tag. However, Saal's most expensive paper in the largest possible size does not surpass $10. Not a bad deal for a beautiful paper print of your best friend!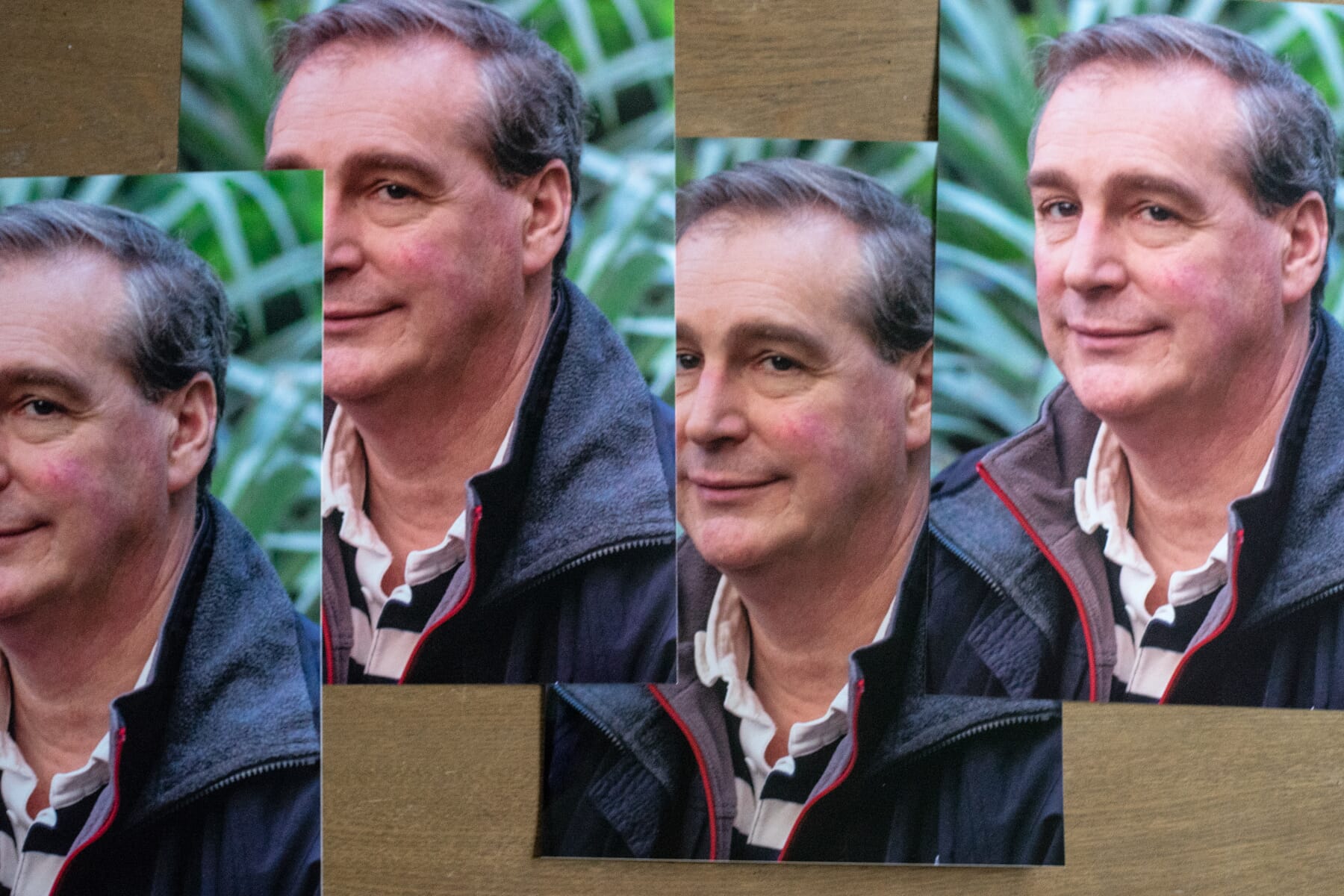 Of course, if you do have a flexible budget, you can splurge on some of Saal's more expensive products. Included in their inventory are canvas, brushed metal, and acrylic glass photo prints. We also loved their selection of photo books, which are perfect for showing off collections of pet pictures you may have gathered over the years. Whatever you ultimately opt for, there's no doubt that Saal is among the best pet photo printers out there.
(PhotoWorkout's Top Pet Painted Print Choice)
Paint Your Life's unique business model is a breath of fresh air, making it a strong contender for the best pet portrait company. Rather than taking your digital files to create a fine art print, PYL converts your photos into one-of-a-kind handmade paintings!
With a number of mediums to choose between and a few dozen artists on retainer, you have some jurisdiction in the look of your final product. There's a large range of styles available, from photorealism to painterly, impressionist looks. You can even request custom changes from your source files. if your favorite snapshot has something distracting in the background, now's your chance to erase it from memory! What's more, if you're unhappy with any aspect of the proof, it's easy to request custom modifications and adjustments.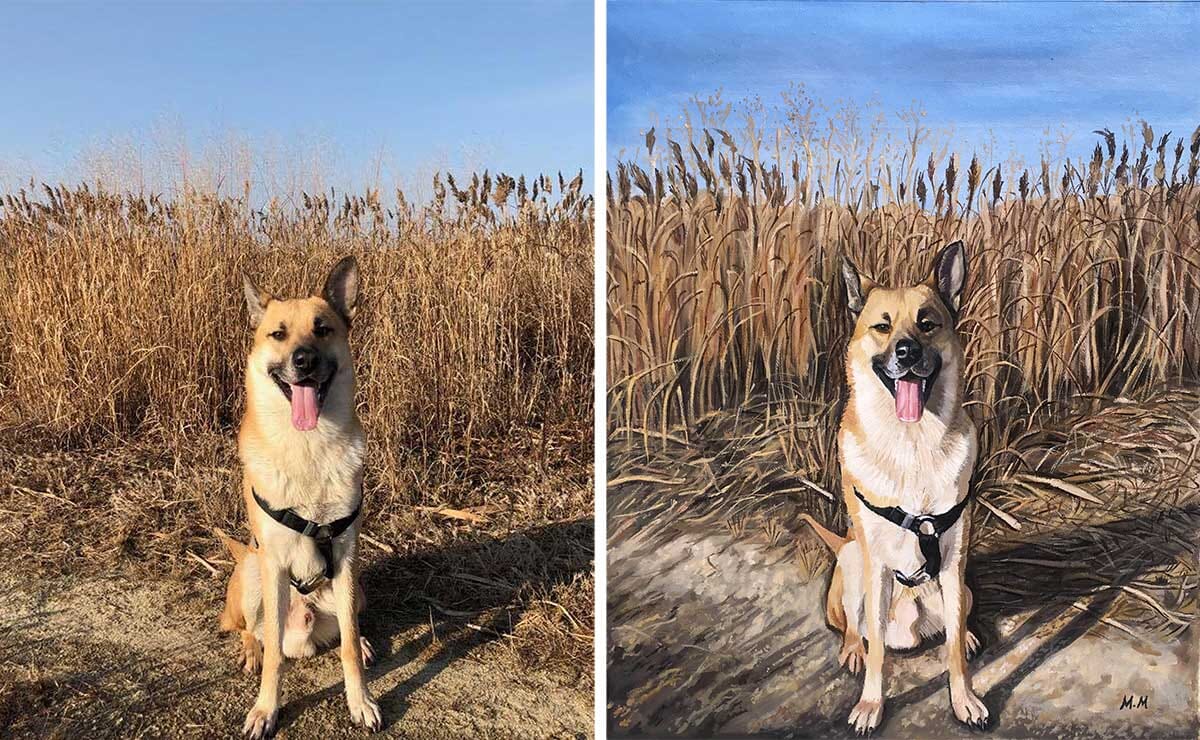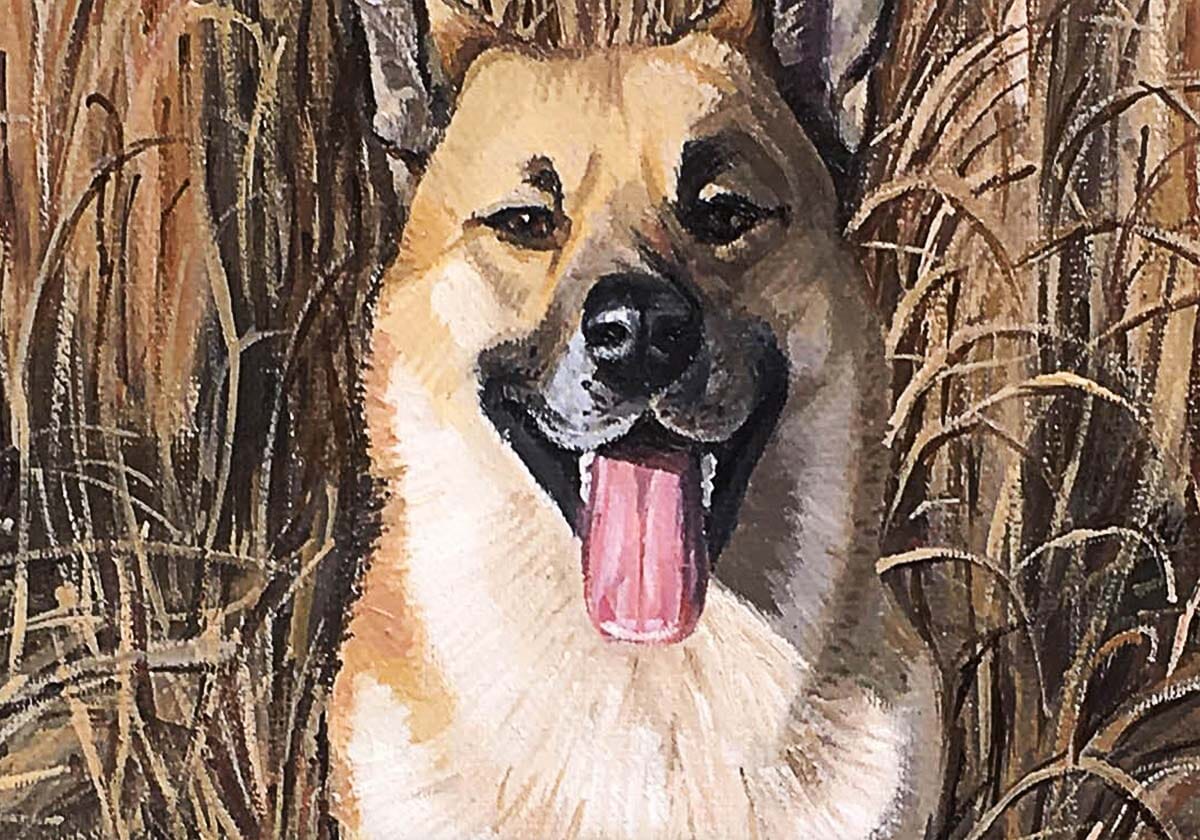 Related Article: PaintYourLife Review
PYL actually specializes in pet portraits, with a handful of artists that exclusively stick to painting cats and dogs. Of course, you won't know exactly what PaintYourLife delivers until the order arrives at your door. But thanks to their willingness to act on customer feedback and add human touches to orders, you can count on receiving something special.
The market for professional pet photography is on the rise, but taking pictures is only half the task. If you're considering offering prints to expand your side gig, Miller's Imaging Lab is an excellent resource. Because Miller's caters to pro clients, the imaging lab delivers precise prints with fast turnaround.
Related Article: Best Pro Online Photo Printing Services
Miller's offer metal, wood, canvas, and wall prints as well as a wide range of paper prints. But that only scratches the surface of their offerings. Depending on your budget and taste, users may also choose between archival paper, texture, stamp, and mounting options. You can even make use of retouching and raw processing services if you'd like. On top of that, every piece is carefully inspected before delivery and protected by a 100% satisfaction guaranteed service.
There is one catch – at the moment, Miller's is only open to small photography businesses. However, everyone else can turn to Miller's sister company, Mpix, who takes their job just as seriously. In fact, Mpix expands users' purchase options, offering photo books and gifts to show off your furry friend!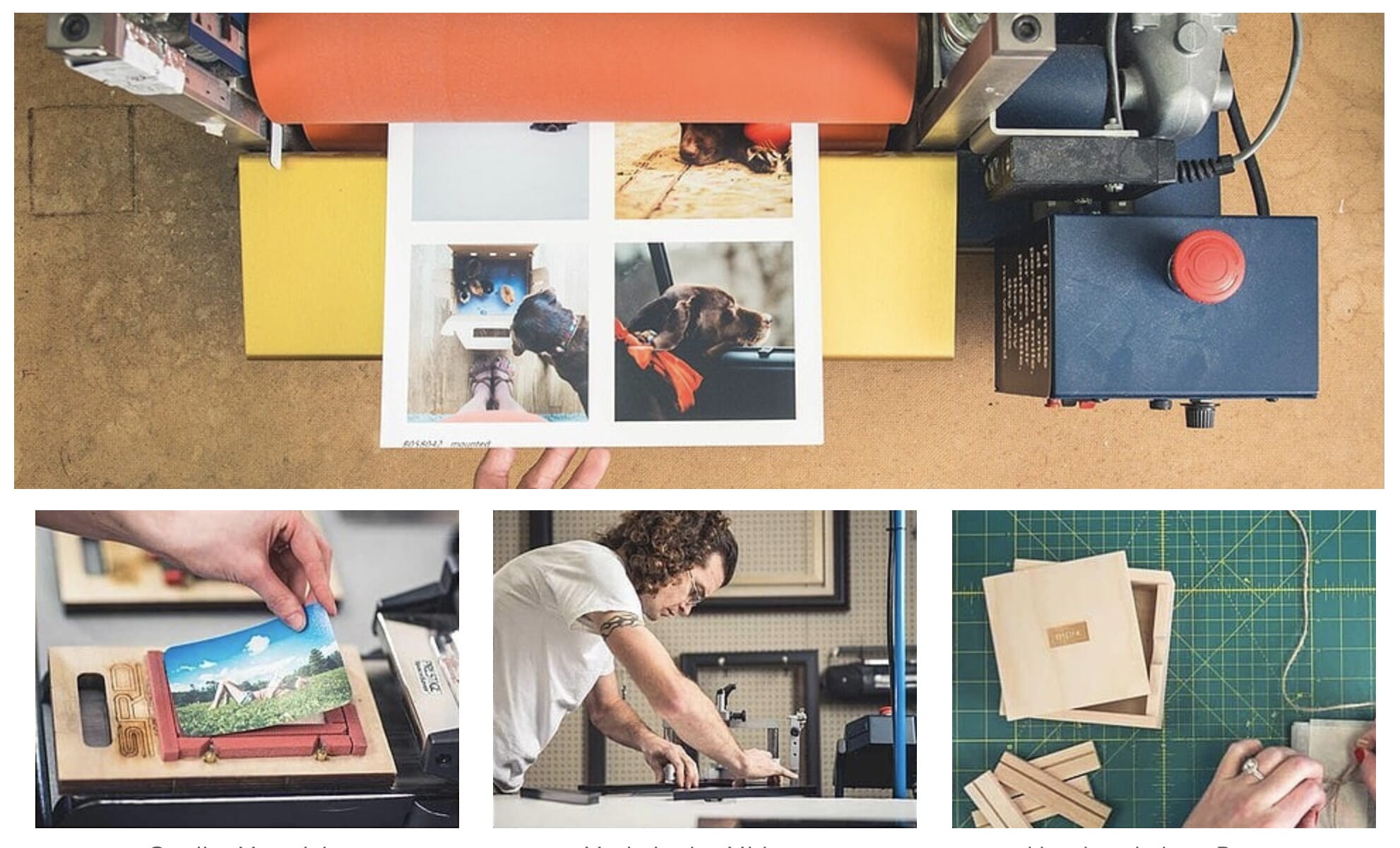 Author's Recommended Product: 4×6″ matte photo prints ($0.18 USD each)
Sure, Shutterfly may not have the best pet photo printers in the world. Being one of the largest services of its kind, it cannot offer the attention to detail or intricate styling that smaller operations can. But, when push comes to shove, Shutterfly does a pretty great job of providing passable prints conveniently and affordably.
Related Article: Shutterfly On-Demand Prints
All users have to do is upload their image(s) to the site and choose what they'd like to plaster their image on. Offering everything from mousemats to tote bags to coffee mugs, Shutterfly can attach your pictures to almost anything. It's equally effective for making standard 4×6″ or 5×7″ prints in bulk.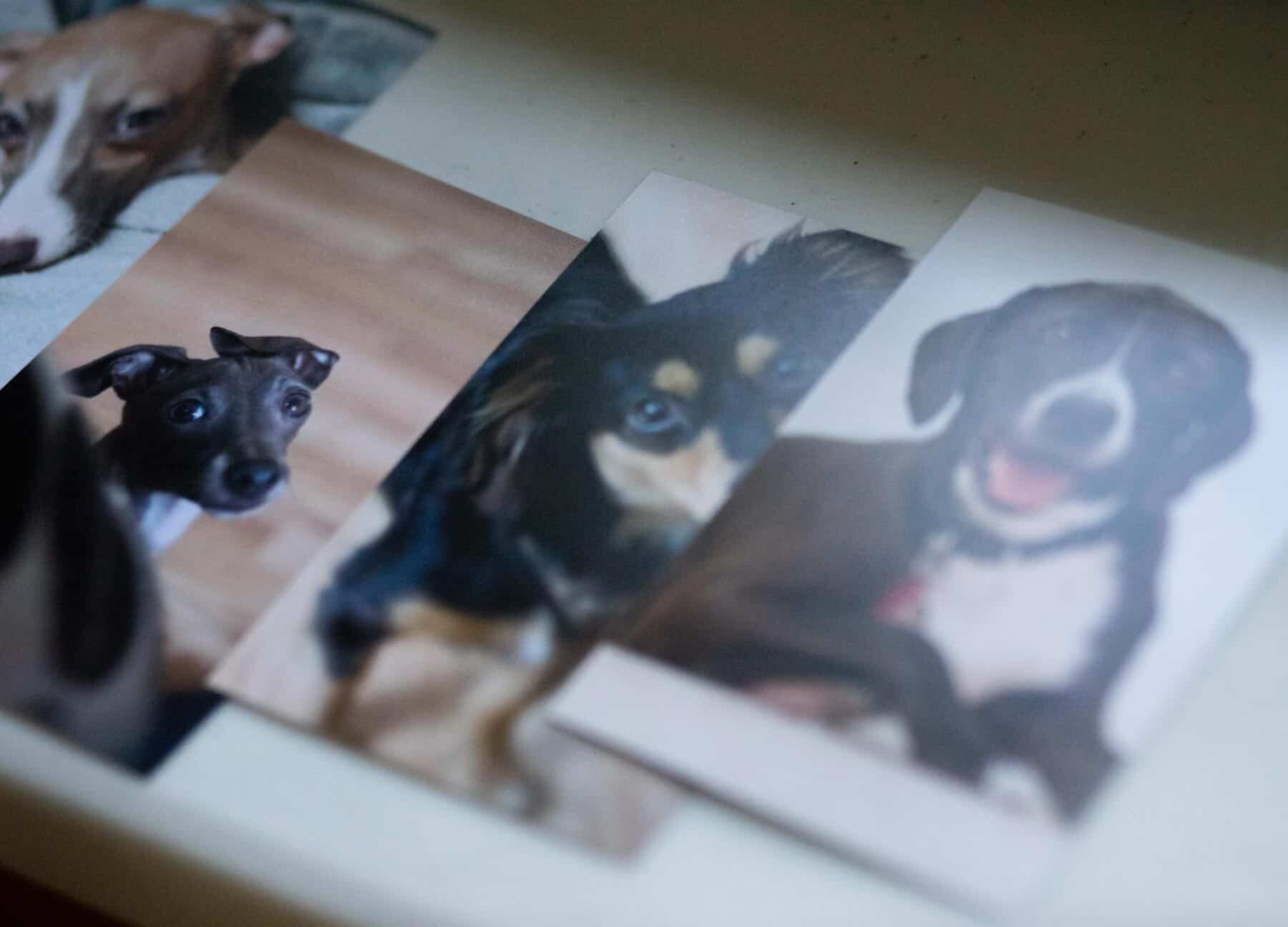 Though many of Shutterfly's prints cost as low as a few cents per copy, the site constantly hosts sales that seriously drive down prices. Whether you want a few prints of your pup on hand or seek to plaster your cat on a few accessories, the best bang for your buck is likely to come from Shutterfly.
Only willing to settle for the absolute best for the pet in your life? You may be able to find just what you need in Bay Photo's excellent selection of print products. Made with care and precision, you can count on any product from Bay to preserve your pet's legacy for years to come.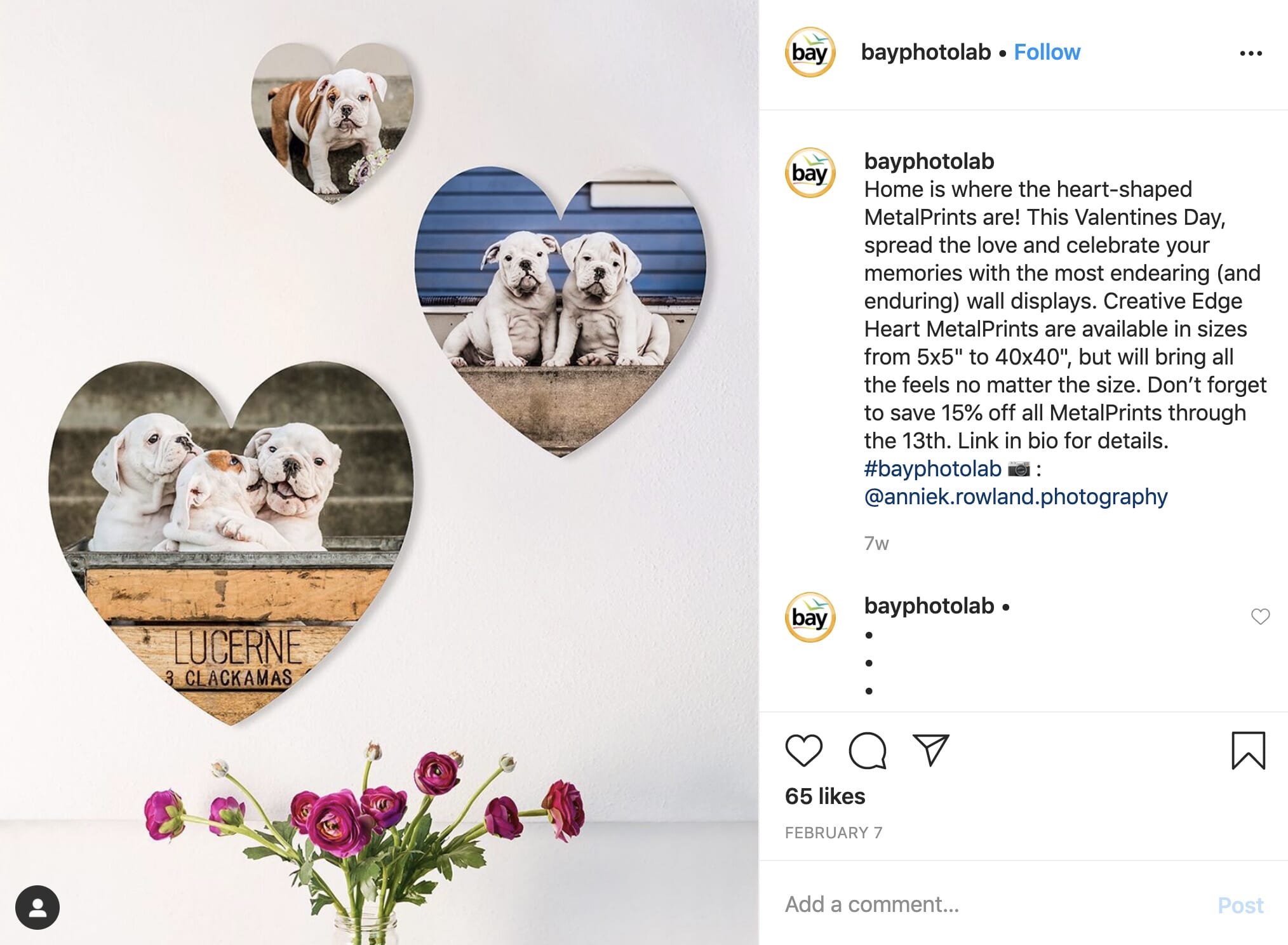 Although Bay has a variety of wall displays available, their fine art prints steal the show. Available sizes range from 5×10″ to 40×80″, so there's something suitable available regardless of how much space you have to spare. What's more, there are 18 premium papers to choose between, from brands like Moab, Hahnemuhle, and Canson. You may also add on protective coatings and textures to give your print some added protection and personality.
As if that weren't enough, you have even more options to choose from when you opt for one of Bay's standard photo prints. Available at a fraction of the fine art print cost, photos come in everything from wallet-sized pictures to 30×120″ panoramas.
Going beyond standard canvas and metal prints, it's worth noting that Bay Photo also offers a number of premium mounting options. From gatorboard to bamboo backing or float mounts, Bay goes the extra mile to make sure your order is presentation-ready on arrival. In short, Bay's attention to detail every step of the way makes them one of the best pet portrait companies.
Author's Recommended Product: Custom Canvas Photo Print (starting at $53.25 USD)
Elephant Stock often doesn't get the attention it deserves among photo canvas printers. After all, their business heavily focuses on selling art to commercial vendors. But, because their products must meet certain standards, their custom photo prints are always gorgeous.
While Elephant Stock may not have the reputation of other full-time photo printers, it's more than capable of producing a pet print you'll love.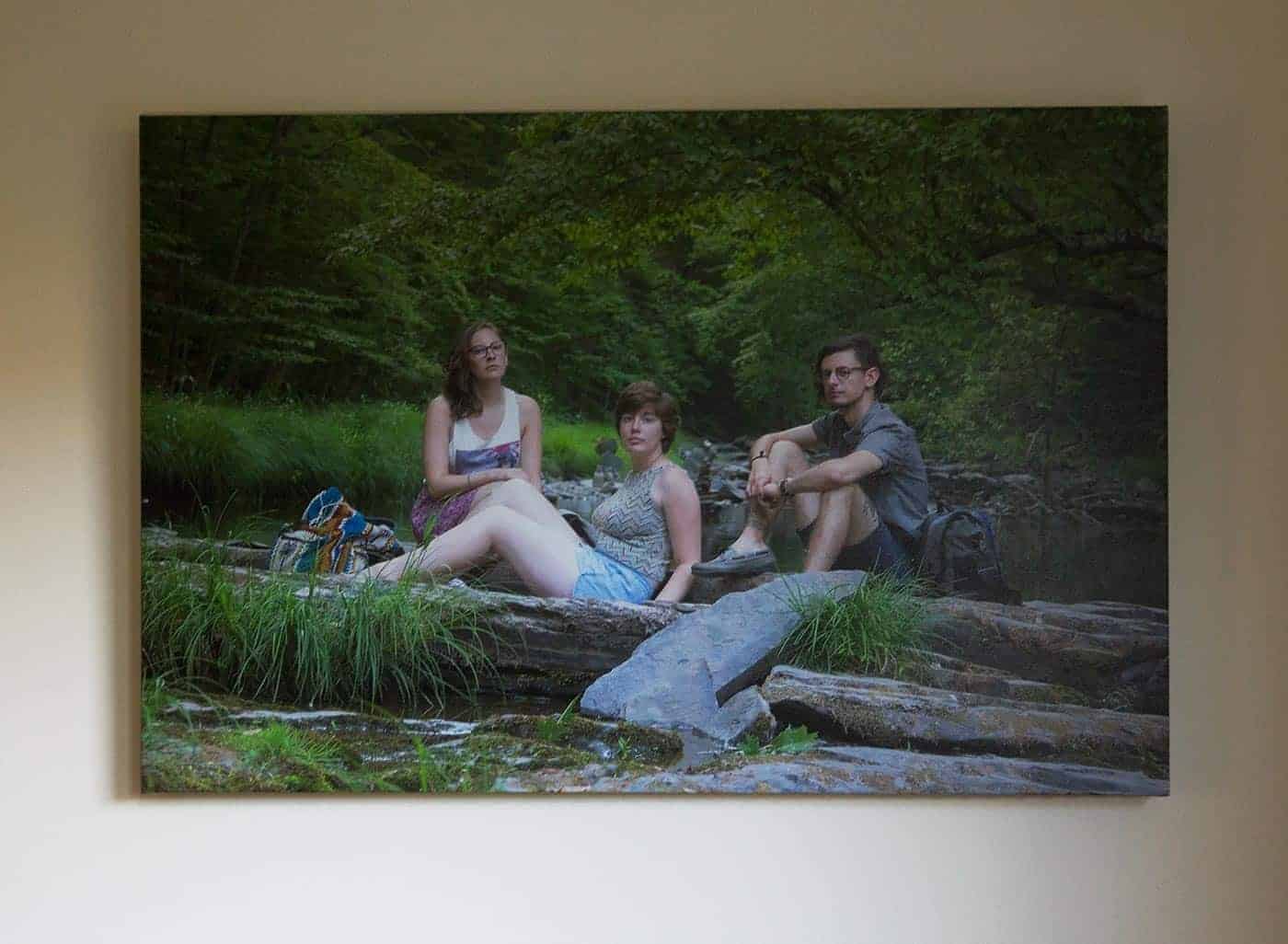 Every image – be it your own or a stock image through the site – retains excellent detail without drowning out the texture of the canvas itself. When I received my first piece from Elephant Stock, the rich tones and vivid colors left an especially strong impression. Elephant Stock also offers a few different layouts and sizes to choose from (although not as many as a standard on-demand print site might).
Related Article: Elephant Stock Canvas Review
One important thing to keep in mind – Elephant Stock deals work strictly with canvas and framed prints. They do not seem to carry the metal, wood, or paper options that have become increasingly popular with other online print shops. This isn't necessarily a negative, however, as their canvas products make a bold statement that's difficult to ignore. What more could a proud pet owner want in a print?
As a family-operated business, Canvas HQ is an excellent candidate to handle something as personal and precious as a pet portrait. In fact, their emphasis on treating each order with love makes them one of the best pet photo printers we've encountered.
CanvasHQ cares deeply about the quality of their work, and it shows in their end products. They take great pride in sourcing a combination of materials built to last so that your photo looks as good years from now as it did out of the package. Little touches, like easy-install mount hardware, make it clear they're aware of customers' wants and willing to go the extra mile to deliver.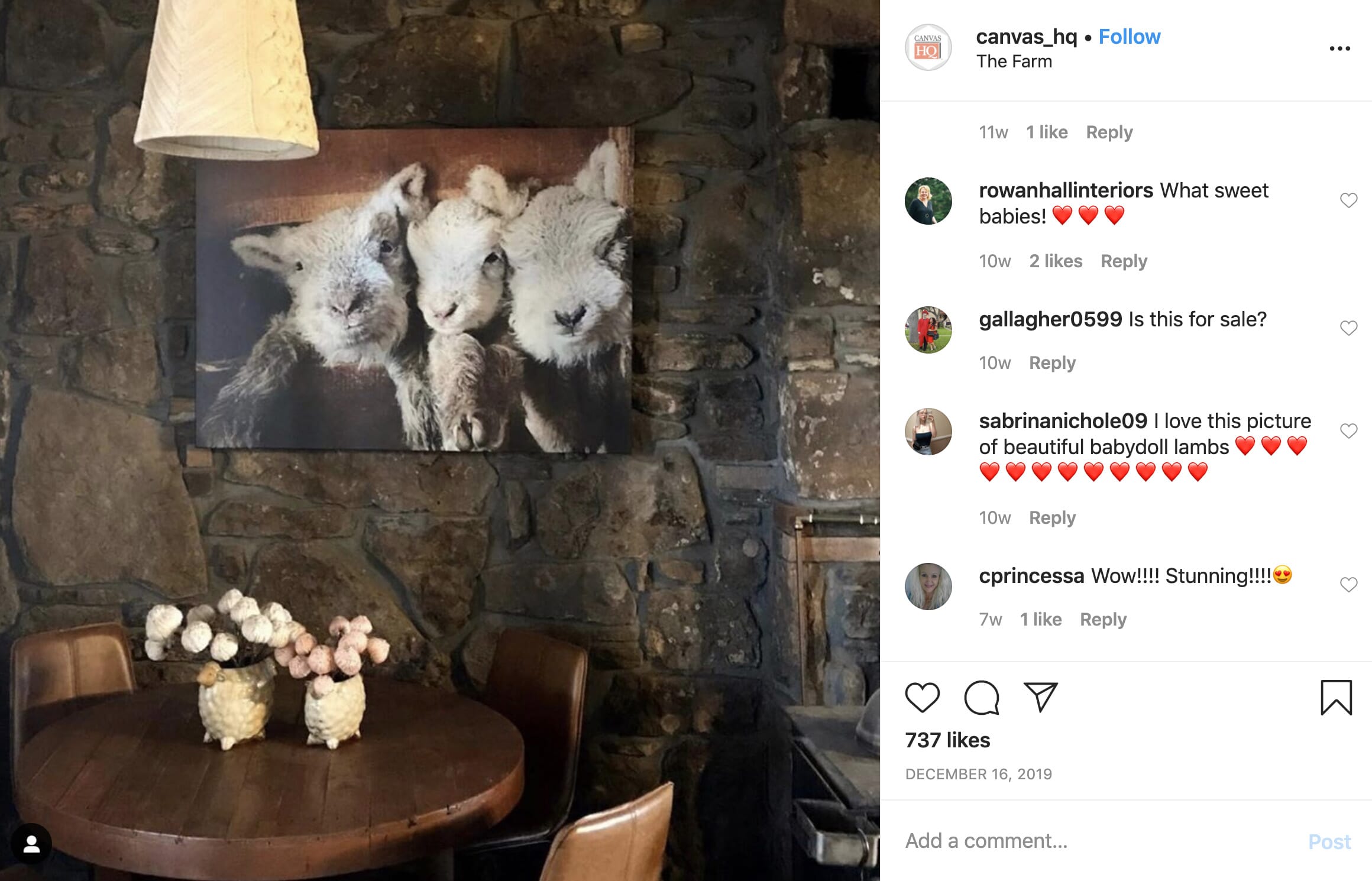 What seals the deal for me is the excellent customer service experiences I've had with CanvasHQ in the past. If there's any specific instruction you have for your order, making sure it gets done is as simple as reaching out to them.
Related Article: Canvas HQ Photo Canvas Review
In fact, CanvasHQ even provided me with personalized feedback to bring out the best qualities in my images during my first test order. Their willingness to suggest materials to best compliment my order is something I have yet to experience elsewhere.
9. Etsy
Etsy may not be the place your mind immediately goes when thinking of a place to get a pet portrait. But hear us out. It may not be a physical shop dedicated to prints alone, but there are some advantages to this online marketplace.
The greatest strength Etsy has is its diversity. With thousands of independent artists and small businesses, each vendor has its own unique style to show off. Of course, it feels good to directly support individual creatives with your purchases. But, another advantage to this business model is the unique opportunity to contact the artist behind the print.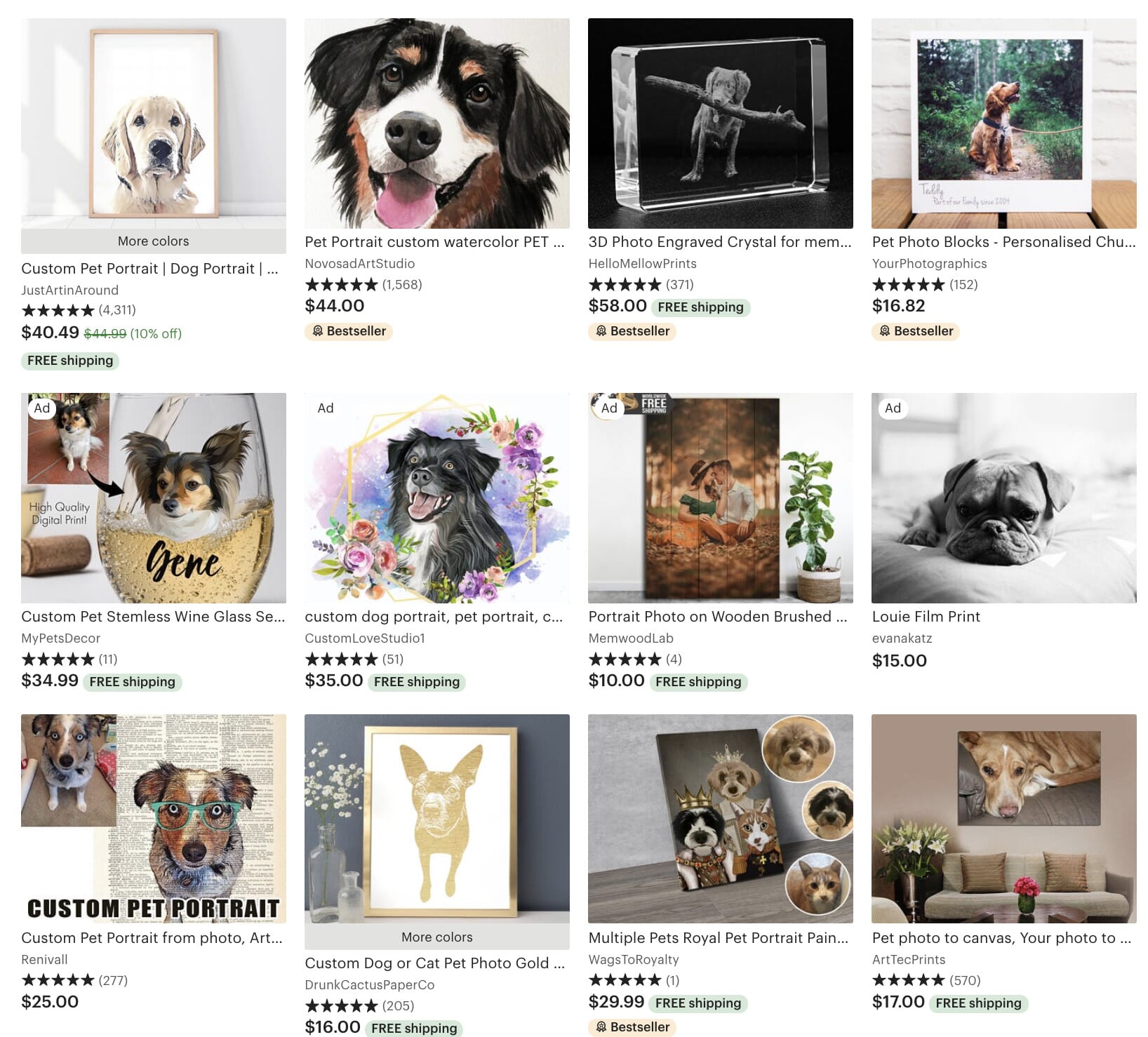 Because Etsy artists are working at a much smaller scale, there's a lot more room for customization in Etsy's marketplace. What's more, artists offer unique, outside-the-box products that might not "sell" well in a more conventional setting. This allows you to get something that fits your pet's unique personality and aligns with your personal style.
Of course, since there are many different sellers in Etsy's collective marketplace, prints come at a wide range of prices. You may have to pay a premium for shipping, one-on-one services, etc. when commissioning a pet photo as opposed to what you'd pay wholesale. That said, that extra bit of effort and cash can pay off in the form of a photo print that's truly one of a kind.
10. Your Printer at Home
Do you really want to ensure that your pet prints are perfect? Why not take on the task yourself? As it turns out, the best pet portrait company might be the one already in your home office.

When you print at home with your own materials, you put control of your final product into your own hands. Of course, if you are trying to do a super-specialized print, you may not be able to access the proper tools. But if you just want a standard paper print, using a printer of your own might be a smart move.
Having a printer of your own gives you the power to fine-tune things like the color balance. No more struggling with customer service for a refund – if you're unhappy with a print, you can try again. What's more, printing at home allows you to choose materials rather than being restricted to a company's supply of inks and papers.
Related Article: Best Inkjet Photo Printer
There's a pretty wide range of printers to choose between, from cheap inkjets to specialized fine art production machines. It'll likely take some research to find the machine that works best for you. But making your own creative decisions can be fulfilling, resulting in a print with some true sentimental value.
Share Your Pet Prints with the World
Each of the pet portrait companies we chose had some awesome attributes for working with your best shots. Whether you're seeking durability, cost, or that "wow" factor, there are plenty of places worthy of printing your pet.
Did we miss any of your favorites? Have any additional thoughts on the printers we reviewed? Share your experiences in the comments below!