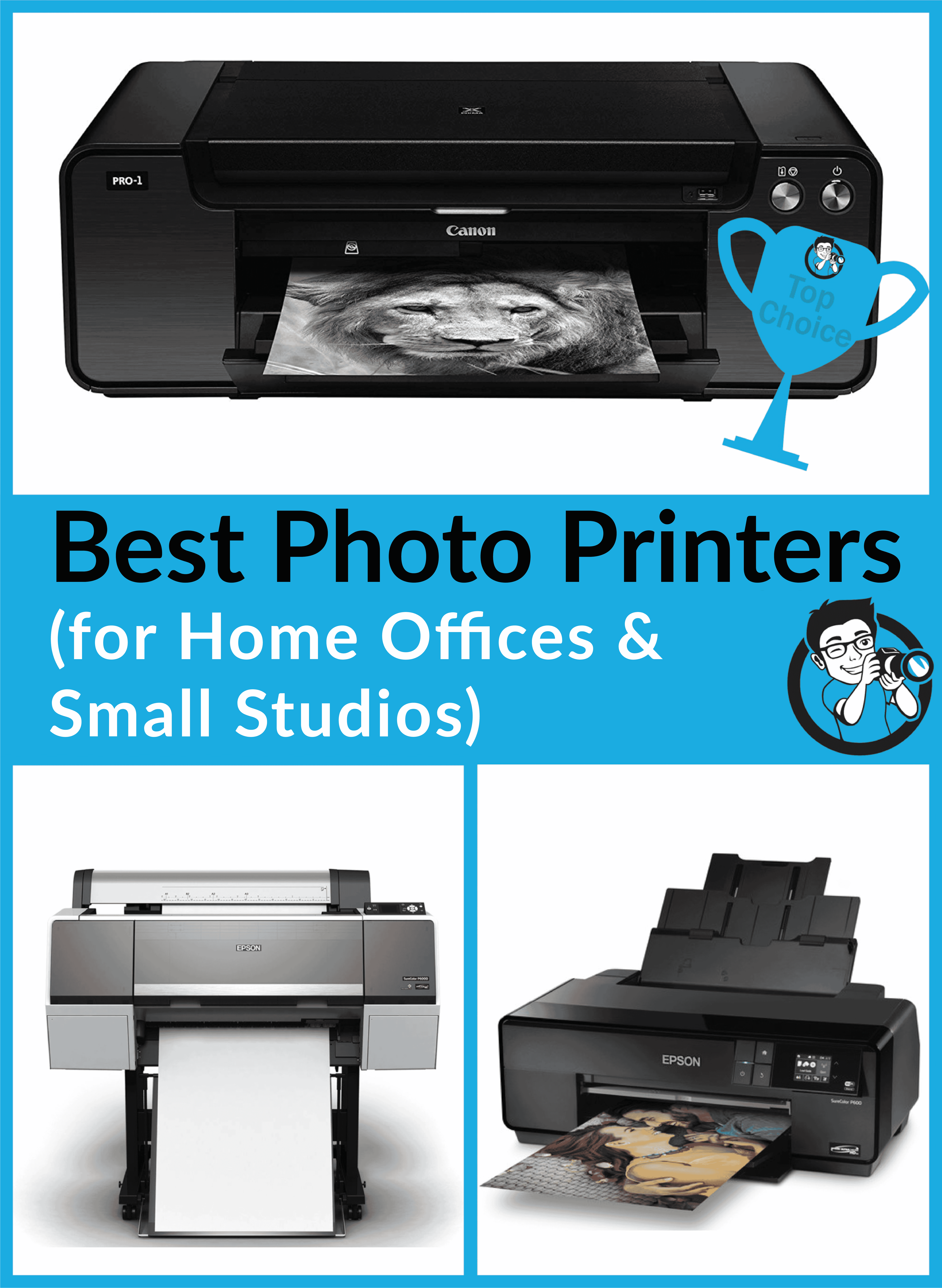 We looked at the best photo printers in 2020. This is based on the printing technologies used, number of inks used and the best overall performance. The perfect combination of price and performance. So, without further ado, here is the list of the best photo printers in 2020: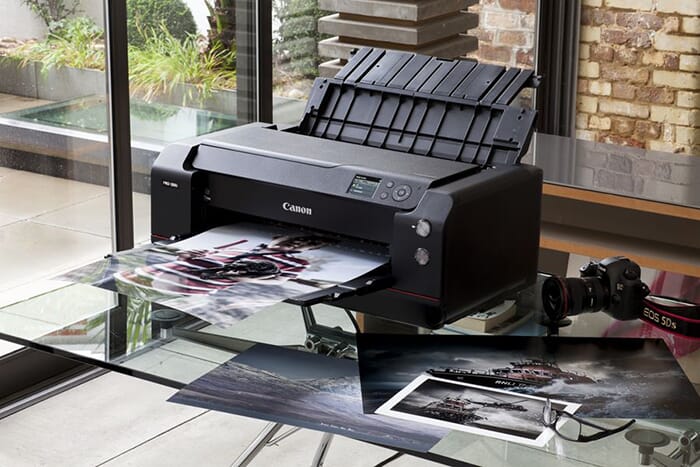 The ultimate source of gratification for a photographer is when his/her work is appreciated. That comes from the ability to display a printed photograph. Let's be clear with one thing. Photos were always meant to be printed. They were always meant to be mounted or put, using any other means, on a wall. And be viewed and admired. It was always meant to be a tangible thing. For this, you have to print. Today, I shall be listing the best photo printers that you can buy.
What is "Best"?
The term 'best' is subjective. If you are looking for the best budget printers that can set the ball rolling for your small photography business, this is for you. However, if you are looking for the best large format printers, then this is not for you. If you are looking for home/office printers, this is not for you.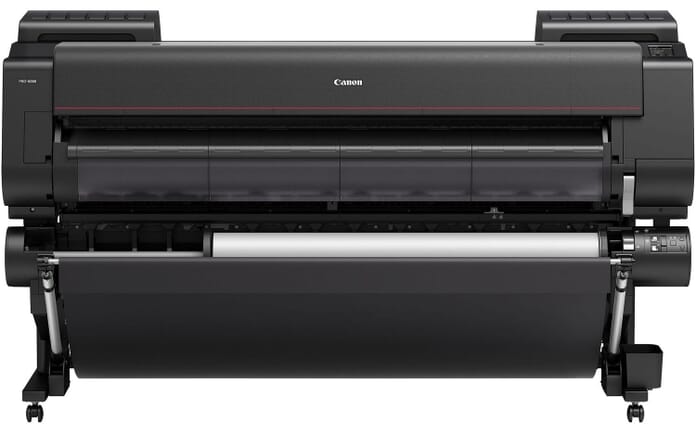 Canon's mid-range inkjet printers have been ruling the market. Especially, when it comes to professional quality photo printers. There are printers for every budget and every need. Such as the large format Canon imagePROGRAF Pro-6000.
Related Post: Xpozer Prints Review
Unless you actually sell large format prints there is no need to sell one of your kidneys to get that. If you only print smaller sizes, with A3 being the largest 'small' size you print, there are other options. You are better off with something like the imagePROGRAF PRO-1000.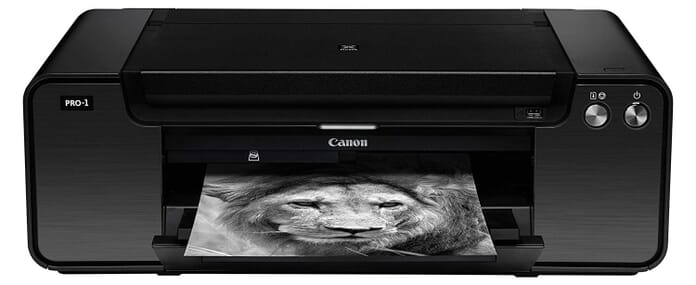 The Pixma PRO-1 is a professional quality inkjet printer with a total of 12 inks. These are based on the LUCIA pigment ink system. The Pixma Pro-1 can print on a wide variety of paper sizes and media types. The largest being 13" x 19". The highest resolution prints in color are of 4800 x 2400 dpi. If you love making black and white prints you will love the deeper and saturated blacks. There are a total of 5 monochrome inks to boot.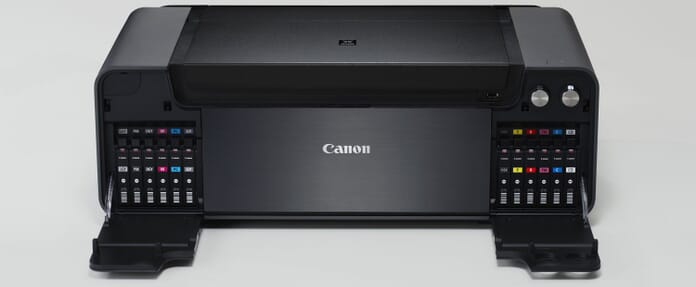 Note to editor – Pixma Pro-1 is listed as no longer on sale at B&H. But it is available on Canon. USA website.
Canon PIXMA PRO-1 Professional Inkjet Printer
The PIXMA PRO-1 Professional Inkjet Printer is the quintessential tool for the professional photographer that gives you the...
LUCIA 12 pigment ink system for professional image performance up to 13" x 19"
Professional quality grayscale printing with five black and gray inks included for smooth gradations and reduced graininess
New Chroma Optimizer creates uniform glossiness, expanded color gamut and enhanced black density
Compatible with Individual PGI-29 Ink Tanks (Matte Black, Photo Black, Cyan, Photo Cyan, Magenta, Photo Magenta, Yellow, Red,...
Why would you want the Epson SureColor P800? Perhaps because 17" wide (and 22" long) is the largest borderless size that you would ever want to print. If you do then this is a printer that's worth taking a look at. The Epson SureColor P800 is an inkjet printer. It comes with 9 Ultrachrome HD pigment-based ink tanks. The maximum resolution that the Epson SureColor P800 can print is 2880 x 1440 dpi.

The printer has an auto switch mode that shifts between matte and photo black inks. However, the problem is auto switching takes about three minutes and a half and wastes some amount of ink. Unlike the Canon imagePROGRAF PRO-1000 this printer supports roll paper. But you won't get a cutter. That could sway most buying decisions.
Epson SureColor P800 17" Inkjet Color Printer,Black
Unit Dimensions: 26.93"W x 14.80"D x 9.85"H | Weight: 43 lbs
Maximum Printable Area: Maximum paper width: 17" | Maximum cut-sheet size: 17" x 22" | Minimum cut-sheet size: 3.5" x 5" |...
Unmatched print quality — Epson UltraChrome HD Inks deliver vivid color, superior black density and significantly improved...
Versatile media handling up to 17" wide - create borderless prints on photo papers, fine art papers and posterboard up to 17"...
Superior black-and-white prints - three-level black ink technology and advanced black-and-white photo mode for...

The Canon Pixma PRO-100 is yet another professional printer from the house of Canon. This printer comes with a set of 8 ink cartridges including 3 monochrome inks. The maximum resolution you can print with the PIXMA PRO-100 is 4800 x 2400 dpi. And the largest borderless single sheet that you can print is 13 x 19".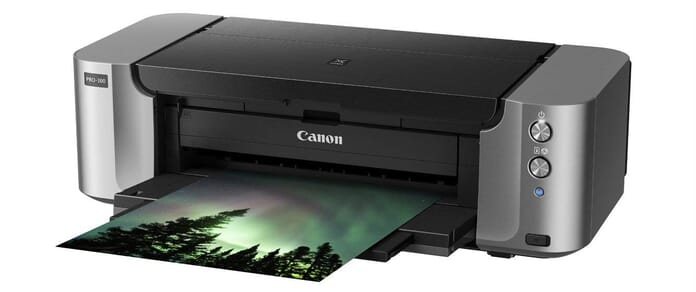 The printer uses Canon's ChromaLife 100+ inks. These, as per Canon, are rated to last for 100 years. Although there is no way to check the authenticity of this claim it is safe to assume that the quality is very good.
Canon Pixma Pro-100 Wireless Color Professional Inkjet Printer with Airprint and...
8 Dye based inks for amazing gradients and color, 3 of which are dedicated grayscale inks for beautiful black & white prints
Output Tray Capacity Auto Sheet Feeder 150 Sheets of Plain Paper; 20 sheets Photo Paper (4x6); 10 sheets (Letter/8x10); 1...
Built-in Wi-Fi and Ethernet Connectivity: The built-in Wi-Fi and Ethernet port gives you the freedom to place the printer...
Includes setup ink tanks, setup CD-ROM, CD/DVD disc printing tray, print head, power cord, manuals and other documents
Canon Full-photolithography Inkjet Nozzle Engineering (FINE) features a patented print head that enables printing with...
The Epson P6000 is a large format dedicated photo printer. At nearly $3000 it is easily the most expensive too. It is capable of printing on a maximum 24" wide media. Easily the widest print size. That includes both cut sheets and roll media top feed option.
Related Post: Best Professional Photo Printers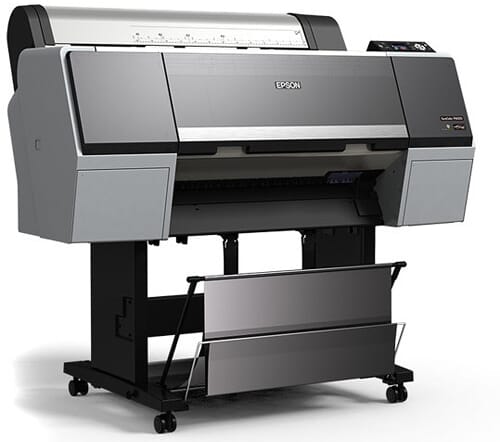 On roll media, you can print an extremely large panorama of a maximum size of 529". The maximum print resolution is 2880 x 1440. To own the printer you have to tick several boxes. You have a lot of disposable cash.
Second, you absolutely need a high-resolution printer. Third, you want complete control over your prints. Fourth, you know your investment will be recovered in a short time.
Finally, you love making all your prints at home. If you tick all the boxes then, by all means, go for it. That said, this is a behemoth. If you rarely make larger than 19" then don't bother spending your hard earned cash on it.
You get both a tray feed option as well as a rotary option. There is also a rotary cutter for cutting roll media after printing.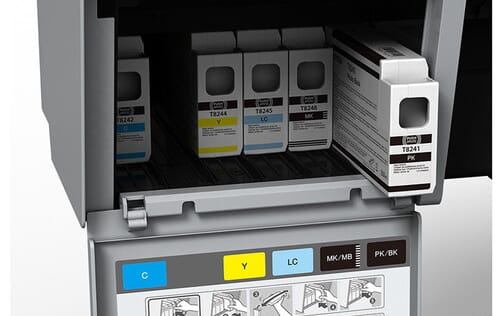 Now about the printing ink. The printer uses a total of 8 Ultrachrome HD 8-color pigments ink system. This ensures a wider color gamut. The inks are rated to last for 200 years (color) and 400 (black and white), respectively.
Maintenance
The Epson SureColor P6000 comes with improved maintenance routines built into it. This is compared to the older x900 series units which had clogging related issues. The new printer's maintenance system takes care of clogging related issues. There is one catch though. For the maintenance routines to work seamlessly you will have to keep the unit switched on between uses.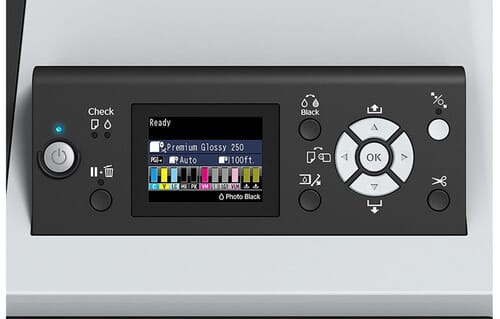 Is this is the best photo printer you could buy? Well, it is one of the best photo printers you could buy and not have to sell one of your kidneys.
You can purchase this printer from B&H for just over $2000!
The Epson Expression Photo HD XP-15000 is an inkjet printer with the ability to print a maximum print size of 13 x 44". You can make borderless prints of this size. The highest print resolution of the printer is 5760 x 1440 dpi.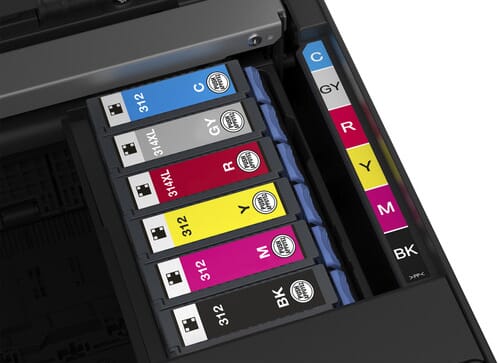 This is a budget printer and it kind of shows in the number of ink tanks inside. There are a total of 6 color Claria Photo HD ink inside. These include one red and one gray ink which ensures a larger color gamut. It is also possible to produce much smoother color gradations using these colors. Don't expect roll paper supports for a budget photo printer like this.
Epson Expression Photo HD XP-15000 Wireless Color Wide-format Printer, Amazon Dash...
This printer is designed for use with Epson cartridges only, not third party cartridges or ink; Cartridges described as...
Professional ultra HD photo quality get brilliant border less prints upto 13 inches X 19 inches
Individual 6 color Claria photo HD ink includes red and gray inks for an ultra wide color gamut and enhanced black and white...
Professional projects: Made easy features a 50 sheet rear tray for specialty media, including cardstock (1); Accommodates a...
Ultra compact wide format A3+ printer 30 percent smaller than its predecessor (2); Easily fits on your desktop
The Canon PIXMA iP8720 is an inkjet photo printer. It is capable of printing borderless prints up to a maximum size of 13" x 19". The maximum resolution of the printer is 9600 x 2400 dpi.
There are a total of 6 color inks inside the printer, including a gray ink. Which is about double the size of the normal inks. The iP8720 is a great alternative to someone looking for a dedicated photo printer and does not have the budget for the Canon Pixma Pro-100.
Canon IP8720 Wireless Printer, AirPrint and Cloud Compatible,Black
Don't get stuck in an 8 inches x 10 inches world; Print your favorite photos up to 13 inches x 19 inches
With a 6 color ink system including gray ink and 9600 x 2400 maximum color dots per inch, the results are incredible quality...
Print wirelessly from any Wi Fi enabled computer around the house; Ink droplet size: 1, 2 and 5
NOTE:Kindly refer to the user manual provided as a PDF manual in the product description section
Ink Compatibility : PGI 250 Pigment Black XL, CLI 251 Cyan XL, CLI 251 Magenta XL, CLI 251 Yellow XL, CLI 251 Gray XL, CLI...
You could also look at the higher version – the PIXMA iP8750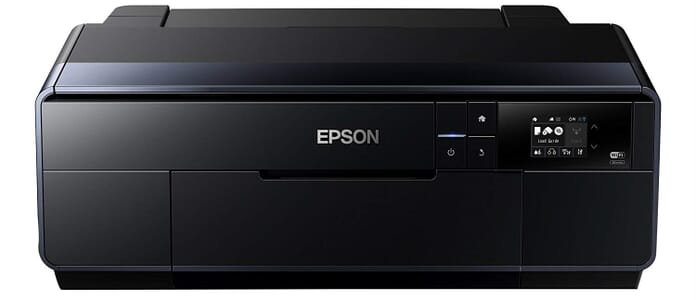 The Epson SureColor P600 is an excellent photo printer capable of producing high-resolution prints. It was listed in the previous list. Thanks to the rich feature list it is still on the list of the best photo printers in 2020. The maximum print size for borderless prints is 13 x 19". You can also feed in roll paper. There is a roll paper holder at the back of the printer. The maximum roll paper width would be within the 13" limit.
Related Post: Best Photo Printers under $200

The maximum core size would be 2". The maximum print resolution is 5760 x 1440 dpi. The printer uses a set of 9 Ultrachrome HD pigment based inks. It uses an auto-switching black ink technology. The printer comes with the provision to accept 2" Core rolls up to a maximum width of 13".
Epson SureColor P600 Inkjet Printer and Epson T760520 UltraChrome HD Light Cyan/Light...
Advanced media handling up to 13" wide - create panoramas over 10 feet long
Unprecedented black density - Epson UltraChrome HD Ink for the richest blacks
More productivity with high-capacity cartridges - nine 25.9 ml ink cartridges
New nine-color Epson UltraChrome HD inks for clear and vibrant prints
New Photo Black pigment ink, 1.5x denser than previous generation
---
As an Amazon Associate we earn from qualifying purchases. Certain content that appears on PhotoWorkout.com comes from Amazon. This content is provided 'as is' and is subject to change or removal at any time.