Six Top Travel Cameras
Small, beautiful and yet functional. That's ideally what the USPs of best travel cameras should be. Yup, you guessed it right. Today, we talk about the best travel cameras out there. I am an ardent traveler and love making images when I travel. Photography isn't just a perk of traveling but more of an integral part of the whole scheme of things.
The last thing that you would want is to lug a bag full of expensive equipment every time you leave your hotel. You not only make yourself an easy target for bag snatchers but also expose yourself to other unnecessary risks as well as extra baggage charges. With dwindling baggage limits you are an easy target for extra baggage when you carry a hard suitcase full of camera gear.
You will likely take no chances and carry your camera bag inside the cabin and that means everything else will end up being stashed under the belly of the aircraft. That means a longer wait at the baggage counter for your bags to arrive. You need insurance too. A lot of it, because you are carrying everything that you own.
Related Post: Best Mirrorless Cameras under $500
The bottom line is, you need to exercise discretion and choose only the stuff that you will likely use when traveling. Leave everything else. That means no more "let's also take the 70-200mm just in case I might need it." Or "Let's take the 100mm macro in case I stumble upon some pretty flowers." Remember, a single good lens such as a 24-70mm can be enough if you know how to use it.
Unless you are a professional photographer on an assignment, and your life depends on getting the images that you are assigned to, carry just two lenses that allow you to express your full repertoire when traveling. It is easy to establish which your favorite lenses are. Simply, open Lightroom and check the lens details for your images.
Anyways let's come back to the question of cameras, as that is the focus of our discussion today. Since we are focusing on cameras and not just any cameras, but only the best travel cameras, we are going to stick to those units we think are lightweight, have great image quality and allow you the creative freedom to using different lenses, filters, and other accessories. Thus, point and shoots are out of the purview of our discussion. We would look at interchangeable lens cameras.
1. Sony Alpha A6300 Mirrorless Digital Camera
I love the sleek design and the thoughtful construction of the Sony alpha a6300. It is truly an ideal camera for use when traveling. Built around a 24.2 megapixel APS-C EXMOR CMOS sensor and powered by the excellent BIONZ X image processor the camera produces excellent images in all lighting conditions. It supports 14-bit RAW support, enough information to tweak when you are finally back home or retire for the day in your hotel room. It has 11 fps continuous shooting speed.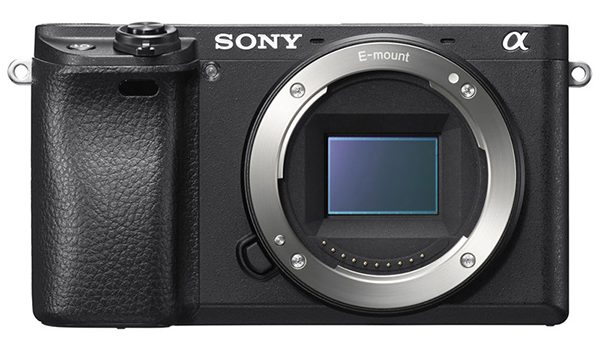 The advantage of the a6300 when compared with other mirrorless systems is that the system does not black out for an extended period of time like other cameras when making captures. The black-out is momentary and immediately after you can see live-view return.
In other camera systems the image review system blocks out live-view and you see jittery motions as if the subject is teleporting.

Being a mirrorless E-mount camera, it is compatible with all E-mount lenses made by Sony as well as other compatible manufacturers. Plus, there are adapters available for mounting A-mount lenses which extend the usability of the camera. A big plus with the Sony alpha a6300 is its weather sealed magnesium alloy body. So long as you are also using a weather sealed lens, this is the sort of camera you would love to keep with you when traveling.
The small frame is a big plus. Not so much an advantage in terms of weight, though. Lenses for mirrorless systems are getting as bulky as DSLRs lenses. You also get 4K (in actuality 3840 x 2160p) video capability with 30, 25 and 24 fps. For just about $1200 you also get built-in flash, a hot-shoe, tripod adapter, built-in Wi-Fi and NFC, a built-in mic and the option to plug in an external mic.
Related Post: Review of the Sony a6300
Sale
Sony Alpha a6300 Mirrorless Digital Camera (Body Only)
World's fastest Auto Focus speed (0.05 sec.)
24.2 MP APS-C Exmor CMOS sensor w/ accelerated readout
Up to 11fps continuous shooting w/Auto Focus and Exposure
Internal UHD 4K30 & 1080p120 Recording; Lens Mount:E-mount; Lens compatibilit : Sony E-mount lenses
Weather-Sealed Magnesium Alloy Body
2. Fujifilm X-Pro2
There are many features in the Fujifilm X-Pro2 to like about. It's a complete camera, an ideal choice for shooting photos when traveling. The Fujifilm X-Pro2 looks like a rangefinder and encompasses many of the features of a DSLR, but comes with the unbeatable advantages of being a mirrorless camera.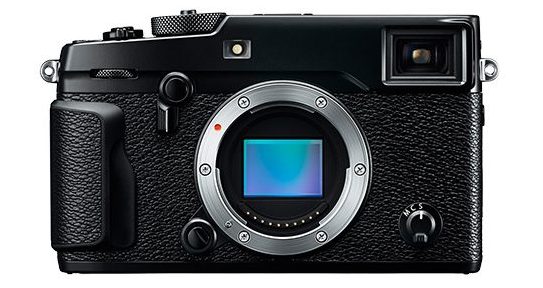 It is built around a 24.3 megapixel APS-C X-Trans CMOS III sensor and an X-Processor Pro Image processing engine. The Fujifilm X-Pro2 has a total of 273 auto-focus points 169 of them are phase detection. This hybrid AF system is a great advantage when shooting in low light conditions. The other striking feature of the camera is the 2.36 million dot OLED hybrid viewfinder. Looking through the viewfinder you have the option to engage the dual picture mode for accurate focusing.
A travel camera does not always shoot stills. Shooting videos and that too high resolution with high frame rate are mandatory requirements these days. Thus, the best travel cameras in the business cannot just hope to be good with stills.

Thankfully the Fujifilm X-Pro2 comes with full HD video capability with the ability to shoot at 60 frames per second. It also has a built-in stereo mic and comes with the option to use an external microphone to record better quality sound.
The Fujifilm X-Pro2's other features include a very convenient to use joystick, built-in Wi-Fi and a fast 8 fps continuous still shooting speed. Weather sealing is a must have for travel cameras, not because you plan on shooting in bad weather but because you don't plan in destroying your thousand dollar investment because it did not have weather sealing.
Related Post: How to Become a Travel Photographer
Sale
Fujifilm X-Pro2 Body Professional Mirrorless Camera (Black)
Newly-developed 24.3MP X-Trans CMOS III APS-C sensor reduces moiré and false colors to dramatically improve image...
Advanced Hybrid Multi Viewfinder featuring a Multi-Magnification function that automatically switches view-finder...
Electronic shutter maximum speed of 1/32000 sec and a focal plane shutter with a top speed of 1/8000 sec. with flash...
Intelligent Hybrid Phase detection AF with 273 selectable AF points, Dual SD Slots
16 Film simulation modes including the new ACROS monochrome mode and Grainy effect
3. Nikon D500
The Nikon D500 is the latest flagship DX format camera. It takes the position from the extremely well made D7200 and is a direct successor of the D300S. But why is the D500 on this list? It is neither small nor frail and certainly does not do justice to the term discreet.
So why it is on this list? Because the D500 is a fantastic camera and at a much smaller frame than a full-frame DSLR, it is one of the best options you have got in the DSLR segment. It has a 20.9-megapixel DX-format sensor and is powered by EXPEED 5 image processing engine.
Related Post: Review of the Nikon D500
The D500 is leaps and bounds ahead of anything that Nikon has produced with a DX sensor embedded inside it. The continuous shooting speed (10 fps) alone should be a reason for envy for a lot of full-frame camera owners.

It also makes ultra HD resolution (3840 x 2160p) videos at 30, 25 and 24 fps and has built-in Wi-Fi and NFC connectivity. Another stand out feature of the D500 is its auto-focusing. There are a total of 153-phase-detection-AF points out of which 99 are cross-type.
Nikon D500 20.9 MP CMOS DX Format Digital SLR Camera with 4K Video
Beach Camera Exclusive Bundle - All Items are Brand New and Includes Nikon USA Warranty
Includes Two - Sandisk Extreme PRO 64GB SDXC UHS-1 Memory Card
ncludes Nikon Deluxe Digital SLR Camera Case - Gadget Bag
20.9MP DX format CMOS sensor and EXPEED 5 image processor, Multi-CAM 20K Autofocus sensor with 153/99 AF points
ISO range of 100-51,200 expandable to Lo 1 and Hi 5 (50 - 1,640,000 equivalent), Share images instantly with built-in...
4. Sony Alpha a7S II
The Sony Alpha a7S II is a mirrorless full-frame interchangeable lens camera that has a 12.2 megapixel EXMOR CMOS sensor and the highly rated BIONZ X image processor. This is an incredible camera for low light shooting, something travelers would love to have on them. Many times when traveling on a tight schedule you arrive at a destination past the prime time for photographing the place.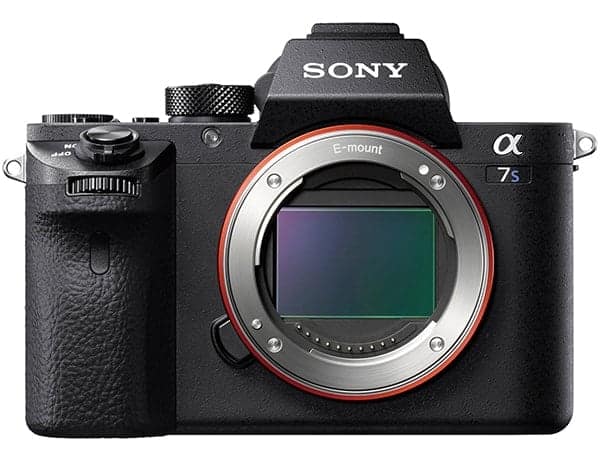 The dearth of light shouldn't dampen your spirits when you wield something like the Sony Alpha a7S II. The full-frame sensor combined with the 12.2-megapixel resolution ideally suggests it can absorb a lot more light than others sensors of the same size. Why? Because the pixel size is larger than other full-frame sensors with greater resolution. However, on the flip side, this also means the overall image files are smaller in size. As a matter of fact, they are just 4240 x 2832 pixels.
Sale
5. Sony Alpha a7R II
This is one camera that you would actually love using because of the large sensor size and the excellent low-light imaging capabilities. The Sony Alpha a7R II has a large full-frame sensor. But unlike the A7S II has a resolution of 42 megapixels.
To counter the packed sensor surface and the resultant loss in light gathering the Sony has implemented the BSI (back-side illumination) technology. This technology puts the wiring etc. towards the back of the camera. This prevents loss of light and the resulting noise.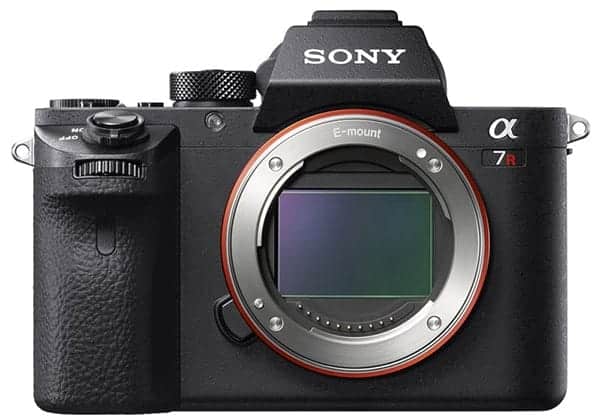 But that is not all. The Sony Alpha a7R II is a great camera for shooting videos as well. It has internal 4K (UHD) capabilities, has S-Log2 Gamma, a hybrid auto-focusing system that has 399 phase detection and 25 contrast detection points.

The other features include a 5-axis image stabilization system, an improved high ISO performance, and a magnesium alloy made weather sealed body that just loves to be taken outdoors. You can see some sample photos and more information about this great travel camera here.
Sale
Sony a7R II Full-Frame Mirrorless Interchangeable Lens Camera, Body Only (Black)...
World's first Full-frame back-illuminated Exmor R CMOS sensor-42.4MP, 5-axis in-body image stabilization optimized for...
2.4-million dot XGA OLED Tru-Finder w/ ZEISS T* coating, Simple connectivity to smartphones via Wi-Fi and NFC w/ camera...
Shutter vibration suppression, first curtain shutter, and silent shutter, Resolution meets sensitivity 42.4MP up to ISO...
Fast Hybrid AF with 399 focal plane phase-detection AF points and sensor is 35 mm full-frame (35.9 x 24.0 mm), Exmor R...
Lens Compatibility: Sony Full Frame E-mount lenses
6. Hasselblad X1D-50c
Priced at under $9,000.
The newly launched Hasselblad X1D-50c is a synergy of two favorite designs. It encompasses a digital medium format sensor sized 43.8mm x 32.9mm into a mirrorless body.
This revolutionary new design has completely shaken up the mirrorless as well as interchangeable lens segments and quite possibly has set off a race to produce more such designs in the near future.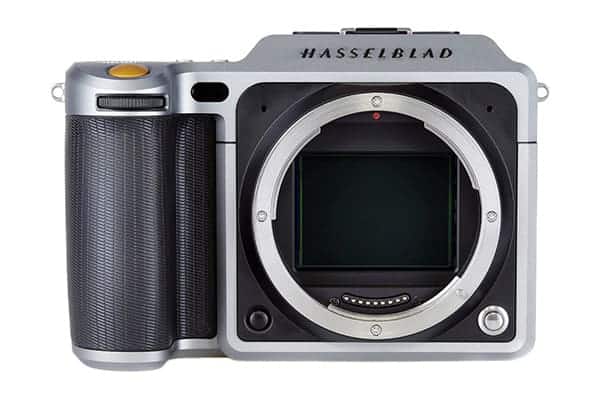 A medium format sensor is several times larger than a 35mm sensor. As such the light gathering abilities are mind-boggling. The ability to produce cleaner noise-free images is beyond anything that you have experienced before; i.e. if you have never shot with a full-frame camera.
Photographers who always admired the medium format system but dreaded the weight and corresponding painful forearms stayed away from it. The launch of the Hasselblad X1D-50c has changed all that and opened the gates to a new system which holds a lot of promise for travel photographers.
You May Also Like: Best compact cameras under $200
This camera is, however, not the best when it comes to fast action. The continuous burst rate is only 2.3 fps, absolutely nothing to write about. What this camera has, however, is 16-bit of color information, 14-stops of dynamic range and the Hasselblad Natural Color Solution that creates the fantastic color reproduction. We have talked about ISO invariance elsewhere on this website. The Hasselblad X1D-50c has, though not in the same league as the D810, has some degree of ISO invariance.
We hope you could find the ideal camera for your next trip amongst these 6 best travel cameras. If not, you may want to have a look at the best mirrorless cameras under $500, because they too are great for taking on your next voyage.