What's the Best Vacation Camera?
For many, having the best vacation camera possible in tow before departing on an adventure is an absolute must. After all, what good is it having a device that freezes moments in time if it's inaccessible during your happiest moments?
Of course, no two journeys are exactly alike. There's no such thing as a camera that's perfect for any and all situations. But don't panic. With hundreds of options available, there are cameras designed to cater to just about every sort of photographer around.
In addition, we've gone through the trouble of researching eight of the best vacation camera options from a variety of manufacturers and determining which vacation scenarios they'd fare best in. All you have to do is determine your dream destination and read on.
For the Family Videographer:
Nikon D810 (w/ 24-120mm lens)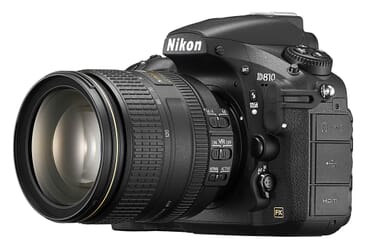 Chances are, if you do own a camcorder, it's collecting dust in a closet or cabinet – after all, most of us have smartphones capable of capturing video resting conveniently in a purse or pocket. But, if you're looking to upgrade your home movie footage, the Nikon D810 is a great place to start.
Additionally, over the past decade, camera manufacturers have been integrating video capabilities into their products. In fact, it's difficult to find a camera that doesn't include video recording options. Among hundreds of competing models, the D810 shines.
This DSLR packs professional grade video and audio capabilities, sporting a 36.3 MP CMOS sensor for astounding fidelity.
Also, It records its surroundings in 1080p HD at 60, 50, 30, 25, or 24 frames per seconds, making it easy to grab high quality imagery exactly as you'd like it.
With budding videographers in mind, Nikon's implemented a few neat features to further enhance the video making experience. For instance, the ISO auto adjust option allows users to seamlessly switch between dark and light areas without the risk of over or underexposing footage.
Also included is Power Iris Control, which smoothly adjusts the camera's aperture to allow in light or alter the compositions depth of field while filming. Equipped with 3.2″ LCD panel, it's possible to get a live view of what the camera is picking up, ensuring that your best moments translate beautifully into film.
Nikon D810 FX-format Digital SLR w/ 24-120mm f/4G ED VR Lens
36.3 MP FX format CMOS sensor without an Optical Low Pass Filter (OLPF)
30 percent faster EXPEED 4 image processing engine
51 point AF system and 3D Color Matrix metering III with a 91,000 pixel RGB sensor
ISO 64-12,800 expandable to 51,200
Featuring a new RAW Small Size option, which produces 16MP images with much smaller file sizes
Related Post: How to Take Better Vacation Photos
For Backpackers, Hikers, and Nature Enthusiasts: 
Pentax K-3 (w/ 18-135mm kit lens)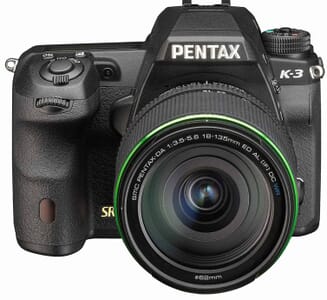 Few things are more relaxing than getting away from the hustle and bustle of everyday life with a camera in tow. Also prepared for taking on the great outdoors, the Pentax K-3 is a perfect match for those hoping to record escapades far from the comfort of civilization.
Whats more, this midrange camera isn't quite as fragile as some of the more expensive and advanced models on the market. Additionally, with a weather sealed magnesium alloy body, it can take on the elements. The K-3 also has a temperature resistant design, meaning that the extreme cold or heat won't prevent it from functioning properly.
Related Post: Find the Best Mirrorless Camera for Travel (Under $500)
Storage Space
Users don't have to worry about running out of storage space – Pentax includes dual SD card slots. And, for longer adventures, the K-3 battery is long-lasting. On average, the camera can capture 560 images with a single charge. To top it all off, this DSLR is available for purchase well under $1000.
The perks certainly don't end there. With 24 MP resolution, the image quality is on par with high end DSLRs. For vacationers that plan on spending their free time enjoying the beauty of nature, I recommend ordering the 18-135mm kit lens along with the body as a best vacation camera choice.
In addition, the wide angle is perfect for capturing sprawling landscapes, while longer focal lengths can be useful for spur of the moment portrait making and wildlife photography.
Below are some vacation camera choices that fit every occasion:
For Families with Children:
Canon G9X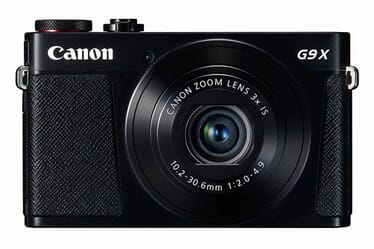 Almost as important as sharing experiences with your family is capturing the memories. Most parents are eager to make visual records of the happiest moments spent with their children, and ideally everyone wants to capture those moments in as much detail as possible. However, any parent will also tell you that accidents are bound to happen with children around. With some of the best cameras selling for thousands of dollars, it makes sense why many families are hesitant to invest.
DIGIC Processor
Luckily, the $399 Canon G9x is an option that's both affordable and offers impeccable results. The 20.2 MP CMOS sensor is highly sensitive, working in conjunction with a DIGIC 6 image processor to provide high quality photographs.
Additionally, despite only weighing a little over 7 ounces, it's advanced enough to capture beautiful 1080p HD footage. It's slim enough to fit inside a pocket, yet manages to retain some of the luxuries commonly found on higher end DSLRs, such as a touch automated LCD screen.
Durable enough to withstand bumps, bruises, and falls thanks to its superior build, it really is an excellent choice for a family vacation. When working in conjunction with the Camera ConnectApp, it's even possible to get a photograph of everyone in your group with the help of a remote shooting function.
Canon PowerShot G9 X Digital Camera with 3x Optical Zoom, Built-in Wi-Fi and 3 inch...
1.0-inch, 20.2 Megapixel* High-Sensitivity CMOS sensor combined with Canon's powerful DIGIC 6 Image Processor creates the...
Ultra-slim, lightweight and pocket-size camera with intuitive LCD touch panel that has an improved user interface, which...
Capture stunning 1080p Full HD video (60p/30p/24p options) for lifelike images and convenient playback on an HDTV via the...
Easily transfer images and videos to a compatible smartphone, tablet or Canon Connect Station CS100 device with built-in...
Continuous shooting speeds of up to 6.0 fps helps capture dynamic movements of fast moving subjects
For a Day Relaxing by the Water:

Olympus TG-4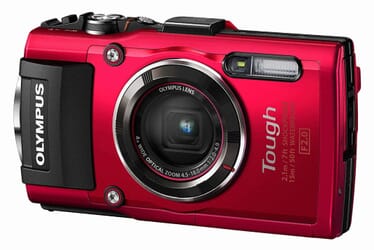 For dedicated photographers, a day at the beach can be anything but relaxing. Of course, everyone wants to photograph family and friends splashing around and sunbathing. However, even the smallest amount of moisture can wreak havoc on most digital cameras. Sand poses an even greater threat. Tiny pieces of debris that we may other wise overlook can easily make their way inside of cameras, often causing permanent damage.
That's where the Olympus TG-4 comes in. Though it may not sport some of the cutting edge features of other cameras, it makes up for any shortcomings with its sheer durability.
Waterproof
For those enjoying beach-side or lakefront getaways, the fact that the waterproof device functions at depths of 50 feet is particularly enticing. Furthermore, the TG-4 features a dust-proof sealing that all but eliminates the possibility of minuscule debris slipping through the camera's cracks. Users can also take comfort in the fact that this model can withstand falls of 7 feet, function in temperatures as low as 14°F, and endure 220 lbs of weight without any risk of being crushed.
Additionally, at 3.1 x 2.7 x 4.1 inches, this tank is small enough to easily slip into a beach bag or backpack. And thanks to its engineering, there's no need to take up extra space with protective casings.
Olympus TG-5 Waterproof Camera with 3-Inch LCD, Red
New 12 MegaPixel Hi Speed Image Sensor for improved low light performance and noise reduction
Underwater: compensation: 2 EV to +2 EV (in 1/3 EV steps); Bright F2.0 high speed Lens; Video Recording format : MOV(MPEG...
Dual Quad Core TruePic VIII Image Processor 3.0 inches 460k Dot LCD Monitor; Focus Range Normal: 3.94 inches (10...
Field sensor system with GPS, Manometer, Compass, and temperature sensors
Waterproof to 50 feet, F, Dust proof, Crush proof to 220 lbf, Shockproof from 7 feet, Freeze proof to 14 degrees, Anti Fog...
For those Traveling Abroad:

Sony Alpha 7 II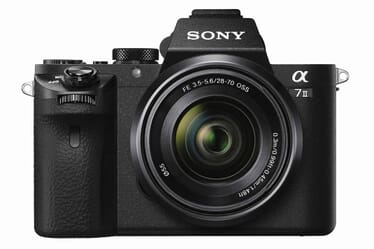 International trips often prove to be once in a lifetime experiences. Needless to say, a camera is often the first thing amateurs and professionals alike are eager to pack. Unfortunately, there are logistic problems that arise that more often than not prevent photographers from packing all of their gear. Carry on space is limited, and choosing to check gear can put thousands of dollars of equipment at risk for damage. What's more, it often isn't a great idea to draw attention in a foreign country with a big, flashy camera.
Travel Smart with Quality
For those that want to travel smart without sacrificing quality, the Sony Alpha 7 II is an excellent option. Even if you choose to pack only one or two of the compatible Sony E-mount lenses, you can feel confident that you'll capture something spectacular.
A leader in the mirrorless camera marketplace, it fulfills all of a professional's needs. Yet, despite packing a full frame sensor and 23.4 MP resolution, it remains small enough to work inconspicuously.
Auto Focus
One of the Alpha's most impressive bragging points is its advanced hybrid autofocus capabilities. With 117 phase detection points, users capture crystal clear shots in the blink of an eye. In addition, thanks to the device's WiFi connectivity, it's easy to sync up and share with smart devices regardless of where you are in the world.
Sony Alpha A7 II Digital Camera & 28-70mm FE OSS Lens with 64GB Card + Backpack +...
KIT INCLUDES 13 PRODUCTS -- All BRAND NEW Items with all Manufacturer-supplied Accessories + Full USA Warranties:
[1] Sony Alpha A7 II Digital Camera & 28-70mm FE OSS Lens + [2] SanDisk 64GB SDXC I U3 Card + [3] Spare NP-FW50 Battery +
[4] Battery Charger + [5] 55mm (UV/CPL/ND8) Filters + [6] Shutter Remote Control +
[7] PD Mini Sling Backpack + [8] PD-T14 Flexible Camera Tripod + [9] PD 2.5x Tele & .45x Wide Lens +
[10] HDMI to Micro-HDMI Cable (6') + [11] PD SD & MicroSD Card Reader + [12] PD 8 SD Card Memory Card Case + [13] LCD Screen...
Related Post: Lumix GH5 and GH5s Comparison
For Roaming the Big City:

Panasonic Lumix DMC-G7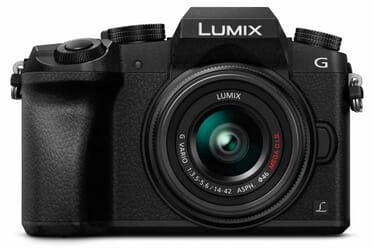 The Panasonic Lumix DMC-G7 is among the five best selling mirrorless cameras on Amazon.com for good reason. Whether you're looking to capture sly street photography or impressive architectural shots of iconic markers, this top of the line camera is guaranteed to deliver.
There's more than meets the eye when it comes to this compact camera. Not missing a beat, the device captures 4K RAW photo and video, providing users with plenty of detail to work with.
The fast and precise auto-focus is perfect for capturing fleeting street views in an instant. Equipped with silent shooting, it's easy to grab a picture of whatever it is that you'd like and move on to the next subject without drawing any attention.
Also, thanks to its small size and lightweight build, it's perfect for carrying around town for a long day of sightseeing.
It's also easy to stow away at
and other settings where a camera may not be allowed or appropriate.
PANASONIC Lumix G7 4K Digital Camera, with Lumix G VARIO 14-42mm Mega O.I.S. Lens, 16...
Professional photo & video : Performance: 16 megapixel micro four thirds sensor with no low pass filter to confidently...
4K video Capture: 4K QFHD video recording (3840 x 2160) with three unique 4K ultra HD video pause and save 4K photo modes...
Intuitive Controls: Easily control aperture and shutter settings with the front and rear dials while making White balance and...
High Resolution Viewfinder & LCD Display: High resolution (2,360K dot) OLED live view finder and rear touch Enabled 3 inch...
Connectivity & Ports : 3.5 millimeter external mic port, 2.5 millimeter remote port, USB 2.0 and micro HDMI Type D;...
For an Action-Packed Adventure:

Yi 4K Action Camera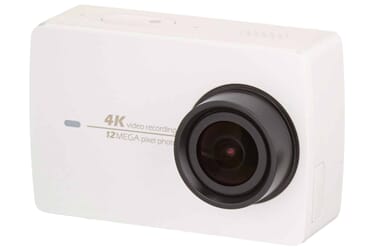 Most people immediately think of GoPro when the phrase "action photography" is mentioned. However, what many may not realize is that there's a plethora of competitors constantly upping their game. The Yi 4K, a pocket sized companion weighing in at just 1/5 of a pound, proves to be worthy competition for the reigning king of action photo.
Gorilla Glass Durability
Amazingly, with gimbals and other accessories, it's possible to mount the Yi to just about anything. With a waterproof casing available and Gorilla Glass, scratch resistant LCD, this compact camera can venture just about anywhere. And as if that sort of versatility weren't enough to tempt potential buyers, it's capable of capturing an incredible two hours worth of 4K footage over the duration of a single charge. It's possible to capture  even more additional footage using auxiliary power packs.
It's not just the Yi's ability to capture video that gives it a leg above the competition – the image quality is stellar to say the least. Also, aside from built in electronic image stabilization, an internal 3-axis gyroscope all but eliminated the risk of motion blur and sudden shakes.
Additionally, with the confidence that you'll receive an excellent end product, fiddling with the camera's time-lapse, slow motion, and burst modes becomes all the more tempting.
YI 4K Action and Sports Camera, 4K/30fps Video 12MP Raw Image with EIS, Live Stream,...
Superb Image Quality – Records 4K/30fps (100mbps), 2. 7k/60fps, 1080p/120fps, 720p/240fps video, and 12MP raw image with...
Long battery life – high capacity rechargeable lithium-ion battery records up to 120mins of 4K/30Fps video with a single...
Intuitive touchscreen UI - built-in 2. 2" high responsive LCD Touchscreen with 640 x 360 high resolution for easy setting,...
Instant sharing -- built-in Bluetooth and high speed 5GHz/2. 4GHz Wi-Fi support for wireless remote control and the YI action...
Advanced features – always Update to the latest firmware (1. 8. 25) to enjoy the extra features. Flexible settings of...
Related Post: Best Cameras for a Cruise Trip
For those Seeking a Unique Vantage Point:

DJI MavicPro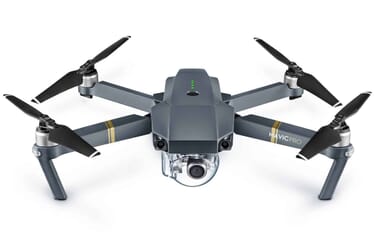 It's hard to resist the allure of drone photography. For the first time, it makes aerial photography accessible to the average image maker. Able to capture 4K footage, one of the best options out there has to be the DJI MavicPro.
The DJI can fly at speeds of 40 mph and stay in the air for nearly half an hour. It can also fly as far four miles away while retaining transmission, and an internal GPS ensures that you know exactly where your device is located at all times. Alternatively, if you'd like to keep the drone close by, a "Follow Me" mode will ensure that the camera stays on you while you're on the move. When all is said and done, it folds down to the size of a water bottle for convenient portability.
Full Stabilization
Additionally, innovative technology ensures that you get the best shots possible. Full stabilization ensures that you'll capture smooth video throughout your flight, and internal obstacle avoidance reduces the risk of crashing. Of course, before getting too far ahead of yourself, be sure to look into local drone regulations to be sure that you're not flying in a prohibited area.
Also, if you find that the MavicPro is a bit outside your budget, check out some of our favorite inexpensive alternatives.
Sit Back and Relax!
Whether you prefer land or sea, city or wilderness, the right camera is out there. Some can fly high overhead, while others can venture below the water's surface. Even small, modest looking image makers have some incredible qualities to offer.
So, don't go into your next vacation with doubts. Find the camera that can handle whatever you'd like to do, wherever you'd like to venture. Any hesitation you may have will be sure to dissipate once you see for yourself just how stunning your images can be.
Related Post: Best Hidden Cameras
---
As an Amazon Associate we earn from qualifying purchases. Certain content that appears on PhotoWorkout.com comes from Amazon. This content is provided 'as is' and is subject to change or removal at any time.