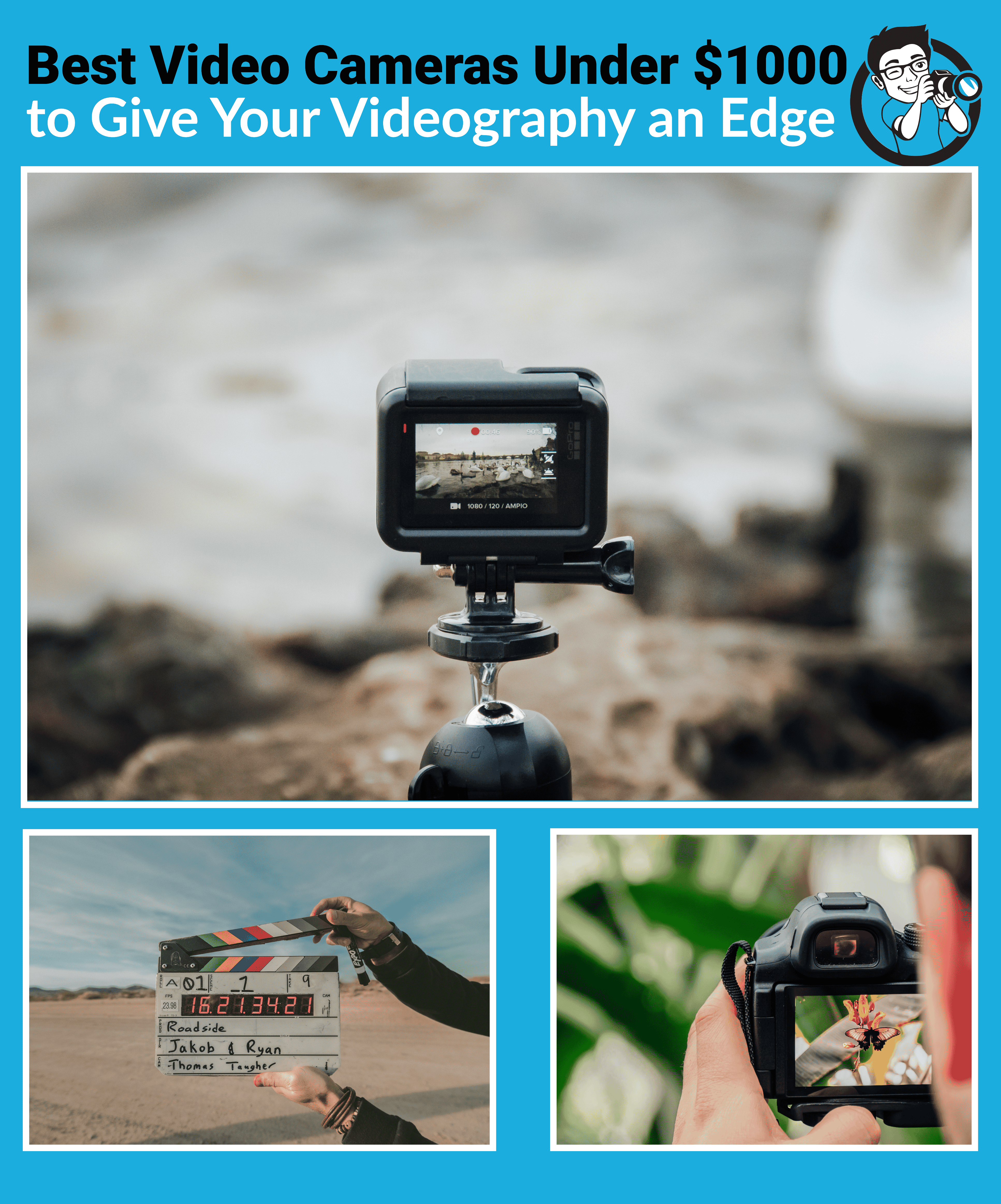 These days, just about any camera you buy is going to come with some sort of videography capabilities. But it goes without saying that not every device does an equally effective job at capturing footage. And finding the best video cameras under 1000 dollars can certainly be a challenge!
That's why we've done the hard work for you! With our picks, you'll be shooting incredible footage in no time!
The Best Video Cameras under $1000
Mirrorless Cameras
Action Cameras
DSLRs
Camcorders
Mirrorless Cameras
Mirrorless cameras are rapidly gaining popularity among professional and amateur photographers. These cameras are lightweight and compact compared to the traditional DSLR, making them a great choice as the best video cameras under $1000 for those that don't want to be bogged down by gear.
Related Post: Best Selling Mirrorless Cameras
Features:
4K HD quality footage
Implements 5-axis in-body stabilization technology
Post-focus focal point selection
16MP MOS sensor
What Makes it Great:
Without a doubt, all of Panasonic's Lumix line is full of promise for photographers looking to delve into the mirrorless market. The Lumix GX85 sports some pretty impressive specs. Thanks to a powerful 16MP MOS sensor, this camera can snag stunning 4K imagery at up to ISO 25600
Especially useful for videographers is the GX85's AF tracking algorithm, which locks onto subjects in motion. Another bonus is the camera's dual-stabilization, which utilizes both in-body and lens stabilizers. For artists seeking a sharp, steady shot, look no further.
Panasonic LUMIX GX85 4K Digital Camera, 12-32mm and 45-150mm Lens Bundle, 16...
Fine Detail Performance: 16 megapixel Micro Four Thirds sensor with no low pass filter resulting in a near 10 percent boost...
Mirrorless Interchangeable Lens Camera Kit: With 2 super compact lenses 12 32mm F3.5 5.6 and 45150mm F4.0 5.6, shoot lighter...
Class Leading Dual Image Stabilization: In body 5 axis dual image stabilization works in both photo and motion picture...
Live Viewfinder and Tilting LCD Display: Integrated eye level electronic viewfinder (2764K dots) and rear touch enabled 3...
4K VIDEO CAPTURE: 4K QFHD video recording (3840 x 2160), plus exclusive Lumix 4K photo and 4K post focus allows you...
Features:
24MP CMOS sensor
Portable size perfectly designed for travel
Innovative contrast-detecting hybrid autofocus
Records at 60, 30, and 24 frames per second
What Makes it Great:
The Sony Alpha a6000 is another safe bet for those looking to experiment with a mirrorless camera without investing too much money. Even for a mirrorless model, this camera is particularly petite. Weighing less than one pound, it's slim enough to fit in a pocket. Nevertheless, it retains a full-coverage EVF as well as an articulating 3-inch LCD.
The image quality isn't quite as crisp as the Lumix, but it does make up for this shortcoming in other respects. For instance, you can capture footage at rates of up to 60 frames per second. In addition, you can record in multiple file formats to meet whatever your needs may be.
Sony Alpha a6000 Mirrorless Digital Camera 24.3MP SLR Camera with 3.0-Inch LCD...
Advanced 24.2MP back Illuminated 35 millimeter full frame image sensor
ISO 100 25600 (expandable to 51200). Lens compatibility: Sony E mount lenses
Hybrid AF with 179 point focal plane phase detection and 25 contrast detect points
Up to 11 FPS continuous shooting. Battery Life (Still Images): Up to 360 shots. Metering type:1200-zone evaluative metering
3 inch tilting LCD with 921,000 dots. Viewfinder Type: 0.39 in type electronic viewfinder (color)
Action Cameras
With millions eager to share their adventures, there's a high demand for cameras capable of going where no camera has gone before. Built for durability, action cameras are compact enough for travel and discreet enough for run-and-gun work. But don't be fooled by the small size – these machines are capable of capturing top-notch footage.
Features:
"Hypersmooth" image stabilization
12MP RAW image quality
Voice control capabilities
Robust design – works underwater at depths of 33 ft.
What Makes it Great:
Over the years, the GoPro brand has become synonymous with action photography. A compact camera capable of capturing 4K 60fps footage, the Hero7 is a favorite among athletes and adventurers. Despite it having a higher price tag among action cameras, this device is still one of the best video cameras for under $1000.
Aside from a high resolution, internal stabilization further strengthens footage, making transitions seamless.
This camera also understands voice commands, ideal for hands-free filming. As an added bonus, if you want a product that doubles as a still camera, the GoPro can output RAW and HDR files.
Related Post: GoPro Alternatives
GoPro Hero7 Black — Waterproof Action Camera with Touch Screen 4K Ultra HD Video...
HyperSmooth: Get gimbal‑like stabilization—without the gimbal. HERO7 Black corrects for camera shake to deliver insanely...
TimeWarp: Capture super stabilized time lapse videos while you move about a scene. Increase the speed up to 30x to turn...
Live streaming in 720p: Share while you're there. Live stream in 720p on social, get HyperSmooth stabilization as you...
Rugged + Waterproof: Share experiences you can't capture with your phone. HERO7 Black is rugged, waterproof without a...
SuperPhoto: Get brilliant photos automatically. With SuperPhoto, HERO7 Black intelligently applies HDR, local tone mapping or...
Features:
Waterproof, shockproof, and crushproof
Includes tilting LCD screen for added visibility
Exceptionally detailed 4K footage
What Makes it Great:
The Sony RX0 may be the size of a matchbox, but there's much more to the camera than meets the eye. A duralumin body makes for a tough camera with some impressive specs to match.
4K footage is captured through a 24mm f/4 Zeiss Tessar lens for the best possible quality. But a good looking image isn't the only thing to love about this camera. Built-in WiFi and Bluetooth make it easy to connect to your phone, which can then be used to control the shutter and settings of multiple cameras at once.
Sony RX0 II 1" (1.0-type) Sensor Ultra-Compact Camera
1" (1.0-Type) stacked back-illuminated Exmore RS CMOS sensor
24mm F4 Zeiss tessar T* lens delivers high-resolution images. Battery life (STILL IMAGES)(CIPA) - Approx. 240shots / Approx....
Internal 4K movie with Pro features and image stabilization; Focus Range (From the Front of the Lens): Approx. 50 cm
Matchbox sized durable Duralumin, water/shock/crush proof body
15.3MP raw up to 16Fps continuous and interval REC. For time-lapse
Features:
Superior stabilization capabilities
WiFi connection available
Supports time-lapse and panorama footage
2x lossless digital zoom
What Makes it Great:
Good things come in small packages, and the DJI Osmo Pocket is no exception. Its unusual looks may turn some photographers off, but the design offers increased stability with little strain. In our opinion, this is one of the absolute best video cameras for under $1000.
When attached to a smartphone, this gimbal/camera hybrid can capture stunning 4K footage at up to 30 fps. Capable of everything from long exposures to moving selfies, this tool is much more than a nifty accessory.
DJI Osmo Pocket - Handheld 3-Axis Gimbal Stabilizer with integrated Camera 12 MP...
【LIGHTWEIGHT AND PORTABLE】: as the smallest 3-axis stabilized handheld camera DJI has ever designed, the compact and...
【AMAZINGLY POWERFUL PERFORMANCE】: OSMO pocket snaps photos in stunning detail, thanks to a 1/2. 3-Inch sensor, 80° FOV,...
【CREATIVE】: Osmo Pocket can be connected to your phone for vlog and steaming. YouTube, TikTok, Streamlabs.
【A VARIETY OF FUNCTIONS】: Osmo Pocket features a variety of functions that allow you to create even more creative content...
【COMPATIBILITY】: DJI Mimo App requires iOS 10.0, Android 7.0 or above. Compatible devices include: iPhone 11 Pro Max, 11...
DSLRs
Cameras come in all shapes and sizes, but the DSLR is likely the most popular choice among working photographers. Though their looks on the outside haven't changed much, their insides have evolved extensively. Over time, DSLRs have increasingly incorporated the capabilities present in traditional camcorders into their standard build making them viable candidates for the best cameras under $1000.
Related Post: Best DSLRs for Video Shooting
Features:
24.2MP CMOS sensor
Articulating touch screen LCD panel
1080P HD quality footage
What Makes it Great:
For quite some time, Canon has been one of the leaders in marrying digital photography and film. So, it should come as no surprise to learn that the Canon 80D rivals the traditional camcorder in some respects. Equipped with a 24.2MP CMOS sensor, it can capture detailed HD quality 1080p footage just as well as it can make still images.
The camera's articulating LCD is especially handy for making quick adjustments and getting a clear view at an unusual angle. Despite being an older sibling to the latest Canon 90D, there are still numerous features that make this camera a great choice.
Related Post: Best Canon Lenses for Video
Canon Digital SLR Camera Body [EOS 80D] with 24.2 Megapixel (APS-C) CMOS Sensor and...
The EOS 80D camera's Intelligent Viewfinder helps bring the thrill of SLR photography with each use
The Intelligent Viewfinder displays AF points and AF mode, has a grid display, a horizontal electronic level, plus numerous...
For next level AF operation, the EOS 80D camera has a wide area, 45 point, all cross type AF system with low luminance...
The 242 Megapixel (APS C) CMOS sensor captures high resolution images and has refined individual pixels that enable high ISO...
Use the EOS Utility Webcam Beta Software (Mac and Windows) to turn your compatible Canon camera into a high-quality webcam
Features:
4K Ultra HD footage
20.9MP CMOS sensor
Installed with WiFi and Bluetooth connectivity
What Makes it Great:
For videographers looking to dabble in photography, many of the higher-end DSLRs have much too high of a price tag with too few of the specs a videographer would want. The Nikon D7500 doesn't carry those big price tags, instead, it is reasonably priced and intuitive to use, making it an accessible option for videographers.
Focusing on your subjects is easy thanks to the 51 available autofocus points programmed into the camera. And, with access to Bluetooth and WiFi-enabled devices, you can transfer your 4K footage with relative ease.
Nikon D7500 DX-Format Digital SLR Body
Class leading image quality, ISO range, image processing and metering equivalent to the award winning D500
Large 3.2" 922k dot, tilting Lcd screen with touch functionality. Temperature: 0 °c to 40 °c (32 °f to 104 °f)...
51 point AF system with 15 cross type sensors and group area AF paired with up to 8 fps continuous shooting capability
4k ultra hd and 1080p full hd video with stereo sound, power aperture control, auto ISO, 4k UHD time lapse and more
Built in Wi-Fi and Bluetooth for easy connectivity through the Nikon snap bridge app
8.
No products found.
Features:
18MP CMOS sensor
3″ articulating LCD touch panel
1080P HD quality footage
What Makes it Great:
Canon's Rebel Lineage isn't often taken into consideration as they're often seen as a beginner's DSLR. While it is a great option for those just starting out, there's still a thing or two that this camera could offer to seasoned professionals. This camera comes with the basics every videographer should have on hand.
With 1080p resolution at 30 fps, the image quality is on par with many more expensive models. An articulating LCD panel and touchscreen autofocus make collecting footage a breeze. But, if Canon's not for you, you can find almost identical specs in Nikon's D3300.
Camcorders
Video recording has become standard on everything from smartphones to high-end DSLRs. That being said, good old-fashioned camcorders still have plenty to offer and rightly deserve a place in our list of the best video cameras for under $1000. At the end of the day, their primary function is to capture footage. Often, they're more conducive to working free-hand and endowed with helpful features like fixed zoom lenses. While we're crazy for the strides many cameras have made, there's no replacing the original master.
Related Post: Best Professional Camcorders
Features:
20x optical zoom
noise-suppressing Back Side Illumination sensor
Connects to phone for real-time broadcasting
4K HD quality footage
What Makes it Great:
For those seeking a product that hits every mark, Panasonic's HC-V770 Camcorder is an easy choice. It does more than capture its surroundings in glorious 4K resolution. It carefully captures sound with a powerful external mic. When the shoots over, the camera offers an array of filters to truly make you footage your own.
To further improve image quality, the Panasonic employs a BSI sensor to reduce noise and bright spots. Even when utilizing the 20x zoom, the attached Leica Decomar lens produces clean, crisp results.
Panasonic Full HD Video Camera Camcorder HC-V770, 20X Optical Zoom, 1/2.3-Inch BSI...
20X Optical Zoom: Long 20X zoom draws in the scene from far away; Compatible with Remote Pan Tilt Cradle (optional); The...
HDR Movie Feature: Exclusive high dynamic range feature suppresses blown highlights and blocked shadows for crisper and...
Wireless Twin Camera: Wirelessly connect your smartphone's video camera as a sub-camera for a picture in picture video effect
1/2.3 Inch BSI Sensor: The Back Side Illumination Sensor has a large effective area with 6.03M effective pixels, suppressing...
Remote Shooting/View: The "Panasonic Image App" lets you use a smartphone or tablet as a real time remote to control the...
Features:
Durable to withstand outdoor elements like rain
19MP back-illuminated CMOS sensor
4.5 hours of internal battery life for continuous shooting.
What Makes it Great:
The JVC Everio may seem like just another handheld camera at a glance. However, it's more than capable of capturing some professional-grade results in the right hands.
In conjunction with a strong battery life, this camcorder also sports dual SD card slots for extended recording. What's more, the Everio captures 4k footage with 8MP stills. Where continuous shooting on a camera may fall short, the JVC can capture every subtle moment in picture-perfect clarity.
Features:
HD CMOS sensor
32GB internal memory with 2 memory card slots
Intelligent optical image stabilization
10x optical zoom
What Makes it Great:
For those on a budget, the Canon Vixia HF G20 is sure to satisfy. With a low-light enhanced sensor, an HD wide angle lens, and a touchscreen LCD, it boasts much of the same tech that fuels more expensive cameras.
Inside this little package is a staggering 32 GB of internal memory as well as two slots for external memory card. This equates to about 12 hours of film storage! What's more, optical stabilization and a superb dynamic range ensure that every second of the action is gorgeous.
Canon VIXIA HF G20 Camcorder with 10x HD Video Lens (30.4mm-304mm), 3.5" Touchscreen...
10x HD video lens (5mm equivalent: 30.4mm – 304mm) with 8-Blade Iris, 3.5 inch touch LCD
Canon HD CMOS Pro Image Sensor (1/3-inch, 1920 x 1080 image sensor) with 20% improved low-light performance
Up to 12 hours of HD Recording to 32GB internal memory (2 additional card slots available)
Dynamic super range Optical image stabilization and intelligent is automatically; cinema-look filter with 9 built-in filters
---
As an Amazon Associate we earn from qualifying purchases. Certain content that appears on PhotoWorkout.com comes from Amazon. This content is provided 'as is' and is subject to change or removal at any time.