As a filmmaker in 2023, you have access to an amazing selection of cameras. You can create beautiful videos with consumer-friendly models that don't cost a fortune.
But should you purchase an interchangeable lens camera? A compact action camera? A dedicated vlogging model? Picking the perfect camera is hard, but we've got you covered. Below, we reveal the absolute best cameras for filmmaking on a budget, including options for all shooting styles. So no matter your price range and no matter your camera preference, you're bound to find the right fit!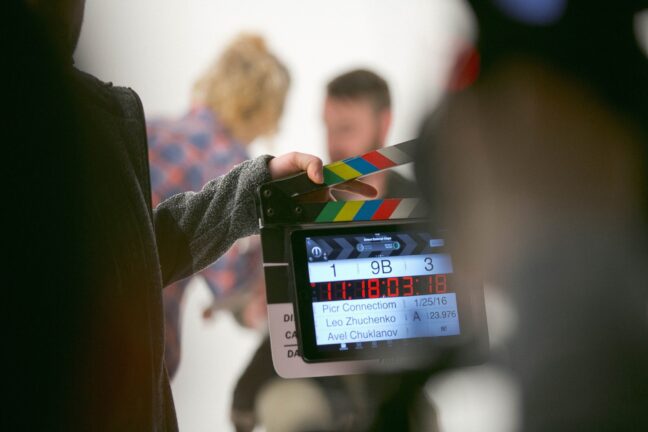 Most Affordable Cameras for Filmmakers:
When you buy through links on our site, we may earn a commission at no cost to you. We evaluate products independently. Commissions do not affect our evaluations.
1. Nikon Z 30
Our Pick
Great for vlogging
The Nikon Z 30 is an excellent starter camera that offers simple controls, an ergonomic design, and great recording quality.
Pros
Live streaming in 4K
Articulating touchscreen for live previews
Z-mount lenses
Cons
No electronic viewfinder
Nikon has been developing a new generation of mirrorless cameras that are accessible to videography beginners. Our favorite of the bunch is the Nikon Z 30, a highly portable and compact camera that is perfect if you want to get into vlogging and other forms of filmmaking that involve traveling to different locations.
You'll find the Z 30 easy to carry, and even with a Z-mount lens, it won't weigh much. If it's the first mirrorless camera you'll have used, you should find it easy to handle thanks to the touchscreen, the great rear controls, and the ergonomic grip.
The Z 30 can record in full 4K, which makes for crisp and detailed video footage, and it can even stream in 4K/30p, so it's perfect if you want to broadcast on a platform like Twitch or YouTube. As you record, you can flip and rotate the screen out to make sure the framing and lighting are perfect.
This package includes the very nice Z 16-50mm lens so you can experiment with a wide range of shots. If you intend to really dive into filmmaking and develop your cinematography skills, the Z 30 is a top choice.
2. Sony ZV-1
Also Great
Great for portable filmmaking
The Sony ZV-1 is a compact camera that's great for filmmaking in different locations.
Pros
Small and lightweight design
Can record in 4K
Great AF system for tracking people
Cons
The zoom may be limited
The Sony ZV-1 is primarily categorized as a vlogging camera, but thanks to its compact size and handy set of recording options, it also doubles as a powerful camera for serious videography.
The ZV-1 is a compact model that could work great for filmmaking adventures or even travel films. It weighs virtually nothing and can fit in the palm of your hand.
It also features impressive specifications, including a high-quality ZEISS lens, a 20.1 MP sensor, and a BIONZ X image processor, plus it can record 4K footage. We also like the fast hybrid AF system, which is useful for tracking subjects (and even people's eyes!).
3. Canon EOS R50
Great for high-quality footage
The Canon EOS R50 can record 4K footage at 30 FPS, which gives you more versatility and ensures that your video footage looks fantastic.
Pros
Advanced AF system
Lightweight and compact body
Easy to use
Cons
The RF-S lens lineup is limited
Canon is developing their next generation of mirrorless cameras, and their current best budget option for filmmaking is the Canon EOS R50. It's one of the first APS-C cameras in the EOS R range and is perfect for active filmmaking involving action and movement due to the fantastic autofocus system.
Canon's Dual Pixel CMOS AF system is incredibly advanced and will allow you to track people and moving objects as you record; it even includes a range of special AF modes for animals, people, and cars so you can create consistently sharp shots.
If you need professional-grade footage, you'll appreciate the camera's uncropped 4K/30p recording capabilities. And if you want to experiment with different speeds, you can always shoot 1080p video up to 120 FPS.
This camera is highly usable, too. It's lightweight with a sturdy hand grip, and the LCD touchscreen flips out fully so you can watch live previews and record from difficult angles while still monitoring your framing. Given Canon's investment in the RF mount, you can guarantee that this camera will be relevant for a long time – and while the number of RF-S lenses is limited at present, you can always use standard RF lenses, plus you'll likely have plenty of RF-S lenses to choose from in the near future.
4. Canon EOS M50 Mark II
Great for slow-motion video
The Canon EOS M50 Mark II is a versatile camera offering high-quality 4K recording and slow-motion effects.
Pros
Can record up to 120 FPS
A compact, ergonomic design
Fully articulating touchscreen
Cons
Canon's EOS M system may be on the way out
Although Canon seems to be phasing out the EOS M range, the Canon EOS M50 Mark II remains one of the best filmmaking cameras they have to offer. Plus, as new models are released, you can pick this camera up for a bargain price.
The M50 Mark II can record 4K/30p footage, and it's also capable of recording in 1080p at 120 FPS, which means you can add awesome slow-motion footage to your videos. It's backed by a high-quality 24.1 MP sensor and Canon's DIGIC 8 image processor.
The M50 Mark II's design is ergonomic: the camera is relatively lightweight, easy to hold, and sports a firm grip. We also like the articulating touchscreen, which flips out and rotates. This makes it easy to monitor your footage while filming.
There's also a good range of lenses for the M50 that offer plenty of versatility. And if you're not satisfied with the EF-M options, you can always mount an EF lens via an adapter.
5. Sony a6400
Great for learning new filmmaking techniques
The Sony a6400 offers 4K recording and has a range of automatic recording modes to help you out.
Pros
Tiltable LCD touchscreen
Durable design
Great video quality
Cons
Some might find the LCD screen difficult to work with
The a6400 is one of Sony's newer APS-C cameras, and while we've previously included the a6000 on this list, the a6400 offers a few improvements that make it a more suitable option for filmmaking.
The first notable change is the ability to record in 4K. This gives you superior-quality videos, and it also means you have more flexibility when cropping footage. If you are filming people, you'll find the Real-Time Eye AF fantastic; it'll make sure you can consistently nail focus on the eyes.
We love this camera's compact body, and it could easily be used for extreme sports filmmaking or recording in difficult weather conditions thanks to the shockproof and weatherproof design. The screen does flip out, which comes in handy when vlogging, though some folks dislike the way it goes under the camera.
There are various automatic movie functions that beginners will appreciate. These will help you expand your creativity and allow you to learn different filming techniques as needed, including slow-motion recording. This kit includes the camera and the Sony 16-50mm E-mount lens, which is a versatile starter option and should allow you to capture a variety of subjects.
Related Post: Review of the Sony E 16-50mm f/3.5-5.6 OSS
6. GoPro HERO11 Black
Great for sports
The GoPro HERO11 Black is the perfect choice if you want to record first-person action or extreme sports footage.
Pros
HyperSmooth stabilization
Improved image sensor
Lightweight design
Cons
Doesn't have a flexible zoom lens
The GoPro HERO11 Black remains one of the best action cameras and is a top choice for first-person filmmaking. It's also a great pick if you want to launch your career in travel vlogging or anything especially death-defying.
This incredibly small and portable action camera can be mounted in various ways and gives you a lot of flexibility when choosing the first-person angles you want to capture. For example, you could mount it on a helmet, a chest strap, or even a wrist strap. Regardless of the camera's positioning, you can expect smooth footage due to the HyperSmooth stabilization, which reduces jarring and wobbling.
The basic video quality is 5.3K, which is even better than (already impressive) 4K video. As a result, your extreme footage will look superb, and you'll have greater freedom if you want to crop. Don't worry about lens flare, either, because the lens has a special water-repelling layer that will help eliminate annoying video artifacts. For sports enthusiasts and those wanting to capture high-quality action footage, the HERO11 Black is definitely the best compact option available.
7. Nikon Z 50
Great for hybrid shooters
The Nikon Z 50 is a fantastic dual-purpose camera that can be used for filmmaking as well as photography.
Pros
20.9 MP CMOS sensor
Compatible with Nikon's Z lens lineup
Excellent low-light performance
Cons
The screen only flips out below the camera
If you want a camera that is a step up from the Nikon Z 30 and is packed full of features for videographers and photographers, the Nikon Z 50 is a great choice. It's only slightly larger and heavier than the Nikon Z 30, so it's still highly portable and can be used for travel filmmaking without issue.
You can capture 20 MP images and record in 4K, and you also get a range of automated video features and recording modes to make your filmmaking as easy as possible.
If you want to record vlogs, the LCD touchscreen flips outward – though it only goes below the camera. This means you can see a live preview underneath the lens as you are recording. It's not as smooth as a fully rotatable screen, but you can still clearly see your work and make quick adjustments to the settings if needed.
In terms of lenses, the Z 50 is compatible with a variety of Z-mount lenses, including the Z 16-50mm lens, which offers a nice maximum aperture and a versatile focal length. You can also use the Z 50 with the FTZ mount adapter, which gives you access to some of the best Nikon lenses for video. That way, you can expand your creative potential and try out more types of cinematography.
8. Fujifilm X-T30 II
Great for low-light recording
The Fujifilm X-T30 II has a high-quality sensor that excels at producing low-light footage.
Pros
Multiple recording modes
Next-generation sensor for low-light recording
Durable camera body
Cons
The LCD screen is quite limited in its positioning
The Fujifilm X-T30 II is on the more expensive side, but it's a versatile device that'll allow you to specialize in either photography or filmmaking.
At the heart of this camera is an amazing sensor that captures beautiful 26 MP photos. It also lets you record in 4K, and it has a range of 1080p recording modes, too, so you can play with different speeds.
If you want to try your hand at nighttime or indoor videography, the X-T30 II really is a great pick; the sensor does extremely well in low light, and your dark video footage will look great (with virtually no background noise and artifacts).
This camera can provide extreme color fidelity thanks to the 10-bit 4:2:2 color support. You can also use the amazing range of Fujifilm lenses, and this kit includes an 18-55mm lens, which is just a fantastic starter pick.
9. DJI Osmo Action 3
Great for underwater footage
The DJI Osmo Action 3 can be used underwater, so you can create some epic videos while diving and snorkeling.
Pros
Fantastic color accuracy
Includes a monopod
Amazing battery life of up to 150 minutes
Cons
Doesn't include a memory card
The DJI Osmo Action 3 is an amazing alternative to the GoPro HERO11 Black and is a superb action camera for anyone hoping to experiment with underwater recording. It can't compete with a proper underwater drone camera, but you can still use it down to 52 ft (16 m) without fear of damage.
Combine this with the high-quality 4K recording and 10-bit color depth, and you can easily create some unique and vibrant underwater footage. If you are swimming or moving around with this camera, the HorizonSteady stabilization will make sure that your footage remains remarkably smooth.
The battery is protected from the elements and you can expect it to last for up to 150 minutes of recording time on a single charge. This means you can concentrate on your filmmaking and not have to worry about the battery running out.
The Adventure Combo package has everything you need to start recording immediately and includes a protective frame, a monopod, and three batteries.
10. Sony Alpha ZV-E10
Great for exploring different filmmaking techniques
The Sony ZV-E10 has an interchangeable lens mount so you can use any of Sony's impressive E-mount lenses to expand your filmmaking skills.
Pros
Fully rotatable touchscreen
Excellent 4K recording quality
Great connectivity
Cons
The lenses can be expensive
Some may find the fixed lens of the ZV-1 limiting, and that's where the Sony Alpha ZV-E10 comes in. It has similar features to the ZV-1, but it also boasts an interchangeable lens mount that accepts Sony E-mount lenses. As a result, you can potentially grab some fantastic lenses for the ZV-E10 as you expand your filmmaking skills.
This device records in 4K, and the amazing sensor gives you superb clarity, contrast, and colors regardless of the recording conditions. You can also turn this camera into a live streaming device if you want to broadcast live vlogs or content on social media.
So you can keep tabs on your compositions, the LCD touchscreen is fully rotatable and flips out. This means you can see a full preview as you are recording. Although the interchangeable lenses can be on the expensive side and will add some weight and size to the camera, it's still highly compact and great for travel recording!
Choose a Camera and Get Filming!
We hope you appreciate this guide to the best affordable cameras for filmmaking. As you can see, you don't have to spend a fortune on expensive cameras. You can create amazing visuals using highly versatile models that won't break the bank.
If you're new to the world of filmmaking and want a simple starter camera, the Nikon Z 30, the DJI Osmo Action 3, and the Canon EOS R50 are all great beginner options.
Alternatively, if you know you want to pursue a career in filmmaking and need a high-quality camera, the Sony ZV-1, the Fujifilm X-T30 II, and the GoPro HERO11 Black are all fantastic.
---
Disclosure/Disclaimer: As an Amazon Associate, we earn from qualifying purchases. Certain content was provided "as is" from Amazon and is subject to change or removal at any time.