Find the Best Video Camera under $1,000
For even the most dedicated videographers, finding the right camera isn't always an easy feat. A multi-billion dollar industry, there's stiff competition between a slew of companies constantly aiming to out-innovate one another. And, as an experienced photographer can attest, gear isn't cheap.
Without knowing exactly what each camera has to offer, it can be difficult to make an informed decision on which model best suits your personal needs and deserves to be called YOUR best video camera under $1,000.
For all of the aspiring cinematographers out there, we went through and looked into the best video cameras under Broken down by camera type, this overview explains the edges each of these devices has over the competition.
✔ Top 12 Video Cameras under $1000
Mirrorless Cameras
Action Cameras
DSLRs
Video Camcorders
MIRRORLESS CAMERAS
Increasingly so, mirrorless cameras have been growing in popularity among professional photographers. Lighter and more compact than traditional DSLRs, the omission of an internal mirror makes for a quieter shooting experience. As image makers continue to migrate to mirrorless, companies have begun to incentivize new developments in the growing field.
Related Post: Mirrorless Cameras vs. DSLRs
1. Panasonic Lumix GX8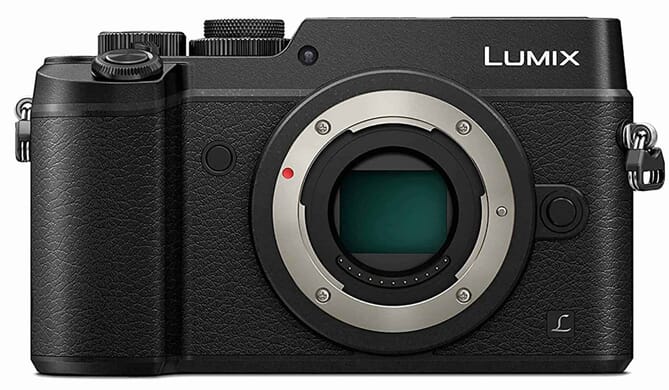 Features:
4K HD quality footage
Implements cutting edge dual-stabilization technology
Precision autofocus includes subject tracking algorithms
20.3 MP MOS sensor
What makes it great:
As of now, the Lumix GX8 is one of the best options out there for videographers looking to delve into the mirrorless market. The picture quality Panasonic offers is difficult to argue against, with stunning 4K imagery and a 20.3MP MOS sensor that can reach up to ISO 25600.
The Lumix also includes an autofocus tracking algorithm capable of locking on to subjects in motion. But perhaps most impressive of all is Panasonic's unique in-body image stabilization, which works in conjunction with IS lenses to produce dual stabilized imagery.
Needless to say, this sort of technology is covered by any artist interested in producing the smoothest, steadiest footage possible.
Related Post: The New Panasonic Lumix GH5S (How does it Compare to the GH5?)
2. Sony Alpha a6000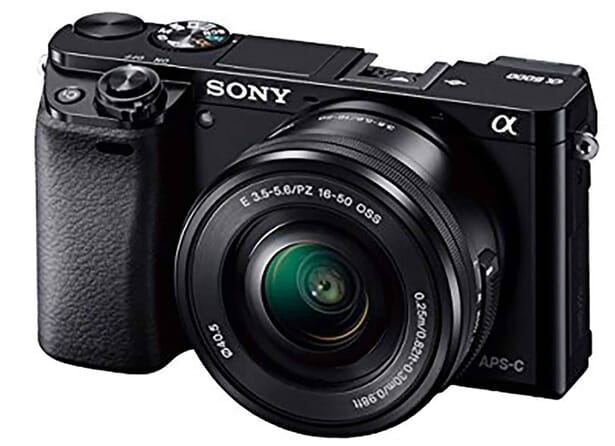 Features:
24 MP CMOS sensor
Portable size perfectly designed for travel
Innovative contrast-detecting hybrid autofocus
Records at 60, 30, and 24 frames per second
What makes it great:
The Sony Alpha a6000 proves to be another excellent choice for those hoping to take advantage of developing the mirrorless technology. With a compact and lightweight build, it's small enough to fit inside of a pocket and weighs in at less than one pound. Despite its size, it retains an electronic viewfinder as well as an impressive 3-inch articulating LCD screen.
Equipped with an impressive 24MP CMOS sensor, it can capture up to 60 frames per second for slow-motion rendering. Like the Lumix, it also comes installed with advanced autofocus technology, complete with over 170 focal plane detection points.
Related Post: 8 Best Mirrorless Cameras under $1000
ACTION CAMERAS
With the rise of Youtube and similar video-sharing websites, a market has developed for cameras capable of going where no camera has gone before. Built for durability, action cameras are compact enough for travel and discreet enough for run-and-gun videographers to capture whatever they need without drawing attention.
3. GoPro Hero 5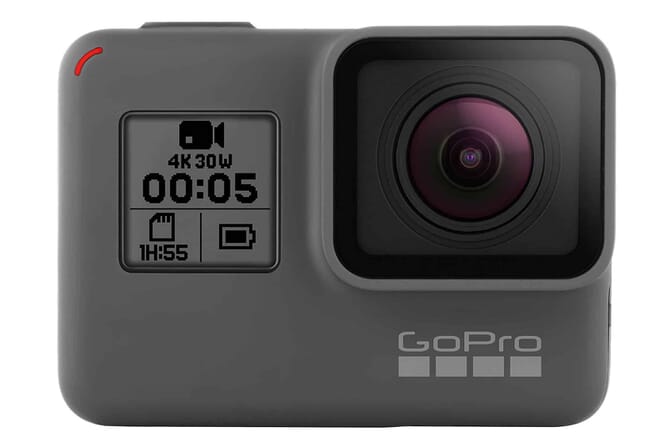 Features:
Water-proof build
4K HD quality footage with automatic stabilization
12 MP RAW image quality
Voice control capabilities
What makes it great: 
The GoPro brand has earned its title as the reigning monarch of action photography. For all those in the know, the name has become all but synonymous with the genre. Its compact build (it weighs in at just .25 lbs!) in conjunction with its rugged design makes it the camera of choice for many athletes and adventurers.
The GoPro Hero 5 keeps up the precedent set by its predecessors, featuring 4K footage strengthened by automatic stabilization for the smoothest shot possible. It also captures detailed RAW images for still photographers. One of the Hero 5's most impressive additions is its ability to obey voice commands, allowing for hands-free filming. 
4. Blackmagic Pocket Cinema Camera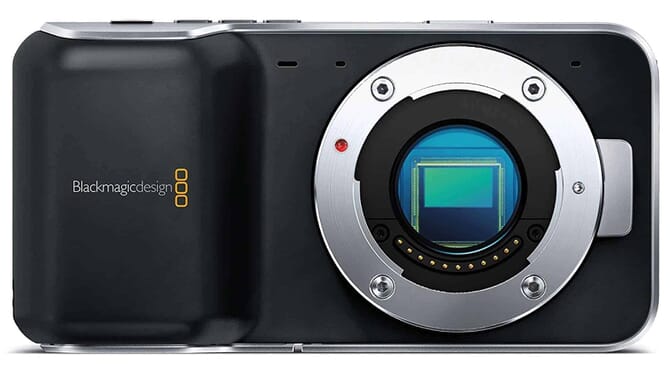 Features:
High resolution 3.5 inch LCD monitor
Supports open file formats
Lossless compression preserves detail and tonality
What makes it great:
Don't be fooled by the Blackmagic Pocket Cinema Camera's friendly appearance  – this little camera packs a powerful punch. The image quality and details are hard to match, boasting a 13-stop dynamic range.
One of the most appealing features of the Pocket Cinema is its lack of proprietary file format, making the camera's output easy to work with regardless of the tools in your arsenal. Although the camera requires speedier memory cards with plenty of space to store raw footage, the resolution of the output video makes this camera worth every penny. 
Related Post: A Review Of The Top 5 Bridge Camera Systems
5. 360 Fly 4K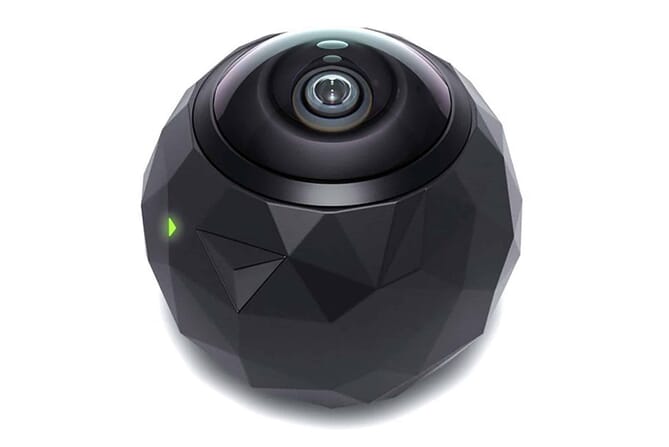 Features:
Extremely durable; water resistant, dust resistant, and shock resistant
WiFi and Bluetooth connectivity for efficient edits and instant sharing
32 GB of internal memory
What makes it great: 
If you're a filmmaker that wants to capture every moment of action, the 360 Fly is just for you. Claiming to sport the world's widest single lens camera, it effortlessly creates 360-degree panorama footage – no stitching required.
With the ability to connect to the internet from the field, it can instantly create encompassing, interactive video suitable for social media. Making adjustments is easy despite the camera's minimalistic design.
Using the 360fly app, it's easy to control settings like exposure, color, and speed via smartphone or tablet.
6. DJI Osmo +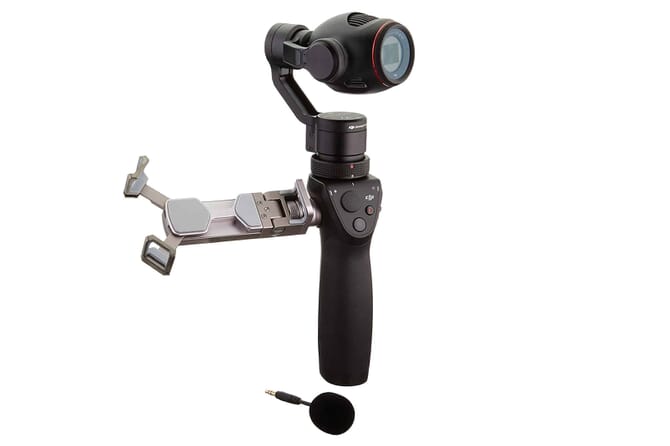 Features:
Superior stabilization capabilities
WiFi connection available
Can support time-lapse and panorama footage
2x lossless digital zoom
What makes it great:
Good things come in small packages, and the Osmo + is no exception. Sure, it may look a little strange compared to some of the more traditional looking cameras on this list. However, the 3 axis camera attachment allows users optimum stability with virtually no strain.
Despite its small size, it can be attached to smartphones and used to create impressive long exposures and motion time lapses. It can run at 30fps in stunning 4K, and can even zoom in on subjects without losing resolution.
DSLRs
Cameras can come in all shapes and sizes and function in a variety of ways – nevertheless, the SLR reigns supreme among the majority of working photographers. As the photo industry has evolved, so too has the equipment. Just as digital photography replaced film, the moving image has begun to replace the still photograph in some circumstances. Therefore, it's become increasingly necessary for the standard DSLR to take on the capabilities of the tradition camcorder.
7. Canon EOS 70D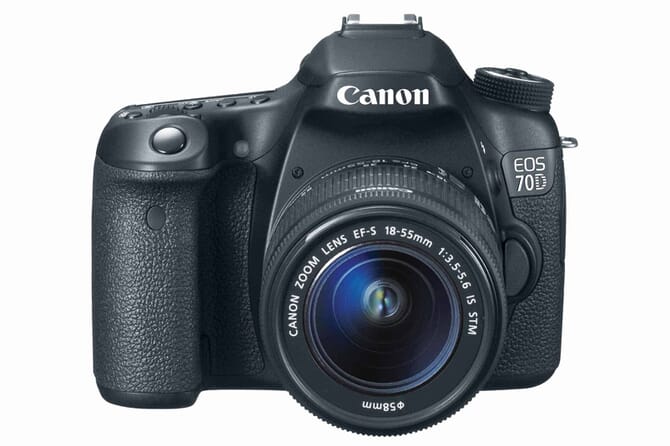 Features: 
20MP CMOS sensor
Articulating touch screen LCD panel
1080P HD quality footage
What makes it great: 
For quite some time, Canon has been one of the leaders in marrying digital photography and film. The Canon 70D boasts specs that rival those of cameras specifically designed to create videos. Equipped with a 20MP CMOS sensor, it can capture HD quality 1080p footage.
The camera's articulating LCD panel is especially handy for making quick adjustments and getting a clear view of what's being filmed in real-time. If you're willing to go a bit over budget, the recently released 80D offers many of the same qualities that make for the 70D's enviable videography.
Related Post: 20 Amazing DSLR/Mirrorless Camera Video Tips
8. Nikon D3300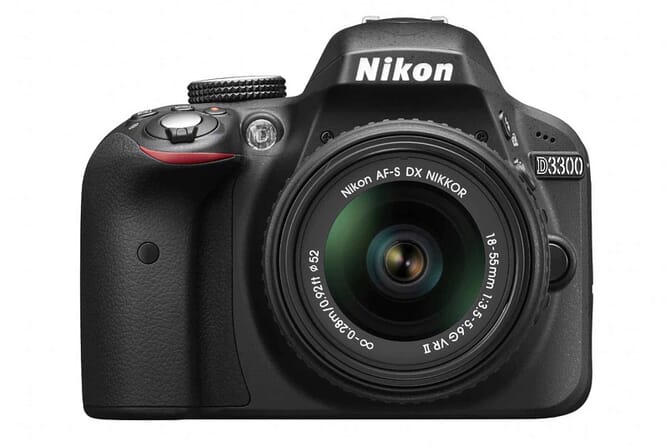 Features:
1080P HD quality footage
24MP CMOS sensor
Installed with WiFi and GPS
What makes it great: 
For cameramen looking to dabble in photography, many of the higher end DSLRs on the market can be intimidating. Lacking the exorbitant price and complicated workings of other cameras, the Nikon D3300 is a perfect solution. It can be easy to write off the Nikon because of it's appeal to entry-level photographers.
Nevertheless, it offers some pretty impressive specs. Its 24MP sensor can record 1080P footage at 60 fps. Whats more, it includes the WiFi and GPS that come standard on many of the newest cameras on the market. With an affordable price tag to boot, it's hard not to take the D3300 into consideration.  
Related Post: 6 Best Cameras for Vlogging
9. Canon EOS Rebel T5i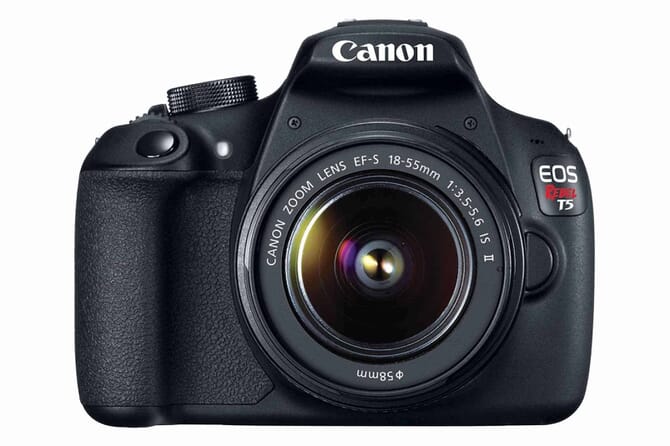 Features:
18mp CMOS sensor
3″ articulating LCD touch panel
1080P HD quality footage
What makes it great:
Canon's answer to Nikon's D3300 is the Rebel T5i, and as you may expect, its video capabilities are pretty comparable. Though its sensor is a bit smaller, it still manages to capture the same 1080p footage. It makes up for its slightly higher price tag with an image stabilizer that Nikon's model lacks. In addition, the Rebel features the same articulating LCD panel seen on the 70D, making it easy to view results in-camera. 
Related Post: Best Canon DSLRs for less than $1,000
VIDEO CAMCORDERS
Although video recording capabilities have become a standard on DSLRs and smartphones, it's hard to beat a good old-fashioned camcorder. At the end of the day, their primary function is to capture footage. Their design is more conducive to taking steady video without the aid of the tripod. Often times they include features such as versatile zoom lenses and ample internal memory storage that simply aren't present on cameras specializing in still imagery.
10. Panasonic HC-V770 HD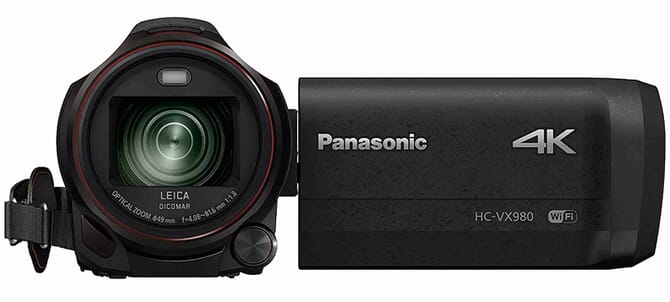 Features:
20x optical zoom
noise suppressing Back Side Illumination sensor
Connects to phone for real-time broadcasting
1080p HD quality footage
What makes it great:
Panasonic's HC-V770 Camcorder is an easy choice for users seeking something that hits every mark. It captures its surroundings in 1080p and features an above average internal sound system. It comes downloaded with an array of applicable filters, making it possible to get the look that you want in camera with very little effort.
It's BSI sensor reduces noise and bright spots, preserving details that might otherwise be lost using other cameras. It even features a 20x optical zoom, capturing subjects far off in the distance and blowing much of the competition out of the water. 
Related Post: Corporate Portrait Photography Tips
11. TomTom Bandit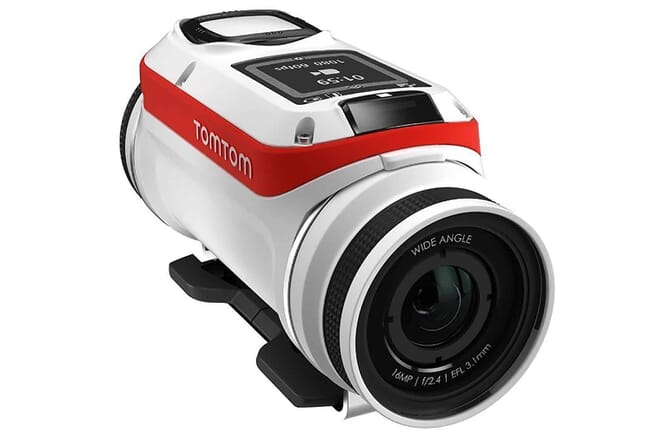 Features:
Bandit app allows for instant playback
Long lasting battery
4K HD footage
What makes it great: 
Some may argue that the Bandit is more of an action camera than it is a professional grade camcorder. However, TomTom manages to mingle the best of both worlds into this little gadget. It retains the handheld design of many camcorders, but can also mount to just about anything. Its long-lasting battery allows for over three hours of continuous shooting – a feat that many action cameras simply cannot compete with.
Aside from recording 4K video, this camera also records information such as speed, g-force, and altitude. For avid adventurers concerned with getting a great shot, the Bandit gets the job done.
12. Canon Vixia HF G20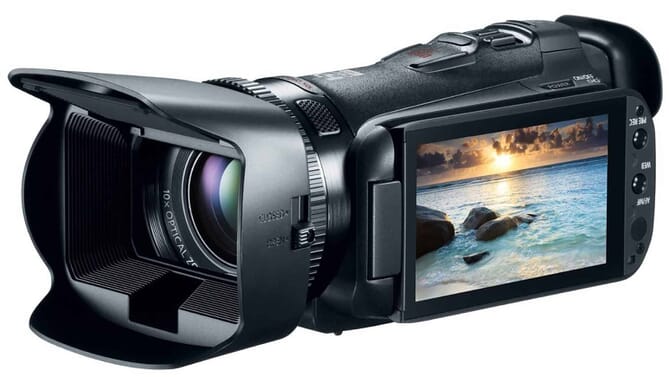 Features:
HD CMOS sensor
32GB internal memory with 2 memory card slots
Intelligent optical image stabilization
10x optical zoom
What makes it great: 
The Vixia HF G20 is sure to satisfy enthusiasts on a budget. Between the camcorder's CMOS sensor, touchscreen LCD, and HD wide angle lens, it retains much of the same hardware that fuels more expensive models.
It contains a staggering 32 GB of internal memory, plus two slots for external memory cards. This sort of space equates to about 12 hours worth of film storage.
Equipped with optical stabilization and a superb dynamic range, you can rest assured that every moment of footage captured with the Vixia is bound to be beautiful.
Related Post: Best Professional Camcorders (9 Picks for 2018)
---
Note: As an Amazon Associate we earn from qualifying purchases. Certain content that appears on PhotoWorkout.com comes from Amazon. This content is provided 'as is' and is subject to change or removal at any time.