If you've read my past PhotoWorkout reviews, you're probably aware of the fact that I love to photograph animals. I often use pictures of my dog, Pluto, when testing out products, in part because I've photographed him hundreds of times over the years. So, it should come as no surprise to learn that I jumped on the opportunity to try out CanvasPop's brand new pet portrait feature.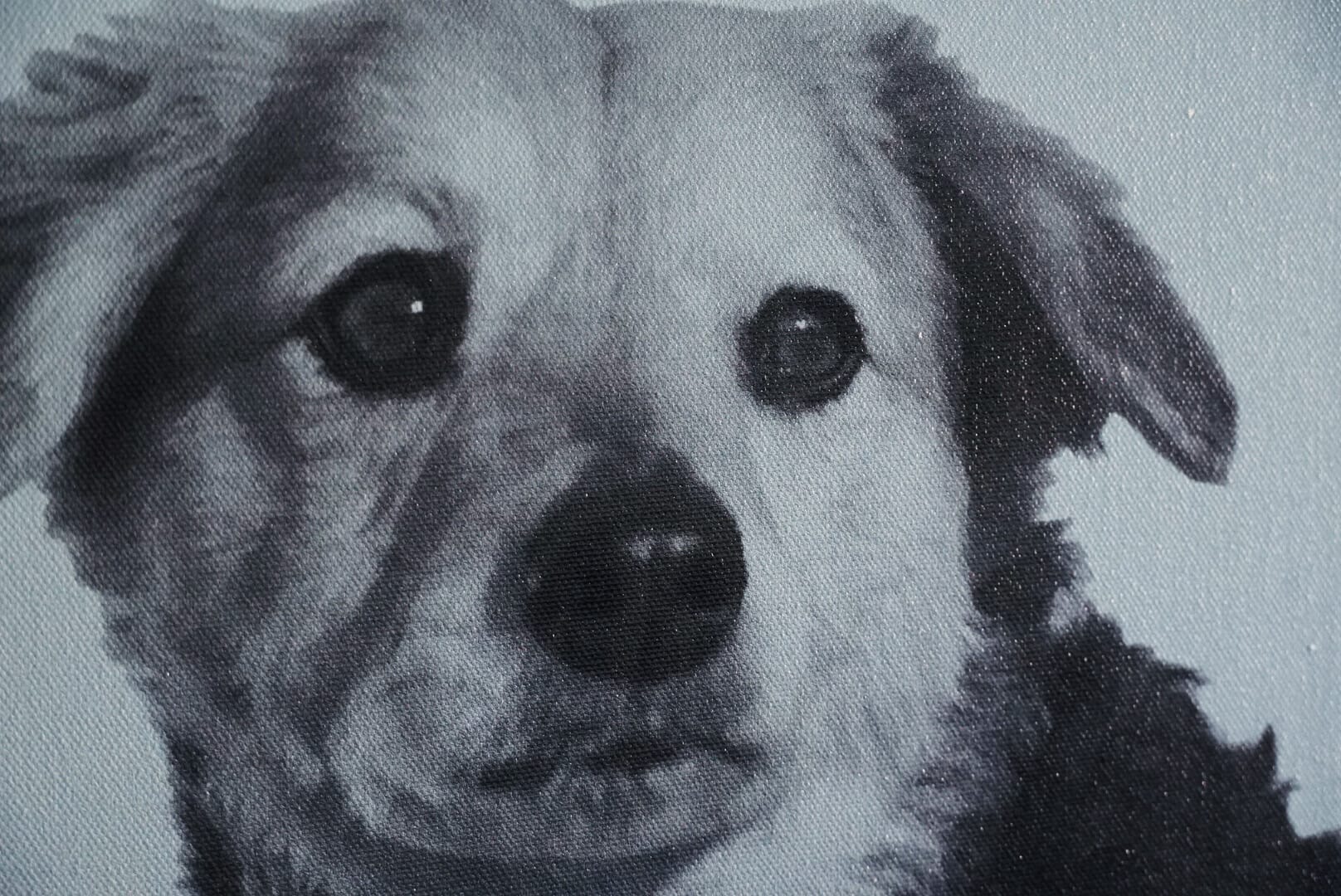 Advertised as an alternative to expensive pet oil paintings, CanvasPop claims to "create a work of art in minutes". But what, exactly, can you expect from this service? Did the final product live up to our expectations? Read on to find out!
About CanvasPop
We're no strangers to CanvasPop's services. In the past, their printing press used to create personalized gifts of all flavors. However, in recent years, they've focused all of their attention toward refining their canvas and paper photo prints.
Their new Pet Portrait service employs the same standards as their standard prints. Their poly-cotton matte canvas is archival certified and designed to last for over 100 years. Prints are scratch and UV resistant to prevent damage. Lastly, each piece is stretched and laminated by hand.
CanvasPop Pet Portrait Dos and Don'ts
Before getting started, there are few points to consider for your potential pet portrait. Because of the pop-art stylized look of the portraits, not all pictures work well in this particular format. Here's a list of CanvasPop's recommendations for first-time users.
Straight on images work best. Try your best to find pictures of your pet looking directly at the camera.
If possible, use a picture taken at eye level.
Natural lighting is recommended. However, any well-lit image will do the trick.
Avoid blurry and dimly lit photos.
Try not to use shots taken from overhead
Be sure to make sure that ears and other important facial features aren't cropped out of your shot.

Related Post: 9 Dog Photography Tips to Shoot Pawfect Pics Every Time
For my test print, I used dogs as my models. However, CanvasPop has made a point to note that they'll accept animals of all shapes and sizes for their Pet Portraits:
"Whether they are dogs, cats, bunnies, horses, hedgehogs, lizards, you name it, you can cherish all the memories you've shared together with a pet portrait."

canvaspop.com
Unfortunately, if you have more than one pet, you cannot double them up into one portrait at this time.
Finding the Perfect Picture
As I mentioned before, I often use pictures of my dog, Pluto, when making test prints. But, when getting this specialized portrait, I initially decided to pay homage to my childhood cockapoo, Ginger.
The process of submitting is pretty simple – you simply upload your photograph to CanvasPop, and the editor does the rest for you. First, their algorithm detects your pet's face. Then, it takes out distracting background elements and converts what's left to a monochrome square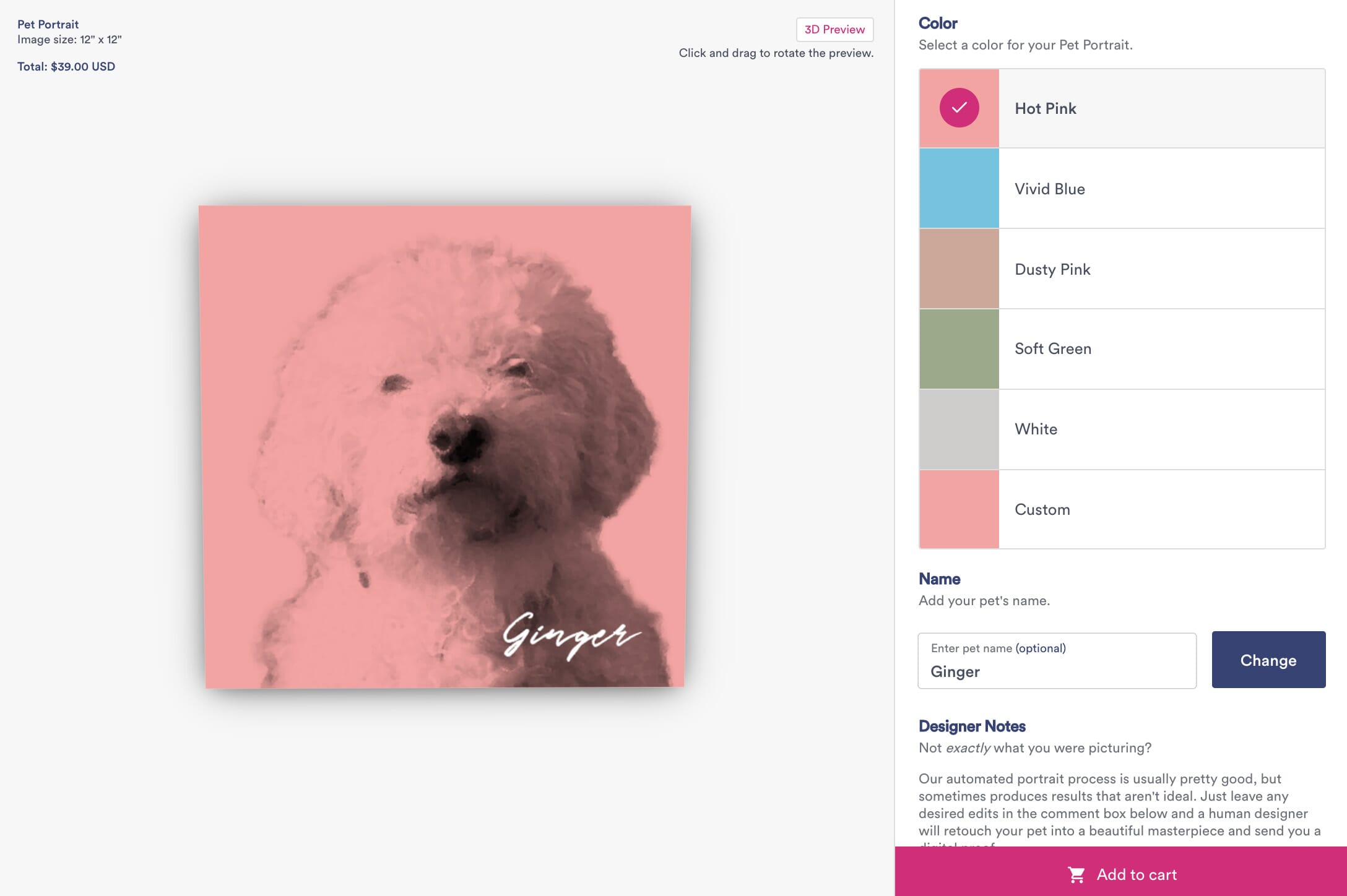 Unfortunately, automated editing has its pros and cons. Though I am fond of the original image of Ginger, it didn't exactly translate well for two reasons. Firstly, her light-coloring didn't really provide much contrast, and she bled a little bit into the backdrop.
But, more importantly, the edge detection really struggled with the fuzzy texture of her fur. This resulted in a sort of dark haloing effect that didn't really capture her finer details.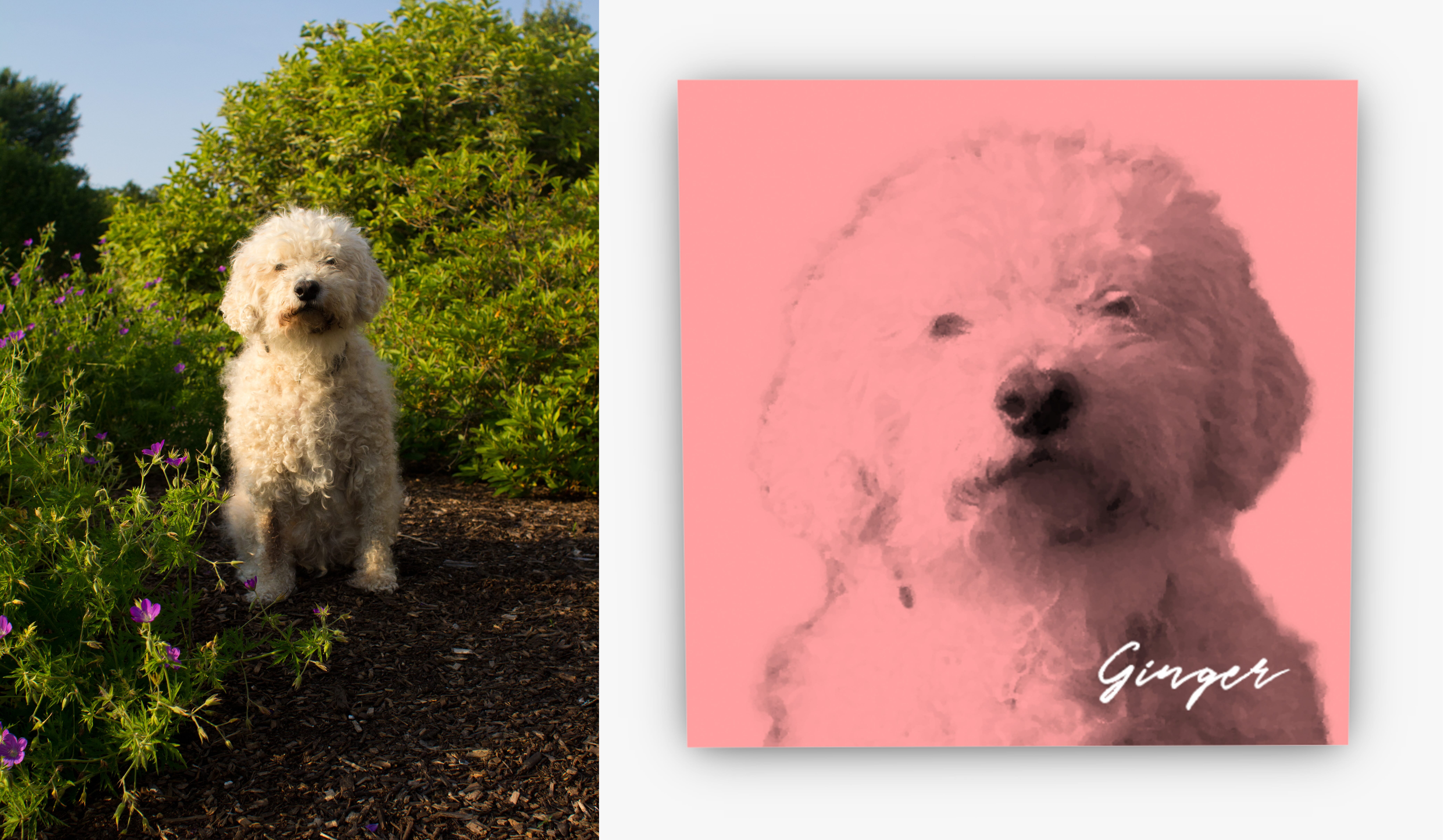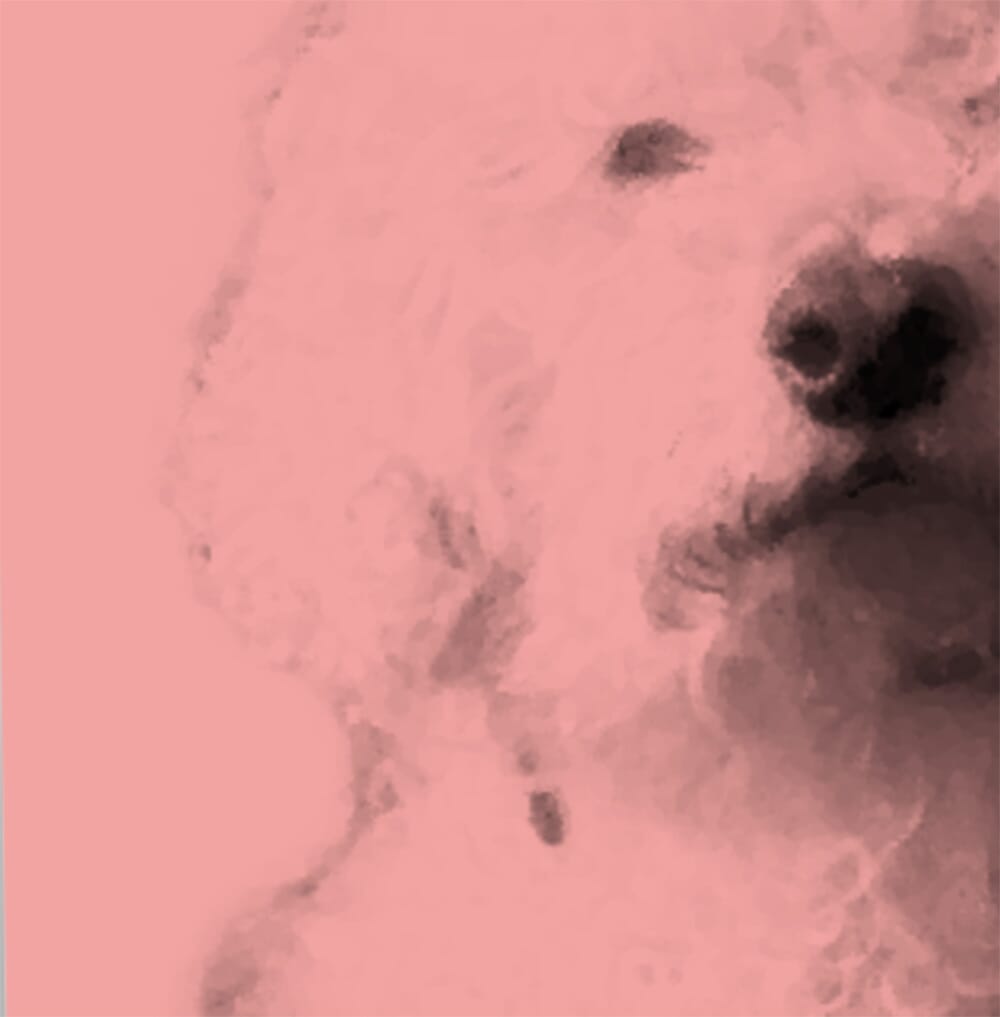 I decided that I'd try again with a different picture. Unfortunately, I forgot to follow CanvasPop's advice about avoiding overhead angles. Not only did I run into the same issue with my edges, but the algorithm also picked up some of the hosepipe in the original image. Whoops!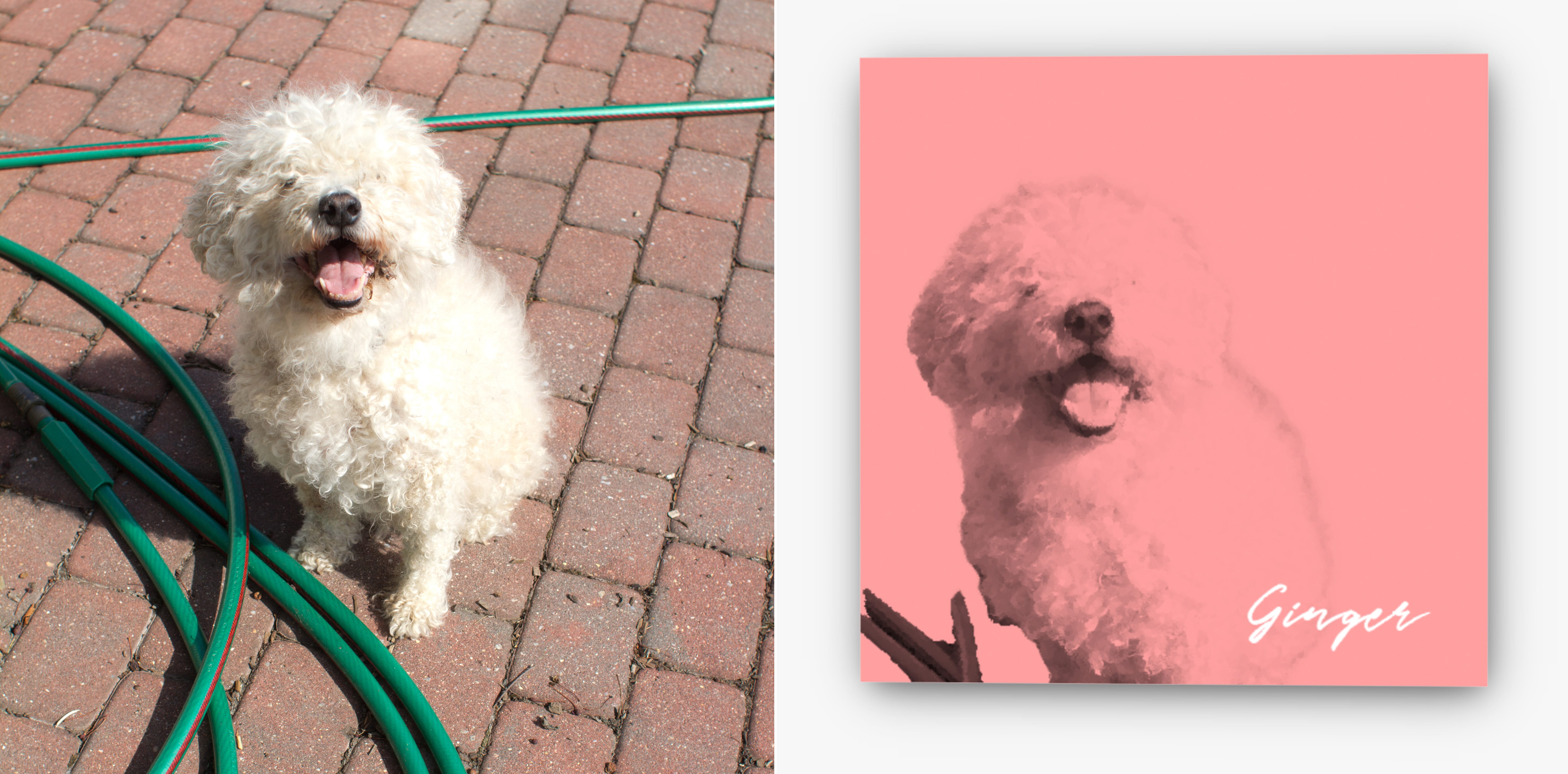 At this point, I decided that I might have better luck trying out a pet portrait featuring my parent's pooch, Tucker. Sorry, Ginger – maybe next time.
My intuition proved to be correct, to an extent. The contrast of his brown and black coloring certainly made more of an impact when converted to monochrome. Plus, Canvaspop was better able to pick up on details in texture and tone. However, I still found that there were some issues with the edges of his fur. At points, the way the program cut his body out was unnatural and awkward.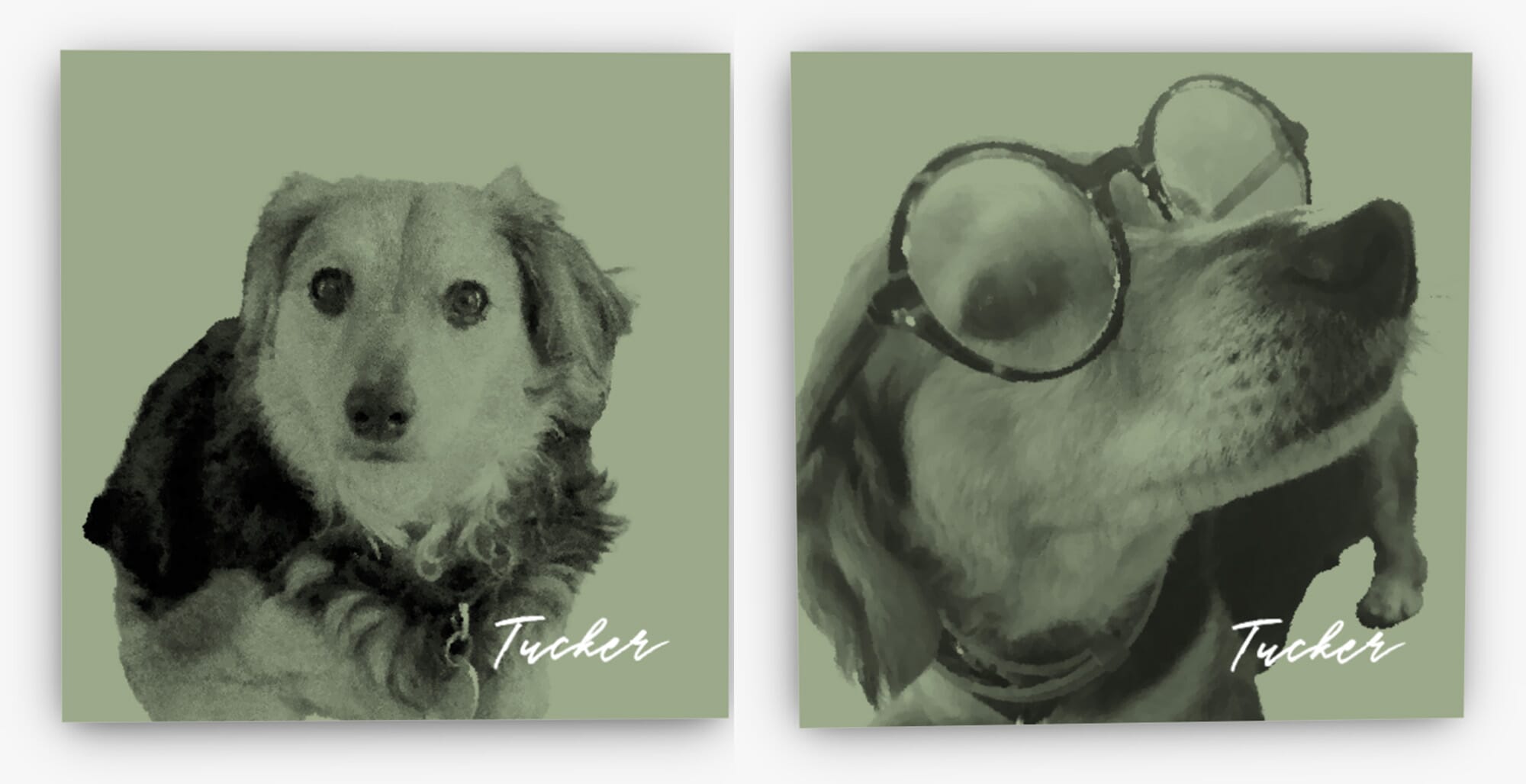 Eventually, I did find an image that I was (mostly) satisfied with. From there, I moved on to finalizing my order for print and delivery.
Placing my Order
Once I found an image I was happy with, it was time to get to customizing.
After fussing around, I was able to pick the color of my pet portrait – CanvasPop provides a few default options, but the entire RGB gamut is a fair game. There was also a choice to include my pet's name overlayed onto the canvas. Ultimately, I decided against doing so because there was only one font choice available that I wasn't particularly fond of.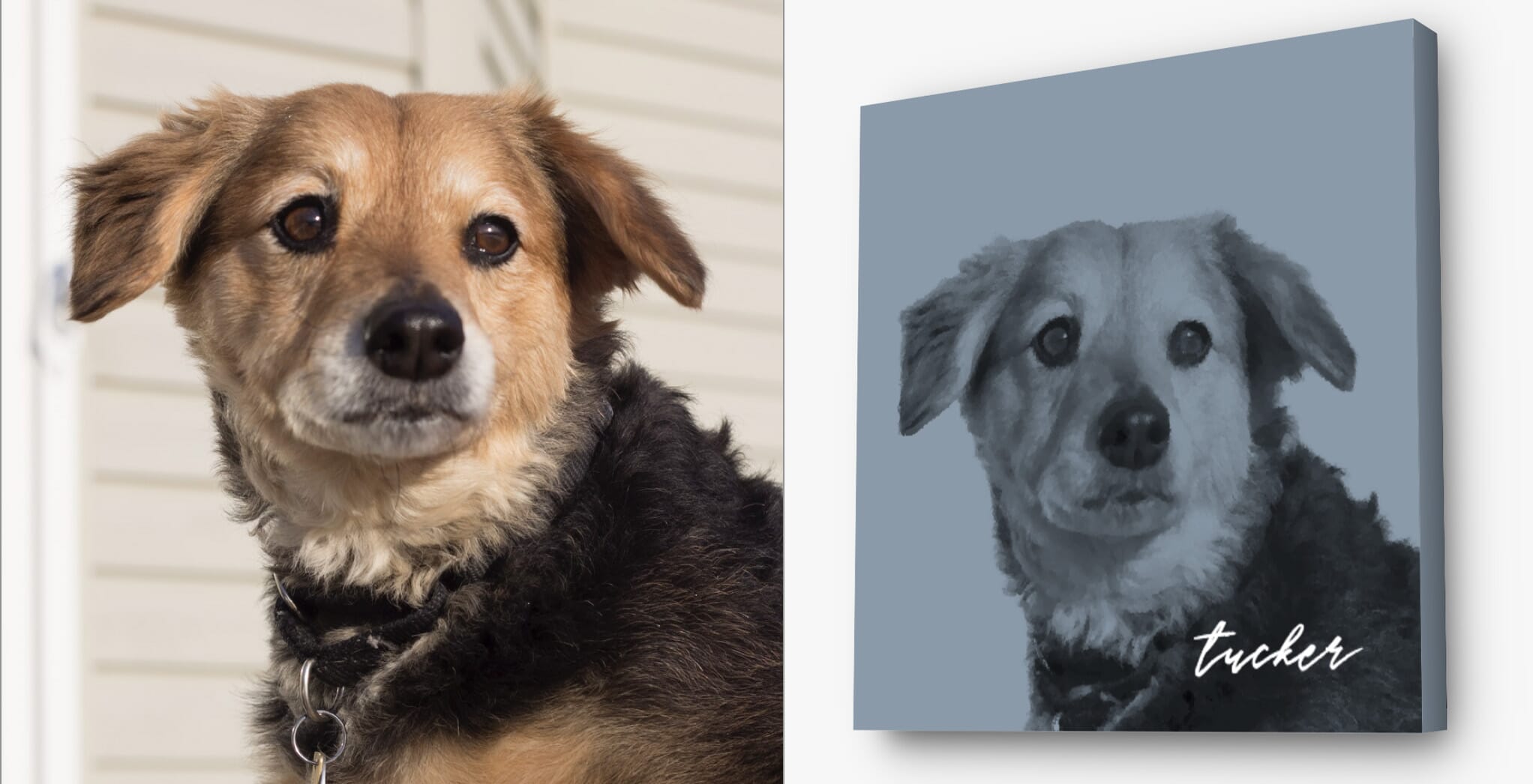 Before submitting billing and shipping information, I noticed one last customization option available. CanvasPop actually allows you to send personalized notes directly to their designers. At this point, I wasn't 100% satisfied with the edging of Tucker's fur (although it looked far better than any of my other tests). So, I sent along a message with a request to add a little definition and minimize some of the soft edges I was getting.
A few days later, my proof arrived. And, to my delight, my message got through to someone!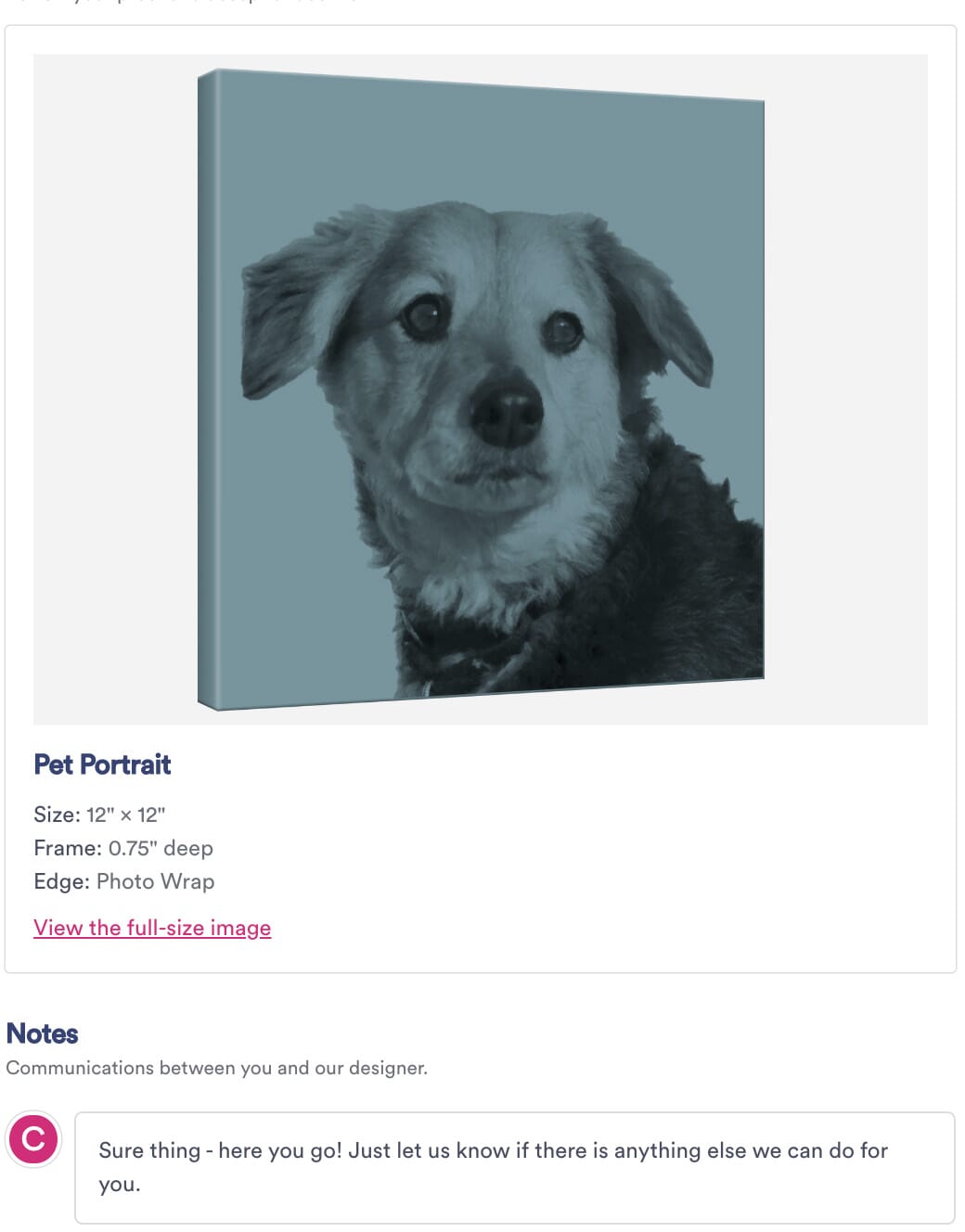 In the past, we've praised CanvasPop's excellent customer service. This experience was no exception. Although it took some time to get things perfect, their willingness to put in the extra work to get everything right makes up for the flaws.
The Finished Product
So, how did the final canvas come out? In short, it was very much in line with our previous CanvasPop canvas products.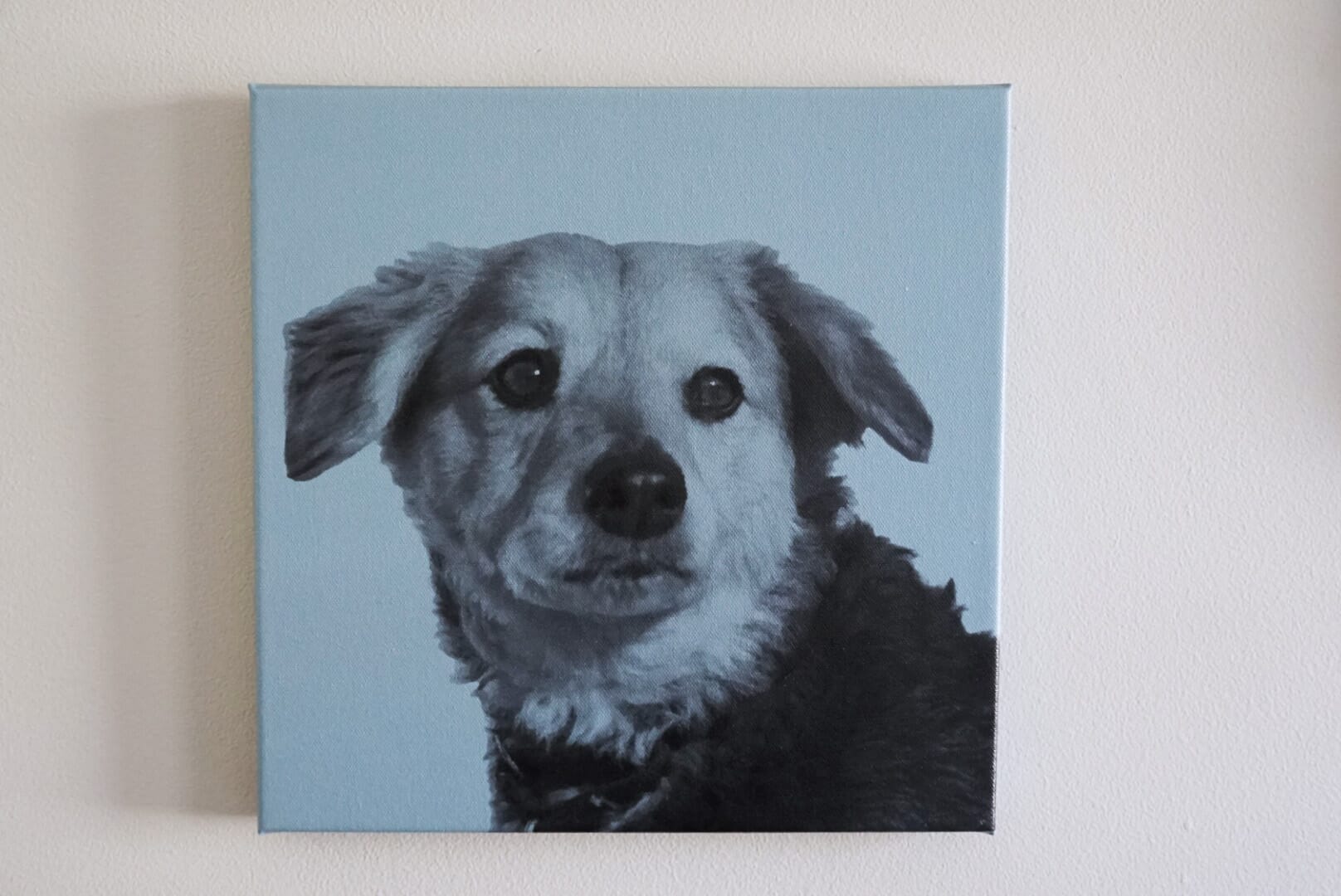 My canvas was well-crafted, coming complete with hanging materials already installed. I opted for the smallest size available (12×12″), which seemed quite a bit sturdier than the larger, custom-sized panorama I ordered a few months ago.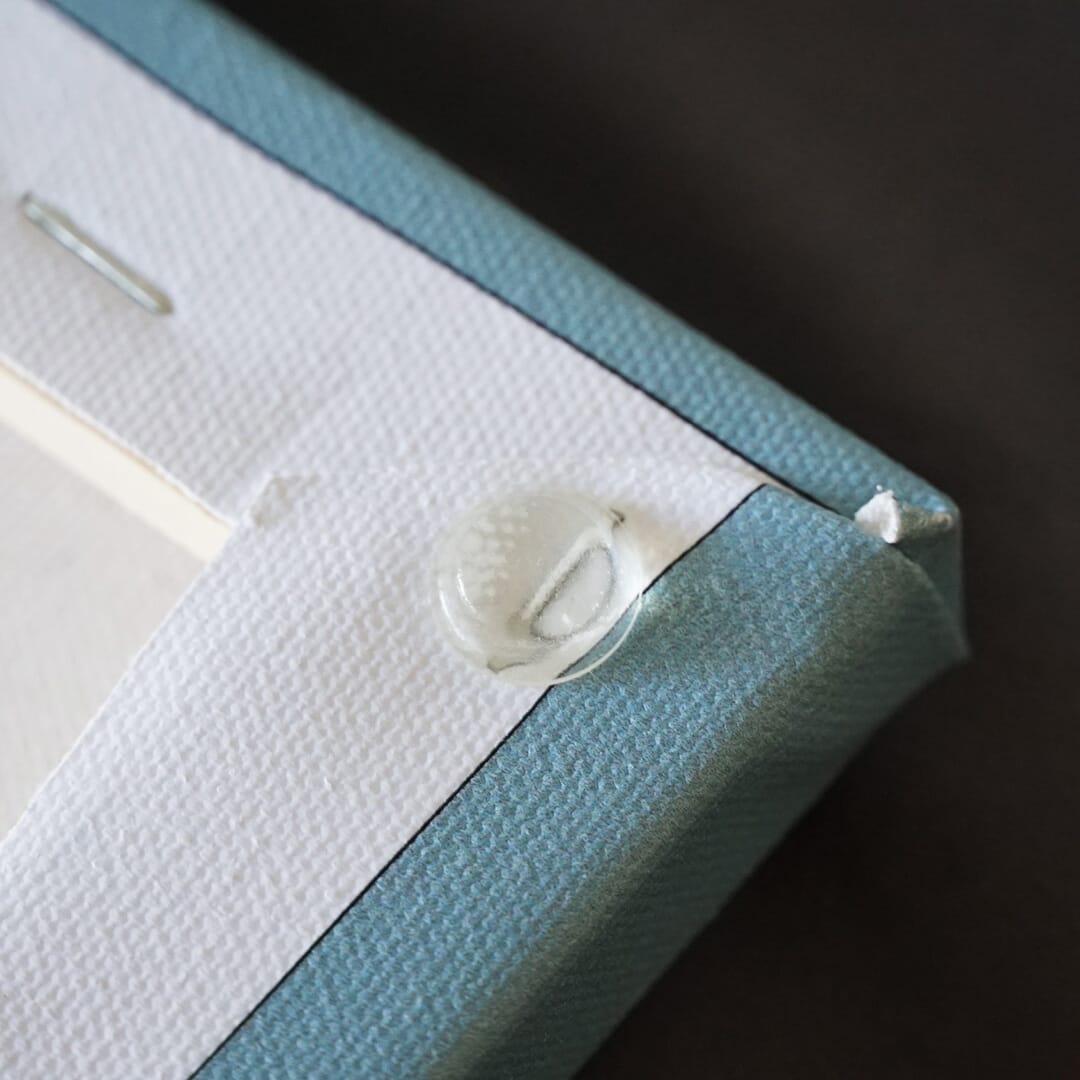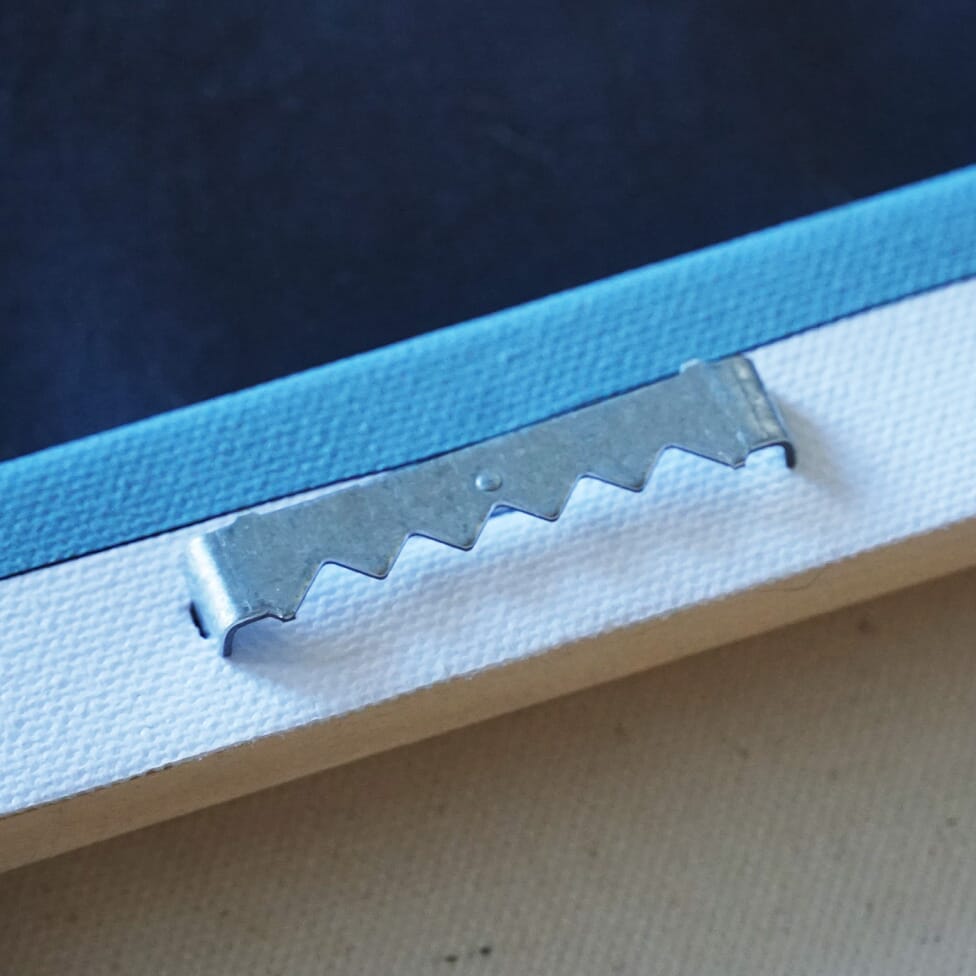 The image itself was in line with the proof I received online, and the designer clearly put a little extra work into making the edges on my image a bit neater. Admittedly, an increase in the image's contrast may have helped my photo pop a bit. But, overall, it's a welcome addition to the growing collection of animal artwork adorning my office wall.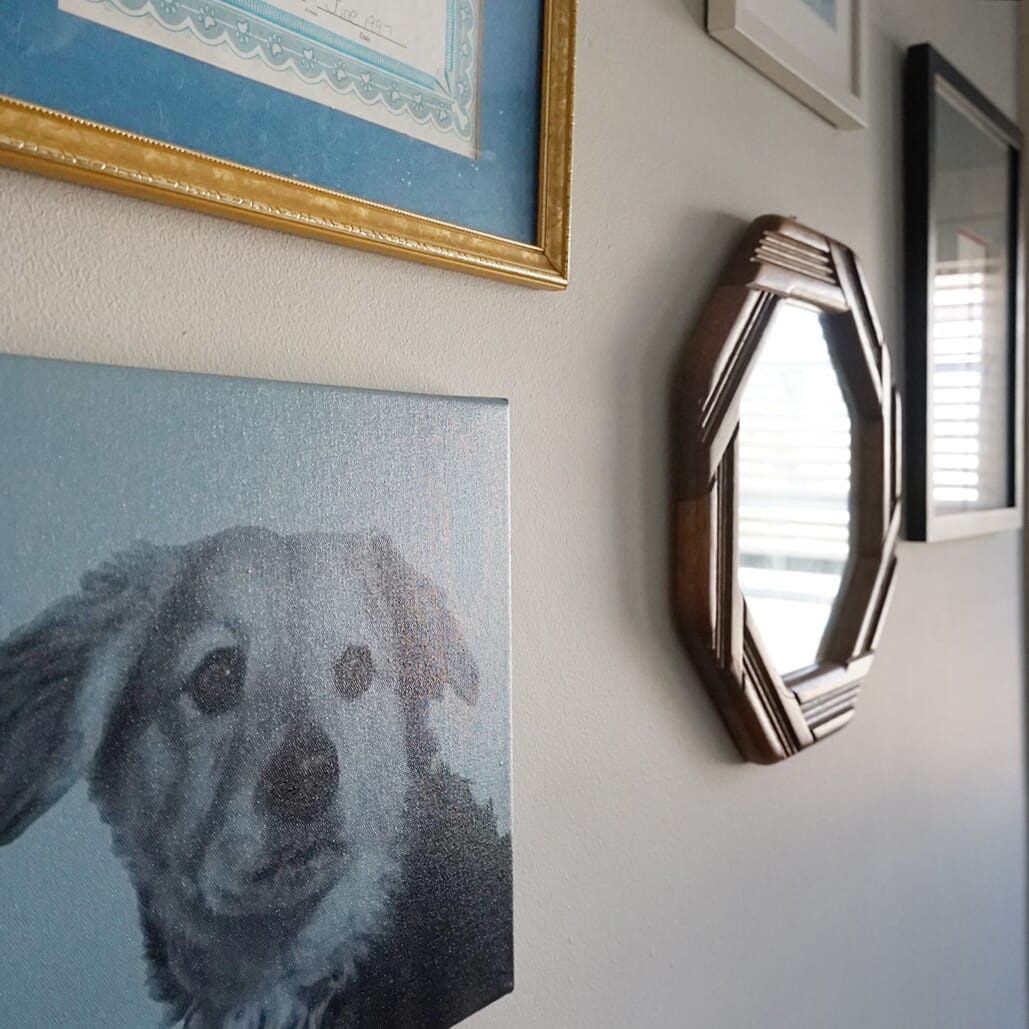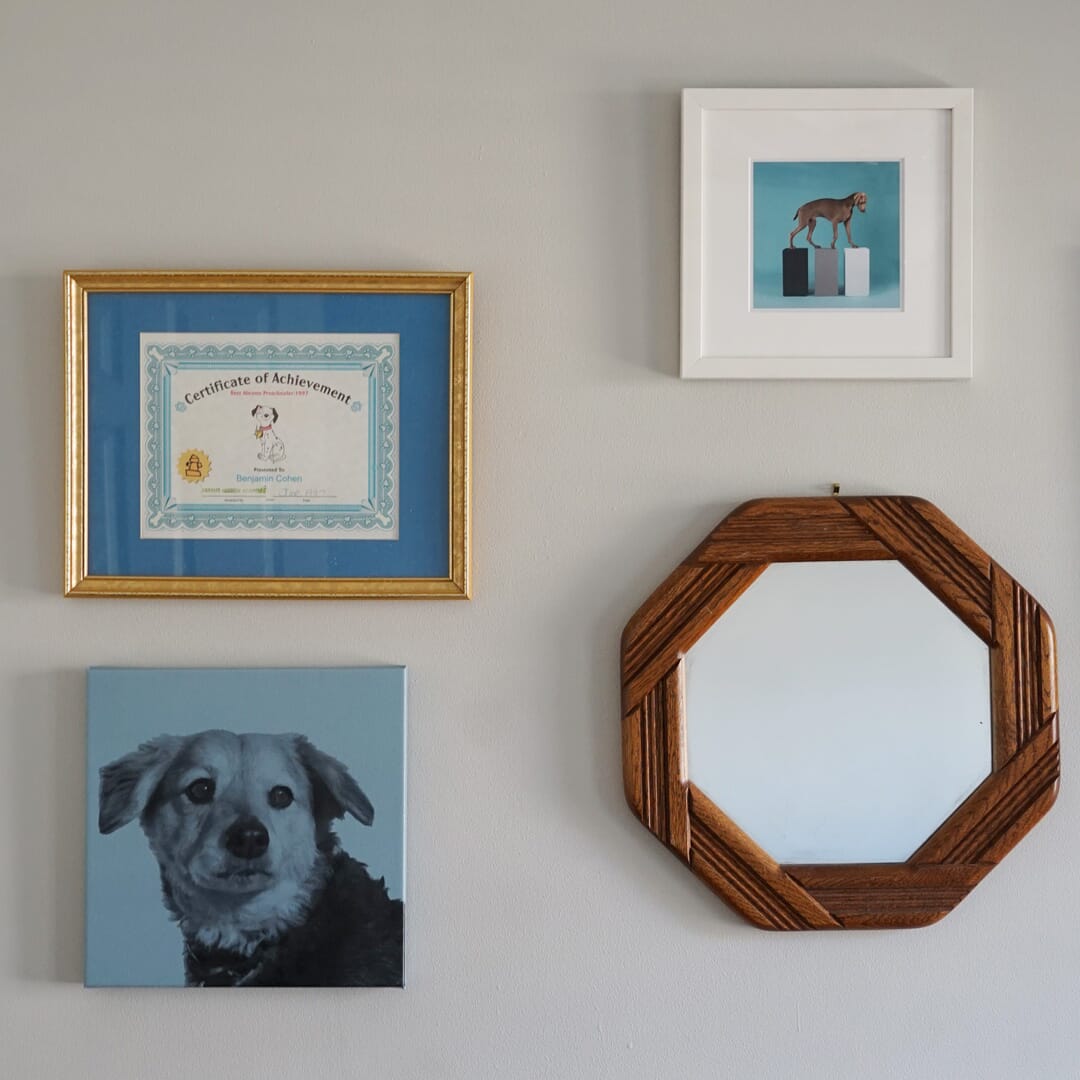 Related Post: CanvasPop Review
Their pet portraits aren't super customizable, and the style isn't for everyone. Frankly, I was a little worried that this piece might fall short of what I've come to expect from CanvasPop. But my fears were unfounded. Though it wasn't what I'd usually gravitate to, the portrait was certainly on par with other excellent products they've provided in the past.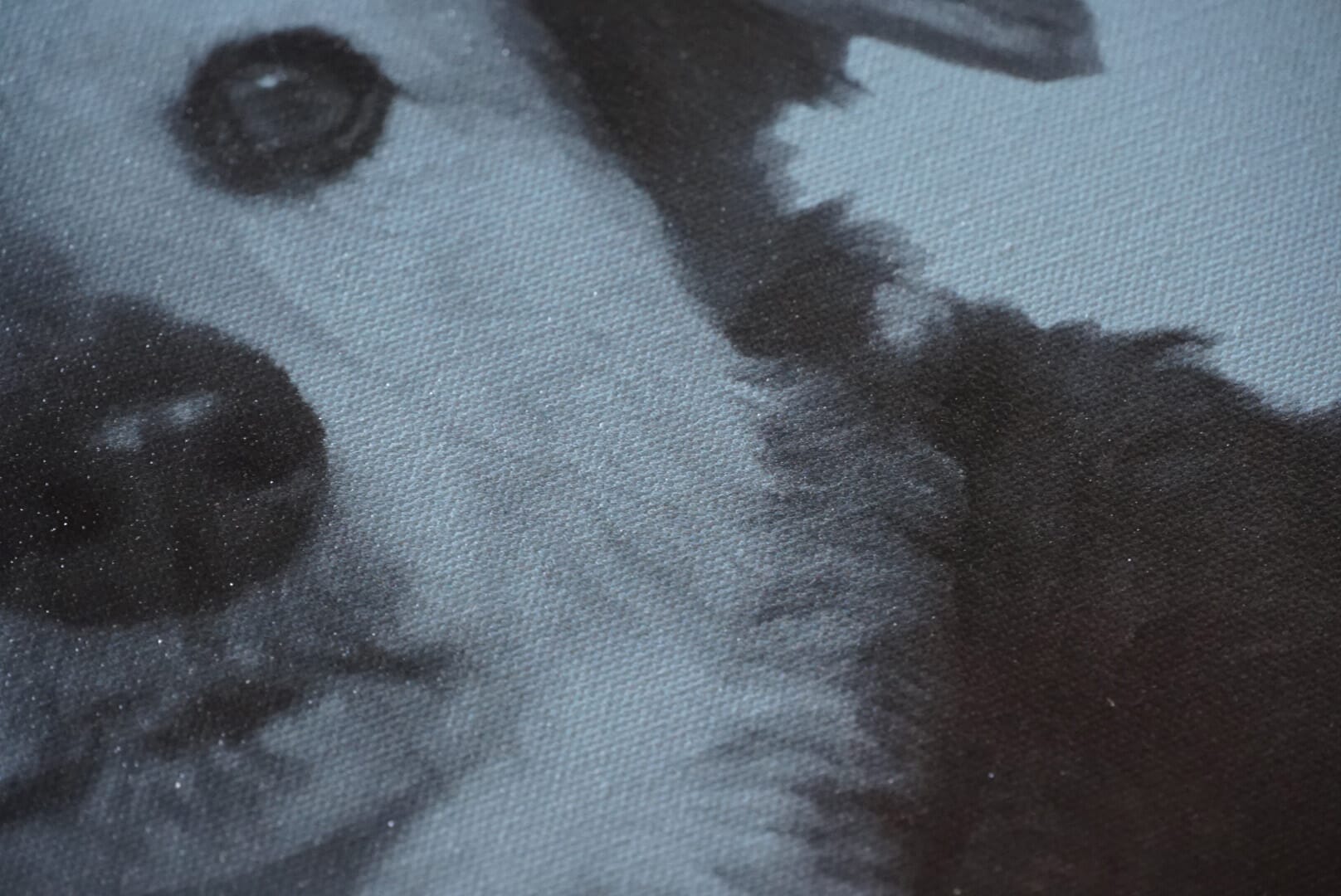 Our Thoughts
CanvasPop Pet Portrait
Customization

Image Quality

Customer Service

Price
Summary
As long as you have the right expectations and go in knowing what you can and can't do, the CanvasPop pet prints are a great way to commemorate an animal in your life. Step outside the box and take advantage of these quirky, colorful prints while you can!
Make no mistake – the new CanvasPop Pet Portrait has its limitations. Unlike their standard canvas counterparts, users are restricted to three sizes, a single color, and very little in the way of editing. Obviously, this leaves a bad taste in some people's mouths. However, there is some trade-off to the minimalism of this product.
Firstly, it makes a statement. It diverges from the standard cut and dry photo canvas, and for doing something outside of the box we commend CanvasPop. But, on a more logistic note, opting for a pet portrait over a standard canvas print can save you a little bit of money.
Below, we've collected the base prices for both standard and pet prints in the three sizes available: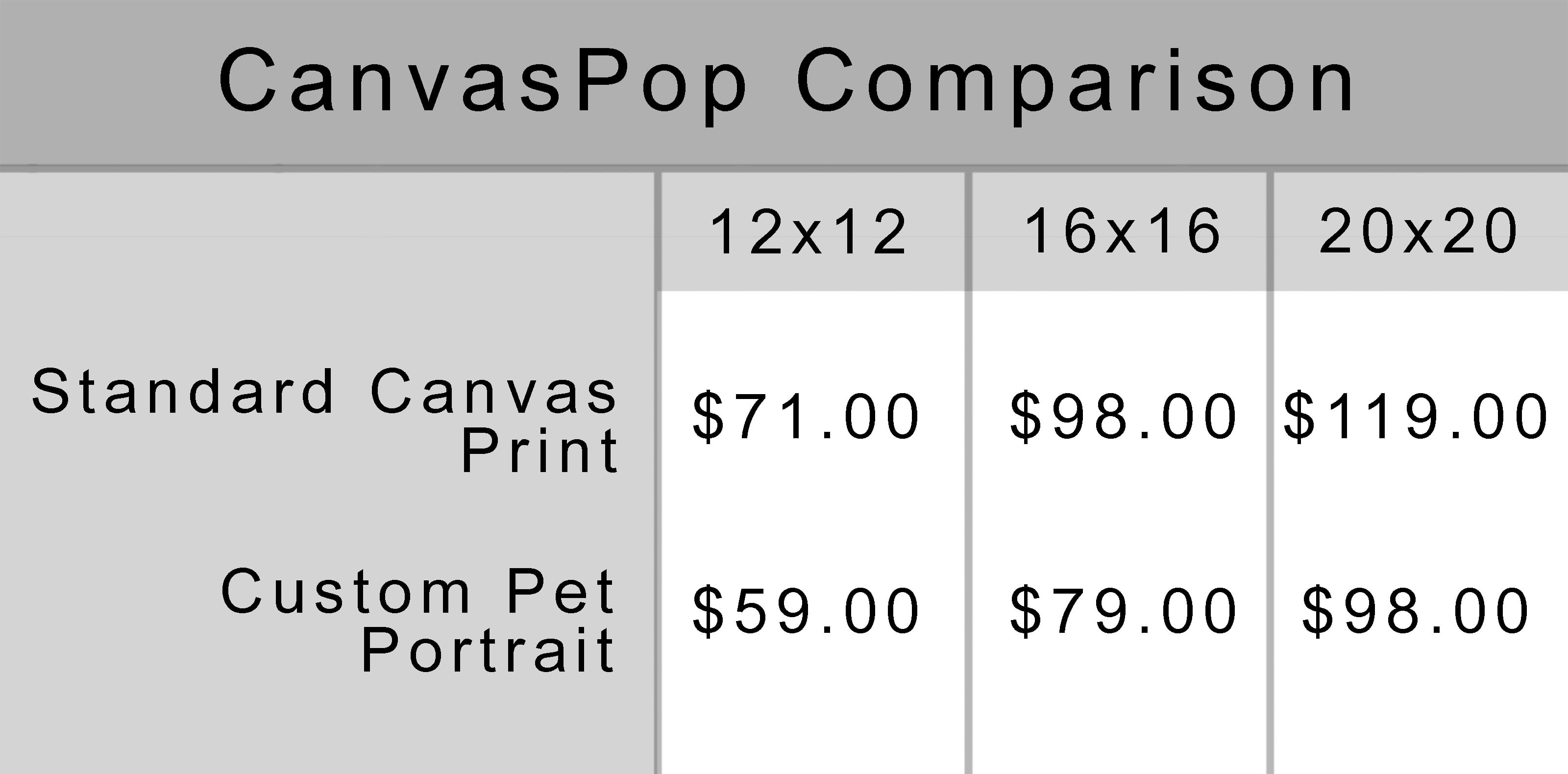 As you can see, unless you'd like to go big with a 20×20″ print, you'll likely be able to save money by opting for a Pet Portrait over CanvasPop's flagship product. What's more, these prices do not include active sales and discounts. As the Pet Portrait is a relatively new service, you'll likely be able to purchase at an even steeper discount than what we have listed here.
So long as you have the right expectations and go in knowing what you can and can't do, this service is a great way to commemorate an animal in your life. Step outside the box and take advantage of these quirky, colorful prints while you can!