Note: First, Andreas reviewed the normal canvas prints and later Meghan reviewed the triptych canvas set.
---
Part I: Canvaspop Canvas Review by Andreas De Rosi (you can jump to part II, the Canvaspop triptych review.)
I couldn't resist ordering a canvas print from Canvaspop to see how it turned out. So here we go… read my detailed and honest Canvaspop Review…
Canvaspop Canvas Print Review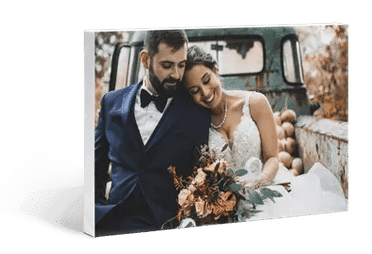 Product Name: Canvaspop Canvas
Product Description: In this Canvaspop review, we looked at the ease of ordering the canvas print, the checkout process, price, print quality, communication, delivery & packing, and overall experience.
Brand: Canvaspop
Offer price: 76
Currency: USD
Availability: InStock
Order Process

Included Services (Free Digital Proof)

Communication and Support

Delivery & Packing

Canvas Print Quality

Price (Considering Coupons)
Summary
In this Canvaspop review, we looked at the ease of ordering the canvas print, the checkout process, price, print quality, communication, delivery & packing, and overall experience.
About Canvaspop
Canvaspop was founded in 2009 and provides canvas printing services for photographers and photo enthusiasts wanting to get their photos on a canvas. They have offices and printing factories in Las Vegas (US) & Ottawa (Canada) and a shipping office in Europe. The company is expanding fast and recently raised over $3 million to fuel its growth and expansion.
Placing the Order: A Smooth & Easy Process
First, I picked an image I took from a recent trip to Norway. When traveling from Germany to Norway, you will cross the Øresund bridge which connects Denmark and Sweden. I thought this would make a cool canvas print.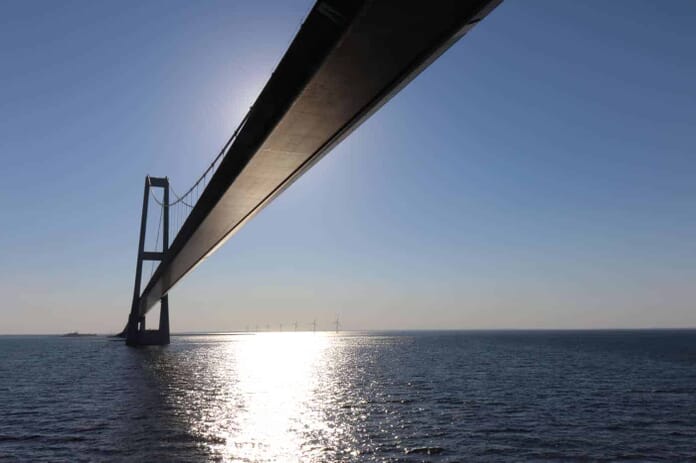 Placing the order on Canvaspop.com was a piece of cake.
To start, you can put your email address or register first (so you have your orders in your account for re-ordering later). I just went ahead without a registration. I just inserted my email and uploaded the source image (the image had a resolution of 5,625 x 3,750 and a file size of 7.4 MB). You can also upload pictures straight from Instagram or Facebook.
Related Post: Ways to Print Instagram Photos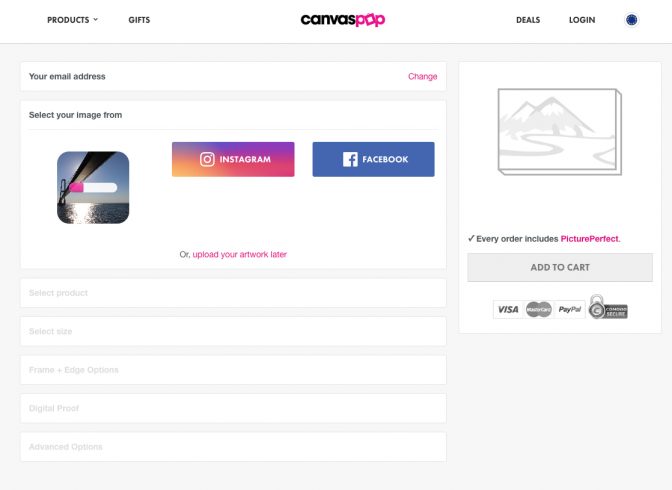 Choosing the Frame & Edge Options
Next up, I had to select if I wanted to print a canvas print or a framed paper print.
I picked the canvas print and then selected the 12×16 inch (30×41 cm) canvas with a 0.8 inch (2cm) depth. Then, I selected the "photo wrap edge" option at no additional costs (other options are a black or a white order also without any additional cost). If you want your canvas to be even more stylish and classy, you may want to opt for a black, white, or even espresso-colored wooden frame.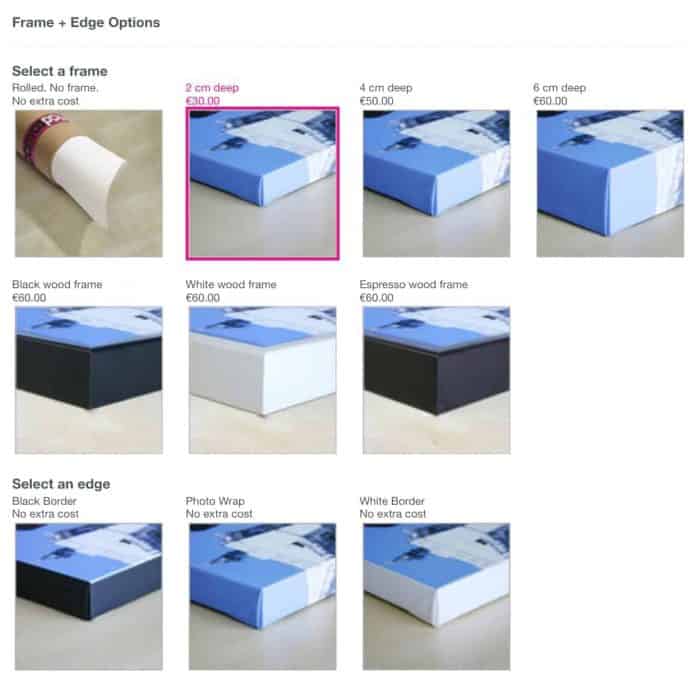 Free Digital Proof
After selecting the frame and the edge option, I ticked the option "Send me a digital proof":
✔ I'd like to receive a digital proof after I've ordered so that I can see exactly what my print will look like before it's manufactured.
I wanted to make sure that the image looks good on the final canvas print. In fact, it did. The same day I placed the canvas order, I got the digital proof sent by email.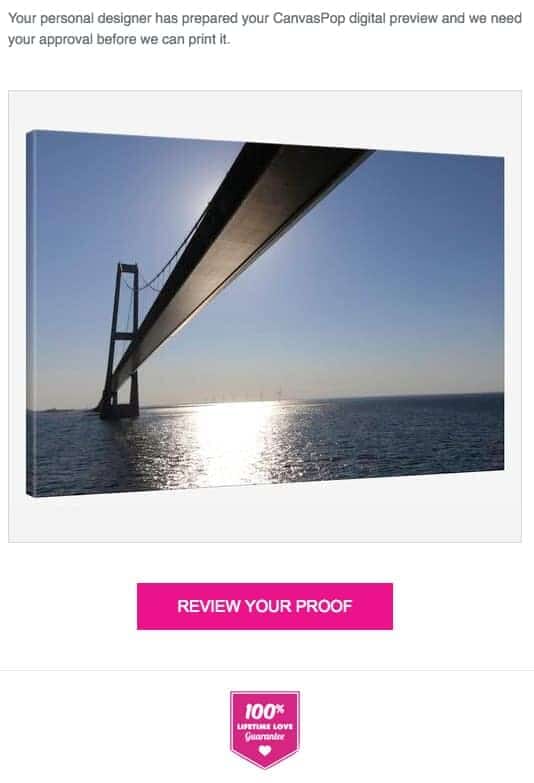 Get a Free Digital Proof Before Printing Your Canvas
You can zoom in on your digital proof image, download it, request changes, or if all ok: approve it for print.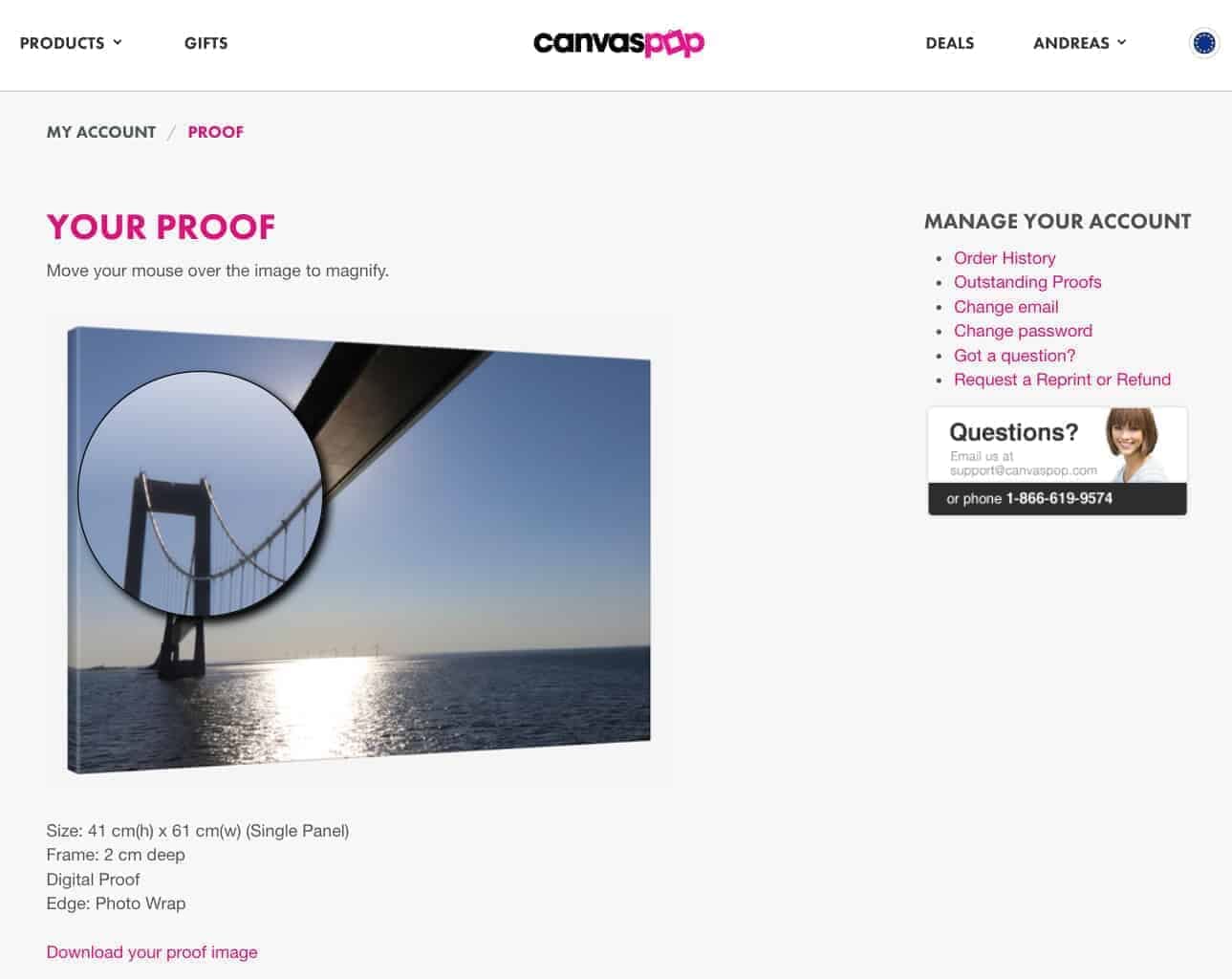 Touchup Services
But let's go back a few steps. There are a few more photo touchup options you can pick from before you finish the order process and proceed to the checkout.
You can pick those touchup options …
…when your image needs a little extra shine…
Photo Touchup Services – @ $9.95 extra:
Remove moles, scars and facial blemishes

Add text to a photo

Whiten teeth

Remove small scratches and imperfections

Removal of small objects (i.e. signs, wires, etc)

Design Enhancements
By paying a fee of $29.95, Canvaspop will "transform your photo into a masterpiece" by doing some serious photo editing tasks for you:
Add or Remove people (i.e. your ex)

Add or Remove large objects (i.e. buses, cars, etc.)

Digital Facelift

Includes everything from the touch-up service
Design Makeover
In case you need a complete photo restoration, Canvaspop offers the following services (at $49.95):
Background replacement

Restore torn, stained or faded photographs

Includes everything from previous tiers
Note: all these services are optional. You don't have to pick any of them. In fact, I skipped them all and went straight to the billing section.
Payment and Final Checkout
At checkout, if you need to enter a separate billing and shipping address you have the option to do so. All common credit cards and PayPal are accepted and you have the option to redeem a gift card or insert a coupon code.
Coupon Codes
Make sure you always check for ongoing promotions on the Canvaspop Deals Page. If you can't find a coupon code, you can use the special code we got for our readers. Simply put "PHOTOWORKOUT" at checkout for 45% off 😁
The Delivery
It took about a week (to be precise: 9 days from the time of placing the order) to get the canvas print delivered to my doorstep. It was sent by courier, protected in bubble wrap and packed in a solid carton box (the box had some cute Canvaspop stickers showing some love 💖).
Here It Goes: The Canvas Print Delivered & Unpacked
This is how the canvas print by Canvaspop looks like: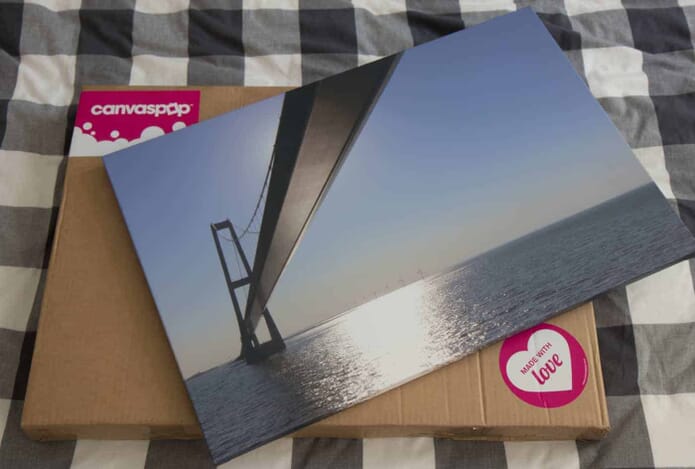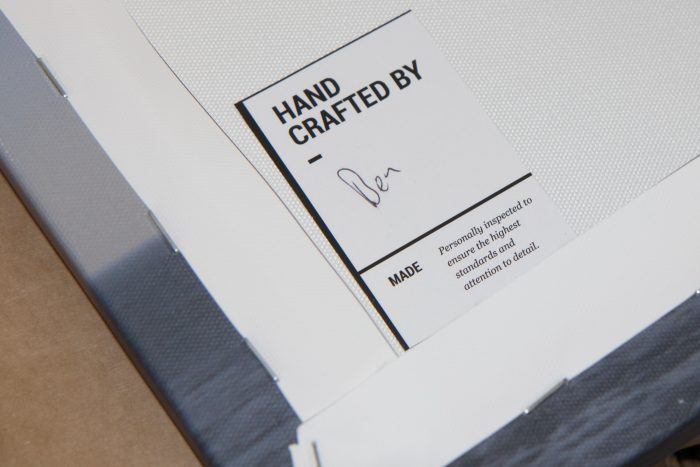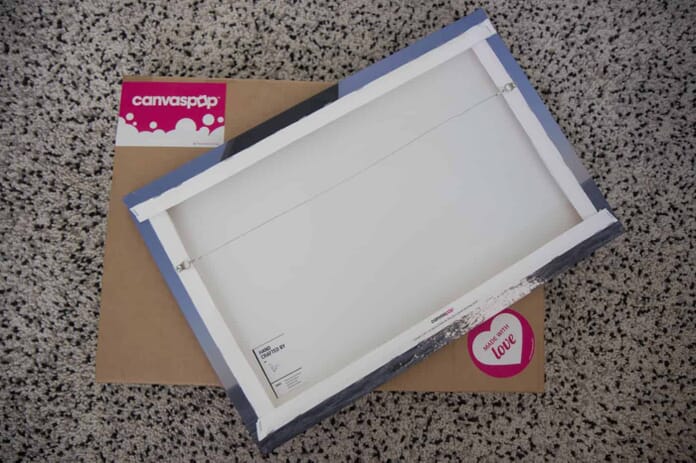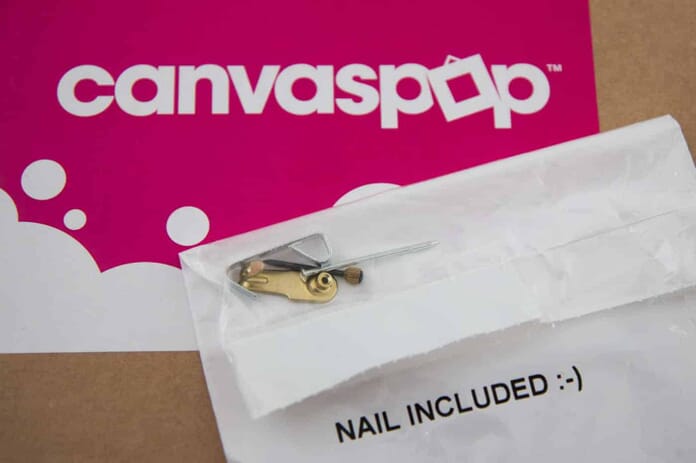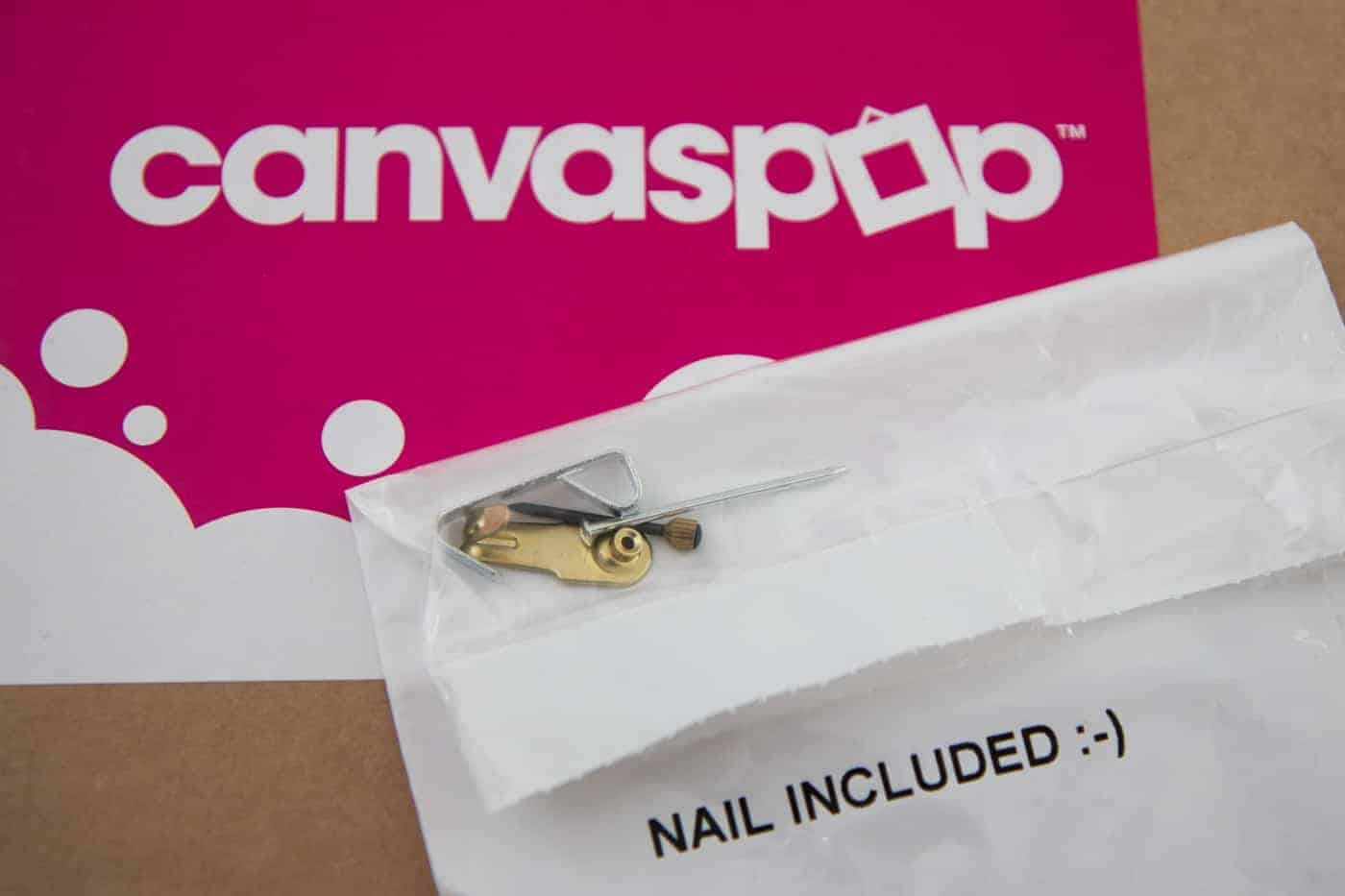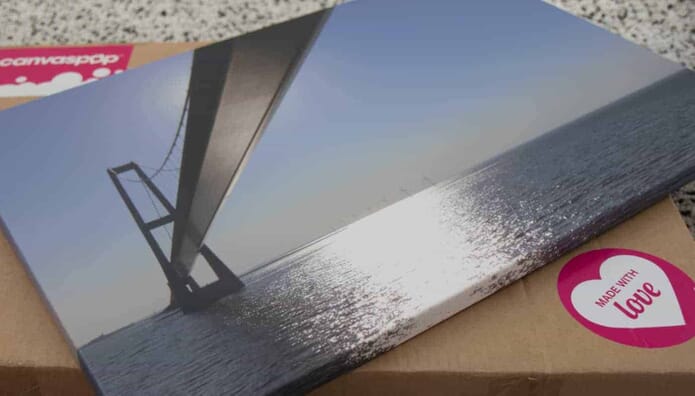 Canvaspop Final Verdict: A Very Good Experience & Print Quality
Considering that there are ongoing promotions and deals available, the cost of printing a decent size canvas isn't that much (in my case, the cost for the canvas print was around $80 incl. shipping).
Overall, I'm very happy with the ordering experience and final print quality! In fact, I don't seem to be the only one rating Canvaspop 5/5. Hence, if you are thinking of ordering your canvas print at Canvaspop, go ahead!
Behind Canvaspop stands a genuine company, equipped with high tech printers and a dedicated team that does deliver on the promises it states on the Canvaspop website:
Best quality canvas prints anywhere
Unbeatable customer service
Free digital proofs
100% "Love it" guarantee for life
Special Canvaspop Promo Code
To get 45% off your print, you can use our Coupon Code "PHOTOWORKOUT"
Order Your Canvas Print on Canvaspop Now
For more information about Canvaspop you can watch this video:
You may also want to check out our post where we compared the 11 best canvas printing services in 2021 (including Canvaspop, ranked #1).
---
Part II: Review by Meghan Boilard
Our Thoughts on the Canvaspop Triptych Set: A Review
As the title suggests, the Canvaspop triptych set offers not one, but three panels of photo goodness to hang on your walls.
Does Canvaspop maintain its stellar reputation when requested to work in threes? We'll go a step beyond covering the highs and lows that you need to know. Addressing the roadblocks along the way, we'll go over how, exactly, you can make the most of this service.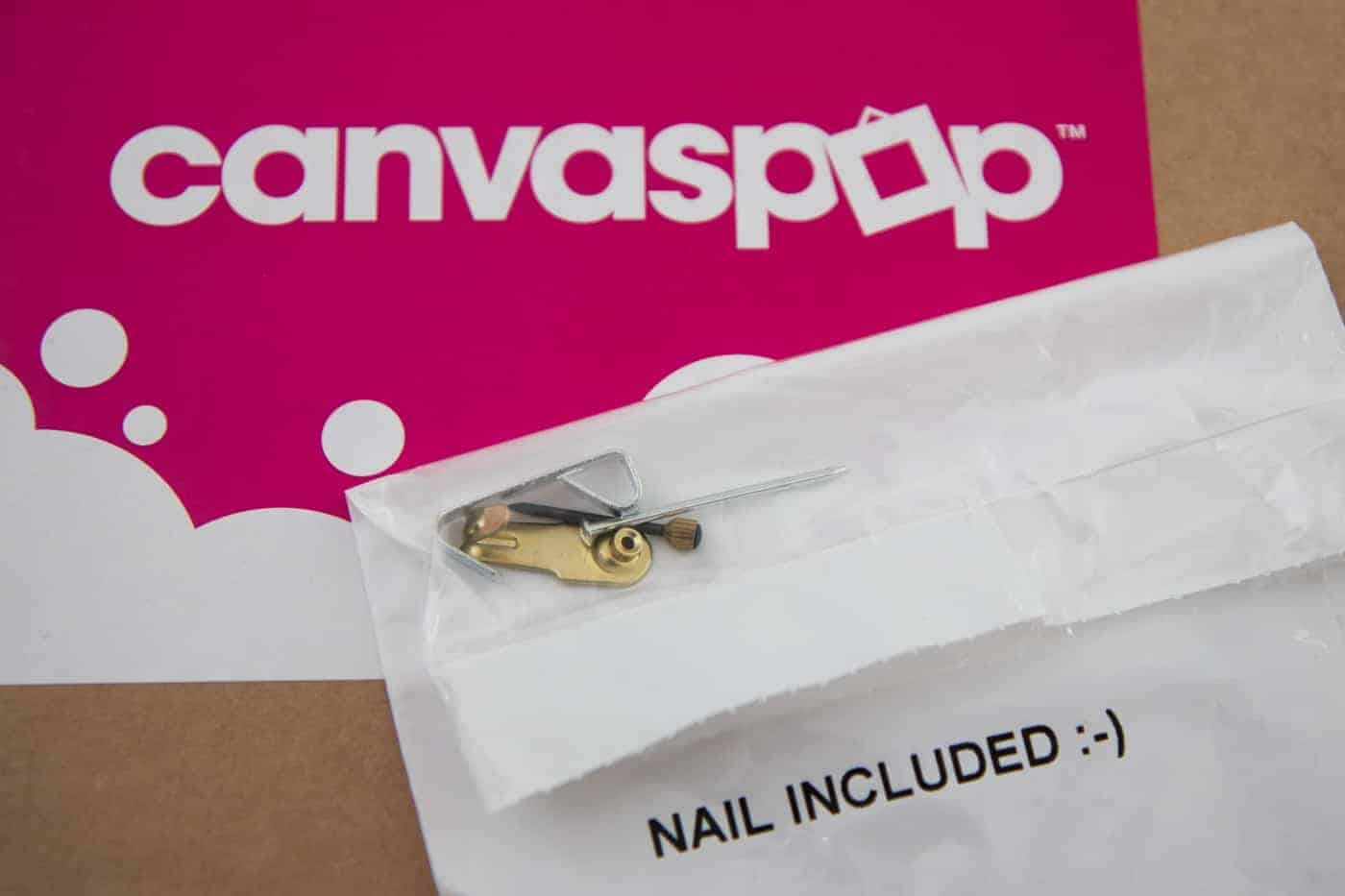 Ordering My Triptych Set Online Through Canvaspop's Website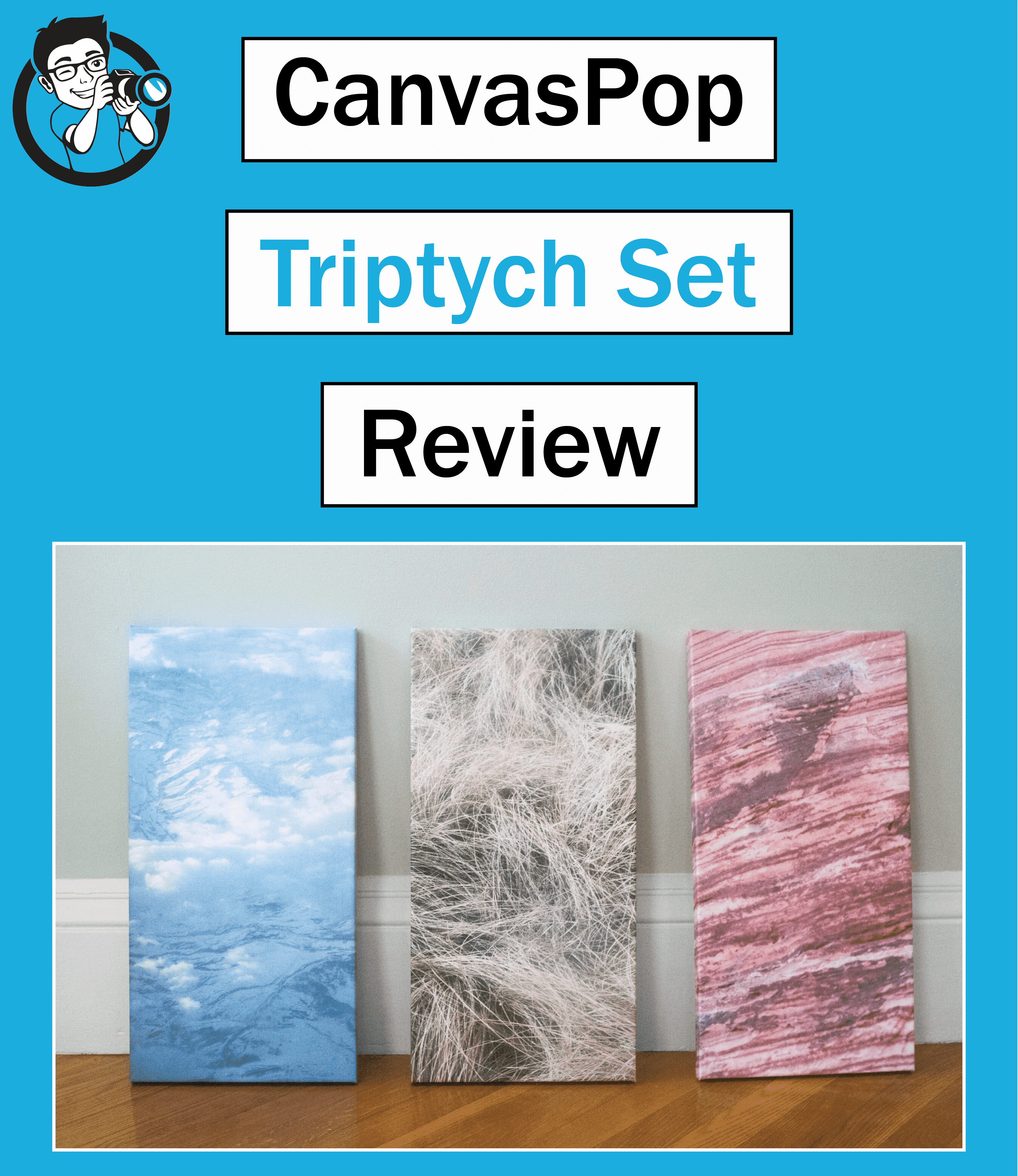 Working with the website to create a triptych set reminded me of my other experiences placing orders with Canvaspop – for better or worse. On one hand, the process was intuitive and quick, taking just a few minutes to complete. But the site's simplicity makes it a bit restrictive at times for more advanced projects.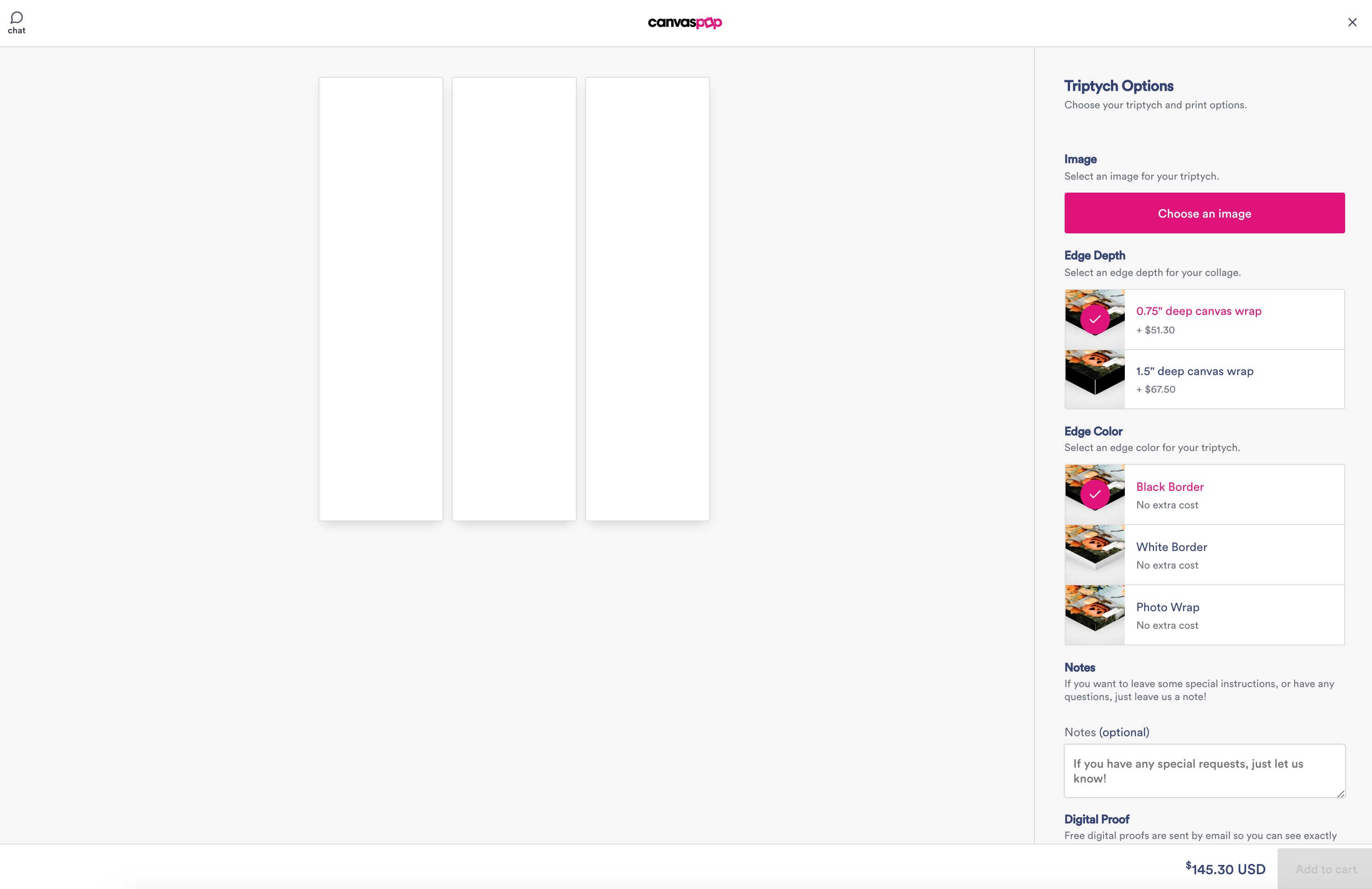 Tips to Get Your Canvaspop Triptych Set Just Right
Just as you'd expect, the Canvaspop triptych set includes three separate panels. However, there's a catch to the deal. Canvaspop does NOT allow you to print three unique images across the three panels. Rather, you're limited to just one image, which is then split into three parts.
Of course, this isn't always a bad thing. This is exactly the effect that some customers want. Nevertheless, it does severely limit the creative possibilities at hand. Furthermore, not every image works well split into three parts.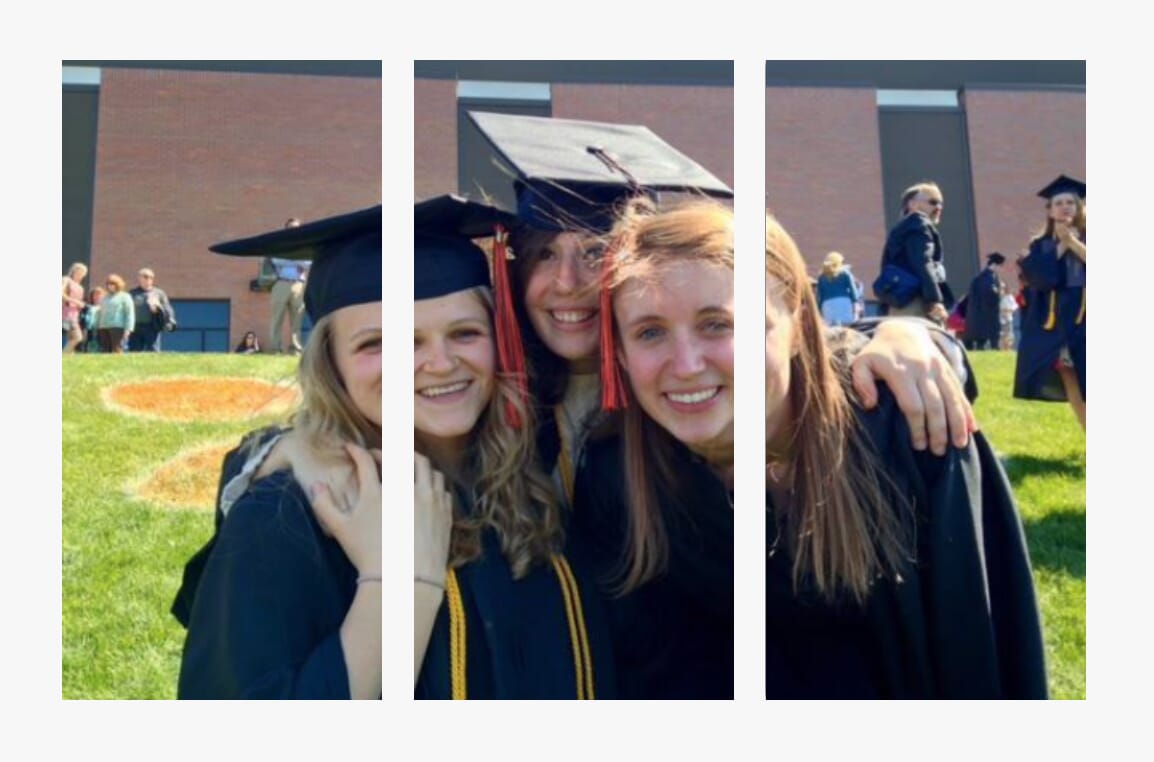 The solution to this issue? Use a program like Photoshop to merge three images together into equal thirds, then save as a single file. When you upload the photograph to Canvaspop, they'll automatically divide it into three equal parts. Simple as that!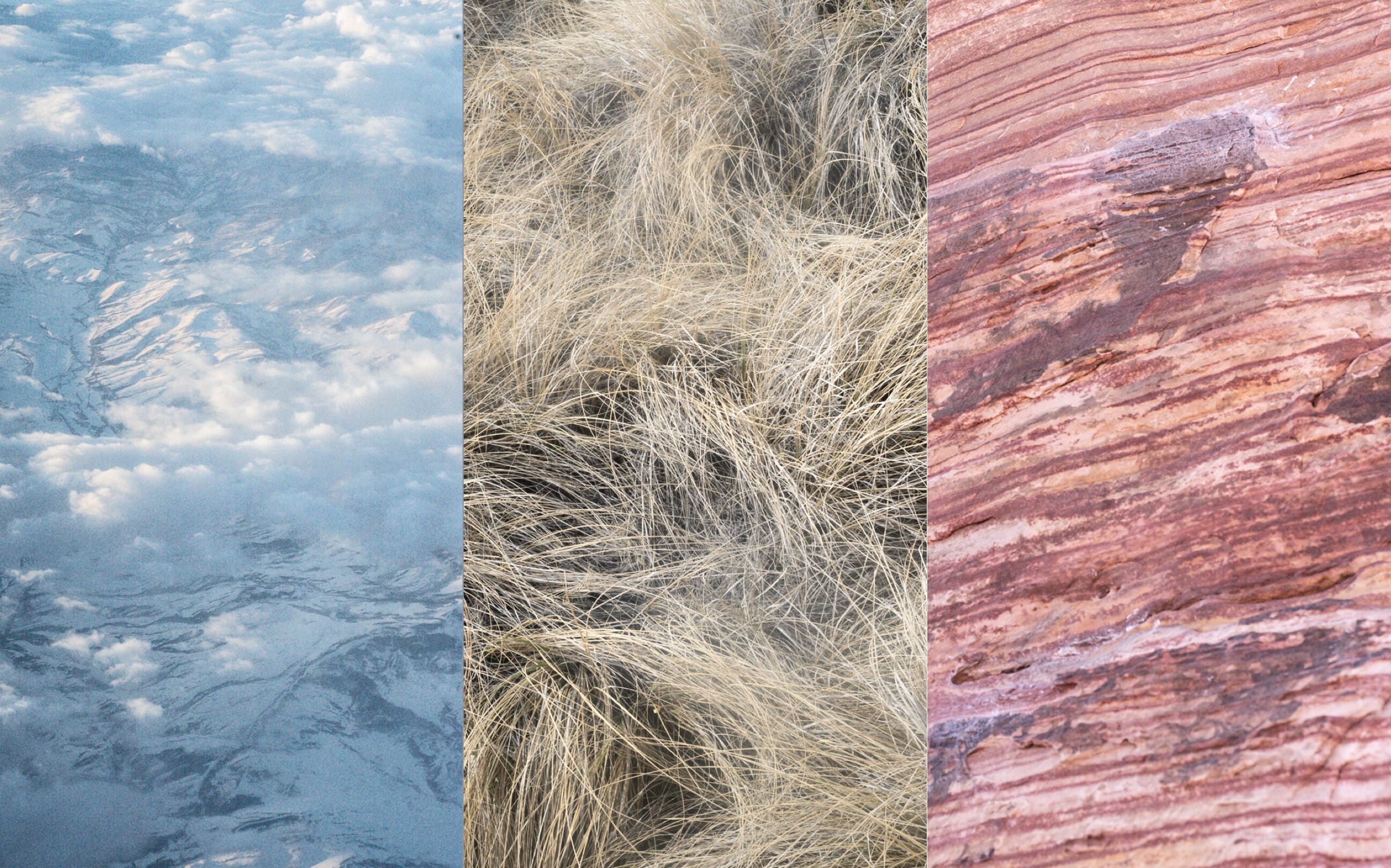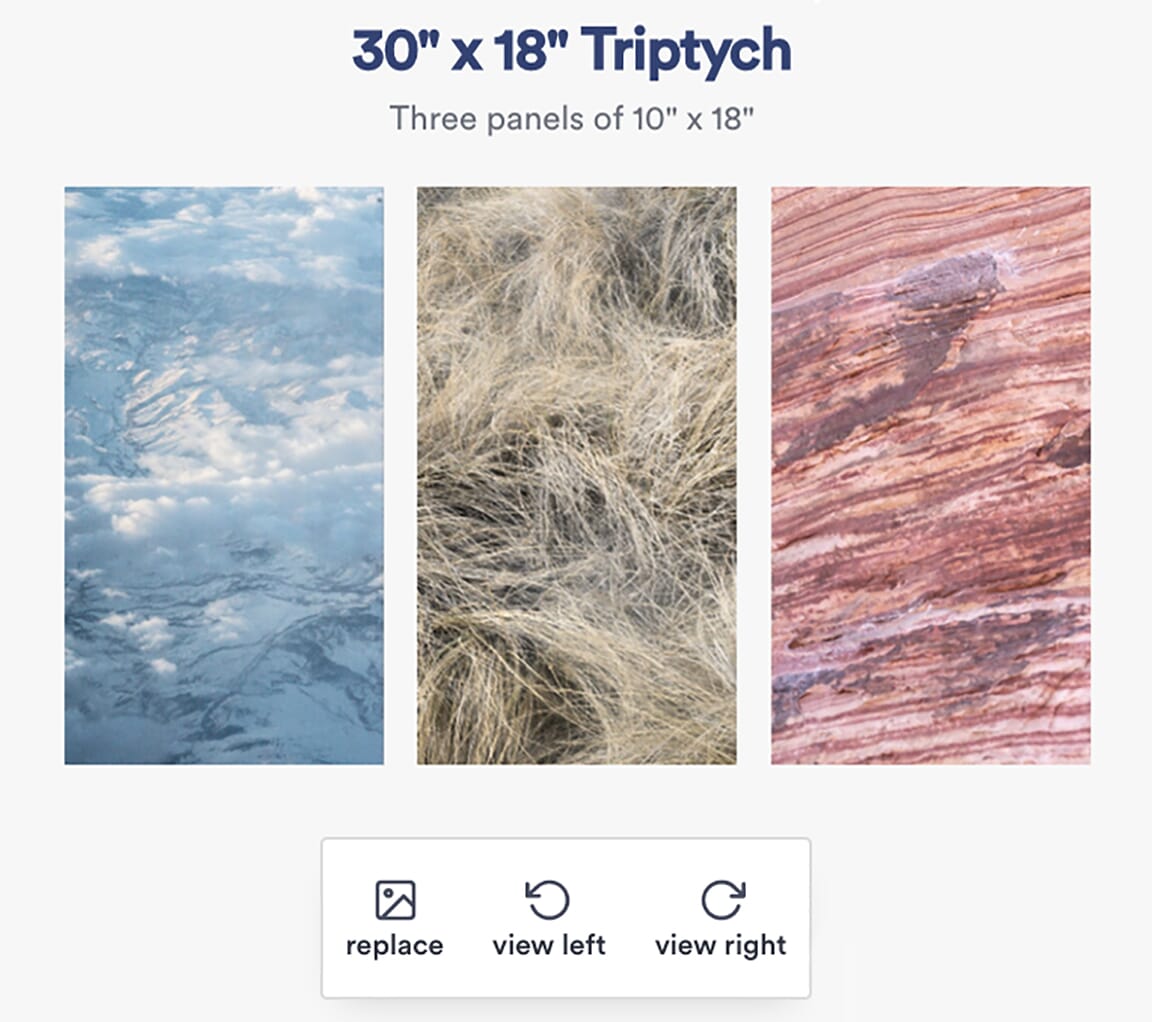 If you do choose this route to get three independent images, just be sure to request a digital proof. This will ensure that the prints look exactly the way you'd like them to!
Get Whatever Size You Want – For a Price
One of Canvaspop's boldest claims is that they'll print at "any size". Unfortunately, it's a statement that's not entirely true.
First off, the site will not accept heights less than 8" or widths less than 24". This is because the width refers to the width between all three canvases rather than for each individual panel. In other words, a 30"x20" triptych set order would be delivered in the form of three 10×20" pieces.
What's more, many aspect ratios are incompatible because the total width must be divisible by three. For instance, a 20"x16" shot would not be accepted. You'd either have to crop down to fit an 18"x16" set or zoom in to fill a 21"x16".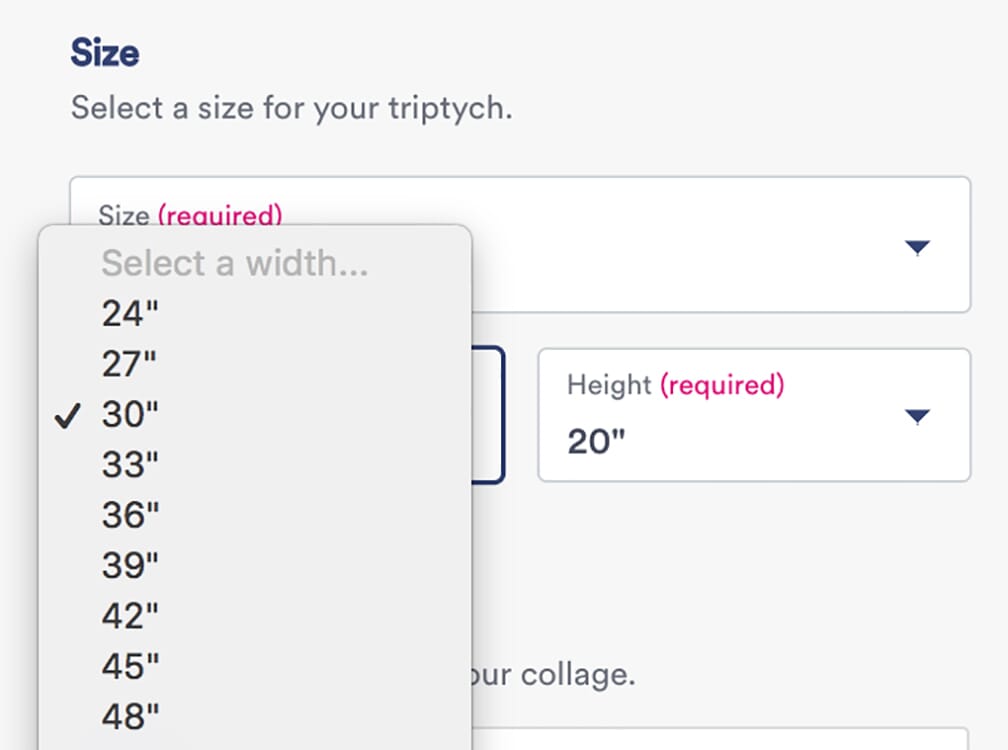 If you are really set on a specific size and not willing to budge, you can try ordering your image(s) as three custom-sized canvases instead. That being said, if you can work your order into a triptych, it's in your best interest to do so. Per piece, the Canvaspop triptych set comes at a slightly better price.
Related Article: Canvas Size – Which One to Pick?
Canvaspop Triptych Set: The End Product
Once I found a few workarounds to get the photographs I wanted, I placed an order for a 30"x20" triptych set. Using the trick I mentioned above, I was able to choose three colorful detail shots from my trip to the Nevada desert last spring.
About a week and a half later, the thin package containing the trio arrived at my doorstep. Though I had worked with Canvaspop in the past, this was my first time ordering an actual canvas from their print store. Needless to say, I was excited to see how my work had translated into triptych form.
The Canvaspop Triptych Set: Prints Made to Be Together
Technically, I couldn't have been much happier with the print quality of my photographs. Despite some abstract choices, Canvaspop did an excellent job at retaining detail without drowning out the canvas texture. The stark colors that initially drew me to the images translated especially well from file to print.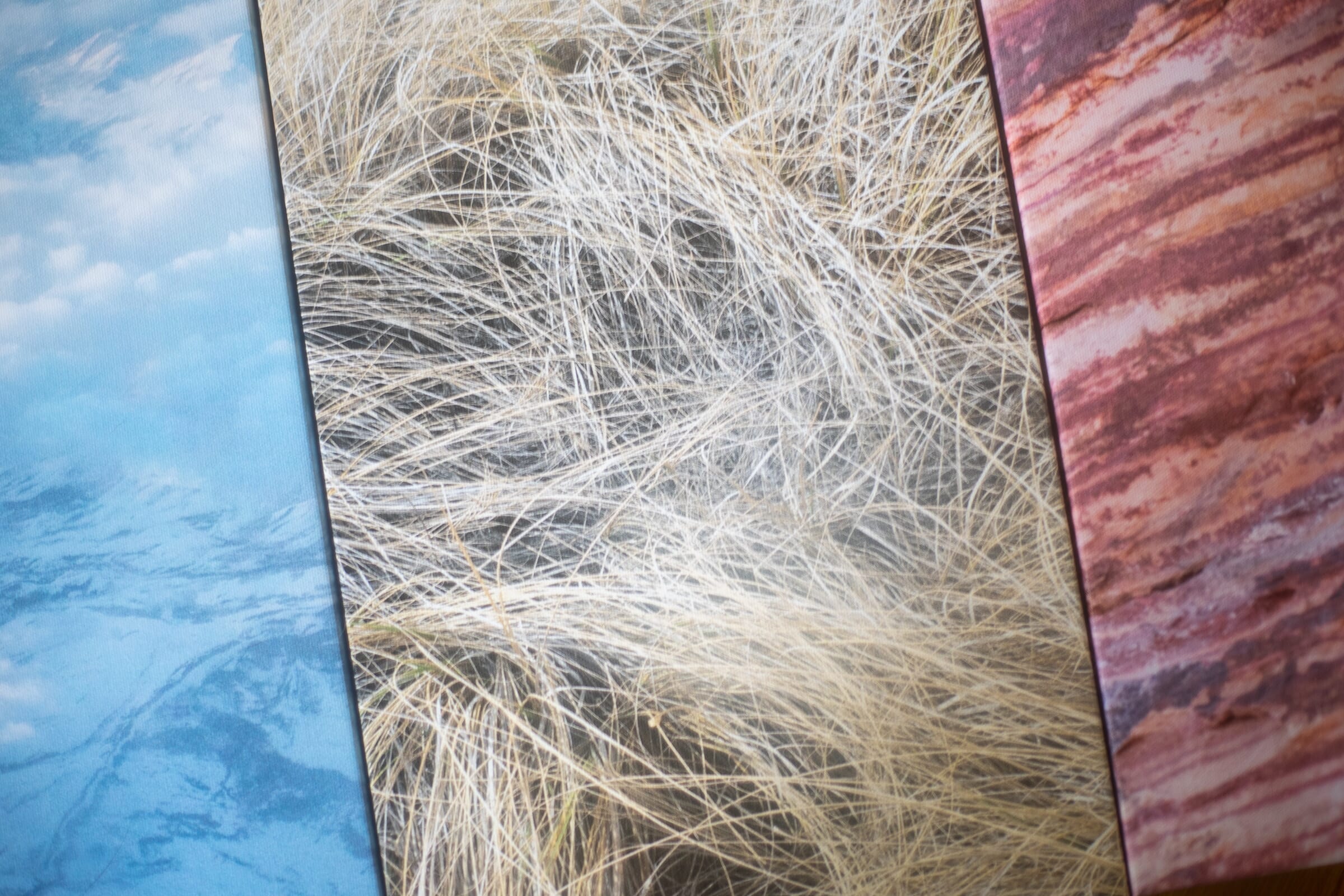 All three canvases measured exactly the same size, to my relief. What's more, there wasn't any overlap between images present in the final triptych. In this department, Canvaspop delivered a high-quality triptych set that I was more than impressed with.
I'll admit, I had a bit of a bad taste left in my mouth given the limitations I encountered placing my order. However, the bad feelings quickly washed away once I had the impressive triptych set physically in my hands.
Canvaspop's Hit-or-Miss Construction
I always have praise for company's that include and install hanging equipment with orders at no additional cost.
On a printer's end, it's a thoughtful gesture that shows a degree of care for customer satisfaction. What's more, it takes a lot of the headache out of the hanging equation.
Attached taught across the back of each panel of my Canvaspop Triptych Set was a metal wire, making wall attachment as easy as hammering a nail in place. Another nice touch was the rubber "bumpers" attached to the corners of the canvas. Their presence removes the possibility of any scuffs on the wall should the canvas ever begin to shift.

Unfortunately, the presentation wasn't entirely perfect. I found that the canvas edges were a little bit sloppy and uneven, to the point of sticking out from that back at certain points. Though this may seem a bit like nit-picking, the construction may be a cause of concern for some perfectionists.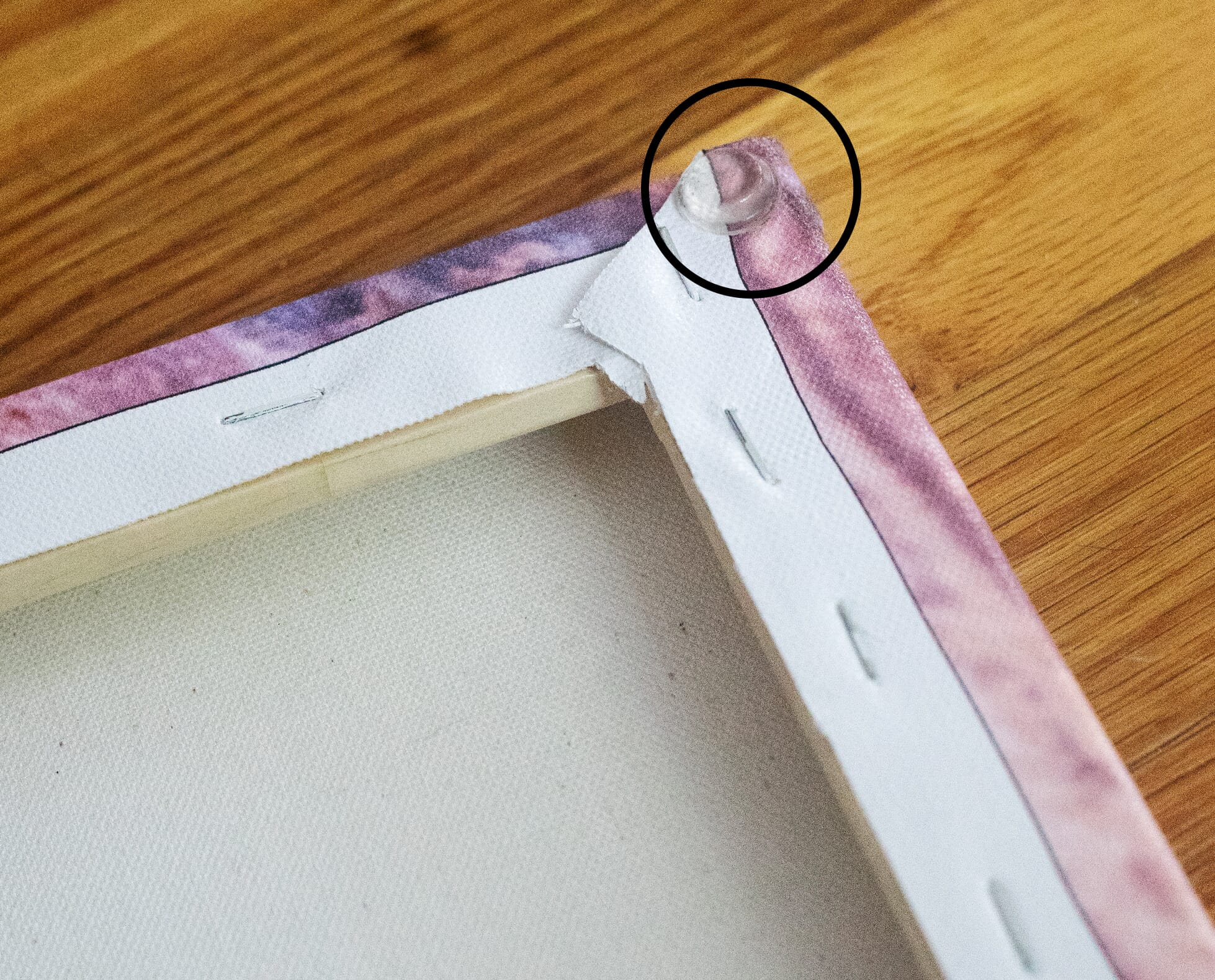 Is a Canvaspop Triptych Set Worth It?
In short, the answer is probably yes.
The Canvaspop triptych set can be a bit limited, specifically for those that want to get creative with their presentation. While this is something of a drawback, there are ways to bypass many of the restrictions.
With a solid middle-of-the-road price tag, Canvaspop does provide great prints despite a few minor flaws. Details and colors are portrayed beautifully, and canvases are ready to hang right out of the box. If that weren't enough, the company's "100% love" return policy shows that the company is committed to keeping customers happy.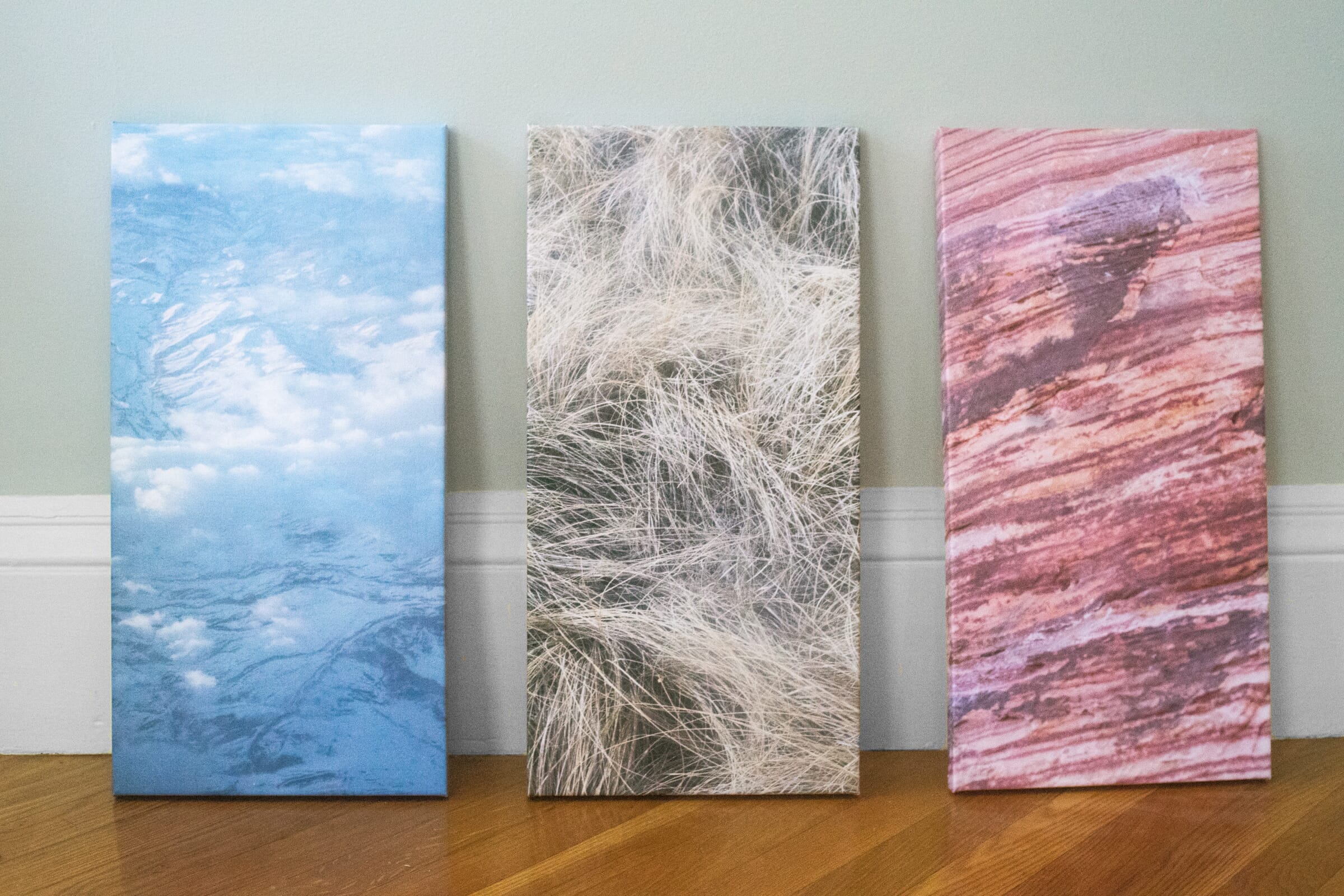 There are plenty of ways in which art can bring a room to life. However, the Canvaspop triptych set is a particularly alluring option. With professional looks at attainable prices, three has never sounded better.