I couldn't resist ordering a canvas print from Canvaspop to see how it turned out. So, here we go… read my detailed and honest Canvaspop Review…
Canvaspop Canvas Print Review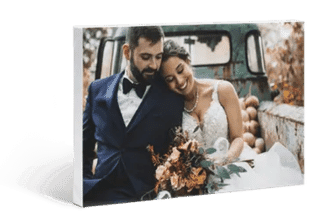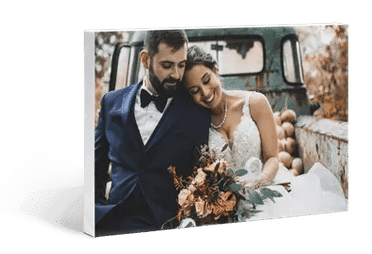 Product Name: Canvaspop Canvas
Product Description: In this Canvaspop review, we looked at the ease of ordering the canvas print, the checkout process, price, print quality, communication, delivery & packing, and overall experience.
Brand: Canvaspop
Offer price: 76
Currency: USD
Availability: InStock
Order Process

Included Services (Free Digital Proof)

Communication and Support

Delivery & Packing

Canvas Print Quality

Price (Considering Coupons)
Summary
In this Canvaspop review, we looked at the ease of ordering the canvas print, the checkout process, price, print quality, communication, delivery & packing, and overall experience.
When you buy through links on our site, we may earn a commission at no cost to you. We evaluate products independently. Commissions do not affect our evaluations.
About Canvaspop
Canvaspop was founded in 2009 and provides canvas printing services for photographers and photo enthusiasts wanting to get their photos on a canvas. They have offices and printing factories in Las Vegas (US) & Ottawa (Canada) and a shipping office in Europe. The company is expanding fast and recently raised over $3 million to fuel its growth and expansion.
Placing the Order: A Smooth & Easy Process
First, I picked an image I took from a recent trip to Norway. When traveling from Germany to Norway, you will cross the Øresund bridge, which connects Denmark and Sweden. I thought this would make a cool canvas print.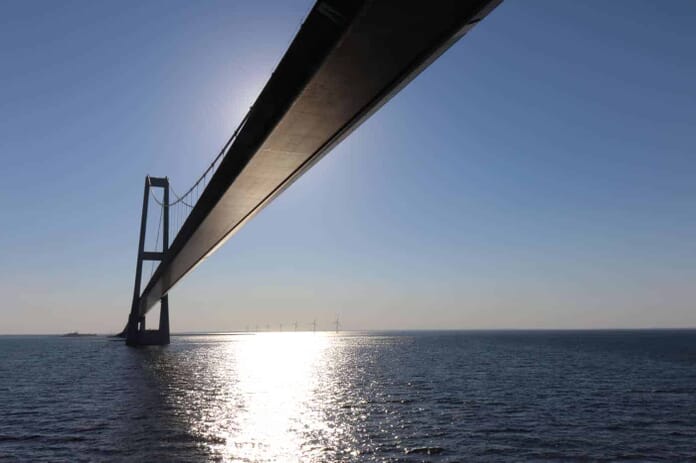 Placing the order on Canvaspop.com was a piece of cake.
To start, you can put your email address or register first (so you have your orders in your account for re-ordering later). I just went ahead without a registration. I just inserted my email and uploaded the source image (the image had a resolution of 5,625 x 3,750 and a file size of 7.4 MB). You can also upload pictures straight from Instagram or Facebook.
Related Post: Ways to Print Instagram Photos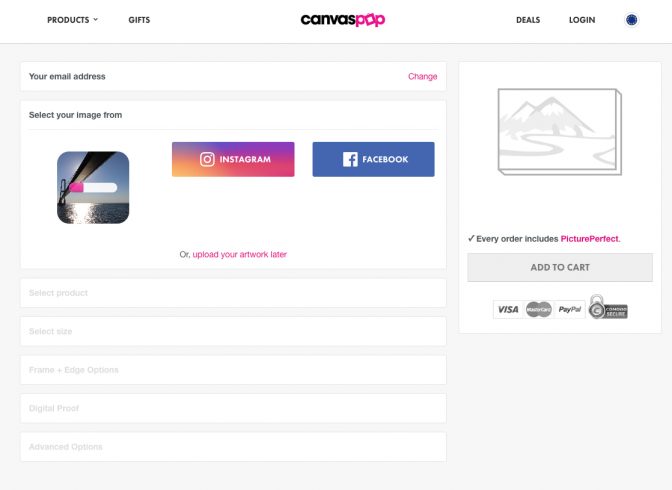 Choosing the Frame & Edge Options
Next up, I had to select if I wanted to print a canvas print or a framed paper print.
I picked the canvas print and then selected the 12×16 inch (30×41 cm) canvas with a 0.8 inch (2cm) depth. Then, I selected the "photo wrap edge" option at no additional costs (other options are a black or a white order also without any additional cost). If you want your canvas to be even more stylish and classy, you may want to opt for a black, white, or even espresso-colored wooden frame.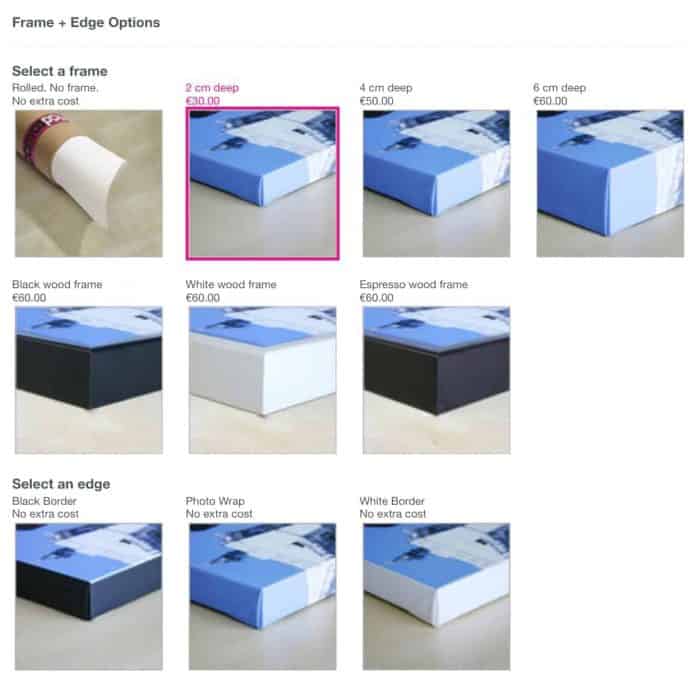 Free Digital Proof
After selecting the frame and the edge option, I ticked the option "Send me a digital proof":
✔ I'd like to receive a digital proof after I've ordered so that I can see exactly what my print will look like before it's manufactured.
I wanted to make sure that the image looks good on the final canvas print. In fact, it did. The same day I placed the canvas order, I got the digital proof sent by email.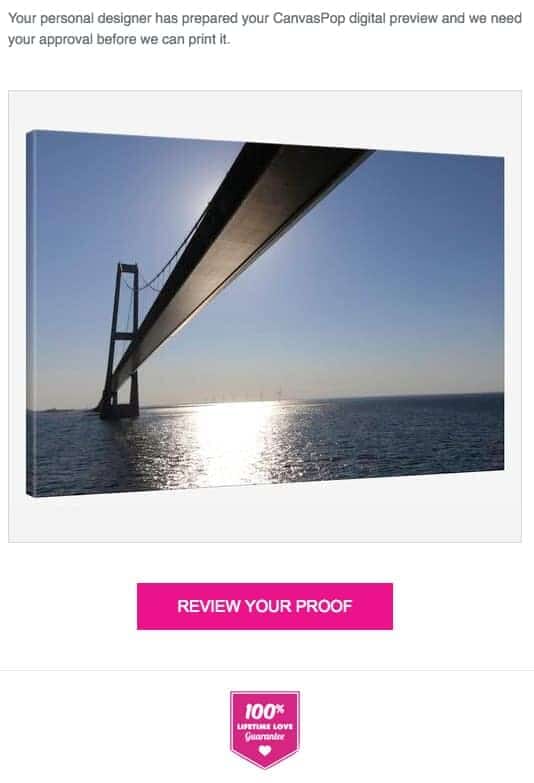 Get a Free Digital Proof Before Printing Your Canvas
You can zoom in on your digital proof image, download it, request changes, or if all ok: approve it for print.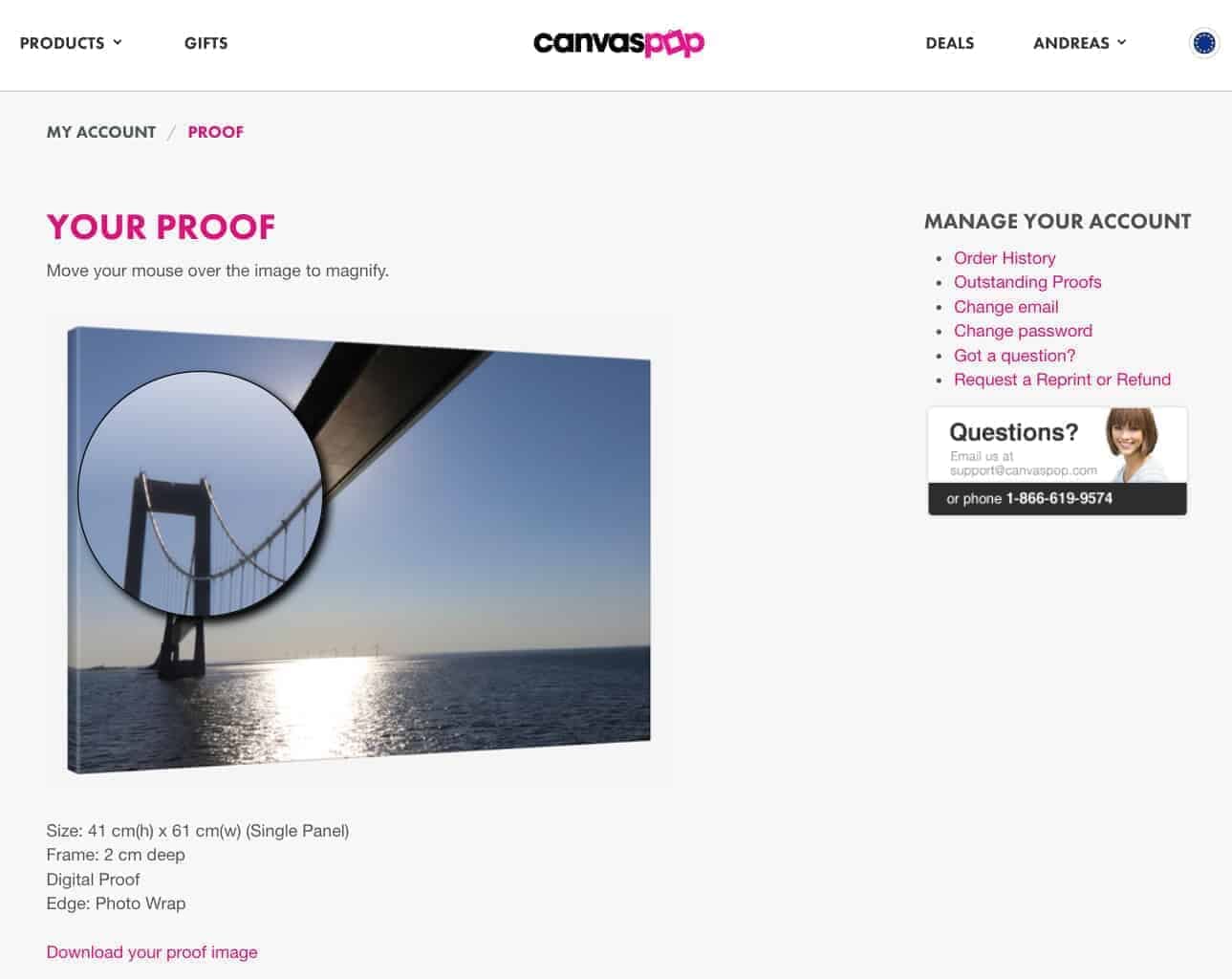 Touch up Services
But let's go back a few steps. There are a few more photo touch up options you can pick from before you finish the order process and proceed to the checkout.
You can pick those touch up options …
…when your image needs a little extra shine…
Photo Touch up Services – @ $9.95 extra:
Remove moles, scars and facial blemishes

Add text to a photo

Whiten teeth

Remove small scratches and imperfections

Removal of small objects (i.e. signs, wires, etc.)

Design Enhancements
By paying a fee of $29.95, Canvaspop will "transform your photo into a masterpiece" by doing some serious photo editing tasks for you:
Add or remove people

Add or remove large objects (i.e. buses, cars, etc.)

Digital facelift

Includes everything from the touch-up service
Design Makeover
In case you need a complete photo restoration, Canvaspop offers the following services (at $49.95):
Background replacement

Restore torn, stained or faded photographs

Includes everything from previous tiers
Note: all these services are optional. You don't have to pick any of them. In fact, I skipped them all and went straight to the billing section.
Payment and Final Checkout
At checkout, if you need to enter a separate billing and shipping address, you have the option to do so. All common credit cards and PayPal are accepted, and you have the option to redeem a gift card or insert a coupon code.
Coupon Codes
Make sure you always check for ongoing promotions on the Canvaspop Deals Page. If you can't find a coupon code, you can use the special code we got for our readers. Simply put "PHOTOWORKOUT" at checkout for 45% off 😁
The Delivery
It took about a week (to be precise: 9 days from the time of placing the order) to get the canvas print delivered to my doorstep. It was sent by courier, protected in bubble wrap and packed in a solid carton box (the box had some cute Canvaspop stickers showing some love 💖).
Here It Goes: The Canvas Print Delivered & Unpacked
This is how the canvas print by Canvaspop looks like: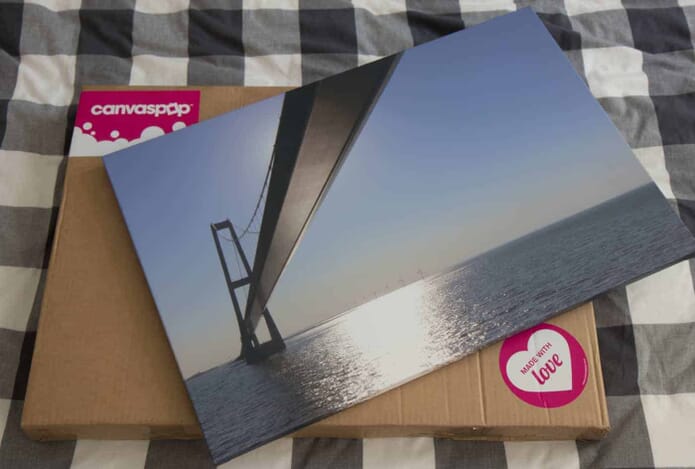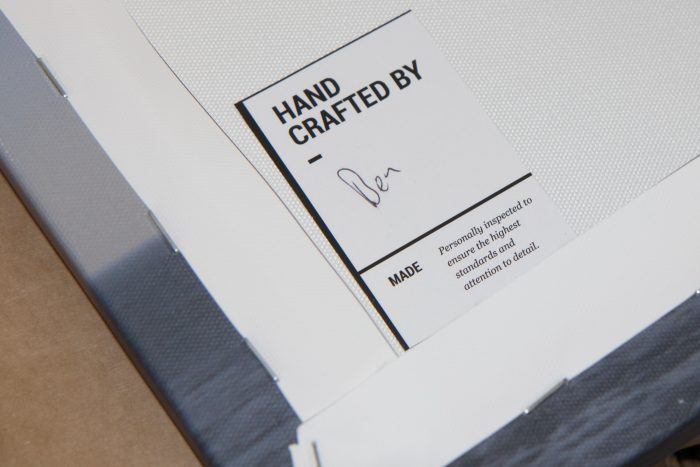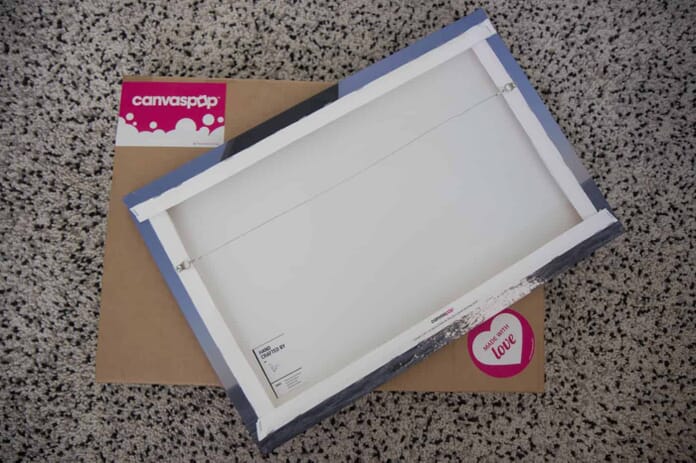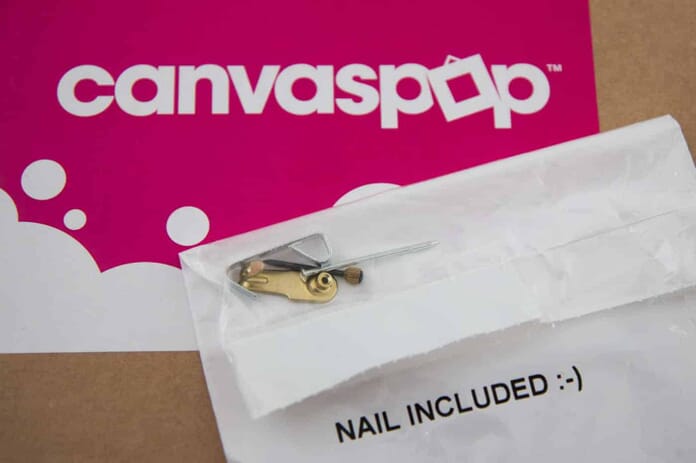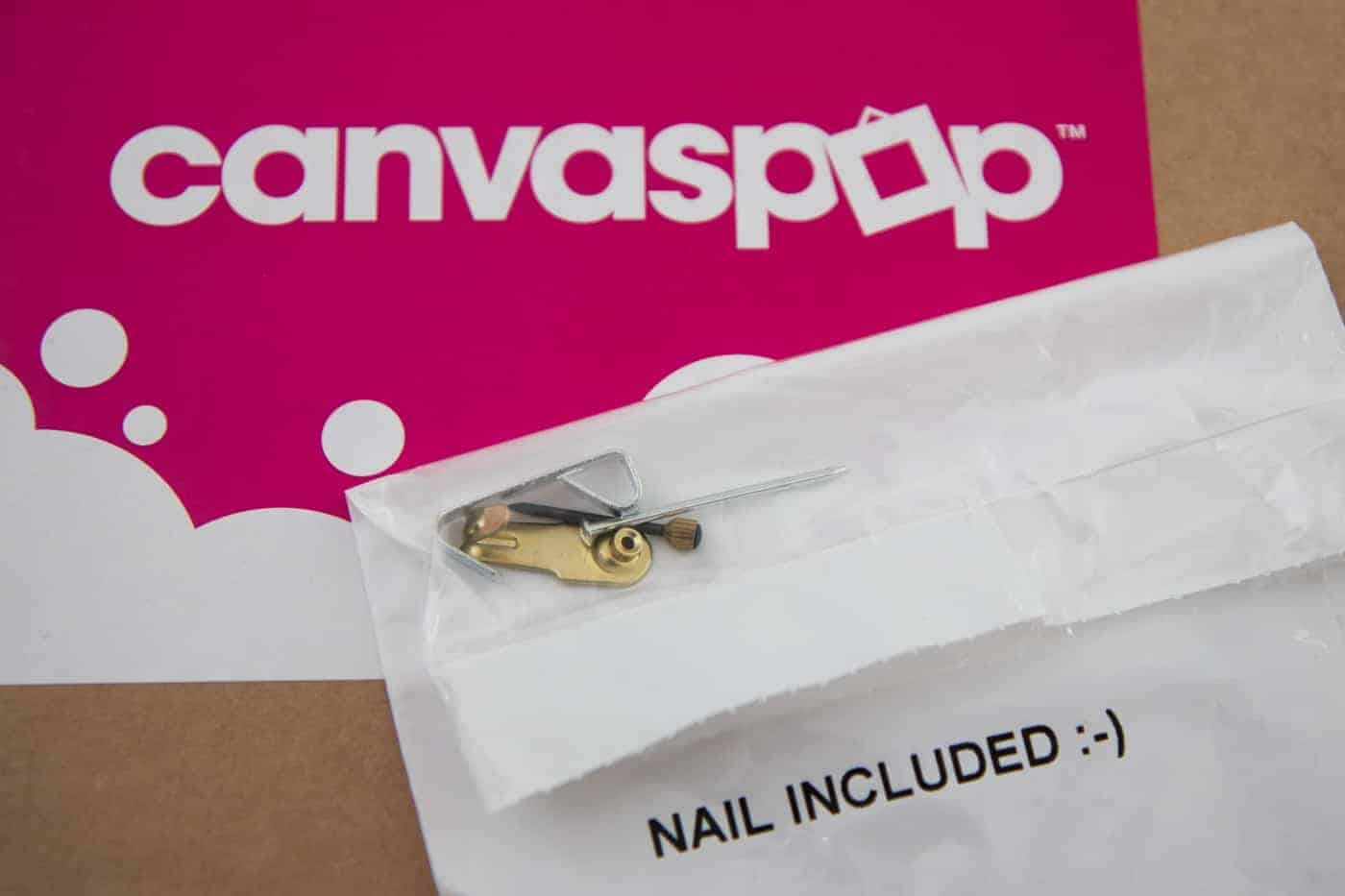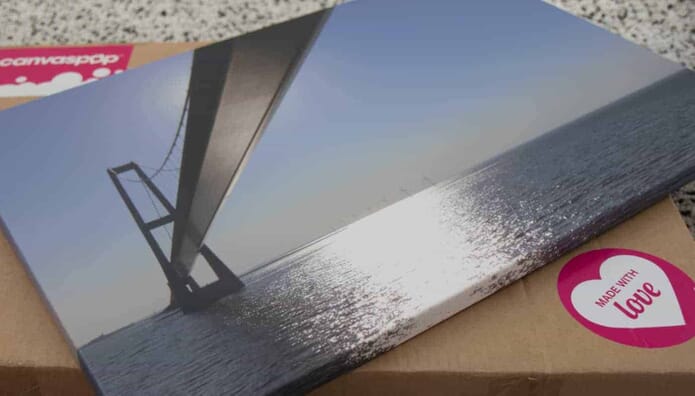 Canvaspop Final Verdict: A Very Good Experience & Print Quality
Considering that there are ongoing promotions and deals available, the cost of printing a decent size canvas isn't that much (in my case, the cost for the canvas print was around $80 incl. shipping).
Overall, I'm pleased with the ordering experience and final print quality! In fact, I don't seem to be the only one rating Canvaspop 5/5. Hence, if you are thinking of ordering your canvas print at Canvaspop, go ahead!
Behind Canvaspop stands a genuine company, equipped with high tech printers and a dedicated team that does deliver on the promises it states on the Canvaspop website:
Best quality canvas prints anywhere
Unbeatable customer service
Free digital proofs
100% "Love it" guarantee for life
Special Canvaspop Promo Code
To get 45% off your print, you can use our Coupon Code "PHOTOWORKOUT"
Order Your Canvas Print on Canvaspop Now
For more information about Canvaspop, you can watch this video:
Made with Love – Behind the scenes with Canvaspop HD
Ever want to know how a canvas print is made? Sure you do! Check out this exclusive behind the scenes look at Canvaspop.
You may also want to check out our post where we compared the 11 best canvas printing services in 2023 (including Canvaspop, ranked #1).
---