It's one thing to appreciate your photography after you've posted it online; it's a whole new feeling to see your gorgeous photo printed on a canvas and stretching across the wall.
For professionals, canvas prints can be a fantastic way to broadcast your work. For hobbyists, it's a great way to gift your favorite shots to loved ones.
Regardless of what you plan to do with your prints, it can be hard to know exactly what company to go with when you're shopping for an online printer.
Luckily, we've compiled an in-depth comparison of two major names when it comes to canvas printing: Canvaspop and CanvasChamp.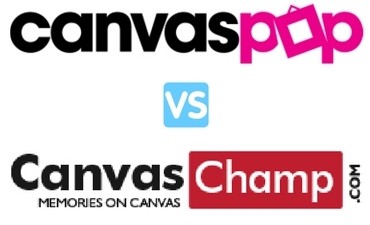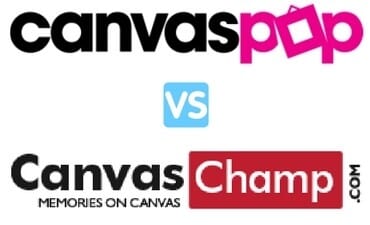 Looking for a quick side-by-side comparison? Check out our chart below!
When you buy through links on our site, we may earn a commission at no cost to you. We evaluate products independently. Commissions do not affect our evaluations.
Canvaspop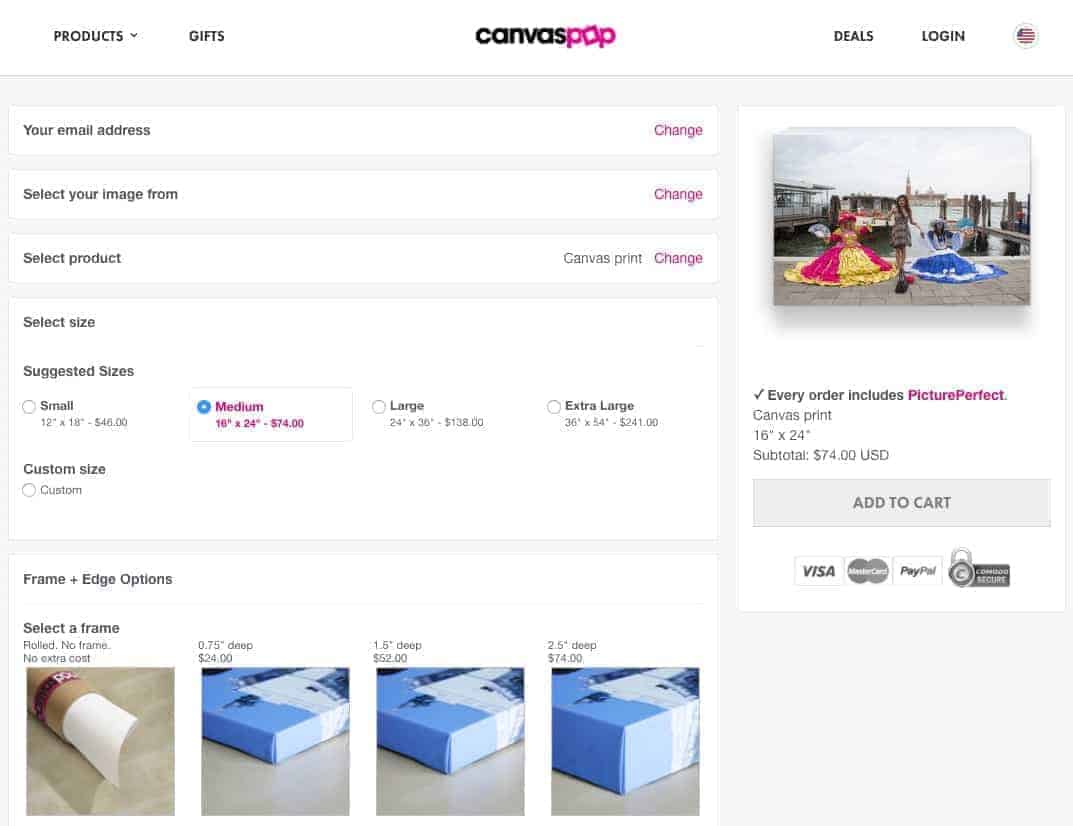 Founded in 2009, Canvaspop is a leader in the canvas printing industry. With over 450,000 canvases printed to date, they've developed a sizable following among hobbyists and pros alike. According to reviews, their printing is routinely high quality for an affordable price.
Services and Pricing
Specializing in canvas printing, Canvaspop has been a crowd-pleaser since it first opened its virtual doors. Currently, you'll be able to choose from seven different frame options when ordering from their website: rolled canvas with no frame, 0.75-inch thick frame, 1.5-inch thick frame, 2.5-inch thick frame, black wood, white wood, and an espresso wood frame.
Related Post: Canvaspop Review
After you've selected a frame style, you can choose between 18 different sizes easily available on the website. If you need a custom size, you'll have to contact Canvaspop directly to get your specific pricing options. While there are a wide variety of options, this also makes it difficult to pin down an exact price range; however, we've collected some general prices so you know exactly what price range you'll be looking at.
For an 8×10-inch print, you'll be looking at prices between $33 and $79.
For prints sized 18×24 inches, you can expect to start at $82 for a rolled canvas and $174 for an espresso wood frame.
The largest size available in their pricing chart, the 24×72-inch print, is available between $241 and $461, depending on the frame you choose.
Unsure of which to choose? Canvaspop's most popular choice for canvas prints is a 24×36-inch print on a 1.5-inch deep canvas, costing about $197.
Note: Prices are standard prices and may change. Also, you get 45% off with the coupon code "PHOTOWORKOUT". Visit Canvaspop Now.
In addition to their canvas printing services, Canvaspop also offers additional print mediums such as photo collage prints, photo magnets, and photo pillows; all varying in cost.
What We Love
Although this company has only been around since 2009, its customer-first attitude has won over plenty of customers in that short period of time! Separating them from the competition, the following are just a few of the features that have put Canvaspop ahead of the crowd:
100% satisfaction guarantee. This can be incredibly important for first-time canvas buyers. Purchasing with an online company can be frightening, especially since you can't just stop in on a Monday afternoon and see how it's going. Luckily, Canvaspop offers a 100% satisfaction guarantee, which will soothe first-time buyers. If you're not completely happy with your purchase, you'll get your money back and will be out nothing but your time.
Print your photos from social media. For frequent Instagram users, this is an especially handy feature. Throughout the ordering process, you'll have the option to upload your photos from your favorite social media website. For professionals that advertise their work through social media, this can make the ordering process seem like a breeze after you log into your account.
Free digital proofs offered. While we'd love a free physical proof, it's a great option to get a free digital proof before completing your order. If this is your first time using an online printing service, or even just your first time using Canvaspop, this can be an indirectly handy feature.
What We'd Change
As to be expected with such a popular company, there are a few things that customers would change if they could. For us, it really comes down to just one point:
Limited editing tools online. In all reality, there's very little that needs to be changed about the website or ordering process besides its limited editing tools. When inserting your photos to their website, it might be easier for some to crop and edit their photos in a program on their computer first. During the ordering process, there's very limited editing function, which will be discouraging for those who are looking for an exact product.
Customer Reviews
Need more information? If you weren't already convinced that Canvaspop is an industry leader, it has recently earned a solid review from PCMag. Earning a solid 4.0 out of a possible 5.0, Canvaspop was recognized for its fair prices and money-back guarantee.
While the reviewer in PCMag adores the quality received, they do mention the inability to crop your photos when ordering from Canvaspop as well as slow delivery time. While the delivery time may not necessarily be Canvaspop's fault, the inability to edit is a complaint voiced in multiple reviews. Overall, reviewers seem to agree that the quality is amazing all while keeping the price reasonable.
CanvasChamp
With its headquarters in Greer, South Carolina, CanvasChamp makes quality printing available to everyone at reasonable prices. Setting CanvasChamp apart from the competition is their level of customization when it comes to the printing material. While others offer only canvas prints, CanvasChamp offers alternatives such as metal, wood, and acrylic prints.

Services and Pricing
For the most part, CanvasChamp will feel like a service for professionals. They offer a variety of mediums to print on and have some fantastic customer service available through their website. Although there are only 14 different default sizes available, they make it incredibly easy to select your own customized size for the canvas prints.
Related Post: CanvasChamp Review
Due to their high levels of customization, their prices do tend to vary pretty widely; however, we have collected some general prices, so you know what to accept.
5×7-inch prints are the smallest size listed in their pricing chart and cost only $4.45.
18-24-inch prints will cost you $26.28.
54×54-inch prints is the largest size listed in their pricing chart and this (huge!) canvas print currently costs $291.71.
For those looking for some alternatives to canvas printing, CanvasChamp has extra features at very reasonable prices for their photo boards, acrylic, and metal prints. These alternative forms of printing are available in sizes between 8×8 inches and 30×30 inches.
Photo boards are priced between $22.63 for an 8×8-inch print and $57.71 for a 30×30-inch.
Metal prints tend to cost anywhere from $44.30 and $271.49. Now starts from $10.99, see ongoing promotions.
Acrylic prints will cost between $31.00 and $125.00, depending on the size you order.
All in all, it's great to see a canvas printing company that has expanded to offer its customers different forms of printing.
What We Love
With a company as expertly managed as CanvasChamp, there's a lot to love. For the most part, this website has been highly reviewed, and for good reason. Here are some of our favorite aspects:
Coupons readily available. You can often find deals and coupons which will lower the normal price drastically. If you sign up for their mailing list, you'll be notified when there are major sales, although there's also an easily accessible section of their website dedicated to helping you get the best price for your print.
Lowest price guarantee. While this is advertised in this "professional" section of their website, it's worth noting that CanvasChamp actually offers a pretty competitive price match. If you can find a product of equal quality for less, they'll match the price and give you an additional 10% off. For professionals worried about price, this guarantee alone may put CanvasChamp ahead of the competition.
Expertly wrapped canvases. Although this may go without saying, the top reason this company has been so successful is because of their superior wrapping. Whether you're a hobbyist or a pro, you'll appreciate just how tightly wrapped these canvases come.
Related Post: Best Collage Printing Services (6 Top Picks Compared)
What We'd Change
Although this is a great company, there are a few things we'd change if we could.
No next day shipping option. While this may not be a "make or break" for some, CanvasChamp's inability to offer next-day or two-day shipping may be a reason to look elsewhere if you're on a tight deadline. Largely, this is simply due to the fact that some of the actual printing is done outside of the United States, meaning they don't offer it as they can't always guarantee where your product will be printed. While some say they received their product within a few days, some complain of it taking weeks.
There is a charge for proofs. Before ordering an expensive canvas, it's advised you check out some proofs before going through with the order. For those going through CanvasChamp, unfortunately, there is a small charge for proofs. Although it's only $1.99, this may cause you to look elsewhere if you're already on a time and budget crunch.
Customer Reviews
If you weren't convinced already, you'll be happy to hear that CanvasChamp has some amazing reviews listed online. On Shopper Approved, the site has an impressive 4.6 customer satisfaction rating. With over 30,000 5-star reviews, the company is well-received thanks to its easy ordering process and high-quality prints.
Within reviews left in March 2018, a majority of reviews are between 4 and 5 stars, although some did complain about scratches on the side of the canvas they received, resulting in some 3-star reviews. Overall, the company is incredibly well-received online.
Comparison Chart: CanvasChamp vs Canvaspop
Looking for a quick comparison of these two heavy-hitting companies? We've done all the searching so you don't have to. Check out our chart as we compare CanvasChamp vs Canvaspop!
| | | |
| --- | --- | --- |
| | CanvasChamp | Canvaspop |
| Customer Satisfaction (5 = Best) | 4.6 (Shopper Approved) | 4 (PCMag) |
| Print Sizes Offered | 14 sizes + custom orders | 18 sizes + custom orders |
| Price | Between $42 and $452 | Between $33 and $461 |
| Ink and Printers Used | Eco-solvent, latex printing | Canon iPF8400; Canon ink set |
| Canvas Quality | Cotton blend; archival quality | Poly-cotton blend; archival quality |
| Website Usability | High | High |
Final Thoughts
Whether you're a pro or a humble beginner, nothing will make you appreciate your photography more than seeing it stretched against a beautiful canvas.
All in all, both CanvasChamp and Canvaspop offer some fantastic printing options. Once you know which company you prefer, don't be afraid to order some proofs to make sure you'll get a product you love.
In the market for a canvas print? Bought one recently that you absolutely love? Let us know below!