Nik Collection 4 is the current iteration of DxO's popular creative photo editing suite. Within this amazing bundle, you get eight different programs – each of which is available as standalone software or as a plugin for post-processing programs such as Photoshop, Lightroom, DxO PhotoLab 5, and Capture One.
In this Nik Collection 4 review, we look at what each Nik program has to offer and how the suite holds up as a whole.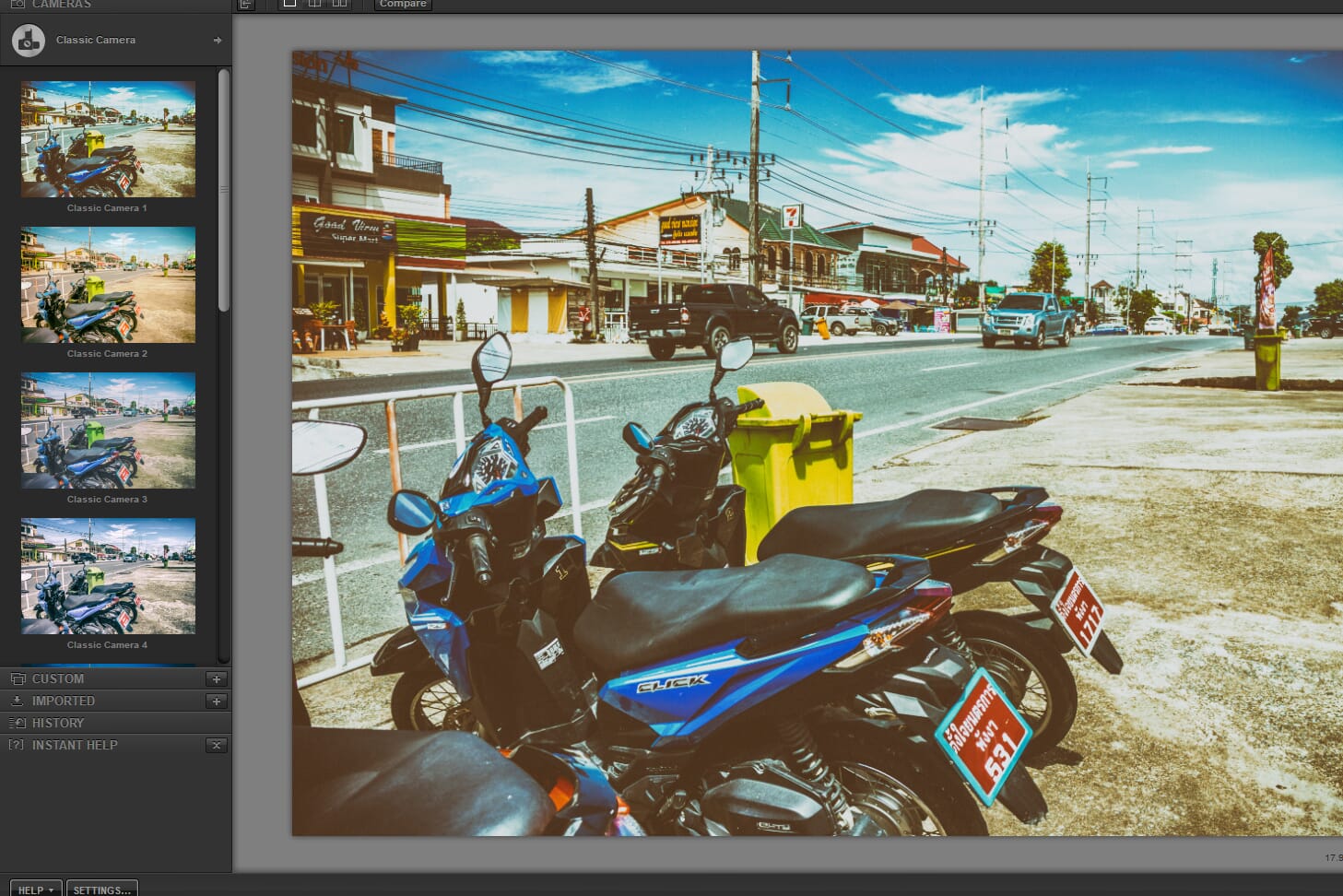 When you buy through links on our site, we may earn a commission at no cost to you. We evaluate products independently. Commissions do not affect our evaluations.
Nik Collection 4: Overview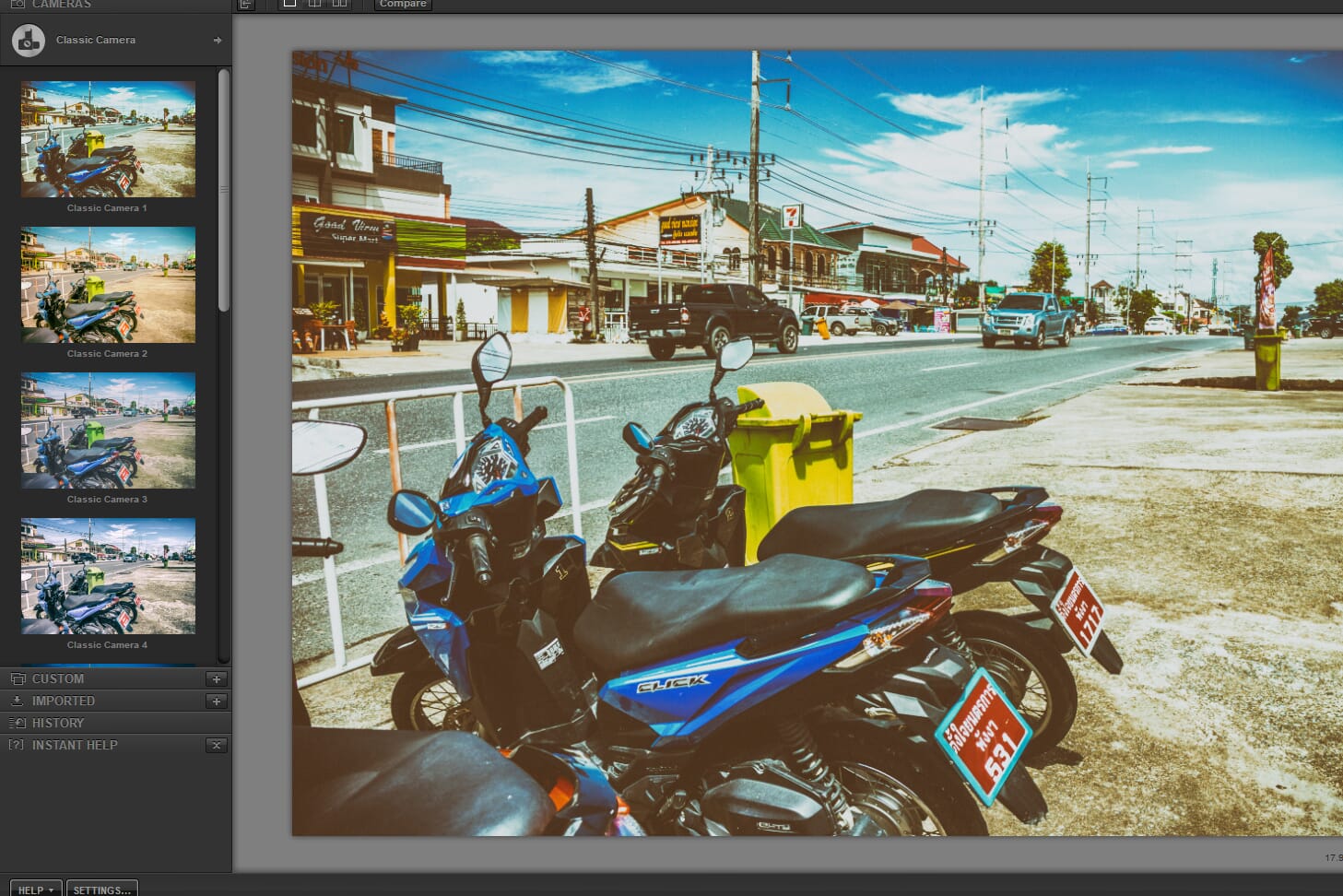 Great for creative editing
Nik Collection 4 offers an excellent selection of tools for professional creative photo editing.
Pros
Wide variety of tools
All of the programs are easy to use and intuitive
Most programs have a great selection of quality presets
Can be used as a standalone product or as plugins
Great for specialist editing
Cons
Not the fastest performance
May be too expensive for casual photographers
Nik Collection 4 packs a wide range of creative photo editing tools separated into eight unique programs: Viveza, Analog Efex Pro 2, Color Efex Pro 2, DFine, HDR Efex Pro 2, Perspective Efex, Sharpener, and Silver Efex Pro 3.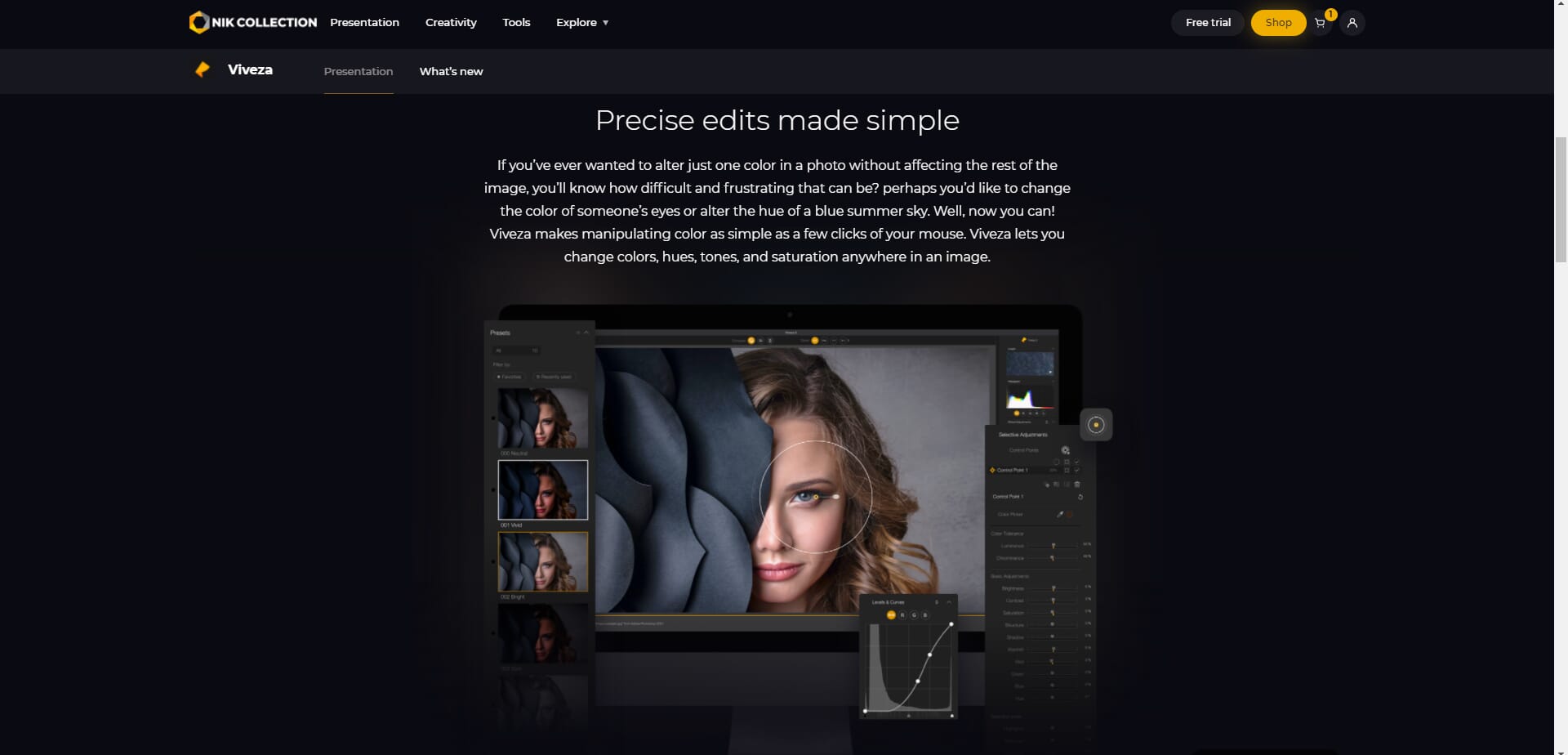 Each of these programs is available as a standalone product, as well as a plugin for editing software such as Adobe Photoshop, Adobe Photoshop Lightroom Classic, DxO PhotoLab 5, and Capture One. Also, each program offers something different. For example, Silver Efex Pro 3 specializes in black and white photo editing, while Perspective Efex corrects optical distortions and applies transformations to images.
Overall, each program is well designed, easy to use, and intuitive. Some of the programs need a visual update, however. And the performance could be improved, as even with a fast computer, you will still likely notice a delay when using the standalone software.
Nik Collection 4 Review: A Deep Dive
To get started, we provide a brief overview of what each program/plugin has to offer. We then give an overall impression of the program's features.
Analog Efex Pro 2
If you want to create retro images that emulate traditional film cameras, look no further than Analog Efex Pro 2. It's an extensive application that gives you plenty of ways to age your images and add retro effects.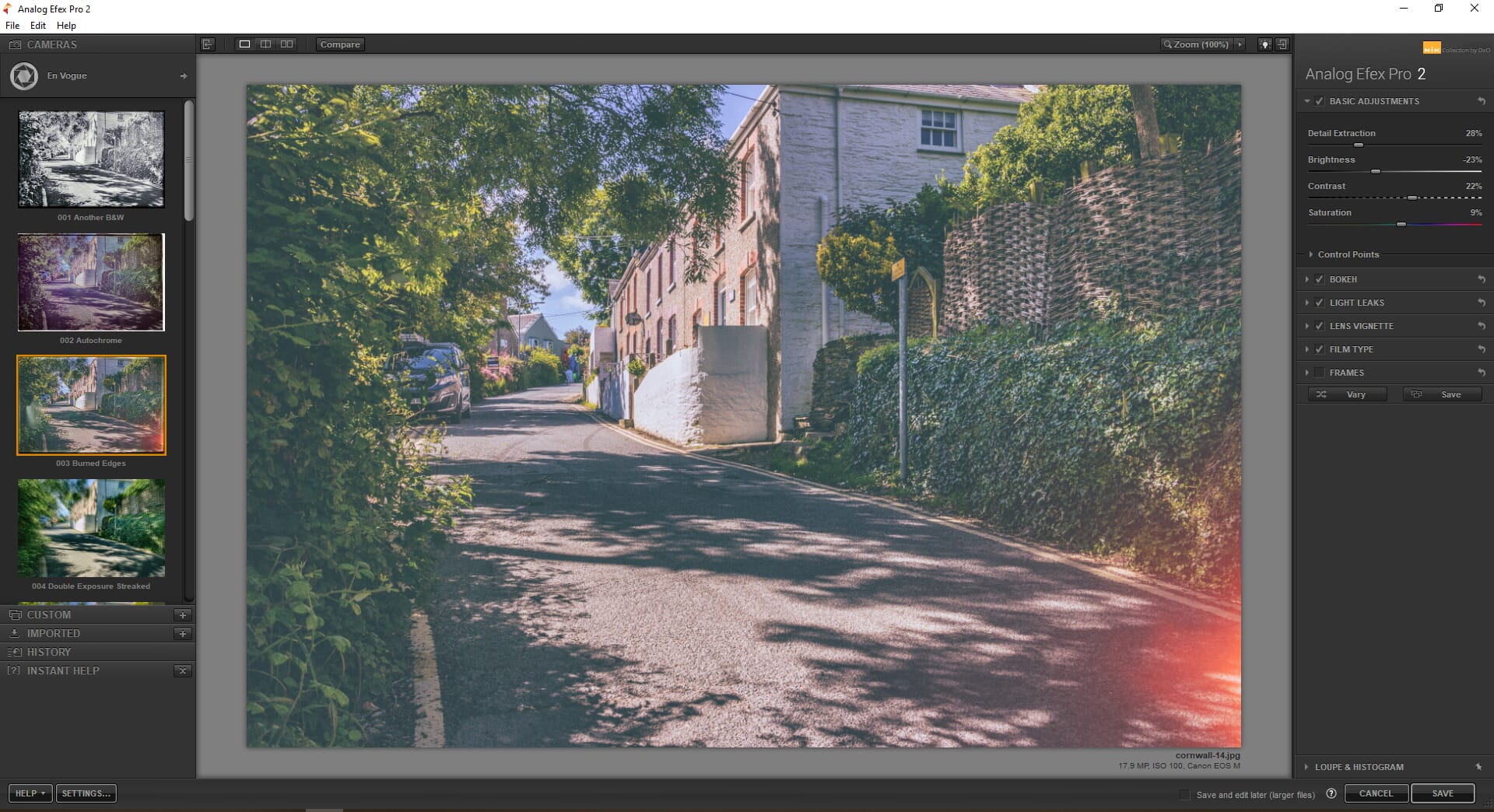 Analog Efex Pro 2 has a wealth of preset effects based on different cameras. These can be applied simply by clicking on the preset thumbnail. For each preset, you can then change the parameters. Examples of camera types include classic camera, toy camera, double exposure, and color cast.
The effects look fantastic and there is a huge selection to choose from. Aside from the preset cameras, you can also build your own presets using other tools, including dirt and scratches, photo plate, lens vignette, light leaks, and more.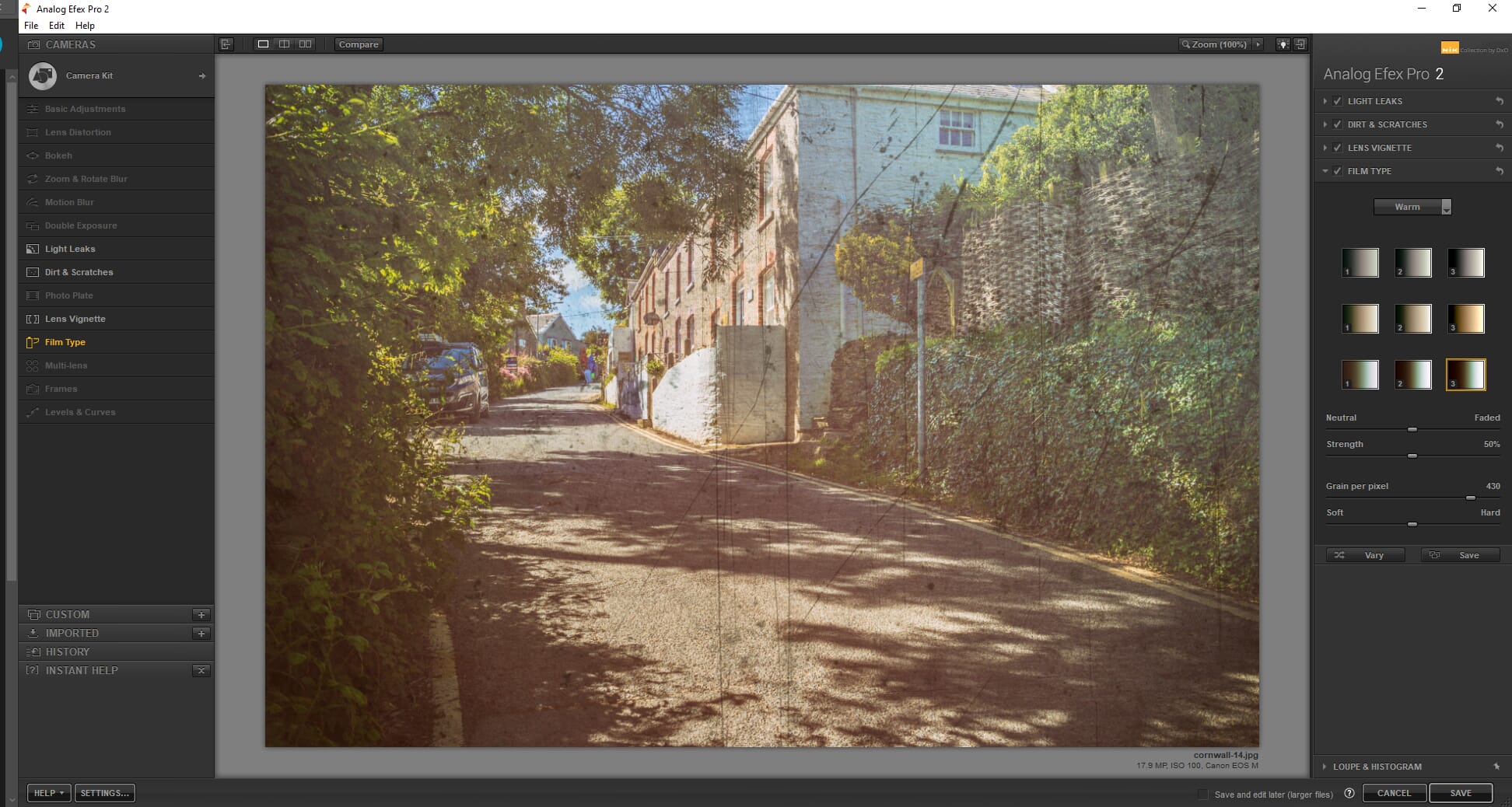 The possibilities are endless, and Analog Efex Pro 2 is an interesting tool within the Nik Collection 4. The only downside is that the loading times of the effects and filters can be slow.
Color Efex Pro 2
If you are looking to add color and vibrancy to your photos, Color Efex Pro 2 is an excellent option. Color Efex Pro 2 has a brilliant set of presets that alter the color balance of your images. These are known as "recipes," and you can also create your own by combining different filters.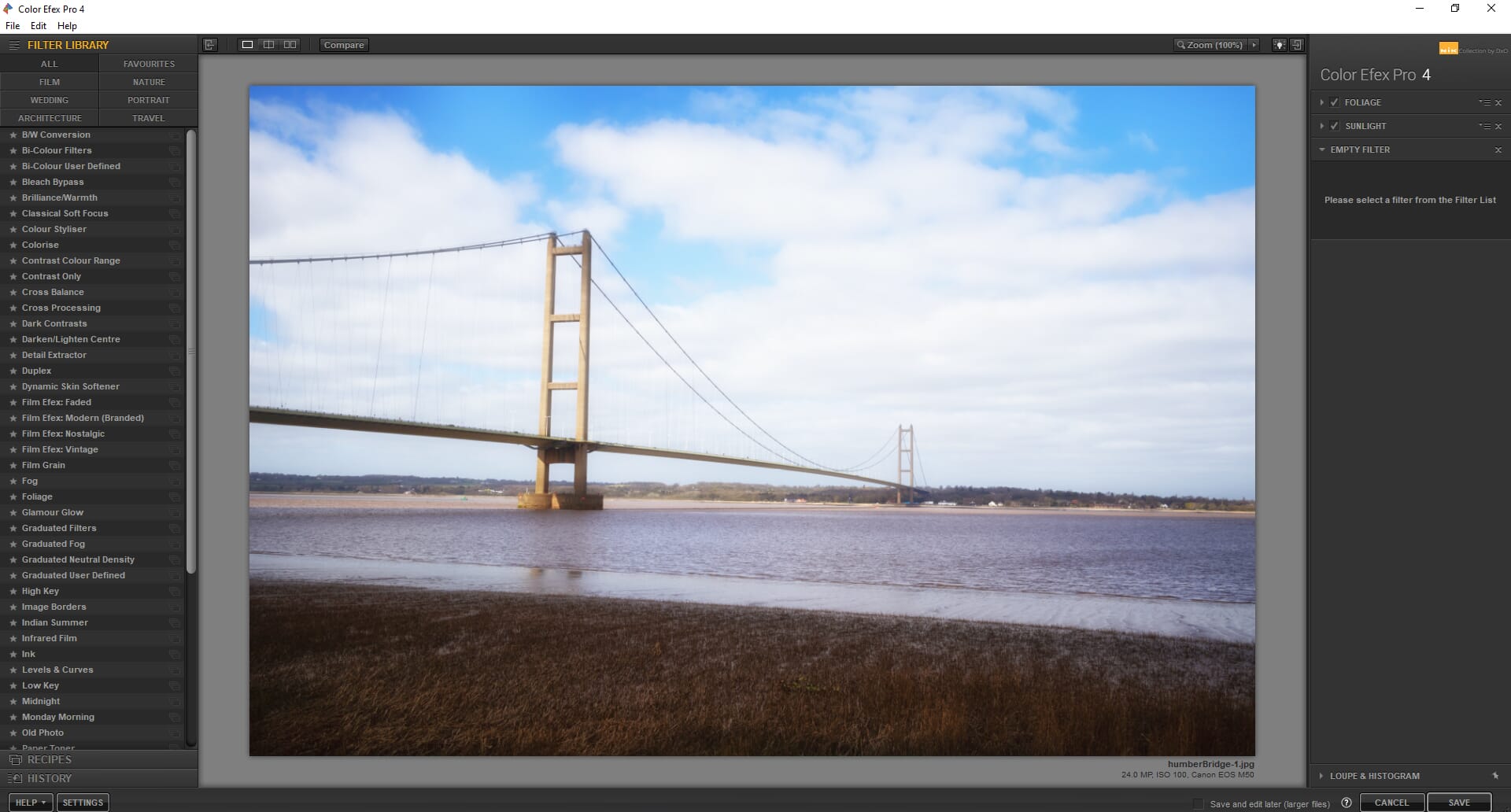 The program is easy to use and features a minimalistic layout. On the left-hand side, you can choose from the different preexisting recipes or create your own recipes using the huge array of filters. These filters are split into separate categories, such as Film, Wedding, and Nature.
Once you have chosen either filters or a recipe, you can edit the image in greater detail. This is done via the right-hand toolbar. Here, you can adjust the parameters of the filters, which gives you excellent control over the process and have virtually unlimited creativity.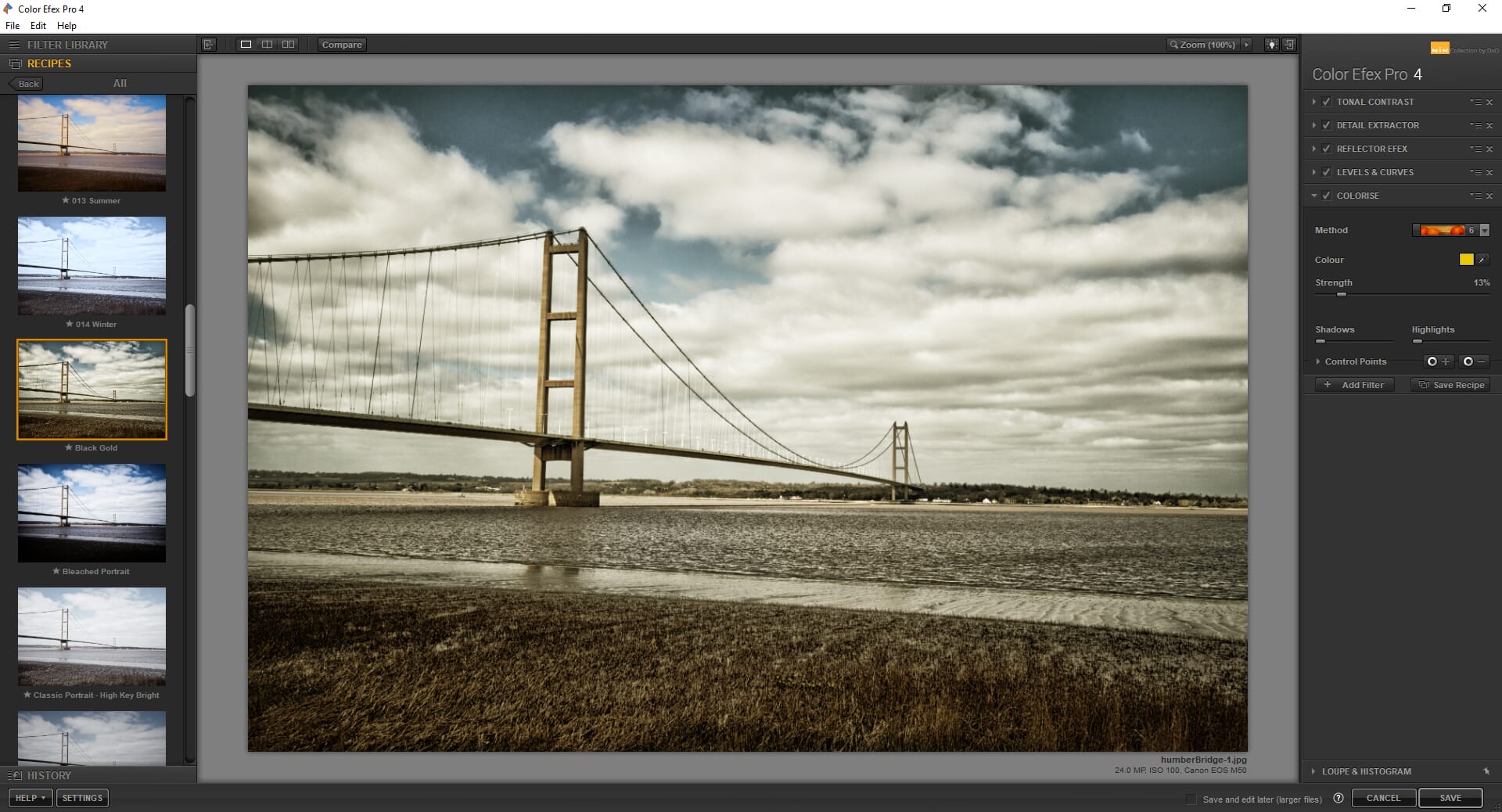 Using Color Efex Pro 2, you can create a wide variety of stylized images, from split-toned retro photos to high-contrast black-and-white shots. Some may feel that this program/plugin feels similar to Analog Efex Pro 2, but there is a noticeable difference and only a small overlap of filter types.
DFine 2
Oftentimes in photography, we have to deal with digital noise – particularly in low-light photos. Using a dedicated tool like DFine 2 can often yield better results than simply using built-in noise reduction tools in software like Adobe Photoshop Lightroom Classic.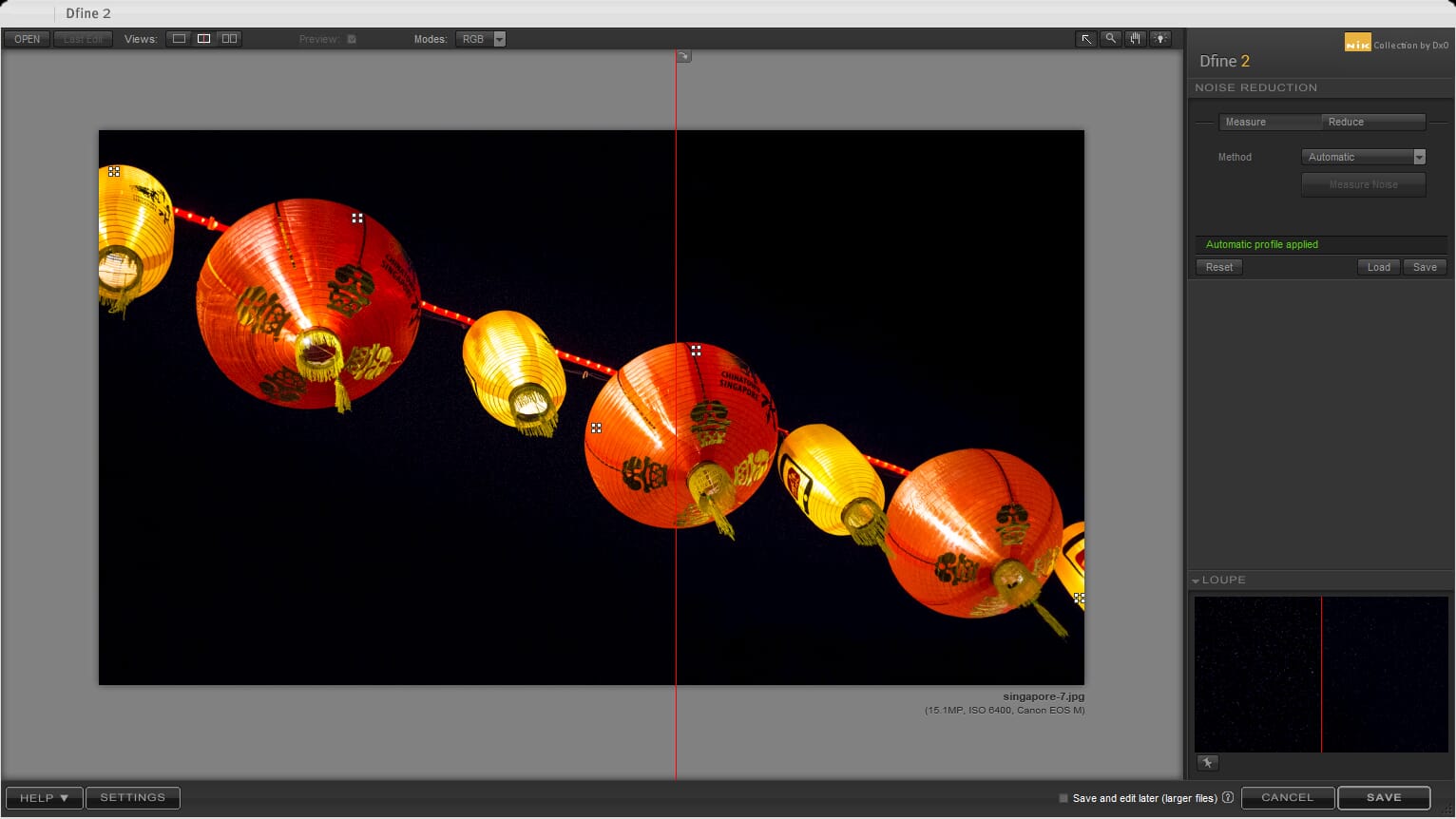 DFine 2 is a relatively automated program that is incredibly simple to use. Like other version 2 programs in this Nik Collection 4, the interface does look a little dated. However, its functionality is fantastic and it couldn't be simpler to use.
By default, Dfine 2 applies an automatic noise reduction filter to your photo. You can then edit this if the result is not what you want. For example, you can add additional control points so the AI algorithms can easily detect areas of noise that need processing.
We like the different preview modes, such as the Compare mode; here, you can see a single image and use a slider to show a before and after comparison. This makes it easy to see the effectiveness of the noise reduction. In terms of effectiveness, we found the AI technology to be excellent – you can quickly and easily remove background noise from your photos to improve their visual appeal.
HDR Efex Pro 2
It can be difficult to create realistic HDR photos, plus photographers don't always have the time or technology to create such shots. Happily, HDR Efex Pro 2 lets you simulate HDR effects with minimum effort.
First, HDR Efex Pro 2 has a range of "realistic" presets. These aim to turn your photo into a realistic HDR render – the effect is pleasing and not too overpowering. Alternatively, you can use a variety of other creative presets for more dramatic and artistic looks. For example, the image below has been processed using the "Late Summer" preset.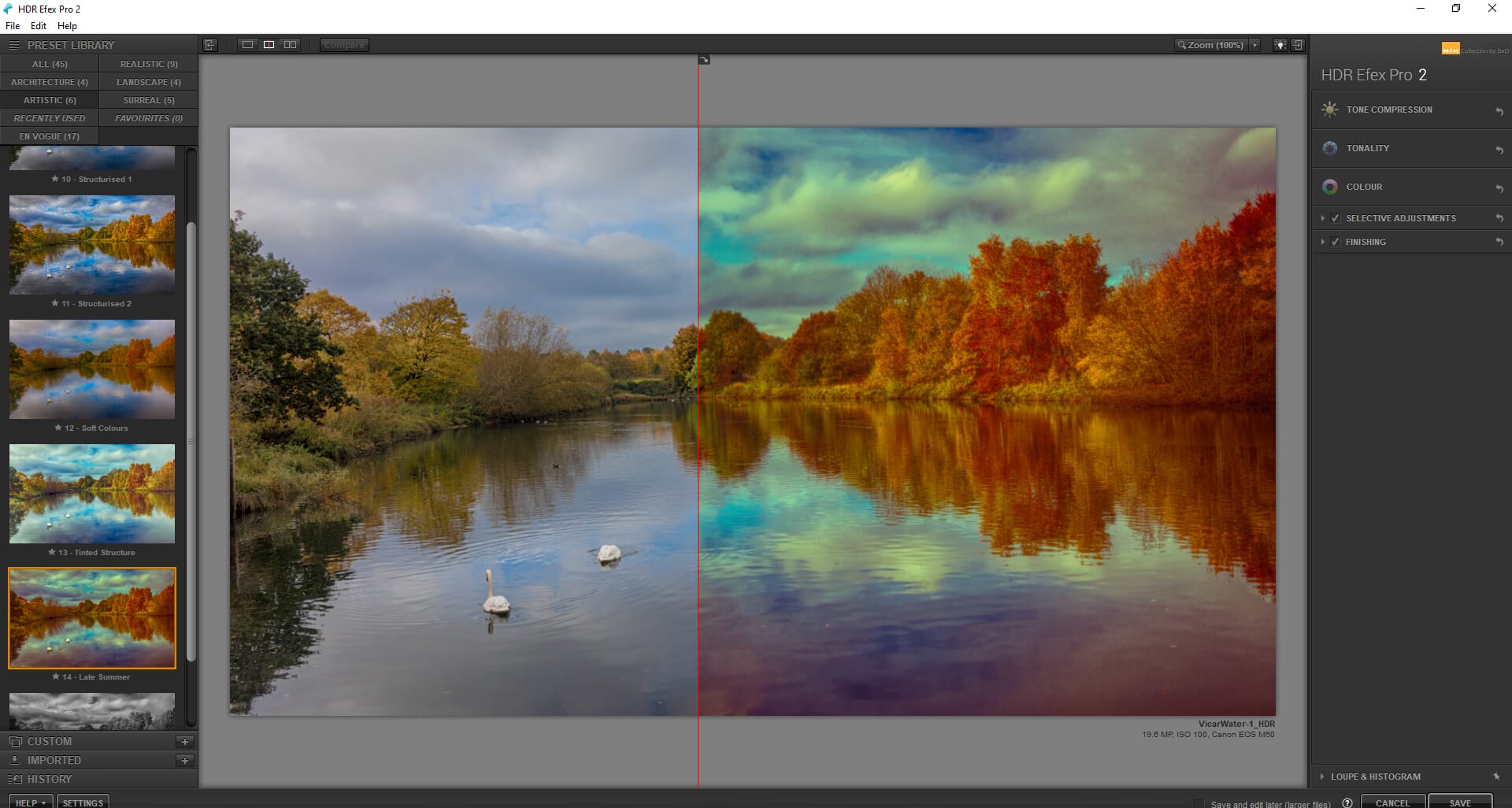 HDR Efex Pro is only on its second version, so it still looks a little outdated. However, it is simple to use and features the same layout and tools as Color Efex Pro 2 and Analog Efex Pro 2. Anyone should be able to use this software regardless of their skill level.
We also like that you can create custom presets and alter parameters like tone compression, tonality, and color. Also, you can import presets from third-party providers to give your photos additional effects.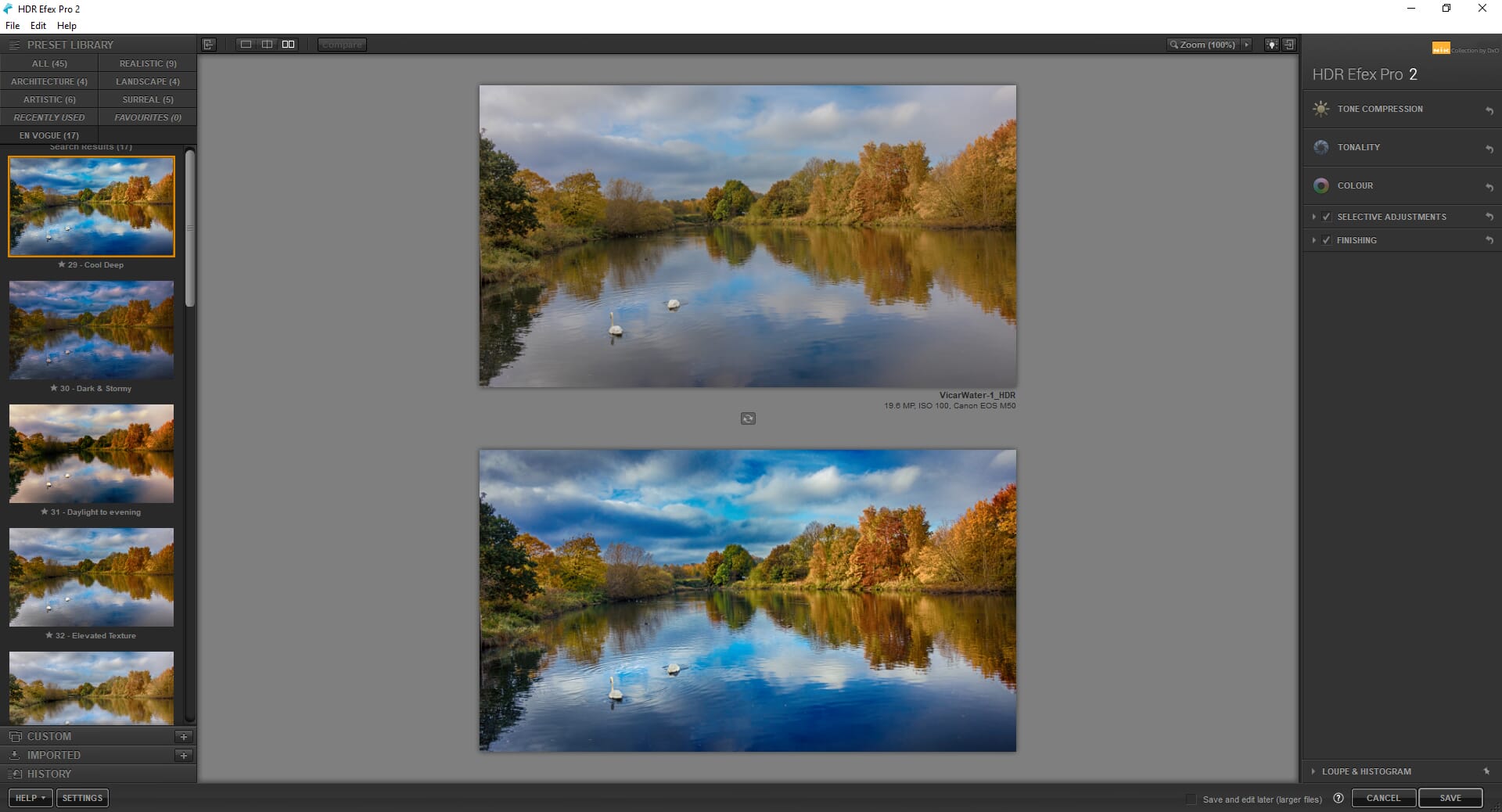 The quality of the HDR presets varies, and for the most part, they look great. But beware: HDR Efex Pro does include over-the-top presets that create an exaggerated HDR effect not everyone will like.
Perspective Efex
If you don't position your camera parallel to the ground when shooting, you may end up with perspective distortion. This can be a problem – and a dedicated transformation tool like Perspective Efex can be a great help.
This tool deals exclusively with the perspective of photos; it corrects distortion, improves perspective, and offers simple transformations like cropping and rotation. You can use a variety of tools to make sure that your image is perfectly aligned, has no distortion, and has the perspective you desire.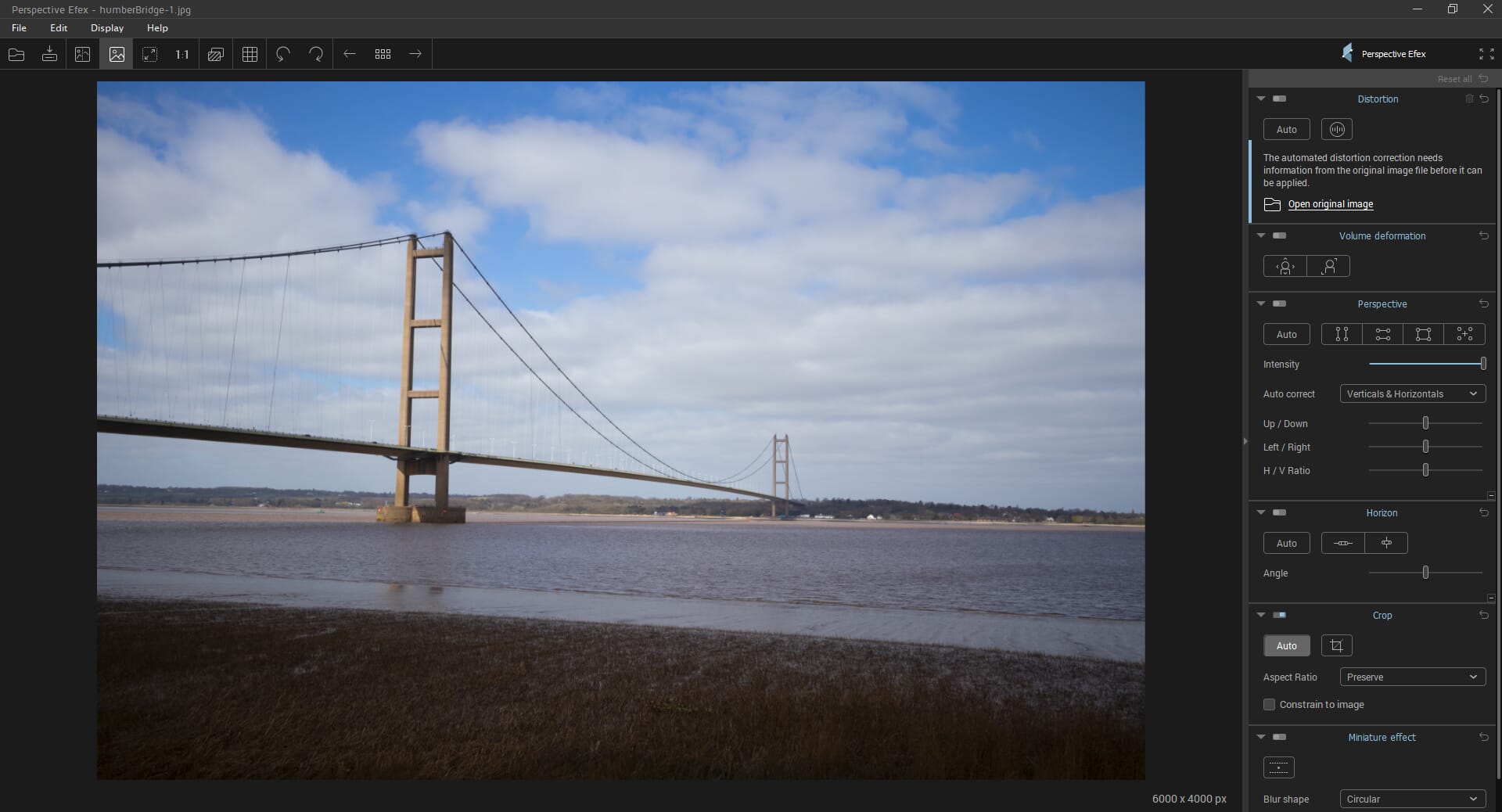 Perspective Efex has an updated layout compared to other Nik programs and is consequently one of the better-looking tools. It's also ultra-easy to use, since it essentially features a single toolbar containing all of the different tools on the right-hand side.
The variety of tools is effective, particularly the automatic distortion correction tool. This works brilliantly with RAW files and can quickly correct any lens distortion.
Sharpener Pro 3
Do your photos ever look too blurry? Sharpener Pro 3 can help you out. It's a dedicated sharpening tool that has plenty of useful features, so your photos are sharp for the web and in print.
The interface is minimalistic and similar to DFine 2. It essentially has a set of sharpening tools and nothing else. You can easily create presets to apply to multiple photos, and for precise adjustments, you can select control points so the AI algorithms can effectively choose where to apply sharpening.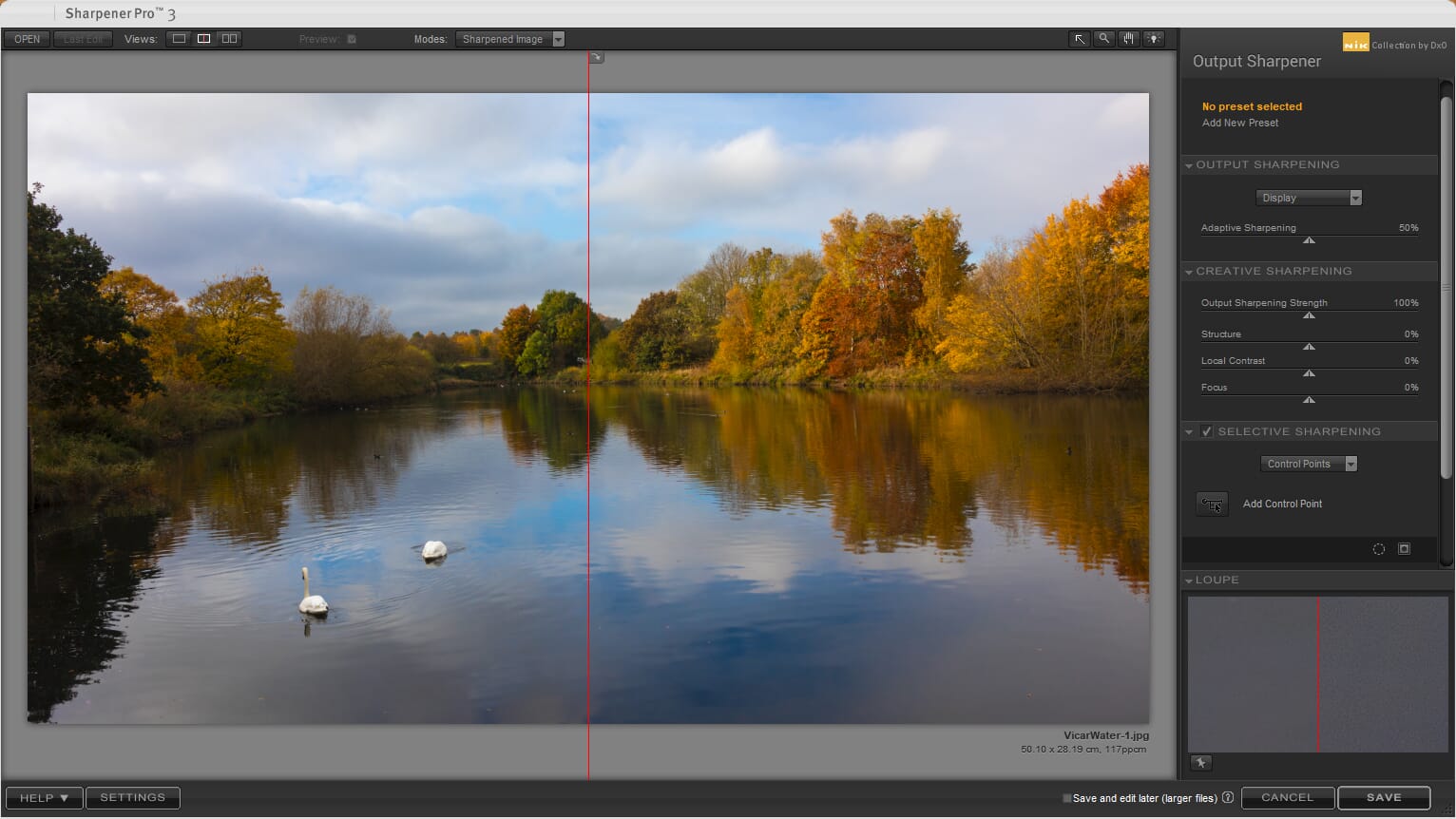 The results are generally excellent and you can customize the sharpening filters, too. For example, you can change the sharpening strength, local contrast, and focus. We also like that you can sharpen for different mediums. For example, you can sharpen for a monitor display or for inkjet printing paper.
Silver Efex Pro 3
Silver Efex Pro 3 is a brilliant program/plugin for those who specialize in black and white photography. Like the other Nik Collection programs, Silver Efex Pro 3 enables you to create B&W shots via a large collection of presets or with custom parameters.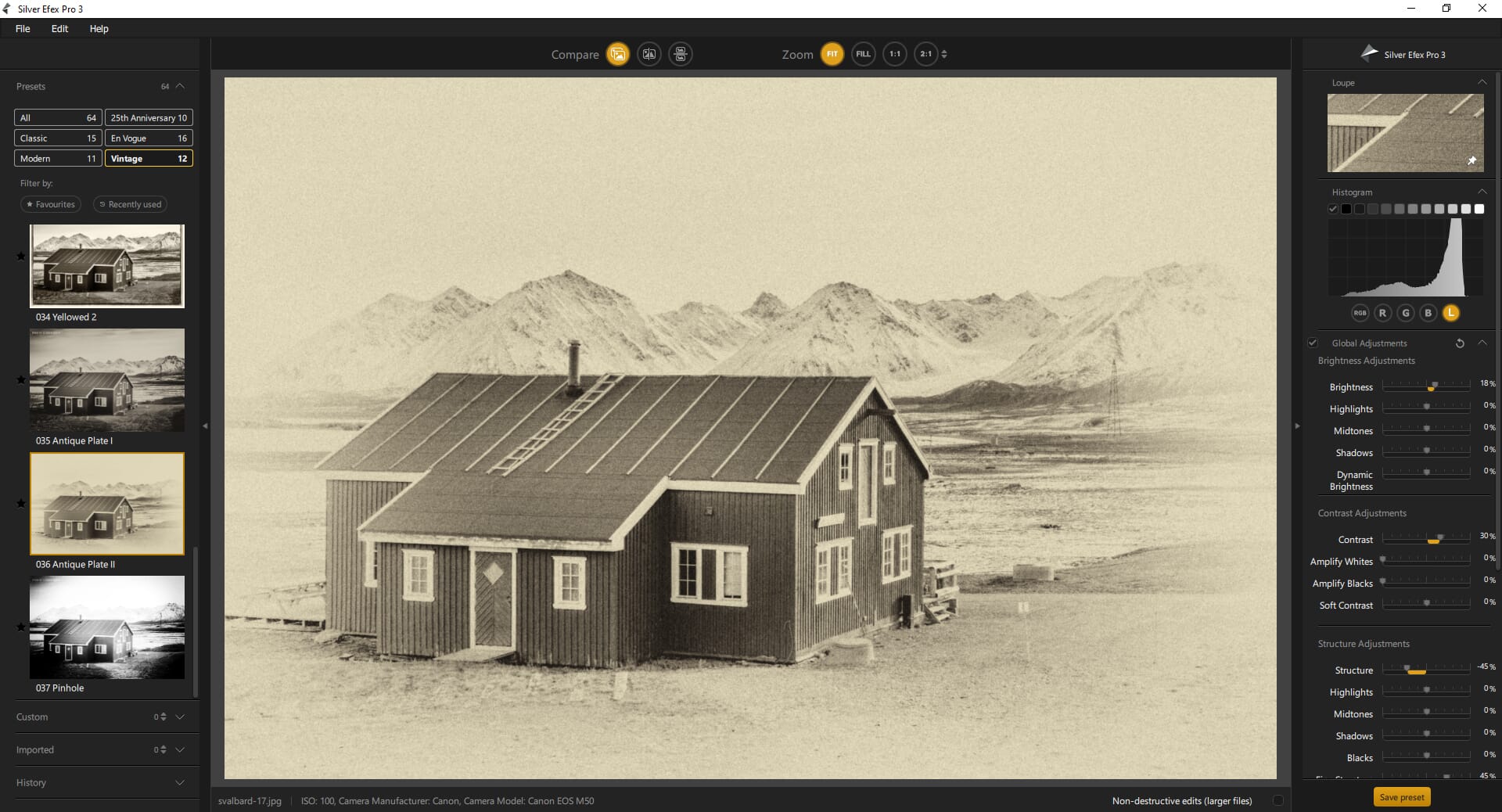 The presets in this program are particularly fascinating and range from sleek, modern B&W conversions to retro selenium conversions like the one seen below, which make the subject of your photo look like it's from another period.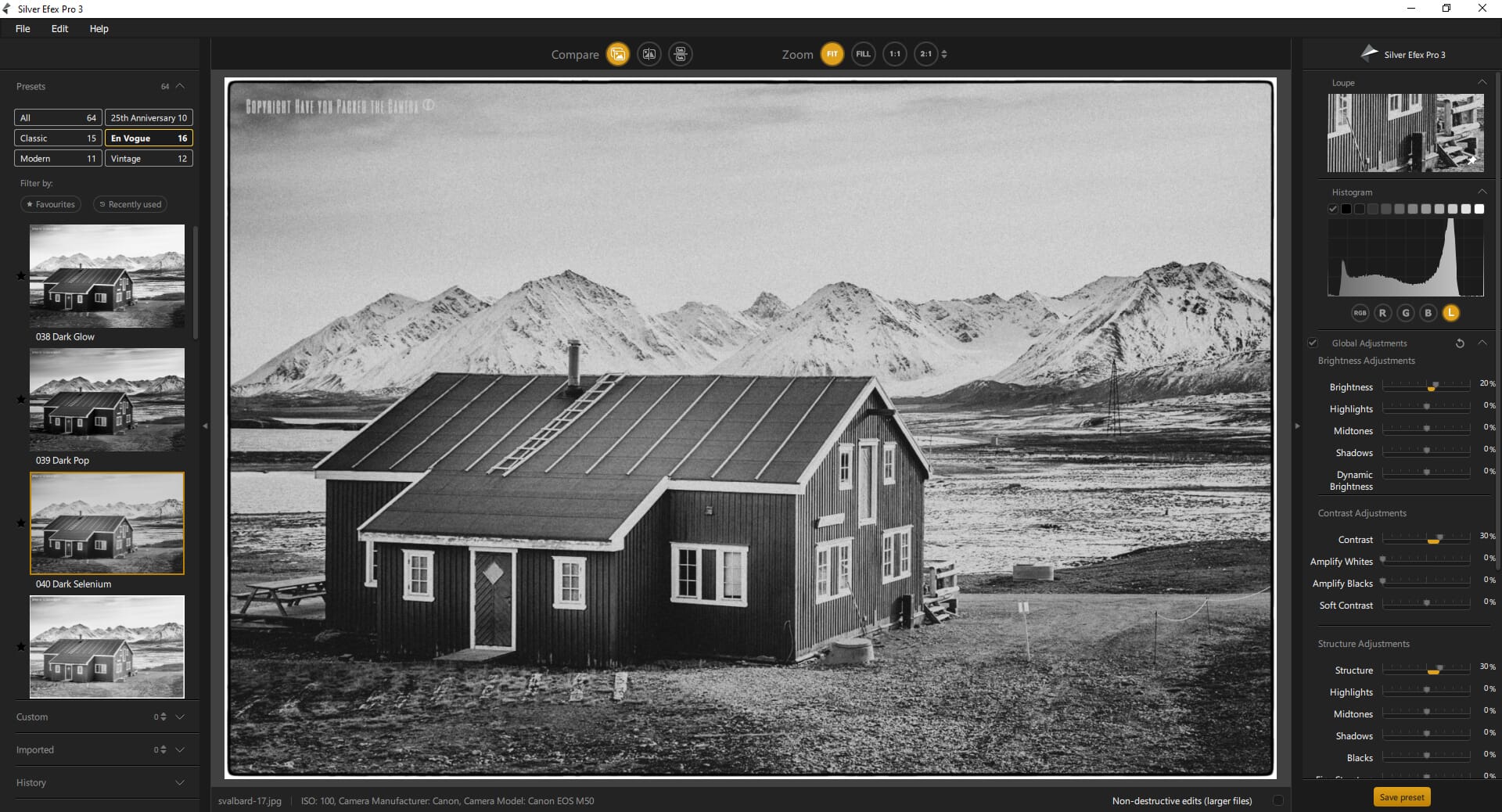 The software is easy to use, although it does have a large number of tools in the right-hand toolbar. This is necessary to give you full control over the B&W creation process. For example, when working in Silver Efex Pro 3, you can adjust the brightness, highlights, contrast, and structure of your photos.
As with the other programs, we would like to see an improvement in the program speed. However, Silver Efex Pro 3 does benefit from a modernized interface that looks better than Color Efex Pro 2, for example.
Viveza 3
The last program in the Nik Collection 4 is Viveza 3. This is a specialist tool that deals with color and tone and allows you to make quick local adjustments using control points. The control points tool is incredibly useful; simply choose a control point on part of your photo, then change various parameters to affect only that area.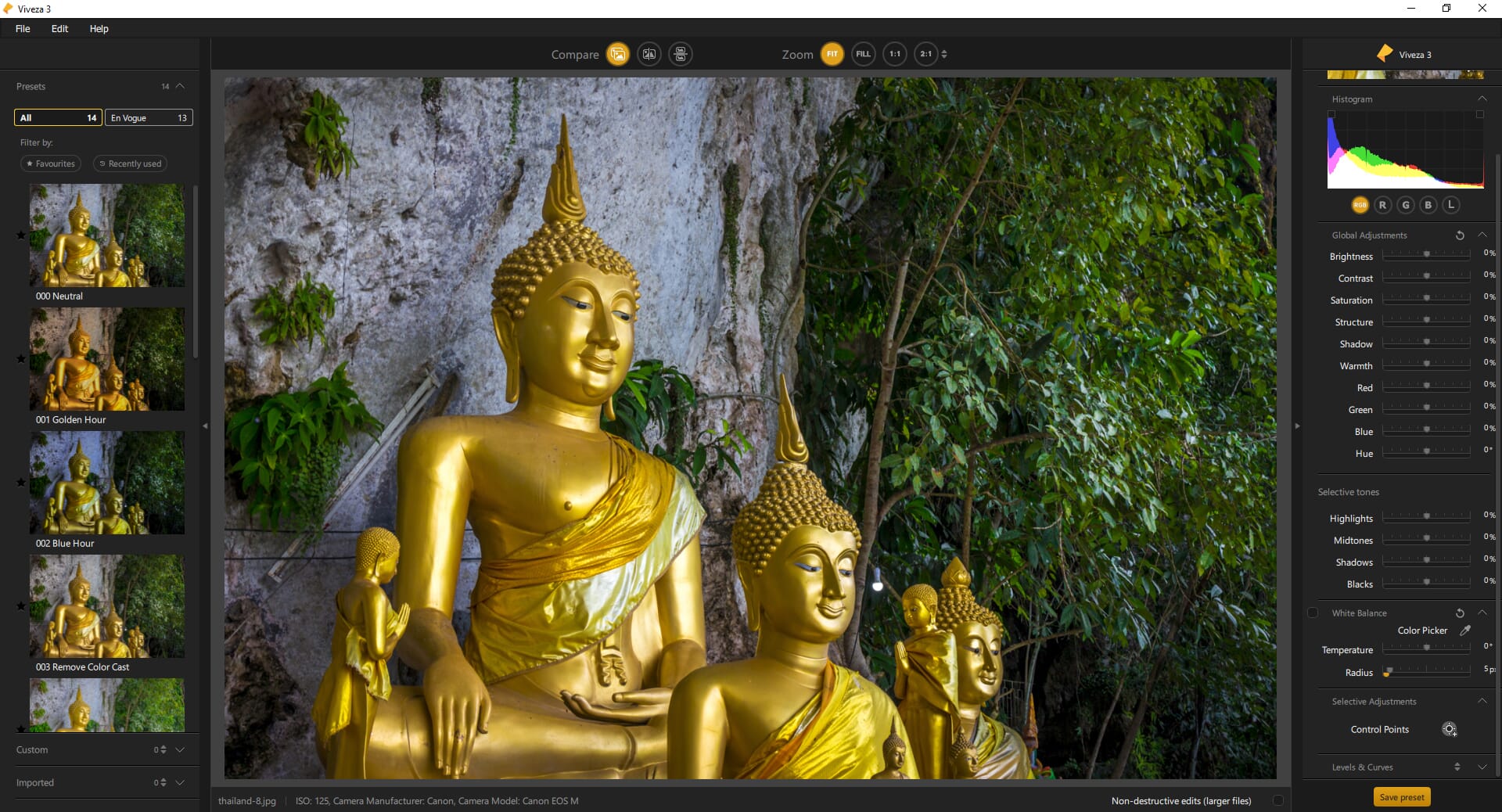 You can also make global adjustments to the color, including brightness, warmth, and RGB color balance. And you can adjust the highlights, midtones, and shadows of your photos.
Viveza 3 feels like a mini photo editor that concentrates on color. It also has a range of presets available, although there are fewer offered here than in other Nik Collection 4 programs.
Pricing
Like other DxO products, Nik Collection 4 is available for a one-off purchase price. Current owners of the previous Nik Collection 3 can also enjoy a reduced one-off upgrade price. The current prices are listed below:
Nik Collection 4 (Upgrade): $69
Nik Collection 4 (Buy New): $135
Nik Creative Bundle: $250
Please note that these are standard prices and that DxO often provides discounts on their products. The Nik Creative Bundle package could be something to consider; it contains the entire Nik Collection 4 along with DxO PureRAW, DxO's dedicated RAW editing software.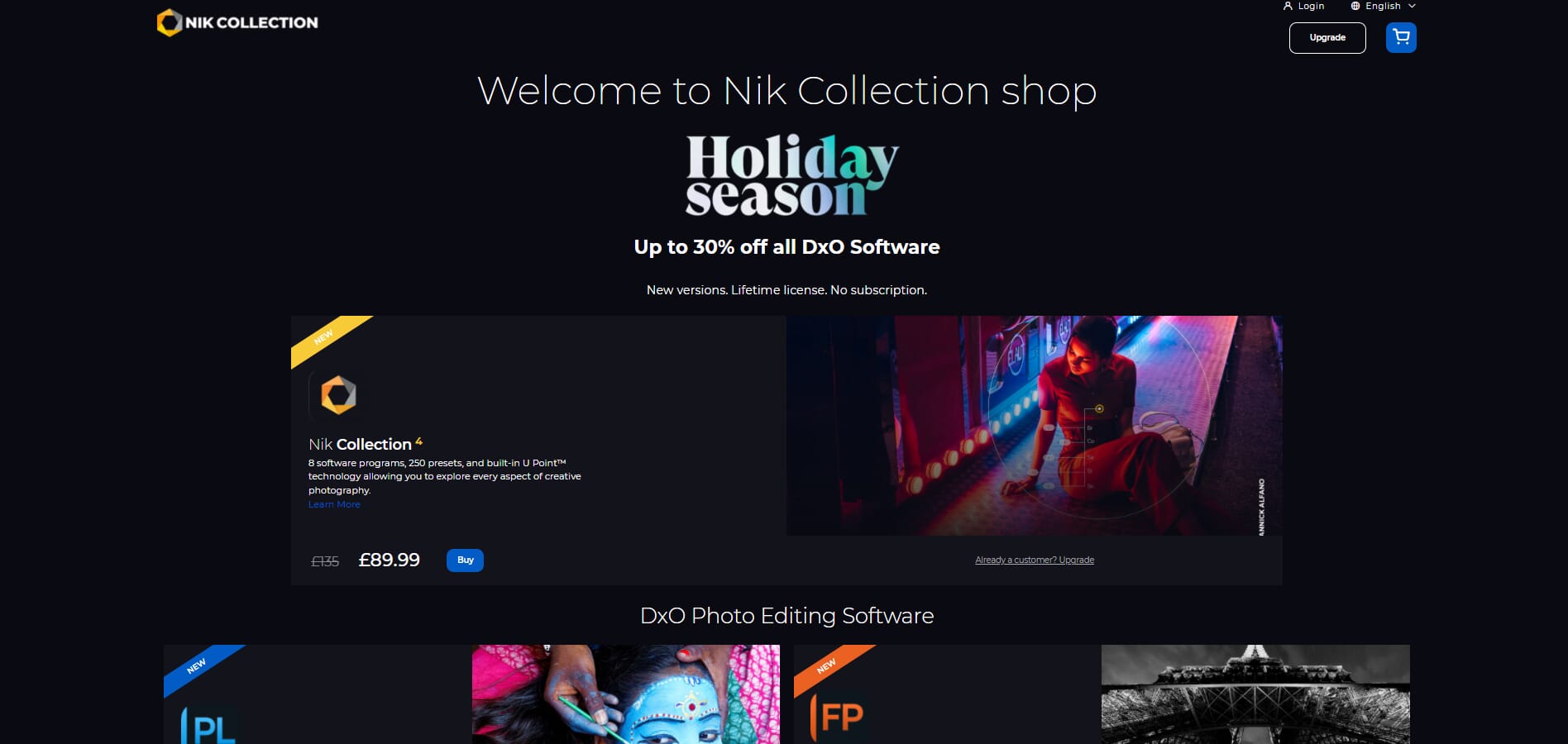 To some, the cost of Nik Collection 4 may seem expensive. After all, who would pay $135 for a series of plugins? But this is not entirely accurate. For a one-off cost, you get eight full programs, each of which can be used as a standalone offering or as a plugin. Put another way, each program costs $16.88, which doesn't sound as bad!
Plus, while many of the features and tools of Nik Collection 4 are available in other editing programs, the Nik Collection offers far more detail and depth. We feel that the collection is reasonably priced, but as you will see in our conclusion, the price may not be warranted for everyone.
Performance
The Nik Collection's performance certainly isn't perfect, and we feel that it's one area this software could improve.
The standalone programs have some processing issues, particularly when applying presets and filters to images. For example, we noticed a sizable delay when applying simple Color Efex Pro 2 presets to our photos. This was a recurring theme for each of the programs.
Note that the system requirements are a little higher compared to other software:
Windows Recommended System Requirements
Processor: Intel Core-i7 or AMD Ryzen or better
Memory: 16 GB
Graphics: NVIDIA GTX 1060 or AMD Radeon RX 5500 or better
Storage Space: 6 GB
Mac Recommended System Requirements
Processor: Intel Core-i7 or Apple Silicon or better
Memory: 16 GB
Graphics: AMD Radeon Pro 580X or better
Storage Space: 6 GB
This could contribute to the slower performance we experienced. However, we did test the programs on a computer with 24 GB of memory and an Intel Core-i5 processor. The plugins perform much better and generally work well when used within programs such as Lightroom and Photoshop.
Is Nik Collection 4 Right for You?
DXO Nik Collection 4 Review
Usability

Performance

Quality of Tools

Price
Nik Collection 4
Nik Collection 4 provides a diverse set of easy-to-use editing tools for analog effects, perspective correction, denoising, and more.
Pros
Programs are easy to use
Plenty of cool effects
A simple way to level up your images
Can be used as standalone programs or plugins
We hope you have benefited from this Nik Collection 4 review. If you already own Nik Collection 3 and use it regularly, there is no reason not to upgrade to the new version. The upgrade cost is reasonable, and most of the programs have been refined and improved.
For new users, you must consider your goals. How would you use Nik Collection 4? If you are a casual user or a photography hobbyist, the one-off purchase cost may not be warranted. Many of the tools and features available in Nik Collection 4 are available in other comprehensive post-processing editors – not to the same degree, of course, but for casual users and hobbyists, an all-in-one photo editor is likely the better option.
However, if you are a professional photographer or digital marketer, Nik Collection 4 is certainly a worthwhile option. You could use the different Nik Collection 4 programs to greatly boost the quality, creativity, and scope of your photography. Moreover, if you specialize in particular types of photography like black and white or low-light shots, the Nik Collection is again a great addition.
Nik Collection 4 FAQs
Can I use Nik collection 4 as a standalone product?
Yes! Each of the programs can be opened and used individually.
Do I need Photoshop or Lightroom to use the Nik Collection?
No! Nik Collection 4 is available as plugins for Photoshop and Lightroom, though it can also be used as standalone software.
Which other software works with Nik Collection 4?
Nik Collection is also available as a plugin for DxO PhotoLab 5 and Capture One.
What's the difference between Nik Collection 4 and DxO PhotoLab 5?
DxO PhotoLab 5 is a complete file management and photo editing program, while Nik Collection 4 is a set of creative software and presets to go past your average editing program.