Looking to brighten up a room in your house or show off some of your favorite photographs at their best?
ElephantStock's brand of canvas photographic prints may have just what you need.
We've reviewed a number of canvases in the past from services like CanvasChamp and Canvaspop, but ElephantStock's business model differs a bit from other personalized print-on-demand services, making it an option some photographers may never even consider.
But how do their prints hold up when compared to the competition?
We'll be looking in-depth at the canvas provider and art vendor to see if they're worth your purchase.
When you buy through links on our site, we may earn a commission at no cost to you. We evaluate products independently. Commissions do not affect our evaluations.
Elephant Stock Review Summary
[wp-review id="26869″]
What Makes ElephantStock Different?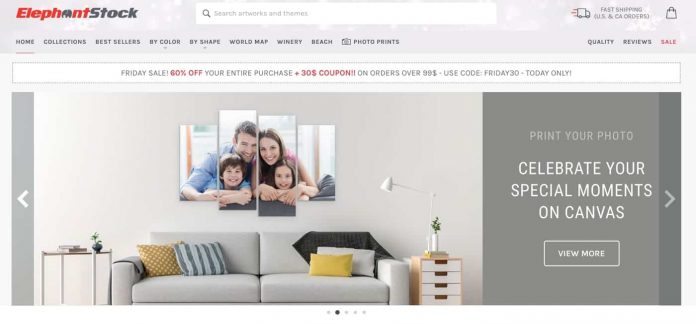 ElephantStock isn't focused on just printing out the photographs of others.
As the owners of a large stock imagery archive, the service offers art à la carte at the click of a button. Housing collections of classical art paintings, patents, typography, and hundreds of photographs, they have whatever you need to bring a bit of life into space.
They primarily seem to cater to business clients – salons, hotels, offices. However, that doesn't mean that their products can't be shown on gallery walls or the corridors of a home.
ElephantStock: from Divided Panels to Panoramic Scenes
Aside from standard canvases, the service also specializes in divided panel prints. Individual images may be divided into as many as five separate pieces. They also offer unconventional sizes well suited for panoramic scenes.
But, unlike other canvas providers that we've covered in the past, ElephantStock only offers canvases. They aren't in the business of making paper prints or customized photo gifts. Instead, they focus all of their energy on canvas production.
When I first logged on, I was immediately greeted with a collection of thousands of positive customer reviews claiming exceptional service. This often draws a bit of skepticism out of me. However, I was curious to see if ElephantStock held its end product to a higher standard considering its corporate clientele. So, I put my hesitations aside and began to review the site's options.
Related Post: iCanvas Review
From Shopping Cart to Doorstep
For this particular review, I opted away from preselected stock images and fancy displays. Instead, I opted for two personal photographs, one for myself and one for a close friend of mine. I chose both color and black and white images as well, to see if one particularly out-shined the other.
One of the first observations I made concerning ElephantStock was the range in sizes they had available. Their tiniest pieces are just 9″ x 6″, which is smaller than the average sheet of printer paper. On the other end of the spectrum, images can be as large as 48″ x 32″.
ElephantStock Pricing
This time around, I went big, ordering a 30″ x 20″ and a 42″ x 28″ piece respectively. Initially, I was a little intimidated by the base prices, which were a little steep. However, the site always seems to have some sort of seasonal deal or sale going on. As a result, I was able to snag my large photographs for just over $200.
Strings of sales often make me suspicious. I sometimes find myself wondering why the seller feels the need to discount their product and proceed with caution. I worry that there's some sort of catch beneath the surface. That being said, my fears were quelled shortly after I placed my order.
🙌 We got a special coupon code for our readers 😉 👉 Use Code "PhotoWorkout20" at checkout for 20% off!
Fast and Personal Customer Care
Within a day or so of sending off my images, I received an email from a customer service representative named Trisha. It wasn't a copy-and-pasted, automated message. Instead, it was a personalized, polite notice informing me that the ElephantStock print team was concerned that the resolution of the JPEGs I initially sent over wouldn't yield the best possible results.
So, I worked through the issue with the very attentive and patient team behind the scenes and sent a few higher-res TIFF files. Don't get me wrong – I'm certain that every photo print service has had to struggle with its fair share of too-small JPEGs.
However, ElephantStock's willingness to slow down their workflow to ensure my satisfaction stood out to me.
From that small interaction, I knew that I would receive something I could really be proud to hang in my home.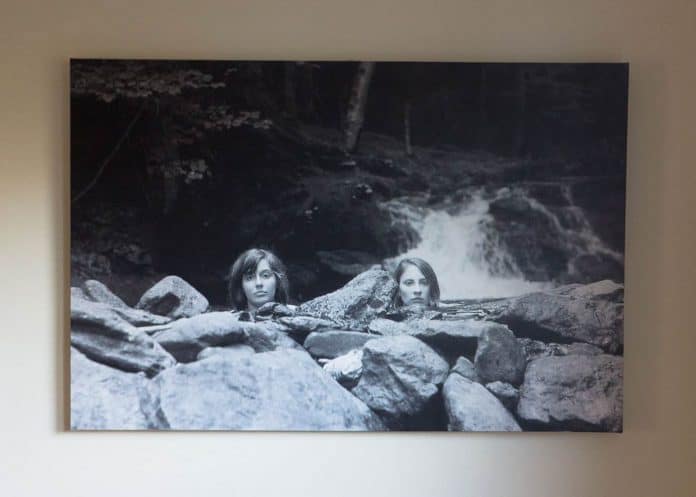 Traveling from New York to Massachusetts, my order was shipped to my front day within a couple of days of sorting out the print issues that I was experiencing. The sheer size of my order didn't seem to slow down the process at all. The ElephantStock website boasts quick shipping throughout the US and Canada. Based on my experience, I'd say that there's a lot of truth to their claim.
My only gripe about my shopping experience? The web preview didn't adjust to reflect just how large these canvases actually are. As I immediately realized, their larger pieces are commanding – should you opt to purchase one, be prepared to welcome a canvas that commands attention (no matter where it winds up).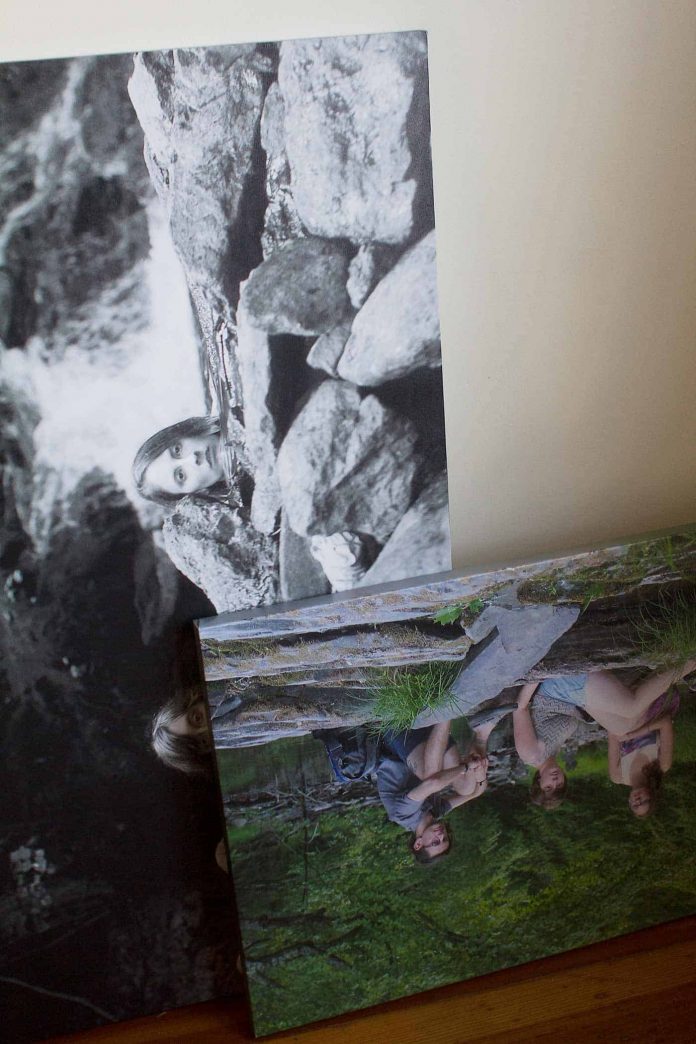 What I Received
Speedy delivery aside, the real treat turned out to be the prints themselves. The quality I got was well worth the price that I paid. While other sites use frequent sales and low prices to justify subpar craftsmanship, a canvas initially priced at $500 by ElephantStock is going to look like a $500 canvas.
When I opened the cardboard packaging, I was thrilled. Both color and black and white test prints looked stunning.
Nothing was overly, and the tones and colors matched the digital samples I received via email. The woven material my photograph was printed on was taught on the frame and retained the details of my original images while adding an element of texture.
The construction was careful and neat – the canvas was folded neatly over the wood, complete with even edges and a complete lack of fraying. As an added bonus, they even preinstalled saw tooth hangers!
So, once I did find the right spot in my apartment to place my order, it took a matter of minutes to install the seemingly intimidating canvas.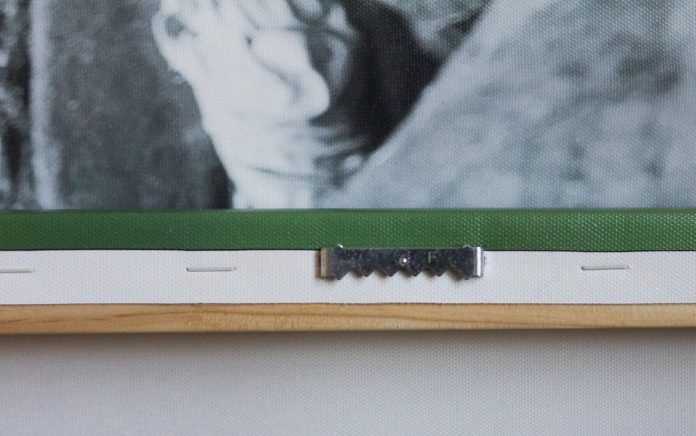 Final Thoughts
Numerous photographers are fiercely loyal to mainstream brands when it comes to equipment, software, and accessories. I'm guilty of headed straight to B&H or Amazon to meet my needs over the mom-and-pop camera shop a few towns over. However, I found that ElephantStock was worth taking a leap of faith.
It isn't specifically geared toward photographers. Some holier-than-thou individuals may cringe at the idea of working with a stock image provider. But, as the old saying goes, it isn't correct to judge a book by its cover.
ElephantStock provides extremely satisfying results for a fair price.
Best of all, they're a company run by real people, devoted to getting your image to look as good as possible. Whether you're looking to give a meaningful gift or impress a client, this unlikely print company should be one of the first you look to fulfill your canvas needs.