It's no secret that large canvas prints can make or break a space. So often, our images are relegated to iPhone archives and LCD screens barely measuring 3 inches. Therefore, when a photo is allowed the freedom to spread out, it naturally attracts attention.
What many people do not realize is that not every image is made for large print. What's more, producing a large canvas print takes a greater degree of technical expertise. Even if you aren't the one working the machine, there are steps you can take ahead of time to ensure a more polished end product.
You may have a photograph in mind that would shine in large format. However, aesthetics alone do not make a great print. Our checklist covers all of the basics necessary for a piece that stuns rather than shuns viewers.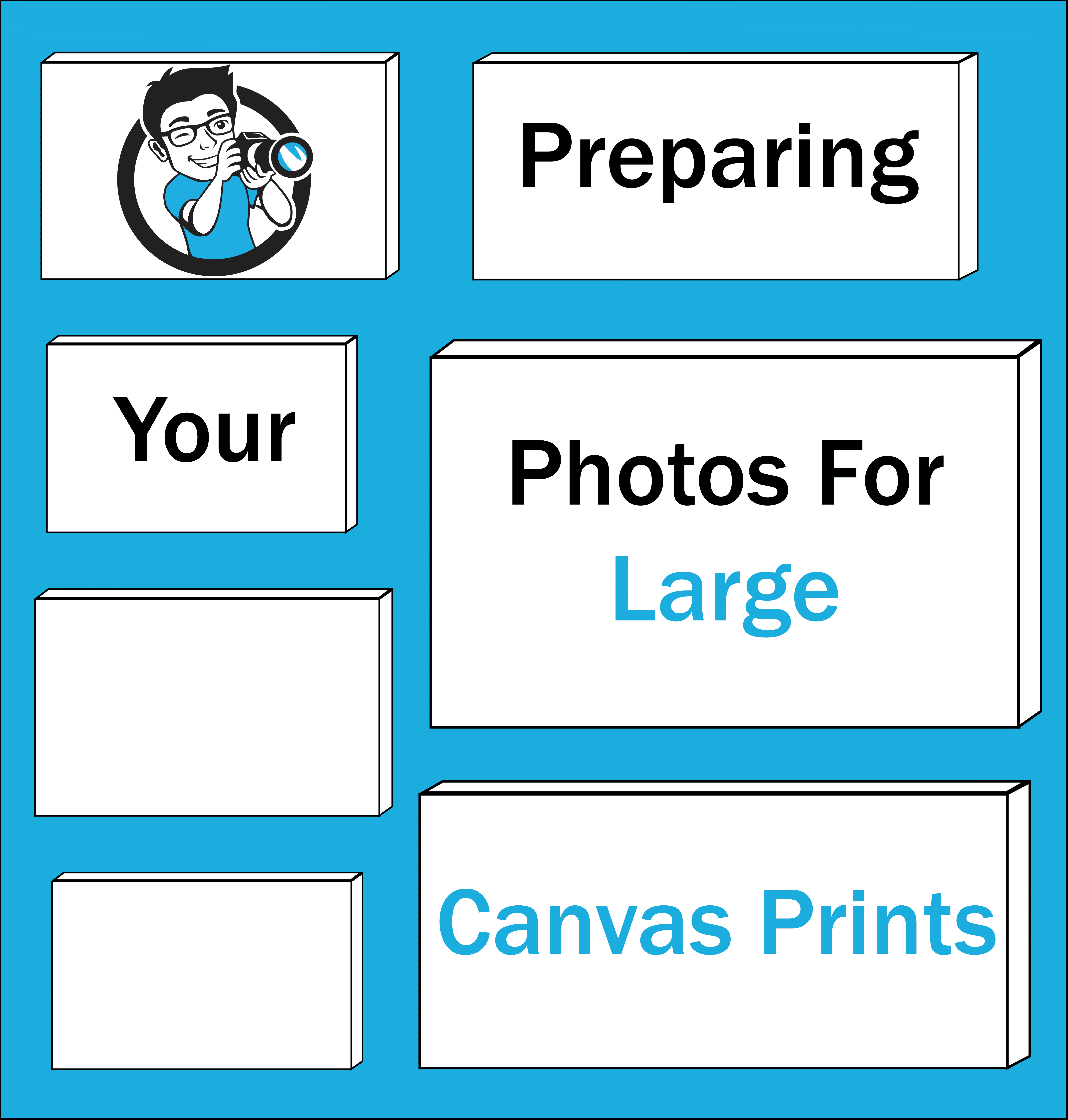 Step 1: Pick a Printer
If you're a PhotoWorkout frequenter, you've likely come across one of our on-demand canvas print reviews. Over time, we've found that there isn't one single option that has an edge over the others. Rather, each has its own sets of pros and cons to weigh.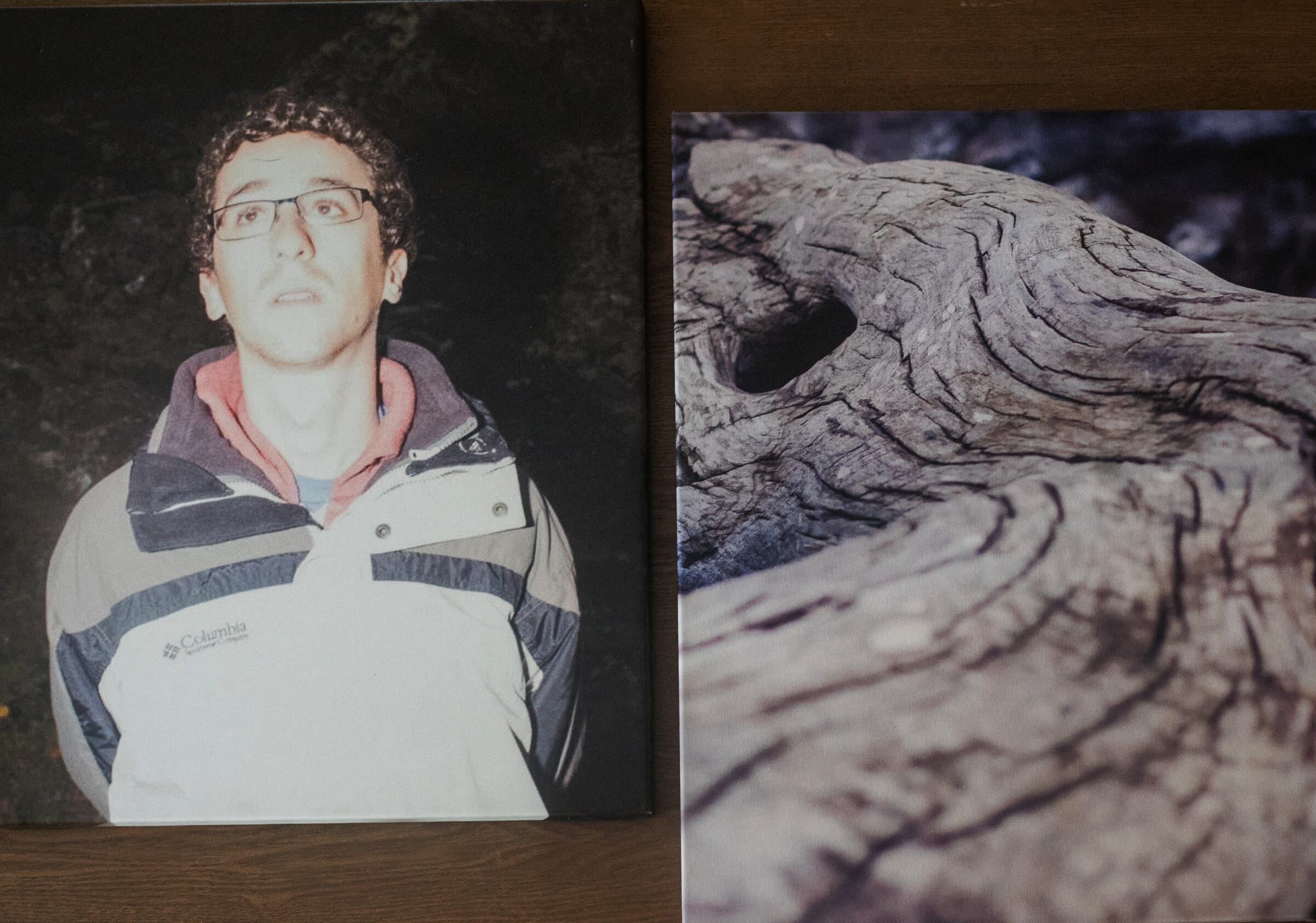 Whether you value a bargain price, flexible styling, or something else entirely, there's a service out there that's right for you. A few of our favorites include:
There are dozens of online vendors to choose from but don't limit your search there. Especially if you're located near a city, you may have local print shops equipped to produce large canvas prints. Smaller vendors are capable of maintaining more intimate relationships with customers. As a result, you may have a greater say in the outcome of your final product.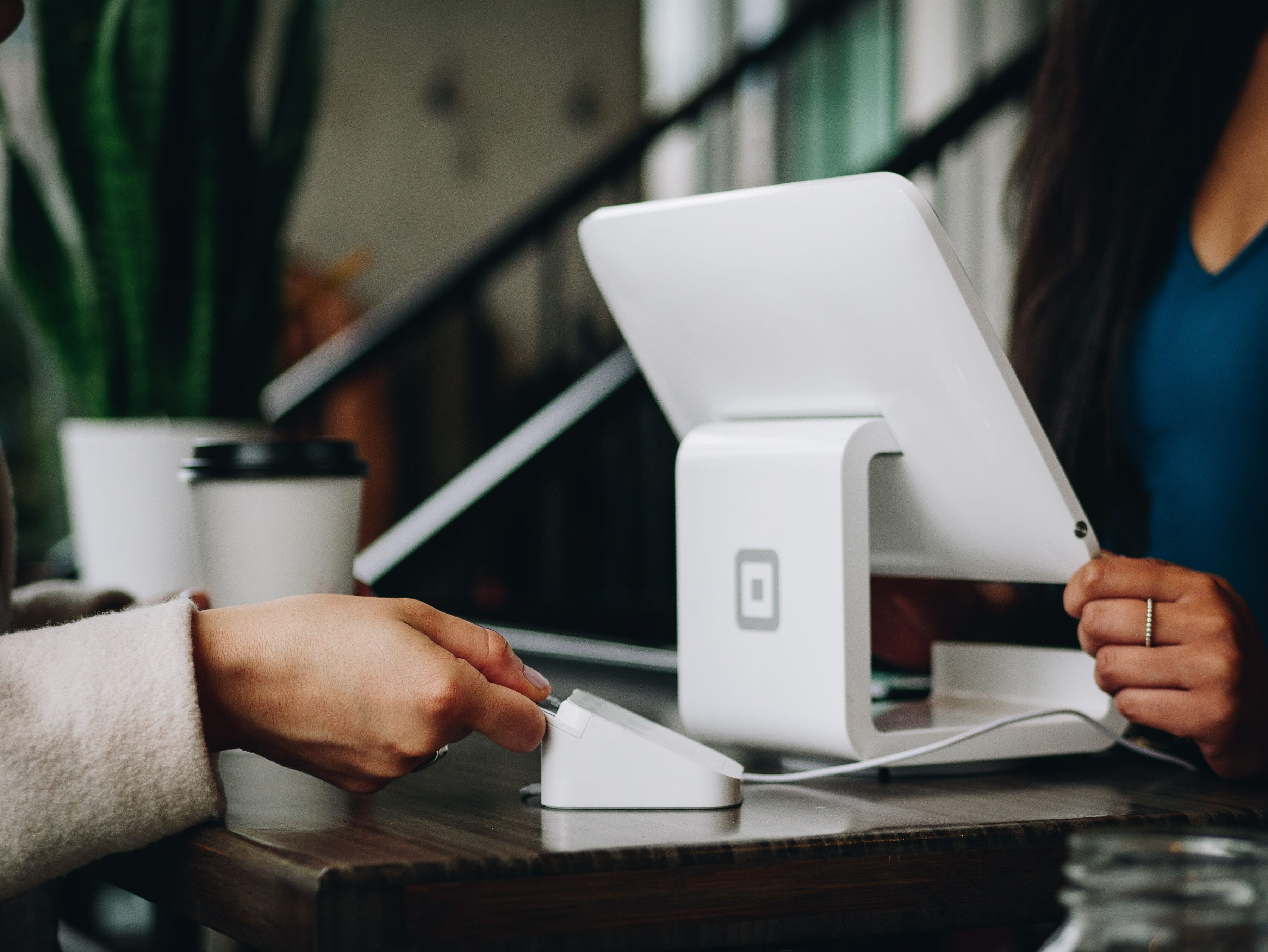 Step 2: Choose a Size
This step can be a deceptively tricky one. You may know from the get-go that you want your image to be printed big. But how big is big enough?
Coming up with the answer involves a serious look at your photographic file, your space, and your budget. All of these factors can restrict how far you can take your image.
Firstly, you have to make sure that the file you're using is fit for a large print canvas. Our cameras only capture so much data with each image. If you stretch out the sides too far, you may find that there's not enough information to keep the print crystal-clear.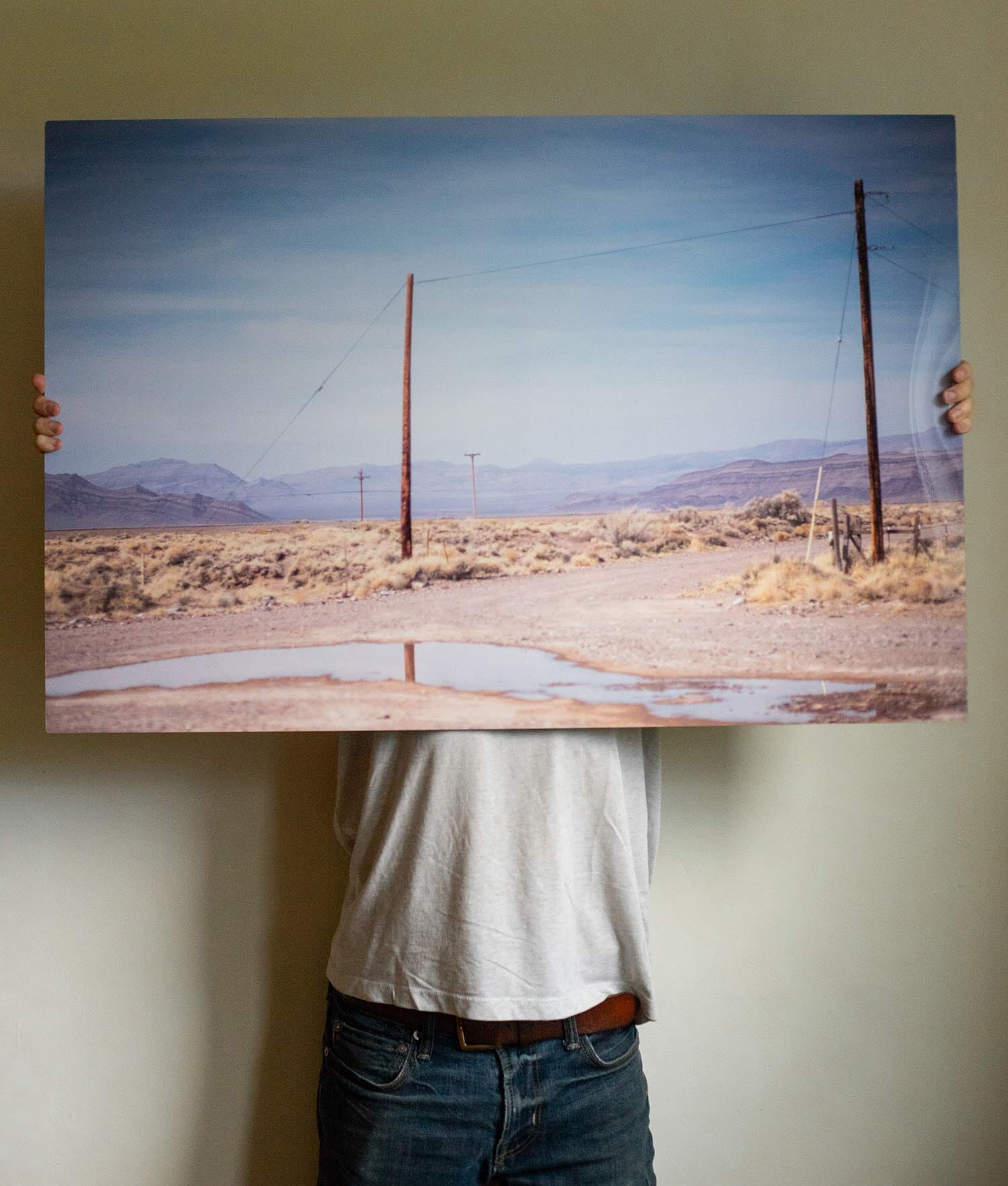 You should also take time to consider where your large canvas print will eventually hang. How much space do you have to work with? Measure out the area and try to choose a canvas size that's properly proportioned to your wall.
Lastly, larger sizes mean more materials are necessary. The more ink and fabric your piece uses up, the higher the cost will be. Though prices vary between vendors, it's common for prices to quickly climb with even the smallest size increases.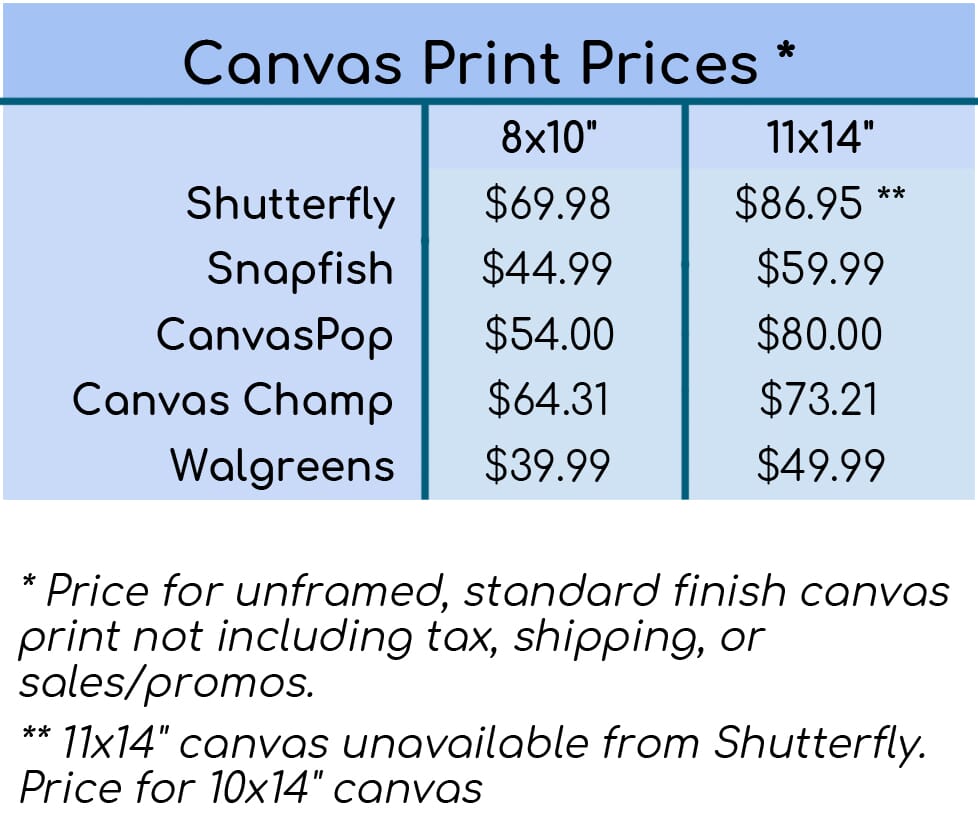 Keep in mind that many of the more mainstream print providers won't print at every size. While you should be fine if you stick to a standard aspect ratio, you may have to readjust if your original image is sized unusually.
Step 3: Adjust Dimensions and Resolution
It may seem intuitive, but it's important to take the time to resize your file and make sure it's properly formatted for a large canvas print.
If you decide that you're going to print at 24×24 inches, you'll save a step if you take the time to crop down to a square aspect ratio. Programs like Adobe Photoshop will even allow you to resize down to the exact inch.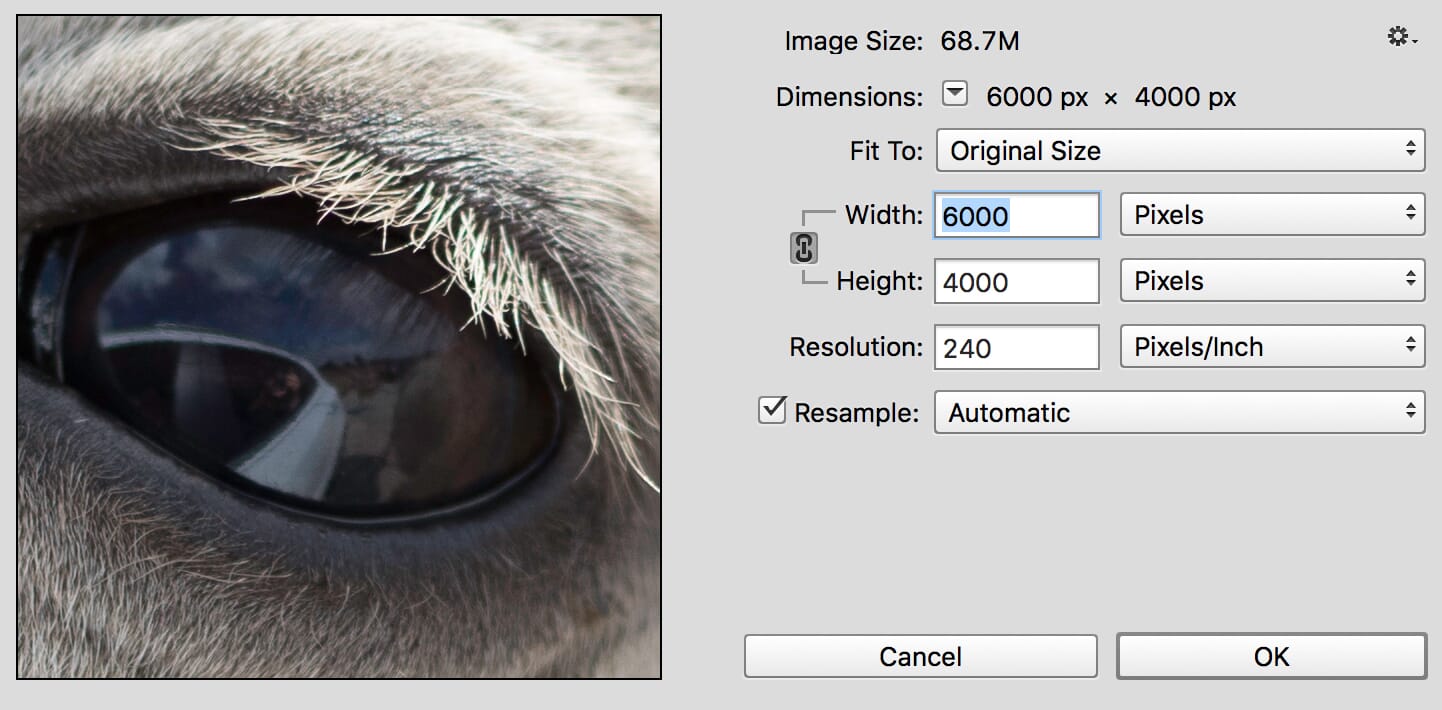 Prep shouldn't stop short at changing up the size. You'll also need to make sure that you're working at an adequate resolution for printing. Resolution is essential in maintaining an image's clarity and detail.
As a general rule of thumb, you should aim to print images at or above 300 DPI, or dots per inch. In a pinch, you can get away with less, but once DPI dips below 150 DPI, you'll start to see some distortion. When pixel density is stretched thin, whatever program you're working with will attempt to "fill in the blanks", producing a less crisp end product.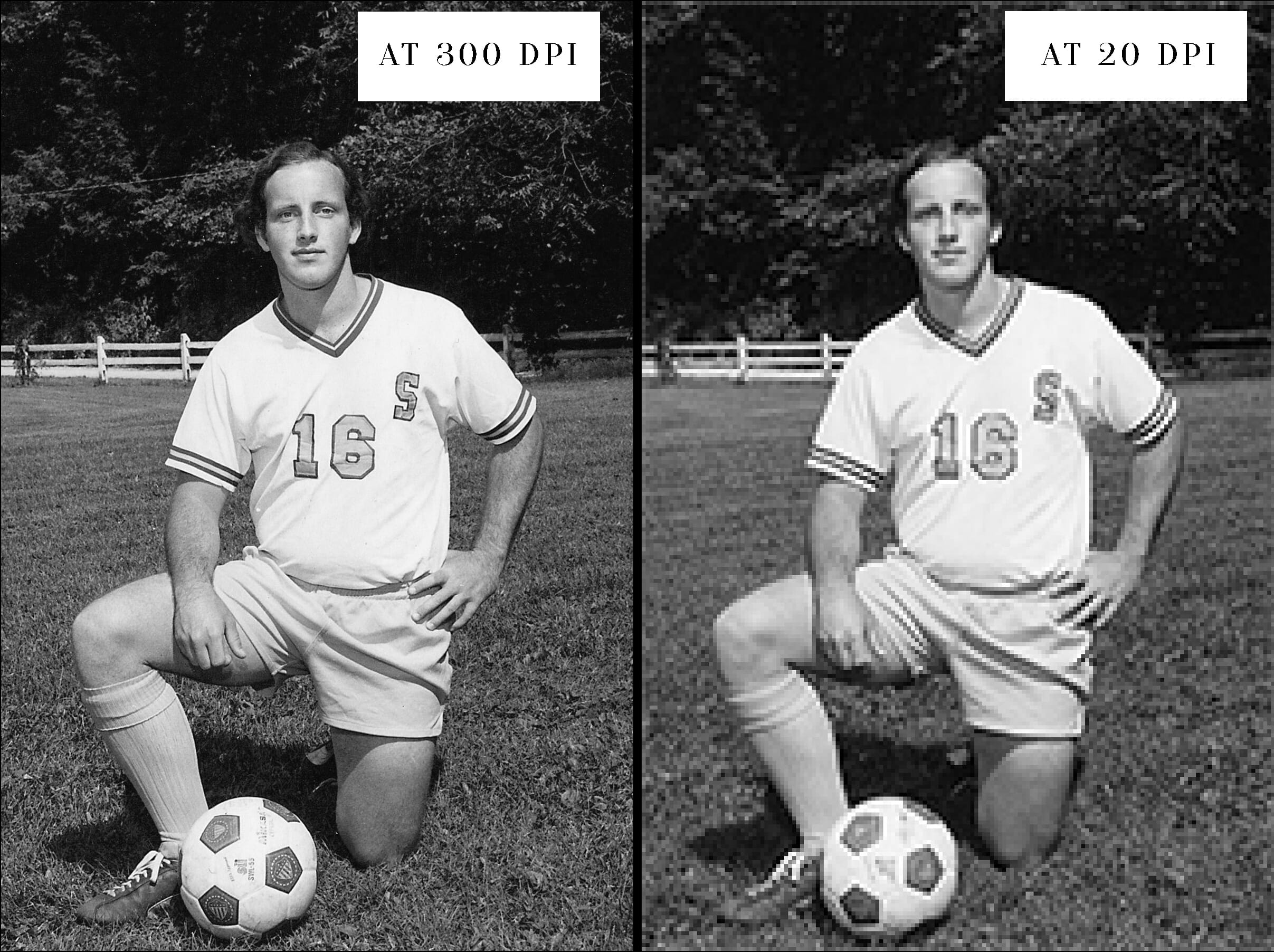 Especially if you're working with images made with a mobile phone or an older camera, your file just may not be fit for a large canvas print. If the photograph doesn't look good on screen, you can be sure that it won't look good out of the printer.
Step 4: Convert to the Correct File Format
Not all file formats are created equally. Beginners may be surprised to learn that some types of files fare better at the printer than others.
Ideally, we'd be able to send our original RAW files directly to print without any fuss. However, the average printer isn't built to recognize the huge array of uncompressed proprietary RAW file formats out there. The next best option is often a TIFF file, which utilizes lossless compression to maintain image clarity.
While file format may not matter much for smaller prints, it's important to preserve as much detail as you can when printing at larger sizes. If you're working with a true-blue professional printer, they'll likely want a TIFF file to work with.
Unfortunately, TIFF files are so large that they can be difficult to transfer. If you work with an online vendor, you may just have to send a JPEG and hope for the best. Luckily, our last step may be able to prevent mishaps at print before they even occur.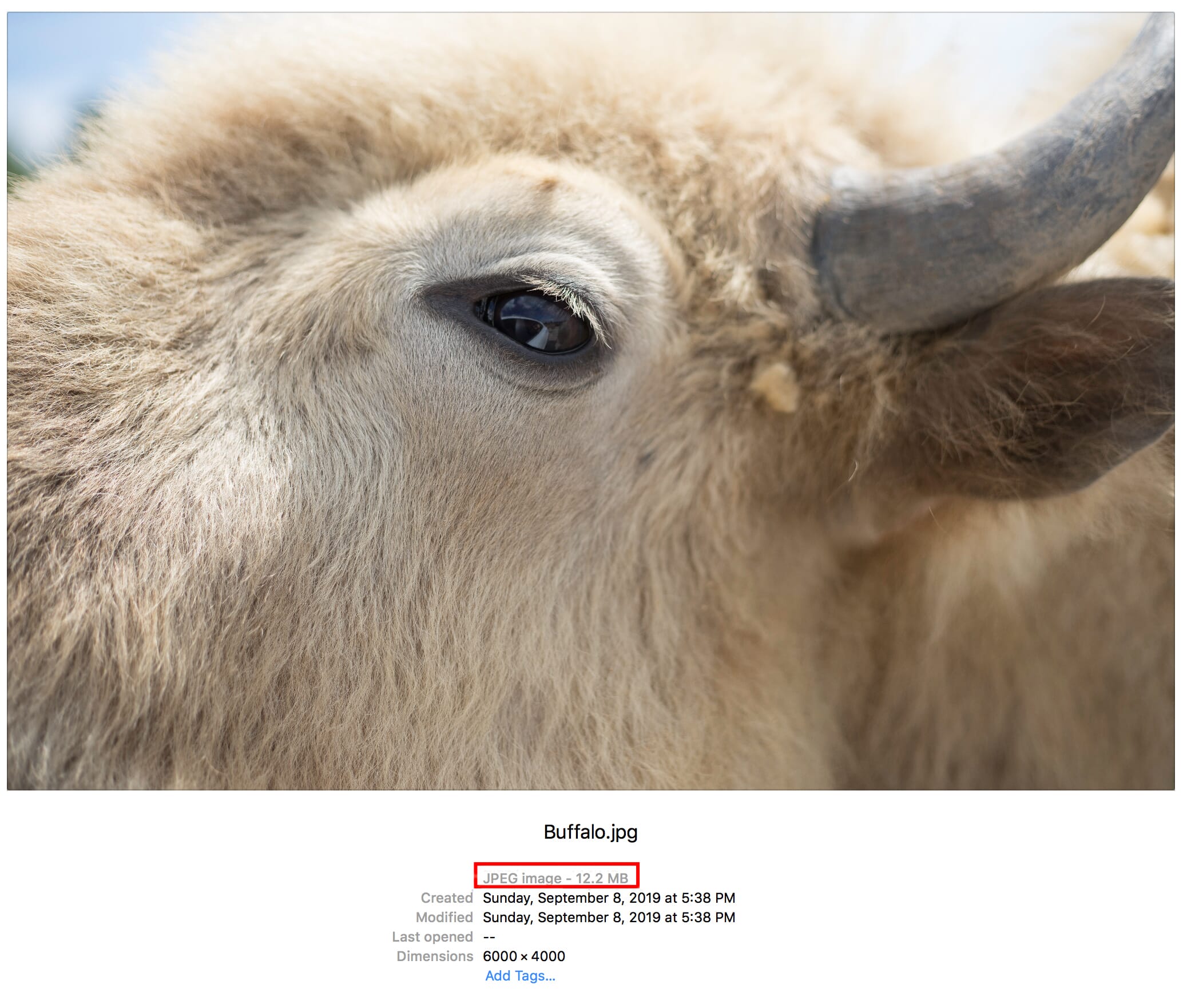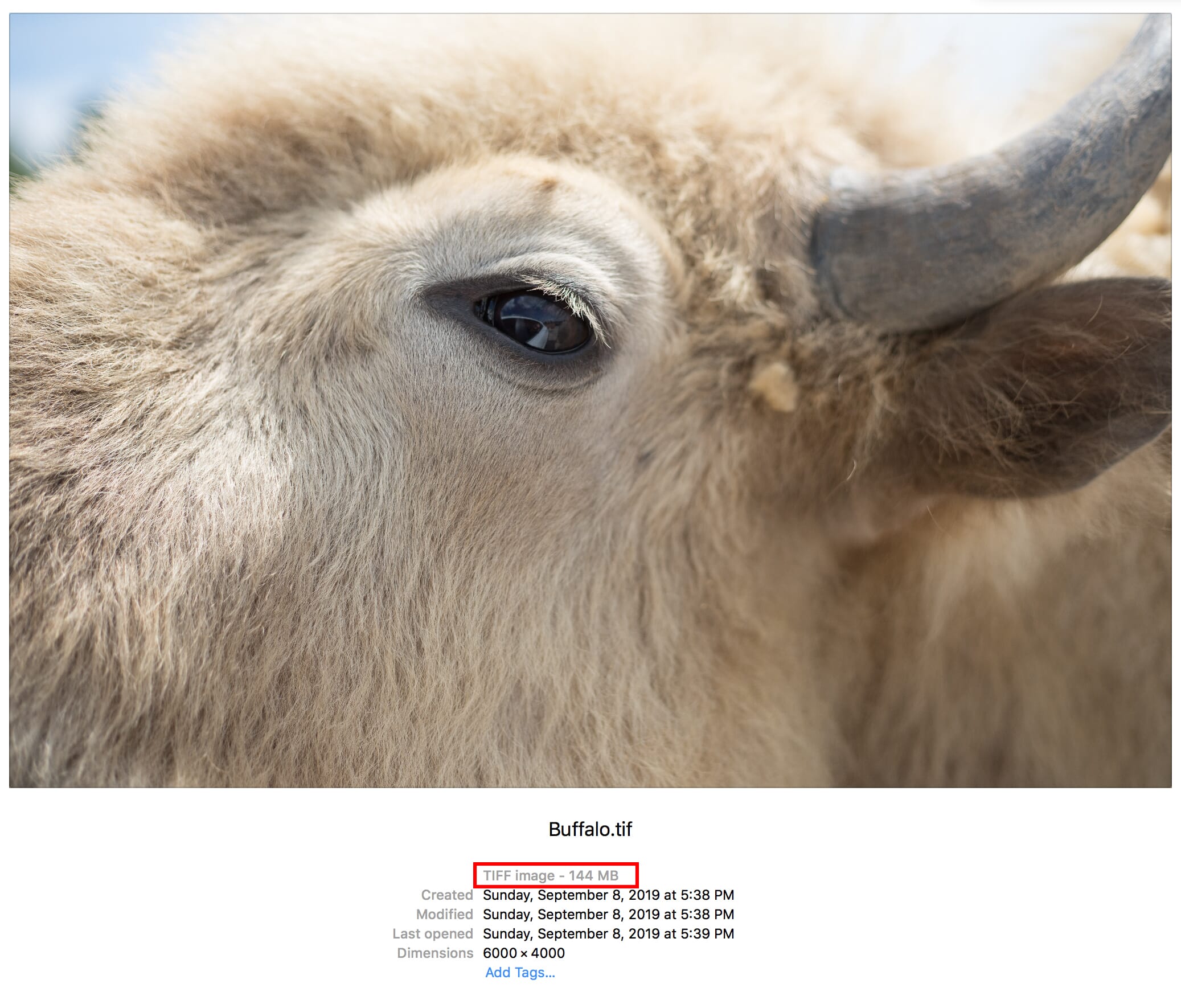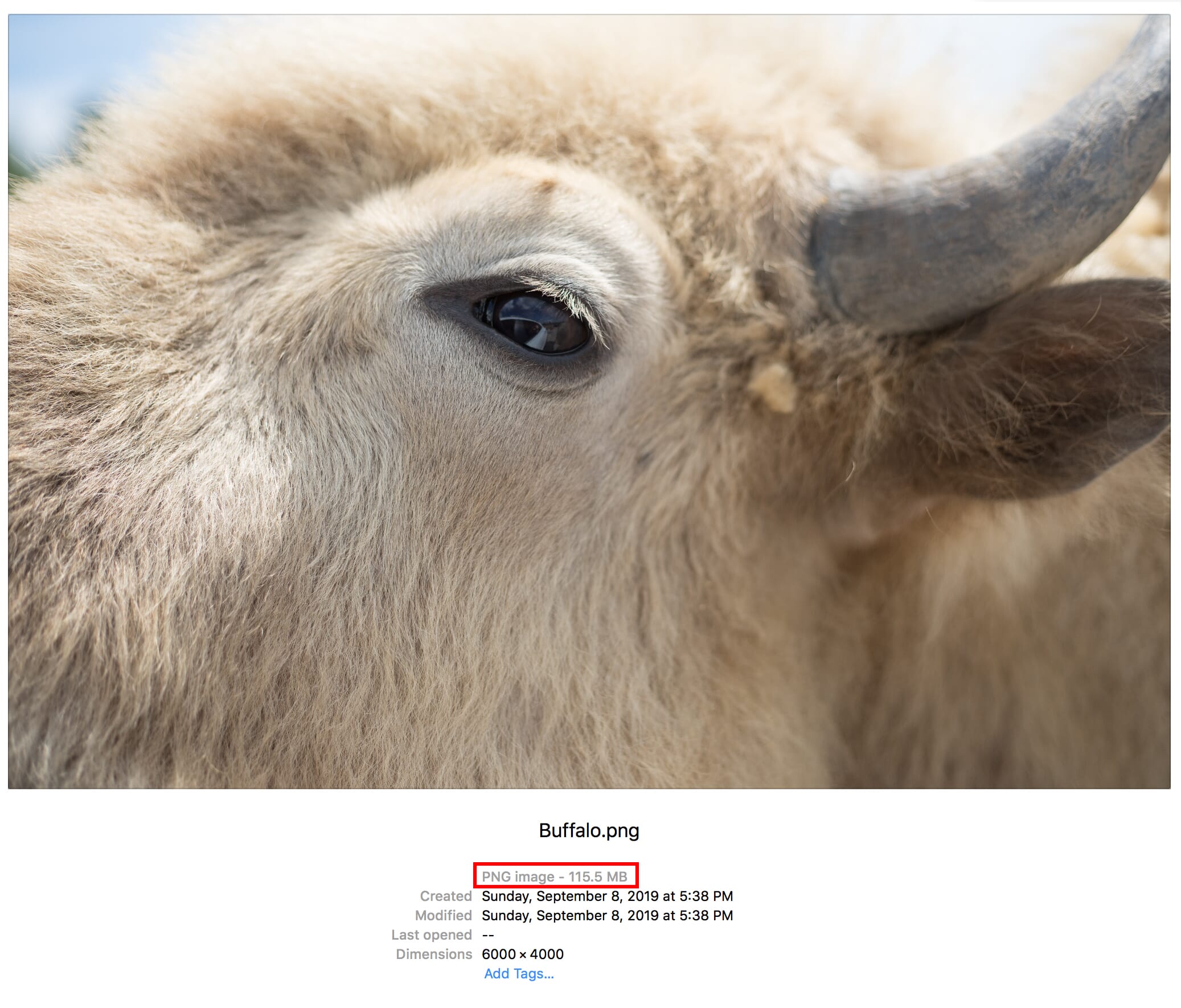 Step 5: Request a Proof
When trusting your print to an outside source, you don't necessarily have to leave the end result entirely up to fate. Small shops and online retailers often offer customers the option to view a proof of their image before going through with the final print.
If you are given the opportunity to look over a proof, take it without hesitation. This is your chance to get a sneak peek at your final product, and more importantly, identify and address any potential problem areas.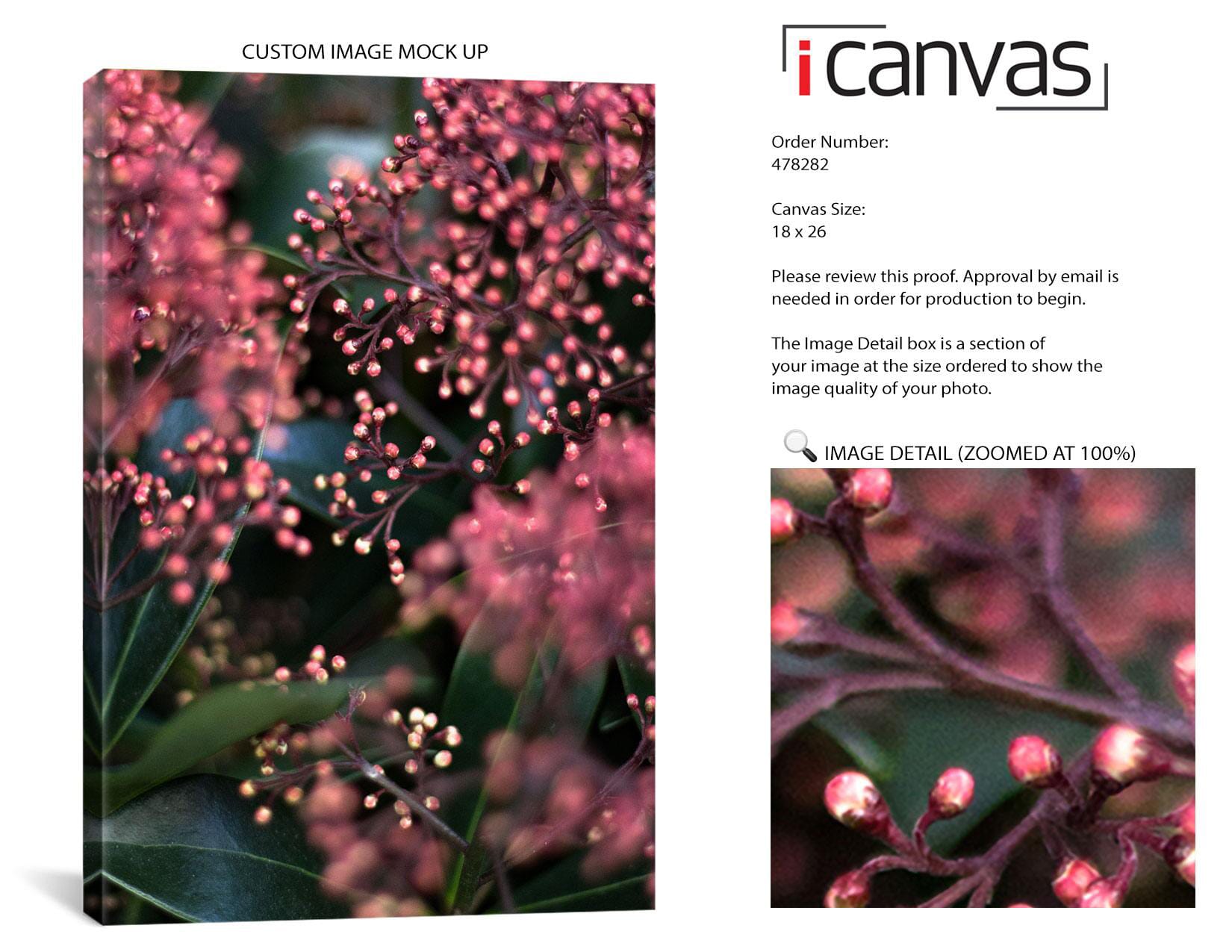 For all parties involved, it's easiest if you bring up concerns regarding your large canvas print before the labor goes into making it. There's nothing worse than anxiously awaiting an epic print and being unhappy with the end result. Taking this simple step can significantly reduce the chances that you'll walk away disappointed.
Don't Be Afraid to Go Big!
Making your first large canvas print can be intimidating. Entrusting your file to someone else can be even more nerve-racking. However, a little bit of foresight and a few last-minute adjustments can provide real peace of mind.
There are dozens of cooperative printers out there happy to guide you through the process. That being said, you can never be too cautious when it comes to your artwork. We hope that these tips will provide the guidance necessary to start making show-stopping prints of your own!