Update: CanvasPop Photo Magnets have been discontinued.
CanvasPop is now focusing on these for types of products only: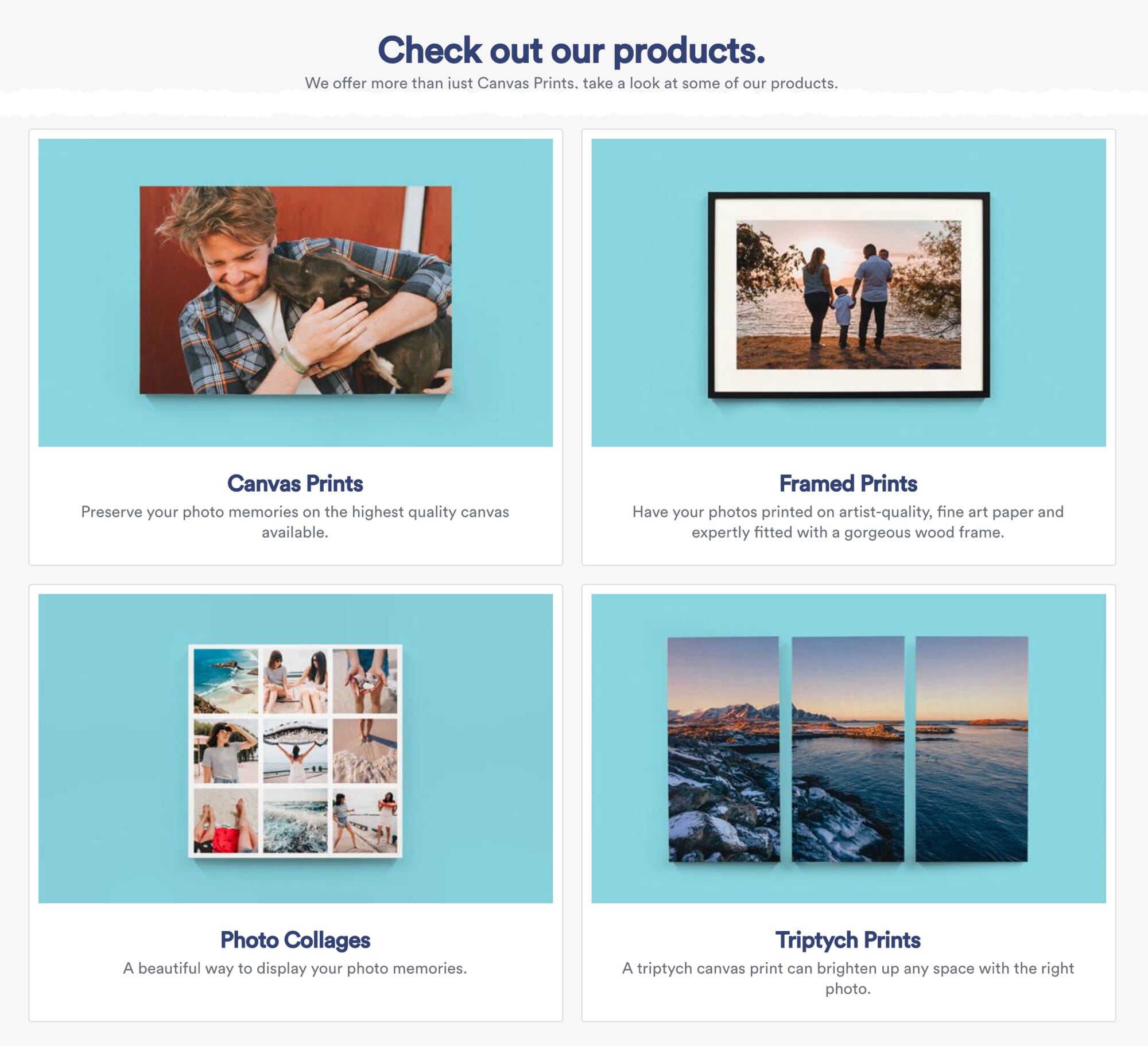 Photo Magnets by CanvasPop
Don't be fooled by the company's name – CanvasPop goes above and beyond to provide custom photo gifts of all sorts to customers around the world. As its moniker implies, the online print shop specializes in producing traditional canvas prints. So, it's somewhat surprising to learn that photo magnets reign as one of the site's most popular products.
All magnets come in sets of nine. Each measures 2×2 inches. And, for a flat fee of $30 per set, they can be yours. To some, this may initially seem like a steep price to pay. However, a quick look at the competition reveals that CanvasPop boasts one of the best bargains around. For instance, Shutterfly charges $14.99 for a set of four 2×2″ photo magnets, while Snapfish charges $5.49 for a single 2×3″ magnet.
Get 45% Off at CanvasPop with the Coupon "PHOTOWORKOUT"
I've been an avid photographer in my professional and personal life for years now. Ironically, I actually have very few of my own personal touches on display in the apartment I'm renting. Presented with a simple and creative way to show off some of my favorite snapshots, I hopped at the opportunity to see what CanvasPop's photo magnets had to offer.
Related Post: CanvasPop Review (Amazing 5/5 Canvas Print Experience)
Online Ordering Experience
The first step to order, of course, was to build my magnets online through the CanvasPop website. From the get-go, I found that navigating the site was a breeze. Equipped with clean and intuitive UI, it was easy to sift through the site's projects and find exactly what I needed.
Related Post: CanvasPop Custom Throw Pillows Review (a Great Experience)
The actual act of creating the magnets couldn't have been more simple. Presented with a grid, users are prompted to upload nine individual image files. Once they've been selected, they're all ready to hit the printer – no further adjustments necessary. Just be sure to add any necessary edits before uploading photographs, as the site lacks any sort of internal editor to make last-minute tonal or color corrections. On this particular occasion, I opted to order two separate magnet sets to compare and contrast. In total, both sets combined took less than 5 minutes to create and perfect.
The site automatically adds any order to a shopping cart. From there, customers plug in payment/shipping information and wait for their gift to arrive.
As far as ordering through CanvasPop goes, my only gripe is that it takes the company a considerable chunk of time to actually print and assemble the magnets. About a week and a half elapsed between placing my order and receiving my order. Luckily, I wasn't in a hurry, so the wait wasn't problematic. However, I would recommend that anyone working with a tight schedule spend the additional $9 fee to expedite the order.
Reviewing Order #1
Recently, I found an old hat box of snapshots sitting in a cabinet while visiting my grandparents. There, I discovered hundreds of photographs that I had never seen before. So, before tucking the box away and heading home, I scanned a few snapshots of my Mémère. Converting the scans into photo magnets seemed to be a great way of bringing these forgotten images new life.
Upon opening my CanvasPop package, my first observation was just how sturdy each small square was. Photo magnets that I'd seen displayed in the past, courtesy of local Walmarts and CVS pharmacies, often seemed flimsy and easily breakable. That was not the case with this set. Instead, my photographs were safe and secure, shielded by a seamless water-resistant coating. Should my magnets become smudged or scuffed with time, they can be cleaned with a damp cloth without there being a risk of damaging the photograph within.
Related Post: Best Canvas Prints Compared (6 Amazing Picks in 2018)
Construction aside, I was also impressed with the quality of the prints themselves. CanvasPop did an impeccable job of recreating the bright, vivid colors that originally attracted me to the paper prints.
Reviewing Order #2
Since the magnets come in sets of nine, I decided to experiment a bit with my second order. Rather than uploading nine separate images, I opted to divide a single image into nine separate magnets to create a grid.
CanvasPop gives its users the option to source photos directly off of Instagram and Facebook. I opted to print using a photo straight off of my iPhone to see just how well a lower resolution JPEG file would hold up.
Upon unwrapping my second order, I was pleased to see that the integrity of my image survived the print process. Prominently featuring my hound dog, Pluto, my magnets were free of pixelation, artifacting, or over-sharpening despite each individual segment being magnified.
Related Post: Best Collage Printing Services (Canvas & Paper, 6 Top Picks)
I wasn't sure exactly how the magnets would fit together, or whether there'd be any borders breaking up the look I was after. Luckily, these slim magnets have a full, wrap-around bleed. I was very satisfied with my first set of nine individual images, but the 2×2″ size made it difficult to see some of the finer details of my photographs.
In contrast, breaking up my magnets essentially created the effect of displaying a 6×6″ image. Had I relegated Pluto to one magnet, I would have lost details in the rocks and moss behind his head. At triple the size, it's easy to see everything that this image has to offer, even from across the room.
Final Verdict
Overall, CanvasPop's photo magnets exceeded my expectations. Sturdy and durable, I feel confident that they'll hold up for years to come. Furthermore, the prints retained vivid color and quality, an achievement worth noting for a company that churns out hundreds of prints per day.
CanvasPop claims to treat every photograph with love. In my experience, I feel that their actions back up that claim. The moment you forward photos, they take over and promise something special in return. Gifting someone with a set of magnets may seem like a small gesture. Nevertheless, the company succeeds in combining sentimental thoughts in a clean, professional looking package.
Get 45% Off at CanvasPop with the Coupon Code "PHOTOWORKOUT"
(Note: This post contains affiliate links and we received a free product for this review.)