Diving into Snapfish Canvas Prints!
Ready to turn your snapshots into something great? Converting a digital file to canvas can be one of the most impressive ways of showing off your favorite photographs. Today, we're specifically taking a look into Snapfish canvas prints.
It's more than likely that you've heard about the Snapfish photo prints, but after 20 years in business, the company has diversified and expanded into providing a plethora of photo products. There's no questioning that Snapfish is a jack of all trades. But are they master of none, or capable of blowing their competition out of the water?
To find the answer, I decided to order something of own. So, I chose an image from a friend's recent engagement shoot and logged on.
Snapfish Canvas Prints Review
Quality of Prints

Size and Frame Options

Ease-of-Use

Delivery Speed

Price
Summary
Apart from the price which is on the higher side compared to some other canvas print companies. Snapfish delivers on their available canvas print options (size/frames), ease-of-use, shipping speed, and most importantly: print quality.
Navigating Snapfish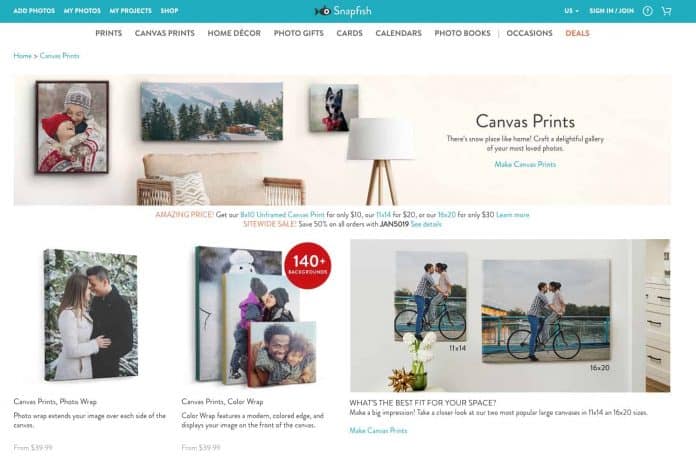 The first step to assessing Snapfish was, of course, submitting my order. I wasn't sure exactly what to expect initially. Knowing that the site hosted a wide variety of print products ahead of time, I was worried about being overwhelmed with options. However, I was instead pleasantly surprised with how easy and intuitive the ordering process was.
Everything is well organized (despite the huge variety of gifts, prints, and books available). It's not at all difficult to browse between products. Once you've chosen a size and orientation for your piece, you're led to a page that allows you to design your final product.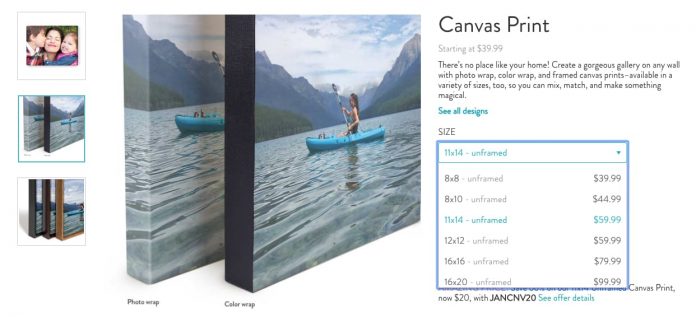 From there, you can experiment with a real-time preview of your canvas. It takes only a few seconds to upload an image (or images!) from your computer or via a social media outlet. At any time in the design process, you may adjust the size of your canvas order as well as the photographic layout.
Custom Color Wraps and More to Customize Your Canvas
Snapfish has the unique ability to include custom color wraps around the edges of a canvas, adding an extra pop of color to any print. Also included are solid black and white wrap options as well as full photo borders. Snapfish also has a library of quirky embellishments and designs to further personalize and highlight your canvas print.
I do have one small gripe concerning Snapfish's design mechanism. Unlike many canvas providers, Snapfish doesn't have any internal photo editing in place. So, if the shot you chose has even the slightest imperfection, you'll have to bring it into a third party program to edit and re-upload.
Related Post: CavnasWorld Review
Snapfish Canvas Prints Pricing & Coupons
As far as pricing goes, Snapfish canvas prints are moderate to high. However, thanks to frequent sales and coupons Snapfish often ends up less expensive competitors.
So, despite a few minor oversights, my initial impression of Snapfish was a good one.
Did the Final Snapfish Product Live up to My Expectations?
How Does the Canvas Stack Up?
The moment I opened up my package, I was pleased. Through my research, I'd come across mixed reviews concerning the Snapfish brand. While I realize that just about every large company receives its fair share of criticism, there was still a little concern on my end about what would be arriving in the mail.
A neat, vibrant piece ready to hang greeted me at the door.
My 16×20″ shipped within four days of placing my order, and my canvas arrived in less than a week. A neat, vibrant piece ready to hang greeted me at the door.
Having ordered canvases from several different canvas companies in the past, I'll admit that Snapfish sent over one of the nicest pieces yet.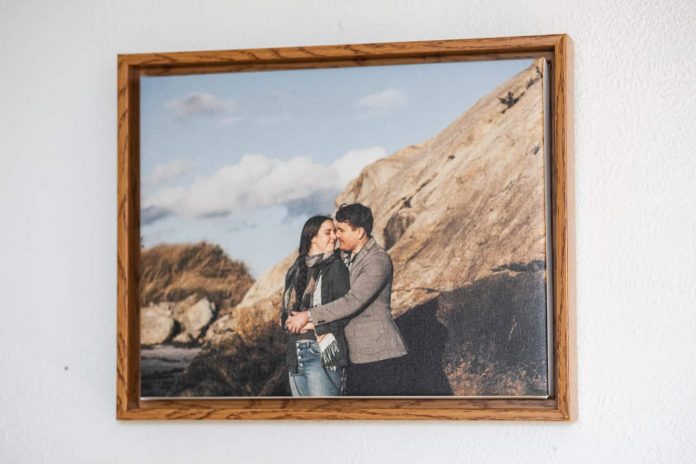 Excellent Image Quality and Free of Color Casts
The rich tones and colors remained relatively true to the file I submitted. The contrast and saturation may have been bumped up just a tad, but not distractingly so. More importantly, it was free of any distracting color casts.
See also: CanvasPop Review
The canvas also retained excellent image quality. I sometimes find that the finer details on canvas prints have a tendency to become muddled because of the woven nature of the canvas.
However, the blend that Snapfish used managed to stay nearly as clear as a canvas print would be. At the same time, the texture of the canvas managed to shine through without becoming a distraction.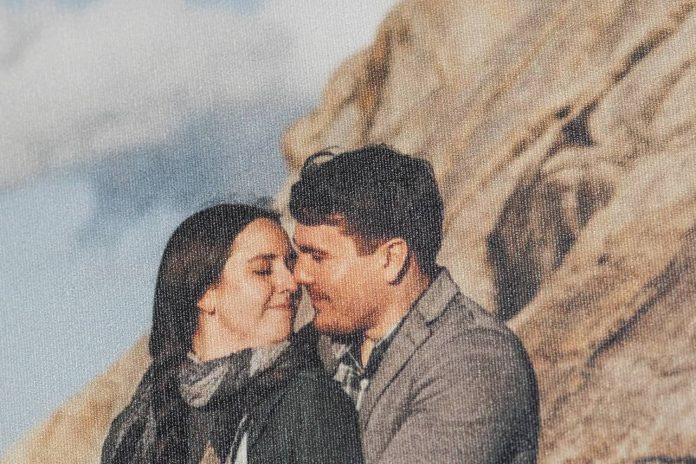 Overall, everything looked professionally performed and carefully considered. There were no sloppy mistakes in the mount job. In short, it's a piece that I'll proudly be able to gift to my friends.
Framing Things a bit Differently
I believe that one of the factors that put this print a step above others that I've received is the frame job that came with it. This was my first time ordering a framed canvas print.
However, I was able to make my purchase at a severe holiday discount, so I figured that I'd give it a shot.
Obviously, everyone will have an opinion of their own on this topic, but I feel that the addition of the frame really tied the piece together. Some of the canvases I've ordered from competitors have felt a bit rushed, but that didn't seem to be the case in this situation.
Related Post: Canvas Champ Review
The presence of the frame helped mask any possible wrapping mistakes while simultaneously giving the entire piece a more refined look.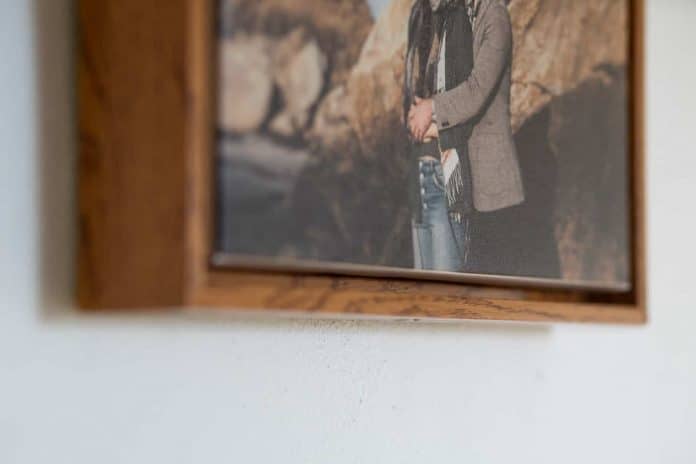 Pre-Installed Oak Frame
Other than elevating the look of my canvas print, the sturdy and smooth oak frame came with a few additional benefits.
Firstly, it provides a little bit of extra support that I believe will ultimately extend the life of the canvas.
Secondly (and perhaps more significantly) it comes pre-installed with appropriate hanging materials. That nixes the need to fiddle with wires or saw-toothed brackets.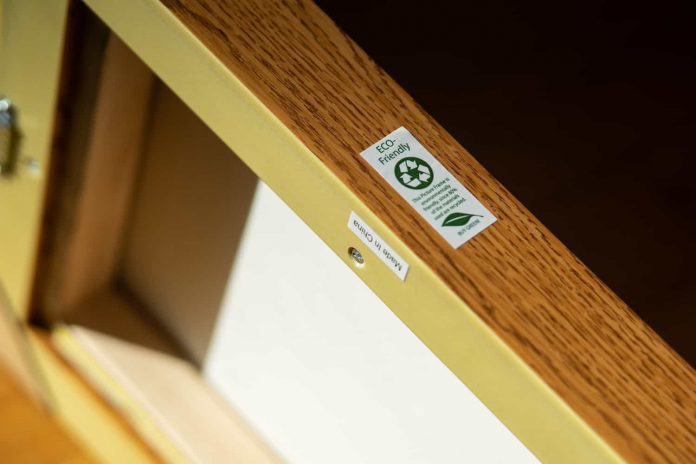 As an added bonus, every Snapfish frame is made from eco-friendly recycled materials!
Keep in mind that the addition of a frame will tack on an additional $20 dollars to your canvas order. However, the look alone makes the addition worth every penny.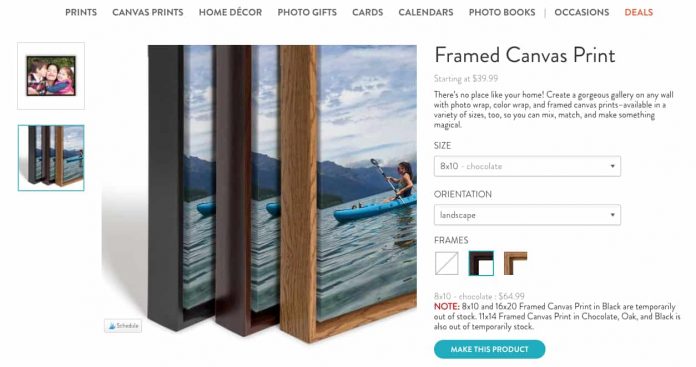 Our Take on Snapfish Canvas Prints
This canvas may be a little pricey, but it definitely delivers a bang for its buck.
Going into this review, I underestimated Snapfish. Being a larger corporation, I was skeptical about their ability to put the proper amount of attention and care into my order. So, it's my great pleasure to admit that I was wrong. This canvas may be a little pricey, but it definitely delivers a bang for its buck.
The interface isn't perfect. But the product presented is more than worth the hiccups. Whether you're purchasing something to spruce up your own house or getting a gift for a friend, this is a canvas that you can be proud of.