What are Softboxes?
Before we can start lighting with softboxes, we need to know what they are and what they can do our images.
Being a natural light photographer there was once a time when I thought that natural light is all the light that I was ever going to need to shoot great images. When I look back at my naïve self, I have a wry smile on my face.
Though natural light is abundant and is wonderful to shoot with, you cannot always rely on it. You need an artificial source of light just so that you can extend your working time. Sometimes you need an artificial light source so that you can complement the natural light source. With artificial lights, however, comes the need to modify it. The reason is simple. A bare flash or a strobe can have a destructive effect on an image.
It is almost the same as shooting under direct sun. Harsh shadows and blown out details are unavoidable.
Resultantly, you need a way to temper down that light. This is where softboxes come into the picture.
✔ Top 3 Bestseller Softboxes
Bestseller No. 1
Neewer 32 inches /80 centimeters Octagon Softbox Octagonal Speedlite, Studio Flash,...
The light diffusion surface diameter is 32"/8cm, with wide range of applications, suitable for portrait or product...
It is a soft box when being spread and like an umbrella when being folded, easy to use.
The umbrella body made of high-density nylon material, high reflective.
Double metal frame, light and solid.
Can be used with flashes and some studio flash lights with umbrella hole.
Sale
Bestseller No. 2
FOSITAN 1600W LED Photography Studio Lighting Light Kit Softbox, Photo Studio Kit for...
This professional softbox studio lights perfect suitable for portrait photography, blogger video light filling,...
2 x 20"*28" softbox light holder with 6.5ft/2m power cord integrated reflective umbrella with external white fabric soft...
2 x 27-80-inch height adjustable light stand tripod with 1/4-inch standard screw thread tip, Min 27.6inch/70cm, maximum...
4 x E27 110V 85W 5500K daylight pure white photography studio lighting CFL Bulb (Equivalent to 1600W incandescent bulb),...
FOSITAN worry-free 12 months warranty and lifetime quality warranty.
Bestseller No. 3
LimoStudio 700W Photography Softbox Light Lighting Kit Photo Equipment Soft Studio...
Contents: [2 pcs] Soft Box with Bulb Socket / [2 pcs] 86-inch Tall Light Stand / [2 pcs] 85W 6500K Photo Bulb / [1 pc]...
24 x 24-inch Dimension Softbox Lighting Reflector with E26, 27 Standard Size Bulb Socket and 6 ft. Long Power Cord and...
50-86 inch Height Adjustable Light Stand with 1/4-inch Standard Screw Thread Tip
Photographic Spiral Bulb: 85W / 6500K / Daylight Neutral Tone CFL Bulb
Premium Quality Fabric Carrying Case Bag
Need for Softboxes
Softboxes are considered as the primary tool for flash photography; off-camera flash photography to be precise. They are nothing more than fabric wrapped boxes with one end open and a hole on the other to allow a flash unit to be inserted inside. The front open end is covered by a translucent material, usually fabric.
Related Post: Review of the Best Continuous Lights
Inside the walls of the softbox is covered with reflective material that bounces the light before it escapes through the open front end. The whole set-up is then placed on a stand.
The purpose of lighting with softboxes is to soften the quality of light produced by the external flash. Soft light = less shadows = flattering portraits.
Size and Quality of Light Produced
The thing with softboxes is that the bigger they are, the softer is the light they produce. This goes for any light source and is something that you have to keep in mind when lighting with softboxes.
Size, however, is a relative term. A medium sized softbox, placed very close to a model will appear large, and resultantly produce a soft light. The same softbox, when placed about eight feet from the subject, will appear smoother and will provide hard light.
Even a large sized softbox placed sufficiently far away will produce hard light.
Shape of the Softbox
The form of the softbox is an important consideration. This is important particularly concerning portrait photography.
When you look at a portrait image, you would no doubt look at the eyes of the subject first. And the first thing that you notice is the catchlight in those eyes.
Related Post: Portrait Photography Lighting Tips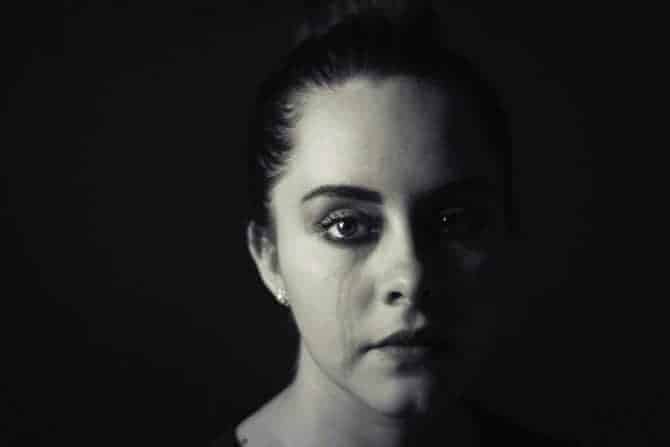 Catchlight refers to the reflection of the primary source of light in the image in the view of the subject. When shooting pictures in broad daylight, the sun is that primary source of light.
Anything reflecting that light catches a reflection on the model's eyes and become the catchlight.
When you shoot inside a studio, your key light is the source of that catchlight. Therefore if the key light is square or rectangular in shape, the catchlight mimics that.
Ideally, you would want to have a catchlight that looks round, mimicking the sun. Thus, octa boxes are a popular choice. They are not perfectly round, but you will never notice that in the final image.
Mounting System
Softboxes come in various shapes and sizes and mounting systems.
Some softboxes have their own mounting systems, and they come paired with it.
Others work with third party mounting systems, giving you better flexibility and interoperability with different light stands.
Apart from that, of course, you have different systems designed for strobes and speed lights (flash units). Both types are not interoperable. You need to keep that in mind when selecting a softbox.
Setting up a light inside a softbox requires you to understand how the light is diffused.
Some softboxes need the light to be mounted pointing backward. This ensures that the light has the maximum chance of getting bounced off of the shiny internal walls before getting diffused at the exit wall.
Other softboxes would need the light to be mounted pointing front. These softboxes usually have a smaller inside diffuser that diffuses the light before it escapes through the main diffuser.
Otherwise, you will have a very bright highlight at the center.
Related Post: How to Set Up Your Photo Studio under $1,000
What Softbox Size do I Need?
That's a logical question to ask the first time you attempt lighting with softboxes. Softboxes come in all shapes and sizes.
There are pretty large ones, like the Profoto HR 5' Octa or even the Elinchrom Rotalux 59" Indirect. There are even larger ones that can light up an entire car length while hanging overhead on a series of contraptions.
Choose any one you need but base your decision on what you need to shoot and the size of your studio.
Portrait Lighting with Softboxes
Portrait photography can be done with just one light. That means you need just one softbox to get started.
The most interesting thing is that the one light set-up with the light placed at 45˚ from the subject and placed about four feet way is a classic lighting setup.
A medium softbox like the Fovitec StudioPRO – 1x 20″ x 28″ Softbox Lighting Kit is enough to get a good clean shot of the face.
Fovitec StudioPRO - 1x 20" x 28" Softbox Lighting Kit w/ 1000 W Total Output -...
Contents: 1x 7'6" stand, 1x 20"x28" softbox, 1x inner diffuser, 1x 5 socket head, 5x 45W bulbs
90+ CRI: Daylight balanced 5500K CFL, 45 W bulbs, deliver true and accurate colors for most uses
Energy Efficient: Total output reaches the equivalent output of 1000 watt incandescent lights
Continuous Lighting: Non-flash lighting compatible with all cameras without syncing
Reflective Inner Lining: A dimpled, silver interior lining allows for maximum light reflection
For Full Body Shots
For full body shots, you need
A – a larger softbox as the primary light, and
B – more than one softboxes to light each side of the body, depending on the shot you need.
When using a two light set-up, the first light is the key light; the light that is lighting up the subject. The second light is your rim light or fill light depending on how you prefer to use it.
Related Post: How to Shoot Full Body Portraits
If you are going to invest in only one softbox, however, I would suggest getting something bigger, based on whether you are using flash or strobes.
Strobes are more powerful, and they can fully utilize a larger softbox.
Flash Units are smaller, and although they produce an intense beam of light, they are less powerful than strobes.
Special softbox units are available for each type of light. The Westcott 32" Rapid Box Duo is an example of a softbox designed for the smaller flash unit. This one, interestingly, can accommodate two flash units.
As stated above, the second light works in a multitude of ways. You can use the second light to fill in the shadows created by the key light.
Alternatively, you can set-up the second light as your rim-light. Rim light is that halo of light around the subject's head or torso in some lighting setups. This is done by placing the light behind or towards the side of the subject and at an acute angle.
It is not necessary, however, that the key light is placed right in front of the subject. The light can be placed at an angle, even at the side of the subject. The second light, which now assumes the character of a fill light can be placed anywhere depending again on the type of shot you need.
If the side that is well-lit points toward the camera that lighting set-up is known as broad lighting. You can place the light behind the camera so that the angle creates a broadly lit side.
Accessories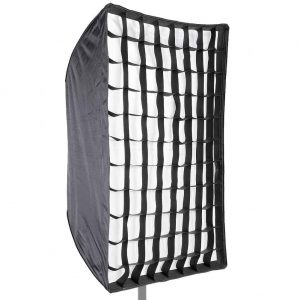 One of the accessories that you will be needing when lighting with softboxes are grids.
Grids appear like egg crates when you look at them straight on. They are actually a bit different than egg-crates as we shall learn here. Grids come in various light stopping power. The narrower the grid the more is the degree of constriction of the light.
That said, grids go in front of a softbox. With strobes with standard studio reflectors on you get a sort of grid that attaches to the front of the reflector much like the way, a filter attaches to the front of a lens.
Related Post: The 5 Essential DIY Photography Studio Equipment
Thus, depending on the distance from the light to the subject, expect nearly double the coverage with a 20˚ grid over what you would get with a 10˚ grid. Grids for softboxes are commensurate with the size of the front of a softbox.
But why are we talking about grids and construction of light? Because sometimes you need to be able to limit the amount of light that is there in a scene.
In other words, the very reason why you are using a softbox, rather than an umbrella, you would be using a grid. Let's say that you want to shoot a low-key or high contrast image.
The first thing that you need is to prevent light from spilling everywhere.  Grids are what you need to achieve that.
Umbrellas
These are another type of popular light shaper that photographers love to use. Umbrellas, unlike softboxes, are harder to work with. The light produced by umbrellas spill to every corner of the room you are shooting.
Plus, because of how umbrella designs are you generally cannot use any other light shaping accessories with them.
Personally, speaking I prefer softboxes to umbrellas most of the time. There are, however, some situations where an umbrella is ideal.
Photography Photo Portrait Studio 600W Day Light Umbrella Continuous Lighting Kit by...
Contents: [3 pcs] 45W CFL Bulb / [3 pcs] Bulb Socket / [2 pcs] 33-inch Umbrella Reflector / [2 pcs] 86-inch Light Stand
[1 pc] 28-inch Light Stand / [1 pc] Bulb Carry Bag / [1 pc] Photo Equipment Carry Bag
45W Photo CFL Bulb: 6000K / 1820 Lumen / E26, E27 Standard Screw Base / Max Energy Saving up to 80%
33-inch Diameter White Umbrella Reflector: Made of Enhanced Nylon / Works well with Any Flash or Lighting Fixture
(Attention) Bulb, on a rare occasion, creates a mild burning scent, which is a normal reaction as the bulb gets heat