Ever wonder what goes into becoming a better photographer?
Of course, the answer varies between individuals, as each photographer has strong points and weak points. However, you may be surprised that a lot of what it takes to improve as an image maker doesn't involve having the fanciest gear or the best technical prowess.
Sourced from a number of photographers of varied backgrounds, we've compiled some of the most insightful pieces of advice.
Related Post: Why You Should go to the PhotoPlus Expo
✔ 20 Ways to Become a Better Photographer
Put A Part Of Yourself Into Every Photograph

Know What You're Working With

Do Your Homework

Get Inspired

Find Beauty In The Mundane

If Possible, Trade Out That Kit Lens For A Prime

Try Something New

Experiment With A Different Perspective

Shoot In Manual Mode

Follow Someone You Admire

Keep An Eye Out For The Basic Elements Of Design

Get It Right In Camera

Slow Down

Let There Be Light

Stay Organized

Seek Out Feedback

Acknowledge Your Mistakes

Hook Up With Other Photographers

Don't Get Discouraged

Never Stop Learning
1. Put A Part Of Yourself Into Every Photograph
There are billions of camera owners scattered around the world. If one of your goals is to get your work to stand out from the crowd, developing an artistic "voice" is an absolute must.
Consider the following: the majority of photographers will have comparable tools to utilize in their image making process.
While it's important to understand the technical aspects of the art, anyone can hypothetically learn the basics of photography (especially so as more advanced technology becomes readily available at lower prices).
But you are the only person privy to your thoughts, emotions, and personal experiences. Don't stifle yourself. Incorporate the qualities that differentiate you as an individual into your photographs. Try to take pictures of subjects that resonate with you. Seek patterns in the images that you do make. And most importantly, creatively curate images to communicate a meaningful message for viewers to take away.
Related Post: How to Manage and Backup Your Photos in Lightroom
2. Know What You're Working With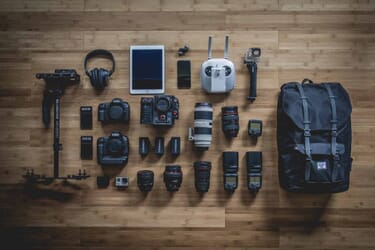 The photo industry is rapidly expanding, and it seems that there's a revolutionary gadget being released every other day.
My advice is this: don't get too caught up with having the latest and greatest gear.
Frankly, it doesn't take long for equipment to become obsolete.
Each upgrade means a new set of controls and functions to commit to memory. If all of your time, energy, and money go into procuring cutting-edge technology, you'll never get ahead as a photographer.
Instead, it's wise to get to know the gear that you already have on hand inside and out.
When you encounter a fleeting, once in a lifetime shot, it's infinitely more helpful to have gear that you can quickly and efficiently navigate rather than a mint condition tool that may cause you to fumble around.
Related Post: Time to set Photography Goals (& Achieve Them!)
3. Do Your Homework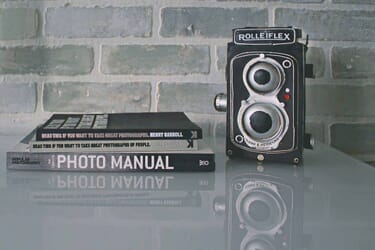 Don't panic. This does not necessarily need to entail endlessly thumbing through a camera manual (though it is never a bad idea to take a peak at one). Rather, any photographer looking to grow should take advantage of any resource available to them.  Luckily for us, we live in a time at which the answers to our questions can be easily answered at the touch of a button.
Today, downloadable PDFs from talented photographers are available for just about any topic you're interested in learning about.
If you're not much for reading, there are thousands of photography tutorials online or Youtube videos that are more often than not accompanied with informative visuals. When you take the time to learn a skill or work to fully comprehend a concept, you progress technically and creatively.
So, if and when you run into a hurdle, there's no excuse not to seek out a solution.'
4. Get Inspired
Branch out and examine the work of other photographers. I guarantee you won't regret doing so.
Whether it's going to a physical gallery exhibition, checking a photo book out from the library, or pinning your favorites on an image-sharing site, the act of looking at other photos will significantly improve your skills and provide fodder for future ideas. Not sure where to start. Look into the most famous photographers of the past and present.
Identify which ones resonate most with you, and more importantly, identify the photographic qualities you admire in the work of your favorite artists. From there, try to emulate those features in your own work.
It's worth mentioning that inspiration doesn't solely stem from the arts. Keep an open mind and take note of anything you find stimulating. Books, music, and nature can carry the same impact as a well-composed photograph.
Related Post: Getting started in Levitation Photography
5. Find Beauty In The Mundane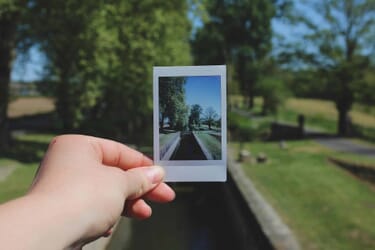 Some photographers get discouraged because of a perceived lack of interesting subject matter available.
In fact, it's pretty easy to feel that there's nothing worth photographing that's readily accessible. When you see a person, place, or thing every day, it's easy to become desensitized to it. But the truth of the matter is that just about any subject can make for a stellar photograph. Even ugly subjects can become eye-catching under the right circumstances.
So don't fret if you don't live near a natural wonder. Explore a suburban neighborhood and seek out something wondrous. Try arranging a still life from the items sitting on your countertop. Capture the beauty of a loved one. So long as you continue to think outside the box and remain vigilant of your surroundings, chances are high that there's a great image waiting just around the corner.
6. If Possible, Trade Out That Kit Lens For A Prime
For the most part, the quality of a photograph is dictated not by the camera being used, but the eye behind the camera. All too often, aspiring photographers get caught up in getting advanced camera gear only to neglect the creative intricacies behind the art.
That being said, if there's anyone upgrade a photographer should invest in, make it a prime lens. It's not uncommon for new cameras to be bundled with a kit lens, and many beginners believe that it's enough to get the job done.
Unfortunately, kit lenses often lack the precision and sharpness offered by a prime. Though prime lenses feature a fixed focal length, you're bound to be blown away by the overall image quality that they offer. Primes also offer a challenge to new photographers, challenging users to make creative compromises and shoot in new ways.
Related Post: Best Best Prime Lens: Sigma vs Nikon
7. Try Something New
One of the greatest parts about photography? There is always something new to experiment with!
Between the gels, filters, novelty lenses, and lighting mechanisms out there, just about any look that you desire is attainable.
Plus, once you finally have an image in hand, post-processing software such as Adobe Photoshop introduces additional possibilities. If you'd like to take the extra step, there are countless different types of cameras that each sport different features and aesthetics. It's even possible to work with alternative processes like cyanotypes on a tight budget!
With all of the different options available, it would be foolish not to test the limits of the medium and explore how different tools can impact an image. When you expose yourself to all that photography has to offer, you broaden your horizons and gain more insight on how to go about bringing your own ideas to life.
Related Post: Photography Workflow Tips (Using Lightroom)
8. Experiment With A Different Perspective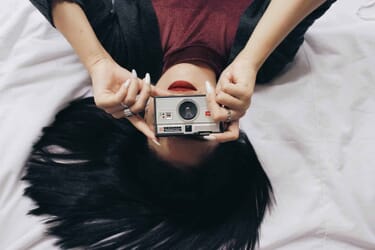 More often than not, we see the world at eye level. For this reason, photographers just starting out tend to photograph the world at eye level. Taking on a different angle or perspective can also prove to be an enlightening challenge for many photographers just starting out.
It's not too difficult to take on a new viewpoint. Something as simple as climbing up to a high point and shooting downwards can create a bird's eye view effect. Even holding your camera at waist level can provide an interesting and refreshing take on a common subject.
Changing perspectives can be helpful for adding meaning to photograph as well as aesthetic interest.  For instance, getting low to the ground and shooting upwards can give a subject a powerful domineering appearance. Shooting through glass or tree branch can add layers to an image and create a "barrier" between your subject and your viewer.
9. Shoot In Manual Mode
There's no way around it – it's convenient to set your camera to automatic mode and go on your way. Advanced cameras can all but eliminate the chances of an incorrect exposure or an unfocused photograph. So why not allow cameras to take care of all of the grunt work?
Although cameras can calculate how to balance light and can detect major photographic elements, a camera cannot grasp at what makes for a captivating image. Having an understanding of how shutter speed, aperture, and ISO counterbalance one another is crucial when it comes to making creative decisions as a photographer. Being able to choose where your camera is focused allows photographers the creative power to choose where their viewers pay attention to. By a long shot, the easiest way to grasp these concepts is by purposely working in manual and seeing direct correlations between settings and end products.
Related Post: How to Operate Your Camera in Manual Mode
10. Follow Someone You Admire
One of the most practical ways to grow as an artist is to adopt a mentor.
More often than not, working photographers are more than willing to offer some sage advice. If you're just starting out, consider seeking out established photographers in your area and offer to assist or shadow while they're on assignment. Doing so can be a great way to get your work in the door and begin networking should you aspire to work as a professional photographer later down the road.
At the very least, plenty of people are happy enough to answer more abstract questions and offer a bit of hands-on assistance.
11. Keep An Eye Out For The Basic Elements Of Design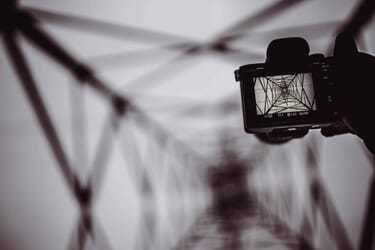 Not sure how to go about composing an eye-catching image? When in doubt, fall back on the basic elements of design as a guide.
Line, color, form, texture, and space all work together to make a successful composition. When you see an interesting shape, a vibrant color, or a captivating pattern, highlight that quality as much as you can. Bringing any one of these things into a photograph can make it infinitely more interesting. For further guidance, consider looking into and practicing the rule of thirds. Once you grasp how each quality can add to a photograph, you can begin breaking the rules altogether.
Related Post: Working with Lines and Patterns in Photography
12. Get It Right In Camera
It's easy to tell yourself that you'll "fix it in the post-production". It's tempting to do so, after all – making alterations to an image is not difficult with the help of a computer. Nevertheless, growing photographers should try to avoid relying on post-processing software to perfect an image.
You'll benefit from getting things right in camera for two primary reasons. Firstly, it's important to use problem-solving skills to correct personal mistakes. Figuring things out on your own will help with your overall comprehension and give you a basis to tackle similar challenges in the future.
Secondly, you significantly cut down the time you spend editing your images if you choose to correct mistakes on the camera. Less time spent on your computer means more time that can be spent out and about with a camera in hand!
13. Slow Down
Patience is a virtue for a reason. Very rarely are the best images produced by those who hold down their shutters and hope for the best.
Don't overlook your settings or composition for the sake of speed – 99 times out of 100, you won't be satisfied with an end product that you didn't put some amount of forethought. Any seasoned photographer will attest to the fact that slowing down almost always benefits an image.
So, it's in your best interest to try resisting the temptation to "spray and pray". Instead, take a moment to contemplate how to best capture your subject considering the specific circumstances you find yourself in.
14. Let There Be Light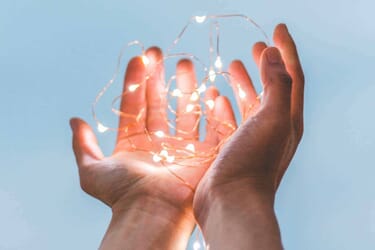 The word photography roughly translates to "light drawing". So, it should come as no surprise to learn that having plenty of light to work which is a surefire way to maintain control of a scene.
The sun provides a constant source of light for photographers working in the field. Unfortunately, it often isn't enough. In a studio or indoor setting, available light is even more scarce. Therefore, any serious photographer must learn how to manipulate light. Luckily, there's plenty of tools out there to aid in lighting a scene.
The addition of a simple reflector can redirect existing light to fill in dark shadows. For something more, strobes and speedlights can be used to bring in artificial light to add to or completely overpower natural light.
What's more, there' s a variety of diffusers, beauty dishes, and filters available to further alter the light to your personal liking.
Related Post: Photographer Starter Kit – What You Need to Get Started
15. Stay Organized
As you progress in your photographic journey, keeping track of your work is bound to become increasingly important. And in the digital age, doing so is not quite as simple as investing in a file cabinet.
Without something in place, it doesn't take long for image files to get out of control and completely unmanageable. Consider investing in an organization aid such as Adobe Lightroom. With its help, you can review your work quickly and import, export, and edit images without any headache.
Don't underestimate how much easier a bit of organization can make the life. Sifting through personal progress and being able to access older images is vital for photographers trying to improve.
16. Seek Out Feedback
Receiving critique can be an intimidating feat, especially when it's coming from a respected colleague. But there's a compelling argument for willingly putting yourself out on a limb.
There's no denying that criticism can sometimes be difficult to accept. However, feedback from someone that knows what they're talking about can be one of the most direct paths to improvement. It's easy to look over one's own shortcomings.
Another person's eyes, on the other hand, can catch details or flaws that you might never have noticed on your own. It can be a bit scary to do at first, but don't be afraid to ask for help from others – you may very well find that your viewer's perception of your work does not align with your desired intention. 

17. Acknowledge Your Mistakes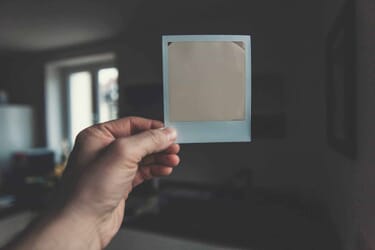 Whatever you do, don't ignore your errors. As tempting as it is, try your best to avoid deleting the images that didn't turn out the way that you planned.
As a matter of fact, you should take the time to examine and analyze each of your mistakes. Bring up flawed images on a big screen for maximum visibility. Identify what about each failed picture doesn't "work". What could you do in the future to avoid repeating the same failure? Take note of your weaknesses and work to rectify them. A failure in a photograph does not mean failure as an artist – recognize what went wrong and do everything that you can to improve for the future.
Free e-Book: 10 Common Photography Mistakes and How to Avoid them
18. Hook Up With Other Photographers
There's a thriving photography community that spans across the world. Take full advantage of it!
Becoming a part of the greater photography community can be as simple as contributing to an amateur photography forum. But if you are looking to go the extra mile, check out the resources closest to you. Consider signing up for a photography workshop or photography class online – aside from teaching a new skill, attending a class can also introduce you to likeminded image makers.
Knowing other photographers can provide inspiration and motivation to produce the best work possible. What's more, each has a unique perspective that can be used to strengthen your work when you ask for feedback. Networking and getting to know people that share your passion can make all the difference.
Related Post: Shooting During the Blue Hour
19. Don't Get Discouraged
Taking a picture is simple. But being a photographer is hard.
Advertisements like to stress that technology is getting increasingly easier to use, making the art of photography more accessible. While it is true that it's easier than ever to get a camera, the effort that goes into making compelling work still requires countless hours of blood, sweat, and tears.
Don't expect to catch on to every technical concept immediately. If you trip up, take it to hard. Mastering any skill takes time and effort. Instead, try to figure out what it is that you can do to improve and practice as often as you can.
20. Never Stop Learning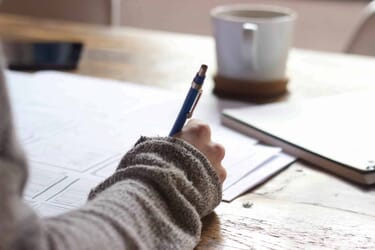 No matter how long you work behind the camera, there will always be things that you don't know.
Acknowledge that you're not going to dive into photography and immediately be an expert. When you feel stumped, ask questions. When you stumble, don't brush it off. Take on photography challenges to push your skill set.
Make a list every few months of the things that you don't fully grasp and the goals that you'd like to accomplish. Do what you can to cross off every item that you don't fully understand and attain what you truly want out of photography. If you always strive to improve, you'll never find yourself bored with the craft.
Related Post: Best Online Photography Classes