Affinity Photo is a superb desktop photo editing and image creation program. In this Affinity Photo Review, we take a look at what this product has to offer for the discerning photographer. If you are a professional photographer, or simply enjoy the process as a hobby, you will need an editing program. Photo editing software allows you to turn your compositions into works of art.
Sometimes, RAW photos can look a little bland and flat – this is because they are exactly what the camera has seen; without any post-processing applied. By using editing software such as Affinity Photo, you can enhance your images and also remove any imperfections.
Related Review: ON1 Photo RAW 2022 Review
When creating our Affinity Photo review we spent time using this program – we developed a myriad of sample images using RAW photos. Furthermore, we tested the different features the program has to offer to give you an unbiased and well-rounded review. Read on to find out what we think of Affinity Photo!
When you buy through links on our site, we may earn a commission at no cost to you. We evaluate products independently. Commissions do not affect our evaluations.
An introduction to Affinity Photo – what can you expect?
Affinity is a company that has operated for many years in the software industry. Their image manipulation suite contains a myriad of programs including Affinity Designer, Affinity Photo and Affinity Publisher. The companies aim is to develop a range of professional graphics editing programs – Affinity Photo serves as their flagship RAW editing platform. In this Affinity Photo review we will first look at how you can obtain the program and a little about the company itself:
Available platforms and download method
Affinity Photo is a software download – it is available for iPads desktop pcs and as a photo workbook. The following are the current prices for each item:
There is also a 14-day free trial that you can download of Affinity Photo. The trial version contains full functionality and is a great tool to use if you want to check out the features before you make a purchase. To use the free trial you must submit an email address, and also your personal details – the download link will then be sent to the email address you filled out.
Features
So what features can you expect from Affinity Photo? This program is advanced and has a multitude of fantastic editing tools. The first thing we noticed during our Affinity Photo review is the 5 different "personas" that you can choose – these personas fill different roles and allow you to do different things:
Develop (This is the final mode where you can export your image
Photo Persona (This is for photo editing similar to Photoshop)
Liquify Persona (This allows you to distort your image using warping effects)
Tone Mapping Persona (Here you can change the tone and colors of your image)
Export Persona (Dedicated mode for exporting your image in a range of formats)
Aside from this, Affinity Photo has all the basic editing features you would expect from this type of software. You can edit parameters such as hue, clarity, contrast, highlights, and tone. Furthermore, there is a myriad of correctional tools to remove imperfections such as blemish removal. There is also a cool 360 editing feature that we didn't get chance to try. The only thing missing is a file management system – Affinity Photo only allows you to work with individual photos.
Community
If you want to become part of the Affinity community, you will be pleased to know that they have an extensive user forum. The forum has a myriad of different sections including support, news, tutorials, share your work and resources. This is a fantastic place to go to look at what others have done using the program and to get help with guides and tutorials.
Using Affinity Photo Review
Now we have introduced you to Affinity, let's dive straight into our Affinity Photo review – enjoy!
Interface and layout
The interface is an important aspect of any photo editing software. We found Affinity Photo easy to use – providing that you understand the different personas. This can be a little confusing to start with and there is no clear identification of what each persona does. We found a useful breakdown in the help section of the Affinity website.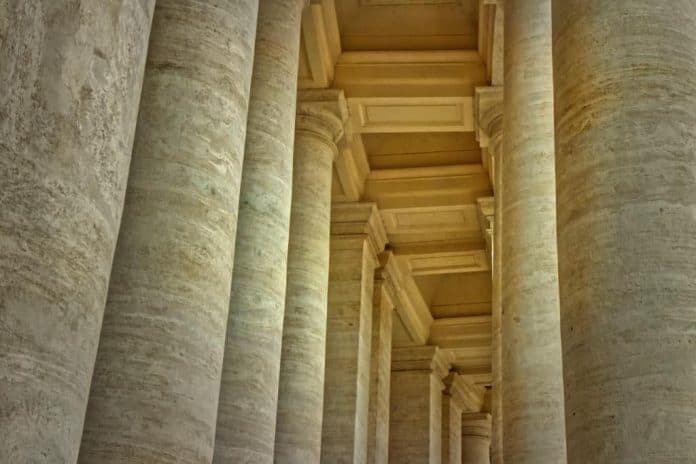 Aside from learning what the personas do, the program really is easy to use. Each of the tools and tabs has a help box that appears if you hover over it. Furthermore, the different editing processes are applied using sliders which is always a bonus. Moving the image and using the workspace was straightforward too. It didn't take long to figure out what everything did – we were making detailed edits in a matter of minutes.
Speed and processing power
As part of our Affinity Photo review, we have to look at speed. How fast is this program? Can it cope with processing large RAW files? How about when using the editing sliders and tools? We used Affinity Photo extensively on a fairly powerful PC.
We have to say that the speed and processing power are not perfect. When working with smaller JPEG and PNG files there was no lag whatsoever – the editing tools worked fine and the previews loaded quickly too. Moreover loading and exporting images was quick. We were really pleased with how it performed for these smaller file types.
The issue we experienced was when working with RAW files. Obviously, these files are much larger – the photos we worked with were ranging from a minimum size of 25mb up to 30mb. When editing RAW files, Affinity Photo was slower to respond. The sliders took longer to take effect. Moreover, it took longer to export the files and render the details. This was annoying, there is no denying that. It certainly didn't break the program or make it unusable – it was simply annoying. Maybe we weren't running the program as it should have been, or maybe we had too many other programs open – consider checking the Affinity forum to see if anyone else has had a similar issue.
Left-hand toolbar – blemish removal etc.
When in the "develop" persona, the left-hand toolbar provides you with a handful of correctional tools. We found these useful for removing imperfections from our photos and also re-arranging the composition. Tools included on this bar include:
Red-eye removal
Blemish removal
Eraser
Zoom
Move
Crop
The crop tool as you can see in the image below was easy to use. You can set a constrained crop to keep the original dimensions of your image. You can also specify the pixels and rotation. Both the red-eye and blemish removal tools worked really well – we tried out a couple of different photos and the red-eye removal, in particular, was spot on.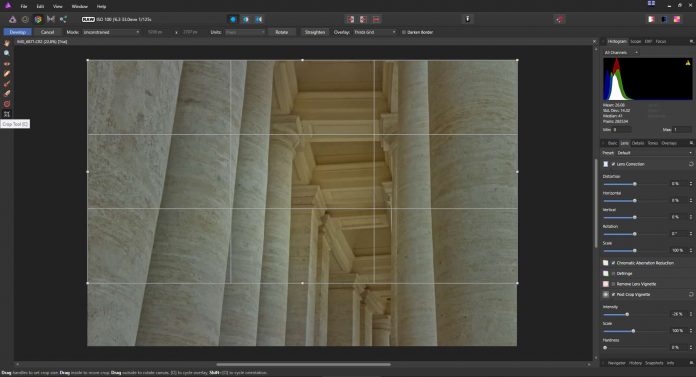 Basic
In terms of editing, the main toolbar you will use is the "basic" tab of the right hand tab in the "develop" persona. This is where all the basic editing features are. The following is a list of the parameters you can change using this toolbar:
Exposure
Blackpoint
Brightness
Contrast
Clarity
Saturation
Vibrance
Temperature
Tint
Shadows
Highlights
These parameters can all be edited using sliders. You can either drag the slider or click the up/down arrows which we found useful. Moreover, if you double-click on the slider button it will reset the value – we like this feature. All of these parameters are usable and create fantastic end results. You can really edit your photo with a great degree of detail. In the sample below, we edited the clarity, contrast, saturation, shadows, highlights, and exposure to boost the detail and colors: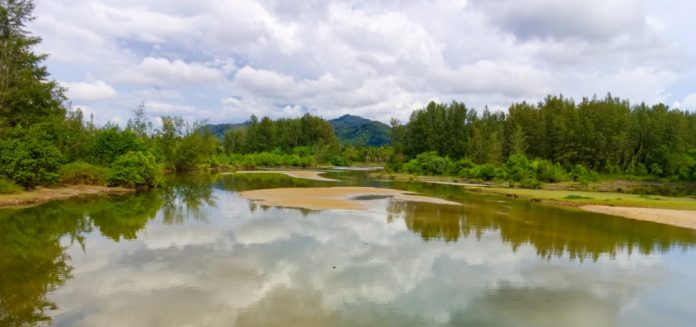 Overlays
The overlays tab is the equivalent of a local adjustment tool. In this Affinity Photo review, we looked at the overlays and tested them on our sample photos. Instead of simply painting an area you wish to adjust, you first create a new layer and then add the adjustment. This gives you great freedom and flexibility. There is both a brush overlay and a gradient overlay. Once you have created a new overlay layer, you can change the basic parameters and brush or drag a gradient of the area you wish to edit.
In the screenshot below you can see that we have applied a brush overlay to the central area of the photo – we boosted the clarity and exposure slightly to improve the visibility of the central columns. When you apply a brush or gradient it shows up in red – we liked this as you could easily see what area of the photo you are editing.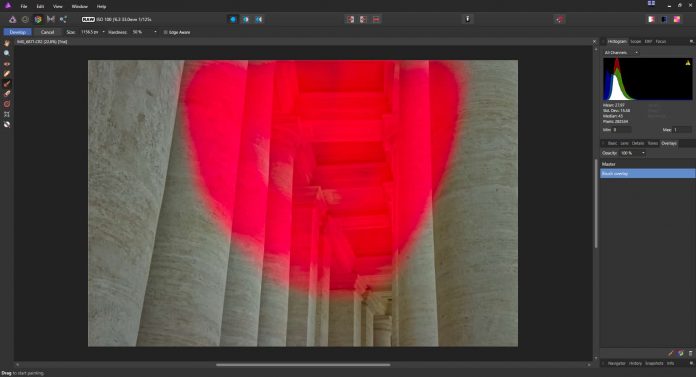 Lens
Next, we have the lens tab. Affinity Photo detects the lens you have used with your camera. You can then make a myriad of lens adjustments. This can help remove any imperfections such as distortion and chromatic aberration. There is not an auto-correct feature, but the sliders are easy to use. You can correct distortion and alignment issues individually.
As you can see in the photo below, you can also remove chromatic aberration, defringe, and any unwanted vignette. It is also possible to add a Vignette afterward: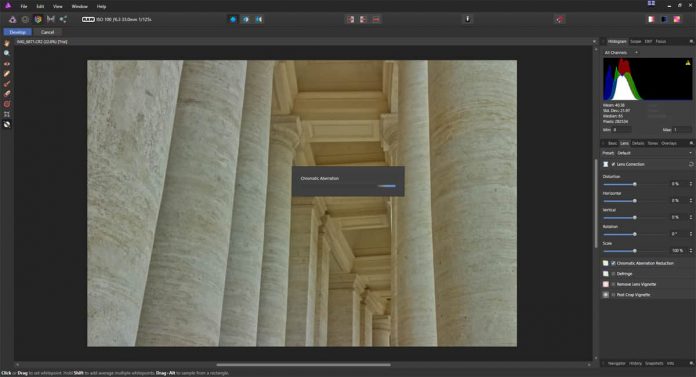 Details
The details tab is all to do with noise reduction and luminance. This is an important factor in photo editing. As with the other tabs, you can change the sliders from scratch, or create a pre-set that you can re-use to speed up the process. It is possible to reduce noise and luminance. Moreover, you can also add artificial noise to your photo if you wish to give it a grain effect.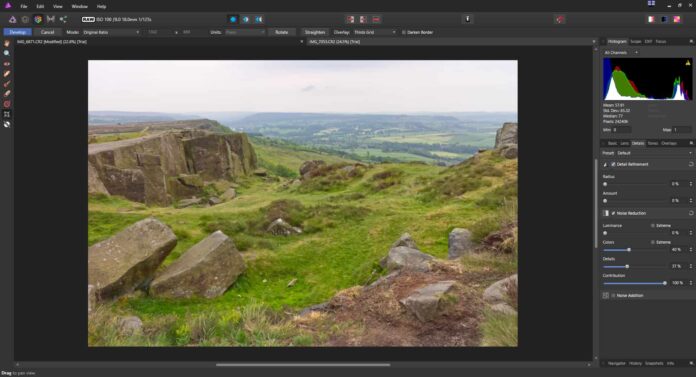 Tone Mapping
There is both a tone toolbar in the develop persona and a tone mapping persona. Both features allow you to alter the overall tone and balance of your photos. The tone mapping persona is fantastic when editing HDR images. It gives you a great amount of control. Furthermore, you can grab which way/where you want the tonal changes to be applied. In the screenshot below you can see the different pre-sets available and how the tone mapping persona works: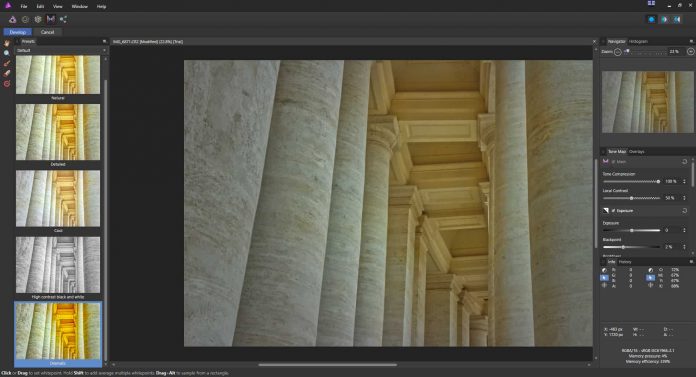 Exporting
The exporting feature was easy to use. When creating our Affinity Photo review, we exported a handful of different image samples. As you can see in the screenshot below, you can easily choose what file type the final export should be.
Supported file types include PNG, JPEG, GIF, TIFF, and even PSD. You can also change the file size and quality. A nice touch that we liked, was the fact that if you click on the "more…" button, you can alter file-type specific parameters. As there is no file management system in Affinity Photo, the export feature does not include anything such as metadata or keywords etc.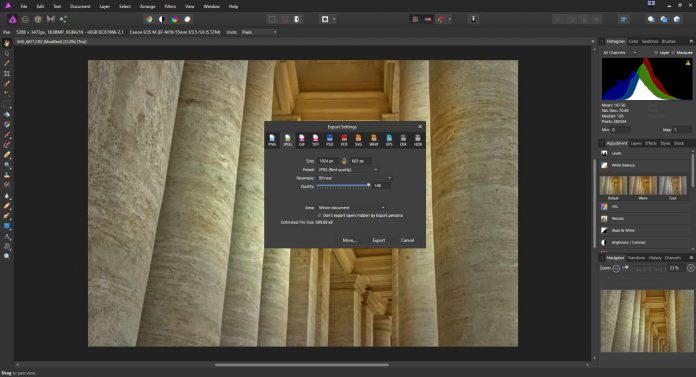 Affinity Photo Review Summary
Overall after completing our Affinity Photo review, we were pleased with the software. If you are looking for a program that allows you to easily edit both RAW and JPEG images then this is a great choice.
The editing functionality is brilliant – you really do have great control over your image and what you can do with it. The quality of the end-products you can create is excellent.
Furthermore, the different correctional tools allow you to turn "reject" photos into usable compositions too.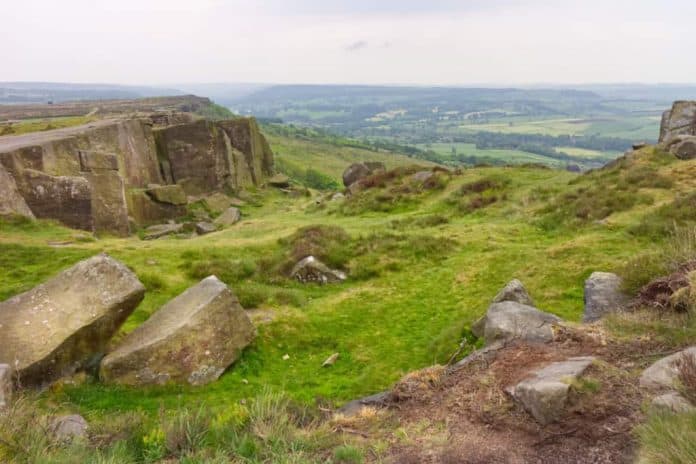 The only downside was the lag and processing power – we do not feel this is one of the most powerful editing programs we have used. Admittedly we were working with full RAW files ranging between 25mb – 30mb in size. However, we would expect it still to run smoothly without any delays when applying sliders etc.
This lag did not mar our overall experience of the program and we were still able to use it easily. It is something to consider, however – the PC we used had 8 GB of RAM and a dual-core Intel processor with a semi-powerful NVidia graphics card – certainly not a lightweight tower. It is not a super-computer either and we did have Photoshop open at the same time. You can make your own mind up about performance but we felt it could be improved. The following are some summarizing pros and cons we found during our Affinity Photo review:
Pros
Great range of correctional tools
Superb basic editing functionality
Overlay layers allow you to easily edit specific parts of a photo
A range of useful pre-sets and editing filters to make quick edits
Batch editing tools available for bulk work
Cons
No file management system – not easy to organize and catalog your work
Processing power could be improved when working with RAW files
We hope you have found our Affinity Photo review useful! This program certainly has a lot to offer. Why not try the free trial or make a purchase today and see what you think?