There are many photo editing programs available and it can be difficult to know which to use. Two popular options are Affinity Photo and Adobe Photoshop. These are both detailed editing programs that allow users to fine-tune their RAW photos. In this guide, we look at Affinity Photo vs. Photoshop 2020 to see how they compare, and if there is a clear winner!


When you buy through links on our site, we may earn a commission at no cost to you. We evaluate products independently. Commissions do not affect our evaluations.
Adobe Photoshop: Overview
Adobe Photoshop is a highly detailed program that offers an excellent mix of photo editing and raster graphics tools. At its most basic, it is software for creating cool graphics, digital art, and marketing media. However, it also has a powerful set of tools for photo editing.
It is often considered the benchmark for editing and raster graphics creation, although it is not without its flaws. Photoshop can have a steeper learning curve than other software and it does not have detailed photo management features. To manage large photo collections, you will either need to use Bridge or Lightroom.
However, what Photoshop does offer is fantastic creativity and features. You can edit your RAW photos in great detail, either in the program, or using the Camera RAW plugin. On top of that, you have virtually unlimited creativity in terms of what you can do with your photos. This is where the raster graphics tools of Photoshop really shine. Also, this software is fantastic for re-touching photos and removing unwanted objects.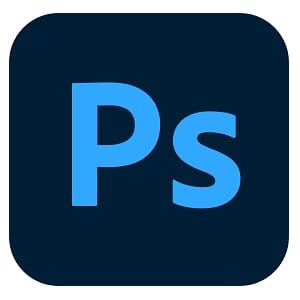 Powerful, professional editing
Photoshop offers greater control and features, but is more expensive as a result, it also integrates perfectly with other Adobe software.
Pros
Powerful editing tools.
Excellent for photo retouching.
Various plugins and complementary programs available.
Fully customizable workspace.
Cons
Must use other programs for photo management.
Can have a steeper learning curve.
Affinity Photo – Overview
Affinity Photo is a great alternative to Photoshop for those who have a smaller budget. It has a great set of features and tools and is effective for full RAW editing. For those with a computer that typically struggles running editing software, you'll be pleased to know that Affinity Photo doesn't require high-specs to run effectively.
Like Photoshop 2020, Affinity Photo does not have extensive photo management tools. As a result, to organize a large photo collection, you would need to use third-party software. It does have an advanced exporting tool as well as a full set of RAW editing tools. It also has a decent set of raster graphics tools such as a paintbrush and fill tool.
We feel that the Affinity Photo layout can be a little overwhelming for first-time users. There is a lot going off, and the different "personas" take a little time to understand. Regardless, it is an effective program and offers lots of creativity and photo editing for a cheap price.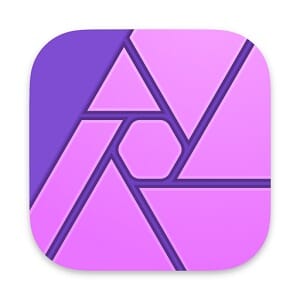 Cost-effective photo editing
This editing software has a comprehensive set of tools, and despite having a steeper learning curve, offers great control and creativity for photo editing.
Pros
Great performance.
A large selection of editing tools.
Creative effects and filters.
Detailed exporting options.
Cons
Lack of photo management tools.
The interface could be overwhelming to start.
Affinity Photo vs. Photoshop – A Detailed Comparison
To give you a clear idea of the Affinity Photo vs. Photoshop comparison, we have broken it down into different sections. You can then see how these programs compare, based on what you value most in photo editing software.
Performance
Performance is important for editing software. When working with large RAW files, you want the program to run smoothly. Ideally, you don't want to have to invest in an expensive computer or spend a significant time waiting for your program to carry out a function.
Photoshop 2020 System Requirements
Processor: Intel or AMD with 64-bit support and 2GHz speed.
RAM: 8GB
Graphics Card: DirectX 12, 2GB of dedicated memory.
HDD: 4GB of available HDD space
Affinity Photo System Requirements
Processor: 64-bit support.
RAM: 2GB
Graphics Card: DirectX 10
HDD: 953MB of HDD space
Based on the above, there is a clear difference in system requirements. Photoshop 2020 requires significantly more processing power and memory. Also bear in mind that the above Photoshop specs are the minimum only. It is recommended that you have 16GB of RAM for optimum performance. You may need a decent-quality PC for photo editing to run Photoshop effectively.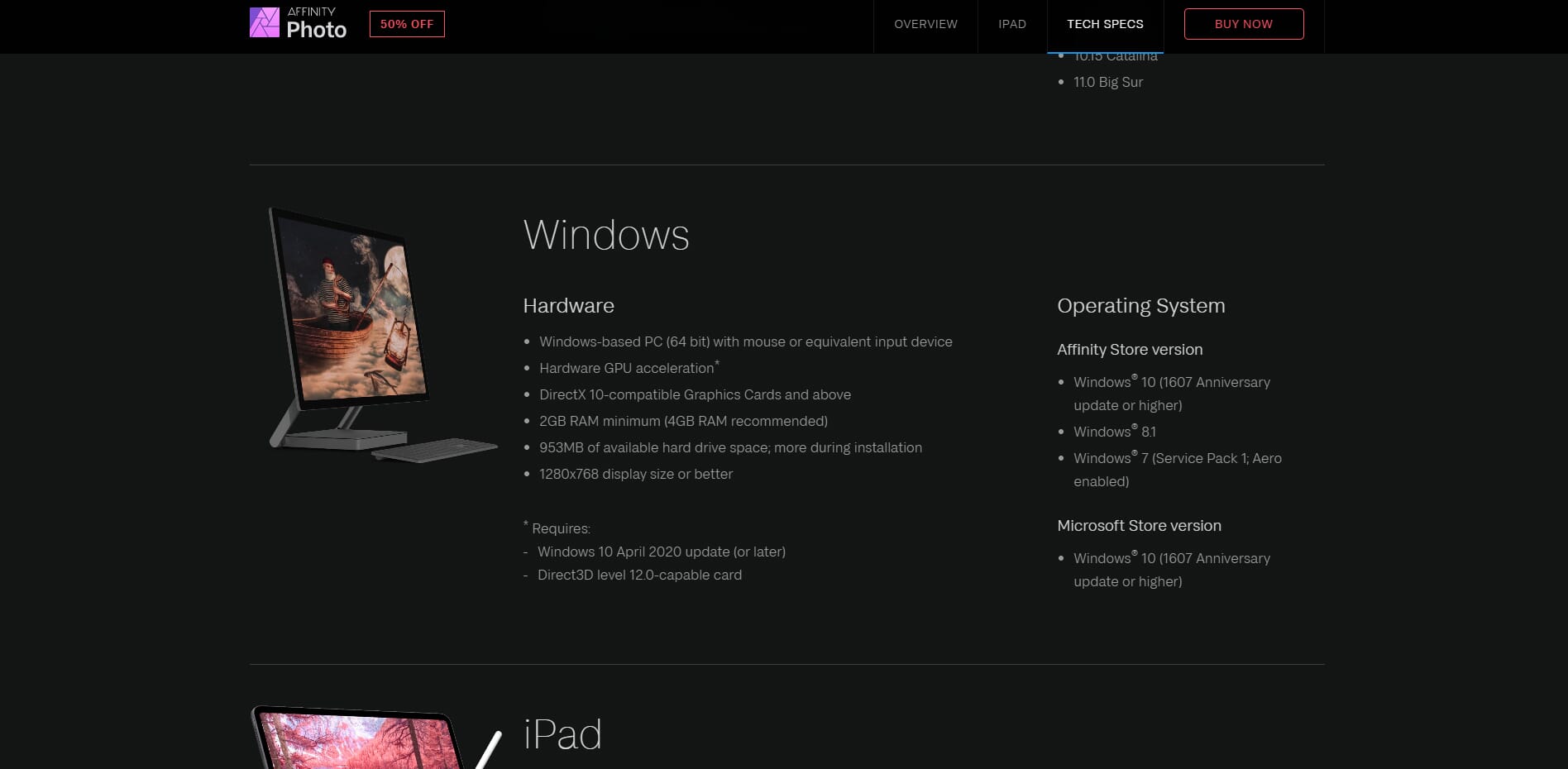 In contrast, Affinity Photo has relatively minimum requirements. Most basic computers will have more than 2GB of RAM and a decent processor. When testing the programs, Photoshop did indeed put more strain on the 24GB of RAM in my computer. Alternatively, Affinity Photo barely made an indent.
Regardless, both programs performed well and there was no noticeable lag or delays. If you only have a basic computer, Affinity Photo is the better option since its lower specs won't put your computer under serious strain. On the other hand, if you have a high-spec computer, you shouldn't have any issue running either software.
Usability
The usability of photo editing software is also something to consider. This depends on your level of skill and experience. If you use editing software regularly, you shouldn't have an issue using either program. However, if you are a beginner, both Affinity Photo and Photoshop 2020 can be a little overwhelming.
Affinity Photo uses different "personas". These serve different purposes – photo, liquify, export, develop, and tone mapping. The personas are useful and split the editing process nicely. For example, the develop persona is used for retouching and removing things like red-eye. However, understanding these different personas, and locating the various tools can be tricky at first. There are a lot of tabs and toolbars to navigate in Affinity Photo.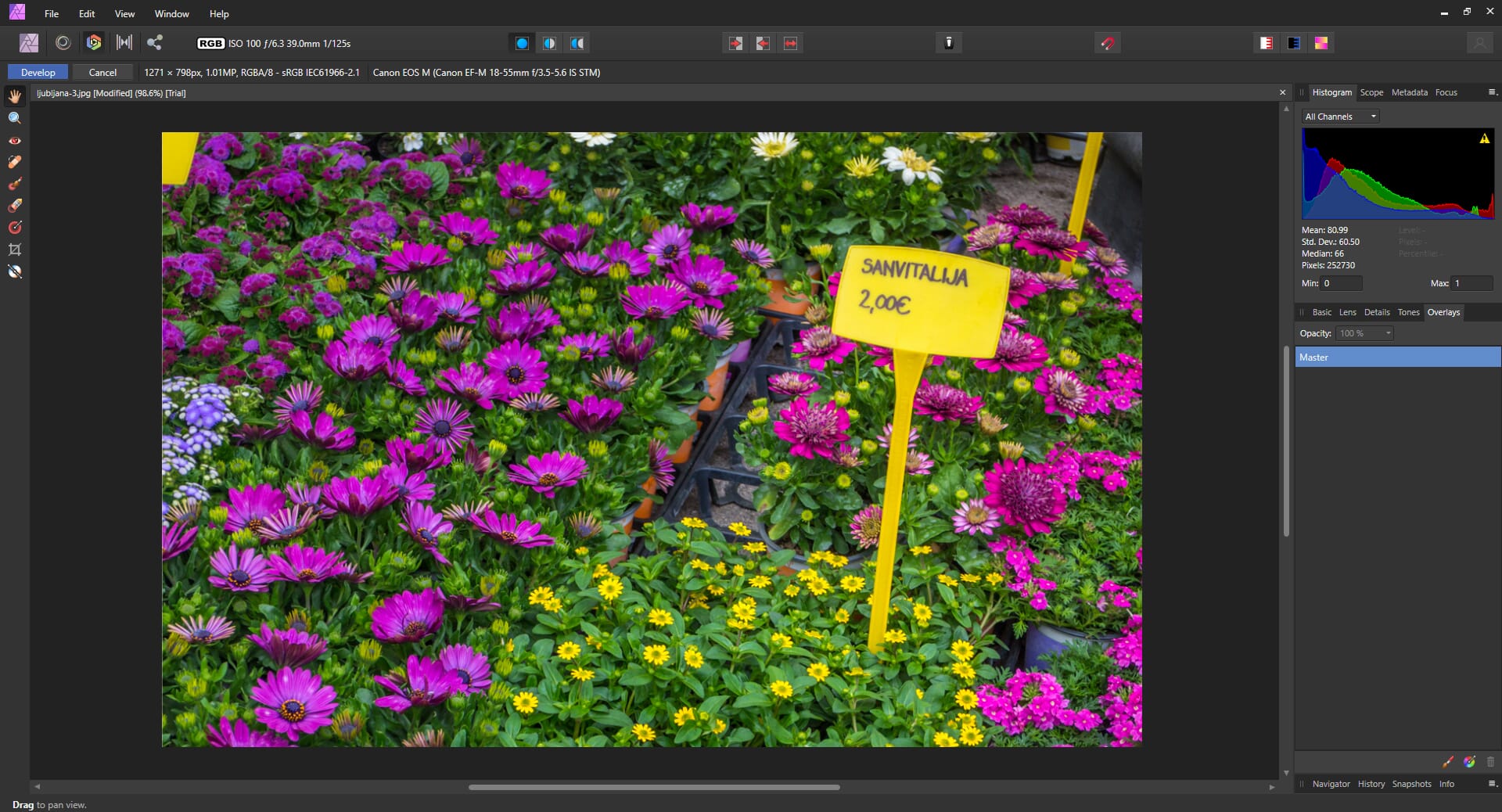 Photoshop does not have anything like personas. Instead, the various tools are accessed via the top menu or the tabs on the right-hand side. The different editing tools are split logically, and you can easily manage layers, colors, and photo properties, for example. However, like Affinity Photo, if you have little knowledge of editing, it could take time to find the different tools and understand their purpose. For those who have editing experience, this program will prove easy to use. The layout can also be fully customized, which is a big bonus.
Photo Management
A drawback for both of these programs is the lack of photo management tools. You may not be looking for photo management options but for those with a large photo collection, these tools are incredibly useful.
Affinity Photo only allows you to open and save photos. You can do basic photo management by creating new folders in the main file dialogue box. However, that is basically it! To manage your photos, you would need to use third-party photo management software.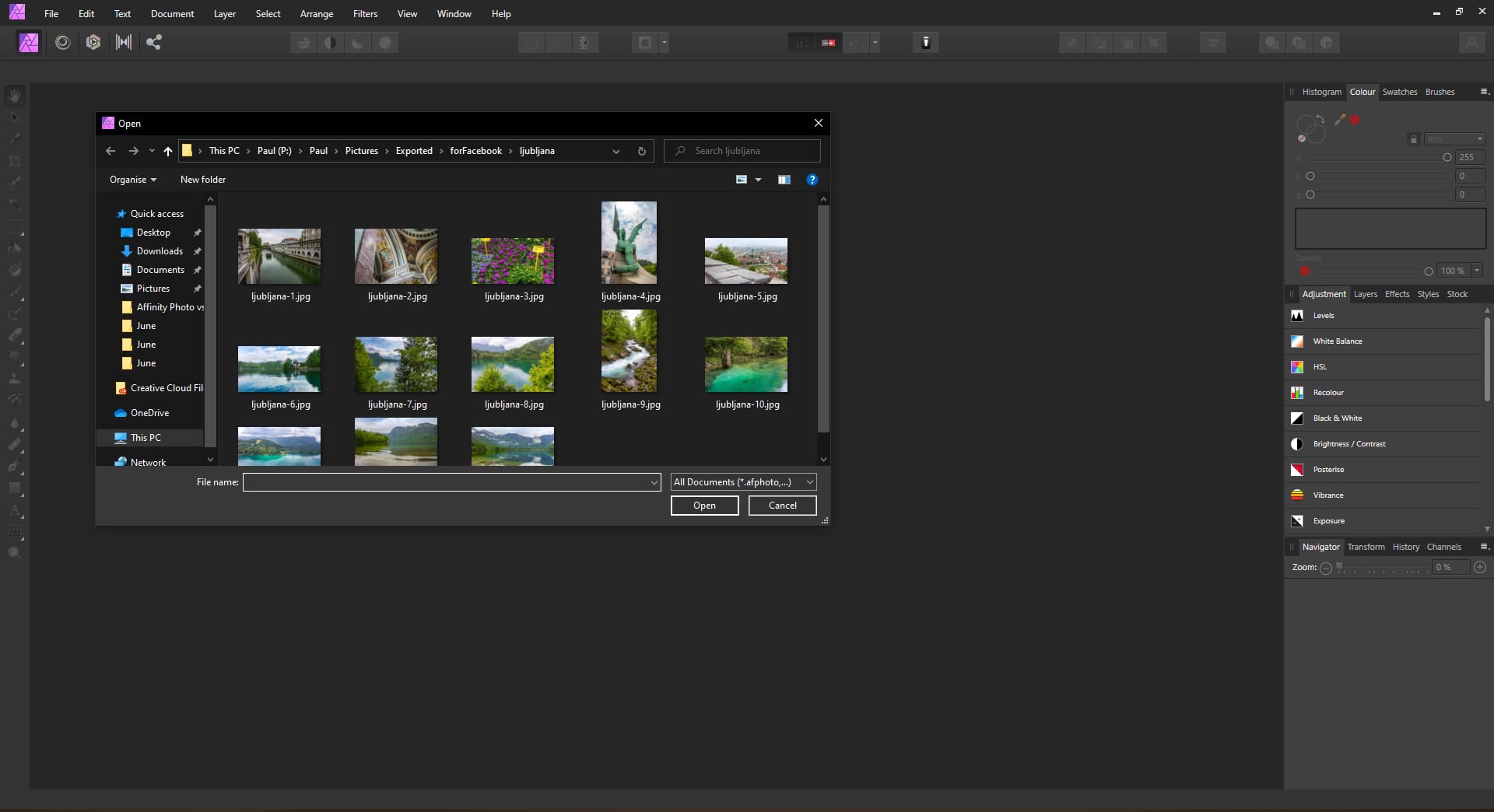 Photoshop suffers from a similar lack of management tools. This is where Lightroom really shines. If you have Lightroom already, you can export your photos into Lightroom once you have finished editing them in Photoshop. You can also manage files using Adobe Bridge which you can use for free as part of your Photoshop subscription.
The bottom line is, however, that neither program has dedicated photo management tools – this is something to consider if you want more than just a photo editing program.
RAW Editing
Both Affinity Photo and Photoshop have excellent RAW editing tools. They both support a variety of RAW file types. You can edit the basic parameters of your images in fine detail and go beyond that with some advanced editing.
Affinity Photo has a full set of RAW tools in the photo persona. Here you can easily edit parameters like contrast, saturation, and white balance. The different parameters are split into clear tabs. You can also choose presets for each of the parameters if you want to edit your photos in a certain style.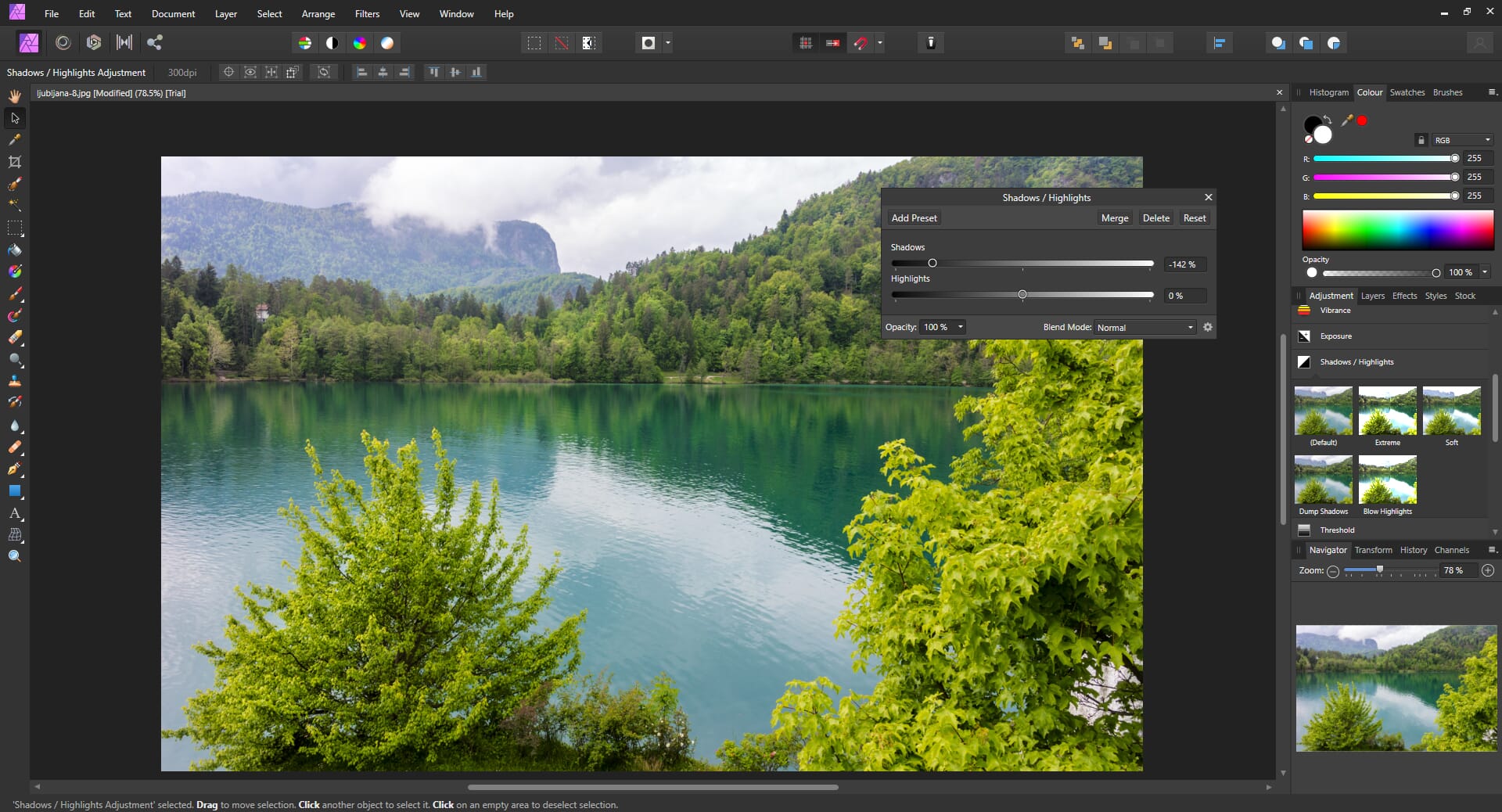 Affinity Photo also has four useful automatic editing options – auto levels, auto contrast, auto colors, and auto white balance. These offer effective one-click edits that will greatly improve the basic quality of your photos.
Photoshop has two different methods for RAW editing. You can use the various toolbars on the right-hand side, such as adjustments, colors, and properties. These allow you to easily edit the basic quality and parameters of your RAW photos. The tools offer excellent detail and control over your images.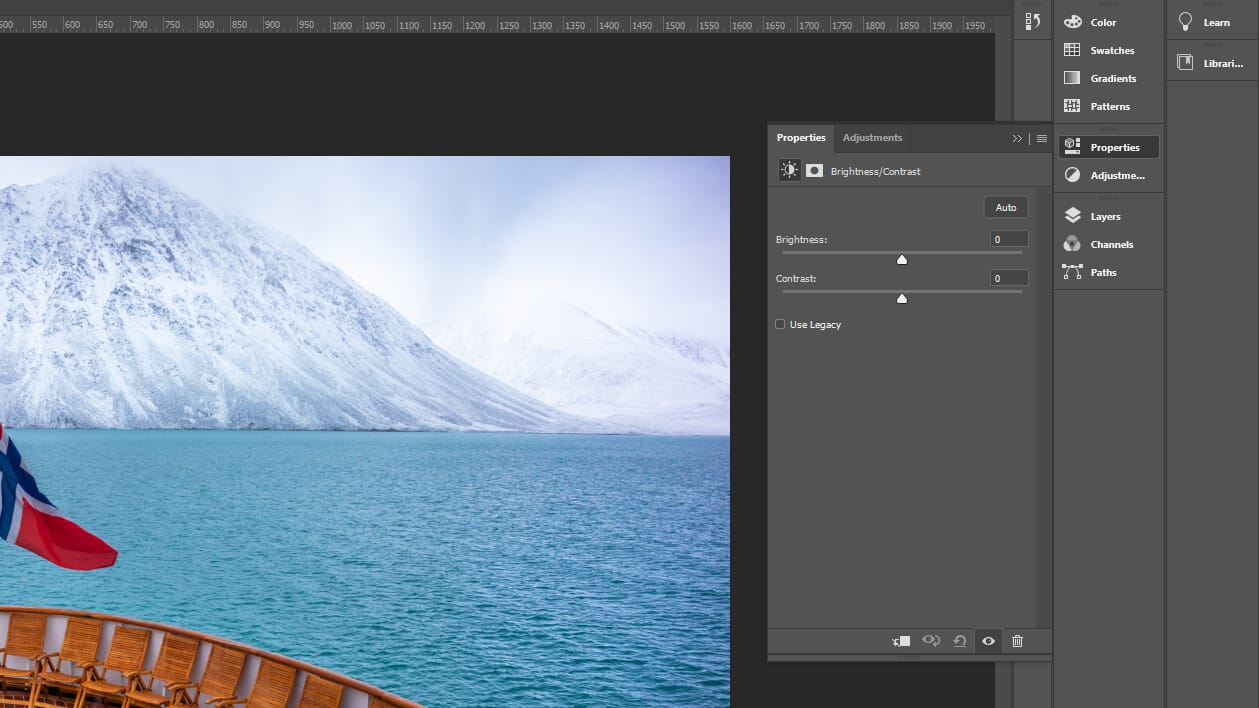 Alternatively, you can use the Camera Raw plugin. This is a plugin within Photoshop that is part of the Photography package. This opens the Camera Raw dialog box. Here, you have full control over RAW editing in greater detail than the basic program offers. Many people also find this easier to use than using the toolbars in the standard Photoshop layout. Camera Raw also allows you to adjust things like calibration, vignetting, and lens correction.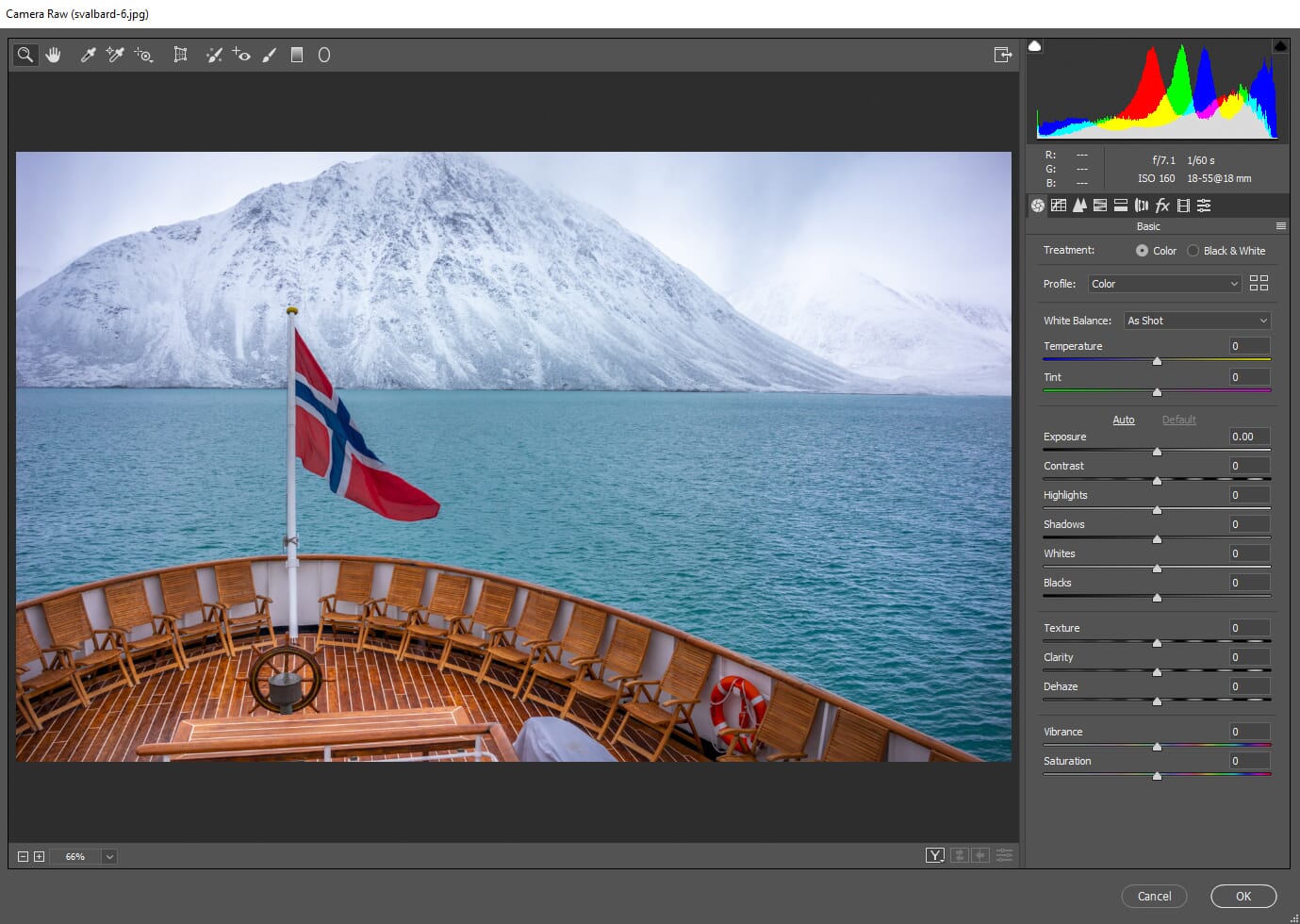 Filters/Creative Effects
For creative filters and effects, both programs have a decent selection. For example, using Photoshop or Affinity Photo, you can add filters to your photos like blurs, sharpening, noise, and distortions. These tools are easy to use, and both appear to be intelligent with great end results.
For creative effects and presets, both programs are limited. Affinity Photo has a slight edge here as it has a range of "styles" that apply preset edits to your photos. These are quite diverse and are more suitable for creating marketing pieces or unusual images. There are also several LUTs that change the basic coloring of the photos.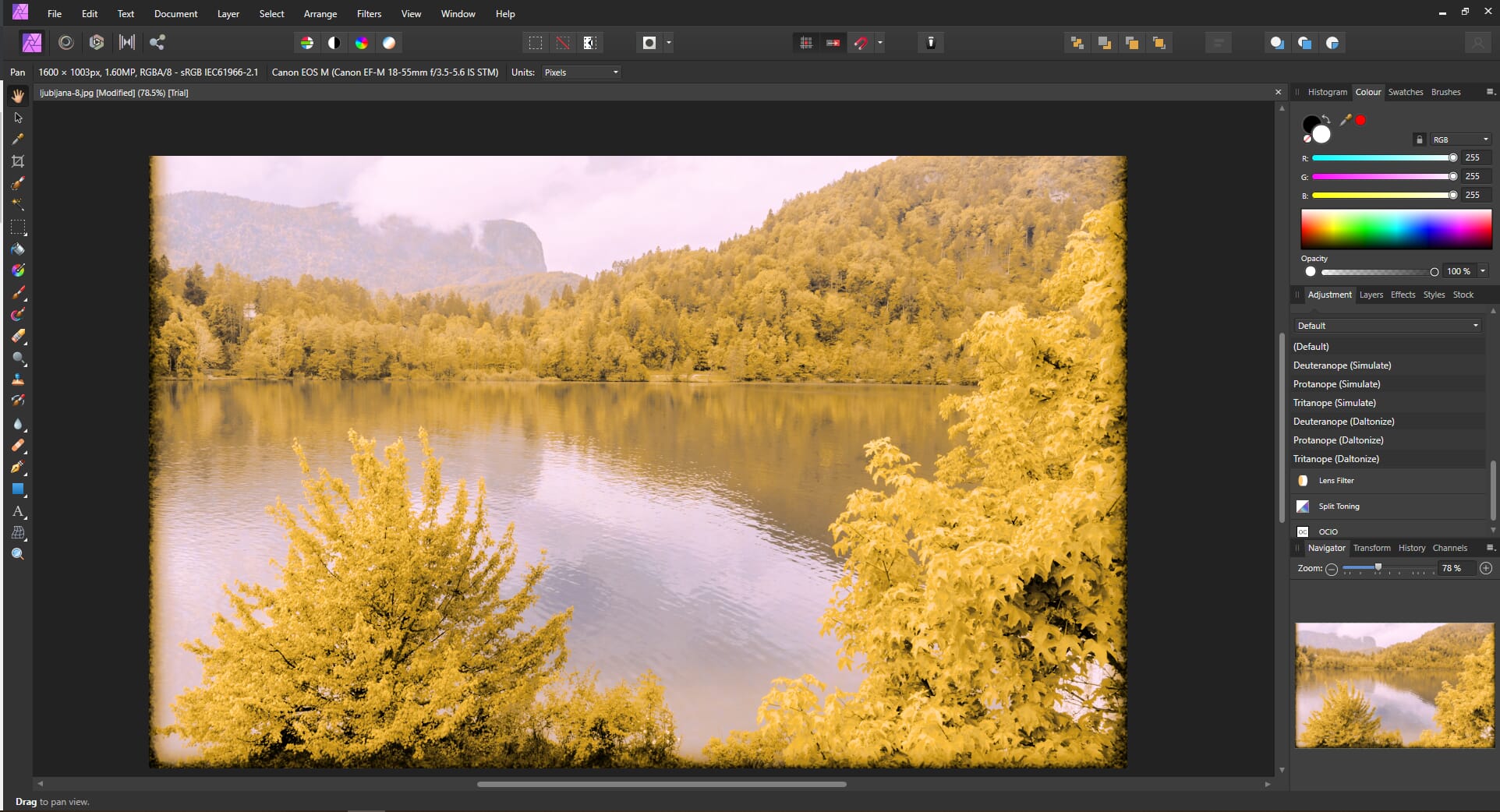 Photoshop essentially has its filters and that's it. These are a wide variety of creative effects that can easily be applied and previewed in the filter's gallery. You also have great control over the filters and how they are applied to your photos One of the great things about Photoshop, however, is the ability to add additional features. You can find thousands of third-party filters and designs that can be installed and applied to your photos.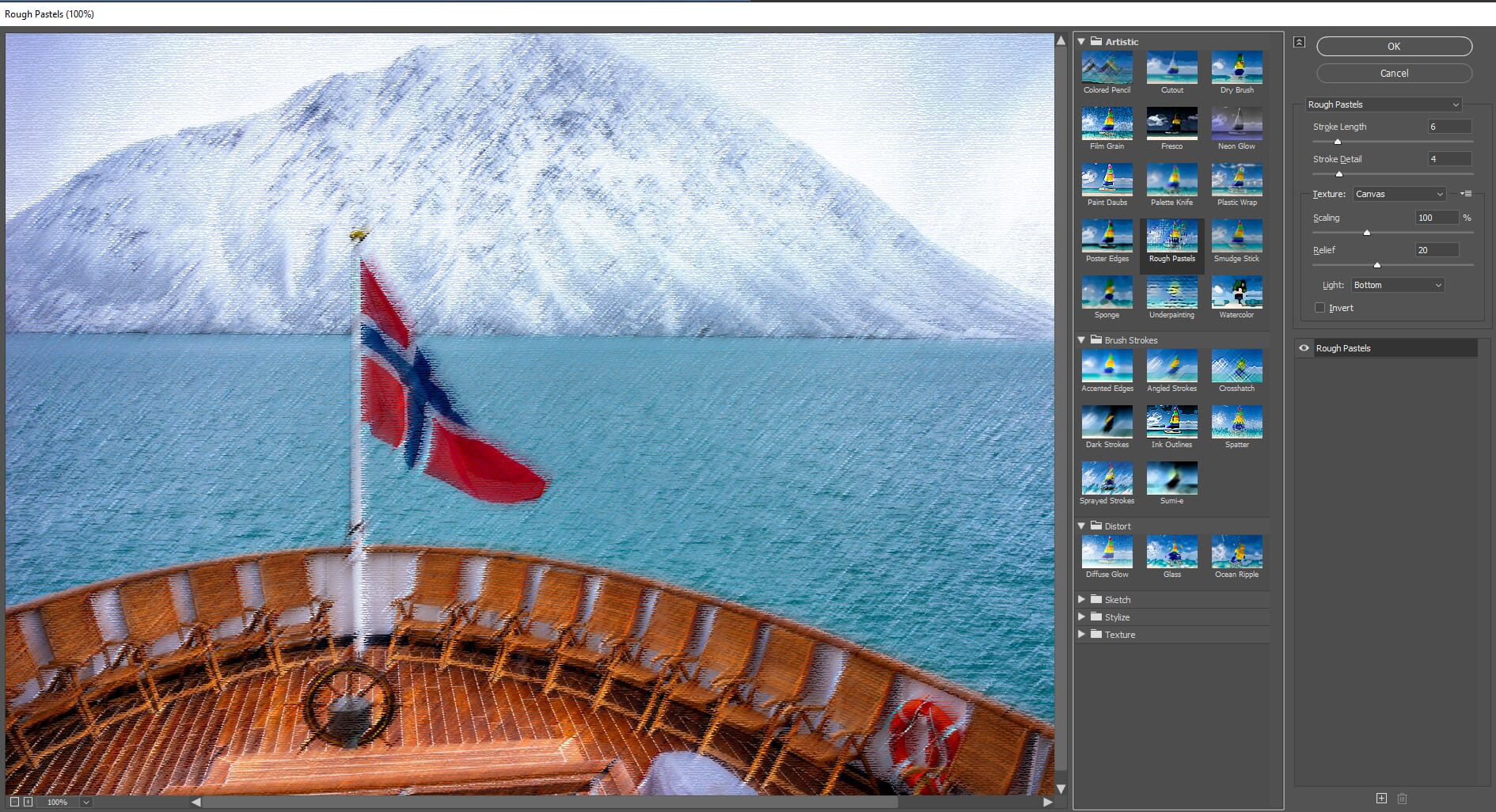 Photo Retouching
Removing imperfections and improving the basic composition of your photos is also important. When looking at Affinity Photo vs. Photoshop, we looked at their retouching tools.
Photoshop excels in this area. It offers fantastic control over retouching and has tons of useful tools that allow you to easily remove imperfections. One great tool is the clone stamp tool, it is invaluable for removing unwanted objects. You can also freely transform, rotate, and crop your photos. The spot healing brush is also useful. This is essentially an AI tool that automatically removes the select area and replaces it with a best-fit background.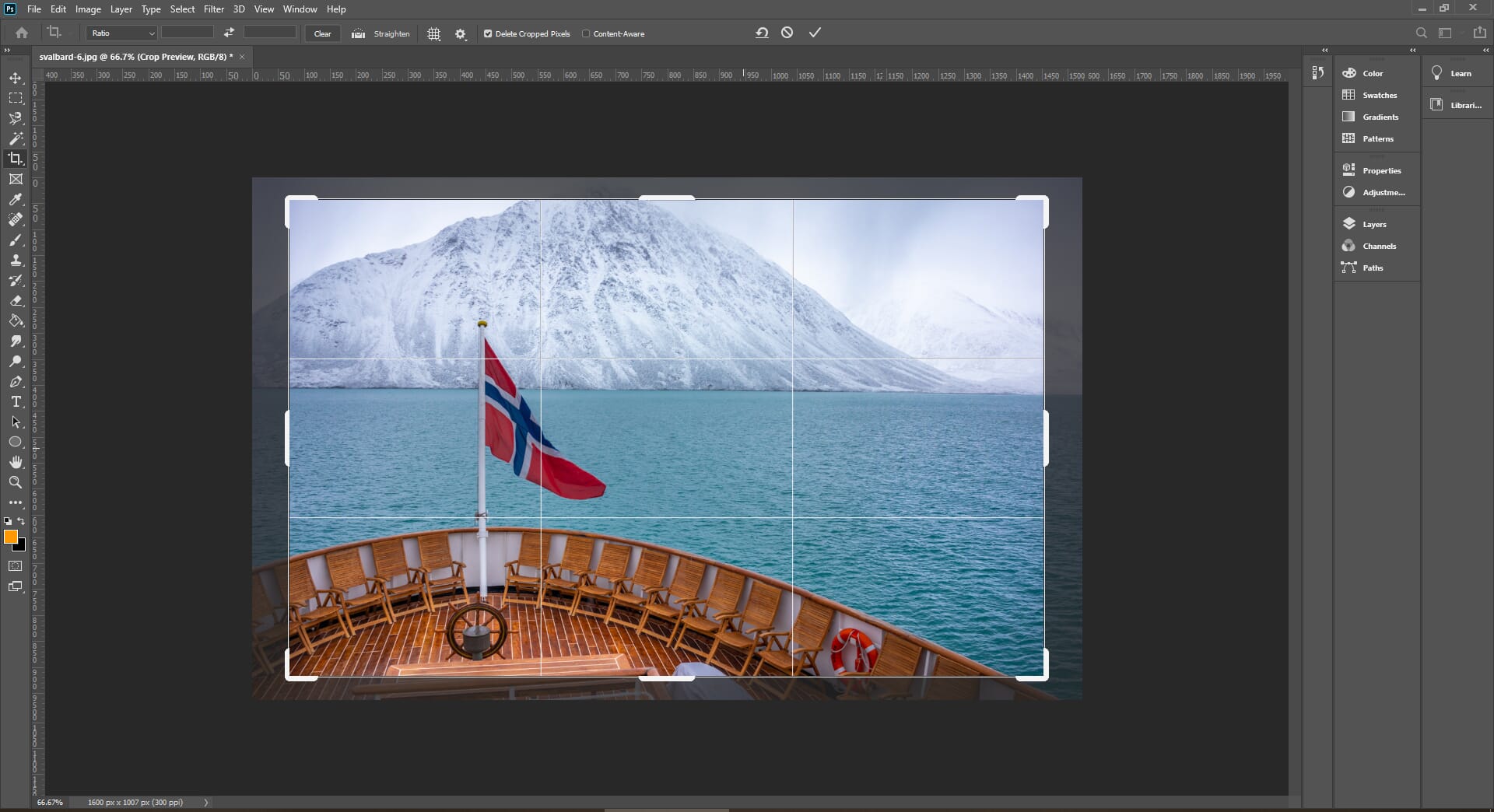 Affinity Photo also has a great selection of retouching tools. These are primarily available in the develop persona. The blemish tool, for example, works in a similar manner to Photoshop's healing brush. There is also a useful automatic red-eye removal tool for portraits. There isn't much to choose between these two programs for retouching – both give you advanced control and freedom.
Pricing
When looking at Affinity Photos vs. Photoshop, pricing is also going to be a factor. These two programs are priced differently. Affinity Photo uses traditional pricing and is available as a one-off purchase. In contrast, Photoshop requires a monthly or yearly subscription – it cannot be brought outright anymore.
This is something to consider. If you just want a basic program for editing and hobby work, paying a monthly fee may not be ideal. Alternatively, if you need photo editing for your profession, a subscription to Photoshop may be beneficial. The following are the current price plans for Affinity Photo and Adobe Photoshop:
Affinity Photo
Mac/Windows: $23.99 (Usual full price of $48.99)
iPad: $9.99 (Usual full price of $19.99)
Adobe Photoshop CC Subscription
Photography Plan: $9.98 per month
Photoshop Plan: $19.97 per month
As you can see, Affinity Photo is MUCH cheaper. Even at the standard price of $48.99 it is far cheaper than a 1-year subscription to the Adobe Photography plan ($119.76 equivalent).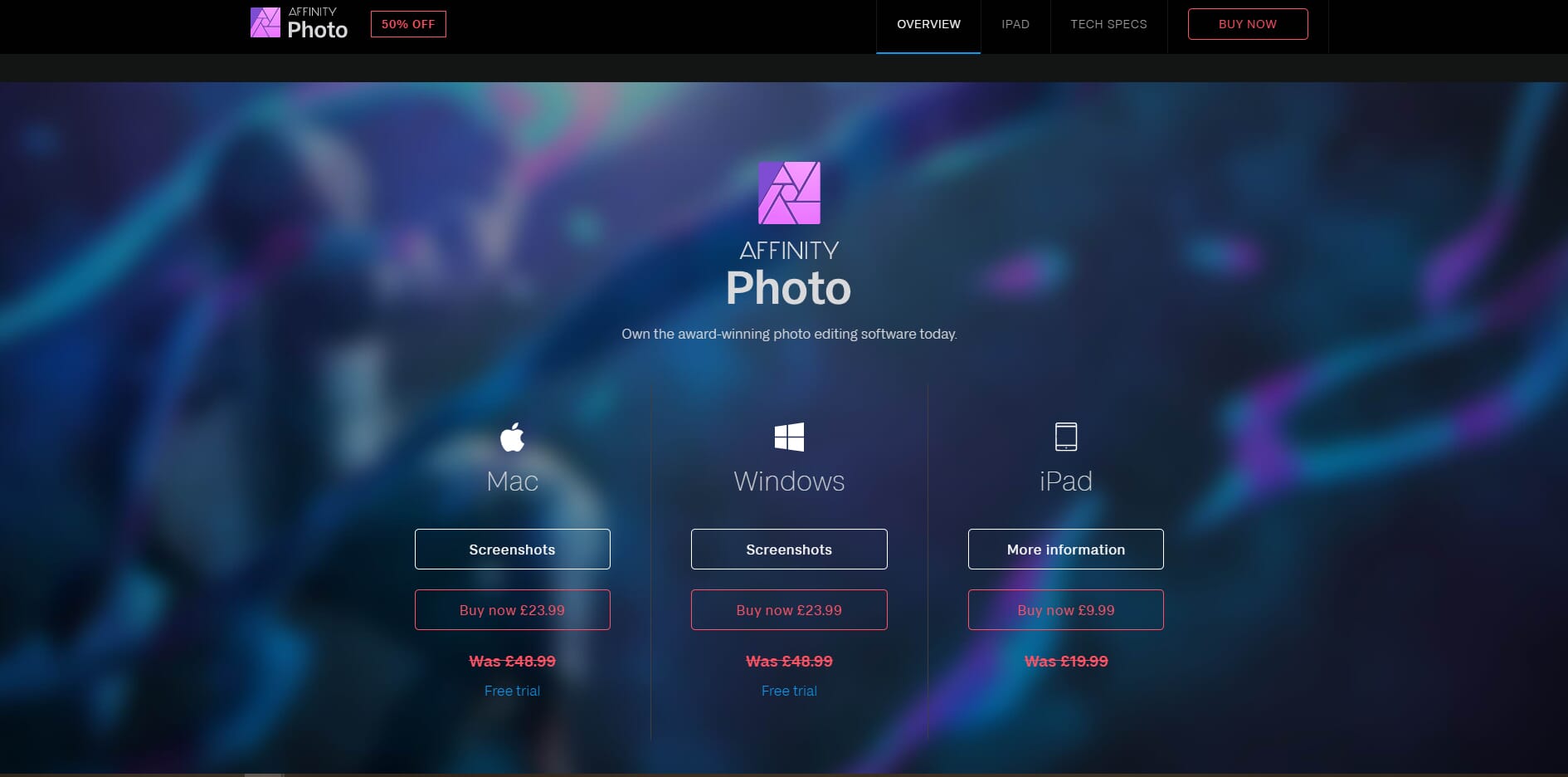 However, you must consider what you get. For example, the Photography plan includes Photoshop, Lightroom Classic, Lightroom CC, and 20GB of cloud storage. That's pretty decent! You also get full access to Adobe Fonts, Adobe Spark, and free updates. For $9.98 per month, you get two of the best editing programs available, plus a host of other useful features.
Which Editor Is Right for You?
So which program wins the Affinity Photo vs. Photoshop battle? It's not a case of one being better than the other. Instead, either program could be suitable for different purposes, depending on what you want from a photo editor.
If you want a photo editor and photo management in one solution, Lightroom beats both of these programs. Bear in mind that you can get Lightroom in a package deal with the photography subscription from Adobe.
If you're looking for an affordable editing program that still provides a fantastic range of features and control, Affinity Photo is the better choice and one of the best alternatives to Photoshop. It offers virtually the same set of RAW editing tools as Photoshop for a fraction of the price.
Finally, if you want powerful editing, retouching, and greater variety, Photoshop is the better option. It just has more to offer than Affinity Photo for high-end editing and graphic design. You also have the added bonus that it works perfectly with Lightroom, (which is included in the "Photography" subscription), Bridge, and has the Camera Raw plugin.