Tablets offer tremendous power. Many are comparable to full-fledged laptops and can be used for various tasks such as streaming, gaming, and even video editing.
Of course, some content creators and videographers prefer to edit on a desktop computer, but what about those times when you're traveling and need to get some processing done, or you're only looking to do casual video editing and don't require a desktop setup? A tablet can be the perfect device!
There are quite a few excellent tablets on the market, many of which offer impressive specifications for reasonable prices. In this article, I share the top eight best tablets for video editing, including high-end and budget picks.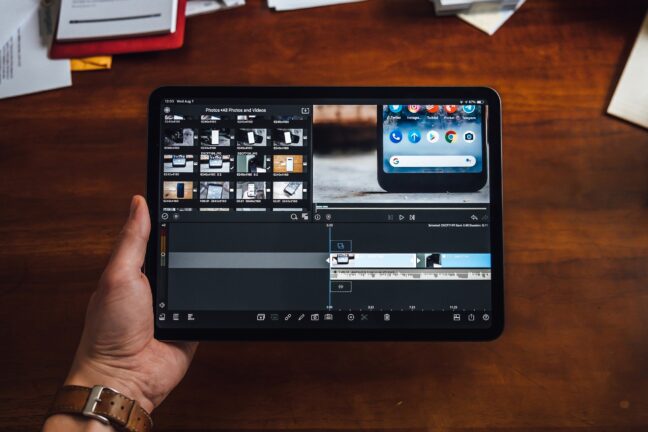 The Best Video Editing Tablets:
When you buy through links on our site, we may earn a commission at no cost to you. We evaluate products independently. Commissions do not affect our evaluations.
1. Microsoft Surface Pro 9
Our Pick
Great for seamless editing
The Microsoft Surface Pro 9 offers some of the best system specs for resource-intensive editing, including up to 32 GB of RAM and a 1 TB SSD.
Pros
Lots of configurations to choose from
Up to 15.5 hours of battery life
Edge-to-edge screen design for maximum viewing
Cons
The base model may not cope with high-end software
The Microsoft Surface Pro 9 essentially has laptop-level capabilities and is therefore one of the best video editing tablets for professionals. If you need a portable, high-quality device to take with you on video shoots so you can edit as you work, it's an excellent option.
You can choose from numerous configurations, but even the most basic model has 8 GB of RAM and 128 GB of storage. This should give you more than enough space to store your videos, and it should also let you use a selection of powerful editing programs.
However, if you need reliable and smooth performance on high-end software like DaVinci Resolve, you should spring for the top option, which comes with 32 GB of RAM and a 1 TB SSD. Combine this with the Intel processor (one that is specifically designed to optimize tablet performance), and you have one of the most powerful tablets currently available.
The processing power easily allows you to browse through stock video footage websites, edit footage in real-time, and render finished items. It's complemented by the excellent battery life, which can last for up to 15.5 hours; that way, you can always have your device ready to go when recording is complete.
The Surface Pro 9 also looks great and has a large 13″ touchscreen. The display is responsive and offers virtually edge-to-edge coverage!
2. Apple iPad Pro 12.9″
Also Great
Great for realistic previews
The Apple iPad Pro 12.9″ has an Liquid Retina XDR display with P3 color gamut support so you can edit and view your videos in glorious detail.
Pros
Has the M2 chip
Up to 2 TB of storage
Multiple USB and Thunderbolt ports
Cons
The upgrades are incredibly expensive
Apple has a couple of fantastic tablets for video editing, and the first is the Apple iPad Pro 12.9''. This is the latest version of the iPad Pro and features the M2 chip (the same one you can find in some of the best MacBooks for photo editing).
This chip has an 8-core CPU and 10-core GPU together with unified memory. The RAM, processor, and graphics chip work in tandem to make the device more effective. As a result, you can easily run high-end video editing software, and resource-intensive tasks like rendering and adding effects should be seamless.
The basic storage option is just 128 GB, so I would recommend upgrading it if possible. There are SSD sizes ranging from 256 GB to a huge 2 TB, and the 2 TB version is perfect if you need to store and edit lots of 4K video.
This iPad Pro also offers amazing viewing quality. It has a 12.9″ Liquid Retina XDR screen with True Tone technology and P3 color gamut support. This means your video footage will look incredibly realistic with fantastic colors and depth, which is essential for professional work.
3. Apple iPad Pro 11″
Great for connectivity
The Apple iPad Pro 11″ supports an array of cables, so you can easily connect your camera and download video footage quickly for editing.
Pros
Powerful M2 chip
Up to 2 TB SSD
Portable
Cons
Storage capacity upgrades are expensive
If you want something a little more portable but don't want to compromise on power and quality, the Apple iPad Pro 11'' is our best recommendation. This device essentially has the same specs as the 12.9″ version but with a smaller screen.
You'll love the amazing M2 chip with its 8-core CPU and 10-core GPU. It offers incredible power that can match many top computers for video editing! The chip not only allows you to run processing software smoothly, but it also improves the battery life. This is because it makes processes more efficient and thus puts less drain on the battery unit.
I like that the tablet gives you high-quality video recording capabilities. It has a 12 MP wide-angle rear camera and a 10 MP ultra-wide front camera, which you can use in conjunction with video editing software; that way, you can work effectively without the need for additional expensive equipment.
If you do plan to use a DSLR or mirrorless camera, don't worry. This iPad Pro has fantastic connectivity, including multiple USB-C ports and support for Thunderbolt cables. Finally, the Liquid Retina XDR display will ensure that your videos look amazing as you edit and play them back.
4. Samsung Galaxy Tab S8+
Great for file storage
The Samsung Galaxy Tab S8+ has three SSD storage options to help you manage your video files.
Pros
Has the latest Qualcomm Snapdragon processor
Universal USB-C charging
Ultra-wide 4K camera
Cons
The 8 GB of memory could limit its usefulness
The Samsung Galaxy Tab S8+ is a solid choice if you have a larger video collection because it has three SSD drive options: 128 GB, 256 GB, and 512 GB. I recommend the 512 GB configuration if you intend to use the tablet regularly and store your work on it, though you could always use the 128 GB version and purchase an external hard drive for video editing.
The S8+ offers impeccable viewing quality with its 12.4″ Super-AMOLED screen. Everything will look sharp, and the tablet has the added benefit of a 4K ultra-wide camera so you can record footage directly.
You should be able to run a range of video editing software thanks to the tablet's powerful Qualcomm Snapdragon processor and 8 GB of memory. Combine that with the aforementioned SSD drive, and you'll be able to quickly access media and have a smooth editing experience.
Regardless of your location, you can use the S8+ for long periods of time as it has an upgraded battery and universal USB-C charging. This tablet actually includes the Galaxy S Pen, which is incredibly responsive and can help improve your control when making precise adjustments and cutting video clips.
5. Lenovo Tab P11 Plus
Great for video previews
The high-quality display makes the Lenovo Tab P11 Plus a great option for videographers in search of faithful colors.
Pros
Sleek design
Includes a keyboard
Reliable battery that can last for 15 hours
Inexpensive
Cons
The processor is not as good as Microsoft or Apple models
4 GB of RAM may not be enough for some editing software
If you want a more affordable tablet and aren't loyal to Apple or Microsoft, the Lenovo Tab P11 Plus is a superb choice.
This is one of the newest P-series models, and its lightweight build makes it great for frequent travelers. Plus, it's highly portable and can easily fit in a backpack or laptop case for on-the-go video editing.
This tablet has 4 GB of RAM and a MediaTek Helio G90T processor (with each core operating at speeds of 2.05 GHz). As a result, you should be able to run a range of software comfortably, even if the performance isn't perfect.
To ensure your footage looks amazing, the touchscreen has a breathtaking display that packs 2K resolution. Everything will look crisp, and you should get realistic colors, too. If you prefer to maintain a desktop feel while editing on the go, you'll love the included wireless keyboard!
You can comfortably use the tablet without access to an electrical outlet as it has a very impressive battery. It's a great choice for anyone who regularly edits their videos while traveling!
6. Microsoft Surface Go 3
Great for traveling light
The Microsoft Surface Go 3 is a compact tablet with great system specs and a high-quality touchscreen display for on-the-go video editing.
Pros
Gorgeous touchscreen
Superb battery life
Kickstand for upright use
Cons
It may not be suitable for high-end software
I owned the original Surface Go and thought it was a fantastic product. The Microsoft Surface Go 3 has some excellent upgrades and offers even better performance. It's also very compact, so it's great for those times when you need to edit while traveling.
Though the Surface Go 3 is plenty portable, the 10″ screen should still give you enough space to watch video previews, use editing software, and work effectively. Additionally, the touchscreen is incredibly responsive, not to mention stunning (in fact, it looks as good as some of the best monitors for video editing).
I recommend purchasing the Microsoft Surface Keyboard, too. I appreciate that this is an extra expense, but it makes the tablet far more versatile, and it allows you to use the various keyboard shortcuts offered by most video editing software.
With an Intel Pentium processor and 4 GB of RAM, the Surface Go 3 isn't great for running resource-intensive programs. However, it should be able to comfortably handle most beginner to mid-tier software. The battery is great, too; it has an average life of 11 hours, and it boasts a fast charging system so you can always have the tablet ready to go.
If you do want a little more processing power, there is an upgraded configuration with 8 GB of memory and a larger 128 GB SSD. It isn't much more expensive and could be a viable option for professional video editing.
7. ASUS Chromebook Flip C433
Great for work and editing
The ASUS Chromebook Flip C433 functions both as a laptop and tablet, and it's great for editing due to its portability, connectivity, and lightweight design.
Pros
High-powered processor
3x USB ports and a card reader slot
Fantastic touchscreen display
Cons
8 GB of memory may not be enough for some high-end software
If you want a dual-purpose tablet that can be used for work and video editing, the ASUS Chromebook Flip C433 is a top pick. It is primarily a laptop, but it converts to a tablet similar to the Microsoft Surface Pro 9.
You can flip the screen outward and use the laptop keyboard as a stand. Combined with the excellent 14″ touchscreen display, this will make your editing sessions so much easier and give you great control.
To ensure you can run most standard video and drone video editing software, the C433 has an Intel Dual-Core M3-8100Y processor. Combine this with 8 GB of memory and you end up with a very solid device. It meets most of the recommended system specs for editing software, though it could feel a little sluggish when running programs that recommend 16 GB of memory.
The C433 offers excellent connectivity, too. For example, the three USB ports and the card reader slot allow you to easily download video footage from your camera.
Of course, you shouldn't forget about the portable design, which makes the C433 perfect for vacations and video shoots. Plus, the battery should last for longer sessions and has an average charge life of up to 12 hours.
8. Apple iPad Air
Another great travel pick
The Apple iPad Air represents a step forward thanks to its upgraded chip, high-quality display, and handy security features.
Pros
Fast and efficient Apple M1 chip
High-quality 12 MP cameras for recording video
Fantastic all-day battery life
Cons
The default storage capacity is lacking
Our last pick is the Apple iPad Air. This is a superb tablet and has some much-needed upgrades compared to its predecessor. Though it doesn't have the power of the iPad Pro devices, it's still an amazing choice for hobbyist video editors and those who need a quick-access tablet to carry while traveling.
It has the M1 chip, which is a considerable processing upgrade that will allow you to run software smoothly and easily preview your videos. The upgraded chip should make the tablet acceptable for video rendering and capable of using video quality enhancer software.
The storage starts at 64 GB, which is a little limited for video editing. I really recommend paying for the 256 GB option, which will give you greater flexibility when storing video files and means you can hold more footage before having to export it to another drive.
Your video footage will look incredibly realistic due to the premium 10.9″ Liquid Retina display. With P3 color gamut support and an anti-reflective coating, colors, highlights, and shadows will all look excellent. Lastly, even when using high-level video editing software, the improved battery should handle long processing sessions without issue.
Pick the Perfect Tablet for Video Editing
Hopefully, you've determined a great tablet for video editing. Whether you want a multipurpose model for occasional video processing or a powerful device to work with high-end software, there is an option available!
Models like the Microsoft Surface Pro 9 and the Apple iPad Pro 12.9'' have fantastic system specs and can easily run top-notch video editing software.
In contrast, cheaper options like the Lenovo Tab P11 Plus, the Apple iPad Air, and the Microsoft Surface Go 3 are ideal for travel editing, general family use, and casual processing.
---
Disclosure/Disclaimer: As an Amazon Associate, we earn from qualifying purchases. Certain content was provided "as is" from Amazon and is subject to change or removal at any time. Product prices and availability: Amazon prices are updated daily or are accurate as of the date/time indicated and are subject to change. Any price and availability information displayed on Amazon.com at the time of purchase will apply to the purchase of this product.