The Best Tablets for Photoshop
A tablet that runs Photoshop smoothly is the ultimate photo editing tool. It runs on touch. The best tablets for Photoshop takes commands via a stylus, is perfectly color calibrated and is extremely convenient. Being lightweight and portable are some of the other characteristics of a tablet which makes it a good companion when you have a habit of editing your images on the go.
Related Post: Best Laptops for Photo Editing
Literally, for a busy shooter who loves to do the basic editing himself/herself, a tablet that runs Photoshop makes considerable sense. S/he can make initial adjustments right after shooting a session, in between transfers and when sitting in the hotel room.
Today we shall be looking at a few options. These are in our opinion the best tablets for Photoshop. If you feel that we have missed anything or want to add to this list feel free to let us know.
Please note we are looking at full-fledged tablet options in this discussion. The original Wacom tablet is an incredible input device but it still relies on an external display. Thus any device without a display is left out of the purview of this discussion.
✔ BEST Tablets for PHOTOSHOP
1. Microsoft Surface Pro 12.3″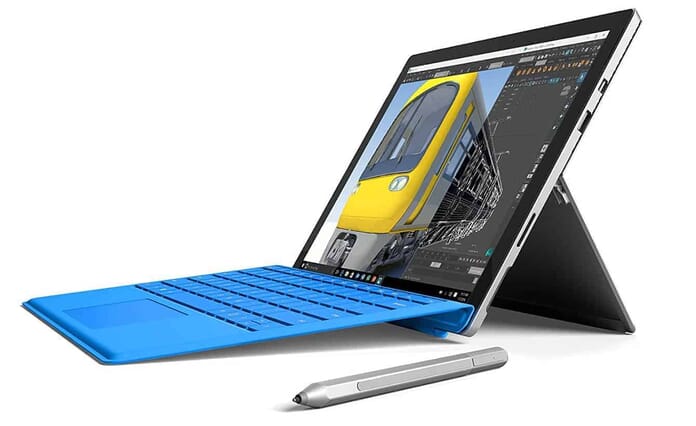 Microsoft Surface Pro 4 12.3" PixelSense Touchscreen (2736x1824 ) Tablet PC, Intel...
Surface Pro 4 powers through everything you need to do, while being lighter than ever before
12.3" PixelSense touch screen with 2736 x 1824 resolution has extemely high contrast and low glare so you can work...
6th Gen Intel Core i5 processor with 4GB memory and a 128GB solid state drive plus microSD slot
Dual HD cameras(Front 5MP, Rear 8MP) for photos and face-to-face chat; Bluetooth, Full-size USB 3.0, Mini DisplayPort,...
Go from tablet to laptop in a snap with the multi-position Kickstand and improved keyboard.
The Microsoft Surface Pro 12.3″ is powered by a 2.6 GHz Intel Core i5-7300U Dual Core processor. It comes with 8 GB of RAM and 256 GB of SSD. The 123″ PixelSense monitor has 10-Point Touch Display. The highest resolution you can set it up to is 2736 x 1824 pixels giving it a 267 ppi pixel density.
Dimensions
But is a smaller more compact dimension the perfect way to go forward? Initial impressions suggest that the Surface Pro 12.3″ has a slight edge over the outgoing models in terms of screen real estate. And that too within the same dimensions as the previous models.
The initial feeling is that the type cover has been improved as well. That was a bit of a gray area with the previous model. The Surface Pen has also improved as well.
Some clever redesigning of the design has reduced the thickness (that is, if at all you can call the Surface Pro thick) of the Surface Pro further down from 9.1mm to 8.4mm. There used to be a capacitive Windows button which has now been done away with.
Touchscreen Sensors
Plus, the touchscreen sensors, the pixels, and the whole mechanism have been brought further close to the glass surface. All this has resulted in further slimming down of the Surface Pro. Even then the new screen design is far more effective and far more true color calibrated than the previous Surface 3.
Surface Pen
The new Surface Pen is ostensibly improved than the one it replaces. The design has a flatter side which is easier to hold when in use. Plus this is the surface which has been coated with tiny magnets which allow it to cling to the left side of the tablet.
The touchpad is capable of detecting up to 1024 levels of pressure which gives you an incredible range of inputs possible when editing your images.
Redesigned Type Cover
Almost all photo editors will acknowledge that at time keyboard shortcut is the best option than using a pen. Therefore a sturdy and responsive keyboard is must have even for a touch tablet. In that regard, Microsoft has done a good job of redesigning the type cover.
The type cover is a tag thicker than what we have seen in the previous models. The keys themselves are much more spaced out. Each of the keys now travels a bit further and gives a firmer response which feels great when typing.
Each of the keys is backlit which gives greater convenience when working on a flight or when sitting in a dimly lit room. The touchpad completes the keyboard which has a glass coating instead of a plastic one.
All of these features makes the Surface Pro one of the best tablets for Photoshop.
2. Wacom Cintiq 13 HD 13.3″ with Creative Pen Display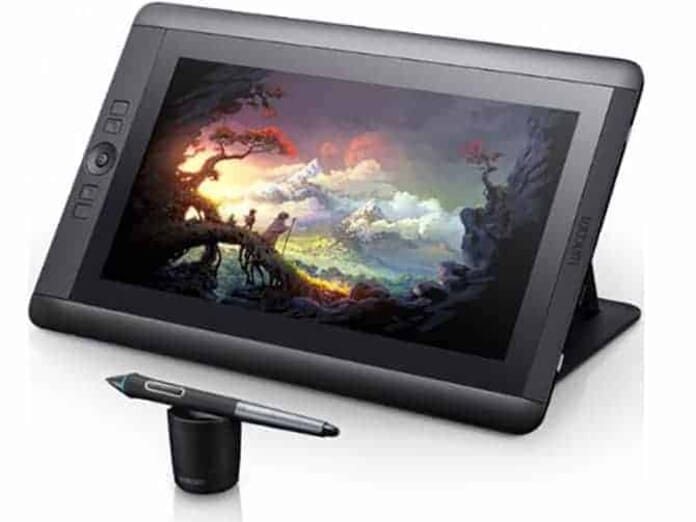 Wacom Cintiq 13HD Interactive Pen Display, DTK1300 (Old Version)
Enjoy the natural creative experience of working directly on screen;Aspect Ratio :16 : 9
Pressure (2048 levels) and tilt sensitive Wacom Pro Pen performs like traditional brushes, pencils and markers
Premium, 13.3 inches, HD Display (1920 X 1080) with wide viewing angle,get a HDMI to Mini Display Port adapter to...
3 Position display stand (included)
Comfortable, compact, lightweight design
The Wacom Cintiq 13 HD is a 13.3″ full HD IPS display equipped touchscreen tablet. The screen has a large 178 ˚ viewing angle. The aspect ratio of the display is 16:9 giving the display a large widescreen effect. The large display area measures 11.75″ x 6.75″. Overall measurement of the device is 14.75 x 9.75″. It is about 1/2″ thick overall.
Display
So far as display resolution is concerned the Wacom Cintiq is no match for the Surface Pro we discussed previously. Even at full HD, the larger display area pushes down the display resolution to 165 ppi. Much less to what we have seen with the Surface Pro.
The tablet has a large 75% Adobe RGB Gamut and supports up to 16.7 million colors. The tablet can be used standalone and comes with a detachable and fully adjustable stand which allows it to be set-up at three different angles – 22, 35 and 50 ˚. In the real world these three angles kind of limits the user. Additionally, there is an HDMI port which allows it to be connected to a larger display for better viewing convenience.
Wacom Pen
The Wacom Cintiq comes with a pen that can detect up to 2048 individual levels of pressure. Plus, it has a resolution of 5080 lines per inch. It has a 40 ˚ tilt recognition. The good thing about the pen is that it does not require charging or batteries. In other words, you have an unlimited editing time with the pen.
Additionally, the Wacom Pen Pro also supports up to 2048 levels of pressure on both the pen tip and the eraser. The design of the pen is very smooth. It can be held and used for an extended time frame without putting too much pressure on your fingers. The package comes with 9 replacement pen nibs along with a nib removal tool.
Four customizable ExpressKeys, plus the Rocker Ring and the home button ensures that you have enough customization options at your disposal for a quick access to features.
Related Post: Best Desktops for Photo Editing
3. Wacom Cintiq 27 QHD 27″ Creative Pen Display Tablet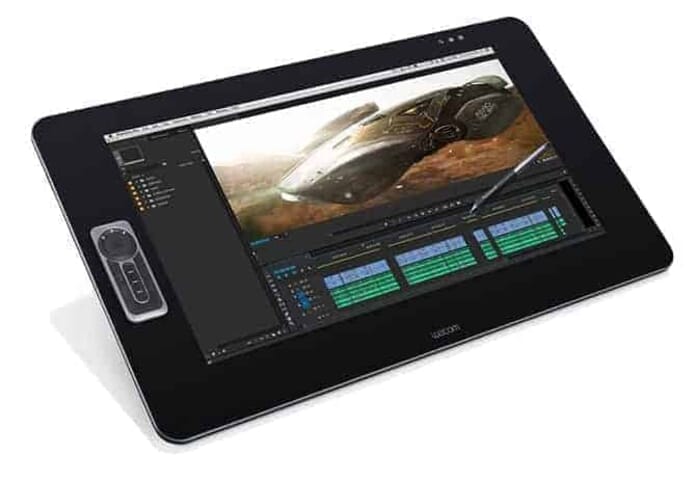 For nearly twenty-three hundred dollars (US) the Wacom Cintiq 27 QHD 27″ is a behemoth, a promise that's too good. The active area of the device is 23.5″ x 13.2″. The display resolution is 2560 x 1440 pixels (QHD) and this is a Pen-only display. This is a significant jump from the full HD display that we had seen with the previous model. Plus, the size and you have a potent tool in hand. Another good thing that Wacom has done is they have changed the aspect ratio from 16:10 to 16:9. The display complies with 97% Adobe RGB color gamut and supports 1.07 billion colors.
Express Remote
There have been some clearly visible changes in the design of the tablet, from what we had seen in the older design. The older model had ExpressKeys which have now disappeared. These used to be around the edges of the bezel. Instead, we now have an ExpressKey remote. There is some prudence of this development. As there are some disadvantages (imagine losing this small contraption).
On the other hand, the remote comes with 17 buttons which can be customized allowing for faster and easier access to important features. Getting used to using the remote in the left hand while using the pen, on the other hand, is going to take time. Battery life of the tablet is a great 160 hours. So in all probability, you may have to charge it only once per week.
The Touch Pen can sense up to 2048 levels of pressure. Apart from the Pen, you can also use touch functions as well. Needless to say, this is one of the best tablets for Photoshop.
Related Post: Best Laptops for Photoshop Users
4. Wacom Cintiq 22HD Pen Display Tablet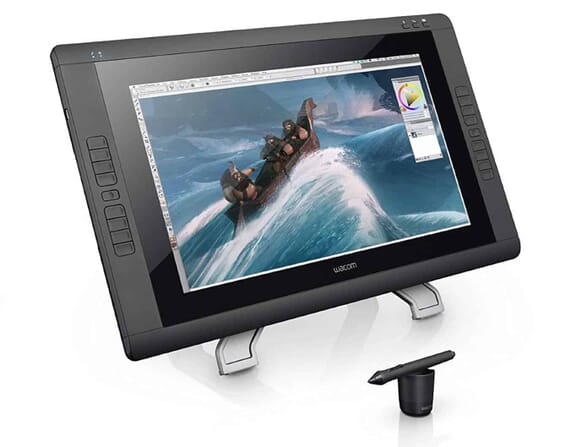 Wacom Cintiq 22HD 21-Inch Pen Display Tablet, Black (DTK2200)
22 inches HD Display features a wide format, full HD resolution and extra wide viewing angle
Work naturally and intuitively directly on screen; Sketch, paint, design and edit directly on the surface of the screen
Wacom's most advanced pressure and tilt sensitive pen technology replicates the natural effects and experience of...
Time saving Express Keys, Work easier and faster with customizable ExpressKeys, 1 touch access to your favorite...
More than anything else it is the form factor that makes tablets the ideal device for editing photos. The display of the Wacom Cintiq 22HD is a neat 19.5″ x 11.5″ and it supports up to 16.7 million colors. The overall dimensions of the tablet are 25.6″ x 15.7″ x 2.2″.the display ratio of the 22HD is 16:9. It is a pretty large display which should be a welcome change if you have been using a 15.6″ laptop. Come to think of it the Cintiq 27HD is even larger and rightfully termed as a behemoth. But the 22HD is small and convenient, as rates as one of the best tablets for Photoshop.
Viewing Angle
The viewing angle of the device is promised to 178 ˚ horizontally and 89 ˚ vertically. However, in real life situations, the display isn't hat is promised. It becomes darker quite quickly as you move off axis. In any case, you wouldn't be using this to catch a movie on Netflix. It is not designed for those purposes. This is a professional image editing tool and the true factory calibrated colors is what makes this device a delight for photo editors and retouchers.
Related Post: Best Laptops for Photo Editing under $500
ExpressKeys
Unlike the 27HD we discussed above, the Wacom Cintiq 22HD comes with 16-user programmable ExpressKeys which should be extremely useful when streamlining your workflow. The integrated Touchstrip Toggle buttons should make it easy for both left and right-handed photo editors to use the device with equal élan.
Ergonomic Stand
A stand at the back of the tablet means you can easily position the tablet at an angle of your choice for maximum viewing and working convenience. You can put it almost flat on the table or push it up standing at 180 ˚ to work as a large display for your laptop. With a molded DVI-H and USB cables and with that a DisplayPort connector you can basically take it and connect with any device, even setting it up to work as an extended display for your main display device.
Wacom Pen
For any Wacom Cintiq or other tablets, the quality of the Pen and the ease by which you can wield it is what makes it suitable for use. The Pen on the 22HD comes with 6 standards, 1 stroke, and 3 felt nibs. The Pen is capable of identifying up to 2048 levels of pressure.
The cons of the device are the somewhat low-resolution HD display which is now becoming obsolete. Also, the prominent bezel makes the 22HD appear much larger than what its display warrants. You need a better surface to work on and not a more imposing size.
Related Post: Best Tablets for Taking Photos
5. Apple 12.9″ iPad Pro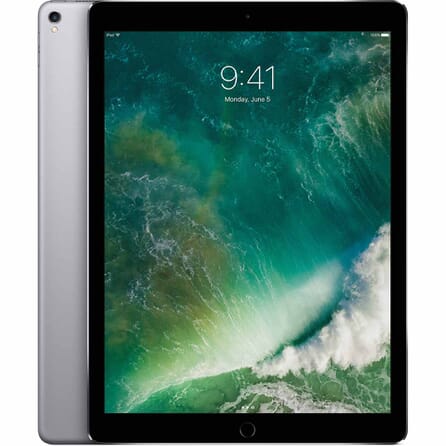 The newly launched 12.9″ iPad Pro is the latest iteration of the world's favorite tablet. It is powered by an Apple A10X 64-bit SoC + M10 Coprocessor and comes with the latest iOS 10 preloaded. The device is compatible with the upcoming iOS 11 to be launched later in September. That upgrade will give the tablet a slew of new features.
Though it does not come with a large display like the Wacom Cintiq's that we discussed above, we decided to include the Apple on this list because it remains one of the more popular choices. With Lightroom and Photoshop available on the Creative Cloud model, an increasing number of amateurs and enthusiast photographers are looking to install these applications for processing RAW frames. The Apple iPad with its powerful processor, refresh rate, and Retina display is a clear choice among small screen sized devices.
Display
The Apple 12.9″ is certainly a robust and extremely convenient device to use. The 12.9″ Multi-Touch Retina display is a joy to use. The screen gives one of the top display resolution among all the devices that we have listed here – 264 ppi (2732 x 2048 pixels).
Storage
The new iPad 12.9″ comes with a maximum built-in storage of 512 GB with the top model. That should be enough for several days of shoot and several time-lapse sequences. You can obviously buy the cheaper options but they come with less storage.
Apple Pencil
The device is compatible with the Apple Pencil – Apple's input device. The Apple Pencil is no Wacom Pen. It is both pressure and angle sensitive. Having said that, pressure sensitivity and levels are nowhere near to what you would get with the 22HD or the 27HD. But still, the Apple Pencil is no pushover. The technology works in tandem with the iPad touch sensitive surface and the faster refresh rate to pixel perfect efficiency.
The small size of the tablet is both an advantage and a disadvantage. On the plus side, it is extremely portable. It is the sort of device you would want to carry with you everywhere you go. Then again, for editing images, a larger screen size is better.
Keyboard
An important piece of tool that is missing (still) on the new iPad case/keyboard is the trackpad. The trackpad is the preferred input option when working on images and making intensive edits or scrolling through images. For some reason, the keyboard casing still does not have a trackpad. Yet, the Apple 12.9″ is one of the best tablets for Photoshop.
Related Post: Best Tablet Cameras
---
Note: As an Amazon Associate we earn from qualifying purchases. Certain content that appears on PhotoWorkout.com comes from Amazon. This content is provided 'as is' and is subject to change or removal at any time.