For photographers on the move, a tablet is a necessity. It allows them to edit their photos on the go and showcase their work on-demand. Given these facts, it's quite clear that what's needed is the best tablet for Photoshop, amongst other things.
In this article, we give you a rundown of the best tablets you can buy as a photographer. We consider factors such as speed, portability, and ease of use.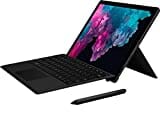 Microsoft 12.3″ Multi-Touch Surface Pro 7
Our Pick
16 GB of LPPDR3 memory, 1 TB of SSD storage, Intel Graphics;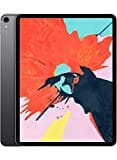 Apple iPad Pro 12.9″
Also Great
A12X Bionic chip (powerful Apple chip), Storage from 64GB to 1TB, Fast graphics processor;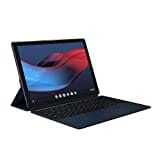 Google Pixel Slate 12.3″
16GB RAM, 4.2 GHz Intel Core i7, 256 GB SSD storage, Integrated Intel HD graphics coprocessor;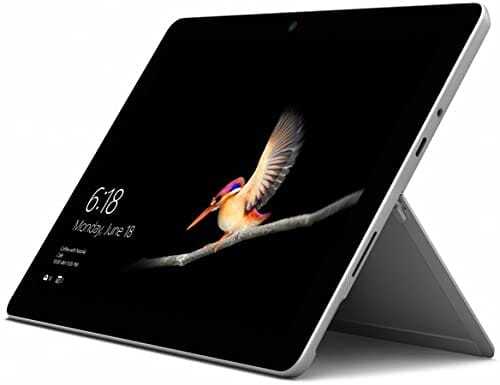 Microsoft Surface Go 10″
Budget Pick
8 GB RAM, 1.6 GHz dual-core Intel Pentium Processor, 128 GB SSD storage, Intel HD Graphics 615;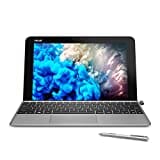 ASUS 10.1″ Transformer Mini
4GB RAM, Intel Atom Quad Core x5-Z8350 processor, Intel Atom Quad Core x5 graphics processor, 128GB SSD storage;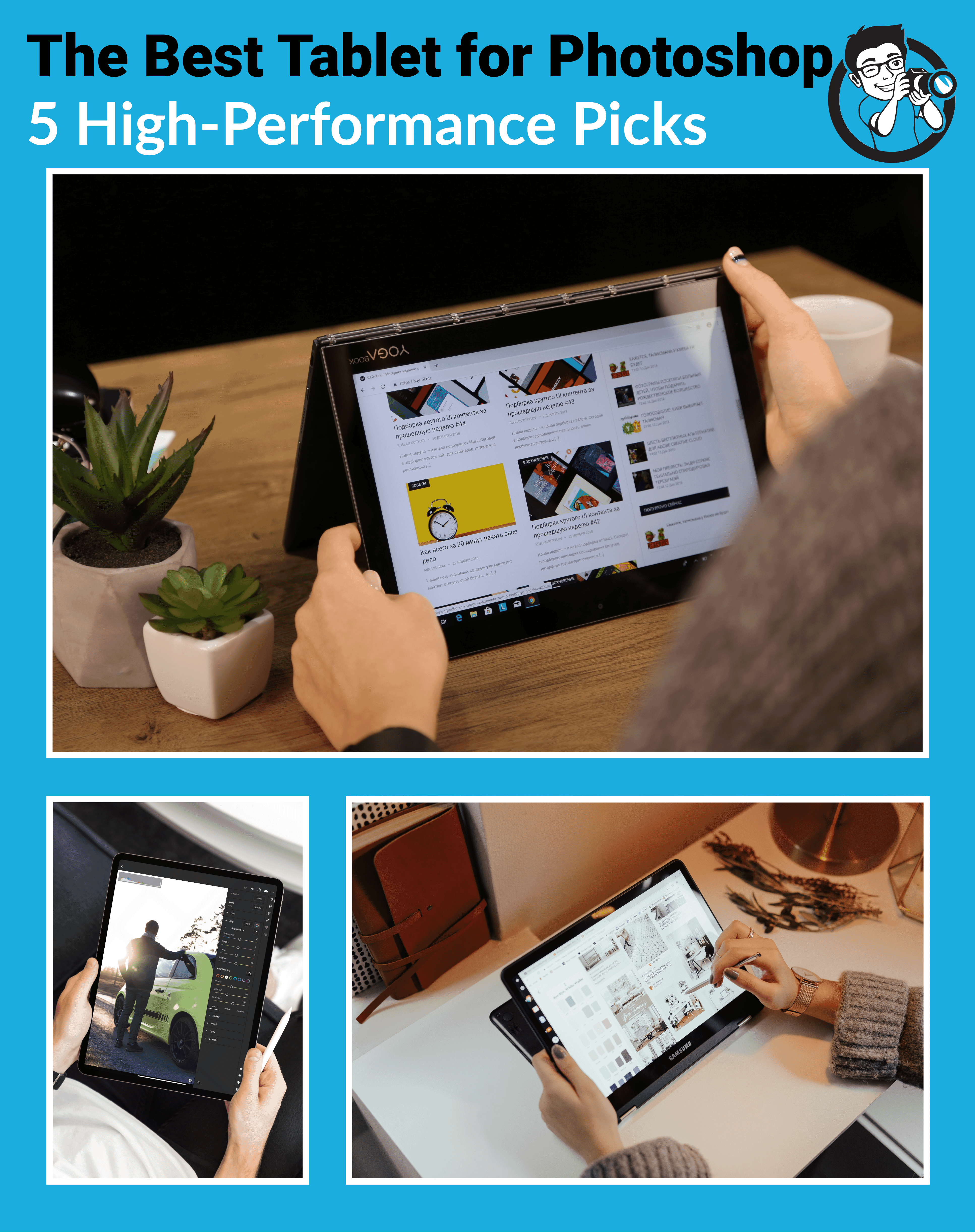 Our Top 5 Choices for the Best Tablet for Photoshop
The Microsoft Surface Pro 7 is a 12.3″ display tablet with multi-touch functionality. The tablet is powered by an Intel i7 10th Generation Quad-core processor. It is paired with 16 GB of LPPDR4 memory and 1 TB of SSD storage (top-spec). And for top-notch graphics, you get an Intel UHD Graphics (i3) or Intel Iris Plus Graphics (i5, i7) .
With a display resolution of 2736 x 1824 pixels, the pixel density on offer is 267ppi. Good enough to be at par with Apple's Retina Display and certainly good enough for pinching and zooming while editing your high-res images.
Related Post: Best Tablet Cameras
The CPU clocks 2.4 GHz at base configuration. But it can be overclocked up to 5.3 GHz when handling demanding tasks.
The system is not only quick off the block loading applications and images, but it is also quite fast when you are actually editing your RAW images adding layers and putting it through multiple local and global adjustments.
But the real benefit of using the tablet is so that you can use the Surface Pen. The Surface Pen is sold separately but it is definitely worth the purchase. For precise editing, this pen will serve you well. And, if you're using pressure-sensitive brushes, the pen offers up to 4096 levels of pressure.
And in case you ever forget your Surface Pen, the tablet does support multi-touch, making it one of the best tablets for Photoshop you could buy.
Microsoft Surface Pro 7 – 12.3" Touch-Screen - Intel Core i7 - 16GB Memory - 256GB...
Next-gen, best-in-class laptop with the versatility of a studio and tablet, so you can type, touch, draw, write, work, and...
Faster than Surface Pro 6, with a 10th Gen Intel Core Processor – redefining what's possible in a thin and light...
More ways to connect, with both USB-C and USB-A ports for connecting to displays, docking stations and more, as well as...
Standout design that won't weigh you down — ultra-slim and light Surface Pro 7 starts at just 1.70 pounds
All-day battery life up to 10.5 hours, plus the ability to go from empty to full faster — about 80% in just over an hour
When we talk about pro options, it would be impossible not to mention the iPad Pro. This marvel of computing technology is powered by the A12X Bionic chip. A 2.4 GHz Octa-core processor handles all the processing requirements as well as graphics processing.
Related Posts: Best Tablets for Editing Photos
The processor clocks 2.4 GHz. Unlike the base speed of 1.9 GHz on the Intel i7 8th Generation Quad-core processor that powers the Microsoft Surface Pro 6.
When it comes to processing speed, efficiency launching apps, and editing your images, the Apple iPad Pro is one of the best tablets for Photoshop you could pick.
The 12.9″ display offers a resolution of 2732 x 2048 pixels which translates into a pixel density of 264ppi. Excellent for editing your images on Photoshop or Lightroom or anything else you might fancy. The peak brightness of the iPad Pro is 600 CD/m². Much brighter than the Pixel Slate we have detailed below and most of the other tablets here.
But even then, between the iPad Pro 12.9" and the Microsoft Surface Pro 12.3" the latter is the one which has the most powerful software. When you consider that the Surface Pro runs on a full-fledged version of Windows 10 while the iPad Pro runs iOS (what you find in mobile devices). This means that you end up with limitations, you can only run apps found in the app store. It's not running a PC version like the Surface Pro.
Adobe Photoshop CC for iPad Pro
Adobe launched Photoshop for the iPad in November 2019. The Adobe Photoshop app has been created especially for mobile devices and includes most core software, especially around compositing, retouching, and masking. The latest February 2020 added type layers and a simple way to select objects.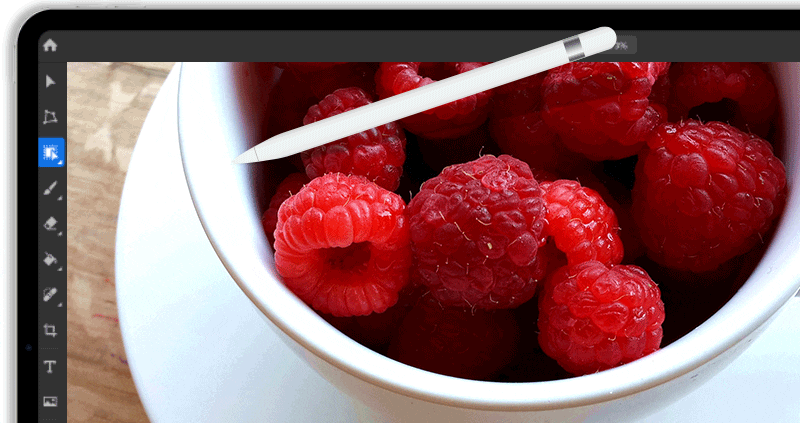 Google, though slightly more new to the game, is pretty much on top of it when it comes to the best tablet for photoshop. As Google's first Pixel tablet, this device has certainly attracted some attention, and with good reason!
This tablet is packed with features that make it a worthy competitor to the likes of the Surface Pro and iPad Pro.
The Google Pixel Slate is powered by an Intel Core i7 processor built on the x86 architecture. It comes with Intel HD Graphics and 16 GB of installed memory. Storage is powered by a 256 GB eMMC SSD.
The 3000 x 2000 pixel display on the Pixel Slate utilizes Molecular Display Technology. Which is quite good and at par with the other two aspirants for the title of the best tablet for Photoshop. In terms of brightness, the Google Pixel Slate has a peak brightness of 400 CD/m².
Related Post: Best Laptops for Photo Editing
The biggest drawback of the Pixel Slate is that running applications off the Google Play store comes with some major drawbacks. Installing desktop versions of popular photo editing software like Photoshop is not possible.
In other words, the full version of Photoshop isn't available for the mobile platform and thus, isn't available for the Pixel Slate. So, while you can download apps such as the Adobe Photoshop Express, Adobe Photoshop Mix and Adobe Photoshop Fix, the full version still eludes the Play store. That said, you can download Adobe Lightroom from the Play Store which is also very useful for making light retouching and edits.
Google Pixel Slate 12.3-Inch 2 in 1 Tablet Intel Core i7, Aspect Ratio 3:2
Keyboard and pen/stylus are sold separately
Google pixel slate is made to deliver brilliant entertainment, portable performance and everything you love about google for...
12.3 inch molecular display with 6 million pixels brings your favorite movies and videos to life. Tuned to perfection, the...
Get more done with powerful multitasking tools including split screen, multi window browsing, and collaboration apps like...
Pixel slate automatically updates in the background, so you'll always have the latest features and security without any...
The Microsoft Surface Go might be the younger sibling to the more powerful and professionally built Surface Pro, but it does have its own advantages. Most people will buy it because it is cheaper, smaller and therefore easy on the pocket and convenient for when you are traveling. And just because it runs Microsoft Windows, albeit the S version.
The Surface Go is powered by a 1.6 GHz dual-core Intel Pentium 4415Y processor. It is paired with an Intel HD Graphics 615 GPU. The 8 GB RAM and 128 GB SSD complete the rest of the specs. The thing where it loses out is the resolution and pixel density. With a display size of 10" and a resolution of 1800 x 1200 pixels the pixel density comes down to 217ppi.
Now, the thing is, this tablet is capable of running Adobe Photoshop CC, even on the lower-spec 4 GB – 64 GB (memory – storage) configuration. That means only one thing and that this the Surface Go is a capable machine and something that can work as a mobile editing tool. It will certainly come in handy for people who are constantly on the move and want to utilize the time they spend commuting and or waiting to catch their ride in a productive manner.
Related Post: Best Laptops for Photo Editing
While this tablet is worthy of the title of the best tablet for Photoshop, specifically for those on a budget, it does have some drawbacks. If you want real mobile productivity we strongly recommend the Surface Pro or if you can wait until the full-fledged Photoshop desktop version is supported on the iPad Pro, this is also an option.
Microsoft Surface Go (Intel Pentium Gold, 8GB RAM, 128GB) (MCZ-00001)
High res 10 inch PixelSense: Display designed to be viewed, touched, and written on
Lightest surface yet, starting at 1.15 pounds. Touch: 10 point multi touch
All day battery life, with upto 9 hours of unplugged power. Ambient light sensor
Runs Windows 10 Home in S Mode, streamlined for security and superior performance
Includes multi tasking USB C, fast charging surface connect, and headphone jack. Use it in Laptop, Tablet or Studio Mode
The Asus Transformer Mini is a 2-in-1 convertible device that runs the Windows 10 Home edition. i.e., you can install a desktop version of Photoshop on it and enjoy the full functionality of the program on a lightweight, mobile and extremely convenient platform.
The Asus Transformer Mini is powered by a 1.44 GHz Intel Atom x5-Z8350 Quad-core processor. The maximum (boosted) clock speed of the processor is 1.92 GHz. 4 GB of installed LPDDR3 stick makes up the memory. Total installed memory is 128 GB.
The display of the 10.1" 2-in-1 offers a resolution of 1280 x 800 pixels and the brightness reaches a peak of 400 CD/m².
Is the Asus 10.1" Transformer Mini the best tablet for Photoshop? Not even close. The only reason we have listed it here is because it runs a reasonably full version of Windows 10. That means you can install external applications the way you would be able to on a PC. The absence of a stylus / pen / pencil means you would be dependent on the touch screen to use your brushes on Photoshop. The good thing is the Asus 10.1" Transformer Mini does support multi-touch and that means you have an easier time working with the editing software.
ASUS 10.1" Transformer Mini T103HA-D4-GR, 2 in 1 Touchscreen Laptop, Intel...
Versatile Windows 10 device with keyboard and pen included, 2-in-1 functionality: use as both laptop and tablet
All day battery life, rated up to 12 hours of video playback; 128GB Solid State storage; Webcam: 2MP Web Camera
Latest Intel Atom Quad Core x5-Z8350 Processor with 4GB RAM for fast and efficient performance
Portable 10.1" frame allows ASUS Transformer Mini to be taken everywhere you go with a compact & lightweight body. It's...
Magnesium Alloy body weighs less than 1.7 lbs. with keyboard attached and only 0.6 inches thin.Built-in Bluetooth V4.1
Conclusion
Now we've covered all bases for those looking for the best tablet for Photoshop, we're hoping you've found yourself an ideal item.
If you have the cash and you're looking to buy soon, we strongly recommend the Surface Pro. This device has everything you need and more. Most importantly, it is capable of running the desktop version of Adobe Photoshop.
If you don't mind waiting, your options open up further, with the iPad Pro also coming as a strong contender (when it gets the Adobe Photoshop CC app).
And if you're on a budget, the Surface Go is a good shout.
If you have a different tablet you love to use for editing, why not let us know in the comments?
---
As an Amazon Associate we earn from qualifying purchases. Certain content that appears on PhotoWorkout.com comes from Amazon. This content is provided 'as is' and is subject to change or removal at any time.