Pattern Recognition Company (PRC), the company behind the popular AI-powered Excire software, has officially launched its latest program: Excire Foto 2024. The new release marks yet another milestone in the world of image management and, thanks to its innovative tools, PRC's latest product is poised to redefine what photographers can expect from their Digital Asset Management (DAM) software.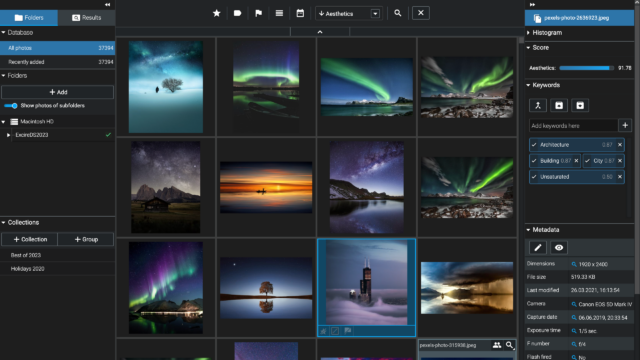 When you buy through links on our site, we may earn a commission at no cost to you. We evaluate products independently. Commissions do not affect our evaluations.
Next-Level Automation with Excire's AI Tools
The previous iteration of PRC's standalone photo manager made waves due to its array of AI-powered features. Our Excire Foto 2022 review praised the automatic keywording, duplicate search for easy culling of repetitive images, and facial recognition tools that simplified the process of finding pictures of specific individuals.
Excire Foto 2024, however, takes AI automation to a new level. Not only does the new software include a powerful prompt-search tool and intelligent image evaluation, but it also includes a variety of additional features and upgrades, leading photographers into a future with faster, simpler photo organization workflows.
Retrieve Any Image with Prompt-Search AI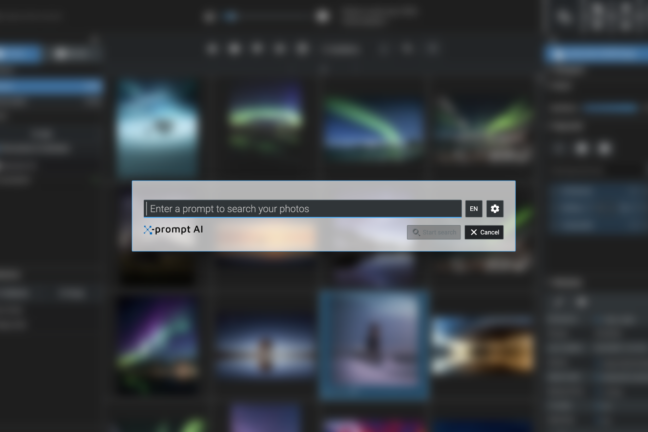 Arguably the most impressive feature in the new release is prompt-search AI (officially known as X-prompt AI). On the surface, the tool looks like a simple search bar, but it's far, far more powerful. With X-prompt AI, you can simply type in a description, like "red umbrella in the rain," and the system instantly retrieves the image you're looking for.
The prompt-search tool works in both English and German, and PRC emphasizes its understanding of the human language, noting that the AI can process "complex sentences, context, and even abstract concepts such as 'happiness' and 'sorrow.'" The feature even comes with a settings panel so you can broaden and narrow the results as needed or selectively search different folders for the prompted image.
While you'll need to wait for our in-depth Excire Foto 2024 review for a detailed look at the tool, our initial tests were very impressive; prompt-search AI does a nice job pulling files from the depths of an image library, and it significantly cuts down on the time spent searching for photos. For photographers who need to access their work quickly, whether for clients, social-media sharing, or plain old convenience, the prompt-search tool is a game-changer and will undoubtedly make Excire Foto 2024 the AI photo organizer to beat.
X-tetics AI Can Expertly Rate Your Photos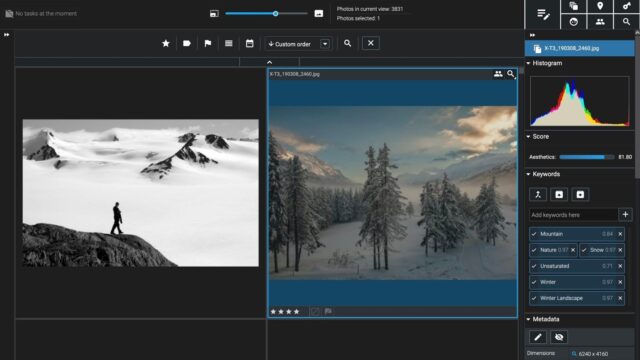 Another compelling addition is X-tetics AI, which is designed to offer an intelligent rating of each photo's aesthetic qualities. Forget about agonizing over which shots are keepers and which are destined for the trash bin; X-tetics AI promises to do the heavy lifting, analyzing each image with an algorithm trained on an extensive database of photos and expert photographer input.
The program outputs an Aesthetics Score (from 0-100) that can then be used to sort your images. Of course, whether you find the ratings effective will depend on your aesthetic preferences, but for the right photographer, it can make a huge difference – and can even help you identify hidden masterpieces in your large photo collection.
AI Image Management to the Max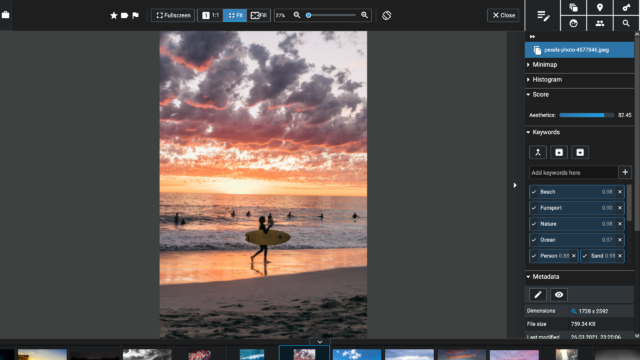 The new Excire Foto 2024 release comes with a handful of additional upgrades designed to boost image search functionality and improve user experience. The new location-based search now allows photographers to find images by GPS data – certainly a nifty tool for those who are always on the move. And the slideshow functionality can be a great way to showcase your work for clients, friends, and family.
The new Excire Foto also includes AI upgrades across the board, so features carried over from the previous version – like X-tags AI for automatic keywording and X-face AI for facial recognition – now offer even better performance.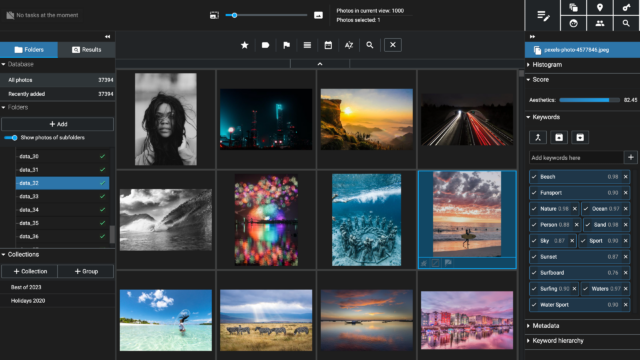 Bottom line: Whether you're a seasoned pro or a budding amateur, you're bound to appreciate Excire Foto 2024's speed, power, and simplicity. And if your current Windows or Mac photo organization software is slowing you down, you may want to consider a switch.
Unfortunately, Excire doesn't include photo editing capabilities; for that, you'll need to rely on a solid post-processing program. But it does provide an image management workflow that's beyond anything offered by more comprehensive programs such as Lightroom, ON1 Photo RAW, or Capture One.
Excire Foto 2024 Release: Now What?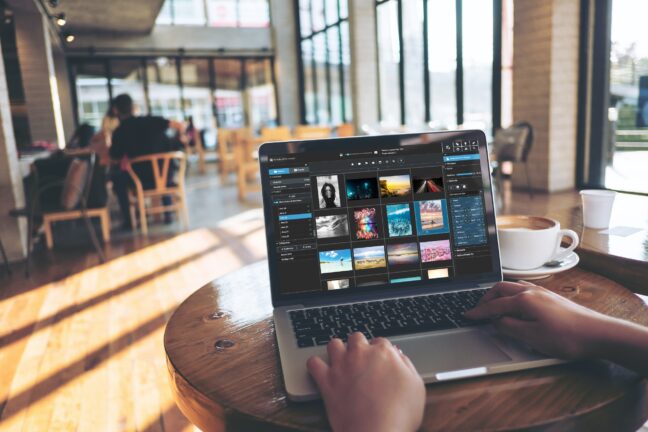 If you're itching to take Excire Foto 2024 for a spin, I have good news: it's you can currently purchase it for both Windows and macOS. The software generally costs $189, but a limited-time launch discount brings the price down to $149. If you're already an Excire Foto 2022 user, the upgrade is even more wallet-friendly at $59 – though to get your reduced price, you'll need to use the special discount code you received in the company's launch email.
And speaking of discount codes: If you purchase Excire Foto 2024, make sure to enter "PHOTOWORKOUT" at checkout for 15% off!
Finally, if you're not yet ready to buy, PRC does offer a 14-day trial; that way, you can test out the new features and see what you think.