Custom photo book printing services have become a coveted resource for photographers around the globe, from the home-based amateur to the freelance professional.
For the hobbyist looking to document a recent trip, photo books can add a special touch to your memories. For professionals, a high-quality print of your portfolio can be the thing that raises you above your competitors.
No matter where you stand, it's no surprise that photo books have been taking the photography world by storm lately. But in the midst of the photo book online printing craze, choosing a reputable company can be harder than ever.
Join us as we take a look at the 11 best photo book companies today and find out which one will work best for you!
What Is an Online Photo Book Printer?
Photo books have been around for years; although, changes in the industry have made them more customizable and easier to create with each passing day.
Today, you can order a photo book online from a variety of print companies. For some, you can create and order directly in your browser, while others offer easy-to-use apps.
If you're a hobbyist photographer, this can be a stress-free way to add a personal touch while printing your favorite photos.
Whether you're trying to print a photo book of your family's latest vacation or documenting your journey into the world of photography, there are options for just about any type of photo book you can imagine.
You can even add colorful borders, text, and images to your pages to make them unique and add a kind of high-quality scrapbook feel to your book.
Alternatively, photo books have become a remarkable way for professionals to deliver photos to their clients, or even just to compile an impressive portfolio. Printers today will typically offer options for lay flat or flush mount binding, allowing you to produce photo books with a full-bleed spread on each page. Depending on which service you select, you'll be able to say goodbye to losing your image to the gutter when printing.
Best Photo Book Companies
1. Printique
There are many photo book options you can choose from online. Some opt for a few simple pages stitched together, while others splurge for elaborate, leather-bound books. In our opinion, Printique hits the sweet spot as an accessible option with stellar results.
You can read our full Printique review for an in-depth assessment of its photo books and other products. Here is our verdict about Printique in a nutshell.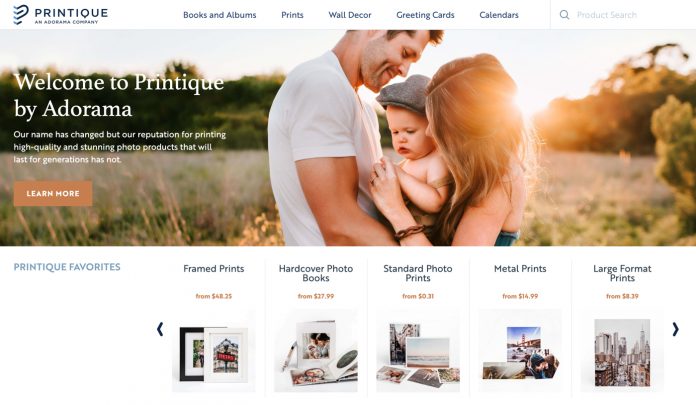 What we love:
Craftsmanship. Printique offers excellent craftsmanship and print reproduction.
Features. Premium features like specialty paper and layflat binding come at little to no extra cost.
Book sizes. There are plenty of sizes to choose from in portrait, square, or landscape orientation.
Customer service & delivery. Printique's customer service is fantastic offering quick assembly and delivery.
Usability. The software used to design the book is suitable for novice and advanced users alike, or you can simply upload a PDF of your already-designed book to their website.
What we'd change:
Limited length. There is a 100-page cap on all books.
2. Shutterfly
Perhaps the most well-known photo printing company, Shutterfly offers the ability for even beginners to make a professional-looking book.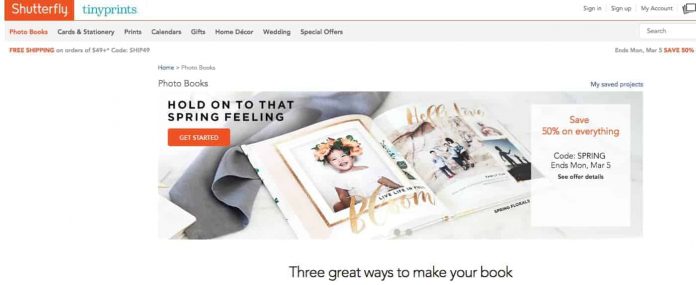 What we love:
Tons of styles. You can choose from dozens of different design templates to get the right style for your specific book theme. Options include summertime and seasonal themes to cute animal prints for pet lovers and even a heartwarming design for the world's best grandparents.
Multiple cover options. We love the variety offered when it comes to Shutterfly's cover options. Currently, there are 12 options available, including hardcover, softcover, hardcover with a matte finish, padded photo cover, or a cover made of cloth, linen, leather, or silk.
Great customer support. Shutterfly has been known for amazing customer support. After ordering your product, you'll receive information on how to contact the company in a variety of ways.
What we'd change:
Not cheap. If you opt for a premium leather or hardcover book with lay flat binding, even a short book can be expensive. And at $2.49 per additional page, longer book costs can quickly add up.
3. Mixbook
Founded in 2006, Mixbook has quickly risen to the top as a major competitor in the photo book market. Making it on the list of one of America's Most Promising Companies by Forbes, Mixbook offers photo book printing options for just about every type of client.
What we love:
Massive variety of designs to choose from. You can pick from hundreds of preset designs to plop your photos into, or you can go fully custom and create your own from a blank book.
Super easy to use. The user interface for Mixbook's website is incredibly easy to navigate, even for those who want to add additional features. The built-in photo editor is intuitive and makes great work of minor photo alterations.
Variety of book covers. Currently, Mixbook offers five options for photo book covers: softcover, hardcover glossy, hardcover matte, hardcover soft-touch matte with dust jacket, and leather with dust jacket.
You can choose premium paper. Currently, they offer both semi-gloss and matte. Plus, there's a pearl finish or premium luster lay flat option for some book designs.
What we'd change:
Can be expensive. For those looking to print longer books, adding more pages can really add up. Themes start at a varying minimum of pages (could be 20, could be 45), but if you want more than that, prices range from $1.86 to $3.07 per additional page.
4. Nations Photo Lab
Offering products made by photographers and with photographers in mind, Nations Photo Lab is a top choice in photo books, albums, photo prints, canvas prints, and metal prints.
Related Post: Nations Photo Lab Metal Print Review
What we love:
Good price range for every shopper. With their bargain one-size-only Buzz Books to customizable premium options, there's a book here for everyone.
Alternative editing software options. For those who aren't comfortable editing photos in the browser, Nations Lab Photos offers the option of downloading ROES desktop editing software to your computer. Their software allows you to edit photos directly and add your own text, much like other editing programs.
Offers industry standard paper. You can choose from semi-gloss, linen, pearl paper, and lay flat semi-gloss.
What we'd change:
Limited sizes. There are only five photo book sizes available.
No international shipping. Well, that's not entirely true – it looks like you can contact Nations Photo Lab customer service to arrange for shipping outside the contiguous United States, and they'll provide you a quote. But be prepared for taxes, duties, or other customs fees upon delivery.
Only three cover options. Your only cover options are hardcover cloth, leather, or lustre photo.
5. PastBook
This may be one of the lesser-known companies when it comes to photo book printing, but PastBook more than makes up for it in the services offered. Its main selling point is its instant one-click photo book creation, where you can connect to Facebook or Instagram to quickly import your photos.
Related Post: 9 Ways to Print Your Instagram Images
What we love:
You can upload photos from multiple sources. For those who store photos in the cloud, you'll be happy to hear that PastBook supports many cloud services for printing. You can upload from Dropbox, Google Drive, or even Facebook or Instagram.
We love the 200-gram paper. For those looking for high-quality paper, PastBook offers quality alongside quantity.
User-friendly interface. PastBook does offer an application download for those looking to create a photo book on their smartphone. Highly rated across all app stores, this feature is intuitive and easy to use.
Affordable price. A small (8.5×6″) softcover photo book with 26 pages will run you about $30 while a hardcover will run around $40. And a large 12×8.5″ 500-page book is only $125.
What we'd change:
Only two sizes available. While offered at a reasonable price, there are only two options for size: small, which is 8.5×6″, or big, which is 12×8.5″. Those looking for a specific size will need to look elsewhere.
Only two options for covers. There are only two options available for your covers: hard and soft.
6. Picaboo
A pioneer in the industry, Picaboo first offered a prototype photo album software in 2004. Now they're leaders in photo book printing and other printed products.
What we love:
Good selection of templates. Classic books and mini-books start at just $19.99, or you can go full-tilt with the artisan-quality, leather, foil-stamped cover option for $469.99. You can choose from a pre-set design or design your book yourself. Keep in mind that you can't make adjustments to different page elements if you choose a pre-designed template. While this is a great option for beginners, it might be a turn-off for professionals.
Incredibly simplistic interface. Picaboo is definitely built for the beginner. It features a user-friendly interface with a simplistic drag-and-drop style of designing that can be used by just about anyone. And the lack of customization options streamlines the process.
Decent cover options. For classic books, you have a choice between soft or hardcover. For premium books, there's the option of leather, cameo, or acrylic covers.
What we'd change:
Photo book sizes are limited. There are only four or five sizes available, depending on which design you're going with.
Additional pages are pricey. Prices start with a standard 20-page book, but if you want to add more, additional pages can cost anywhere from $0.75 for basic to $19 for premium options like wedding books.
Lower-quality photos. There have been a number of complaints about photo books not being as high quality as the competitors. To avoid this problem, Picaboo does alert you to any low-resolution photos before you send your book to the printers.
7. Snapfish
Snapfish makes it easy to choose your design with prices clearly listed next to each option. You can create your own photo book in three easy steps by first choosing the size, selecting the design, then personalizing the layout and background.
What we love:
Clear and concise instructions. The step-by-step guide will be especially useful for beginners.
Over 100 templates. Putting Snapfish ahead of many competitors is the vast collection of templates available. For those looking for a simple photo book, these templates will be a major benefit.
Lots of options for customizing your size, cover, and binding. There are seven different book sizes available, as well as a variety of covers including linen hardcover, glossy, matte, and leather. There are also lay flat and flush mount options. Keep in mind, not every cover or binding option will be available for each size photo book.
Downloadable apps available. There's a Snapfish app for iOS and Android for people who want to design their books on the go.
What we'd change:
Limited delivery options. While this may matter less to hobbyists, it's important to note that currently, Snapfish does not offer overnight delivery.
Lower quality. There has been a significant amount of customer complaints about the quality of their photo books. While some of this could be chalked up to user error, it's worth noting.
8. Photobook America
Photobook America is one branch of Photobook Worldwide, founded in 2005. Since then, they've expanded to Australia, Canada, the Philippines, Thailand, and Indonesia to become one of the top photo book companies.
What we love:
Import from Facebook. You can upload your photos from your computer or Facebook. Or access previously stored images you've already used on Photobook America.
Plenty of sizing options available. With four soft and hardcover options available, there are many sizes ranging from 6×6″ to 18×12″.
What we'd change:
The interface can be difficult. Many customers have complained about not having alignment options within the program, resulting in a difficult time lining up your photos when in the design process.
Plus, we found the site slow. It took a while to load each page, even before getting into the designing process.
Limited delivery options. Keep in mind, there is no overnight delivery option for this company.
9. Artifact Uprising
Artifact Uprising launched in 2012 and has become a thriving Denver-based business providing photo books and other printing services worldwide.
What we love:
Affordable options. With their softcover photo books starting at just $15, and hardcovers at $59, this is an affordable option for hobbyists or pros.
Professional, high-grade paper. For their lay flat photo books, all your photos will be printed on hand-mounted Mohawk paper. Their hardcover and softcover standard books are all printed on 100% recycled paper.
Good selection of customization options. There are plenty of sizes, fabric colors, cover designs, base page counts, binding types, and even a couple of book jacket options to choose from.
What we'd change:
The design process can be difficult to navigate alone. While the price is reasonable, this company can make things a little difficult to design your photo book. There are plenty of options for designs available; however, when you want to choose a different template, you'll have to scrap all the work you've done. For those who want to try out a variety of templates, this can make the process frustrating.
Average print quality. Some users have complained of less-than-perfect print quality compared to other printers that offer silver halide or high-definition inkjet prints.
10. RitzPix
Under new ownership as of 2018, the RitzPix name celebrates over 100 years in business, beginning as an Atlantic City portrait studio in 1918. The company now has retail locations across the States and offers online photo printing services around the globe.
What we love:
Reasonable prices. A 20-page book runs anywhere from $25 to $200.
Plenty of sizes available. For those looking for small photo books, Ritz is one of the few companies that offers a 4×6″ book while also going as high as 12×12″.
Plenty of templates available. There are pre-designed templates to choose from for every occasion from elegant wedding designs to seasonal themes.
What we'd change:
Limited number of pages. You can only create photo books of up to 74 pages. If you're looking to print a longer book, some of the other options above, like PastBook, will be a better choice.
No international shipping. As of now, Ritzpix only ships within the United States.
11. Walgreens
With Walgreens, you can get your book in under 24 hours, which works fine for the hobbyist or anyone who doesn't need professional-grade binding and craftsmanship.
Read our in-depth Walgreens photo book review to get the full picture.
What we love:
In-store pickup. You can order in-house for a 24-hour turnaround, or have your photo book shipped to another Walgreens for convenient pickup.
Good variety of sizes and templates. There are seven sizes, plus nicely designed templates for minimal customization if you want to keep it simple.
Different ways to create books. You can use the design wizard on the Walgreens website, mobile app, or in-store kiosk to lay your book out and customize it.
What we'd change:
Limited design wizard. You can't create your own design from scratch, but are instead forced to choose a pre-made template. You can then change the template, but customization options are lacking.
Lay flat quality is poor. The construction is not really lay flat, in that they use a perfect bind and perforate the paper edges to create a lay flat appearance, with staples clearly showing in some places.
Cheap cover printing. The back, front, and spine are printed together and attached to the book with an adhesive, giving it a cheap and rushed look.
Disappointing image quality. You won't get the best color balance or definition in your prints, and more serious photographers will be disappointed with things like lost details in shadows.
Expensive for what you get. The prices aren't crazy and are, in fact, cheaper than more qualified printers, but $39.99 for a 20-page 8.5×11″ book that looks like it was taped and stapled together is surprising. And if you want more pages, you'll need to shell out $1.99 for each additional spread.
Which of These Photo Book Companies Will You Choose?
When choosing the best photo book printing services, there are a variety of things to consider:
What kind of cover will you be looking for?
Will you need additional pages?
How much control do you want over the design?
Do you need premium options like higher-grade paper or flush mounting?
While some sites are built with beginners in mind, others are built for the creative photo editor and designer. While the more dedicated printers will allow you to completely customize your book, that may be intimidating for those with less experience.
So, you'll really need to consider how hands-on you want the creation process to be.
Please let us know which photo book print service is your favorite by leaving a comment below!