Getting Out of the DSLR Auto Mode: the FroKnowsPhoto Guide Makes it Easy
Beginner photographers have a difficult time trying to negotiate the steps to manual-mode nirvana. It is the ultimate aim of all photographers who look to master how to shoot manually for complete control over their craft. Most people learn things the hard way when they transition from the proverbial Auto (or Easy) mode to the Pro-Manual mode.
They struggle with their exposure, make cardinal mistakes losing photo opportunities in the process, till finally, the realization dawns upon them what it takes to make good photos.
Related Post: Shooting in Manual Mode
This process often takes years. A necessary process no doubt, but an unnecessary time-frame that often saps away the will to pursue photography. You probably have seen a lot of second-hand camera being offered for sale on eBay. A number of them are from frustrated photographers who thought buying a good camera was half the job done.
This situation, however, is completely avoidable. There are ways to bypass the obstacles in the path to knowledge. One such solution is in buying audio-visual books such as the one by Jared Polin.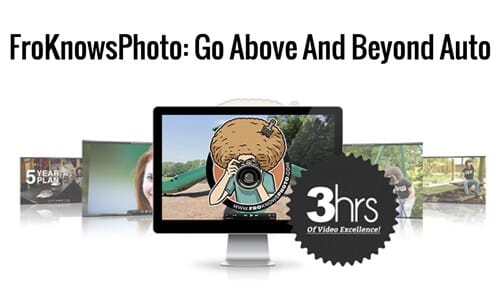 Jared Polin from FroKnowsPhotos has come up with this 3-hour Video Guide that guarantees an easy transition from being a complete novice to a pro photographer in no time at all. It is a fast-track makeover from shooting in full auto mode to making those important exposure decisions yourself to make creative photography.
Consider this. There are two choices at this juncture you are standing in as an amateur photographer
You can continue doing what you are doing, making mistakes and learning from your mistakes. It is ultimately going to take you to your goal unless of course, you don't lose your patience on the way. But it is going to take a lot of time.
The other option is to download the digital video guide and get to your goal on a fast track basis.
There are greater things in photography than the aspects that you have entangled yourself in. An understanding of the basic camera functions, lighting, exposure, and composition is necessary. But that is not the end of photography.
You have to explore avenues such as how to break the common composition techniques and exposure. How to see things beyond the obvious and how to cut through the clutter by creating unique images. The basic aspects of photography need to be mastered as soon as possible so that you can move on to greater things.
Jared Poling's FroKnows Photo Guide
What's Covered in this Guide?
Starting with the absolute basics such as understanding the exposure triangle, the guide moves on to aspects such as:
How to tackle situations like over or underexposed photos?
What focus mode to use and in what circumstance?
How to always get tack sharp images?
How to decide on the correct metering modes?
What makes a good composition, among many other aspects?
Reading manuals and guides can sometimes seem not enough for a practical craft like photography. A one-on-one interaction with a pro or a mentor can teach a lot more than pages of the guide. To bridge this gap, Polin provides footages from four real-life shot he has been in.
The experience of watching these shoots is like almost being there in person and shooting with Polin. This is the closest that you can get without actually being there physically. This is thus, a complete basic guide for shooting great quality photos. Consider this as your stepping stone to bigger things in photography.
To sweeten the deal Polin is giving away a 20 minutes bonus video on how to plan for the next five years. The idea is to teach you how to make money as a photographer as well as how to market yourself.
Polin's FroKnowsPhoto 3-Hour Video Guide has been received well by photographers both beginners and enthusiasts the world over.
Though this guide has been designed for rank beginners, enthusiasts who already have a basic knowledge of exposure parameters and other basics will nonetheless find the content useful.
How Much Does it Cost?
The Complete FroKonwsPhoto 3-Hour Video Guide To Getting Out of Auto costs $67 (if you opt for the physical DVD and Data Disc it costs $77).
Where To Buy?
You can buy the guide on FroKnowsPhoto official site here. 
Or, if you prefer to buy the guide on Amazon you can buy the guide as an Amazon HD Video or as a DVD.
Should I Buy it?
FroKnowsPhoto 3 hours Video Guide is ideal for "kickstarting" you photography learning curve, your 3 hours watching this video guide will be very well spent.
Considering the affordable price and the clear and easy-to-understand explanations by the pro photographer Jared Pollin, you should buy this guide, especially if you are currently motivated to take your photography skills to the next level.
Here is one recent review from an Amazon customer:
Jared's guides are like nothing else I've come across. He legitimately educates you and if you follow his advice, your photography will improve. He does a really great job of breaking things down…click here to read the full review.
If you are new to DSLR photography we also suggest that you subscribe to our newsletter and get the free eBook: 10 Most Common Photography Mistakes & How to Avoid them.