Estimated reading time: 9 minutes
Are you wondering how to carry a camera without a bag? Are you looking for an alternative to a standard camera bag?
You've come to the right place.
In this article, I'm going to take you through all of your camera-bag alternatives. You'll discover several very different (but equally useful!) methods of shooting without a camera bag.
And by the time you're done, you'll be well on your way to choosing the perfect option for your needs.
Let's dive right in.
Do You Need a Camera Bag?
If you're thinking about working without a camera bag, you may be wondering:
Is a camera bag necessary? Is it the only good option for carrying camera equipment?
Absolutely not.
There are a handful of camera carrying methods, and many of them don't involve bags of any kind.
On the other hand, camera bags can be very useful, especially if you're looking to go on long trips (where a bag is going to be one of the more comfortable options), or when you need to carry a lot of equipment at once (while bag alternatives can do a good job of carrying your camera, they can't hold multiple cameras and lenses).
So it's worth asking:
Do you need a camera bag? Or will an alternative work for you?
If you decide that a camera bag isn't necessary for the type of shooting you do, then read on!
Camera Straps: The Standard Option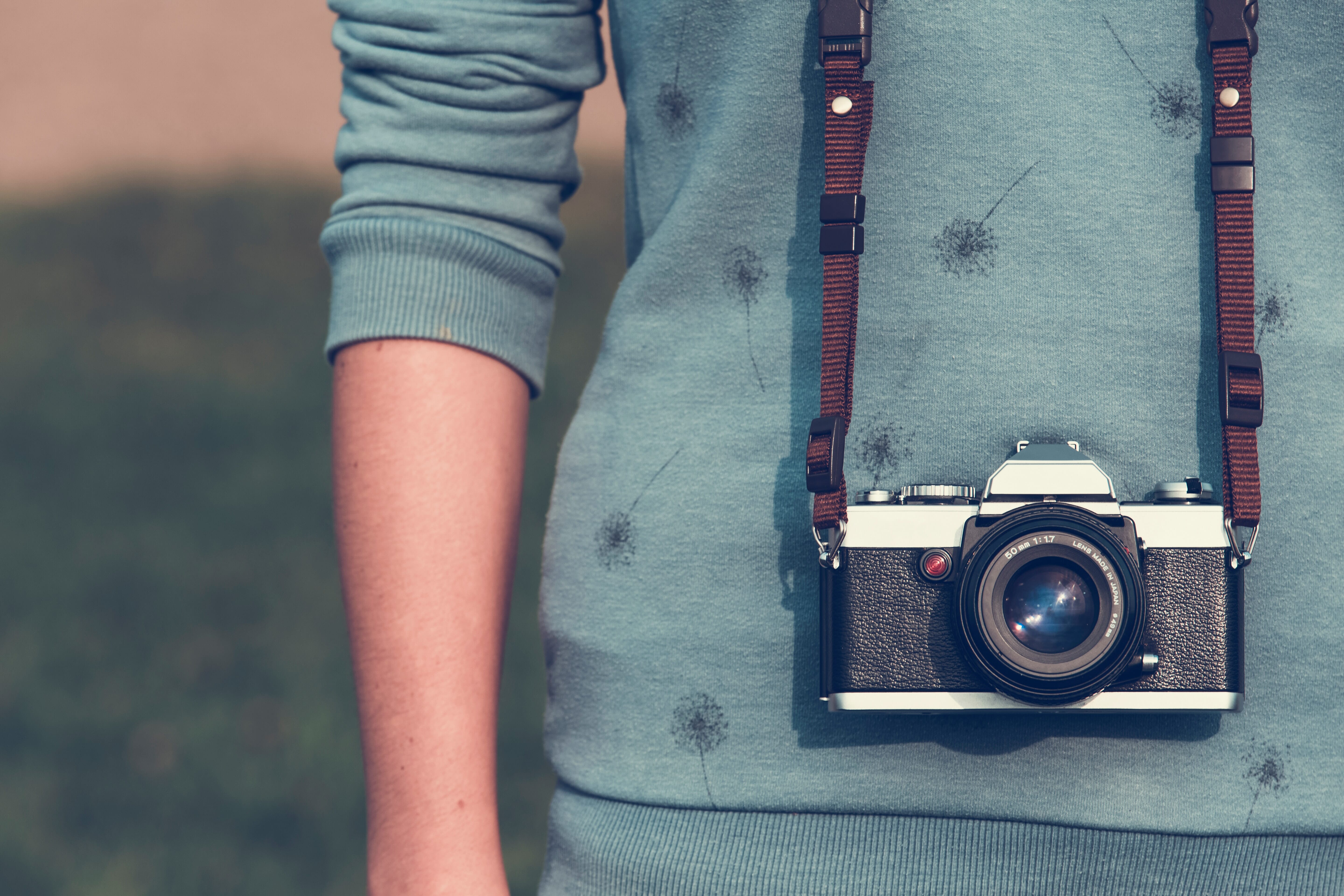 If you don't want to use a camera bag, then a camera strap is your easiest option.
These are lightweight, simple, and cheap.
Plus, most cameras come with a decent strap, so you likely already have one on hand.
And there are plenty of strap upgrades that you can go for, which will add durability, comfort, and quick access. While you'll pay extra for these features, you certainly won't come close to breaking the bank.
Note that you can wear your camera strap in several different ways:
How to Wear a Camera Strap: Around Your Neck
The first approach to wearing a camera strap is the most intuitive, which is why you see it done by plenty of photographers:
Just stick it around your neck.
While this can be a bit uncomfortable (the strap can bite into your skin), it offers you relatively easy access. As soon as you see a shot, lift your camera and fire off the shutter.
In other words:
With the neck carry, your camera is always at your fingertips.
How to Wear a Camera Strap: The One-Shoulder Sling
The second approach involves putting the camera strap across one shoulder (and under your other arm).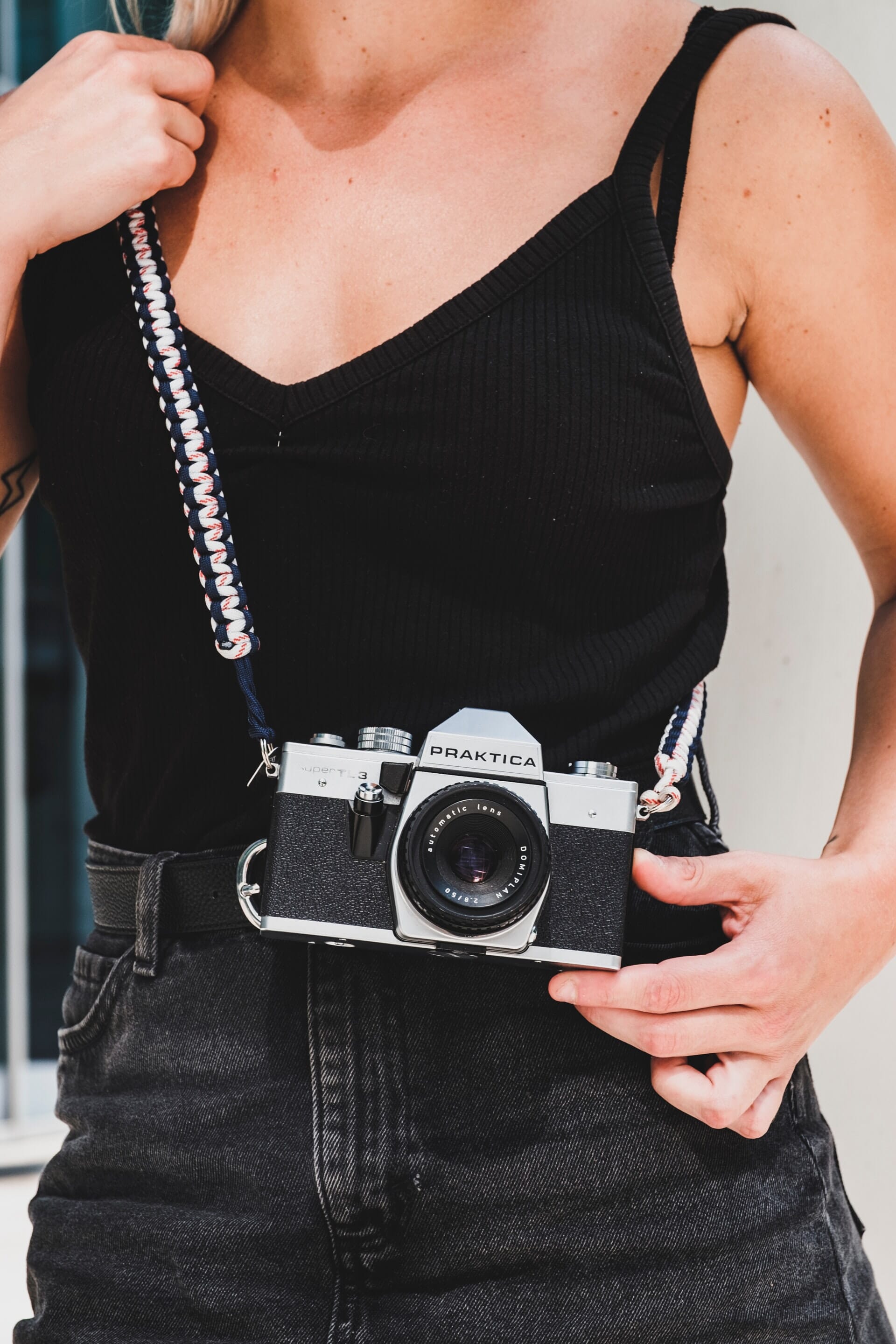 This method can be more comfortable than the previous one, and puts your camera closer to your hand (so that you can raise it and fire off shots almost instantly).
But it comes with some drawbacks:
For one, your camera can jostle around and hit against your side or your hip. It can also get in the way of your hands, and it can be harder to keep safe (it can get bumped and knocked by other people, etc.).
How to Wear a Camera Strap: On One Shoulder (No Sling)
The most casual way to wear your camera strap is over one shoulder (where the camera just dangles down).
I'm not a huge fan of this method, because the camera is often at risk of falling off, plus it just doesn't feel secure in general.
But if you're going to be wearing your strap for a short period of time and need to be able to take it on and off at a moment's notice, then this method of wearing your camera might work.
Camera Strap Alternative: Use a Wrist Strap
If wearing a camera strap doesn't appeal to you, there is a decent alternative:
The wrist strap.
Camera wrist straps slip around your wrist, like this: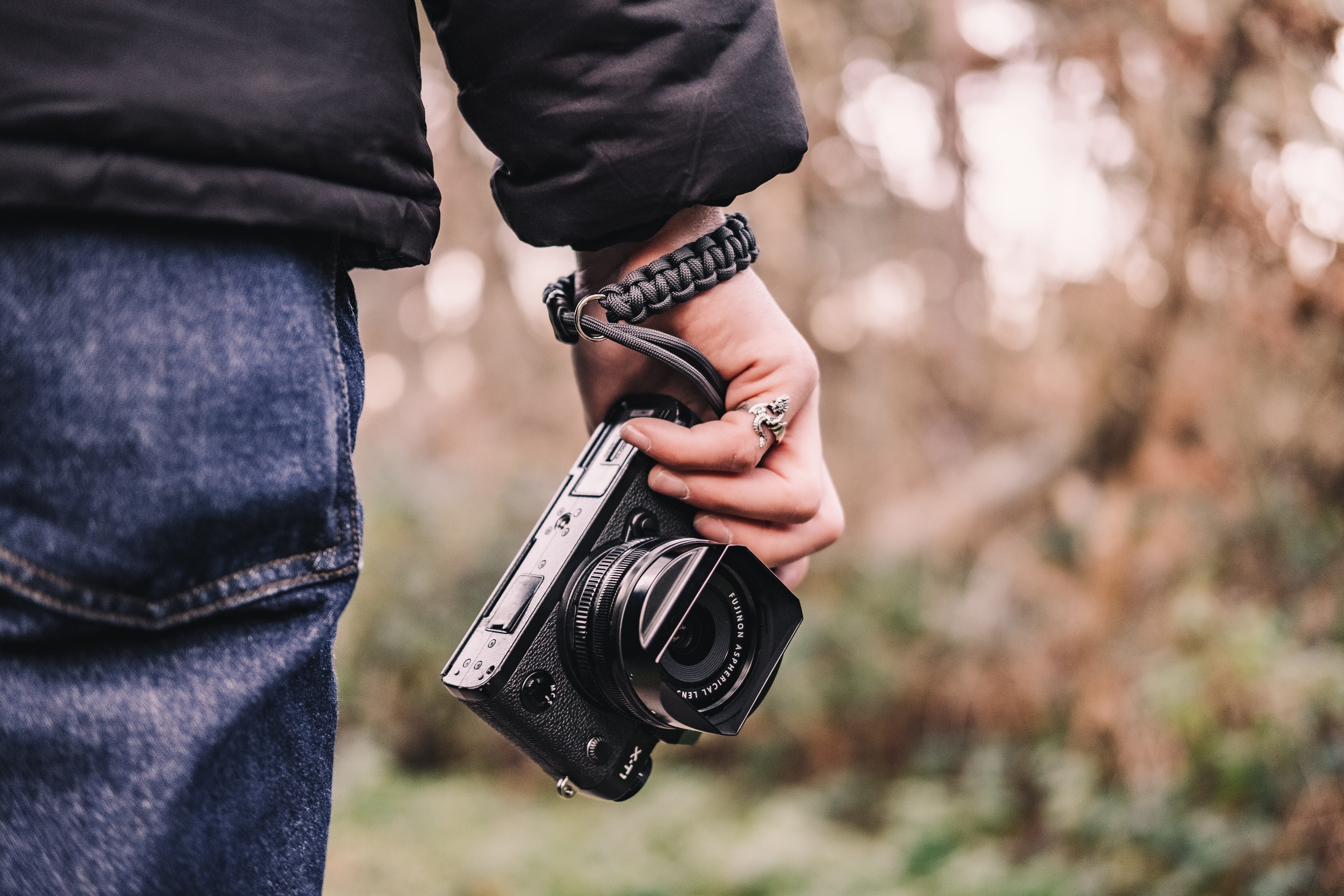 And they're good for casually carrying a camera around in all sorts of situations.
However, you won't really be able to let the camera dangle, which means that the wrist-strap requires a free hand at all times.
And if you use a heavy camera (e.g., a full-frame DSLR) or a heavy lens (e.g., a long zoom), a wrist strap just isn't going to offer enough support for you to feel comfortable, so you'll want to consider one of the other options on this list.
Use a Camera Cube
Camera cubes are small packs designed to carry camera equipment–except, rather than working as a camera bag all on their own, they slot into non-camera backpacks or messenger bags.
With a camera cube, you can take a standard backpack and safely pack away your camera. This is helpful for situations where you want to keep all your gear together, camera and non-camera. So if you're preparing for a camping trip, you could slip a camera cube into your all-purpose backpack, along with camping gear, food, etc.
Plus, a camera cube is useful if you don't want to spend the money to purchase a dedicated camera bag, but you have a backpack lying around at home. With the right-sized camera cube, you can create a safe, durable camera backpack for all your photography adventures.
Use a Camera Holster
Camera holsters are designed with quick access in mind.
They look like this:
And they allow you to reach down, grab your camera/lens combo, and fire off some quick shots.
There are many types of holsters, but you'll find versions that clip onto belts, onto backpack straps, and even onto other camera bags (such as a camera backpack).
I wouldn't recommend camera holsters for storing camera gear on long trips, especially flights. But holsters are great for situations when you need fast access to your equipment in standard shooting scenarios.
Use a Photography Vest
These days, photography vests aren't especially popular.
But they offer a convenient way of distributing gear across your body, assuming you don't have more than two cameras and a couple of lenses.
Camera vests work by hooking on your camera, packing lenses in pouches, and offering plenty of pockets for spare memory cards and extra batteries.
The primary benefit of a vest is that you have all of your gear with you at all times, so if that is important to you, then I'd seriously consider getting a vest.
However, a good vest can be expensive–and it can also restrict your mobility. Imagine trying to crawl forward toward a shorebird with two cameras and three lenses strapped to your chest; that doesn't sound so fun to me!
How to Carry a Camera Without a Bag: Conclusion
Now that you've finished this article, you should know all about how to carry a camera without a bag.
And you should know which bag alternative is best for you!
So regardless of whether you want a strap, a holster, or something else entirely, you'll be well-served by any of the options in this article.
Is a camera bag necessary?
No, a camera bag is not necessary. You can easily get away with using some sort of alternative camera carry method, such as a neck strap or a wrist strap. However, bags are sometimes useful–for instance, you wouldn't want to use a neck strap to take a camera on a plane–so just be aware of the times you'll need to carry your camera.
How do you carry a camera when traveling?
I'd recommend using a camera backpack. This will allow you to pack away all necessary gear in a safe and secure way. You might also consider hard case options, which are even more secure (though are seriously bulky). That said, you can always try to carry a camera on via a neck strap (I have done this on one occasion!), but be careful; it's easy to end up with a broken camera with bags and people jostling every which way. If you don't have a camera bag but want a safe way of taking your camera on a plane, I'd recommend going with a camera cube. This will allow you to snugly store your camera equipment inside a standard backpack and will keep your gear secure without sacrificing much in terms of safety.
Why are camera bags so expensive?
Camera bags are designed specifically to safely store camera equipment. This means that camera bags must be shaped for camera and lenses, and they must also be very durable. Camera bags offer lots of padding to prevent lenses and cameras from breaking while traveling, and they also tend to employ clever organizational systems that allow you to stick cameras and lenses in separate compartments. In other words: Camera bags are well-designed and work very well, which drives the price up; they're not like standard backpacks.
Where do you keep your camera on a plane?
I'd recommend storing your camera in a backpack and putting it under the seat in front of you (as your personal item). This is what I've done countless times, though you'll want to make sure your camera backpack is small enough that it can actually fit under the seat (items that cannot fit under the seat are generally required to go in an overhead compartment). If you don't like the idea of putting your camera backpack under the seat in front of you, you can always store it voluntarily in an overhead compartment, though make sure it's packed in securely and make sure you grab it as soon as the overhead compartments are opened at the end of a flight. I really don't recommend checking your camera bag, because it can get damaged or even lost, but some photographers do check their gear (but store it in a hard case).