Which is your go-to choice when faced with the option of shooting with a smartphone vs a camera?
Truth be told, the gap between smartphone cameras and DSLR models is lessening. So, which is preferable? Which type of device provides the best quality and versatility for the professional photographer?
Don't worry, we've done the hard work for you. We've created a guide on smartphone vs camera devices. Dig in as we look at different in price, image quality, flexibility, and post-processing.
Plus, we look at several popular photography devices in a head to head comparison.
Smartphone vs Digital Camera:
Smartphone vs Camera – Example Devices First, to effectively compare smartphone vs camera models, you'll need a baseline understanding of the specs, prices, and features.
To do that, let's look at three popular smartphone models and two mid-range DSLR camera bodies:
Megapixels: 16MP
Aperture: f/2.4
Max ISO: 800
Notable Feature: 123-degree field of vision
Price: $800 (SIM Only)
Megapixels: 12MP
Aperture: f/1.8
Max ISO: 2304
Notable Feature: Smart HDR capabilities
Price: $949.00
Megapixels: 12.2MP
Aperture: f/1.8
Max ISO: 14,000
Notable Feature: Advanced zoom without loss of quality, exceptional low-light capabilities thanks to "Night Sight"
Price: $539.00
Megapixels: 20MP
Aperture: Variable (based on the lens used)
Max ISO: 25,600
Notable Feature: 19 cross-type autofocus sensors
Price: From $999.00
Megapixels: 24.1MP
Aperture: Variable (based on the lens used)
Max ISO: 25,600
Notable Feature: Wi-Fi enabled
Price: From $800.00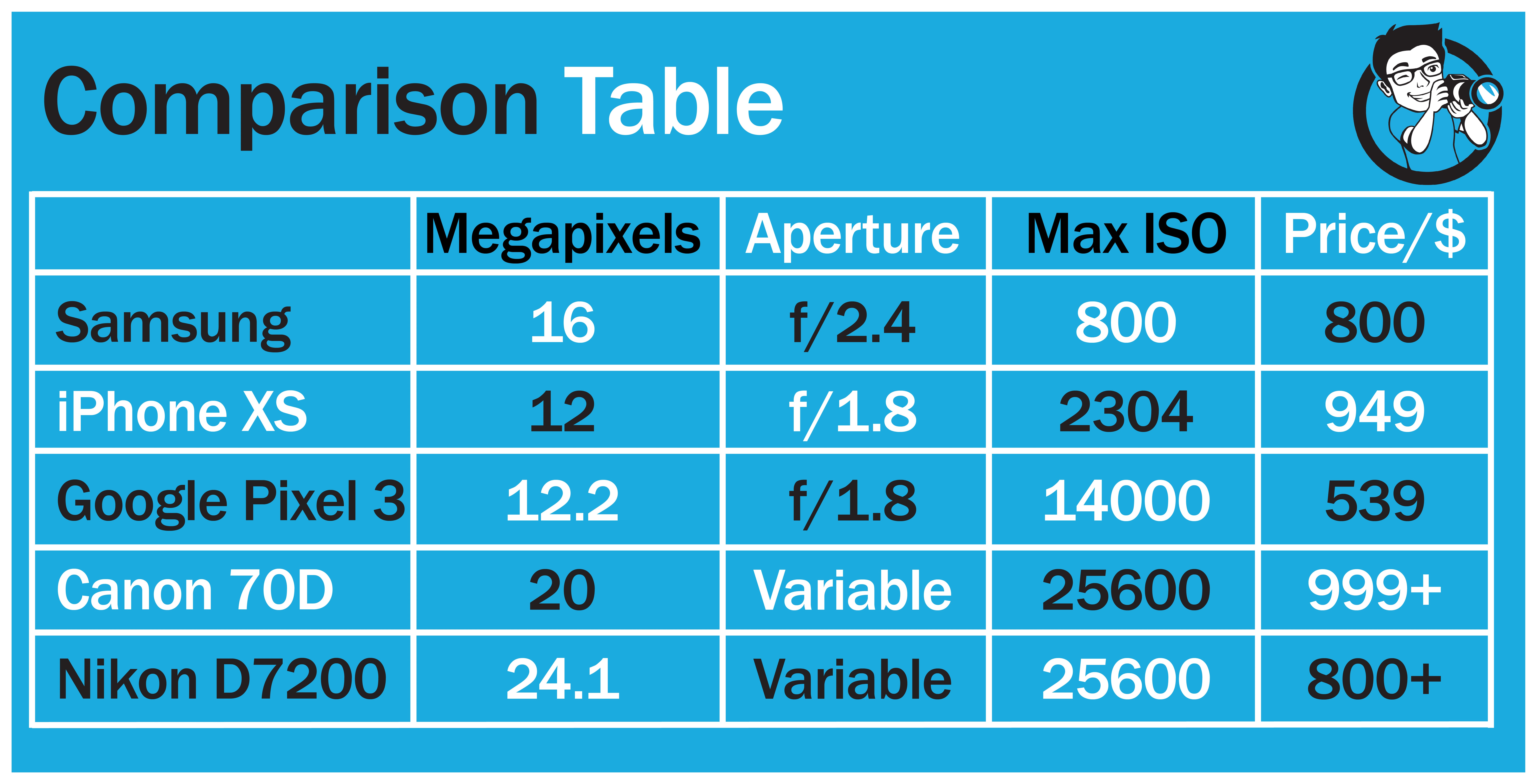 What Can We Tell From The Numbers:
From this basic list of features, first, we see the base prices aren't too different.
Remember, however, the DSLR prices listed are for the body only. You'll need to purchase a lens or two. On the same note, the smartphone prices will also go up depending on options such as how much memory and storage space you need.
Second, it is clear that DSLR cameras have a much higher ISO range. And, third, the raw megapixel quality on a DSLR is generally much higher than smartphones.
All that being said, this is only basic information and cannot be taken at face value – there are additional details and factors involved. In the paragraphs below, we provide a direct comparison of smartphone vs camera models in greater detail.
Head to Head Comparison – Smartphone vs Camera
Before we really dig in, a quick reminder…
The research and information we provide are based on the above camera models and smartphones. The smartphones are considered benchmark products for mobile camera technology at the time of writing. The Samsung Galaxy S10, for example, is the latest model with a 12MP camera.
Additionally, the Canon 70D and Nikon D7200 are two popular mid-range choices with similar price tags.
Obviously, there are cameras that far surpass the performance levels of smartphones – these, however, have a hefty price tag.
This is why we're comparing mid-range DSLR cameras. Aspects we looked at in the smartphone vs camera debate include price, ease of use and convenience plus others:
Smartphone vs Camera: Price
Price should never be the determining factor for your choice, but it is important. You may have a set budget, for example. Looking at the above specifications, the basic cost doesn't vary that much:
Samsung Galaxy S10: $800.00
iPhone XS: $949.00
Google Pixel 3: $539.00
Canon 70D: $999.00
Nikon D7200: $800.00


This basic cost is not a true representation, however, of what's involved.
In most cases, a smartphone would be purchased with a contract. There would be no upfront cost but instead a monthly payment – this is obviously easier to manage than a one-off lump sum payment.
Furthermore, a smartphone doesn't require any other purchases – everything you need is contained within the device and its cameras.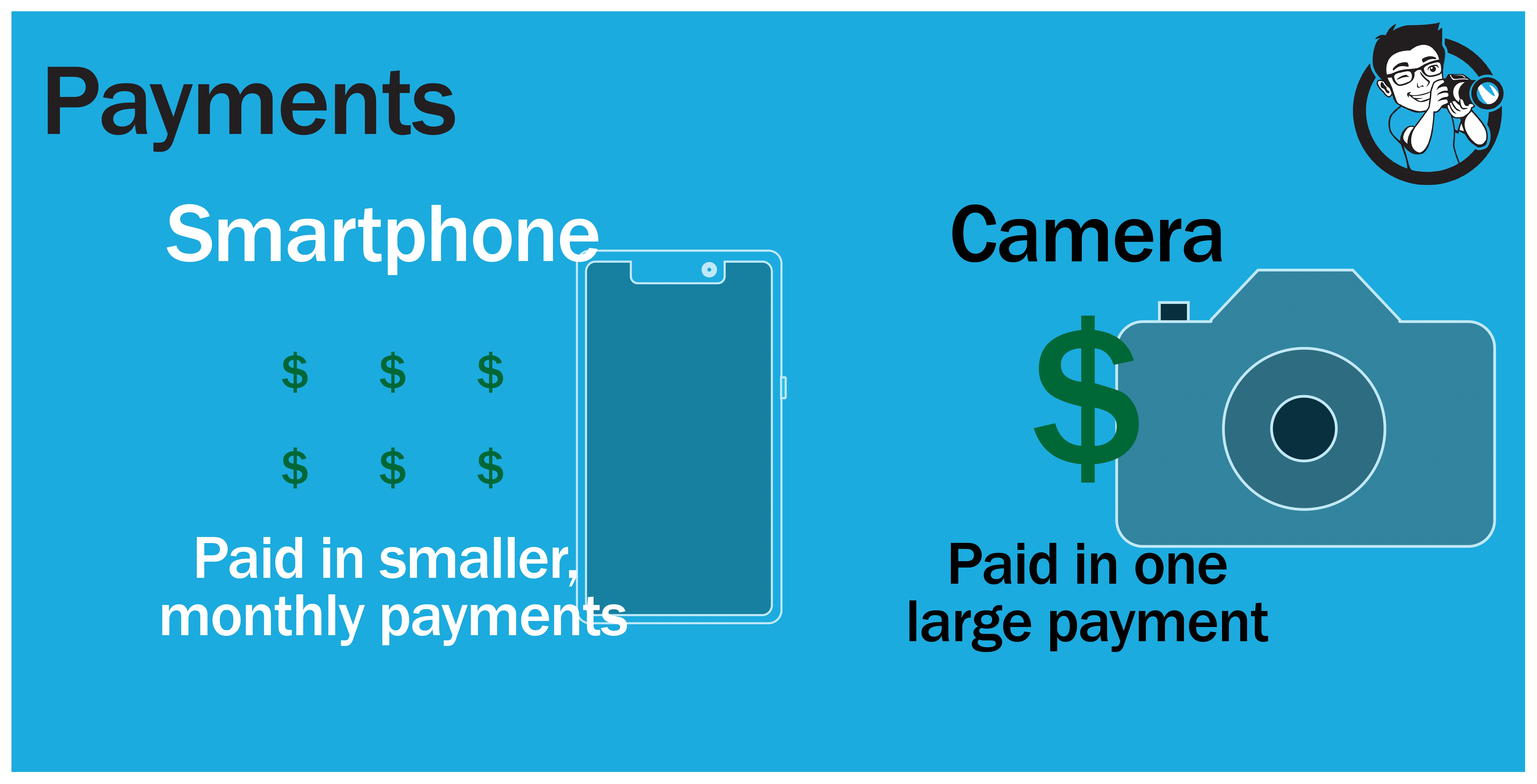 To purchase a DSLR camera, on the other hand, you'll likely need to pay the full amount instantly. This requires savings or paying on a credit card.
Furthermore, the prices listed above are just for the camera body. You must also purchase a lens. DSLR lenses can cost just as much as the camera body itself and drastically increase the overall price.
Winner in Smartphone vs Camera Pricing: The Smartphone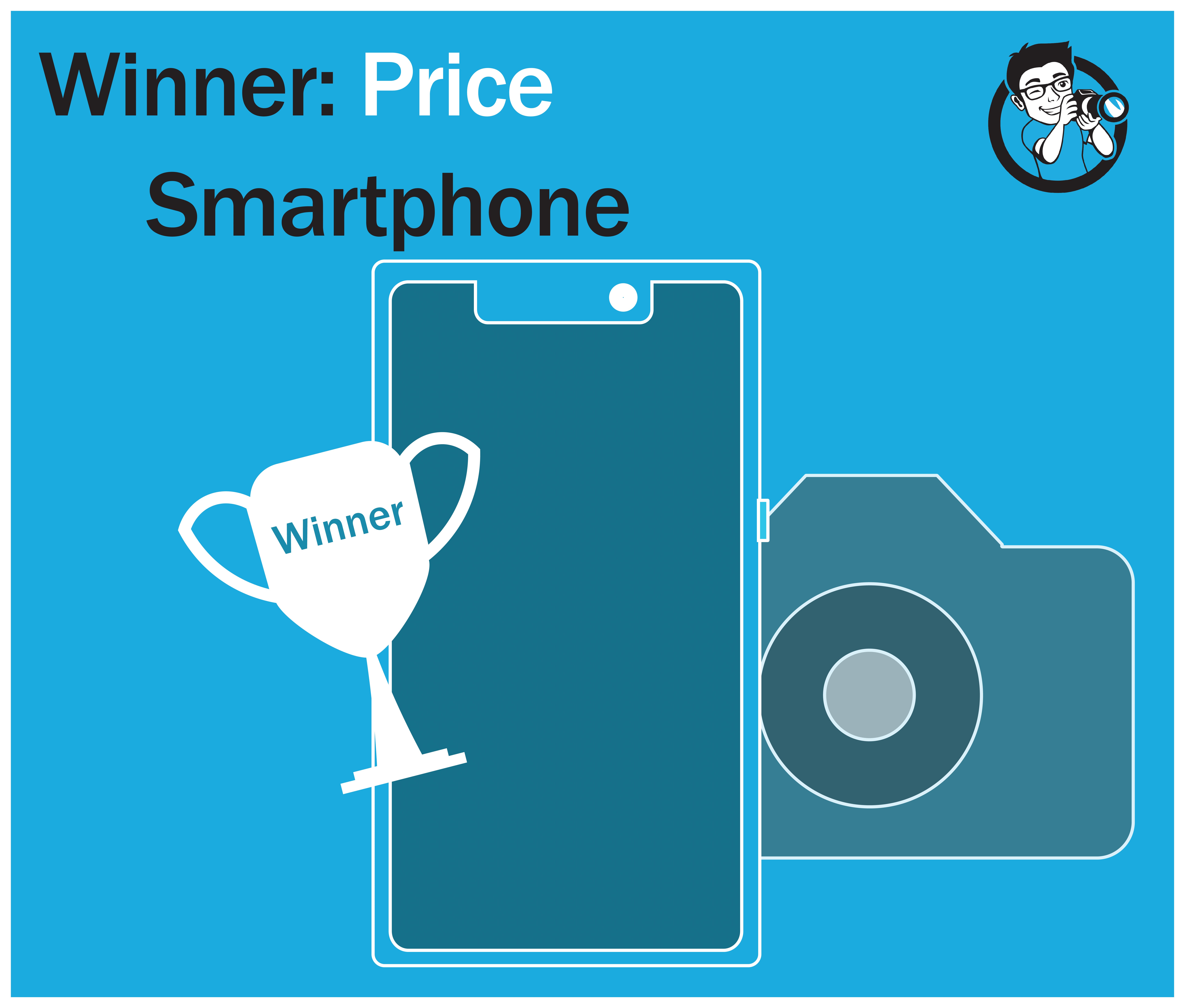 Smartphone vs Camera: Ease of Use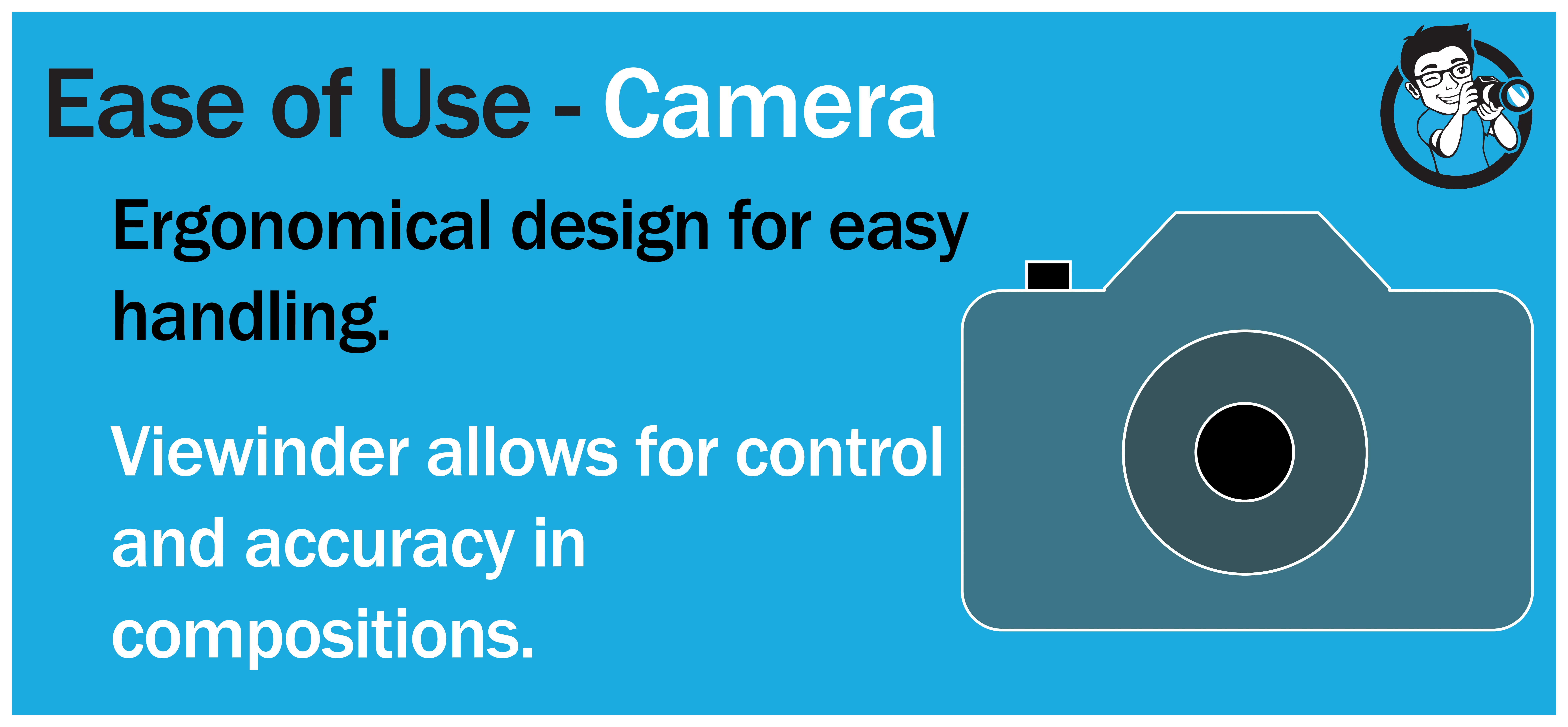 DSLR cameras do require a learning curve, but once you understand the basics, they are easy and convenient to use. Models such as the Canon 70D and Nikon D7200 are ergonomically built – the grips and button locations fit your hands perfectly.
Moreover, the viewfinder allows for fantastic control and accuracy in your photography. DSLR cameras are certainly comfortable and easy to use.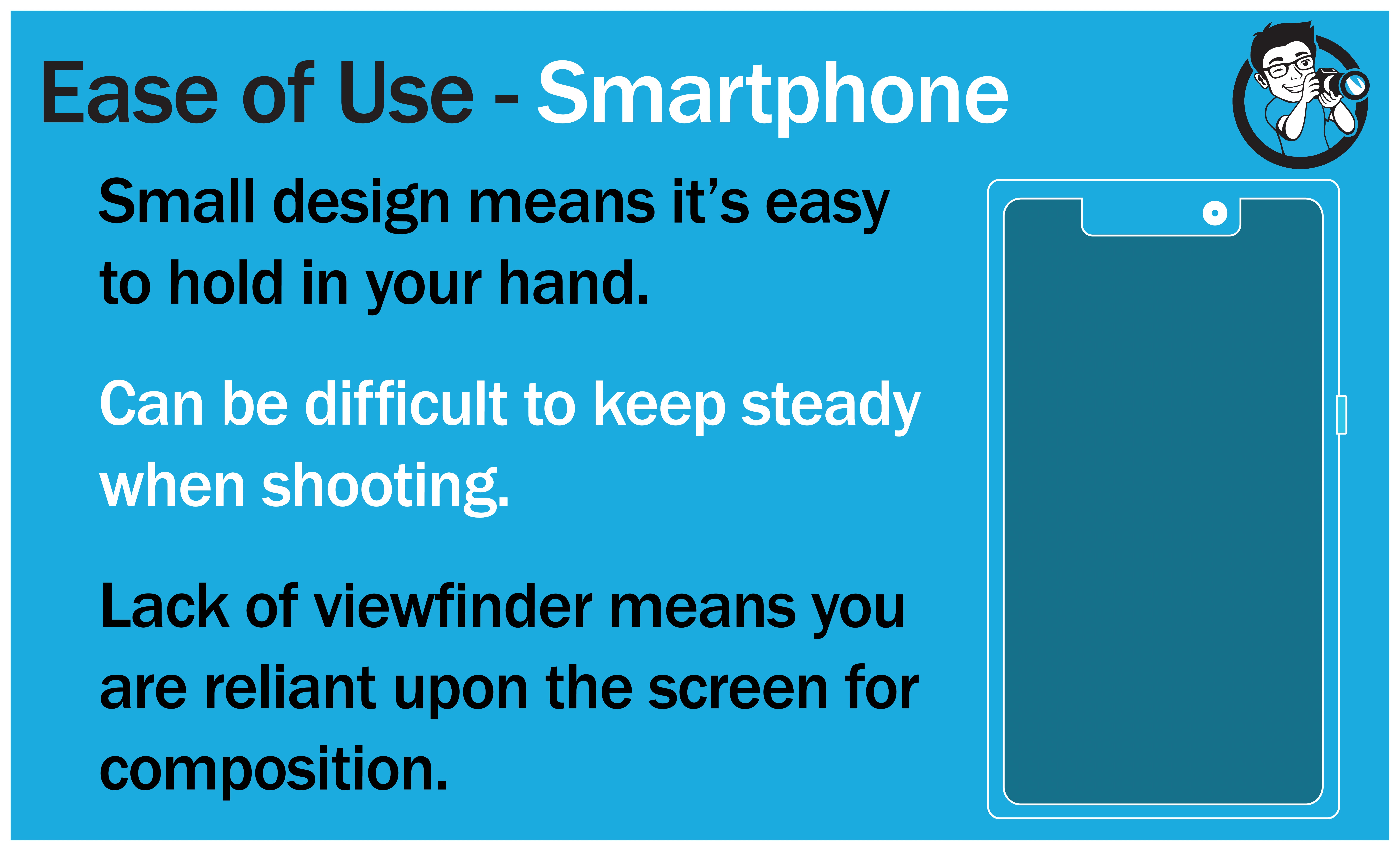 Smartphones have a similar level of usability. The controls are usually easy to operate.
A smartphone can also easily be held in your hand and is much lighter and more compact to carry around.
Some people, however, find it difficult to keep a smartphone steady. In addition to this, a smartphone has no viewfinder – users, therefore, have to rely on the mobile screen when taking photos.
Winner in Smartphone vs Camera Ease of Use: The DSLR Camera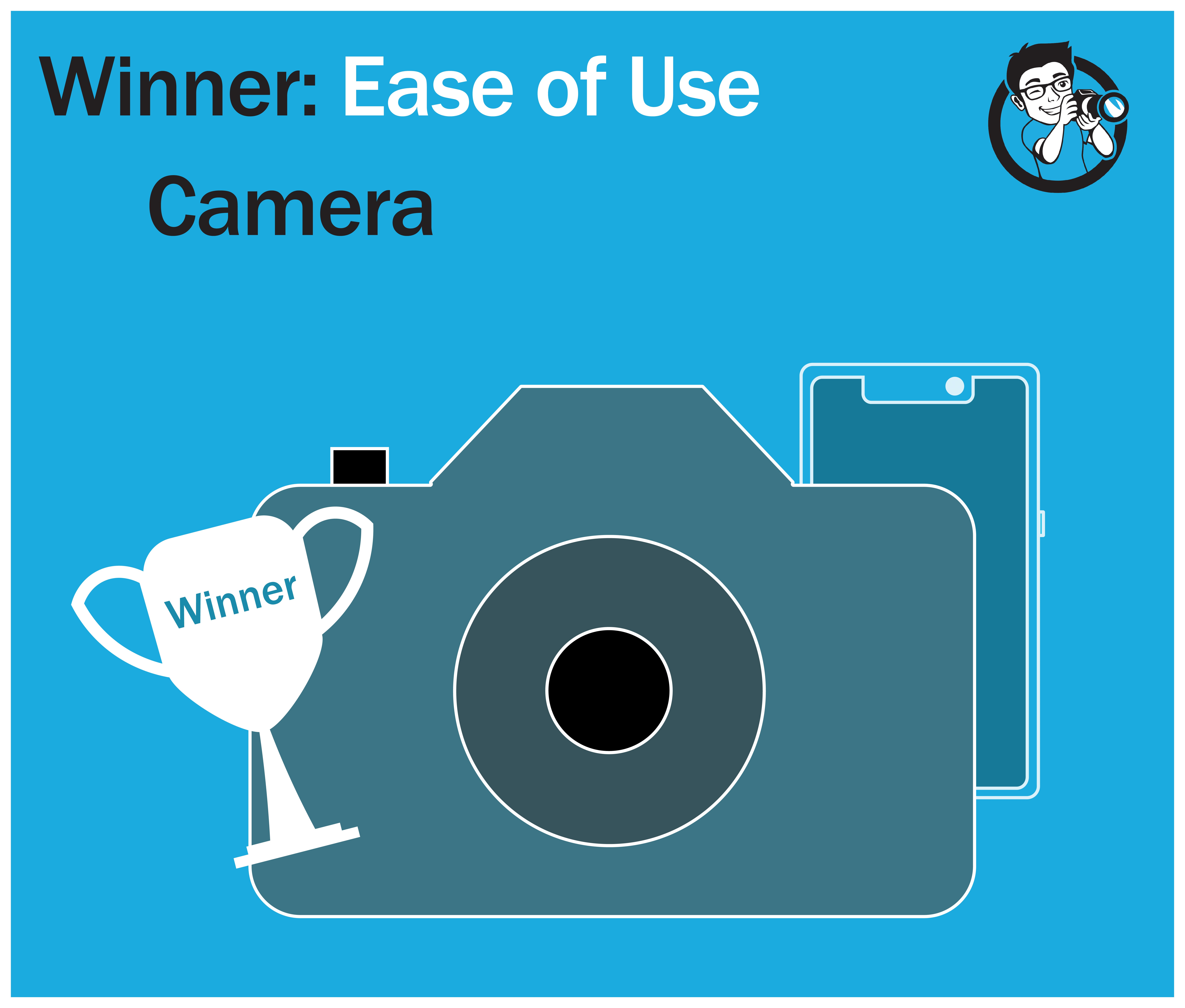 Smartphone vs Camera: Convenience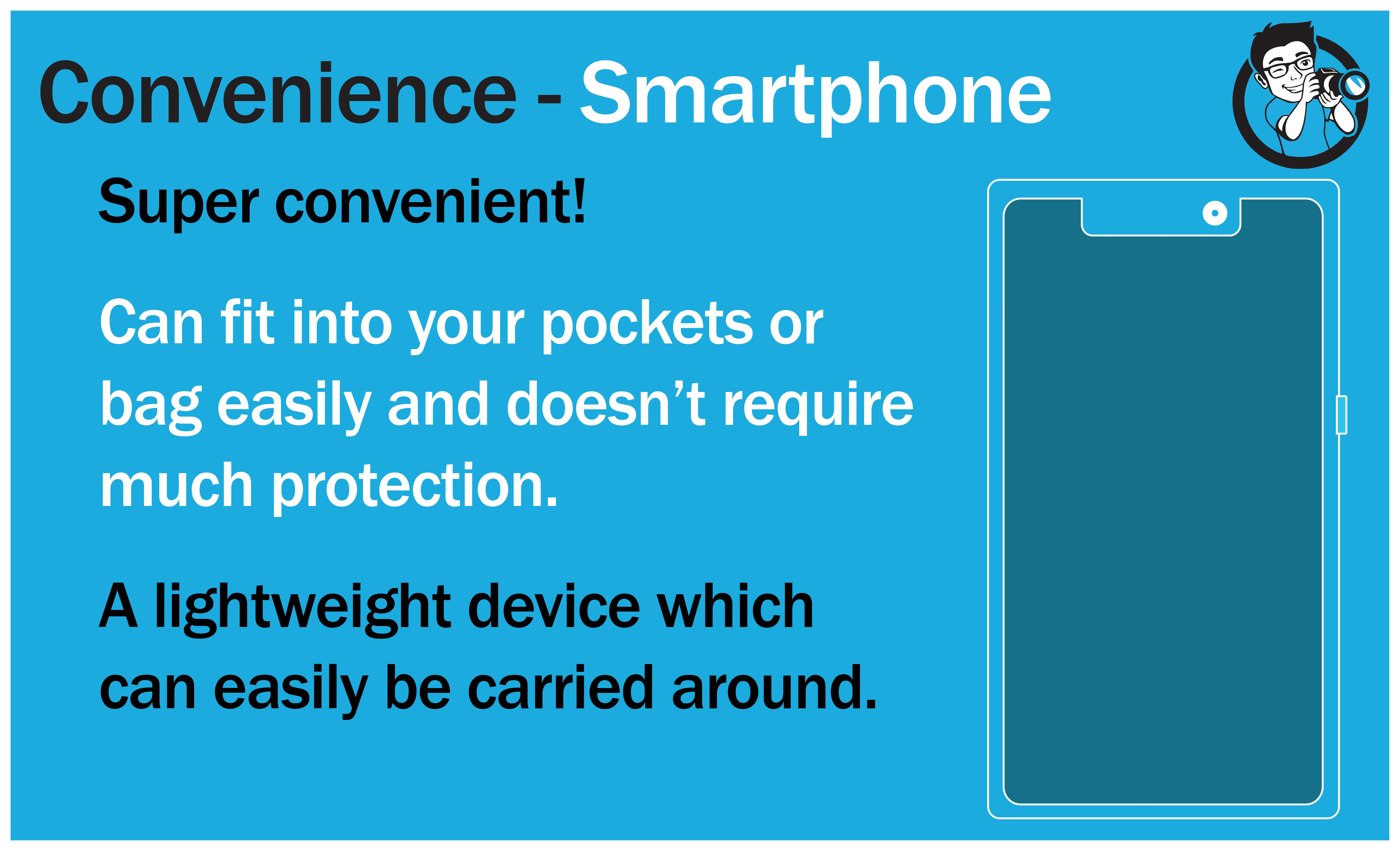 There's no question about it: smartphones are highly convenient.
Although smartphones are now generally larger than they once were, they still comfortably fit in your pockets. Plus, the devices are lightweight and can easily be carried/transported.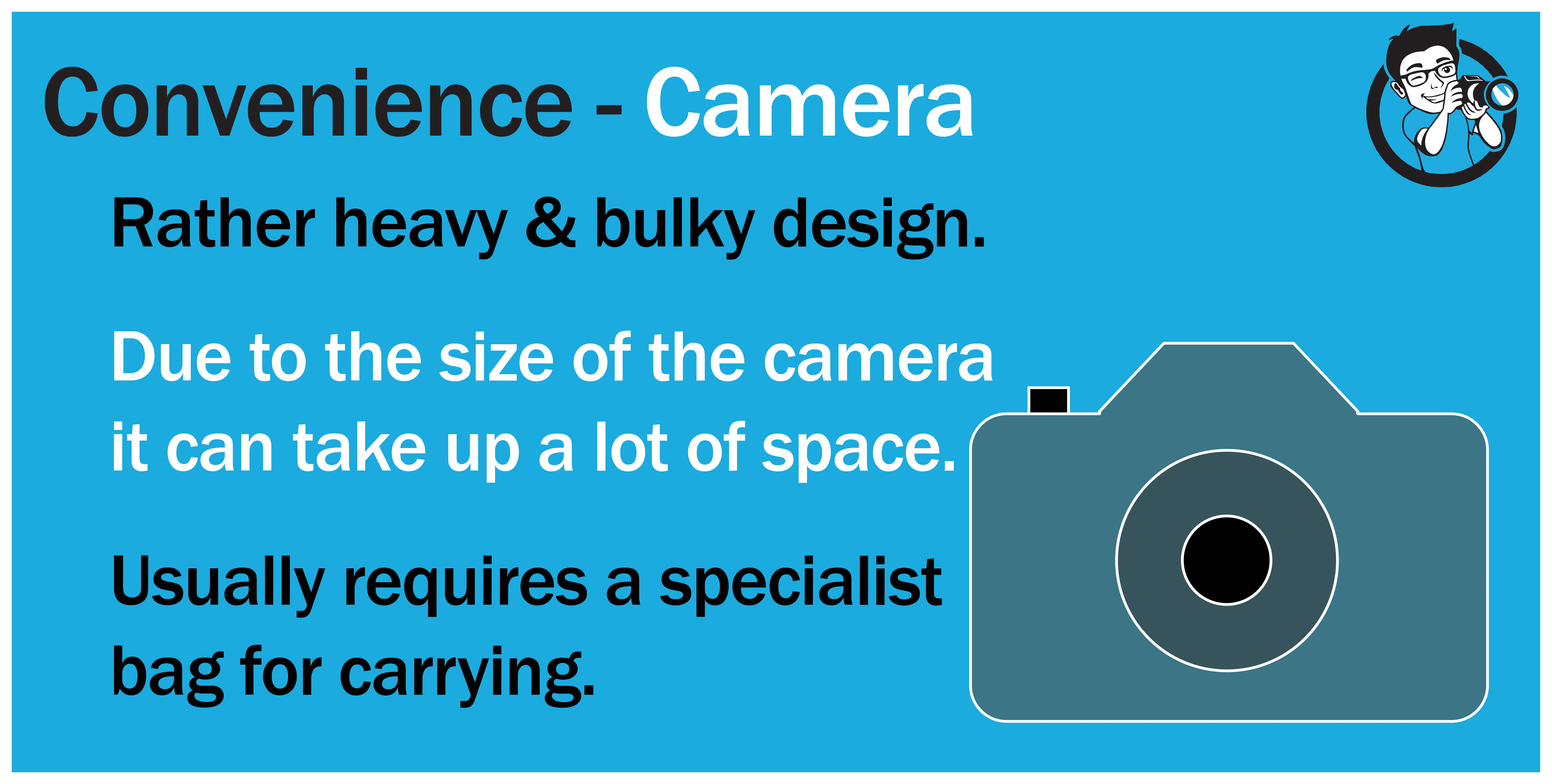 On the flip side, DSLR cameras are undoubtedly heavier and bulkier. A Canon 70D equipped with a mid-range zoom lens, for example, is much heavier.
It takes up a lot more space.
In most cases, a carry-case or backpack is required to easily transport a DSLR camera.
Winner in Smartphone vs Camera Convenience Level: Smartphone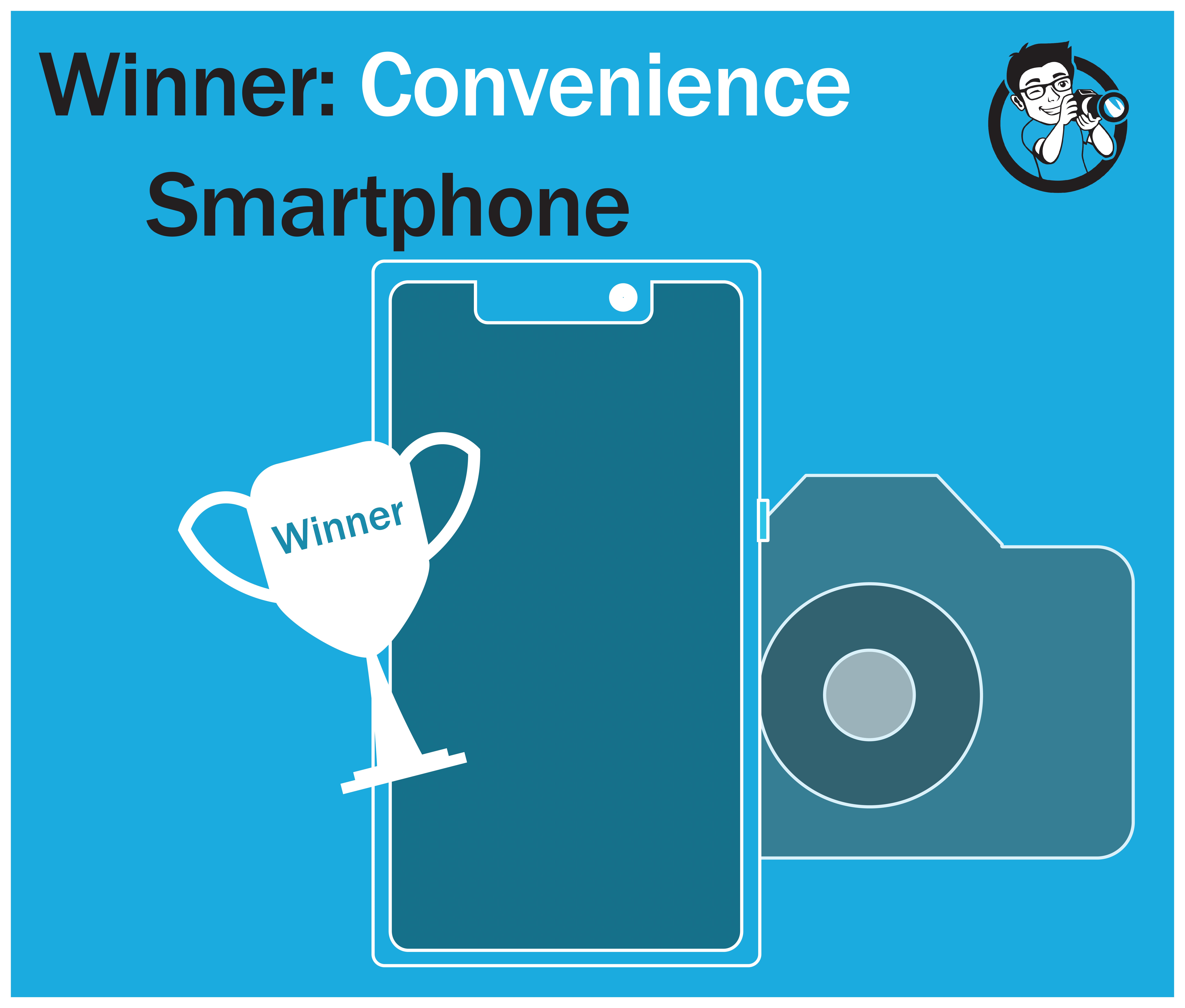 Smartphone vs Camera: Image Quality
In terms of raw megapixel quality, DSLR cameras certainly outperform smartphone cameras.
It's hardly even a contest…
For example, the iPhone XS shoots at 12MP whereas the Canon 70D has an image quality of 20MP. Furthermore, DSLR cameras have advanced sensors that can simply capture greater detail than their smartphone counterparts.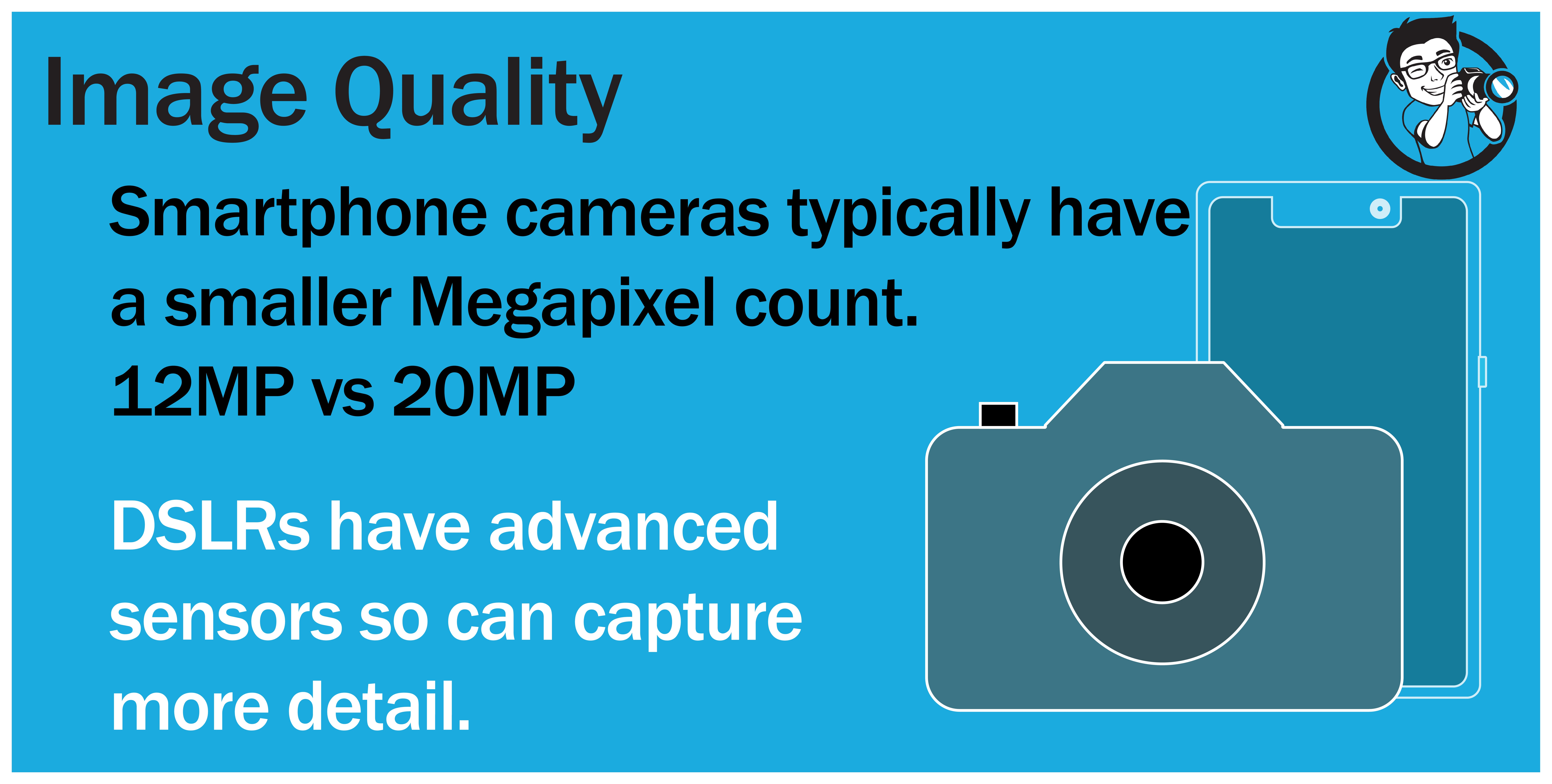 Smartphone photo quality isn't bad, but at higher levels, a DSLR camera can produce better results. The combination of larger resolution, improved camera sensor, and range of quality lenses means that the basic image quality of a DSLR camera is usually better.
Winner in Smartphone vs Camera Image Quality: DSLR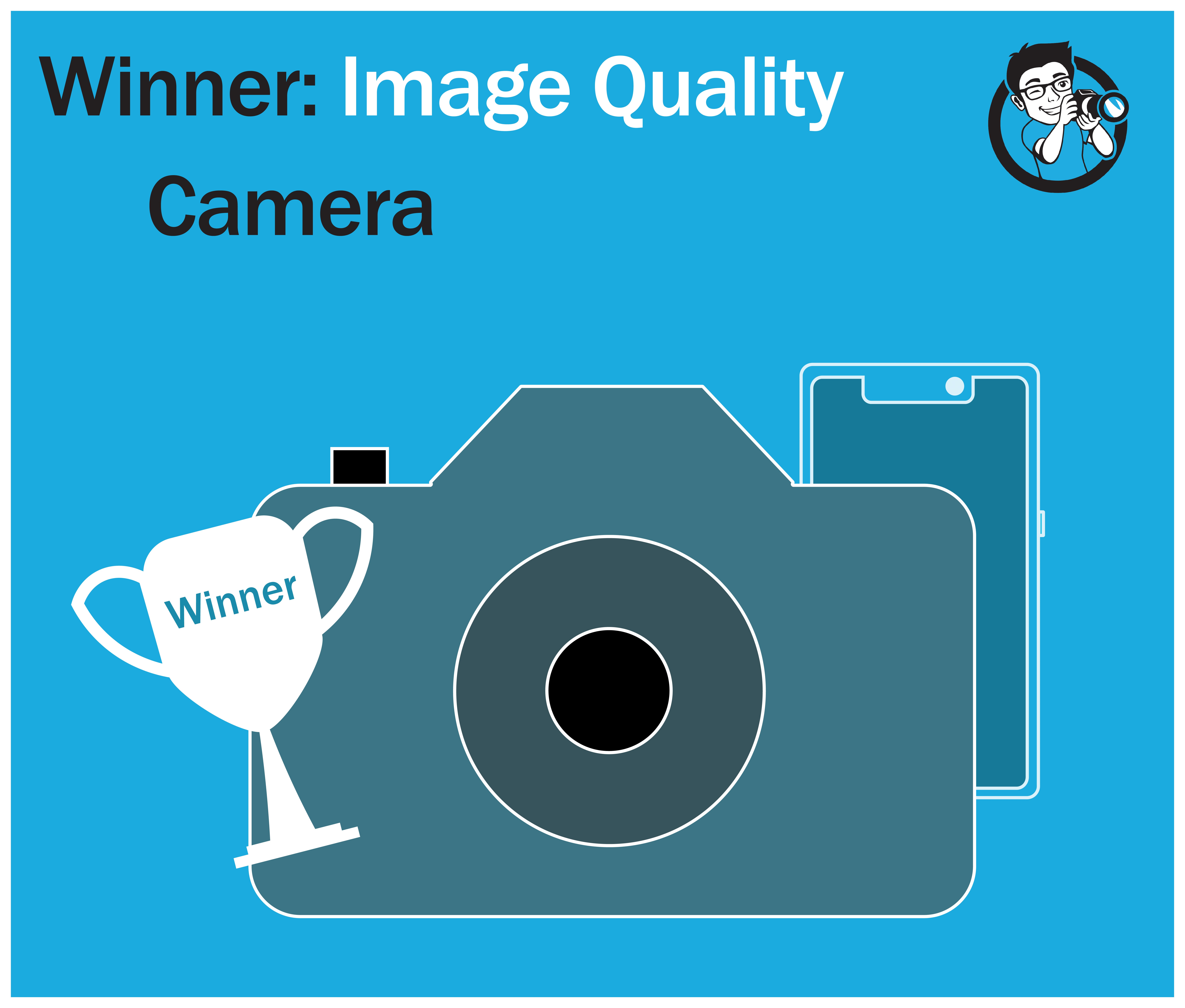 Smartphone vs Camera: Specialist Settings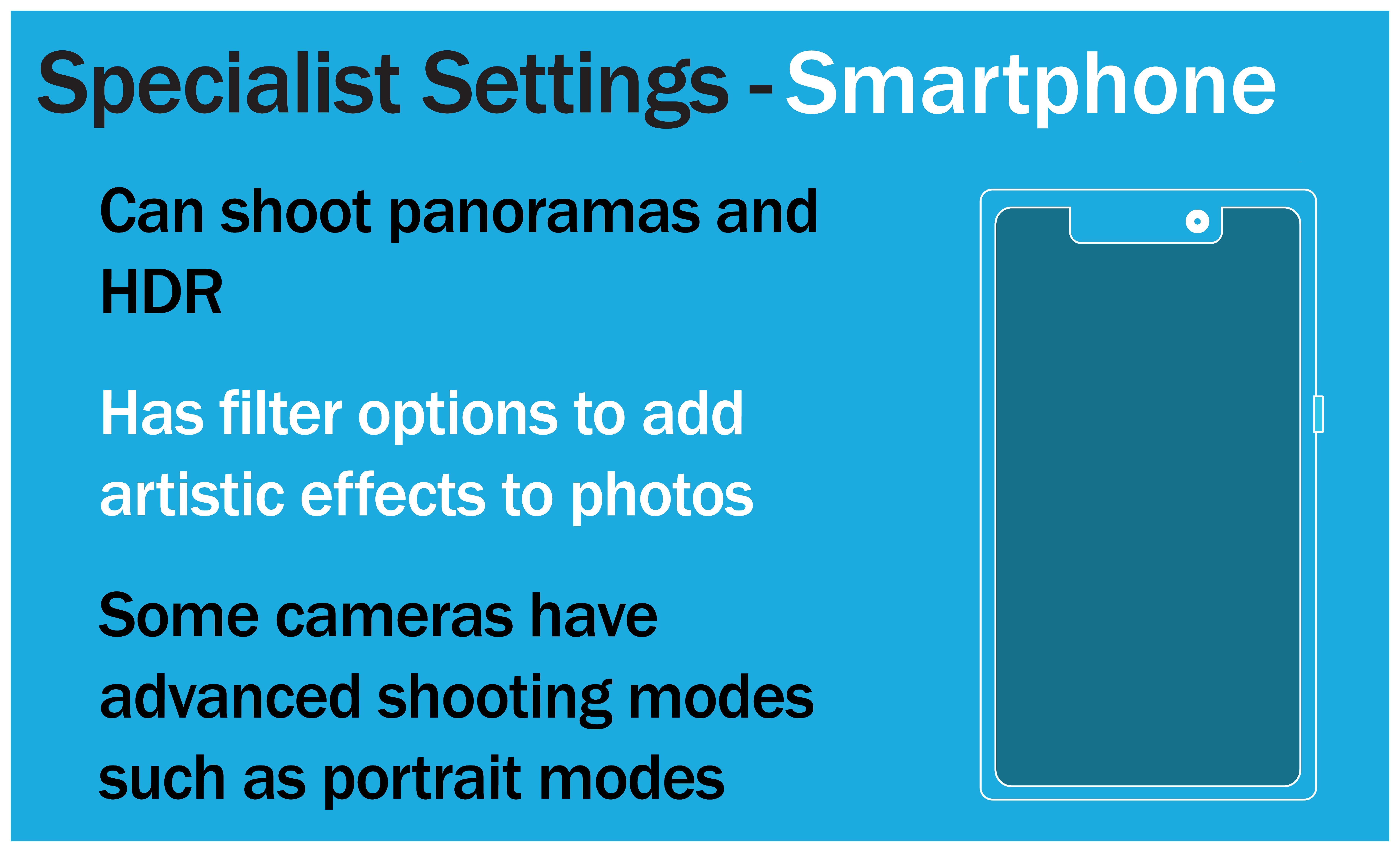 That beings said, smartphones have a range of specialist settings.
Some phones, for example, can take panoramas and HDR photos without any extra post-processing on your behalf.
In fact, smartphones usually have a range of effects that can be applied to images – different filters and styles for example.
In terms of actual shooting modes, a smartphone does not have the same degree of control as a DSLR camera. Although, some third-party apps can give you some additional control.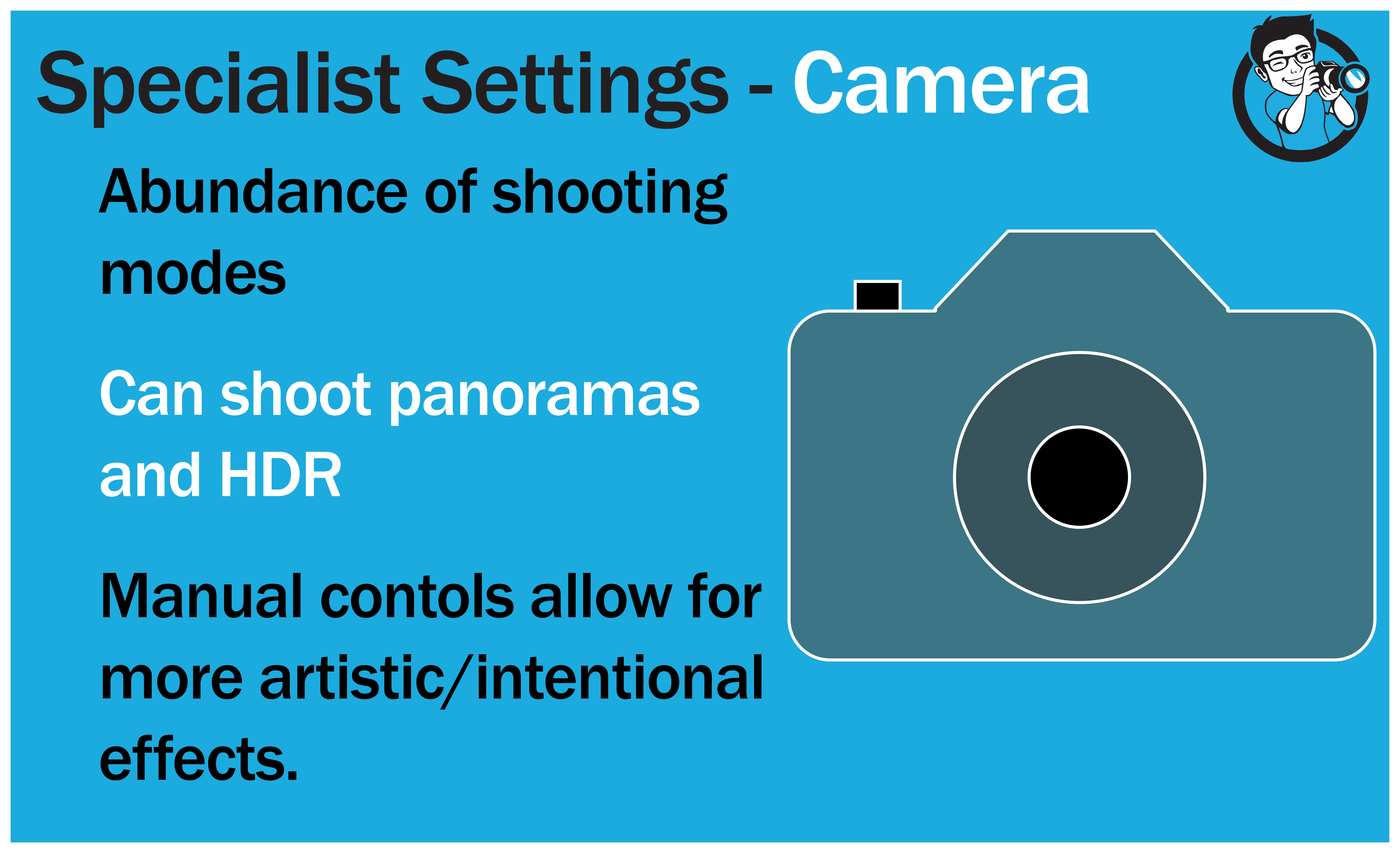 DSLR cameras have a huge array of specialized settings. For example, a DSLR can shoot in aperture priority mode (AV), shutter priority mode (TV), or Manual mode. It's also possible to shoot panoramas and HDR photos with a DSLR – the process is just slightly different.
Smartphones may be easier to use in terms of specialized settings, but a DSLR camera offers so much more creativity and possibilities.
Winner in Smartphone vs Camera Specialist Settings: DSLR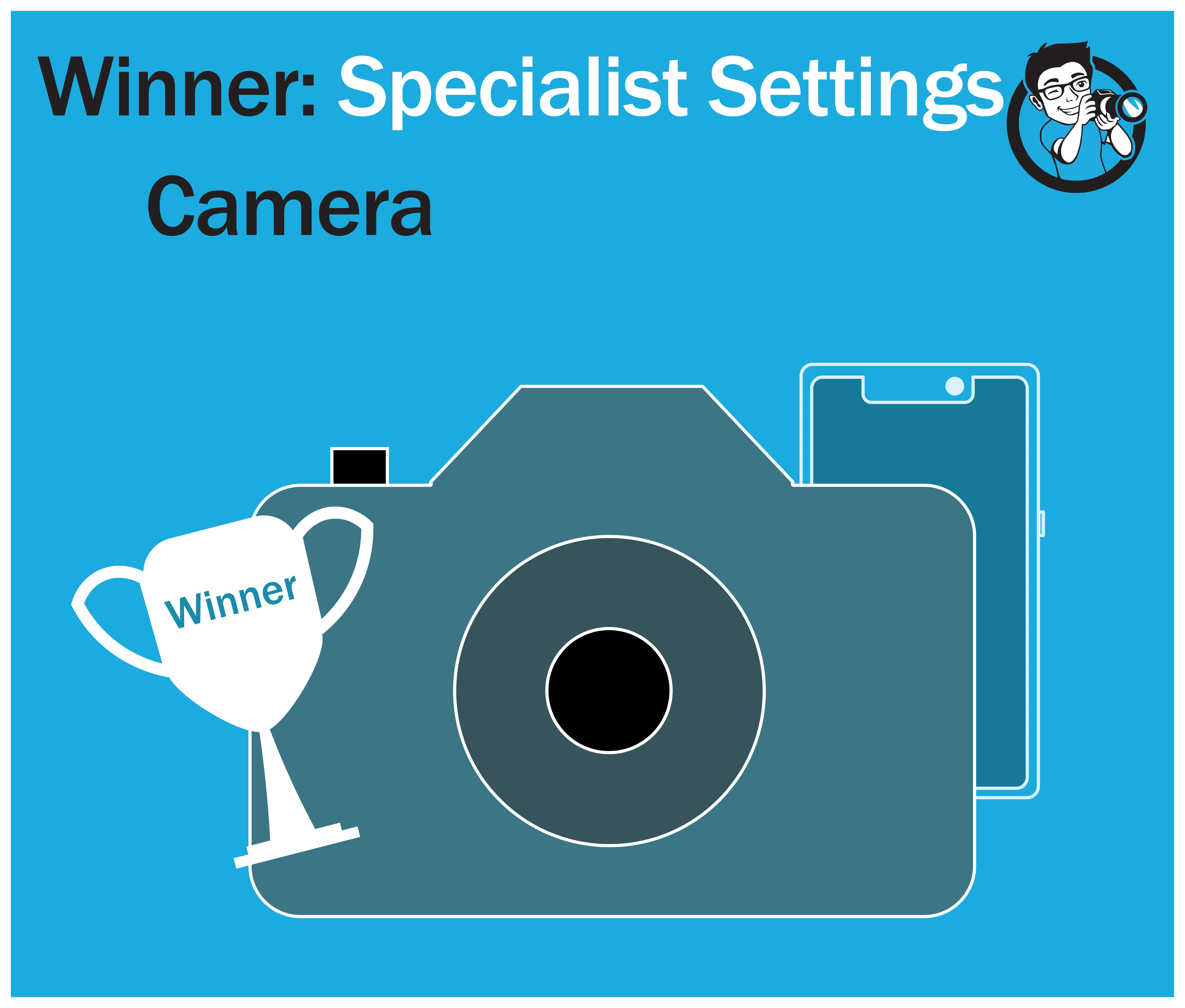 Smartphone vs Camera: Flexibility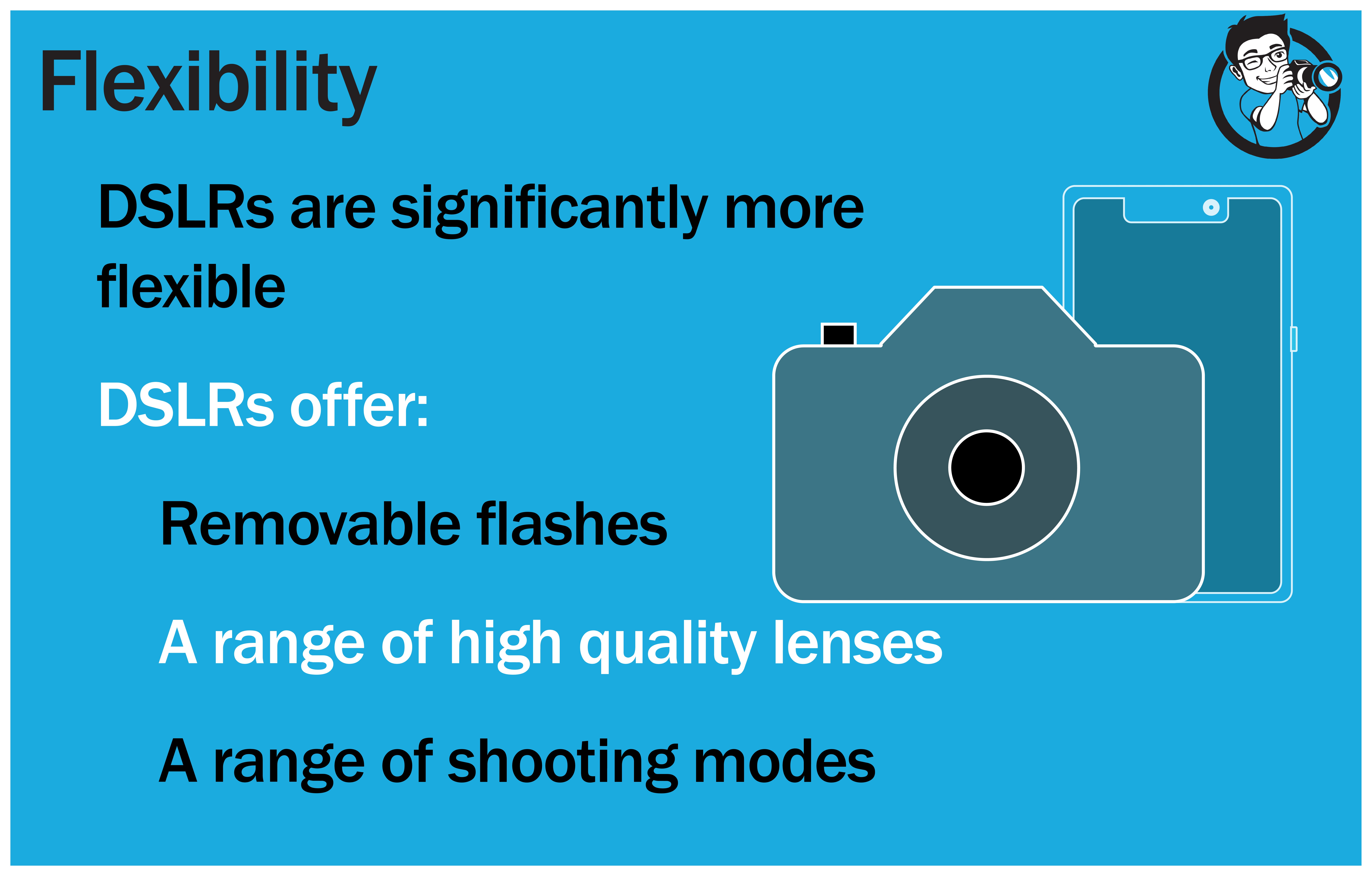 A DSLR camera offers so much more flexibility. It can be equipped with a dismountable flash. In addition to this, each manufacturer provides a range of high-quality lenses – from specialized macro lenses to ultra-telephoto zoom lenses.
Furthermore, a DSLR camera enables a myriad of shooting modes such as AV, TV, Manual, and Auto. In short, a DSLR camera is flexible to whatever needs you to have.
Smartphone cameras simply do not have this same level of flexibility.
Winner in Smartphone vs Camera Flexibility: DSLR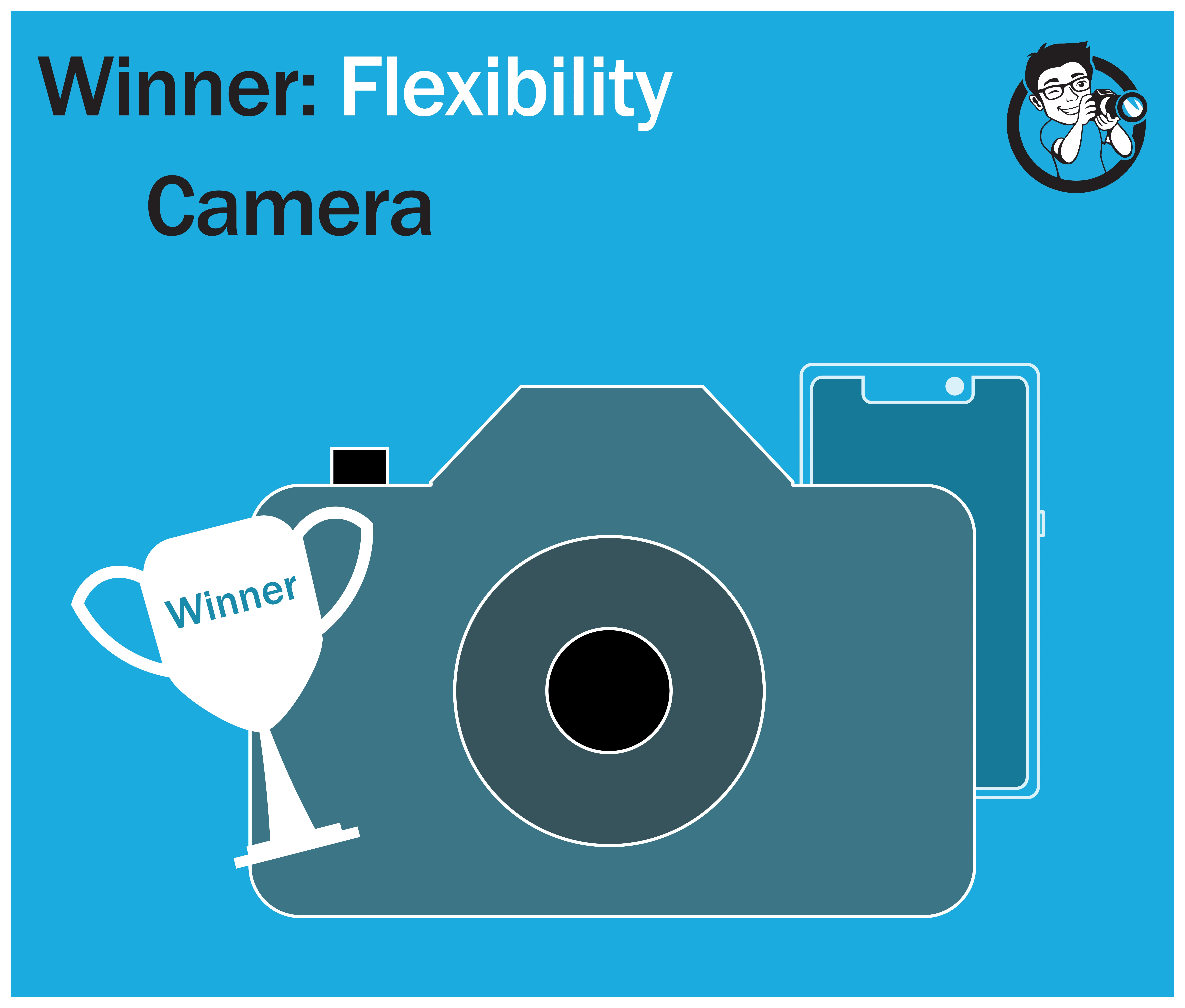 Smartphone vs Camera: Exporting, Sharing & Post-Processing
How photos are handled afterwards must also be given consideration. Post-processing is an important aspect of professional photography.
How can images be exported? What file formats can be used? How easily can the photos be shared?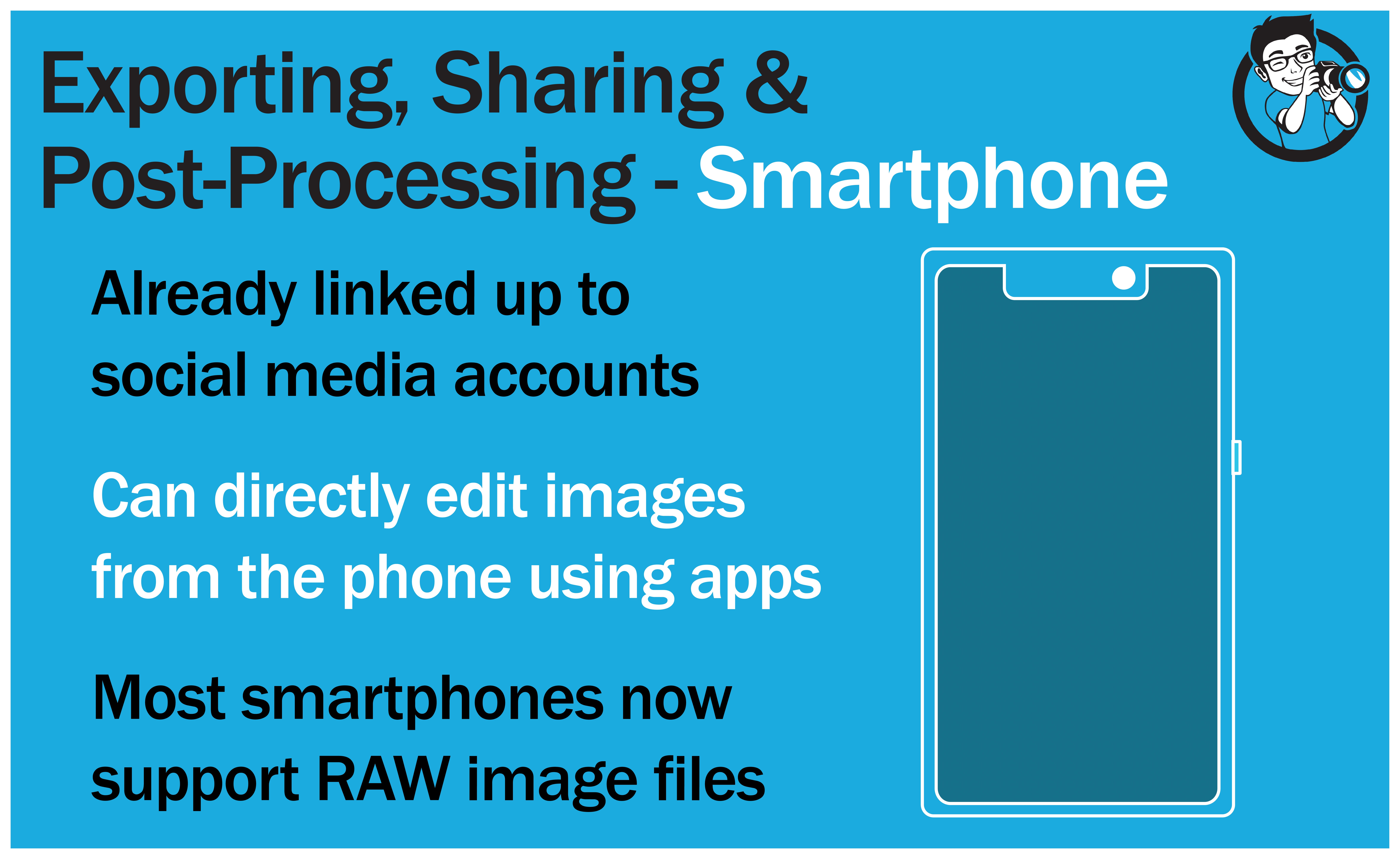 Smartphone cameras have excellent sharing capabilities. These devices are meant for internet usage. Since most users have apps such as Facebook, Twitter, and Instagram, they can easily share their photos.
Sharing photos via a smartphone is certainly convenient and easy.
In addition to this, you can install post-processing apps and do all your post-processing on the same device! If you like to shoot RAW, most smartphone cameras now support RAW image file formats too.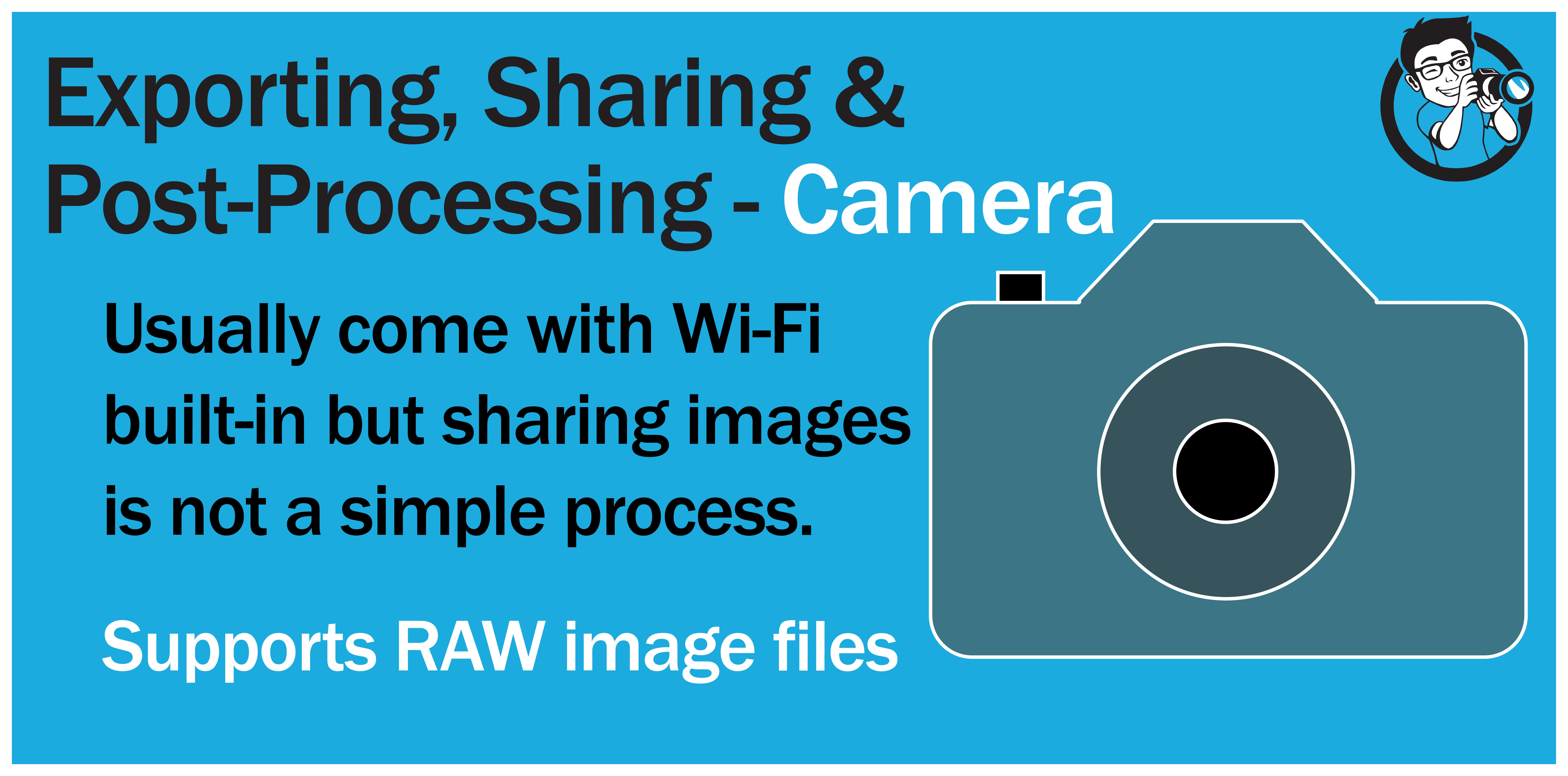 DSLR cameras do not have as extensive sharing capabilities.
Both the 70D and D7200 have Wi-Fi connections, but it's undeniably easier to share images using a smartphone. One advantage of a DSLR is that you always have the option to shoot RAW.
Winner in Smartphone vs Camera Exporting, Sharing and Post-Processing: Smartphone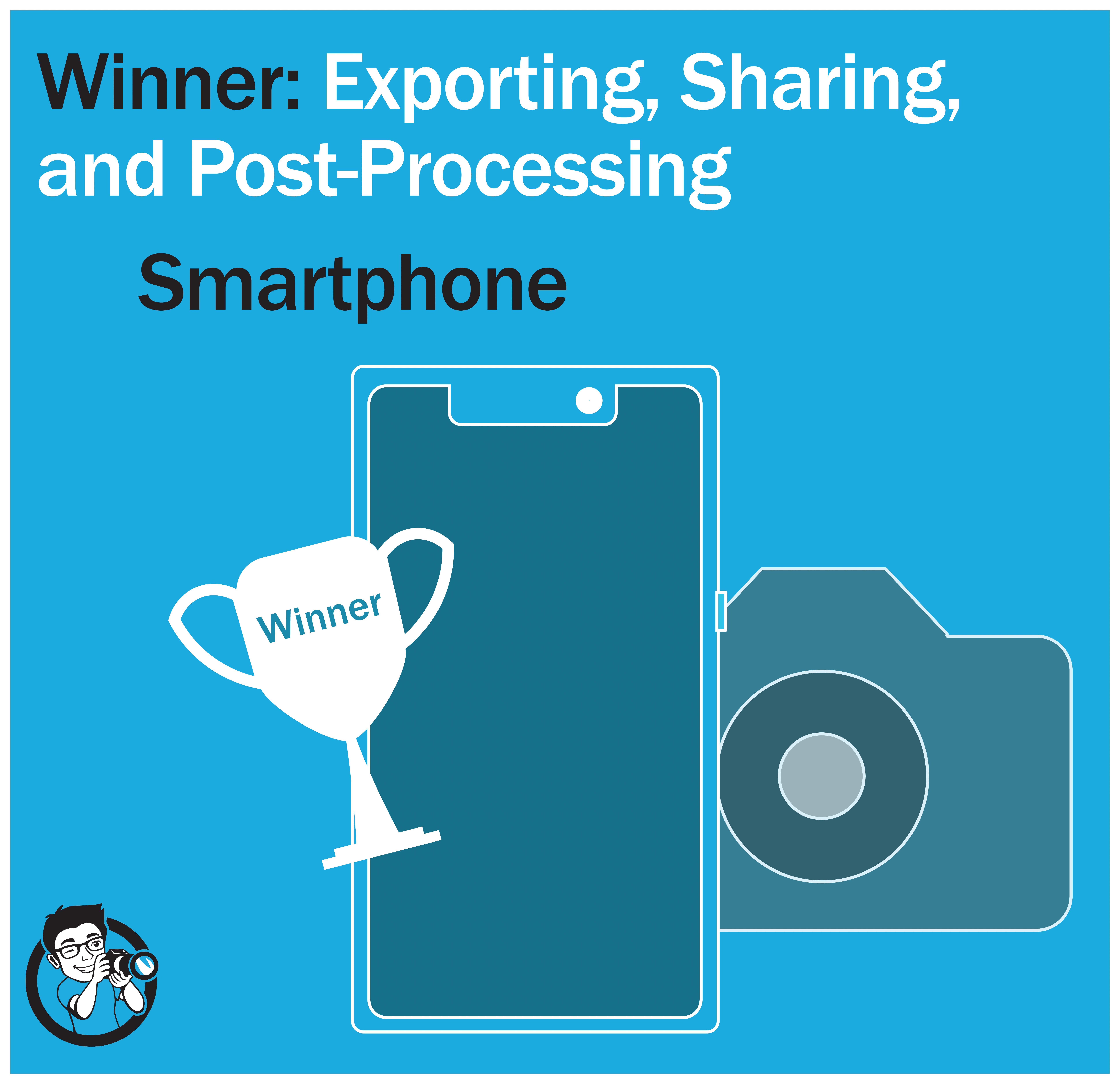 The Pros and Cons of Smartphone vs Camera Devices
Smartphones
| | |
| --- | --- |
| Pros | Cons |
| Smaller devices easier to handle | Less flexibility |
| No need to purchase additional lenses | Poorer low-light ability |
| Other functionalities (i.e. to be used as a mobile phone) | |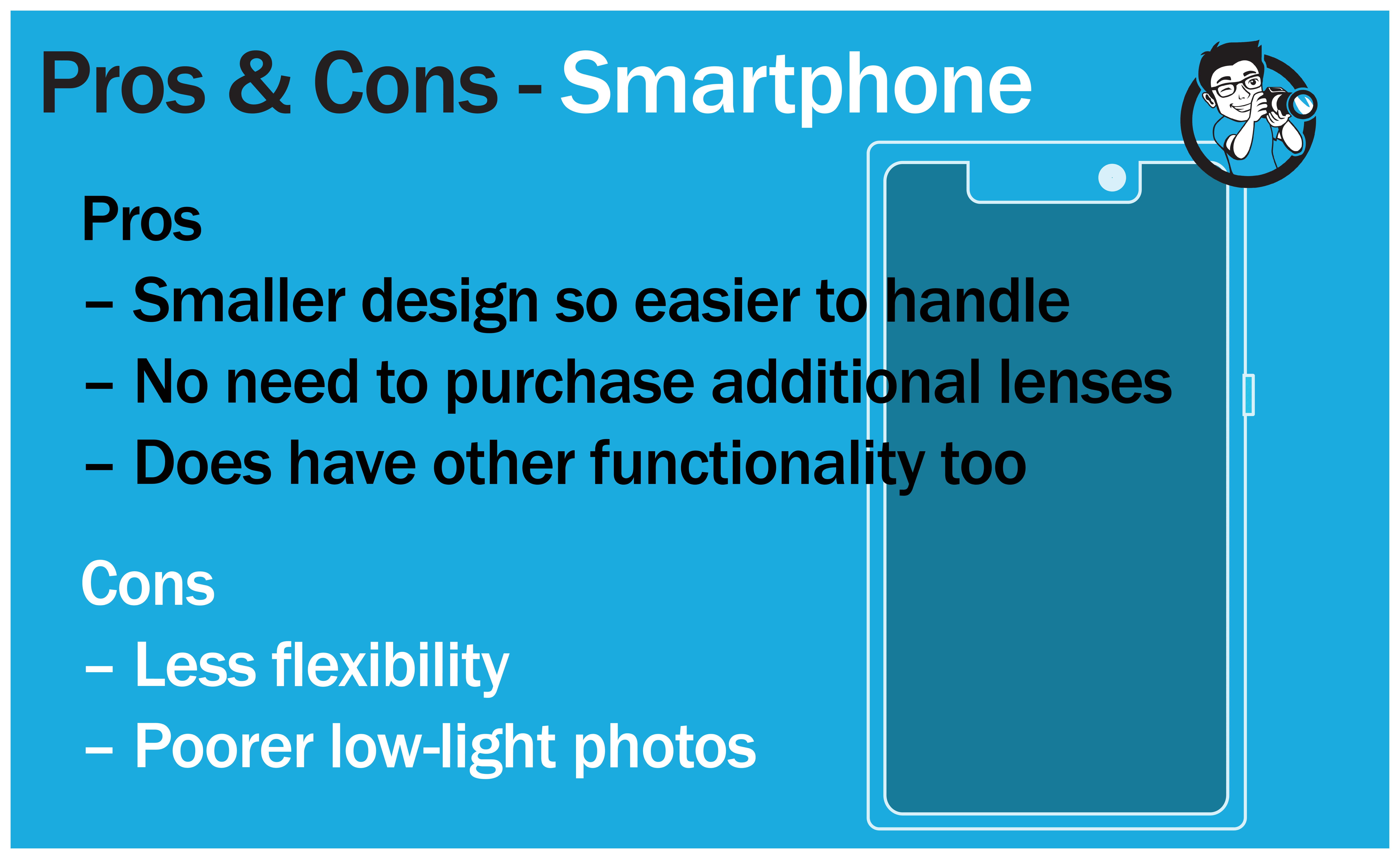 DSLR Cameras
| | |
| --- | --- |
| Pros | Cons |
| Can use a variety of different lenses | More expensive |
| Excellent low-light photos | Bulky and not always easy to store |
| Greater flexibility in shooting options | Need to purchase additional lens(es) |
| Better autofocus and control | |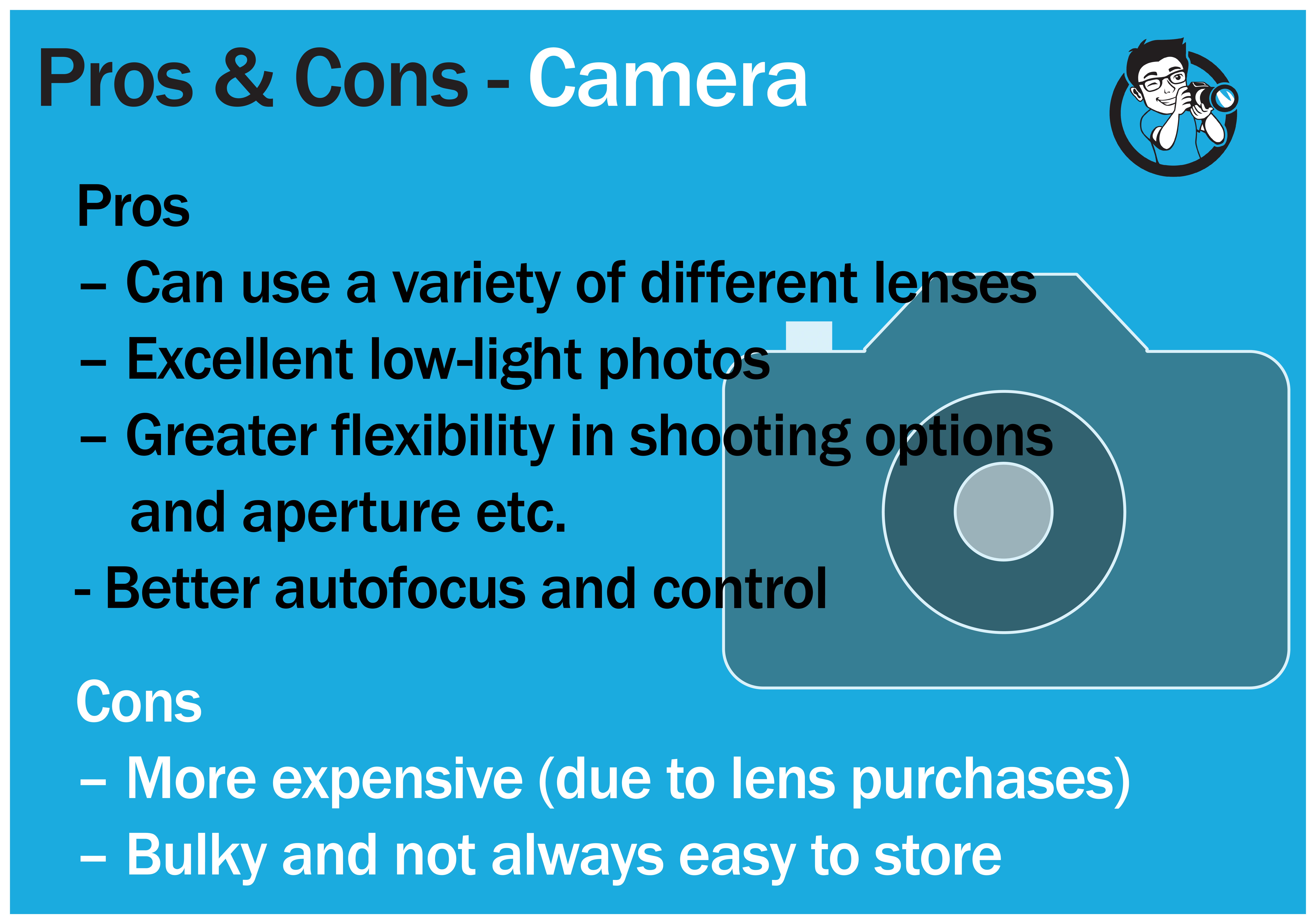 Smartphone vs Camera – Final Thoughts and Outcome
So which device do we feel is the better choice in the smartphone vs camera battle?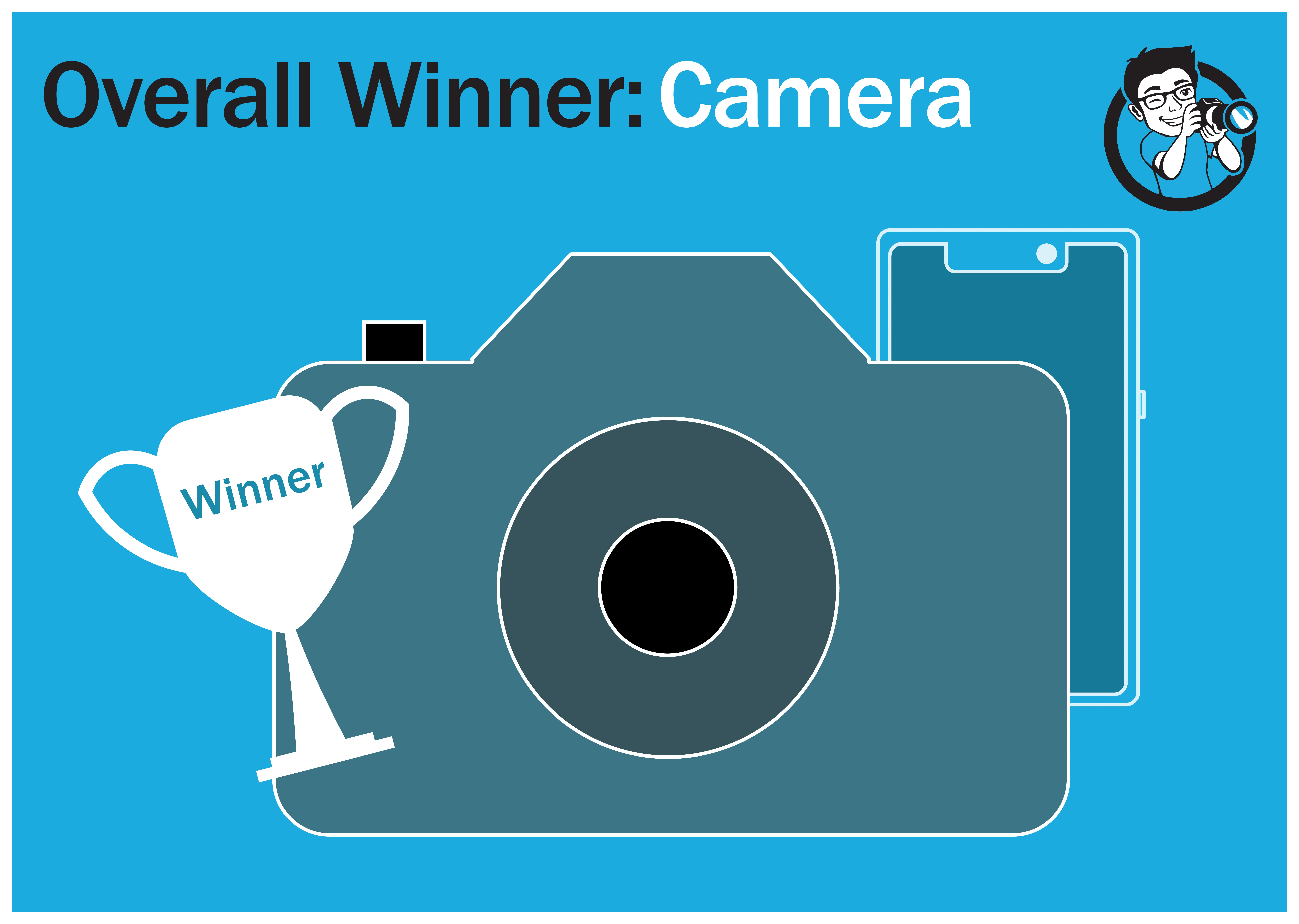 For PhotoWorkout, it has to be the DSLR camera.
This type of device will always produce better end results. But it's not just the RAW quality. A DSLR camera provides greater flexibility, utility, and features.
For example, a DSLR camera can be fitted with a myriad of different lenses – these lenses can specialize in certain types of photography.
A smartphone could mimic the photos, but the end quality would never be as sharp. DSLR cameras also have much better autofocus and can perform infinitely better in low-light situations.