The editing software available on the market for photographers is numerous, to say the least. This can make choosing the best photo editing software for your Windows PC to be a challenge. The front-runner in terms of photo editing is the specialized apps from Adobe CC including Lightroom and Photoshop. That being said, there are other excellent alternatives available. In this article, we give you the best photo editing software available right now.
When you buy through links on our site, we may earn a commission at no cost to you. We evaluate products independently. Commissions do not affect our evaluations.
Best Photo Editing Software (5 Picks for Windows)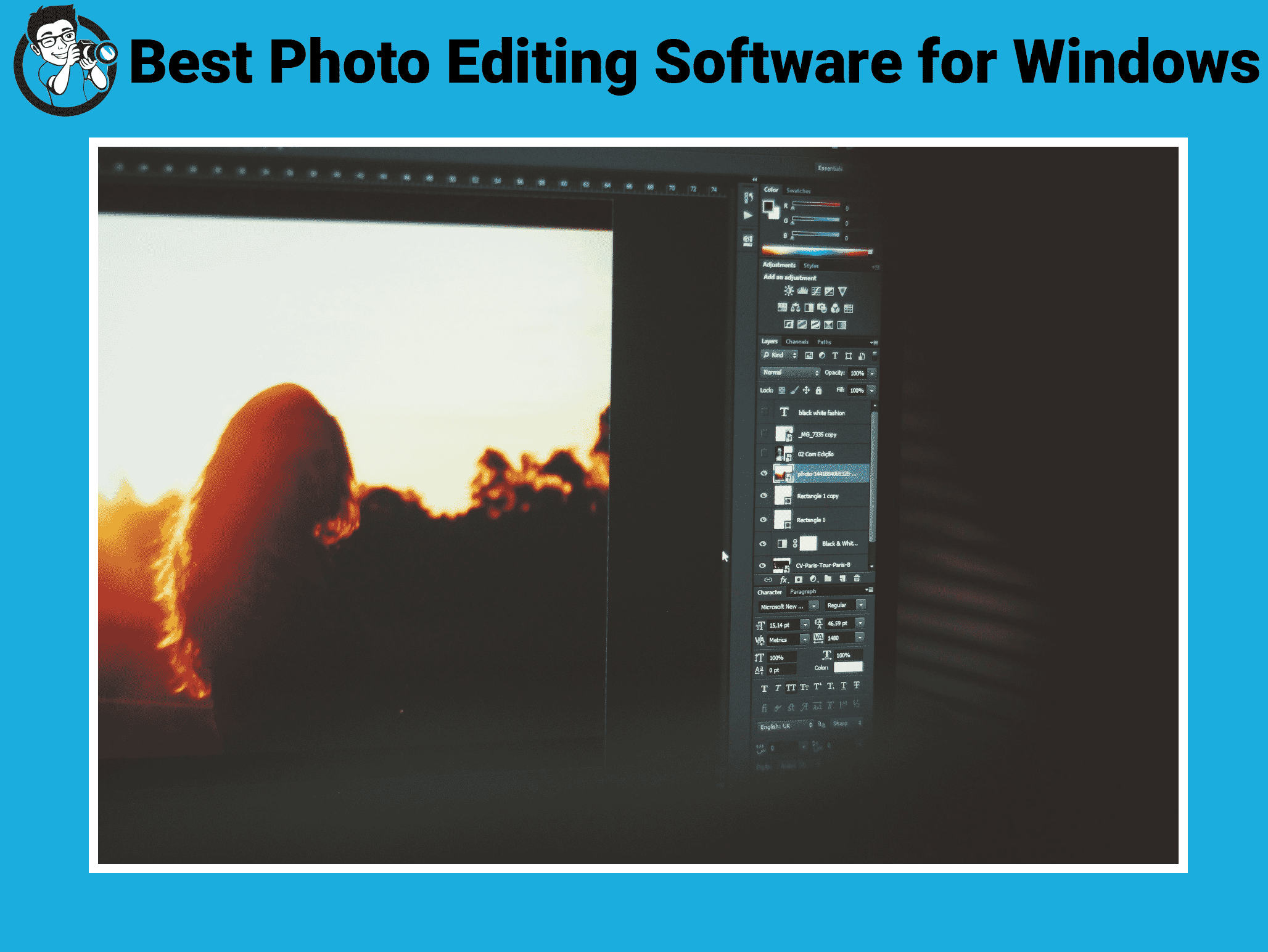 1. Luminar (by Skylum)
Skylum's Luminar software has been coming on in leaps and bounds over the past few years. It has quickly become a software of choice after Adobe Lightroom. It's ideal for photographers who don't want to get into the complexities of retouching using something like Adobe Photoshop. Many of the things that you could do in Luminar, for example, you could also do in Photoshop. But the processes in Luminar are much simpler and require a far less significant learning curve. Anyone with only basic knowledge of working with any photo editing software will be able to work with Luminar 4 and enhance their photos in no time at all.
Top Tools in Luminar 4
Luminar 3 had already turned a few non-believers into believers with its powerful Accent AI 2.0, AI Sky Enhancer and Erase Objects. Enhancing the sky or removing objects by blending the background has never been this easy. But with the launch of Luminar 4, you have even more powerful tools like AI Sky Replacement.
AI Sky Replacement in Luminar 4

In the latest Luminar, the AI Sky Replacement tool makes it ludicrously easy to replace the sky in your images in a flash. So much so that some effects look incredibly natural. If you have a library full of photos that just miss the mark because of their skies, using Luminar 4 could be a great way to enhance those images and turn them into masterpieces.
Tools for Portrait Photographers


If you are thinking that Luminar 4 is just another tool for landscape photographers, think again. It hides more up its sleeve in terms of what it can do than you think. Luminar 4 has a pretty powerful portrait editing tool that allows you to enhance your portrait images swiftly, yet still with a high-quality finish.
Freedom from the Subscription Model
The best thing about Luminar is it takes you away from the subscription model that Adobe has introduced and lets you pay a one-off fee to own the software for as long as you desire. However, if you want to upgrade each time a new Luminar version is released, you will find yourself paying out. Thankfully, it's not as much as the upfront software cost and it certainly isn't required to continue using Luminar.
For those who do minimal editing, this one-time payment option is a very liberating option. Even for professionals, Luminar 4 is a powerful tool that's only going to get better. It is already up to Lightroom standards (if not better when you consider its AI tools). Therefore the software demands a look at, be it as a stand-alone product or as a bundle with Lightroom or some other photo organization software.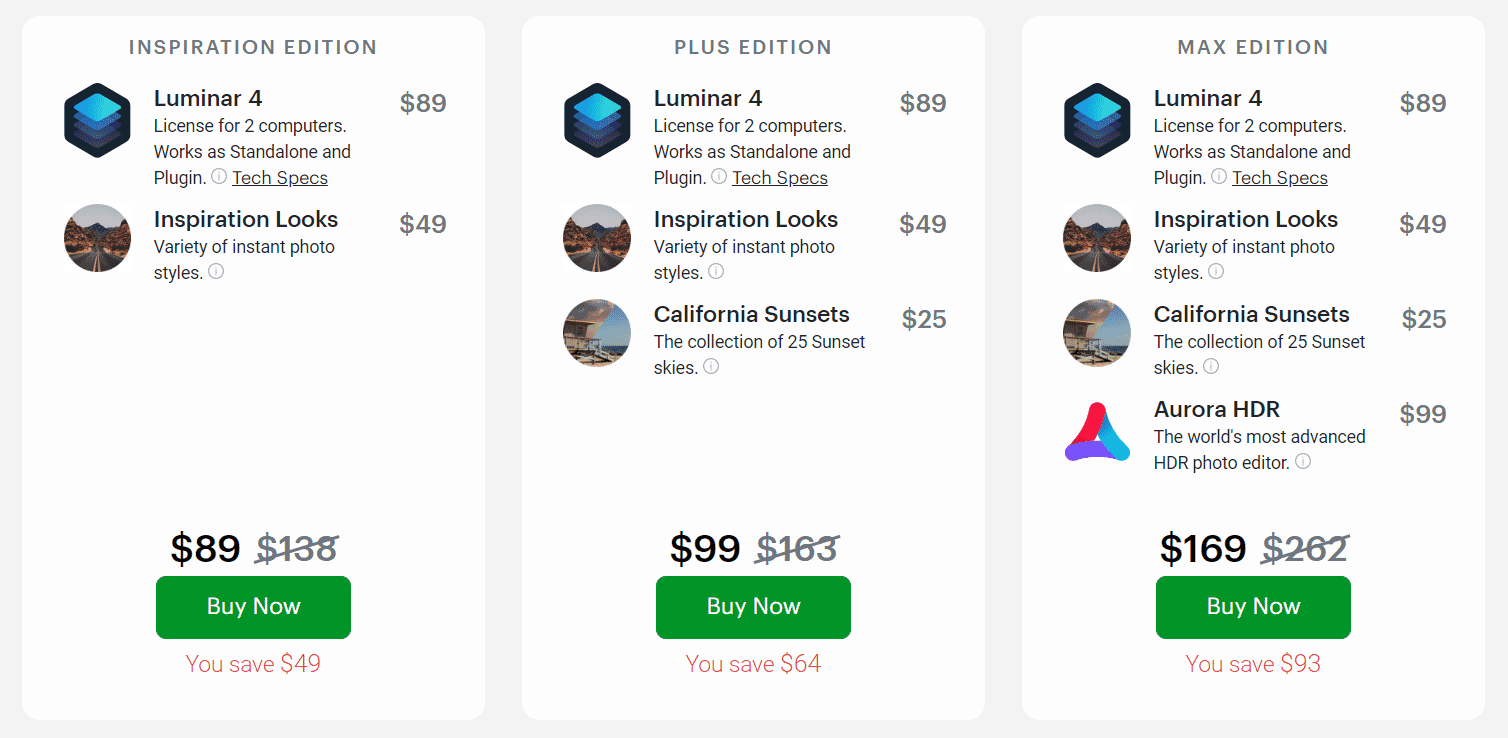 Pricing
There are currently three price tiers to choose from when purchasing Luminar 4. You can pick the Inspiration Edition which is the main Luminar 4 editing software with the Inspiration Looks. Alternatively, you could purchase the Plus Edition that includes all of the above plus the California Sunsets Skies Preset. And finally, there is the Max Edition which includes all of the above along with the HDR software. If you are a landscape photographer or someone who just casually shoots HDR, the Max Edition bundle is the one to pick.


Capture One Pro 20 is a full-fledged photo editing and photo management software from Phase One. This powerful software works as a RAW converter, retouching program, advanced editing tool, plus a photo management tool, all bundled into one. Capture One Pro 20 and the versions that came before it offers relatively similar user interface and experience.
Top Tools in Capture One Pro 20
The Advanced Luminosity Masking Tool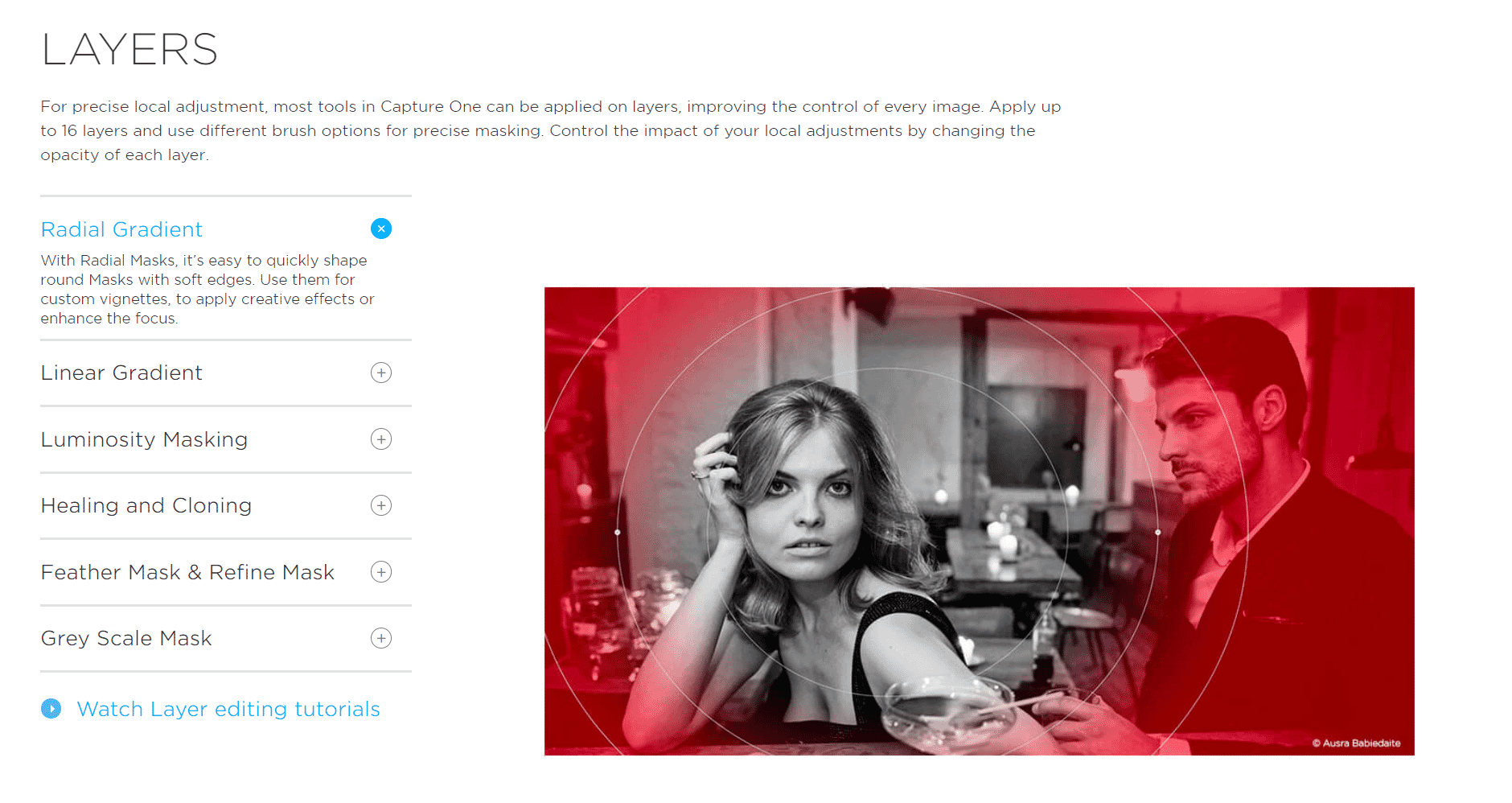 One of the best new tools in Capture One Pro 20 is the ability to create a mask based on the luminosity range in your photo. This is really useful when you are editing/retouching a photo to adjust its brightness. Landscape photos are classic examples in this regard because they have wide luminosity ranges.
In Capture One Pro 20 you are able to create a mask using this tool, you can set a luminosity range for your photo which is to be masked. You can then apply your adjustments to this mask. The selection is precise and the result is excellent. The system works perfectly for landscape photos or where there is no way to make a clear selection based on area. It also works perfectly in situations where you need to adjust exposure to specific areas based on their luminosity.
Capture One Pro 20 has a few other advanced masking tools, too. We liked the Auto-Mask tool and how it can refine the edges of a selection based on the image. This tool does a great job of selecting the area that needs to be masked.
Third-Party Extended Functionality
Capture One Pro 20 also features a third-party plugin option. This leaves the door open for future tools developed by third-party developers to be integrated with the Capture One platform. This is an incredible option to have considering the power of crowdsourcing.
Capture One Pro 20 has an upgraded search function. There are two benefits to this feature. First, to find the tools you need. And second, to allow you to assign keyboard shortcuts to the tools that you are likely to use/are using the most.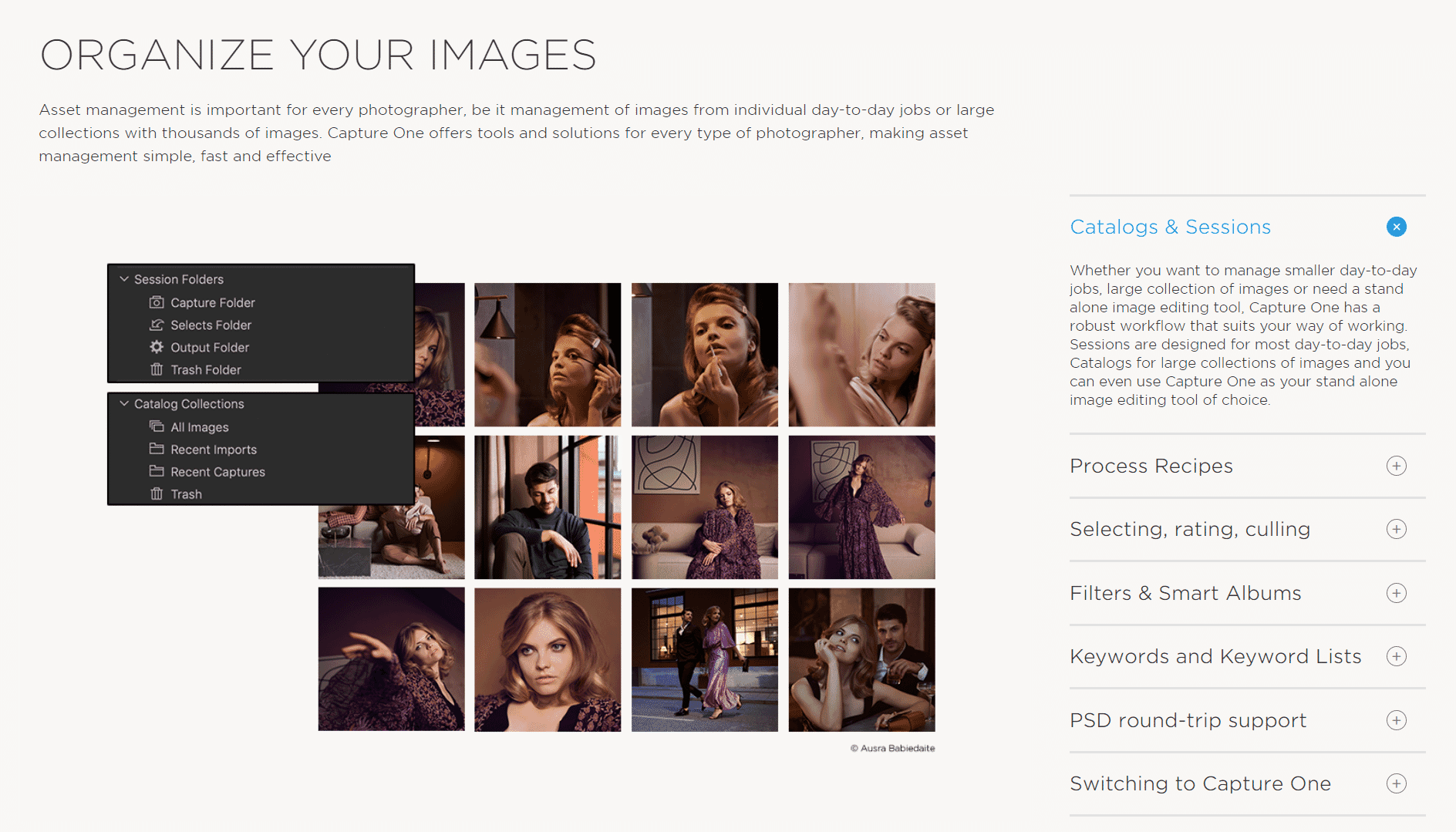 Tethering
Capture One Pro is one photo editing software that allows tethering. So if you are shooting inside a studio, or in anyways have the option to use a laptop while you are shooting, you would be able to tether your camera with your laptop using Capture One Pro 20. This gives you the option to instantly transfer your images to your first editing platform and do the basic things right there and then. These could be basic white balance adjustments, exposure, and so on.
Another crucial thing that you could verify with a larger screen is your point of focus. It is often difficult to correctly evaluate whether your focus was off. Back into your home/office, it could be too late. Tethering allows you to do that all-important check right after you have taken your shot.
Pricing
Capture One Pro 20 comes with two different pricing options. You can opt for the subscription option which allows you continuous updates for as long as you are subscribed. If you don't like the idea of recurring payments, you can choose the one-time license.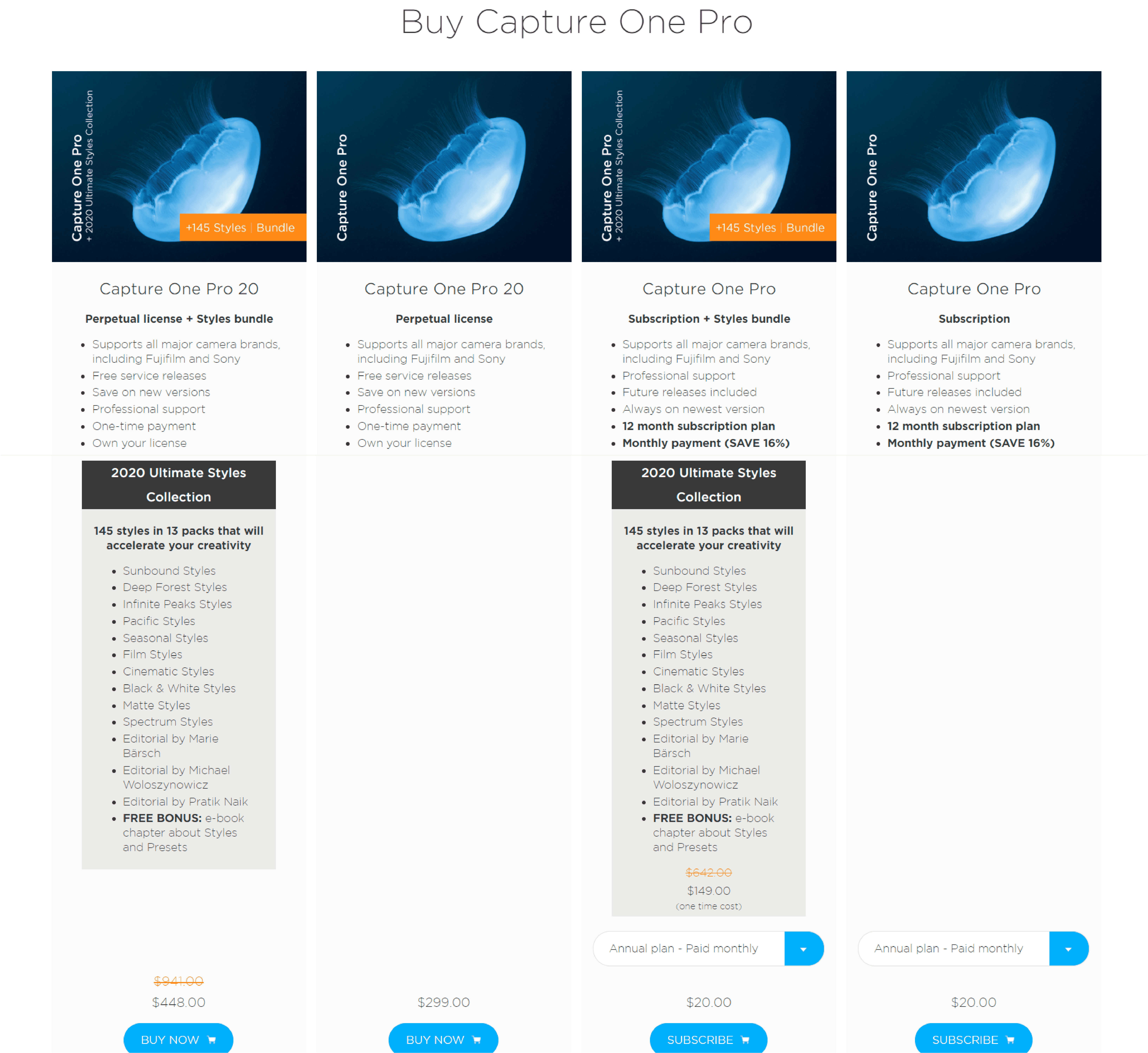 Lightroom is definitely the preferred choice of photographers who prefer to do light editing of their photos. Between Lightroom and Photoshop, the latter is definitely the best photo editing software for Windows. Simply because it is more powerful. That said, Lightroom is a capable RAW processor, as well. And on top of that, it can manage photos taken by a huge number of camera systems.
Related Post: A Guide to Building Your Lightroom Workflow
The great thing about Lightroom is that the software is always evolving, meaning more cameras and lens profiles are added and updated. So, you have software in your hand that is future-proof (as long as you are subscribed to the Creative Cloud plan). No matter what camera and lens you pick up in the future there is a 99% chance that your editing software will have a profile ready for it when you are ready to import your images.
Lightroom's main purpose, though, is that of file management. Which it does pretty well. For many photographers, Lightroom catalogs and collections are the definitive way to manage their entire collection of digital photos.
A Word About Lightroom's Interface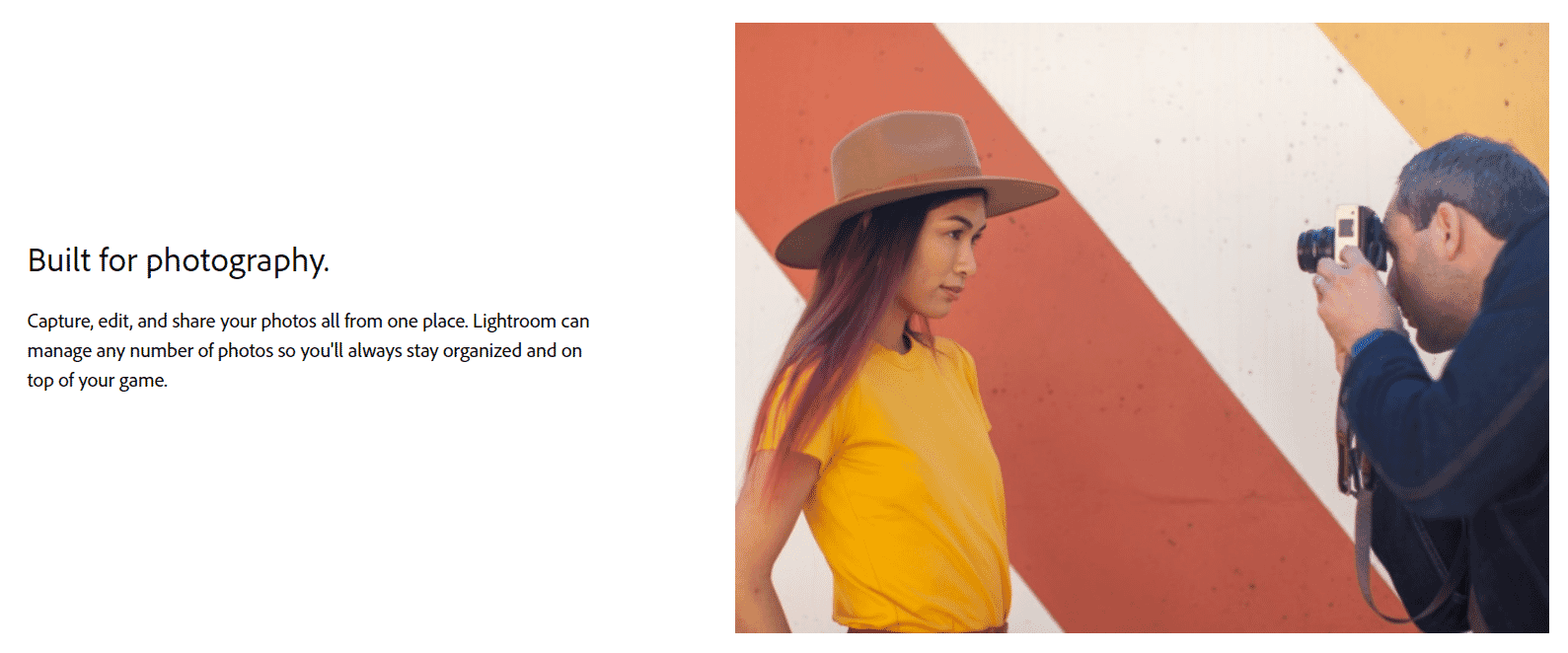 When it comes to user interface Lightroom still has the edge over many Lightroom alternatives. The development module has everything you need to make edits, all you have to do is scroll through the options or expand certain groups. The way of finding and selecting tools is intuitive, and even for someone new to Lightroom, it quickly becomes second nature.
Now if you compare this to something like Capture One Pro 20, you have your important tools on the left and under separate tabs. Every time you need to toggle between important tools that are under different tabs you have to use your cursor to select and change that.
File Management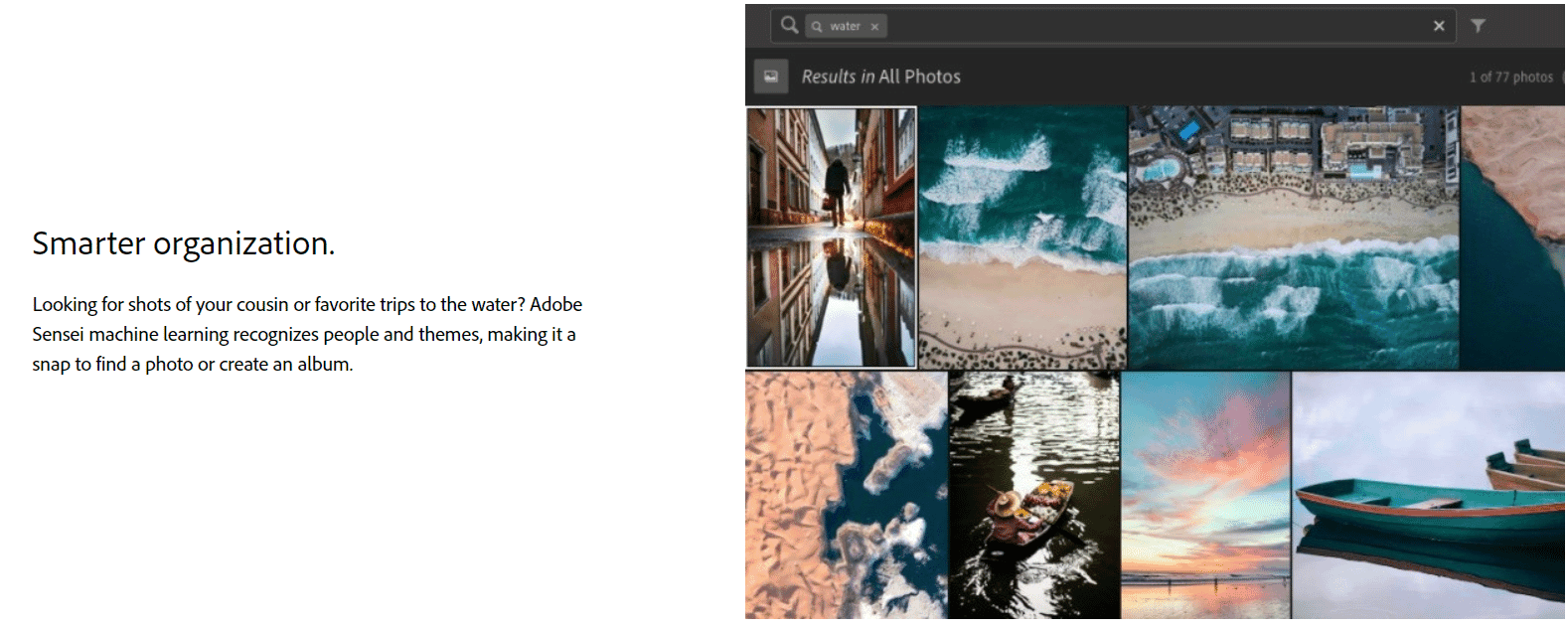 The file management system of Adobe Lightroom is its biggest USP and therefore warrants a special mention. The whole concept of file management in Lightroom revolves around Catalogs and Collections.
Catalogs are the equivalent of Folders in your PC or Mac. They basically allow you to sort your images into easily identifiable folders or in this case Lightroom Catalogs. You have the option to use either Copy as DNG, Copy, Move, or Add when you are importing your images.
The Move command is generally used when the images are already inside your hard drive and you want to move them and organize them. The Copy function is simply copying the images from your source to Lightroom. Copy as DNG is copying and converting your images into Digital Negatives.
The final option is Add, which simply adds the images to Catalogs without physically moving or copying the images from the source location. So your images may reside on your external backup drive, but you can create a Catalog and have your images previewed in Lightroom.
The physical images don't have to be on your hard drive once the previews are created. But usually, people would have their actual physical images on their hard drive and inside a folder created by Lightroom. Then, of course, this is a subjective thing and different people may have different preferences as to how they prefer to manage their photos.
Collections are smaller, searchable groups. They help you to further organize your images under the main Catalog. Let's say that your recent trip to the beach has over 500 images. You are firing up Lightroom for the first time.
First, you need to create a Catalog. Let's say, Travels, and import your images to that Catalog. Once the images have been imported and the previews are created you can then create one, two, or more Collections to further organize your photos into searchable groups.
Let's say that you create a Collection named Portraits. You can then move all your matching images that are portraits to this Collection. You can create another Collection named Pets and move the images that you took of your pets to this Collection. There are obviously a bunch of different other things that you can do with your images such as Flag them, assign them Color Codes, Stars, and keywords. These will help you find them easily later on.
Tethering
Lightroom has tethering options that come in handy when shooting in a studio environment.
Pricing


Lightroom comes bundled as a part of their Creative Cloud subscription package. You can opt for Lightroom as stand-alone software. Or you could opt for the Photography plan that bundles Photoshop along with Lightroom and a 20GB/1TB storage option. In any case, the subscription pricing is designed to work with your needs.
If you are a professional photographer it makes ample sense to go for one of the Photography Plans. Plus, you get continuous updates as Adobe releases upgrades and future versions of their software. In many ways, Adobe Lightroom could have been the best photo editing software for Windows.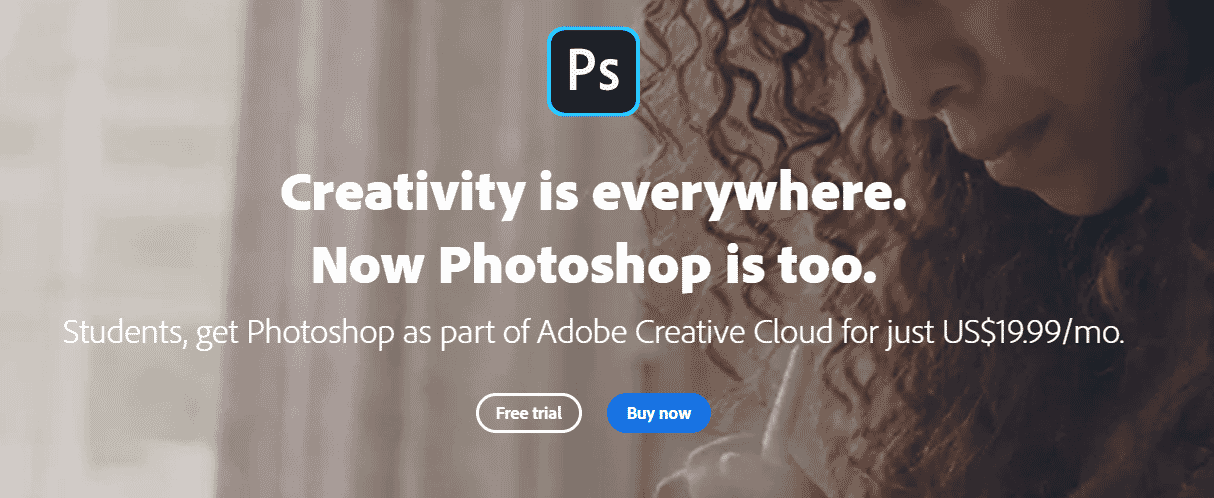 Adobe Photoshop is by far the best photo editing software for Windows. It has remained the most popular photo editing software for the past several years. So much so that we see no reason not to rate it as the best. Photoshop is the go-to tool for photographers, photo editors, illustrators, and graphic designers.
The greatest advantage of Photoshop is the ability to work in layers. This is where you get a lot of editing magic to happen. The multi-layer capabilities allow you to use several different tools to create different effects one on top of the other in order to fine-tune the image.
You also get a range of brushes and filters and presets. You can even download more brushes and presets later on and add to what's already on offer, if you wish to. These will then enhance your productivity and improve the quality of your work.
There is literally no editing task that you couldn't tackle with Photoshop. It is incredibly powerful and versatile at the same time. Plus with 3D support, you can work on a multitude of projects.
Disadvantages
No File Management
Yes, Photoshop does lack the file management bit which Lightroom offers, and for some, this can be a big drawback. A lot of photographers prefer using Lightroom for all of their file management.
That being said, with a Creative Cloud Photography subscription, you can easily use both Lightroom and Photoshop hand-in-hand, organizing and storing photos in Lightroom and doing extensive edits in Photoshop.
Longer Learning Curve
Photoshop is not a software that you can learn overnight (there are of course exceptions and we are not counting the geniuses amidst us). You really at least a hundred hours of serious editing before you can call yourself an expert in Photoshop. Many of the other software options are a lot simpler to use, but they lack the power and precision offered by Photoshop.
Related Post: Best Tablets for Photoshop
Longer Processing Time Frame
With software like Photoshop, you are bound to end up spending a lot more time fine-tuning your images. Simply because it is possible to do so. With many of the other options on the market, you have quick fixes and a range of presets that can easily enhance your work but they don't give you ultimate freedom. Now Photoshop gives you that freedom but it means your editing workflow will take significantly longer, as a result.
Pricing


The one drawback with any Adobe software is the subscription framework it adopts. If you don't have a large budget or just do photography as a hobby, the kind of money required for a subscription is most likely much too high.
There are traditional versions of Photoshop around but they are getting harder to source, and each time the CC version updates, you're falling behind the photographers who shell out for the subscription.
Get a CC Subscription and Start Using Adobe Photoshop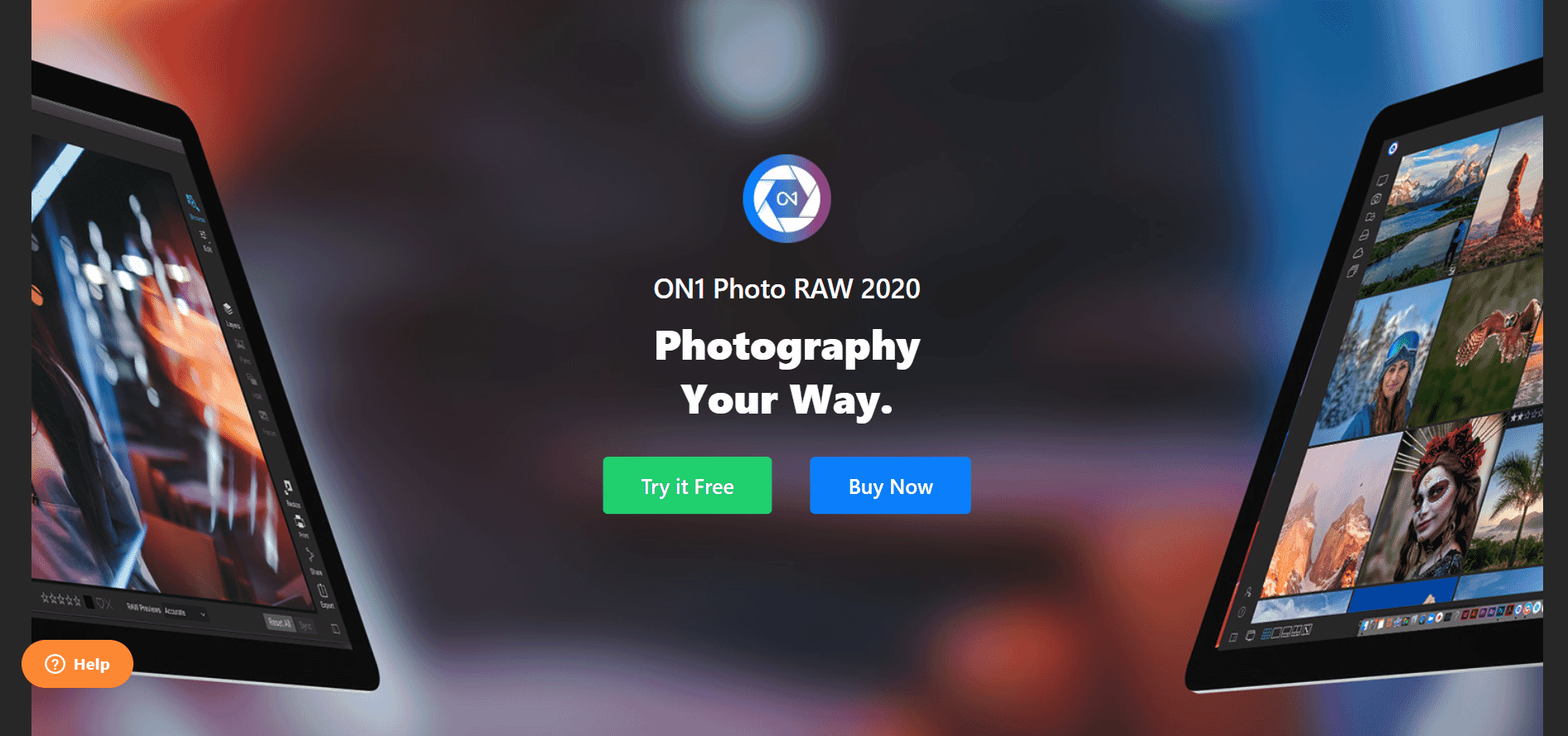 A photo editor, photo organizer, RAW processor, and photo effects application all rolled into one – ON1 Photo Raw is a photo software that boasts excellence. It is nothing like you have ever seen before.
Related Post: ON1 Photo RAW Review
The software works as a standalone photo application when you want it to or as a plugin with other photo software.
ON1 Photo Raw is great if you choose to use another photo organizational software, too. Because even though it is capable of doing this job for you, it requires you to start the action by indexing your images using the software.
Presets and Other Development Tools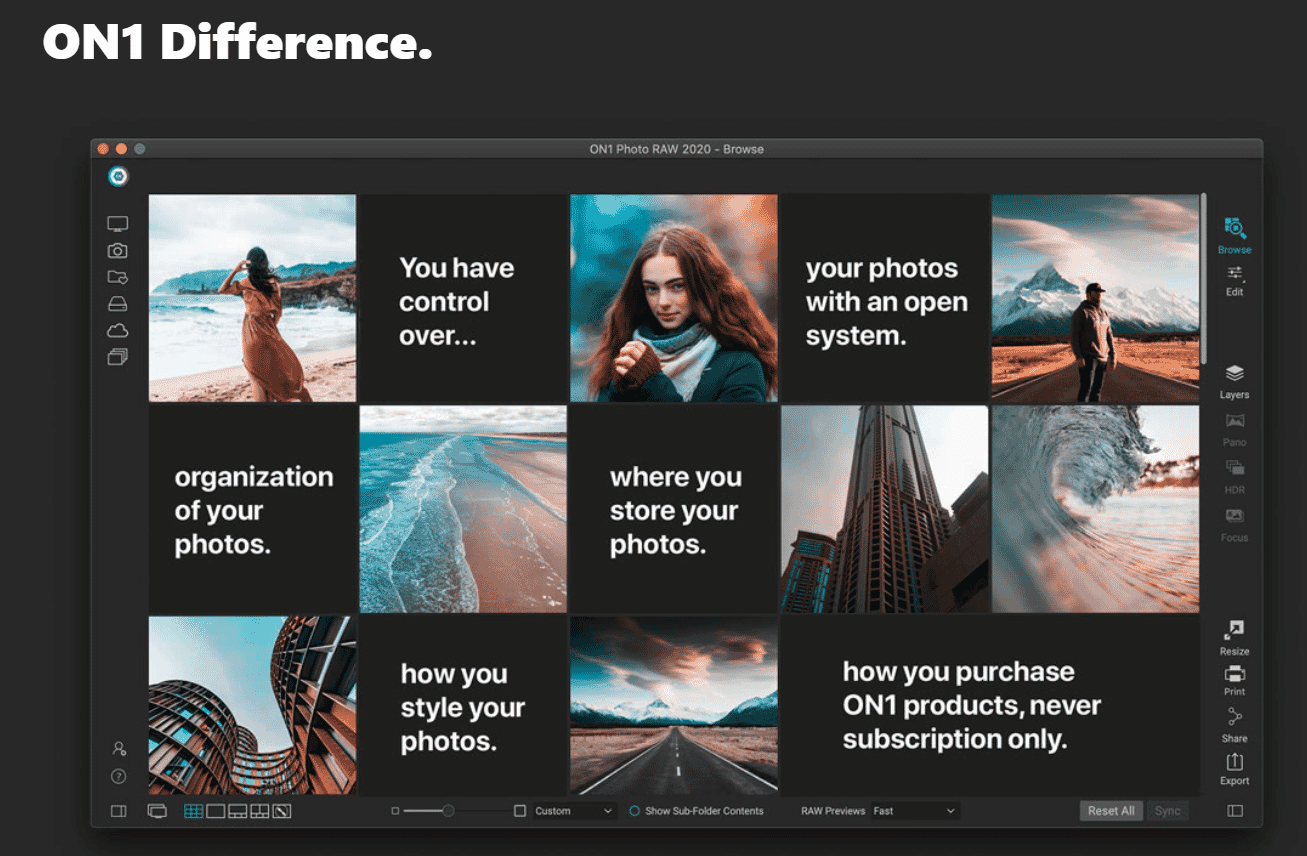 Applying presets to images using ON1 is really simple. You just select an image in the thumbnail view and apply the preset. Accessing an image in full-size view is a lot easier. Just double click on the image and then you can choose whether to view it in 100%, 50%, or 25%.
The development panel is where the real fun is. Just like the development module in Lightroom, this panel comes with a full board of features. These include Contrast, Blacks, Saturation, Exposure, Sharpening, Curves, Noise Reduction among others. These are all global or 'Overall Settings'.
All of these tools are simple to use and easy to locate.
Local Adjustments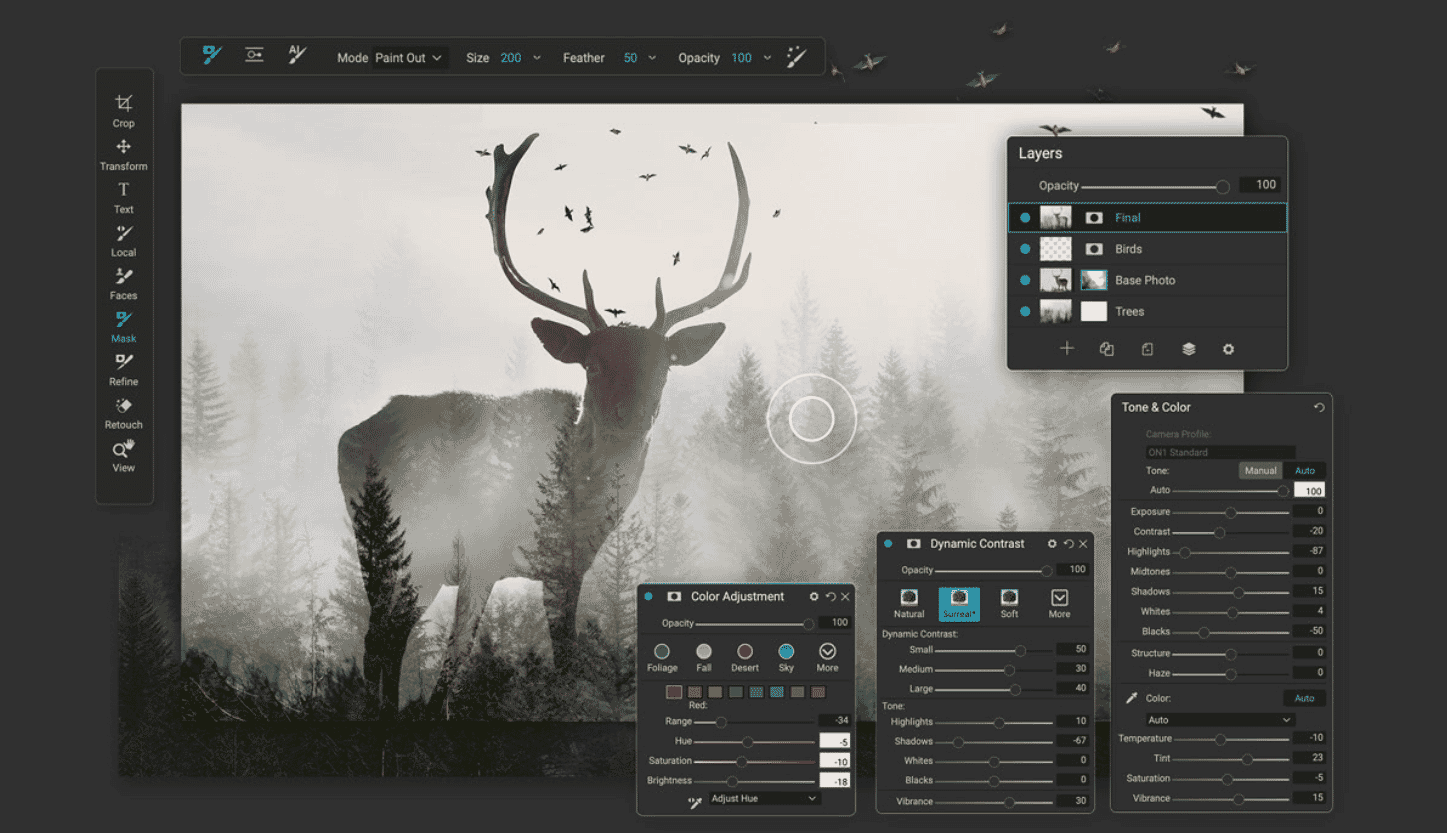 Under Local Adjustments you can use the Brush tool, very similar to Lightroom and use the same bunch of adjustments, but this time for adjusting specific areas. Additionally, there is the Effects module which allows you to choose out of 20 filters to give your image a completely different look. Each of these filters is further customizable.
Layers
There is a Layers feature on the ON1 photo software. This works a little differently from what we have seen in Photoshop. In the Layers feature, you can mix two or more images or textures to get a unique effect.
There is also an image resizing option. It is a full-fledged tool in itself because it has a number of sub-features. Just like Lightroom, there is an option to apply the same settings to a number of images.
Get a 30 Day Free Trial of ON1 Photo RAW
Best Editing Software for Windows: Wrap-Up
It's clear to see there are a lot of options when it comes to photo editing software for Windows PCs. Whatever you choose, be sure to spend some time learning how the software works so you can get the most out of it!
You might also want to consider a software combo, such as Lightroom and Photoshop so you get organization software and a powerful editing tool, for optimum photo editing. If we missed out on your favorite software, be sure to please let us know in the comments!