2018 has been a fantastic year for photography. We have explored some amazing new software such as PaintShop Pro 2019 and Affinity Photo. Moreover, we have looked at photographic opportunities in some exotic locations such as Thailand and Singapore.
Now however we can turn our attention to the new year and set some photography goals for 2019.
In this article, we explore why setting photography goals for 2019 could improve your skill. Furthermore, we give you a host of interesting ideas that you could try out for yourself – enjoy!
7 To-Dos in 2019 to Become a Better Photographer
Why Setting Photography Goals will Help Improve your Skills in 2019?
Before we discuss photography goals for 2019, you must understand why they are important. Sure you could just set some photography goals for fun. But these goals will also give you so much more. They will drive your photography forward into the New Year. Furthermore, as you will see they will provide focus and help you hone your craft. The following are some of the ways that setting photography goals for 2019 could help improve your skill:
Provide Focus
As a photographer hobbyist, I often lack focus. I may take a few trips out into the Peak District or around the UK. Alternatively, I will always take my camera with me during my travels. Sometimes I even have a go at specific photography styles with my friends. My point is, I sparingly use my camera and there is no real focus – no real direction where I can really concentrate and improve my skills.
If I gave myself photography goals, my hobby would be focused. Let's say I enrolled in a photography class for example. I would attend that class on a weekly basis. This would give me consistency usage of a camera. Furthermore, it would give me something to look forward too, and something to work towards – i.e. completing the class. Goals help give focus! This is essential for the development of any skill/art.
Help Practice Your Photography Skills
The lack of focus and usage of my camera has also had a detrimental effect on my skills. As I am not using my camera day after day, it takes me time to learn new techniques. Furthermore, my compositional skills will become stagnant and rusty. At the point of writing this article, the last time I used my DSLR camera was last month in New York. The next time I use it, I will have to reacquaint myself with the functions and settings. Furthermore, I will have to drudge from my memory different techniques and photographic rules.
By setting photography goals for 2019, I can practice my skills with greater frequency. Let's say I decide to improve my Instagram account for example. I would have to upload photos regularly and therefore need to use my camera more often. This can only help improve my touch with a camera. Furthermore, it will help keep my mind alert, and my memory packed full of useful techniques and skills.
Improve Your Creativity
Photography goals can also drastically improve your creativity. If you set yourself several goals, you will have to take a myriad of different photos. Let's say that you start an Instagram account, take photography classes, and create a display. You will have to take different style photos for each of these goals. Moreover, your creativity will naturally blossom as your confidence improves.
Explore New Photographic Techniques
Aside from learning new skills, you will also pick up new techniques. You may explore macro photography for example or wide-angle landscape photography. If you take photography classes you will undoubtedly explore a superb myriad of techniques. This will all work together to give you greater knowledge, and improved versatility for your photography.
7 Epic Photography Goals for 2019
Now you understand the benefit, we can discuss the goals! This list is not exclusive – there is a whole host of different things you can undertake. We have selected some of the most popular goals we have found on the web or through personal experience – enjoy!
1. Personal Photography Display
Not everything photography related has to involve learning new skills or venturing out with your camera. Creating a personal photography display for your home offers the unique chance to build something personal to you. Moreover, it will help you explore your own imagination, creativity, and practical skills.
What do we mean by a photography display? Take a look at the photo below and the ideas in this article. This is my own personal display that is hanging in my study. It combines two of my greatest loves – photography, and travel. I set myself the goal of creating and maintaining this board and I am so happy with the end result.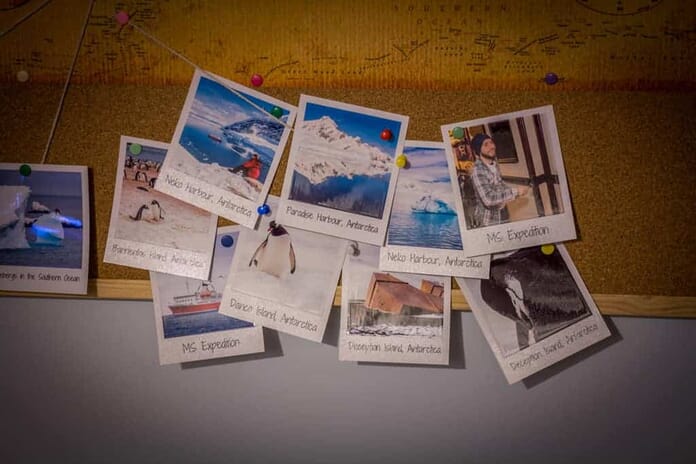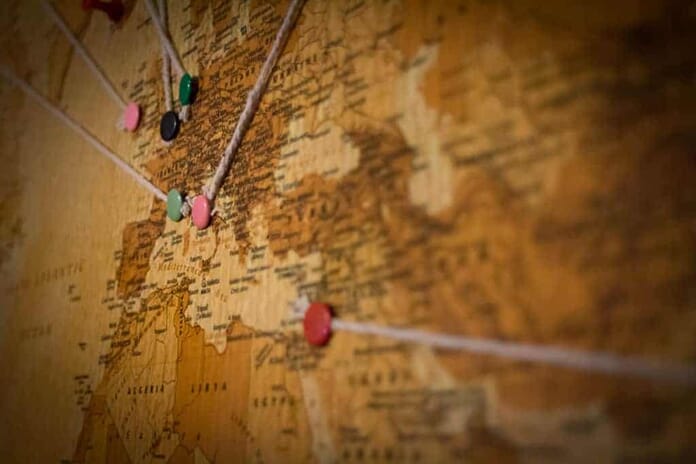 The process was simple – I found an old style world map and a large cork board. I attached the map to the cork board and brought some colored pins too and string. Each time I traveled to a new destination, I would create a series of photos that I could transfer to Polaroid prints. I will then attach the photos to my board, and then attach a length of string from the photos, to the destination on the world map! As you can see the board is quite full!
This project has given me focus, and it has helped improve my creativity. Furthermore, it also provides me with a visual reminder of both my travels and photographs. Creating a personal photography display is a powerful way to improve your skill.
2. Creating a Photography Blog
Blogging is hugely popular. Some people blog to earn an income, some people simply blog as a hobby. Creating a photography blog is one of the top photography goals for 2019. As with my photography display, I have also created a photography & travel blog.
My blog, HaveYouPackedTheCamera.com has been running since 2014. Throughout the years it has given me focus. Furthermore, it has pushed me to improve my photography skills so that I have fantastic work that I can share with the world.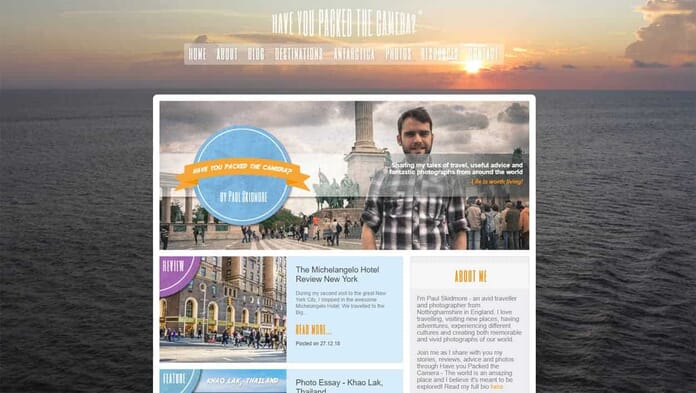 Through my blog, I feel I have created some memorable pieces such as my black and white photo essay of Auschwitz in Poland. As you can see, experimented with black and white photography here to try and capture the somber and dark feeling of the camp.
You too can create a blog such as this! It could be something simple that you use to showcase your finest work. Alternatively, it could be used (as I have) to document your photographic adventures and the different skills you have used.
3. Creating a Photography Based Instagram Account
Instagram is one of the most prominent forms of social media. We would argue that it is the most relevant and popular social media platform for photographers. One of our top photography goals for 2019 is to create and maintain a photography-based Insta account. Instagram is obviously a platform through which you can share your photography with the world. This gives you an outlet for your work and also gives you a chance to regularly improve your talent.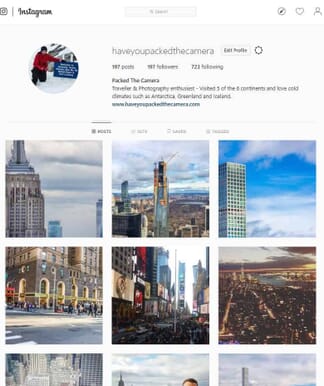 I have started an Instagram account and have maintained it for several months now. It's a fun challenge. Firstly you must be creative and upload some photos that stand out from the crowd. Secondly, you must choose the right hashtags to promote your work and make it visible to a wider audience. Thirdly and finally, you must work to build your followers and connect with other like-minded photographers.
4. Attempting a Daily Photograph Challenge
The daily photographic challenge is a cool idea. The premise is that you take a different photograph each day, for a pre-determined length of time. The standard length of time is usually a year of 365 days. Think about it – trying to take a different photograph each day – imagine the creativity you must muster!
I would attempt this challenge, but I work in an office – I am not sure how creative I could be when I sit in the same room for nearly 2/3 of the year! But I guess that is part of the challenge and excitement – trying to create something new and interesting each day. There is actually a huge community dedicated to this challenge that you can join it at 365Project.org.
When attempted a daily photography challenge, your creativity will flourish. You will see things in a different light and your process of composition and shot choice will improve dramatically. Moreover, your camera skills will improve too. Most importantly, you will also have a cool memento that gives you a unique insight into your daily life!
5. Explore a New Photographic Skill or Technique
This is possibly the most simple goal we have listed – it is extremely effective, however. Learn a new skill or technique! This is a specific goal, is easily obtainable, and will help improve your photography instantly. There are literally hundreds of different techniques or skills you could choose, such as some of the below:
Macro Photography
Long Exposure Photography
Sports Or High-Speed Photography
Black & White Photography
Night Photography
The list is endless! I personally have learned both sepia/black and white photography, and sports photography in recent years. Both of the photos below were taken in New York. The first one at Madison Square Garden – I used shutter priority mode to capture the action of the NBA game. The second is a street corner in Manhattan – the light and shadows really lend themselves to a black and white or sepia composition.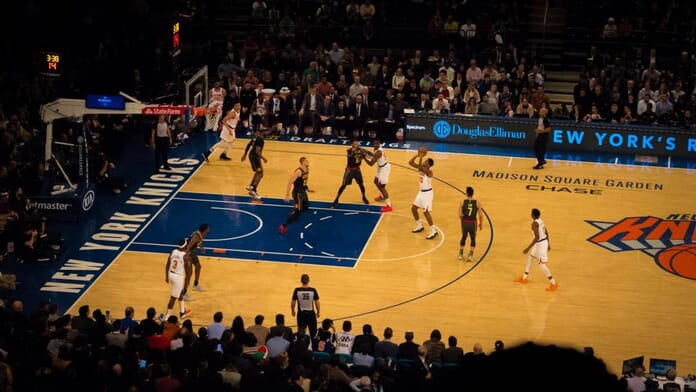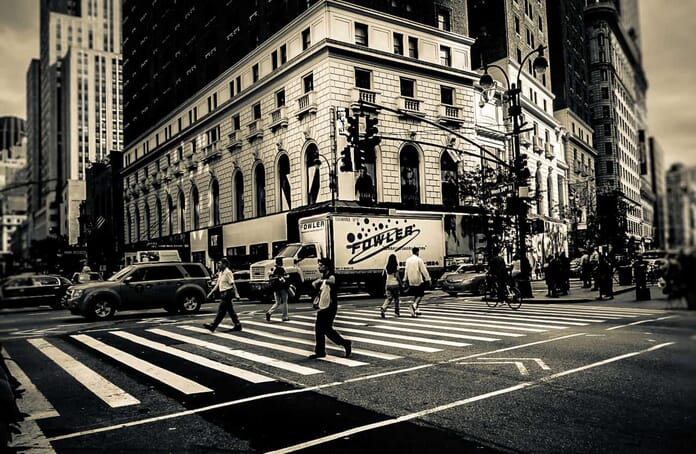 6. Start The "100 Strangers" Project
I really like the premise of this photography goal – take a photo of 100 different strangers. That's 100 different people you have never had any contact with this before. What an exciting and interesting thing to do! Take a look at this Flickr Group for inspiration and examples of other 100 stranger's projects.
I would love to attempt this project one day – I think first I will have to build up my confidence. How would you start a project like this? Basically, head out into the streets and start speaking to any stranger! You may obviously meet resistance or outright avoidance, but the key is to persevere. Furthermore, you must be polite and work on your people skills.
By undertaking a project such as this, you can greatly improve many different skills and techniques. You will learn how to effectively take portrait photos for example. You will also get the chance to work on your composition techniques and framing. Moreover, you will improve your decision making and people skills in the process!
7. Enroll in a Photography Class/Online Course
What better way to give drive and focus than by enrolling in a photography class? As far as photography goals for 2019 go, this will give you a huge boost. You can learn new skills and greatly improve your composition. In addition to this, you can meet new people and broaden your horizons.
In today's modern world, online classes are all the rage. I haven't personally enrolled in such a class, but I have read many reviews. Online photography classes usually include digital resources such as videos, webinars and sample photographs. You can usually take these classes at your own pace, at a time that is convenient for you.
If you structure your learning and segment it into regular weekly chunks, you can practice your skills frequently. Moreover, you can give yourself a sense of progression. The following are some examples of the best online photography courses:
As you can see, there is a dazzling variety of different course you can take. It is possible to learn anything from location portraits and black and white compositions to landscape photography and fashion compositions. Why not take a class and see what you can learn?
Photography goals for 2019 really are a superb way to kick-start your skill and drive. We hope you have found inspiration from these ideas we have listed.
I personally aim to continue my photography blog, build my Instagram following, and develop my Polaroid travel display this year.
Which ideas did you like?
Have you set any photography goals for 2019 of your own?
If you have, drop us a comment or send us a snap!