Not everyone likes having a digital-only photo collection. After all, physical photo prints give you so much more versatility. You can easily make albums, have fun with photo frames, and share your memories in a more accessible way.
Are you after an inexpensive yet high-quality printer? We've found the 10 best photo printers under $200 for your consideration.
Note that we've selected a range of printers to suit different needs. Our list features several remarkable desktop printers for dedicated home use as well as various smaller dedicated photo printers. We even include a few handheld portable printers for travel and for fun with family and friends.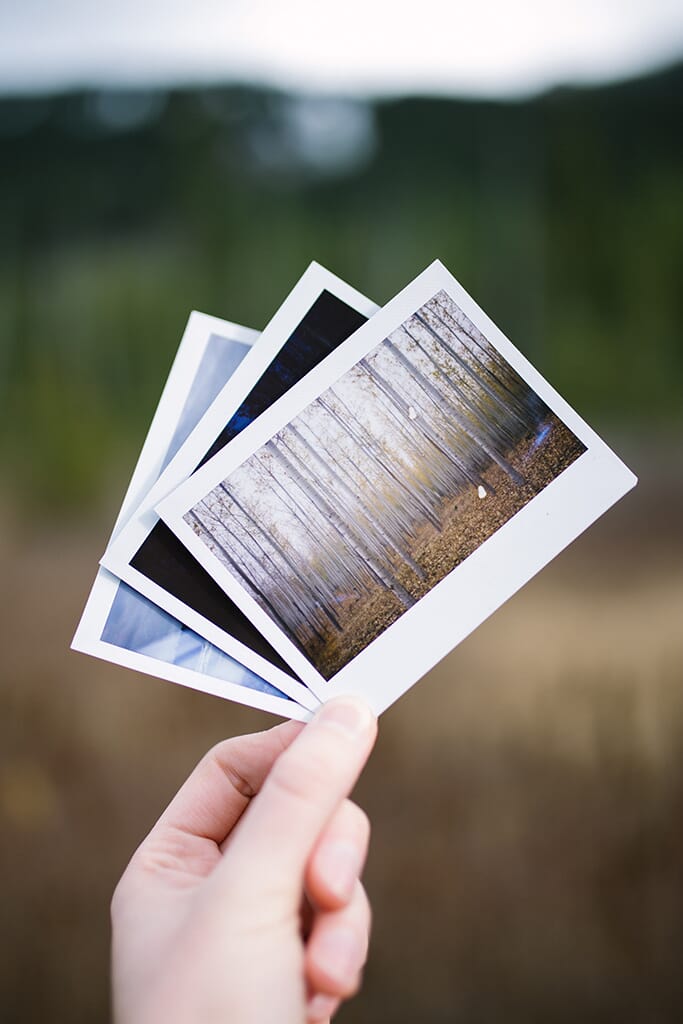 Best Photo Printers Under $200:
When you buy through links on our site, we may earn a commission at no cost to you. We evaluate products independently. Commissions do not affect our evaluations.
1. Canon PIXMA TR4520
Our Pick
Great for general home use
The Canon PIXMA TR4520 is a versatile device that can create high-quality photo prints and can also handle your general home printing needs.
Pros
Has both physical and wireless connectivity
Simple controls via the display screen
Has a smart and stylish design
Cons
Not the smallest photo printer
One of the best photo printers you can get for under $200 is the Canon PIXMA TR4520. It can be used to print high-quality photos, but it's also a great home-office printer.
The connectivity of this printer is excellent. You can physically connect it to your computer via a USB port, or you can use a wireless connection to print directly from your smartphone or camera.
The print speed for high-quality photo prints is approximately 4.4 IPM. We also like that you get a sample pack of 4×6 photo paper with the standard bundle. The print quality is great and you can also print borderless up to A4.
The printer measures 17.2×11.7×7.5 in/43x30x19 cm, and it weighs 13 lb/5896 g. It isn't the smallest photo printer available, but it can easily fit in a dedicated space on a desk or in a home office.
2. Canon SELPHY CP1300
Also Great
Great for printing with friends
The Canon SELPHY CP1300 offers good-quality results and has some fun features for group printing.
Pros
Wireless control option
Can print a range of sizes from 4×6 to 2.1×2.1
Compact and stylish design
Cons
Not the fastest print speed (47 seconds for a 4×6)
If you want to print beautiful 4×6 prints, the Canon SELPHY CP1300 is a great buy. This compact printer has some incredible technology and offers great functionality as a dedicated photo printer.
The SELPHY CP1300 is capable of printing either bordered or borderless 4×6 photos, but it is not limited to that print format. You can also print smaller photo sizes, such as square 2.1×2.1 prints, which makes it one of the most versatile photo printers available. The print time is decent but not amazing: expect a standard 4×6 print in 47 seconds.
We like the flexibility this device offers. You can print from AirPrint or from a camera SD memory card. You can even print wirelessly using the Canon Print app. The Print app is easy to use, and it includes some fun features, such as Party Shuffle; this allows multiple friends to send images from their smartphones to the printer, which are then combined in a fun collage print.
Despite its compact size, the Canon SELPHY CP1300 also has an LCD screen and multiple controls. This means that you can control the CP1300 directly (in other words, you don't need to always rely on wireless controls).
3. HP ENVY 6055e
Great as a versatile home printer
The HP ENVY 6055e is capable of printing high-quality photos and other items like office documents.
Pros
Includes a flatbed scanner
Offers a wireless connection
Can print borderless photos up to A4
Cons
Relatively large and bulky
The HP ENVY 6055e is another high-quality desktop photo printer. Like the Canon PIXMA TR4520, you could use this for photos and as a dedicated home-office printer. It prints documents and borderless photos as well as two-sided prints.
As you would expect from an HP printer, the quality is fantastic. If you use dedicated photo paper, you can expect amazing borderless prints up to A4 in size.
The connectivity is also great. The printer can be connected via a USB cable, but it is a predominantly wireless printer. It has a dual-band Wi-Fi connection and you can easily connect using the HP Smart app.
This means that you can print directly from your smartphone or tablet. If you intend to print photos regularly, you may also benefit from the HP+ subscription. The initial subscription gives you six free months of ink and an extra year of warranty protection.
If you want a home printer that can also print high-quality photos, the HP ENVY 6055e is one of the best sub-$200 options you can buy.
4. Liene 4×6″
Great for multi-device connectivity
The Liene Photo Printer offers amazing 4×6 print quality and supports up to five devices connected simultaneously.
Pros
Incredibly lightweight and compact
Can connect via USB or Wi-Fi
High-quality waterproof photo prints
Cons
The cartridge and paper refills are not the cheapest
The Liene 4x6 is an interesting compact printer. It is slightly larger than the average smartphone but is capable of printing high-quality 4×6 photo prints. Therefore, if you're after a portable option, it's one of the best photo printers you can get.
The print quality is excellent. This is due to dye-sublimation technology, which means that the dye deeply penetrates the photo paper. As a result, photos have more vibrant colors. And the photo paper has a top protective layer that makes prints waterproof and protects them from fading.
This compact photo printer also offers great connectivity. You can connect via Wi-Fi when using Android or iOS devices, or you can connect the printer to your computer with a USB cable. The printer also allows for up to 5 simultaneous Wi-Fi connections.
If you want to make creative prints, download the Liene app. This allows you to add filters to prints and even print in a range of styles.
5. HP Sprocket Studio
Great for 4×6 photo prints
The HP Sprocket Studio excels at printing premium 4×6 photo prints from a smartphone or tablet.
Pros
Compact and lightweight design
Extra options through the HP Sprocket app
Has a large input tray to support up to 20 sheets
Cons
No USB connectivity
The HP Sprocket Studio is another compact printer that excels at printing 4×6 photos. This dedicated photo printer weighs only 0.64 lb/290 g, and it measures just 5.79×2.78×0.96 in/15x7x2.4 cm. It could therefore be used as a portable printer or easily stored in a desk drawer.
You must use the HP Sprocket app to print your photos. Fortunately, it's free to download. Simply connect to the printer via Bluetooth, then print photos directly from your smartphone or tablet. The HP Sprocket App also allows you to customize your prints and make fun designs (such as collages).
We also like how quickly this device connects to your phone. You can start printing in minutes, and the basic package includes a pack of 10 sheets of glossy 4×6 photo paper.
6. Kodak Step Mobile
Great for printing photo stickers
The Kodak Step is an excellent portable printer that uses an advanced no-ink printing system.
Pros
Quick connection via Bluetooth
Lightweight
Instant printing with Android or iOS devices
Cons
Not the fastest color print speeds
If you want to print fun and exciting 2×3 photos with your friends and family, the Kodak Step Mobile is a top choice. This great portable printer fits in the palm of your hand and is smaller and lighter than most smartphones.
We like that it uses ZINK printing technology. This means that no ink is required. Instead, the special ZINK paper is embedded with dye crystals, which allow the printing process to work. ZINK paper is also high quality and incredibly durable.
To use this printer, you must download the free Kodak app. This will allow you to connect to the device via Bluetooth. You can then print directly from your tablet or smartphone.
The Kodak app also includes some fun features; for example, you can add stylish borders to your photos and create collages. The only downside is that the printing time is not the fastest (expect only one color print per minute).
7. HP Sprocket Select
Great for travel photo prints
The HP Sprocket Select is a smaller device that prints high-quality, sticky-back 2.3×3.4-inch color photos.
Pros
Compact and stylish design
Quick Bluetooth connection
Can print directly from social media platforms
Cons
The ZINK photo paper is not the cheapest
One of the best portable photo printers under $200 is the HP Sprocket Select. Compared to the HP Sprocket Studio, it's smaller and meant for portable use. It also prints smaller photos with a maximum size of 2.3×3.4 in. The ZINK Sticky-Back paper is of excellent quality and can be used to create fun photo stickers.
This printer is also easy to use and connects to smartphones via Bluetooth. You must use the HP Sprocket app to print, but this app comes with some brilliant features. For example, you can create collages, add filters, or add frames to your designs. You can also print directly from social media platforms like Facebook and Instagram.
The Sprocket Select is just 4.63×3.15×0.98 in/12x8x2.5 cm, and it weighs only 0.67 lb/ 315 g. Therefore, you could easily carry this printer to events or take it on vacation. The internal battery is rechargeable and even features decent battery life.
8. Canon IVY Mini
Great for creative photo prints
The Canon IVY Mini offers creative freedom via the Canon Mini Print app (which includes filters and different print formats).
Pros
Incredibly small and lightweight
Prints photos with a peelable sticky backing
Connects quickly to the app
Cons
Not designed to work with laptops or desktops (mobile only)
Canon sells a portable printer similar to the Fujifilm Instax, the Canon IVY Mini. This compact printer is lightweight – it's just 5.06 oz/143 g – and can fit in the palm of your hand.
If you want quick, quality prints, you will love the 2×3 portrait photos this printer produces. The photos also have a simple peel-and-stick backing so you can decorate objects.
To print photos, you must use the Canon Mini Print app. This is available on iOS and Android devices and is simple to use. The app allows you to select photos from various locations and customize them, too. The printing and loading process is also easy.
The Canon Mini Print app includes some fun features. For example, you can combine photos to create collage prints, and you can add augmented reality filters and effects.
9. Kodak Dock Plus
Great for high quality 4×6 prints
The Kodak Dock Plus uses laminated photo paper for better-quality 4×6 photos.
Pros
Easy to connect to your smartphone
Can choose between borderless or bordered photos
Uses 4 PASS printing technology for quality prints
Cons
Kodak ink and paper can be expensive
The Kodak Dock Plus is an interesting portable photo printer. It looks like a tiny standard desktop printer, but it can also be used as a portable printer as the output tray and underside lid easily detach.
The Kodak Dock Plus prints beautiful 4×6 photos. It uses a 4 PASS dye-sublimation printing technique for better contrast and colors. And the supplied Kodak photo paper is laminated to improve print longevity.
This portable printer also has an intelligent docking system. Simply place your smartphone on the top docking section, which automatically connects your phone to the printer via a reliable Bluetooth connection. The connection is quick, and the corresponding photo printer app is easy to use. It allows you to make standard prints and to add fun filters and overlays to your photos.
We also like that you can choose either borderless or bordered prints for greater variety. If you're after the best-quality results, we do recommend the official Kodak photo paper and cartridges, though these are a little more expensive.
10. Fujifilm Instax Mini Link
Great as a portable printer
The Fujifilm Instax Mini Link is a great portable printer able to quickly produce high-resolution results.
Pros
Great battery life
Smartphone printing via the Instax Mini Link app
Compatible with Fujifilm X Series cameras
Cons
Longer development time of 90 seconds
Our last pick is the Fujifilm Instax Mini Link 2, a small, handheld printer. If you want a printer you can take to events or carry with you while traveling, the Fujifilm Instax is a great buy; it'll fit conveniently in your pocket, purse, or backpack.
It's also a stylish photo printer. It's available in six different colors, and the exterior is both sleek and durable.
The Fujifilm Instax 2 produces small, Polaroid-style prints. The printing process is quick; it takes around 10 seconds. Then there is a 90-second development time before you can actually see the image.
You can print directly from the Instax Mini Link app, which is available on smartphones and tablets. We also like that all Fujifilm X Series cameras are compatible with the Instax printer. Finally, the printer has great battery life. Expect to print approximately 100 photos with a fully charged device.
Create Some Amazing Photo Prints
You don't have to spend a fortune to get a high-quality photo printer. And as you can see from our list, there are many different designs you can get for under $200 to suit your specific needs.
If you want a large desktop printer for photo printing and general office use, the Canon PIXMA TR4520 is your best option.
Alternatively, if you want a dedicated photo printer that only produces smaller prints, the Canon SELPHY CP1300 or the HP Sprocket Studio is a great choice.
Lastly, if you want a portable printer to take with you to parties, travel destinations, and events, the Kodak Step Mobile or the Fujifilm Instax Mini Link 2 is the perfect buy.
---
Disclosure/Disclaimer: As an Amazon Associate, we earn from qualifying purchases. Certain content was provided "as is" from Amazon and is subject to change or removal at any time. Product prices and availability: Amazon prices are updated daily or are accurate as of the date/time indicated and are subject to change. Any price and availability information displayed on Amazon.com at the time of purchase will apply to the purchase of this product.