Owned by Adorama, Printique is a professional photo printer that's been in business for over 20 years. Stocked with a range of sizes and materials, we placed several unique test orders to gauge the veteran printer's capabilities. In total, we reviewed five Printique custom prints.
When you buy through links on our site, we may earn a commission at no cost to you. We evaluate products independently. Commissions do not affect our evaluations.
Review of the Printique Photo Book
Printique Custom Photo Prints
Printique Photo Book

Printique Canvas Print

Printique Acrylic Photo

Printique Metal Print

Printique Paper Print
Summary
Printique goes out of its way to offer its customers quick deliveries and plenty of pristine presentation options. If you're curious about what custom photo prints can offer your photographs, an order from Printique is an excellent, low-risk investment.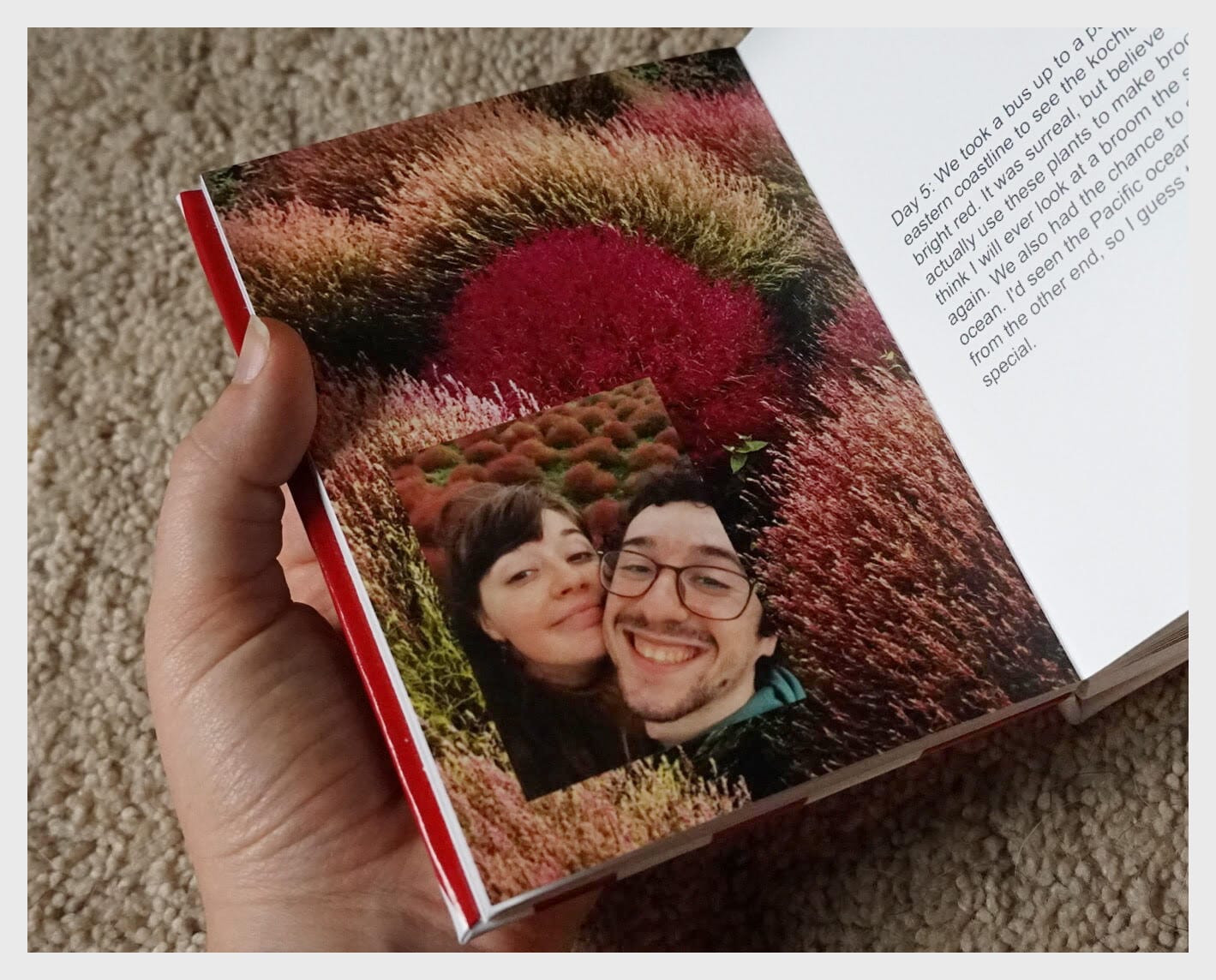 Sometimes, a print on the wall just isn't enough to capture the full scope of a memory. People often say that a picture is worth one thousand words, but for life's greatest moments, "one thousand words" doesn't always cut it. In such cases, few things can encompass a story the way a photo book can.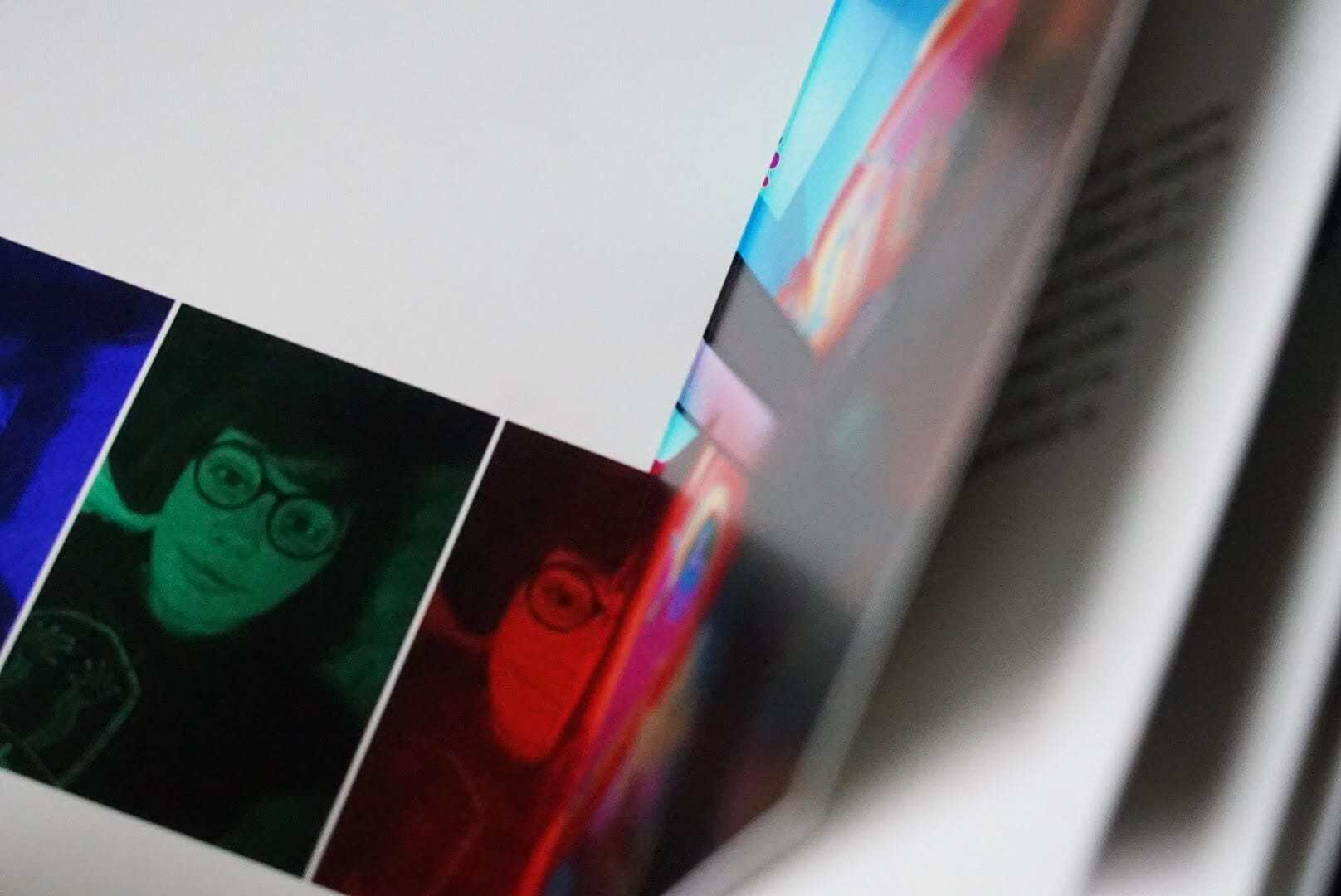 There's a massive selection of customizable photo books out there. Some opt for a few simple pages stitched together, while others splurge for elaborate, leather-bound books. In our opinion, Printique hits a sweet spot as an accessible option with stellar results.
What exactly is it that sets this photo book apart from the rest? How can you make this product you own? We've detailed every step in creating, ordering, and enjoying a customized Printique photo book.
Designing a Book with Printique
The first step to ordering the photo book of your dreams is designing the layout. Printique offers a few different options to accomplish this task.
If you want to work outside Printique's confines, you can upload a PDF layout of your own. However, if you feel that you need a little more guidance, you can design through the Printique website. Printique also accepts designs made in a third-party software called Fundy. To get the fullest perspective possible of Printique's capabilities for this review, I opted to design through the site.
For first-timers, there are plenty of templates available to start off with. More adventurous and experienced users may customize book designs from scratch.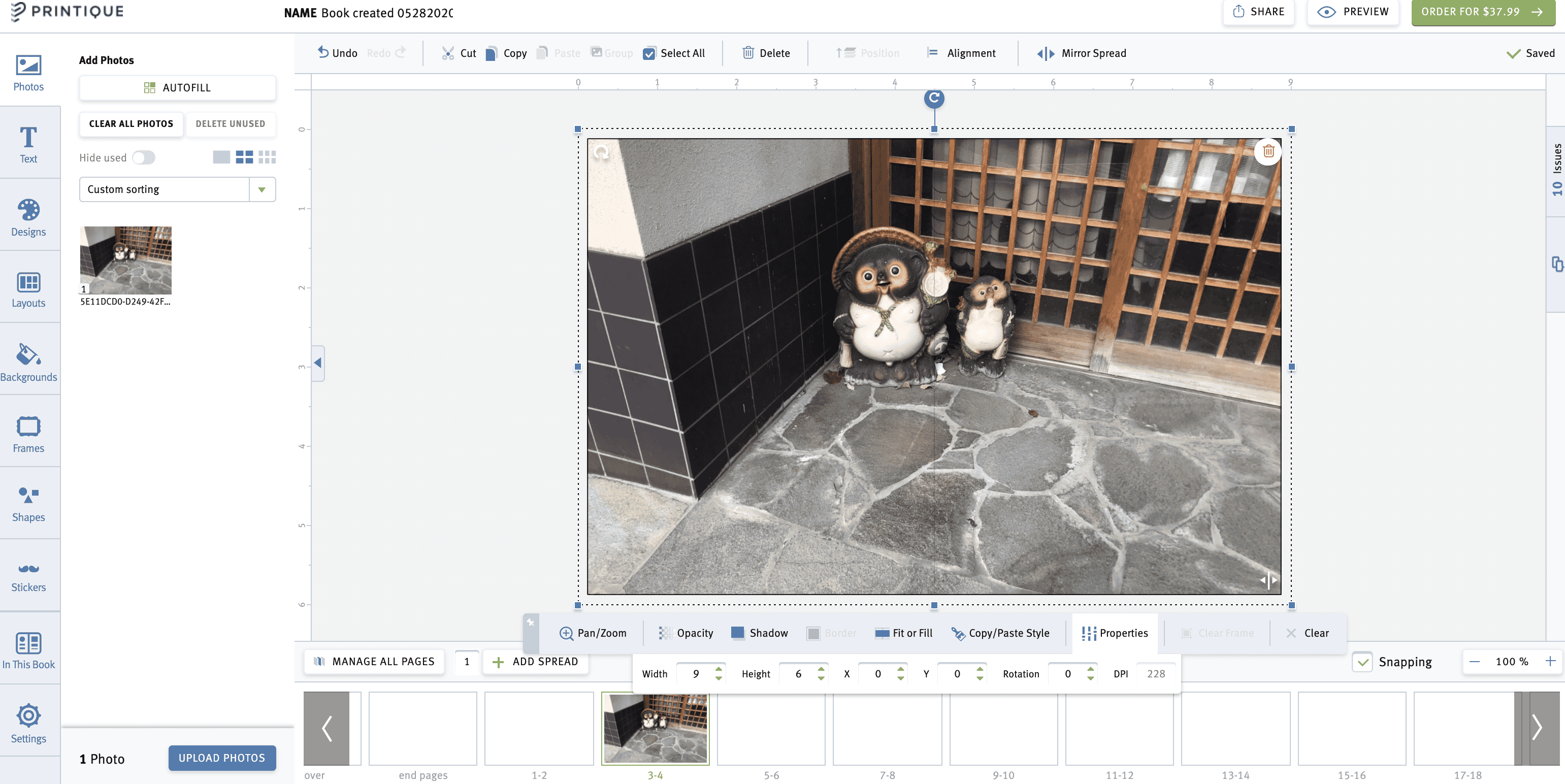 The layout builder uses a drag and drop functionality, making it easy to insert and adjust images however you see fit. For those experienced using similar software, it's a pretty intuitive design overall. There are, however, a few awkward hiccups to work through. For instance, creating a full-bleed across two pages involves right-clicking and specifying a fill option. Other applications might allow users to simply drag their images from one corner of the spread to the other.
But, hiccups aside, Printique simplifies the design process. When you upload photographs, you're given the option to organize and group images into galleries. Once you've done so, you may easily access image collections on the design wizard's left side panel. On top of that, Printique implements safeguards (such as low-resolution warnings) to minimize common mistakes.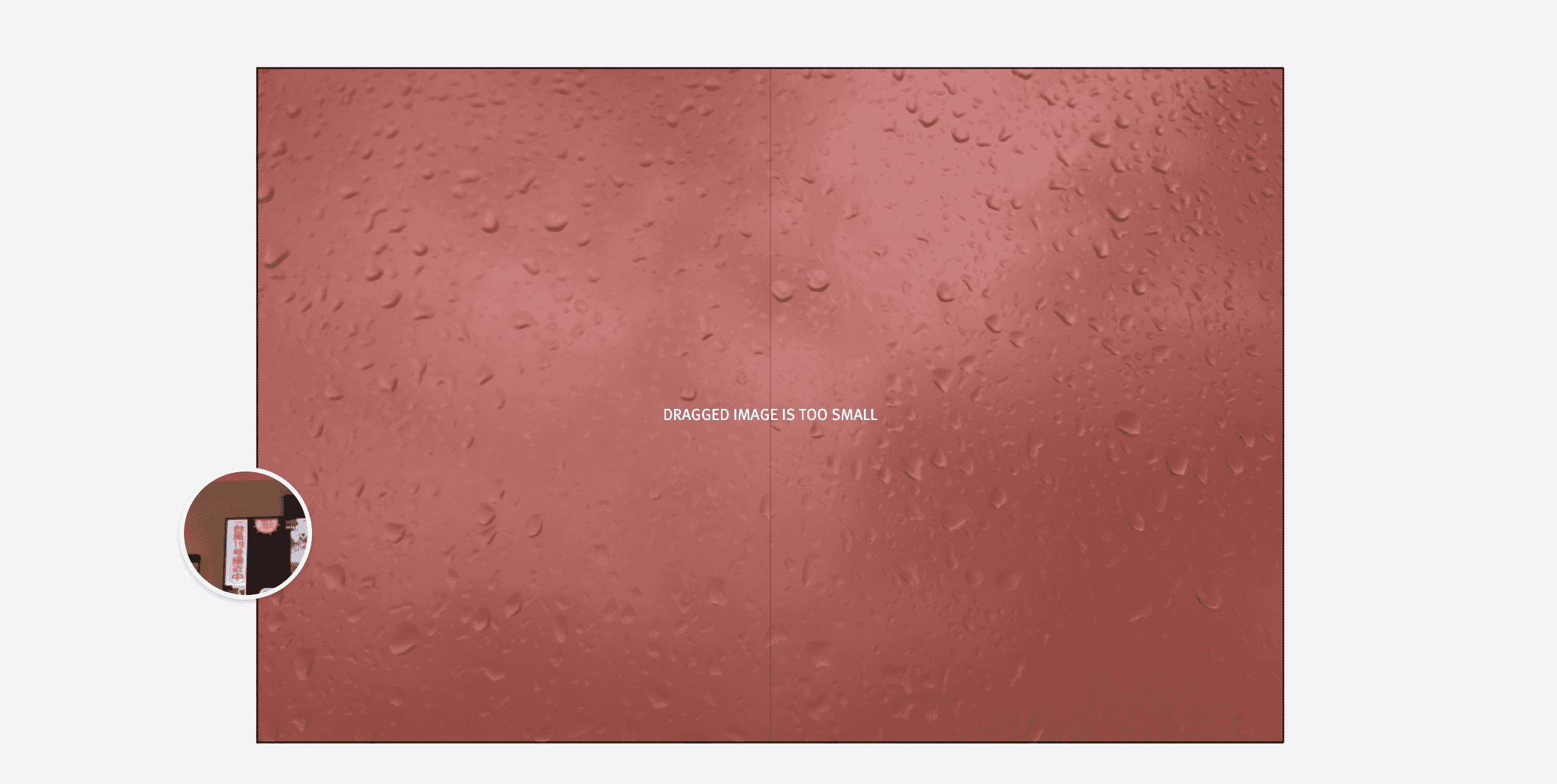 Of course, it's possible to override Printique's "rules", although convincing the system that you want to include a "mistake" can be a headache. For example, the program will notify you of any blank spreads present in the middle of your book. However, if you included those blank spreads intentionally, you can ignore Printique's warnings. While irritating at times, these notifications ultimately work well at preventing design errors.
Placing an Order and Delivery
We've covered the basics that go into designing the inside of a Printique photo book. But what sort of binding, materials, and builds are available?

For the most part, Printique keeps things pretty simple. Book sizes range from 6×4.5″ to 12×12″ and are available in portrait, landscape, and square orientations. As far as print material goes, Printique has eight papers to choose between, each with varying degrees of glossiness.
All books start at 10 pages and max out at 100 pages. After the 10 page start, Printique tacks on $2 per additional spread. Luckily, the site includes a live price estimate which helps keep track of costs as you add pages, change materials, and switch aspect ratios. Once you're happy with your book – inside and out – you place your order and allow Printique to take care of the rest.
It is worth noting that my photo book took longer to produce than my stand-alone specialty prints. With previous orders, Printique managed to get my request through their printers within 48 hours of placing an order. The book, in comparison, took closer to a week to assemble. But there is good news for impatient buyers – I experienced the same speedy delivery that I've cited in previous Printique reviews.
Flipping Through the Hardcover Book
Without a doubt, my Printique photo book is something I'll treasure for years to come. From the moment I unpacked my small 4.5×6″ book from its packaging, I was hooked. The stark, glossy cover was immediately eye-catching – the material helped the red and white exterior design shine. But the real show-stopping details lie inside.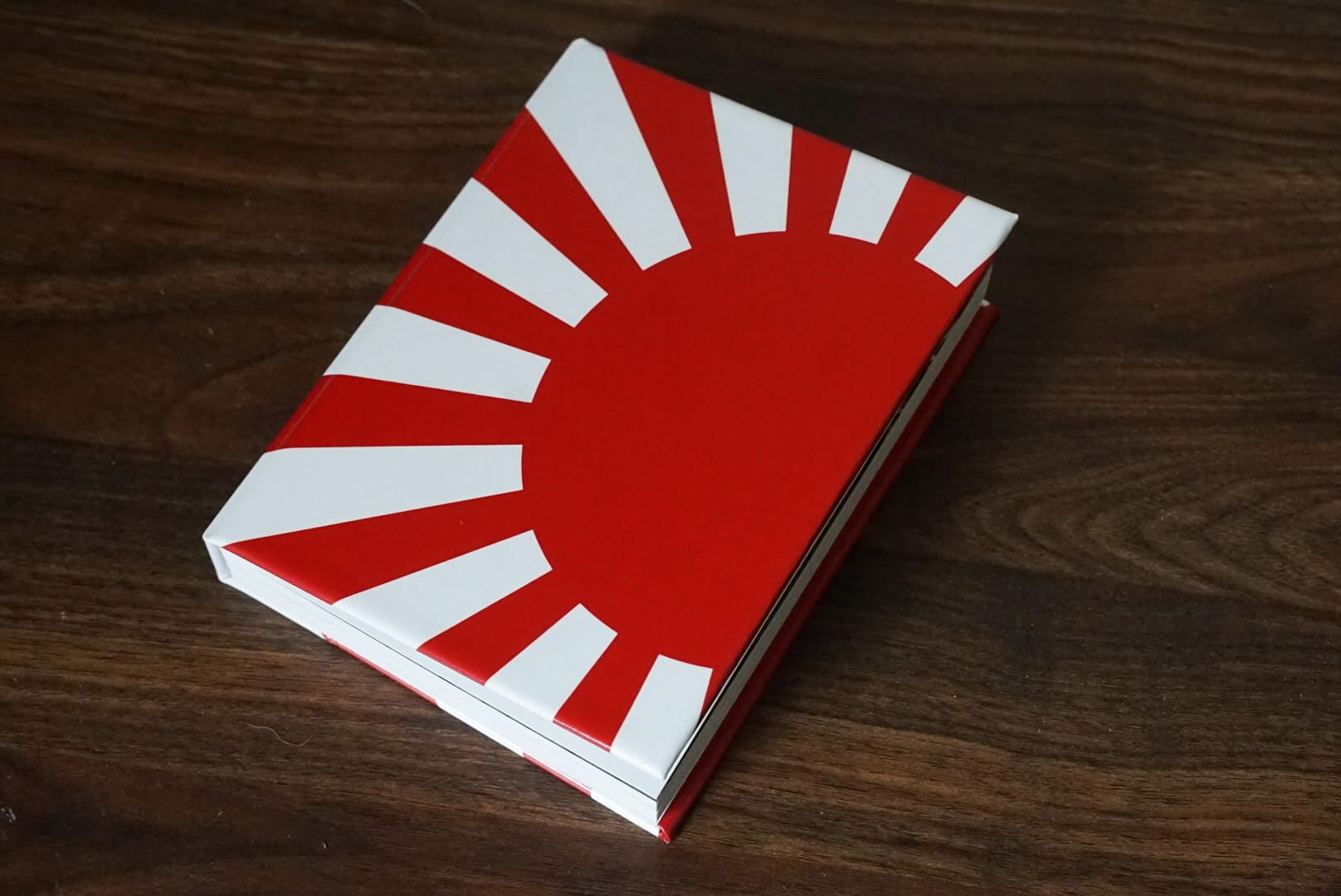 I have to take a moment to commend Printique's lay-flat binding. With thicker, sturdier pages, the lay-flat binding allows a book to open completely flat across its centerfold. For photo books, this is advantageous, allowing viewers to view images without losing details to page creases.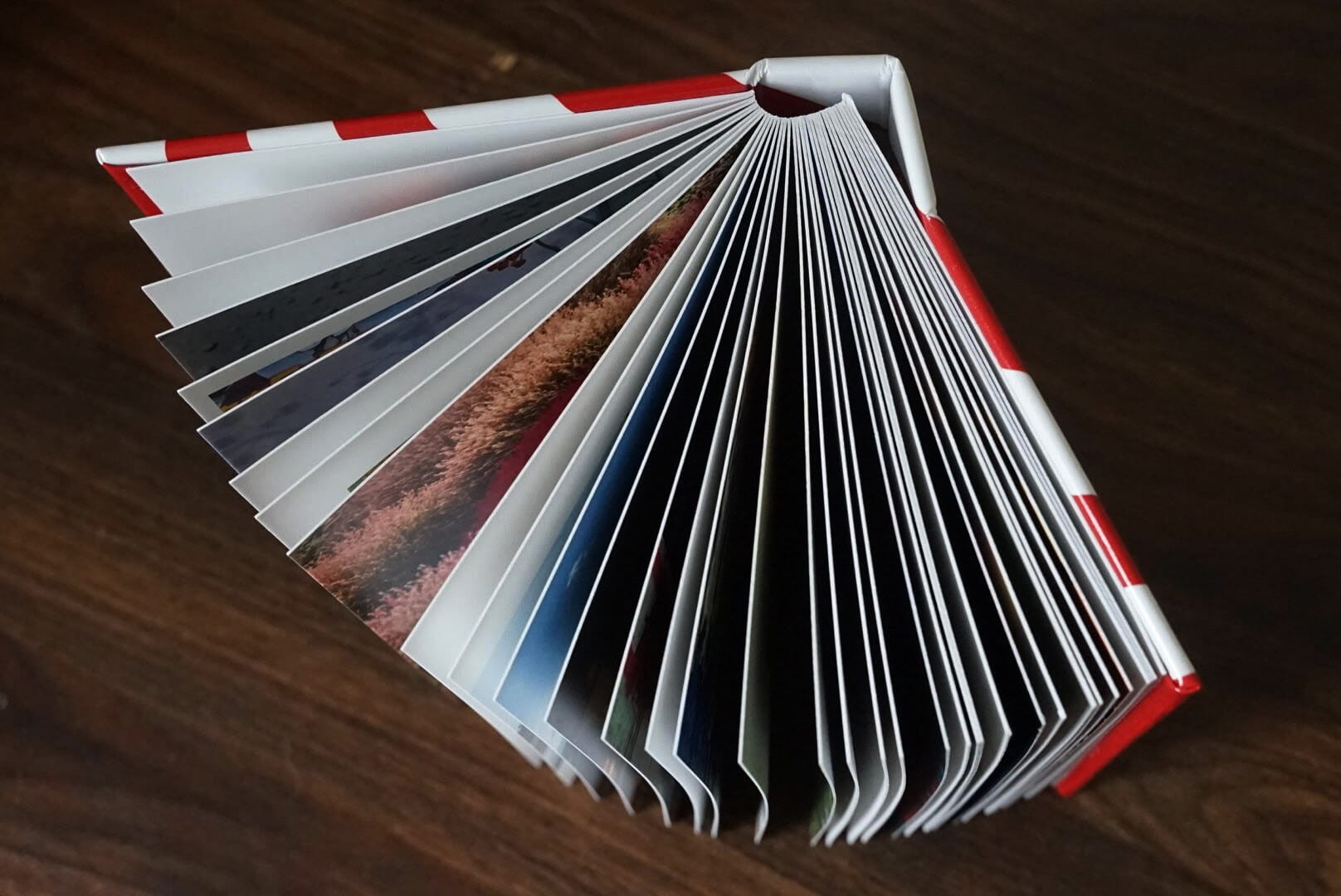 While this style of binding is not unique to Printique by any means, other vendors often charge customers a premium. Printique, in contrast, implements lay-flat binding on every photo book at no additional charge.
I chose to print my images on Kodak luster paper. Being a fairly standard paper option, I went in with realistic expectations. To my relative surprise, the end result was absolutely stunning.
The tones and colors throughout were phenomenal. The luster paper provides just enough of a shine to breathe some life into photographs. At the same time, the paper retains a stippled texture that prevents distracting glares and ugly fingerprints.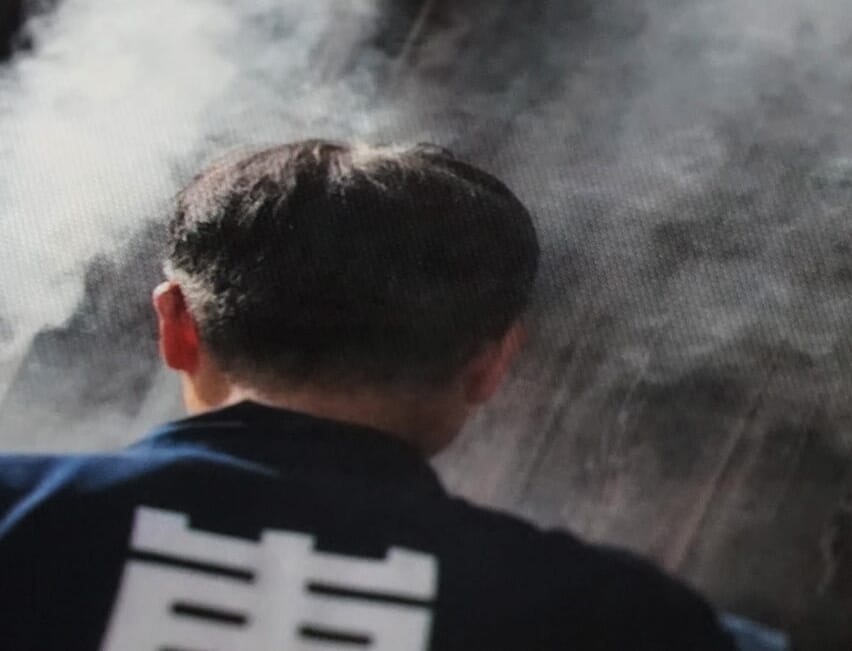 To take full advantage of Printique's lay-flat binding, I included a few full-bleed spreads throughout my book. All of them were gorgeous, and I recommend taking advantage of every inch your photo book has to offer. Printique leaves out any distracting white borders, which really allows you to get engulfed in each photograph.

Based on previous Printique orders and experiences, I admit that I had high expectations for this photo book from the start. Even so, they were surpassed. The book was free of bends, knicks, scratches, or other imperfections. Every single page matched my submitted design to a tee, and I could not find even the slightest mistake in their print process. What more could a person want?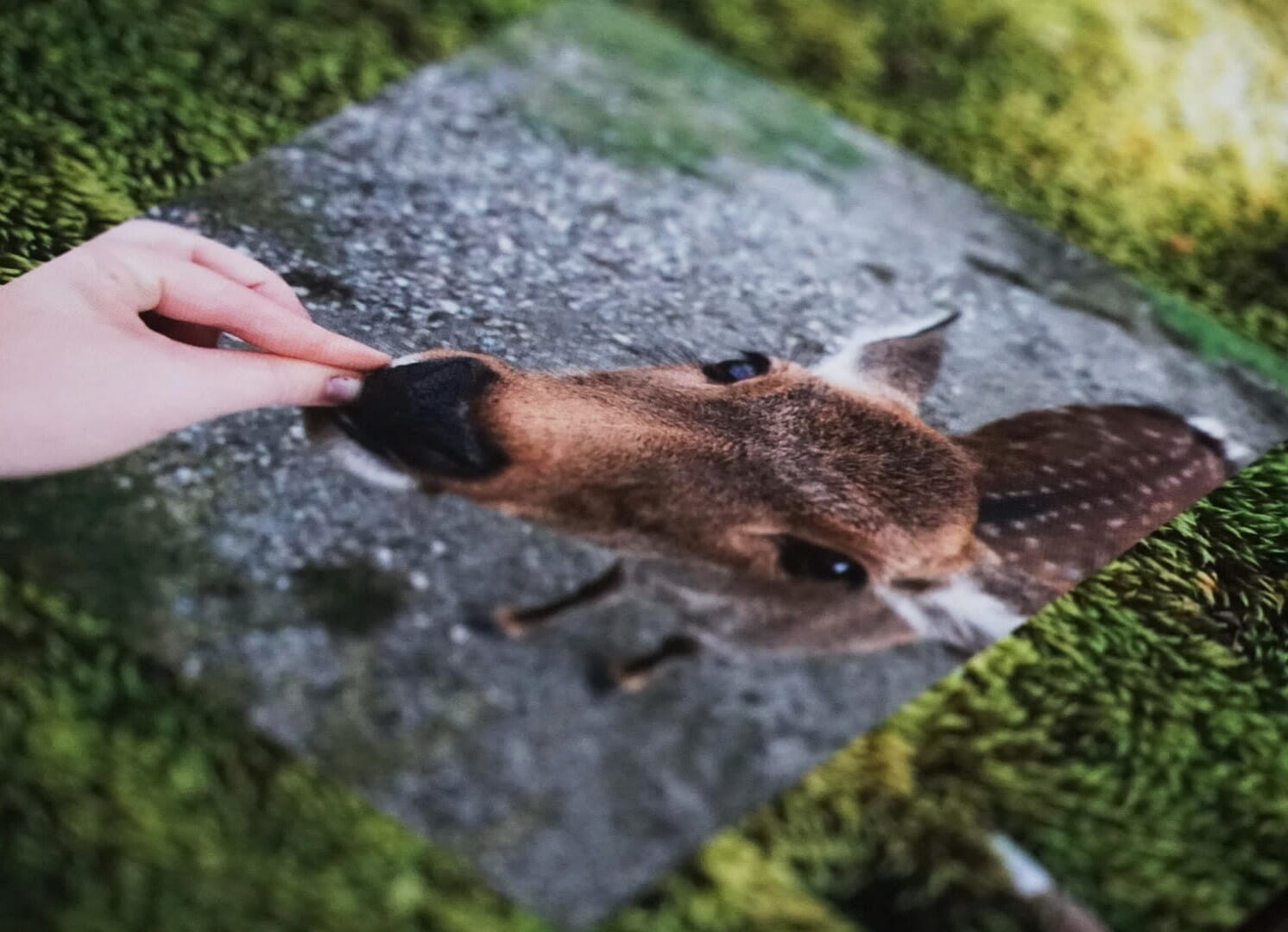 Our Printique Photo Book Verdict?
There's a lot to love about Printique's performance. Without a doubt, it's among the best options available at its price point. What's more, Printique offers flexibility and customization often absent in similar services.
That's not to say that it's a catch-all solution for every photo book need. Customers should keep in mind that Printique photo books can get expensive as you add on spreads. In addition, there are page limits that might hold users back from making large, comprehensive volumes.
Another thing to consider is that the hardcover volume is not Printique's sole photo book product. Those working on a budget may prefer Printique's softcover. Others looking for something a bit more intricate might opt for a fabric or leather-bound book instead.
The hardcover photo book is not for everyone, but those worried that it might not fall in line with Printique's other products need not worry. With professional-looking features and careful printing, this book makes for a sentimental gift or keepsake.

Don't downsize your next big trip, event, or milestone to a single image. The Printique photo book is a surefire way to house all your best moments beautifully.
Printique Photo Book Review Summary
Craftsmanship: 5/5
Software: 4.5/5
Customization: 4/5
Price: 4/5
Print Quality: 5/5
Our Overall Score for the Printique Photo Book: 4.5 out of 5
In our experience, Printique has gone above and beyond to provide high-quality photo products. Their photo book is no exception. While it may not be the best choice for a large, expansive coffee table book, it's an exceptional choice if you'd like to preserve a small collection of photographs. With vibrant prints and sturdy lay-flat binding, the care that Printique puts into each page is evident. Once you've mastered the site's design module, there's very little standing in the way of creating the photo book of your dreams.
Pros
Excellent craftsmanship and print reproduction
Premium features like specialty paper and lay-flay binding come at little to no extra cost
Fantastic customer service with quick assembly and delivery
Software suitable for novice and advanced users alike.
Cons
At $2 per additional spread, longer books costs can quickly add up
100-page cap on all books
Sizes available are relatively small and somewhat limited
---
Printique Canvas Print Review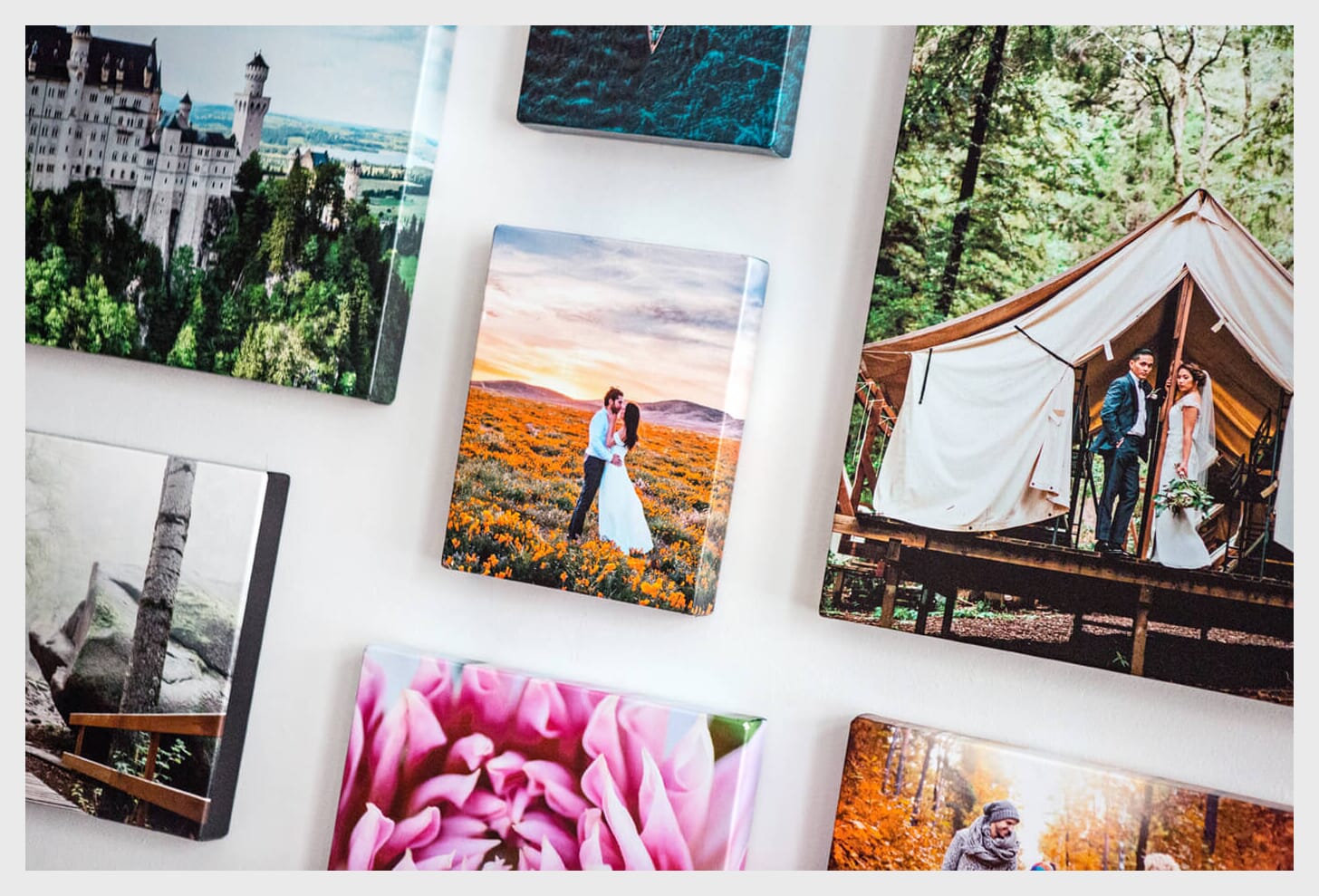 What's the best way to elevate a favorite photograph? For many, the answer is a beautifully mounted canvas print. The display itself immediately conveys a sense of importance and adds a whole new dimension to any image.
Recently, we ordered a Printique canvas print to see how it stacked up to competitors. Without hesitation, I can confidently say that it's one of the best-looking on-demand canvases that I've come across.
What, exactly, sets it apart from the rest? Can you expect equally spectacular results when you order? Read on for our in-depth analysis!
Printique claims to churn out "gallery-worthy" canvases. While that statement is somewhat subjective, you can count on receiving something you'll be happy with. Every order goes through rigorous quality checks, and Printique backs it up with a satisfaction guarantee.
Placing an Order
Printique's selection is straightforward enough. There are no extra add-ons or finishes to purchase – every canvas is more or less identical and build and material.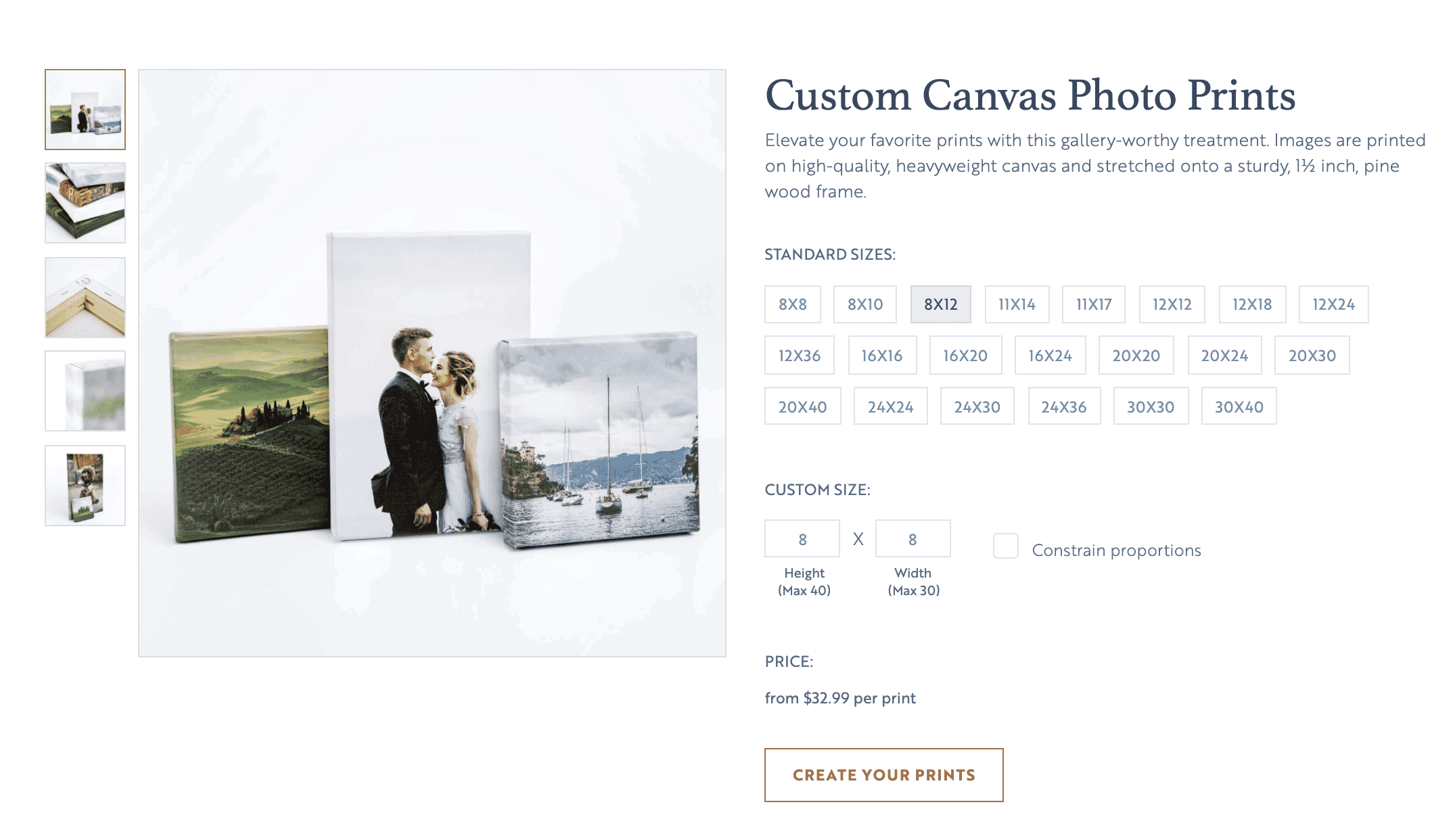 There are a decent number of standard sizes to choose from, ranging from 8×8″ to 30×40″. However, if the exact size you want isn't listed, Printique does produce custom sizes. Just keep in mind that custom orientations will cost you significantly more at check out.
Speaking of which, it's worth taking a moment to discuss Printique's fees. While they're far from exorbitant, the canvases here are a bit pricier than average. That said, we appreciate that the price guarantees the best that Printique has to offer as well as all the materials necessary to install. In addition, free shipping is included for most customers in the continental US.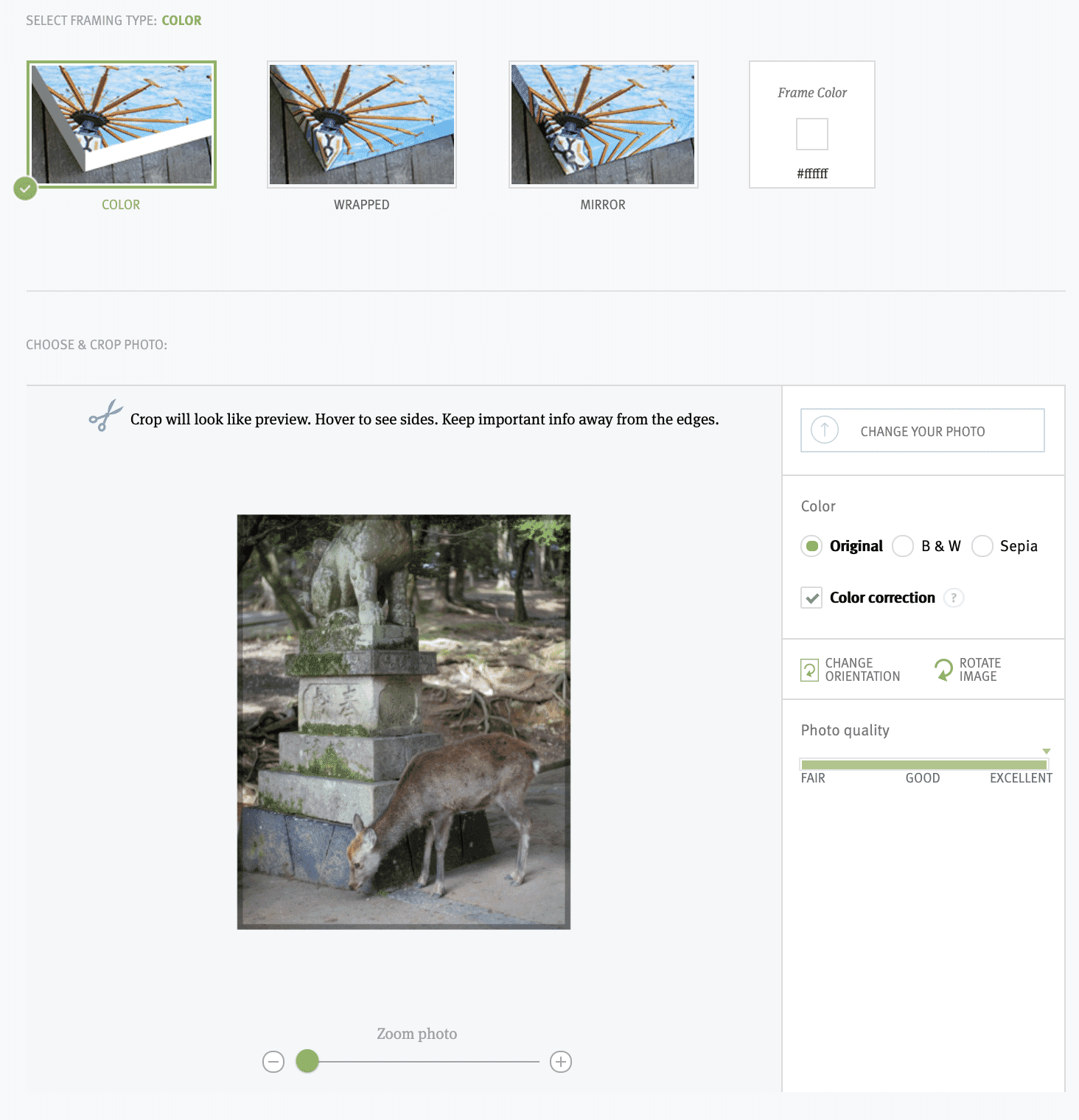 There's not much to designing your canvas – just upload your image of choice and you're almost finished. Printique does include adjustment, crop, and filter tools to add a few final touches to any piece. A photo-quality bar on the right ensures that your file is large enough, and a live price estimate updates with any changes you make to your project.
Before you finish off your order, choose between mirror, wrapped, or color bar wrapping for your print. Keep in mind that the more space you have along the edges of your image, the better off you'll be when finalizing your composition and wrap.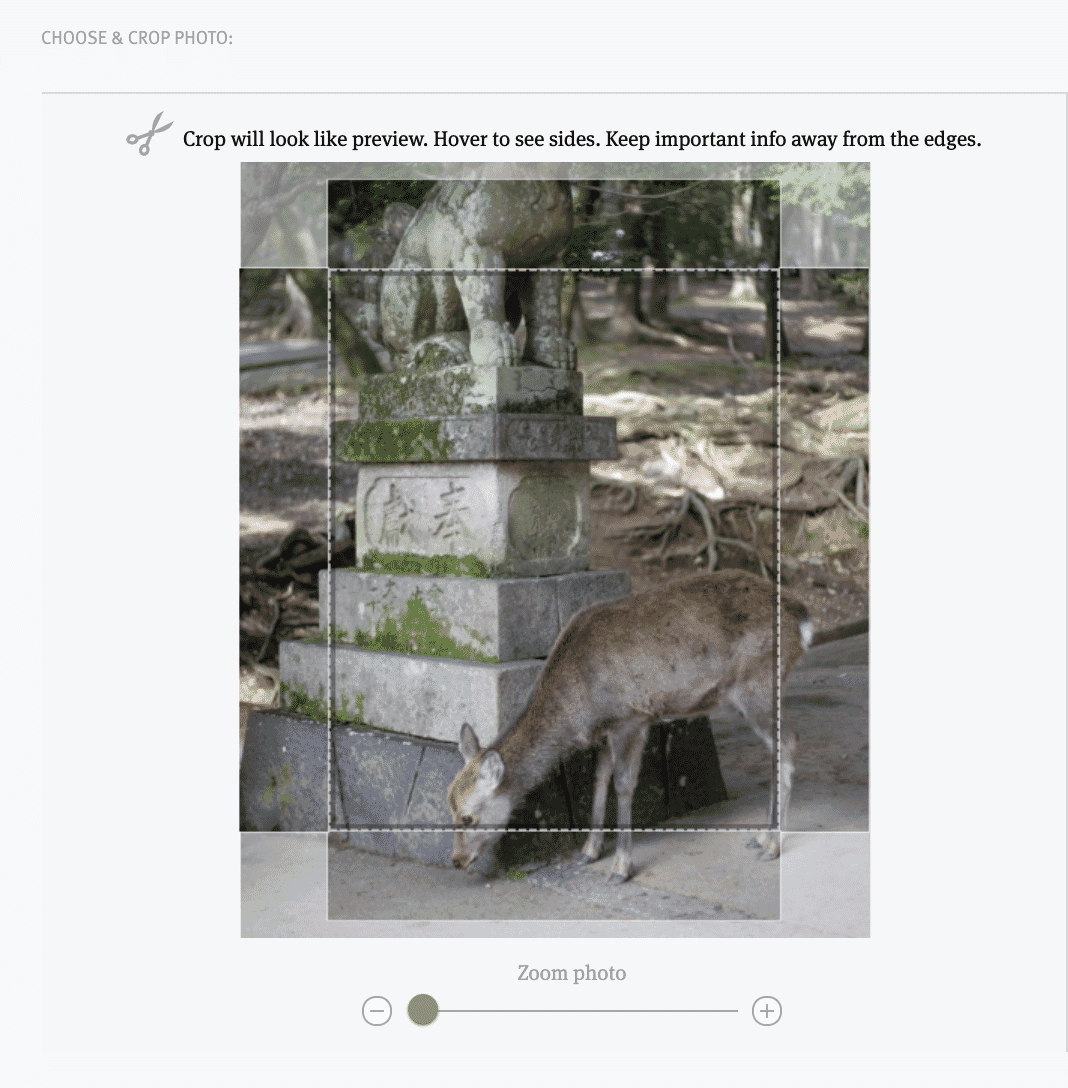 Delivery and Mounting
As with most of my Printique experiences to date, no time was wasted in getting my order delivered. In fact, my canvas arrived just four business days after I placed my order.
I was pleased to see that everything was securely packaged to prevent damage in transit. I've had plenty of canvases get scratches and dings bouncing around in the back of a delivery truck. But my Printique canvas was in perfect shape on arrival.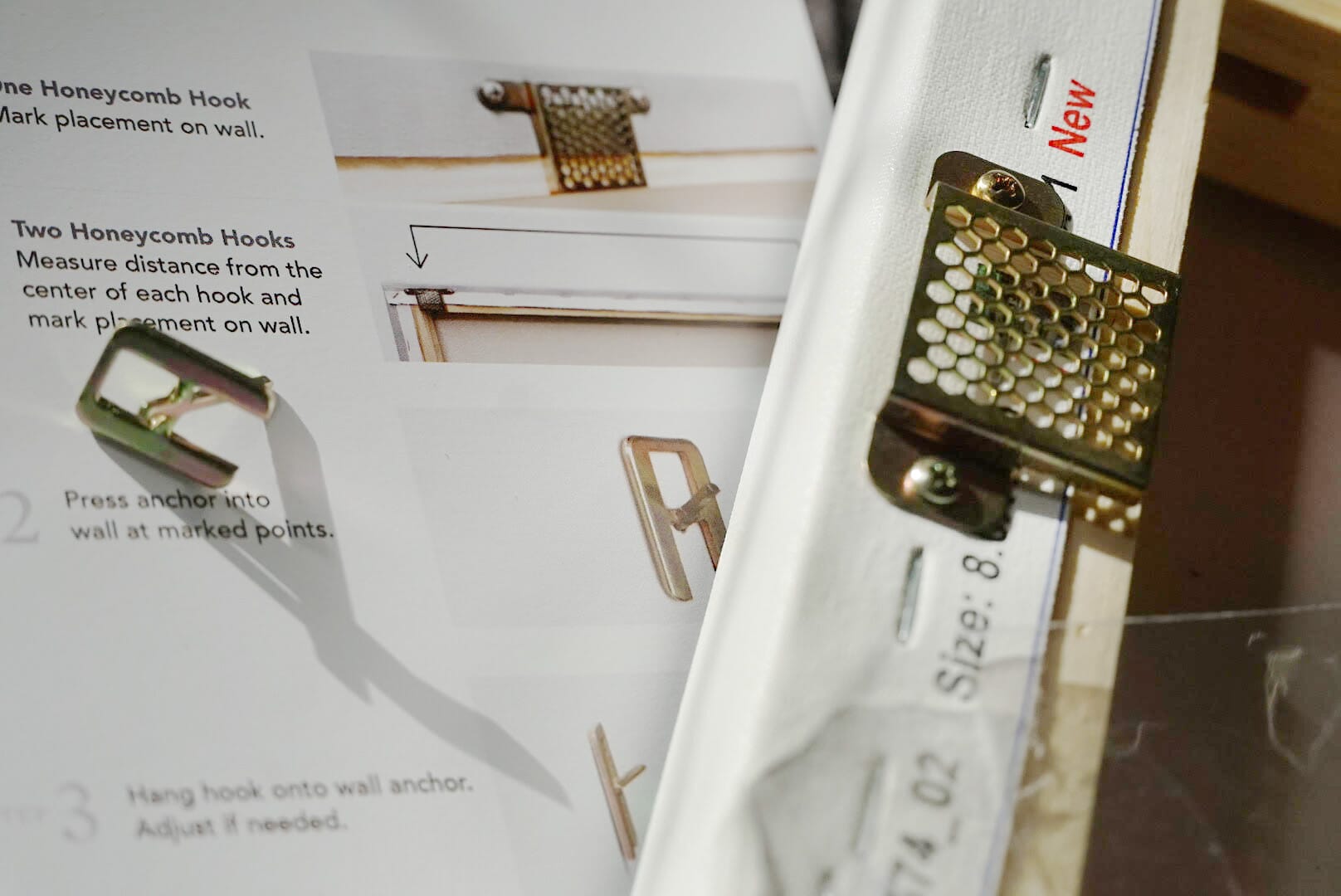 The same attention to detail reflected in their delivery method was also present in the package itself. Included with my photo was a unique honeycomb hook and anchor mounting system, as well as detailed installation instructions.
Print Qualities
Now, on to the canvas itself. I instantly fell in love with it.
For starters, the colors and tones blew me away. There's no evident loss of tonal detail, and the colors are vibrant without being distracting. Printique credits this to durable, long-lasting cotton, which beats out cheaper synthetic blends.
The texture of the thick canvas is easy to spot and really adds to the image. I'm a big fan of how the 'natural' feel of the linen plays with the nature photograph I chose to print.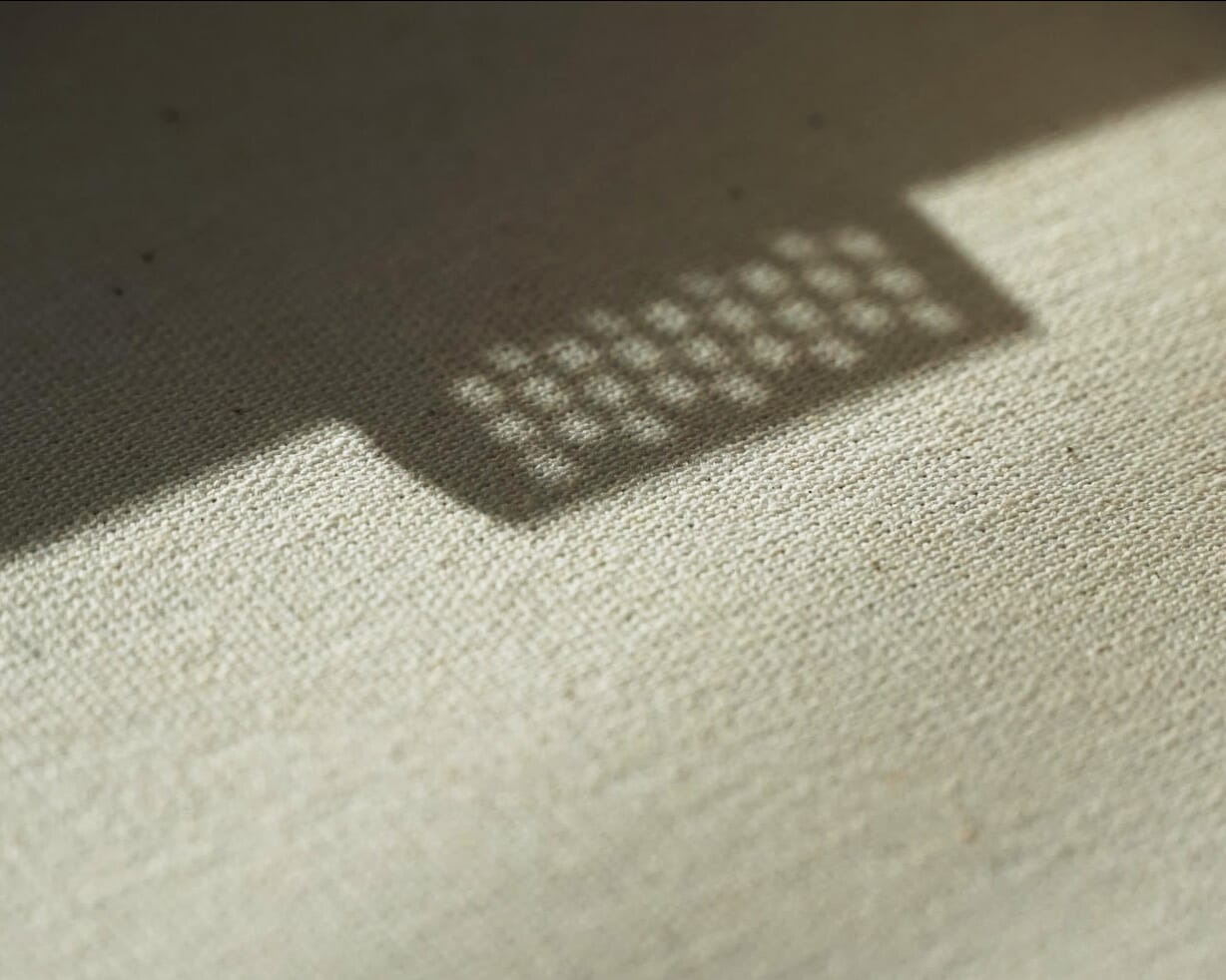 Best of all, the construction of the canvas is top-notch. The image is wrapped neatly around the sturdy frame and securely fastened in place. Finished off with a UV coating, I feel confident that this image will last for years to come.
The only aspect that I wasn't a huge fan of was the color border of my image. Unfortunately, the photo I wanted to use was tight enough that I couldn't wrap the image around the edges without losing important details. However, I can't really blame Printique for that – although I wasn't a fan of the look, they executed it perfectly.


Our Takeaways
Undoubtedly, Printique qualifies as one of the top photo canvas printers around. Because they take so much of the guesswork out of the print process, it's easy to feel confident purchasing from them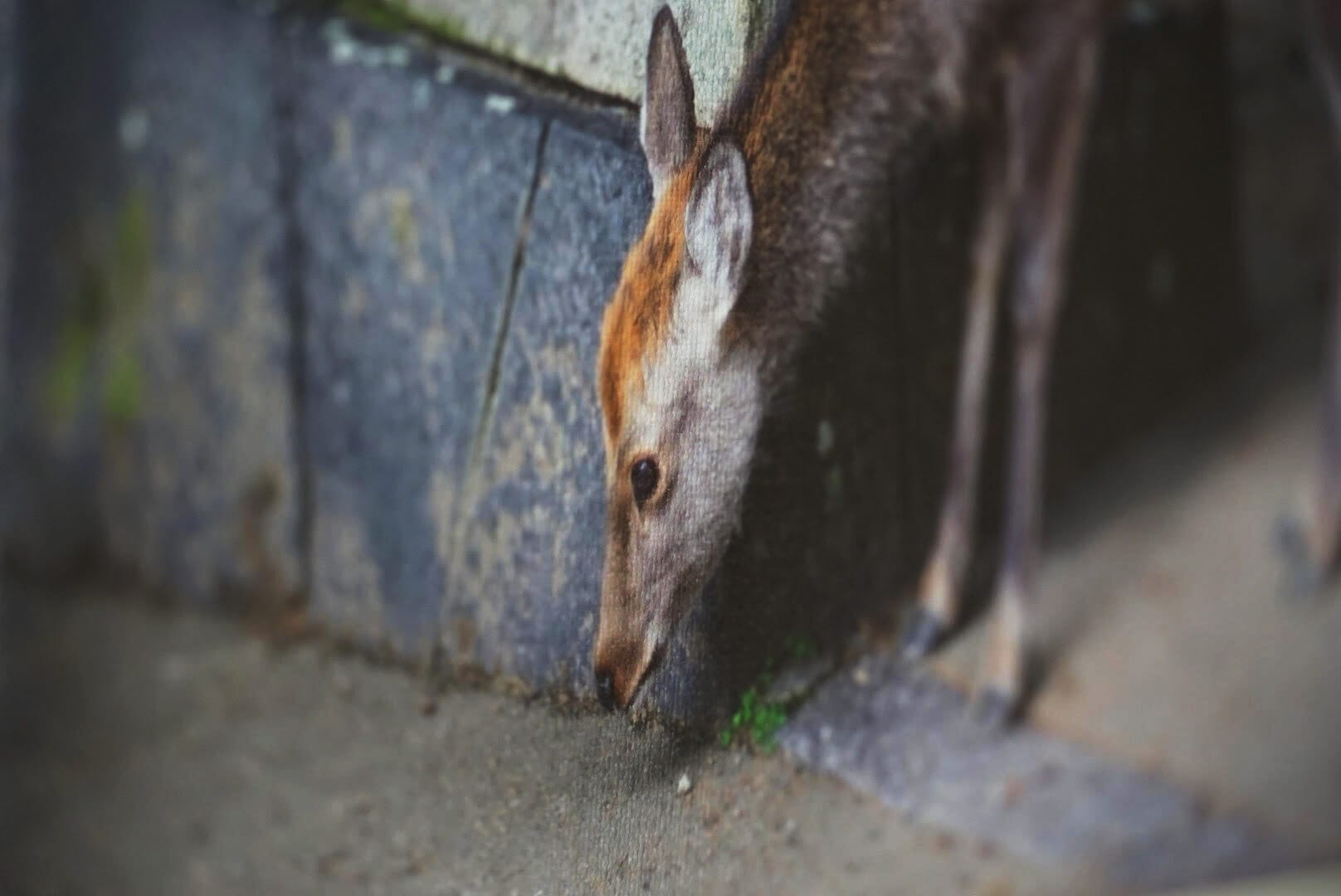 As with their other photo products, the attention to detail Printique lends goes a long way. Colors, tones, and textures look great. Ordering is a breeze, and images almost always arrive in a timely manner.
It's no coincidence that a trusted industry leader like Adorama backs Printique. The professional-grade products offered here are well worth splurging on. Every penny you pour in goes towards making a canvas sure to brighten up your walls and last the test of time.
Printique Canvas Print Review Summary
Image Quality: 5/5
Canvas construction: 5/5
Production and Shipping: 5/5
Price: 4/5
Our Overall Score for the Printique Canvas Prints: 4.8 out of 5
It's hard to find flaws in the Printique Canvas print without nitpicking. Made with high-quality materials built to last and subject to stringent quality checks, I couldn't be much happier with the end result I received. There's no arguing that this product will meet and even surpasses the expectations of most customers.
Pros
Includes equipment and step-by-step install instructions
Beautiful image reproduction
Neat, careful construction built to last
Custom sizes available
Cons
Higher-end price
Could use additional image wrap options
Not able to produce canvases larger than 30×40″
---
Printique Acrylic Photo Review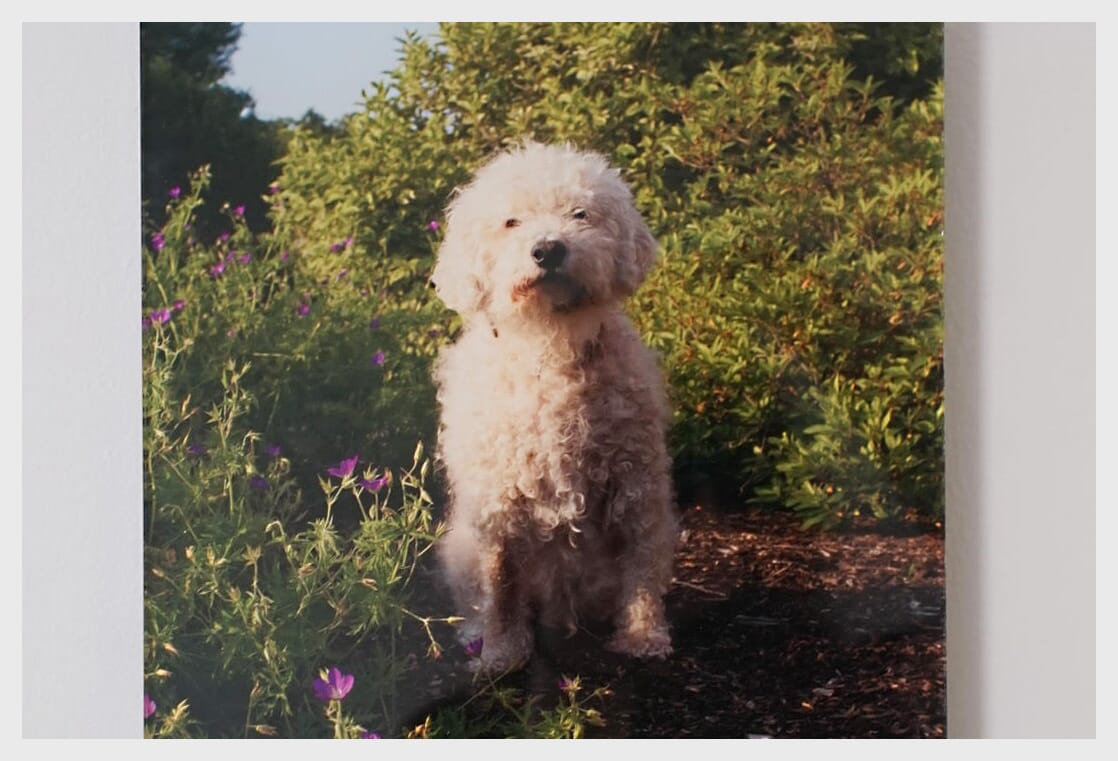 Want to try something different with your next prized photograph? We've delved into canvas and metal prints on PhotoWorkout in the past, but today we'll tread into new waters with the Printique acrylic photo print.
Printique has impressed us with its performance up to this point. Does their acrylic print live up to our expectations? We've got the complete breakdown of what to expect!
Placing an Order
Going into this order, I really wasn't sure what to expect. Though I was familiar with the concept of acrylic photo printing, this was the first time I actually ordered one for myself. Luckily, Printique removed a lot of guesswork from the equation.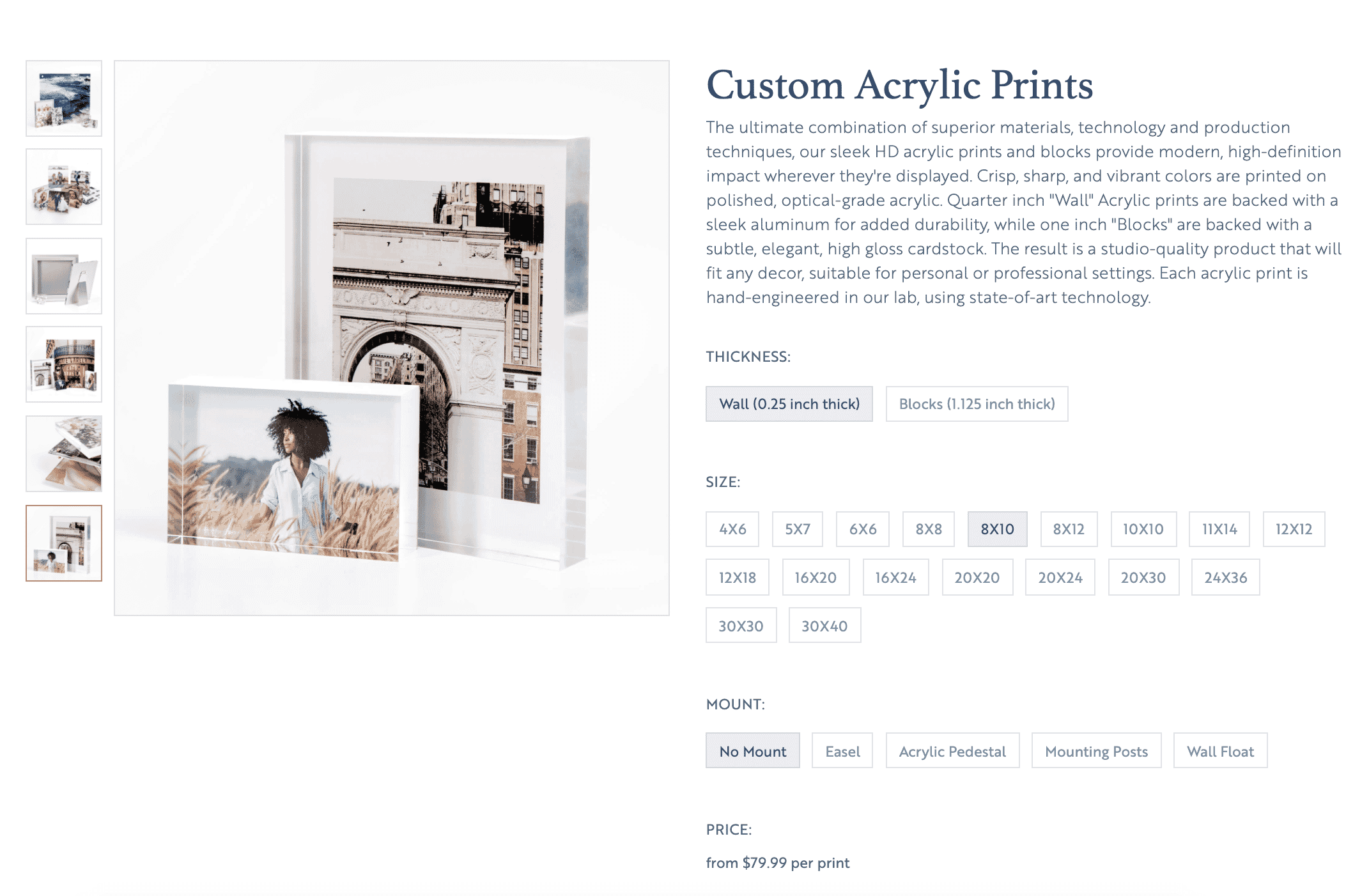 As with their other prints, Printique offers a fairly wide range of image sizes, from 4×6″ to 30×40″. However, customers also have to consider the width of the acrylic layer – Printique offers 0.25″ wall prints as well as thicker 1.125″ block prints. Once you've chosen your dimensions, Printique guides users to their Preview module.
If you've ordered from Printique in the past, this particular step will feel familiar. In short, the site's preview allows users to make crop adjustments and check photo quality before adding the product to the cart. You'll also find a handy live price estimate, which adjusts whenever you make a change to your order.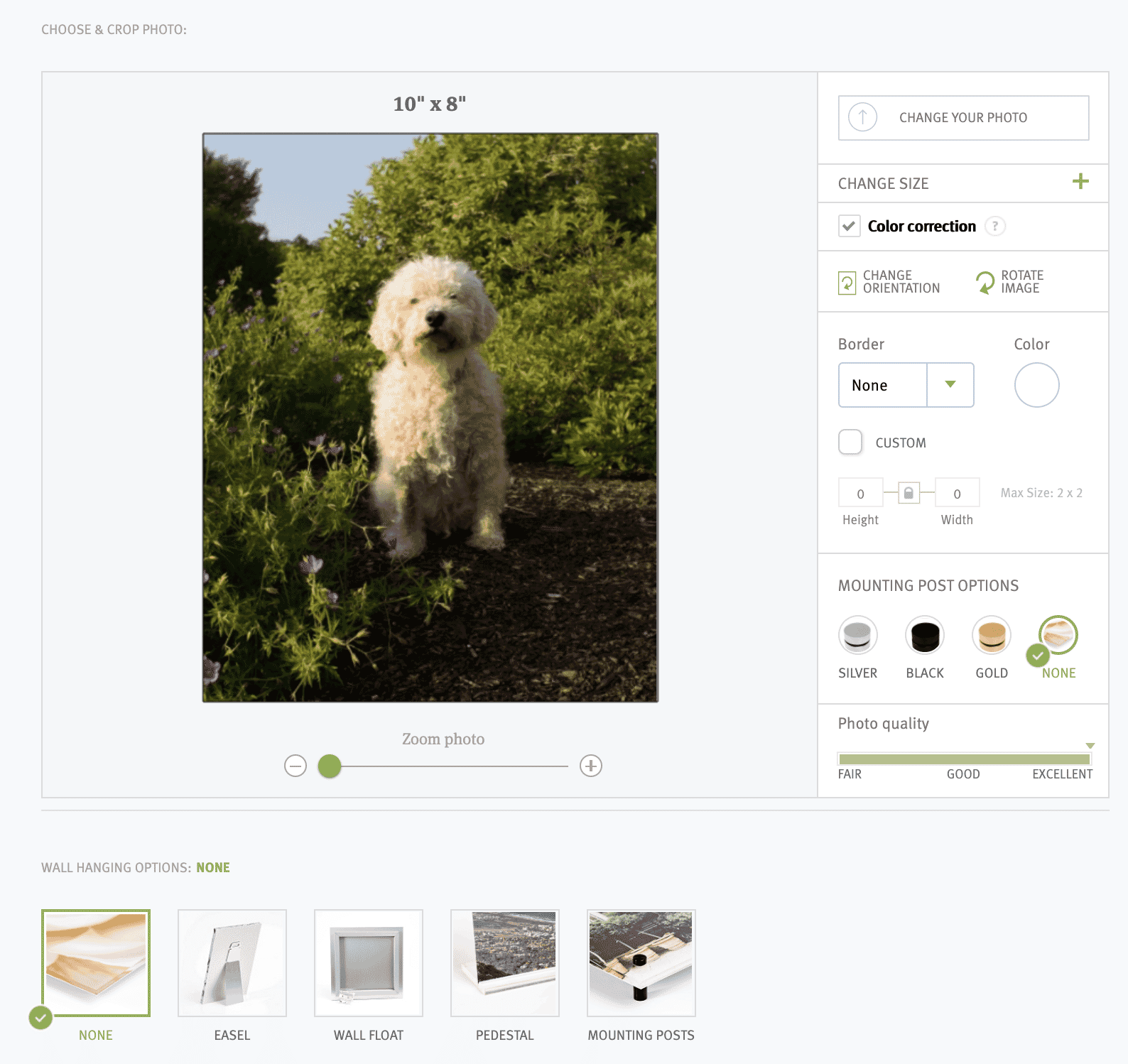 The last thing to choose (if you're getting the thinner wall print) is the mount for your photograph. The options vary based on the size you choose, but each of them is attractive in its own right. Although I opted for a basic float mount, other options include mounting posts, easels, and acrylic pedestals.


If you wind up ordering a block print, you can skip over the last step altogether. The blocks are actually thick enough to stand on their own without assistance!
And that's all there is to it! The entire process takes a matter of minutes from image upload to order confirmation. Once you've placed your order, Printique gets straight to work.
Delivery and Installation
Having made my order in the midst of COVID-19, I expected some delays in receiving my print. So, when my print arrived two business days after submitting my photograph, I was taken by surprise. This says that, even when presented with unforeseen circumstances, Printique is efficient and organized. No matter the situation, it's safe to expect high-quality standards from Printique.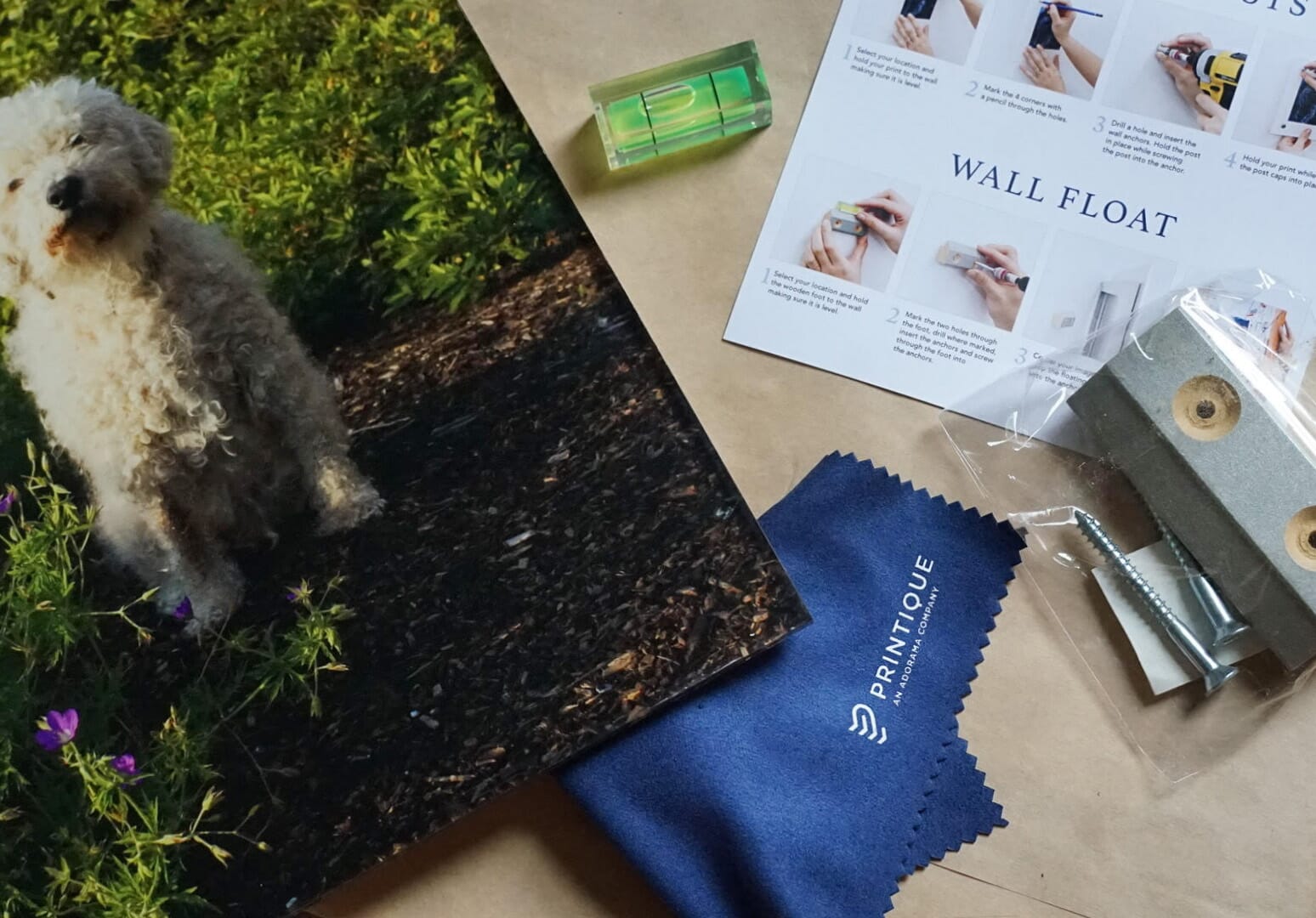 As I've come to expect, my acrylic print was thoroughly packaged and covered to prevent any damage in transit. And, much like my metal print, Printique included a generous bundle of hanging and maintenance supplies. Included in my bundle, I found hardware, a level, and a microfiber cloth. Also packed were photographic step-by-step mounting instructions.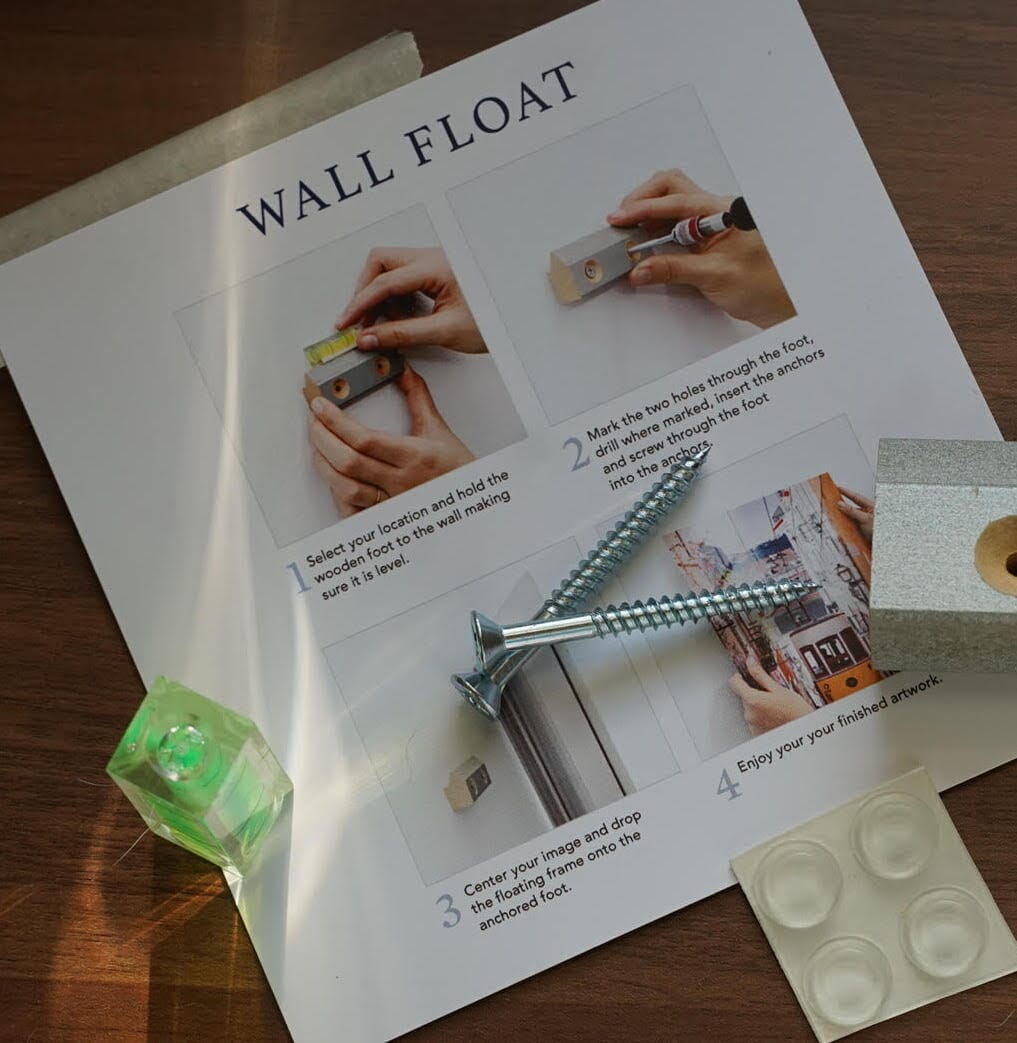 In this case, there's no need to worry about fingerprints, scratches, or uneven displays. Printique does all that it can to make your acrylic print look its best.
Print Quality
Having never worked with acrylic prints in the past, I wasn't sure what I'd find when I initially unwrapped my order. But, based on the product I received, I'd happily splurge for acrylic again.
While Printique's paper prints are beautiful in their own right, acrylic truly helped my image shine. The details of the print are crisp, and the tones and colors are deep and rich. The eye-catching casing highlights these wonderful aspects and keeps the picture safe from damage.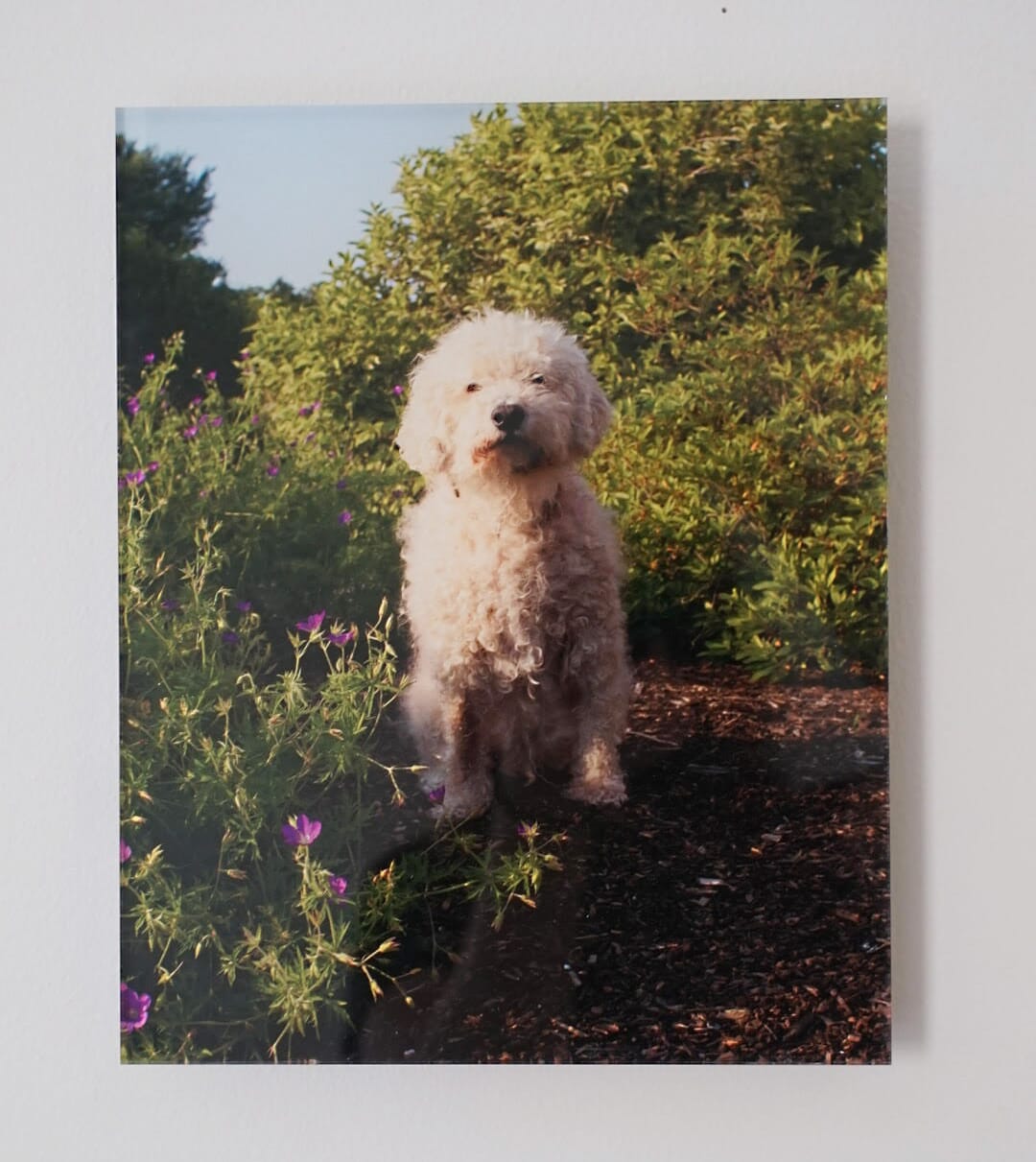 The photograph itself is mounted to a sturdy metal base, which minimizes warping over time. The 0.25″ acrylic then sandwiches the photograph in place, adding another layer of security. While acrylic certainly isn't the cheapest option, it's one that will keep an image intact for years to come.
I mentioned earlier that Printique offers many mount options. Ultimately, I went with a regular wall mount rather than a more exotic option. Ahead of time, I was a bit concerned that this choice might come back to haunt me, as the acrylic prints inherently stick out. However, I found that my order was no more obtrusive than an average canvas print might be.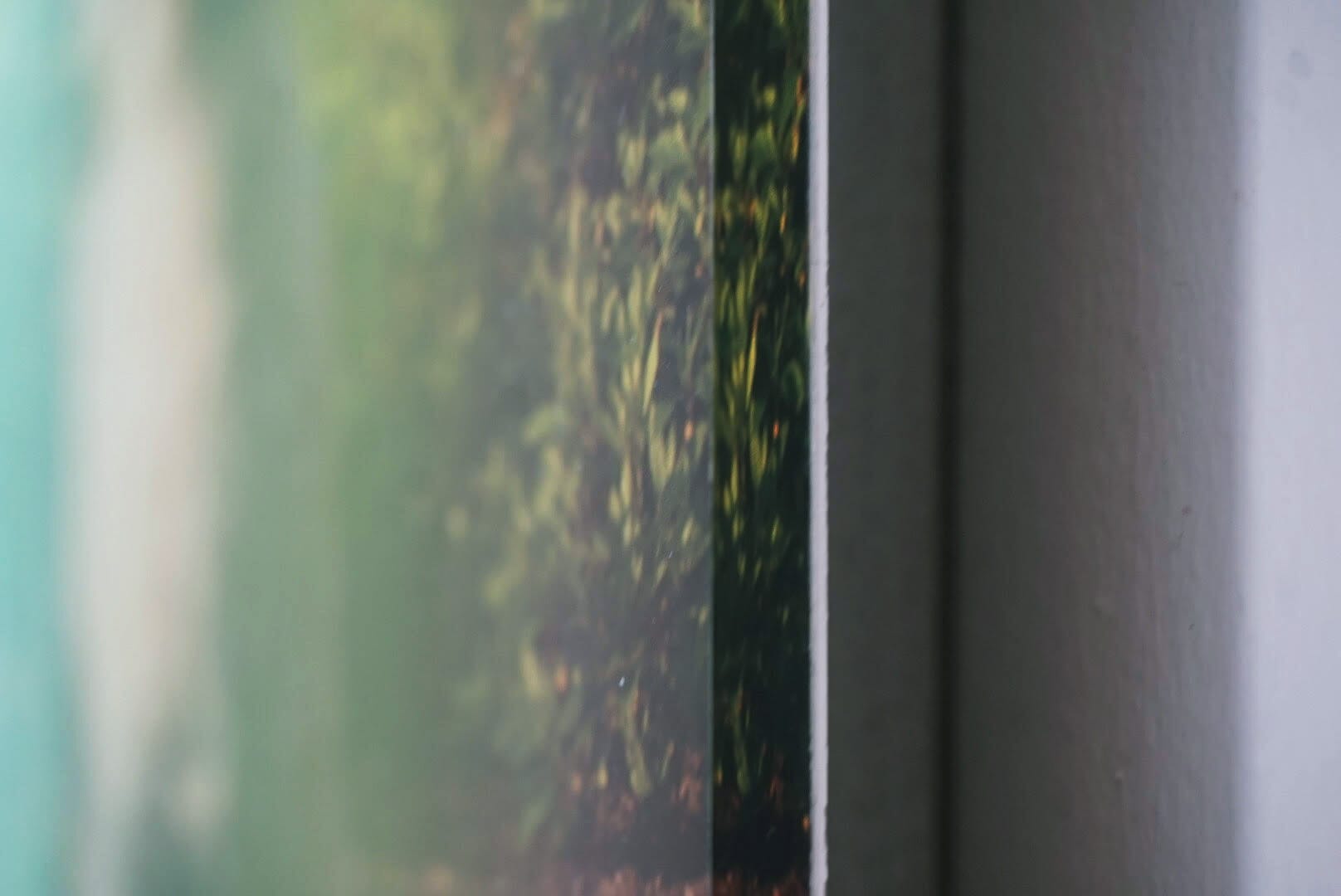 Although I did not order the wider block print, there are a few display and structure differences that customers should know about. One major difference is the block's lack of mount. What's more, the block print is backed with heavy cardstock rather than metal. While the end results seem equally stunning, these disparities will have an impact on the way you display and preserve your shot.
Our Takeaways
Once again, Printique has gone the extra mile to make a stunning product. The craftsmanship of the print on its own was more than enough to hook just about anyone. However, the ease of purchase and consistency in results is what makes Printique a personal favorite.
Of Printique's available photographic prints, their acrylic is the priciest. Larger sizes can easily cost over $300 before tax and shipping fees. That being said, smaller sizes (like the 8×10″ print I bought for myself) are certainly affordable for those working with a tight budget.
While other Printique products aren't fragile, I'm confident about the acrylic's longevity in particular. Sandwiched between an aluminum plate and a thick sheet of acrylic, I feel that my photograph is protected and preserved. With proper care, it could easily remain on my wall for years to come.
For some, splurging on a Printique Acrylic may be an investment. But, for the pictures that mean the most, it's worth every penny.
Printique Acrylic Prints Review Summary
Customer Service

: 5/5
Image Quality: 5/5
Longevity: 4.5/5
Delivery and Installation: 5/5
Price: 4/5
Our Overall Score for Printique Acrylic Prints: 4.7 out of 5
As with their standard and metal prints, Printique went above and beyond to deliver a gorgeous photograph. From responsive, efficient customer service to easy DIY installation, every part of the process was painless. Compared to other specialty prints, acrylic can get a bit pricey. But don't let the price tag turn you off right away – the presentation and build of each print is nothing short of excellent.
---
Testing Out the Printique Metal Print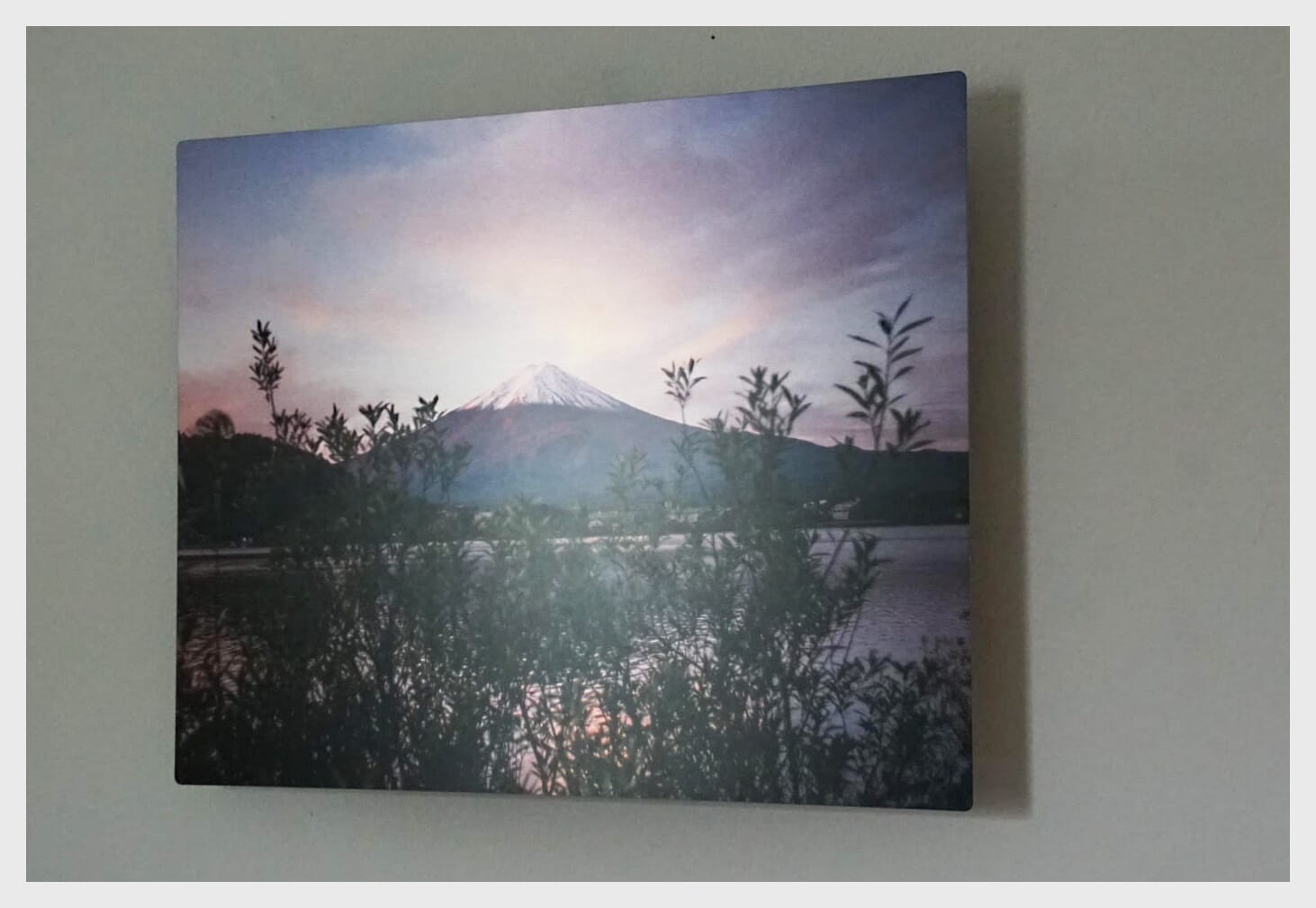 Looking for a unique way to show off your favorite photograph? Printique may have exactly what you need in their high-quality metal prints. Polished and ready to mount on delivery, this is a bold yet uncomplicated display solution that's easy to fall in love with.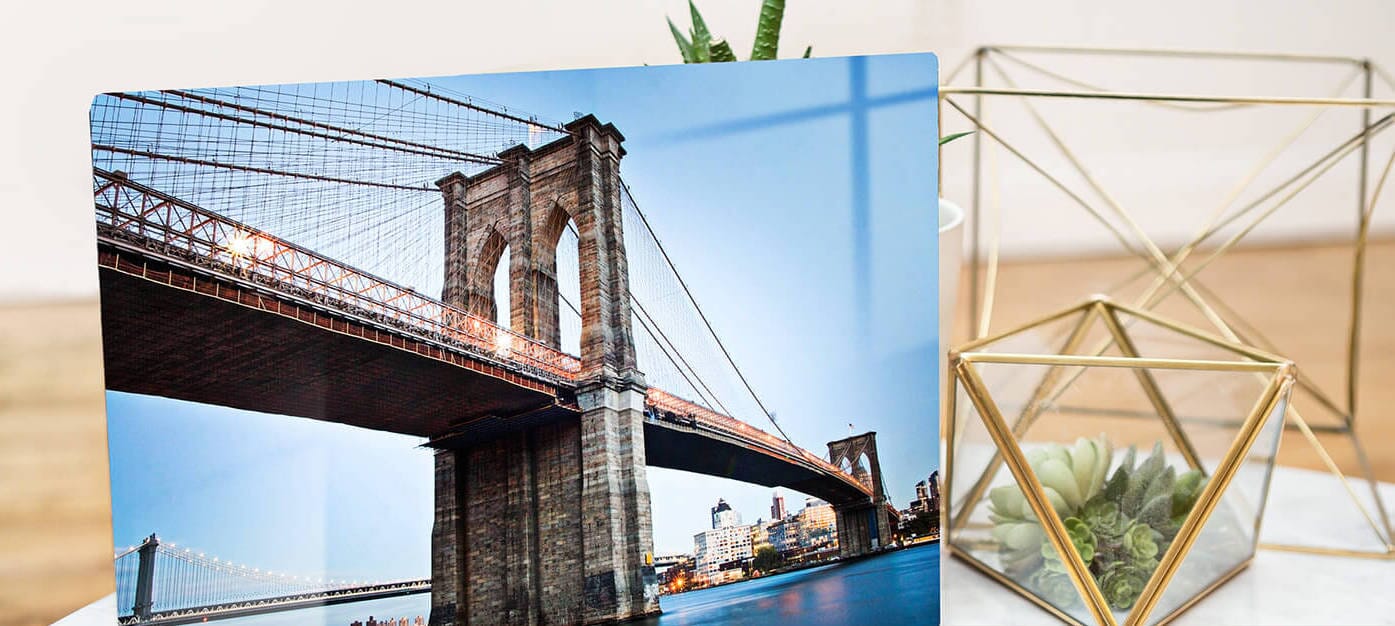 What resources does Printique dedicate towards its metal print production? Do the results stack up to competing vendors? Is the end product worth the cost? We've tracked down the answers to these pressing questions in today's review.
Placing an Order
If you're new to printing on metal, you might believe that there's not much flexibility in presentation. Printique immediately disproves that common misconception, with several customizable display options.
For starters, there are over twenty different size and aspect ratios to choose between. For standard rectangular prints, you can order as small as 5×7″ to as large as 40×60″ panoramas.
On top of that, there are several different shapes outside of the rectangle to choose from. Ovals, hearts, and even scalloped edges are all viable options for a Printique metal print! If you'd like, there's even an option to divide an uploaded image into a triptych.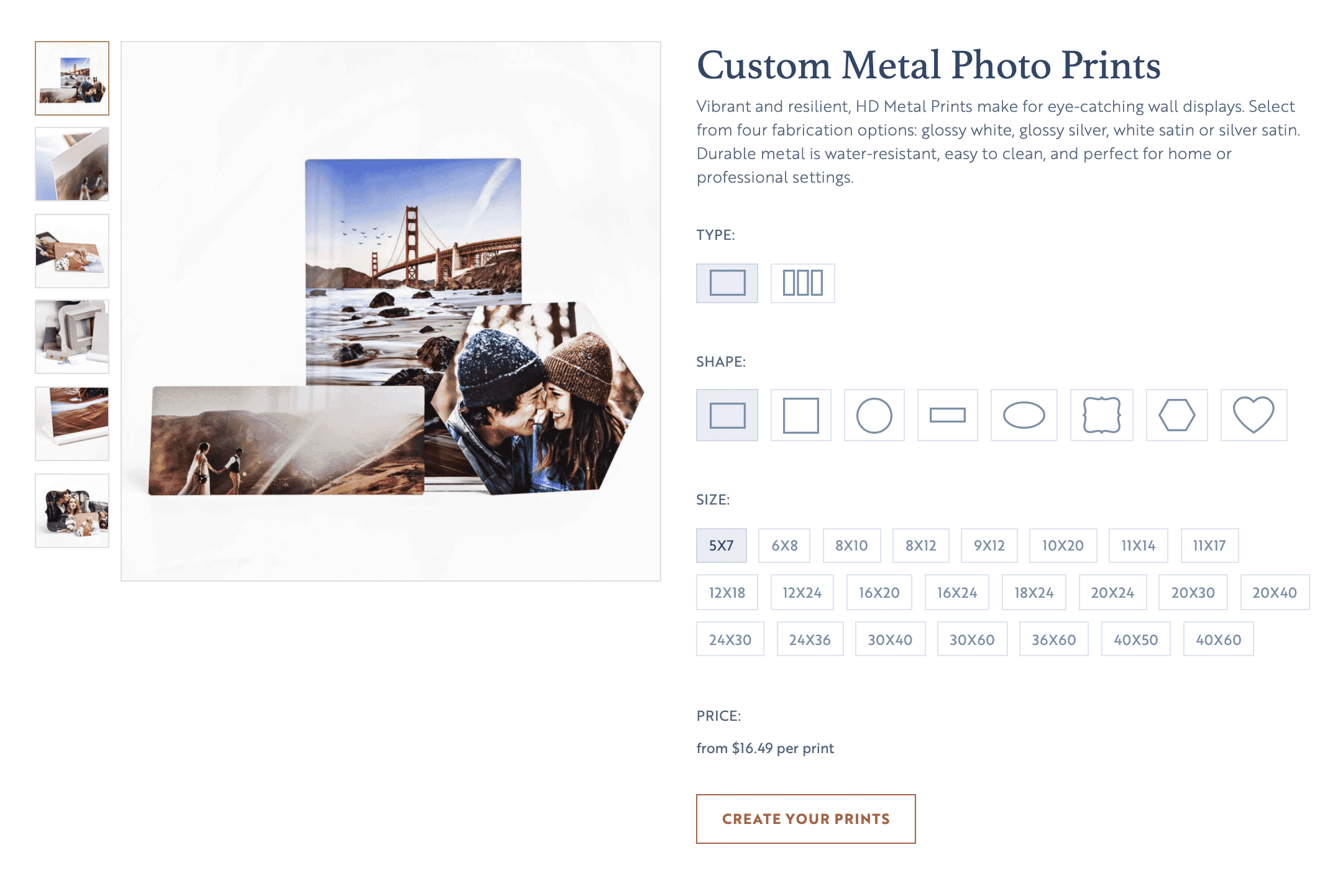 Once you've chosen the layout, you gain access to a preview module that allows cropping adjustments. The preview page also offers information on whether your image's quality is up to snuff with print requirements. You'll also find a live price estimate, which updates as you make changes to your order.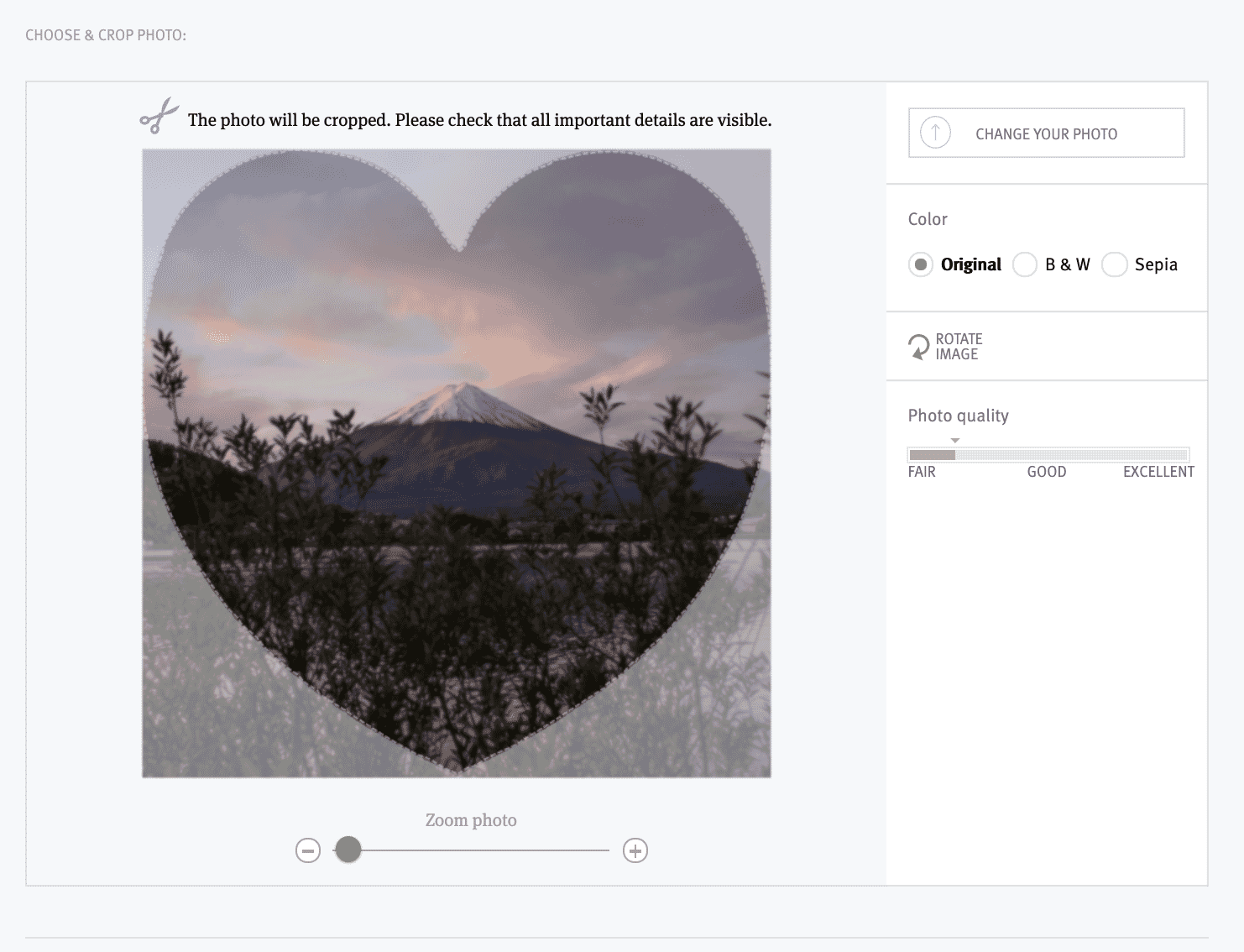 At no extra charge, you'll also be able to choose the finish and mount of your print. For my photo, I opted for the subtle yet luminescent silver satin finish. However, Printique offers glossier, more saturated options for those seeking more of a punch. Conveniently, each option has a brief description attached, taking out the guesswork of choosing a finish style.
As far as mounting goes, there are several options that vary depending on the size you choose. Smaller prints would likely benefit from an easel stand or an acrylic pedestal, while larger prints often do best with a wall mount. You can even opt for a strong magnetic backing, though finding a large enough magnetic surface might be a challenge.

Delivery and Installation
Not long ago, I reviewed some of Printique's paper print selections and cited super-fast delivery times. Printique worked just as quickly to get my metal print delivered. Within two business days, it was at my doorstep and ready to hang.
While ordering, I opted to include a float wall mount. Over time, I've learned that displaying a metal print without any fixtures attached is difficult. Had Printique wanted to charge me for the mount, I would have paid without a second thought. But, unlike many of their competitors, the mount was complimentary with my order.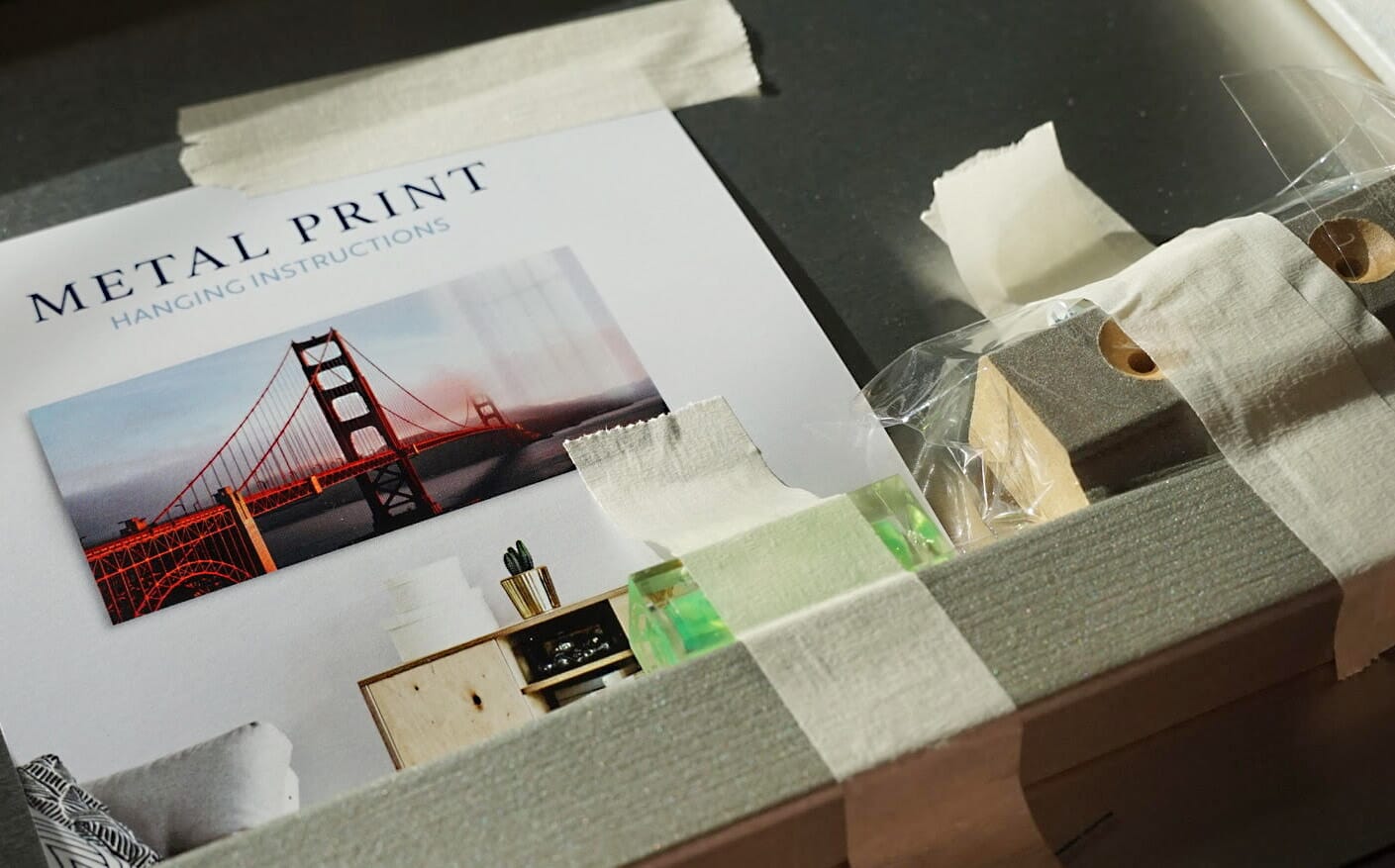 As a matter of fact, Printique went above and beyond in this instance. Taped to the back of my print, I found a small arsenal of supplies to get started mounting. For those used to little more than an assortment of screws and a bracket, this comes as a pleasant surprise.
I was especially impressed with the simple step-by-step instructions, complete with photo illustrations. I was also gifted a small level to help with getting my shot balanced perfectly.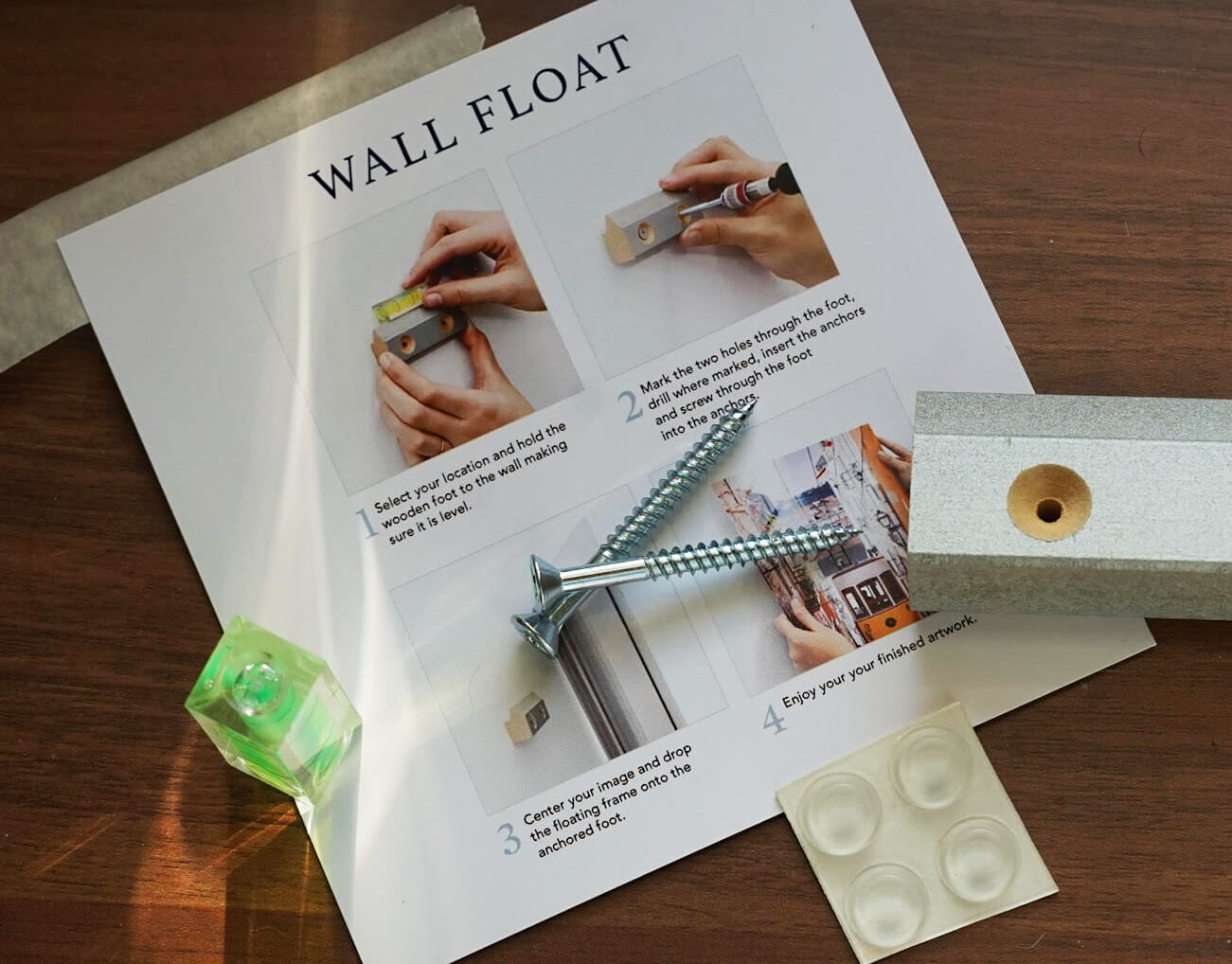 Individually, these gestures may not seem like much. However, the combined effort that Printique puts into its products is exceptionally thoughtful. Fast delivery and simple freebies show how much they care about what they're doing.
Print Quality
Now, on to the print itself. In a few words, it was beautiful.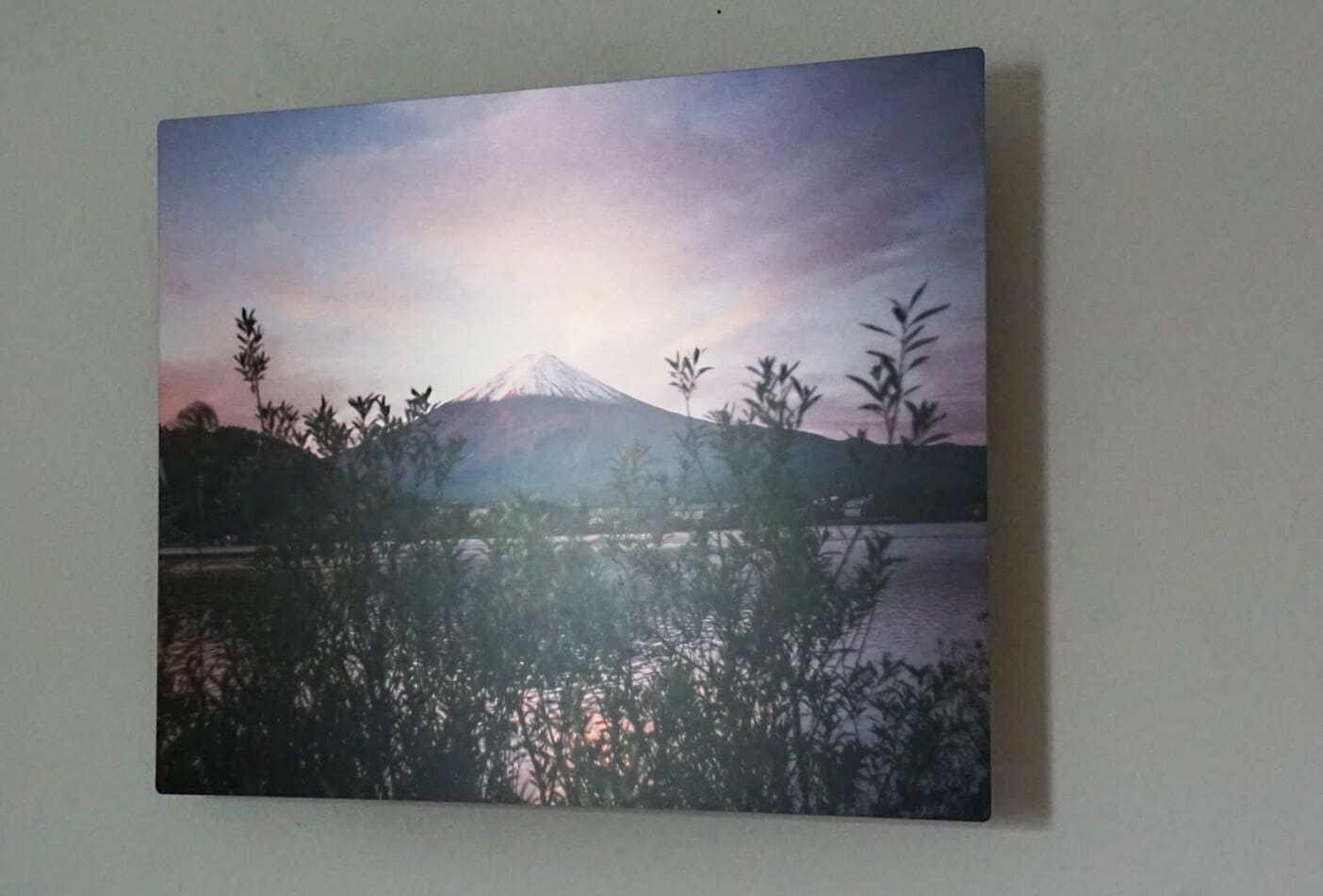 The silver satin finish was unlike anything you might find from a paper, acrylic, or other specialty print. The brushed metal had a more subdued shine to it than some of the glossier options out there. However, the silver highlights and melding of pinks and blues provided a whole new artistic dimension.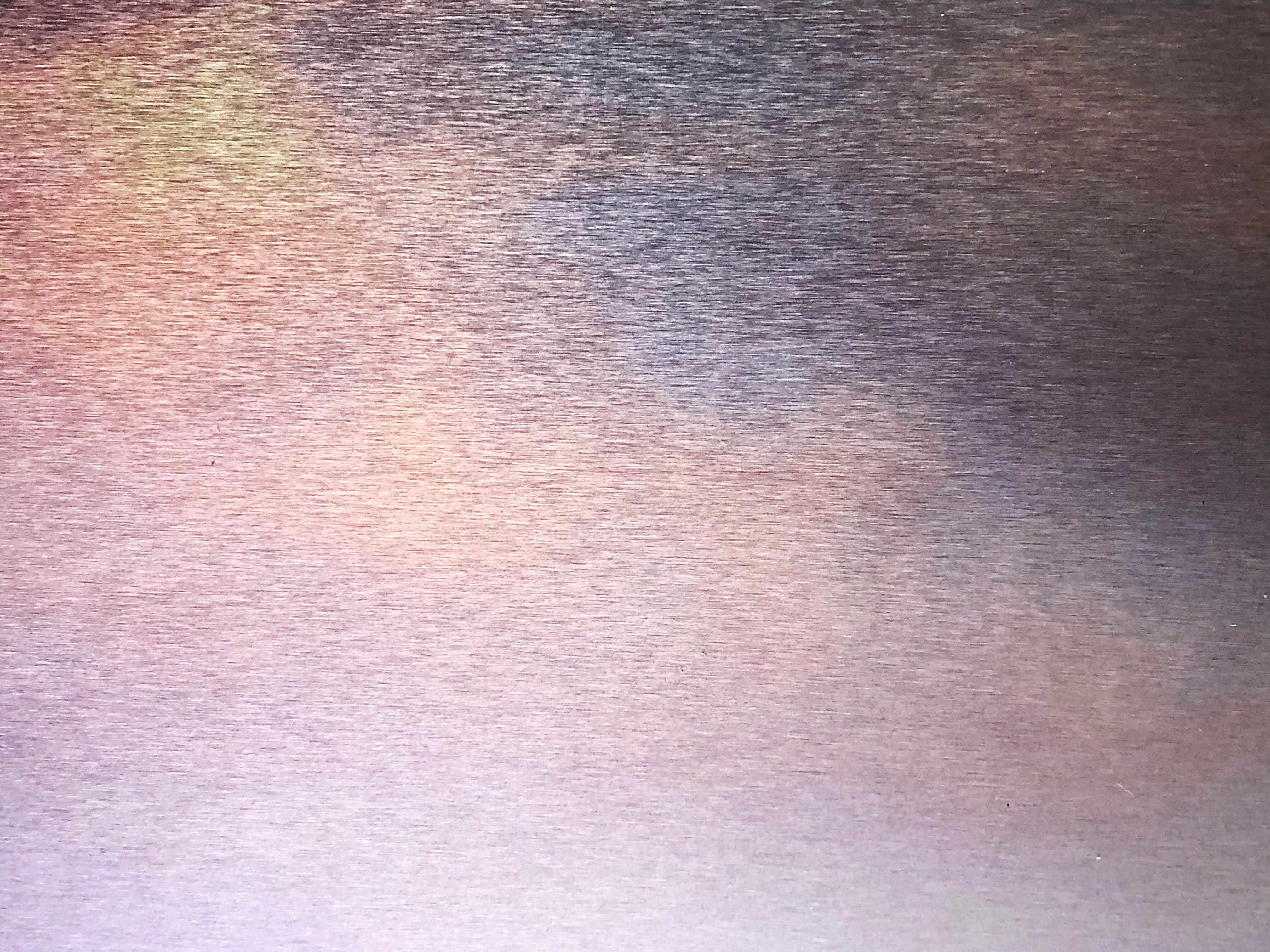 The sunrise I chose to print complemented the metal medium well. The lack of glare, soft reflections, and melding colors was reminiscent of the actual sky over Mt. Fuji and kept every detail in focus.
One unique aspect of the Printique metal print is its tone and color shifts depending on the way light hits. Depending on the time of day and the area in which you mount, the look of your photo may change dramatically.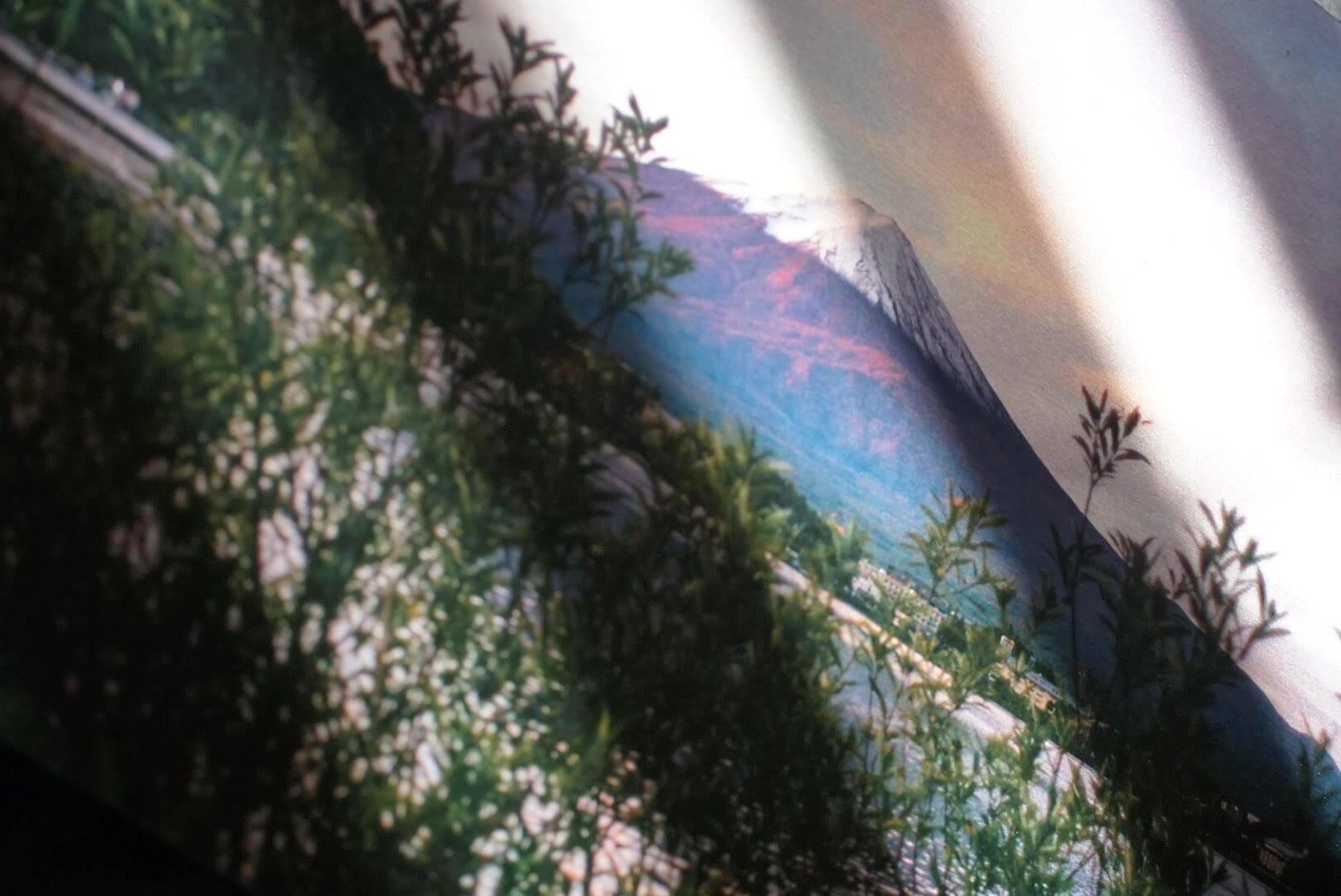 One thing to keep in mind is that the print may not seem as sharp as it does on file. It's not that Printique loses any detail in the print process. Rather, the brushed metal highlights and textures can make it hard to spot fine details. That said, the artistry of the Printique metal print makes it easy to overlook this potential technical "flaw".

Our Takeaway
With Printique, a little can take you a long way. Though my piece measured only 11×14″, the print I received made my photograph look mesmerizing. Better yet, at just under $60 total, the metal print was a fraction of the price some top competitors charge.
On top of looking great, Printique's care for customer satisfaction was evident through every step of the process. From impressive styling selections to illustrated instructions to fast shipping, they went above and beyond.
Thanks to their clean, efficient web design, placing an order was easy yet comprehensive. The delivered piece met my specified requests and far surpassed my expectations. While it's not a perfect print, it's pretty darn close.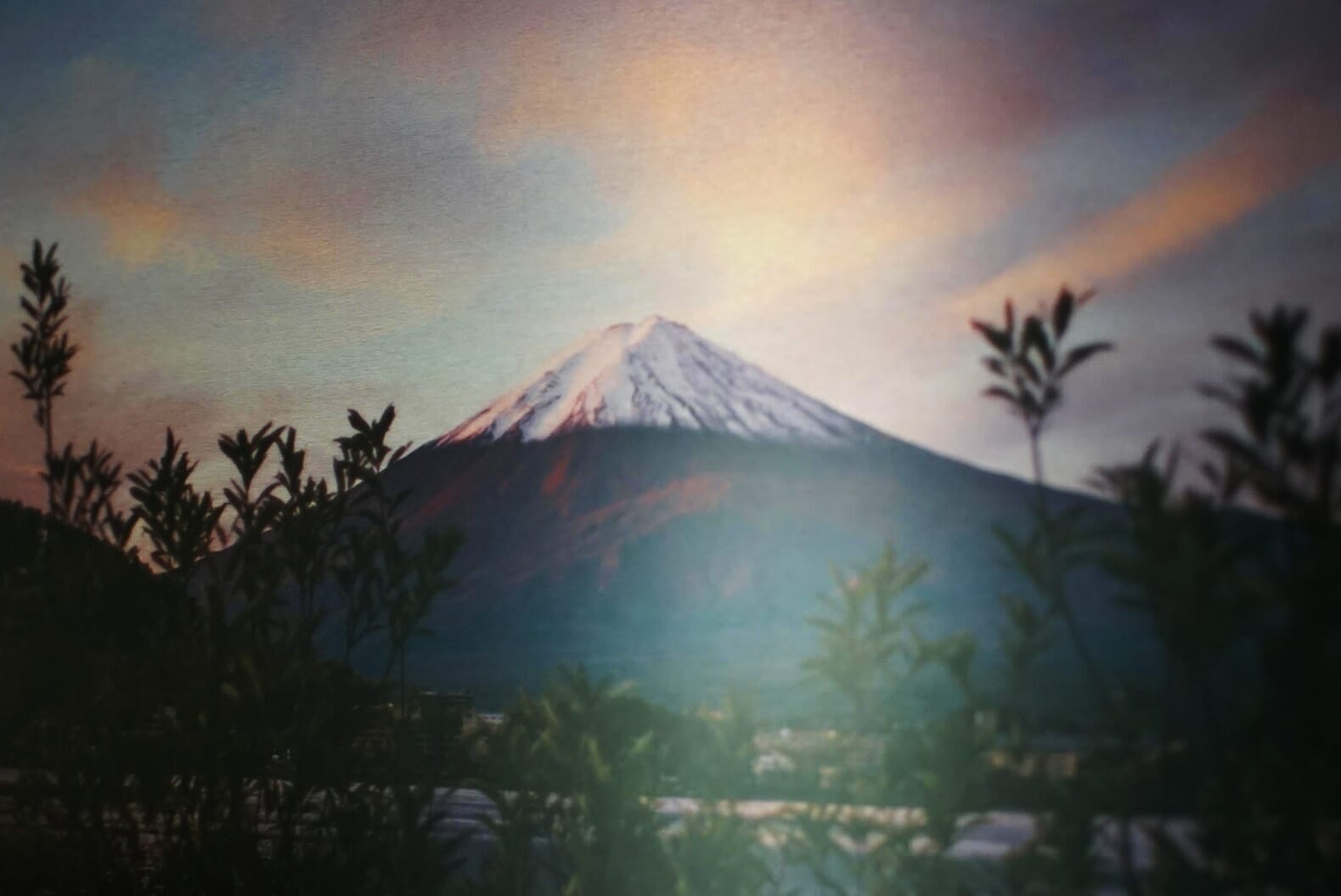 Based on this experience, I can confidently say that Printique's metal print is on par with top services that we've applauded in the past. The Printique metal print is a safe bet that won't leave you high and dry. If you're looking for a piece that brings magic to your photos, we can't recommend this service enough!
Printique Metal Print Review Summary
Product Description: Printique metal prints come in four fabrication options: glossy white, glossy silver, white satin or silver satin. The metal is water-resistant, durable, and easy to clean.
Ordering and Delivery: 5/5
Print Options: 5/5
Image Quality: 5/5
Costs: 4.5/5
Overall Printique Metal Prints Review Score: 4.9 out of 5
The Printique Metal Print is absolutely stunning, but its good looks aren't the only thing to love. As per usual, Printique goes out of its way to offer its customers quick deliveries and plenty of pristine presentation options. What's more, they don't charge an arm and a leg for prints. If you're curious about what metal printing can offer your photographs, an order from Printique is an excellent, low-risk investment.
---
Printique Paper and Framed Print Review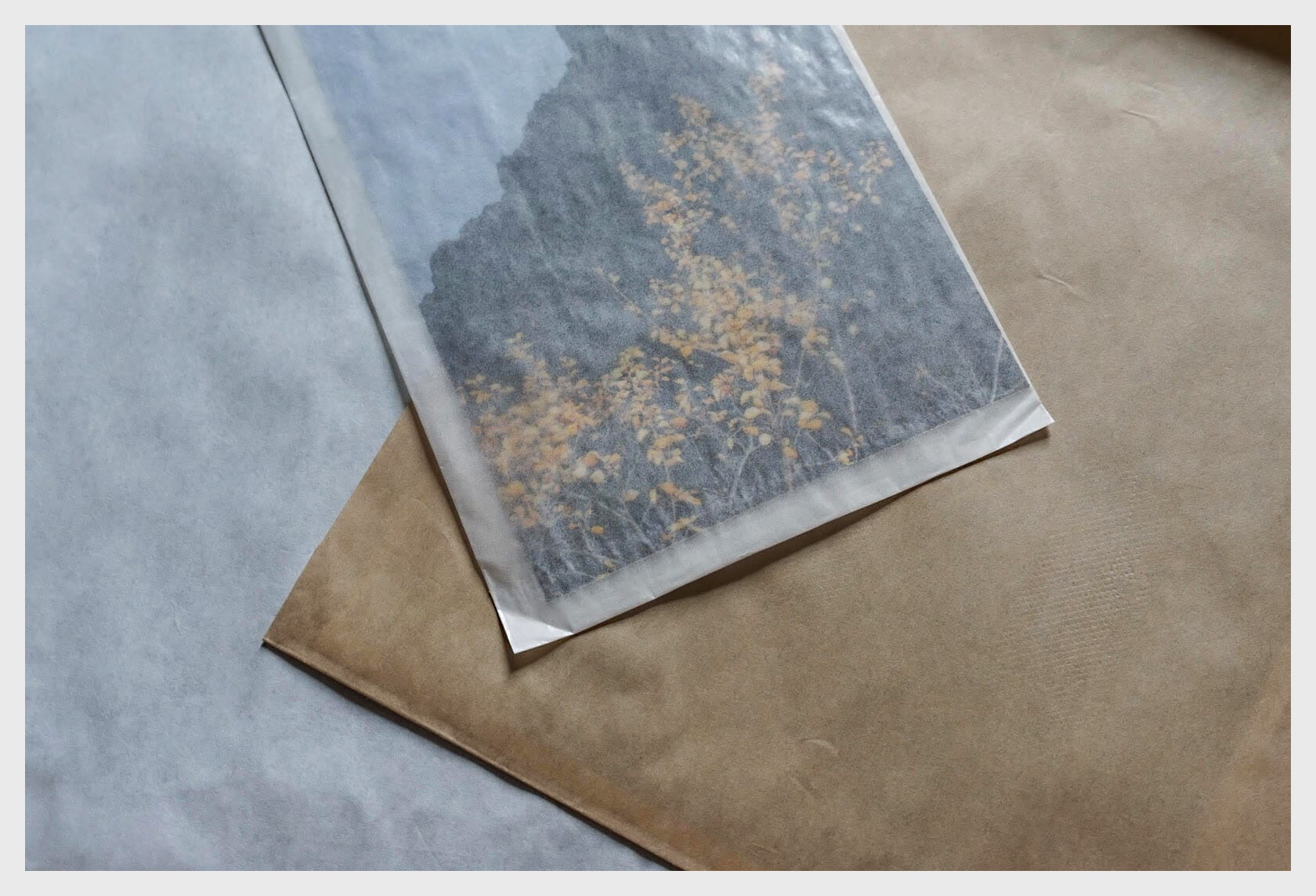 Want to get more out of your wall art? Not impressed with the prints you're getting from the most popular print houses? If these statements ring true, it may be time to check out Printique.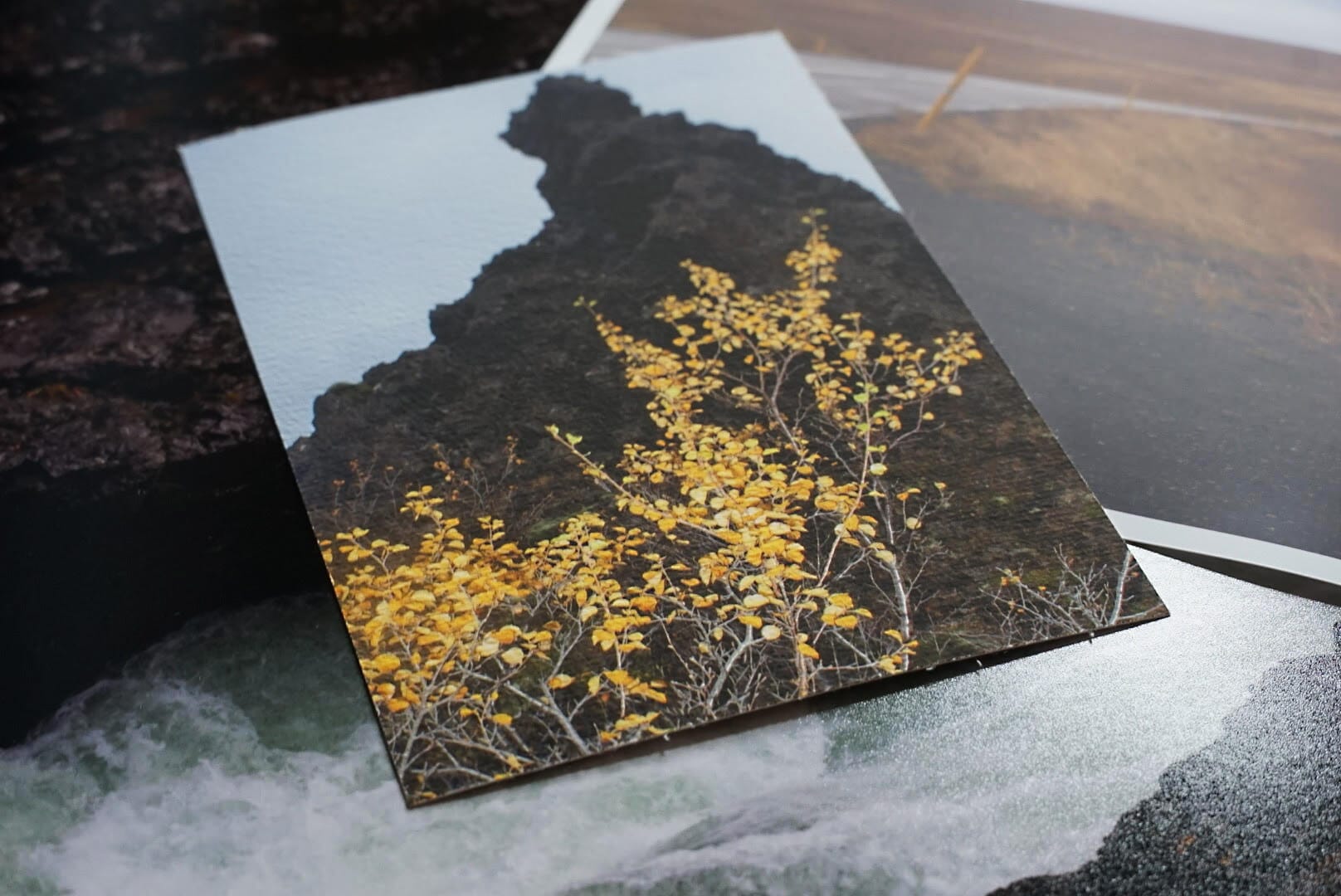 Placing an Order
At a glance, ordering a standard-size photo print may seem pretty straightforward. However, Printique's customization options can make your decision-making process a bit more complicated. Not that we're necessarily complaining. In fact, the wide selection of products is one of the site's greatest assets.
When logging on for the first time, the first choice to make is the print size that's right for you. It's possible to get prints as small as 3.5″x5″, or as large as 12″x36″. Unfortunately, large-format image options are a bit limited. That said, there are plenty of options between Printique's two extremes for customers to choose from.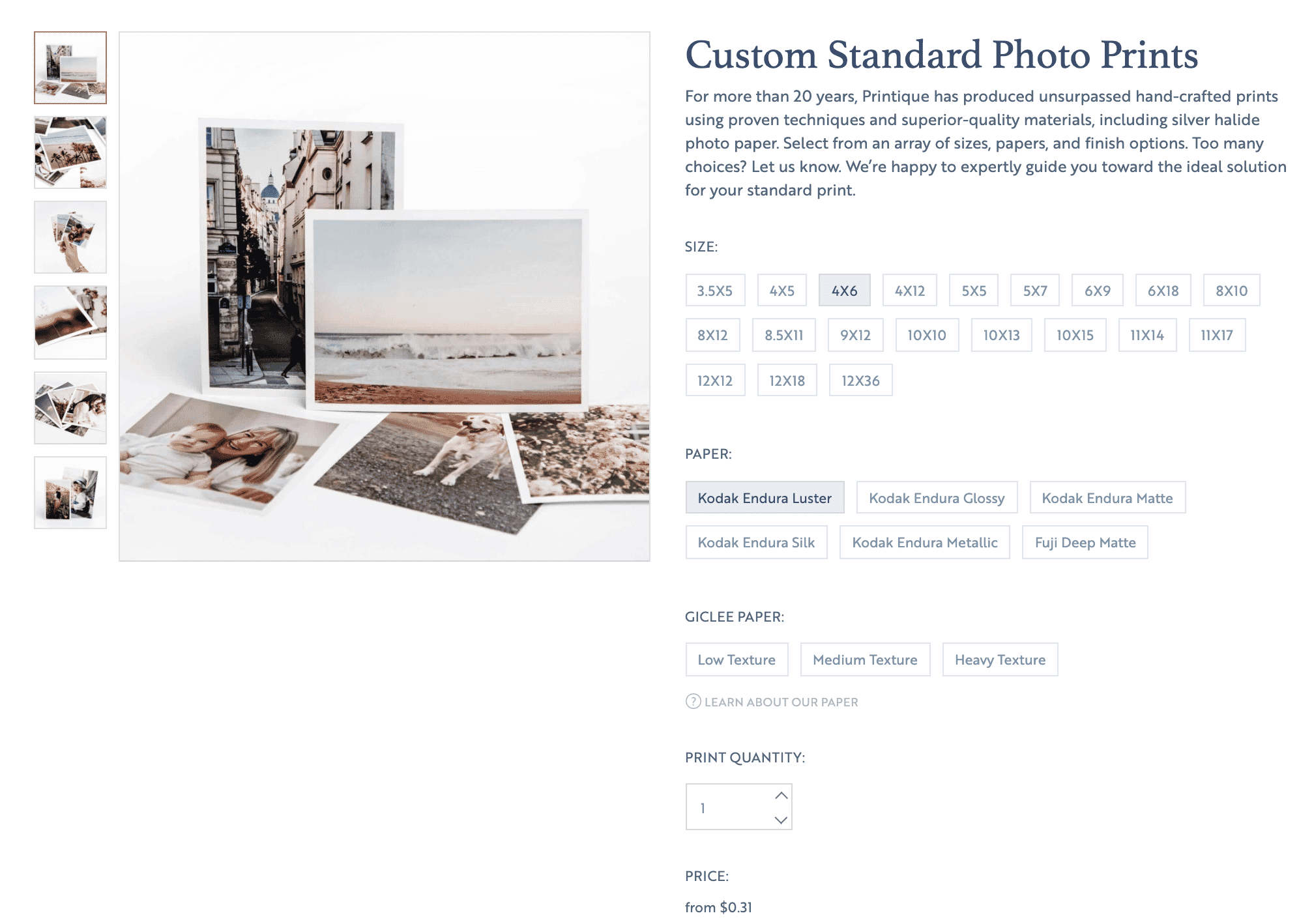 One aspect setting Printique apart from the competition is a relatively large selection of printing paper. For many, the variety may come as a pleasant surprise, as many providers only offer generic matte, luster, or glossy options. Printique, on the other hand, goes through the trouble of providing thorough descriptions of each paper. This gesture makes planning and customizing a presentation so much easier.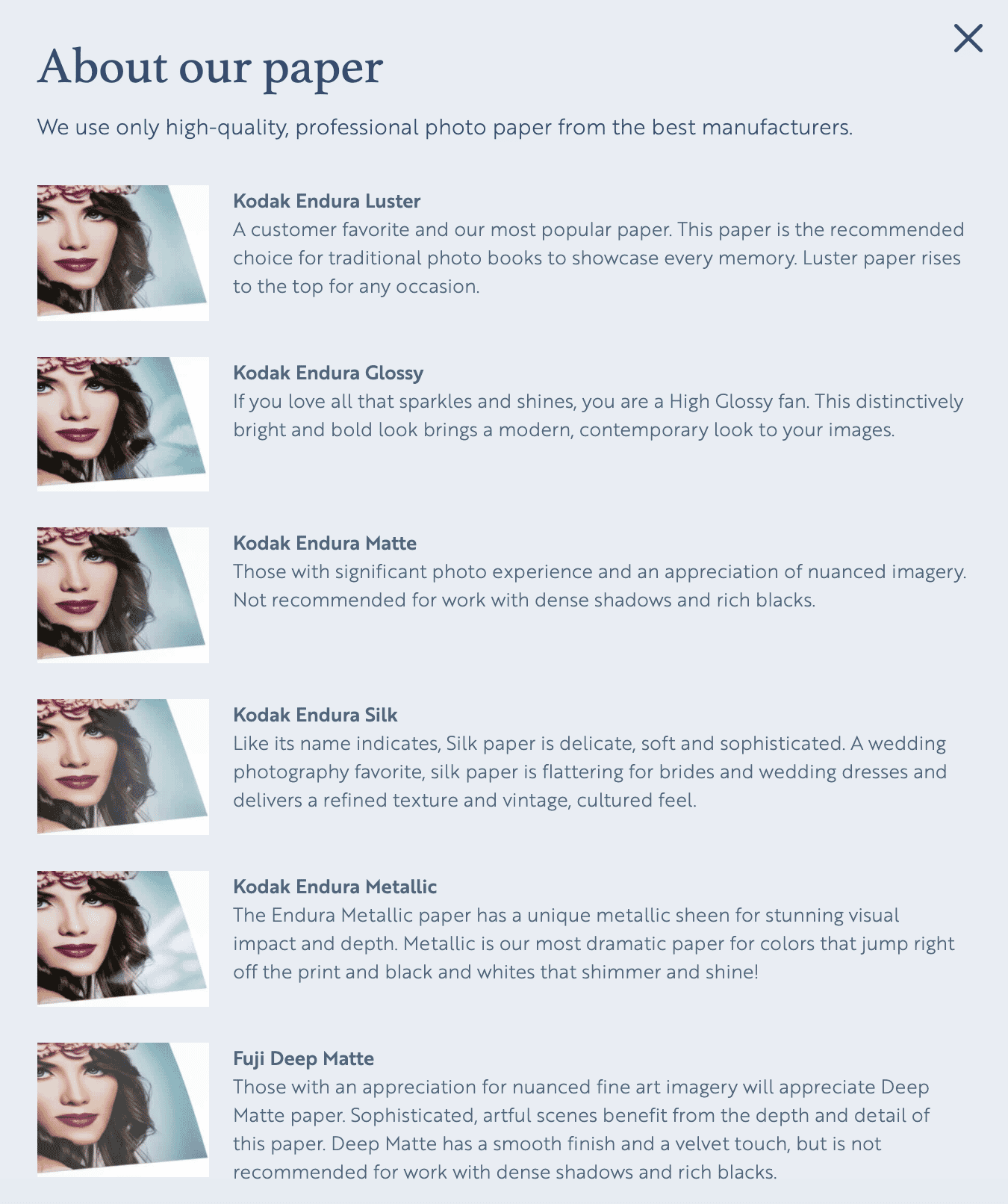 Next, you'll find a preview page that allows you to adjust your photograph within the requested aspect ratio. Should you find that important areas of your image are being cut out, you can instantly change and preview different print sizes. The preview module also allows you to add filters and check photo file quality. Once you've tweaked your file to perfection, Printique takes care of the rest.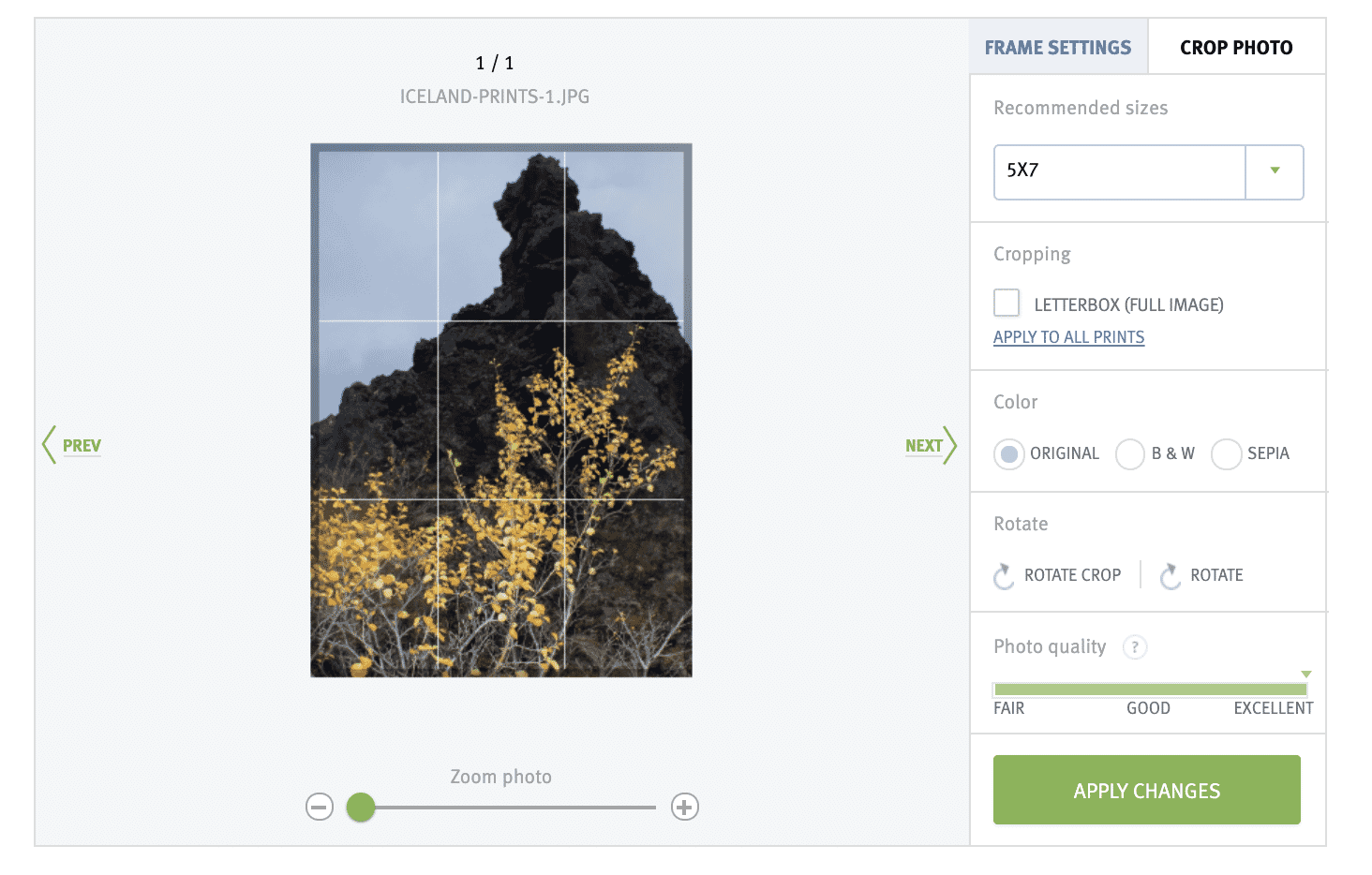 For an additional cost, you can add a frame and custom matte to your print order. You'll be able to view these potential presentation options within the Preview module. Complete with a convenient live price estimate on hand, this tool makes it easy to plan the look and cost of your finished photograph.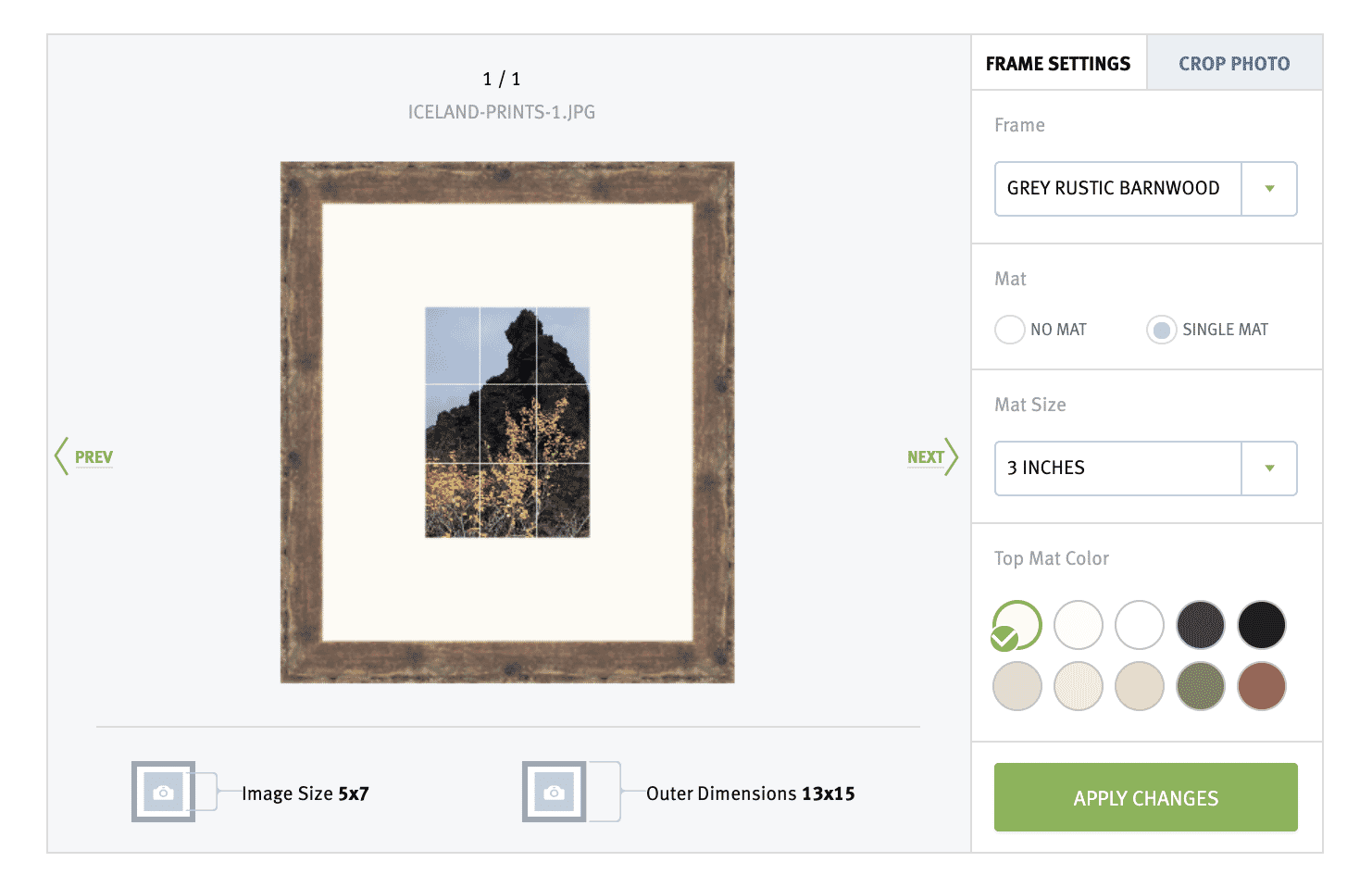 If you plan to order more than one image, you've got two options to choose between. If you're looking for a uniform appearance across all of your prints, you can apply the same size and paper style to all of your images. But if you'd like to experiment with different types of prints, you can use drop-down menus to adjust each individual image. If you want to order multiple copies of the same print, you can easily adjust the quantity of each print directly in the shopping cart.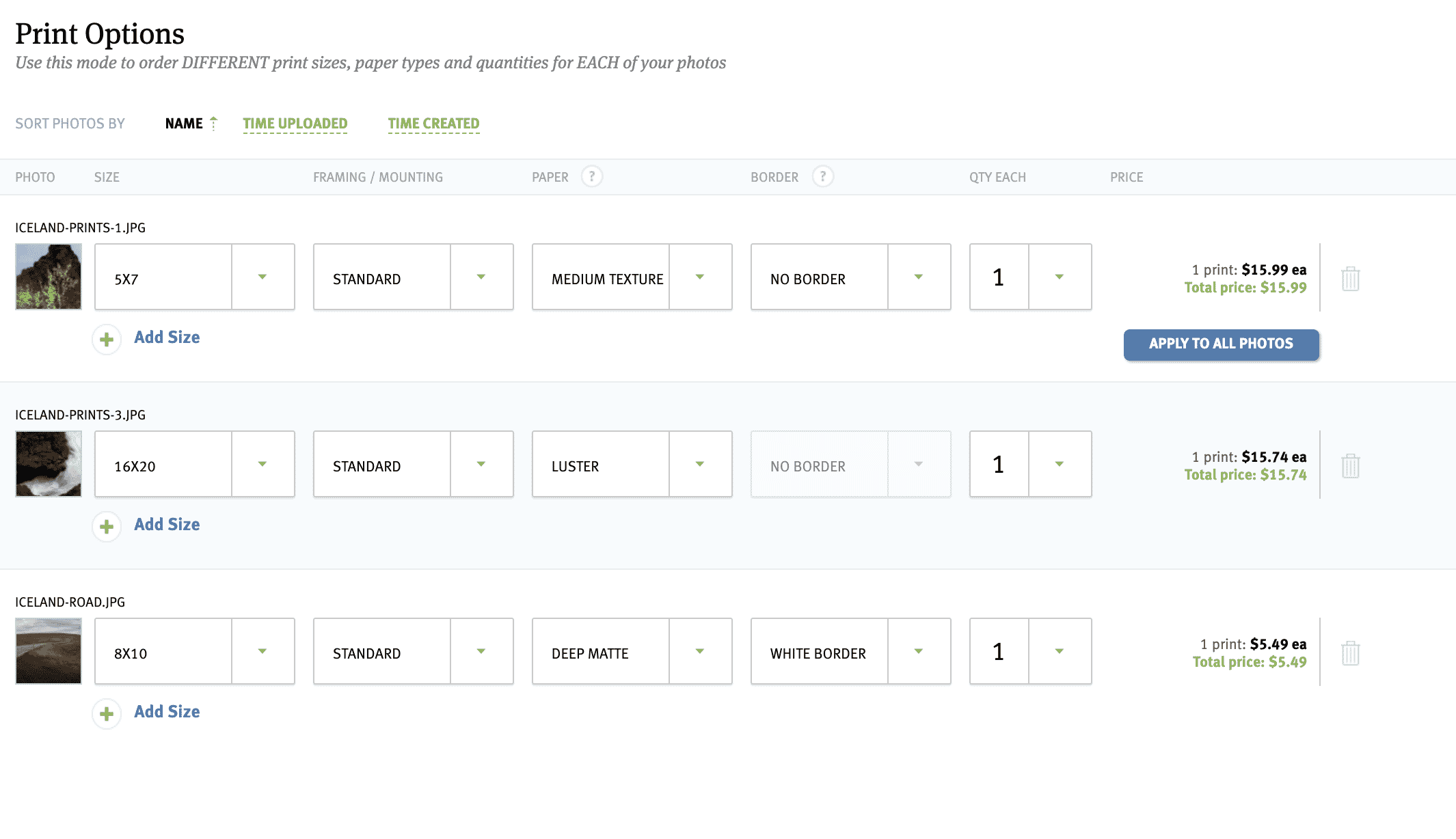 Delivery Process
Printique's delivery absolutely blew me out of the water. Within two days of placing my order, the prints arrived at my doorstep, without purchasing any additional rush shipping.
Related: Fastest Photo Printing Services in the US (Ranked)
Granted, Printique's Brooklyn, NY headquarters is just a few states away from my home – those ordering from other states or countries may experience slower delivery times. That being said, the unprecedented speed tells me that Printique fulfills orders quickly and efficiently.
One important thing customers should keep in mind: orders made up of multiple prints may not arrive all at once (especially if you're working with different sizes and materials). In my case, the giclee print I made arrived several days before my matte and luster prints. If you're on a time crunch, it may be worth purchasing rush shipping as a precaution despite fast standard delivery times.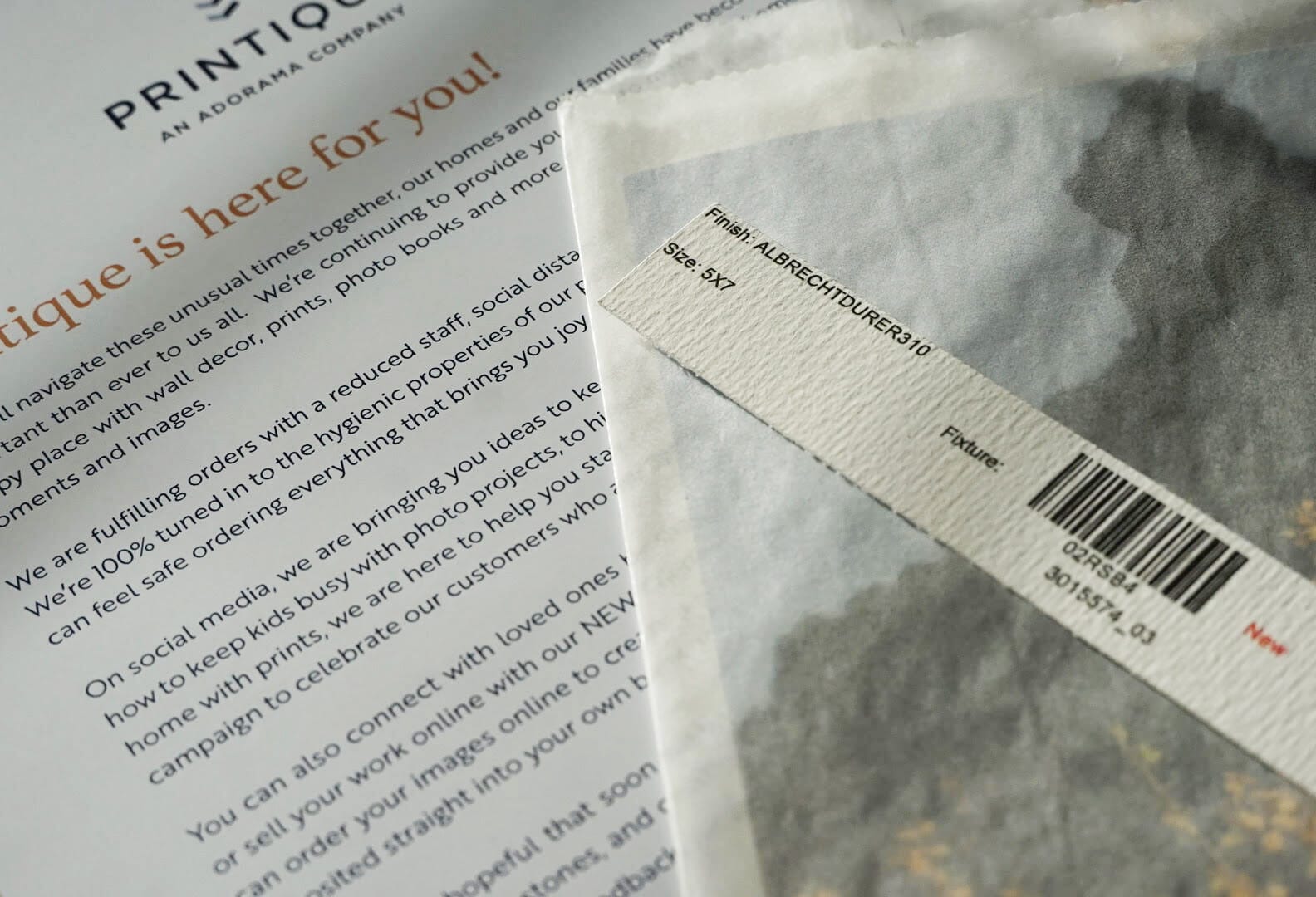 Despite arriving separately, each of my prints was thoroughly packaged with care. Every Printique paper print arrives in its own envelope to minimize scratches. On top of that, envelopes are either fixed to or sandwiched between sturdy cardboard inserts. This massively reduces the risk of bends and folds in transit.
If you're used to ordering from the likes of Snapfish, Shutterfly, or Walgreens, this attention to detail may come as a pleasant surprise. With thin cardboard envelopes being the standard for many, the measures Printique goes through to protect prints are impressive.
So, when the wrappings are torn away, do the prints live up to their glowing first impression? We took a look at three final products, each with its own unique attributes.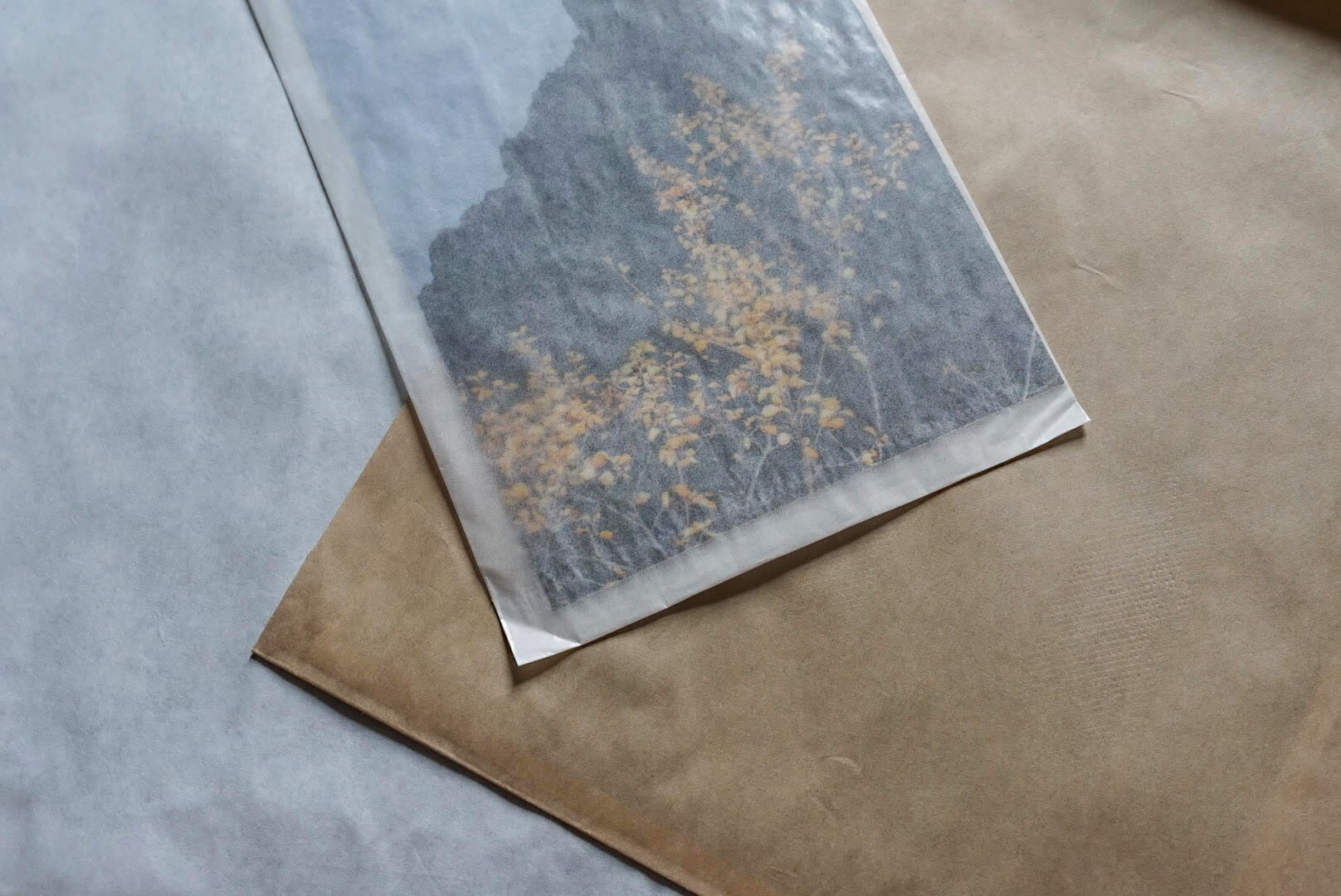 Printique Paper Print 1: 11×14″ on Kodak Luster
I'll admit the fast delivery, easy ordering, and effective packaging left me with some high expectations before I even saw the prints. Thankfully, Printique did not let me down.
In order to get the full scope of Printique's performance and capabilities, I placed three orders. To my surprise, my largest print also proved to be the least expensive of the bunch. This likely has to do with the fact I opted for Kodak Luster, which isn't the most exciting paper choice. Nevertheless, it provided excellent results without costing me too much.
As it turns out, Kodak Luster features a great balance of glossy and matte characteristics. I was very happy with the tones and colors of my print in particular. And, while the photo does have a nice sheen to it, the paper's slightly "stippled" surface kept reflections from becoming a distraction.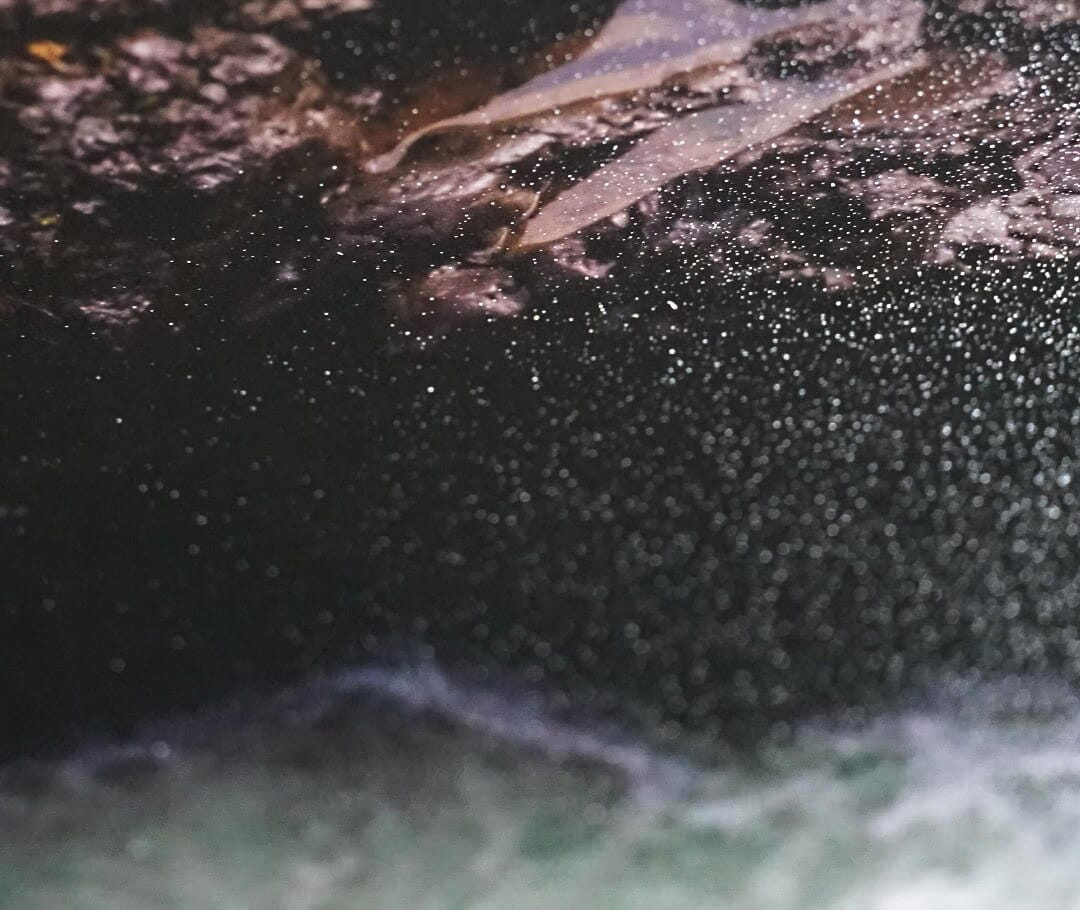 I will say that the luster print felt the most fragile. The paper itself was thin, making it more prone to damage. Though 11×14″ isn't particularly large, I could have easily kinked the print had I not handled it carefully with both hands. But, so long as you house the print in a frame, it should stay safe from bends, tears, and scratches over time.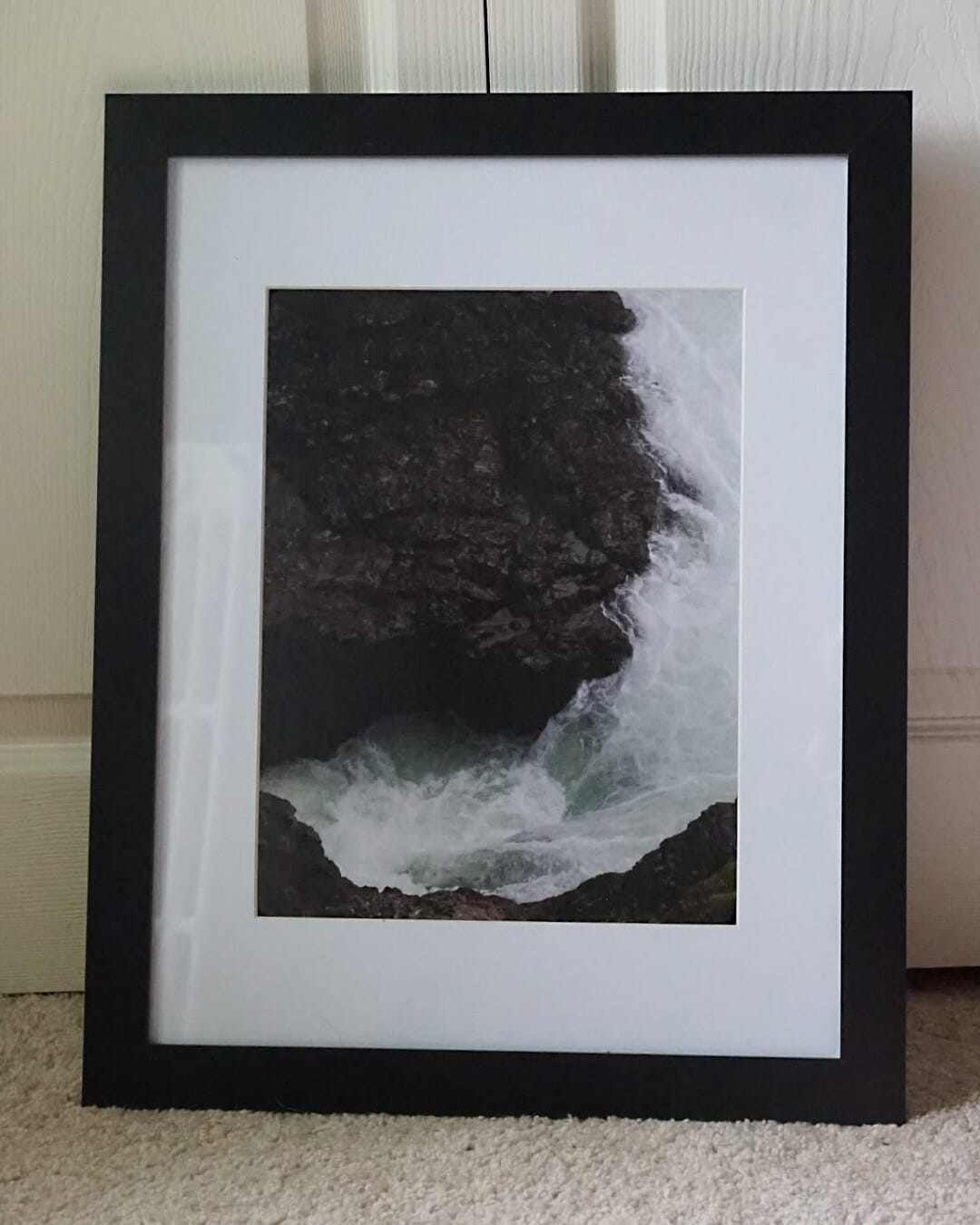 Printique Paper Print 2: 8×10″ on Fuji Deep Matte
Next, I gave one of Printique's matte options a try. Matte prints often cost more than their glossy and luster counterparts, and the Fuji Deep Matte purchase I made was no exception. In fact, it was the priciest of Printique's "standard" print options. Quite frankly, I don't think it did much to improve the look of my photograph.
Throughout the image, I found that the tones fell flat (however, I do feel that this would have been less evident had I not chosen a shot taken on an overcast day). After seeing my luster results, I expected something a bit more dynamic. While Fuji Deep Matte likely compliments shots already filled with contrast, I learned the hard way that it's not a surefire, "safe" option.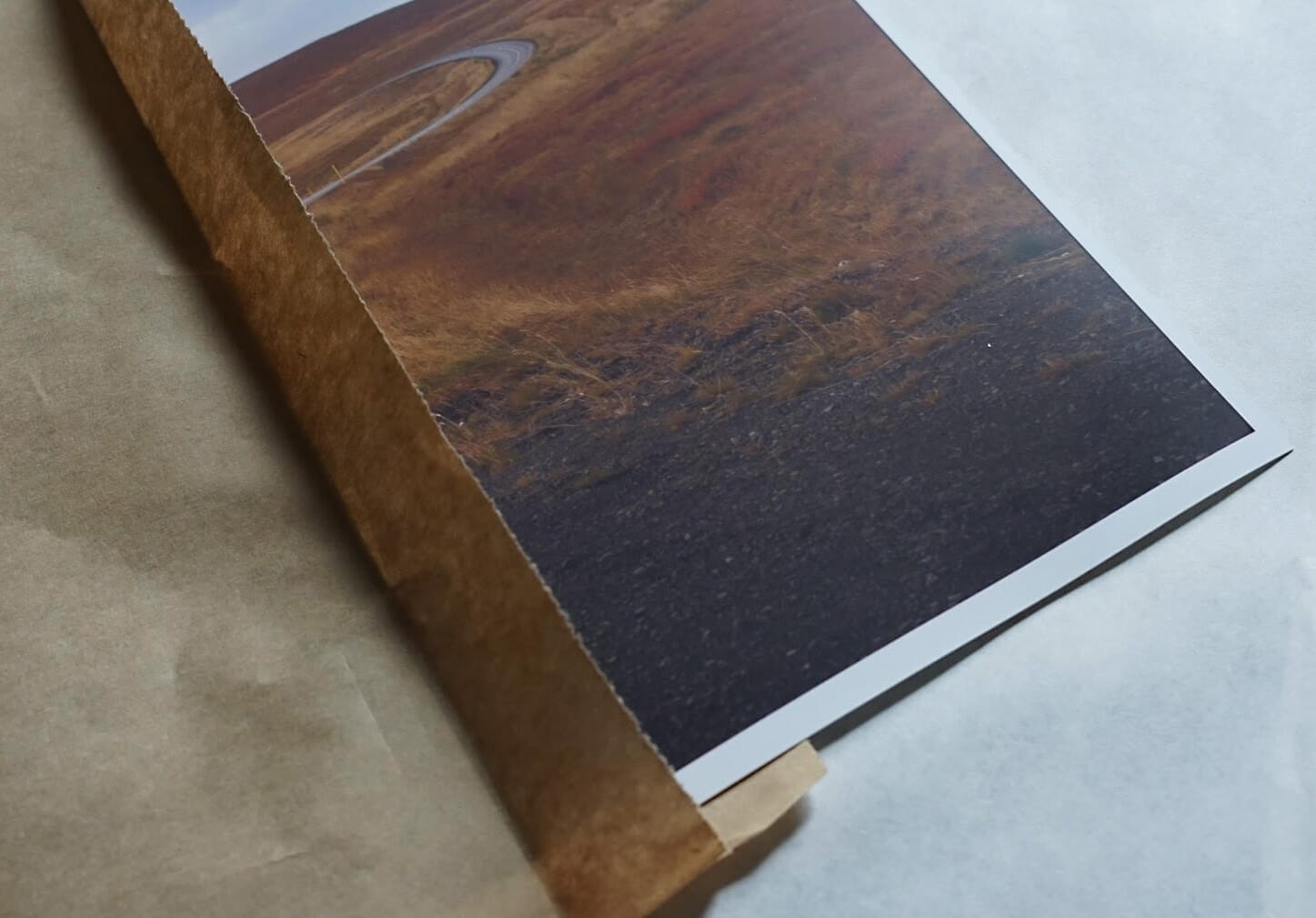 One thing that set my matte print from the rest was the addition of a white border rather than a simple full bleed. In the preview, the negative space looked great. To my disappointment, the actual border was rather thin and noticeably uneven.
On one hand, this flaw is difficult to spot on framed prints. But, considering that Printique had gone above and beyond in preparation and delivery, it was disheartening to see them fall short on the actual execution.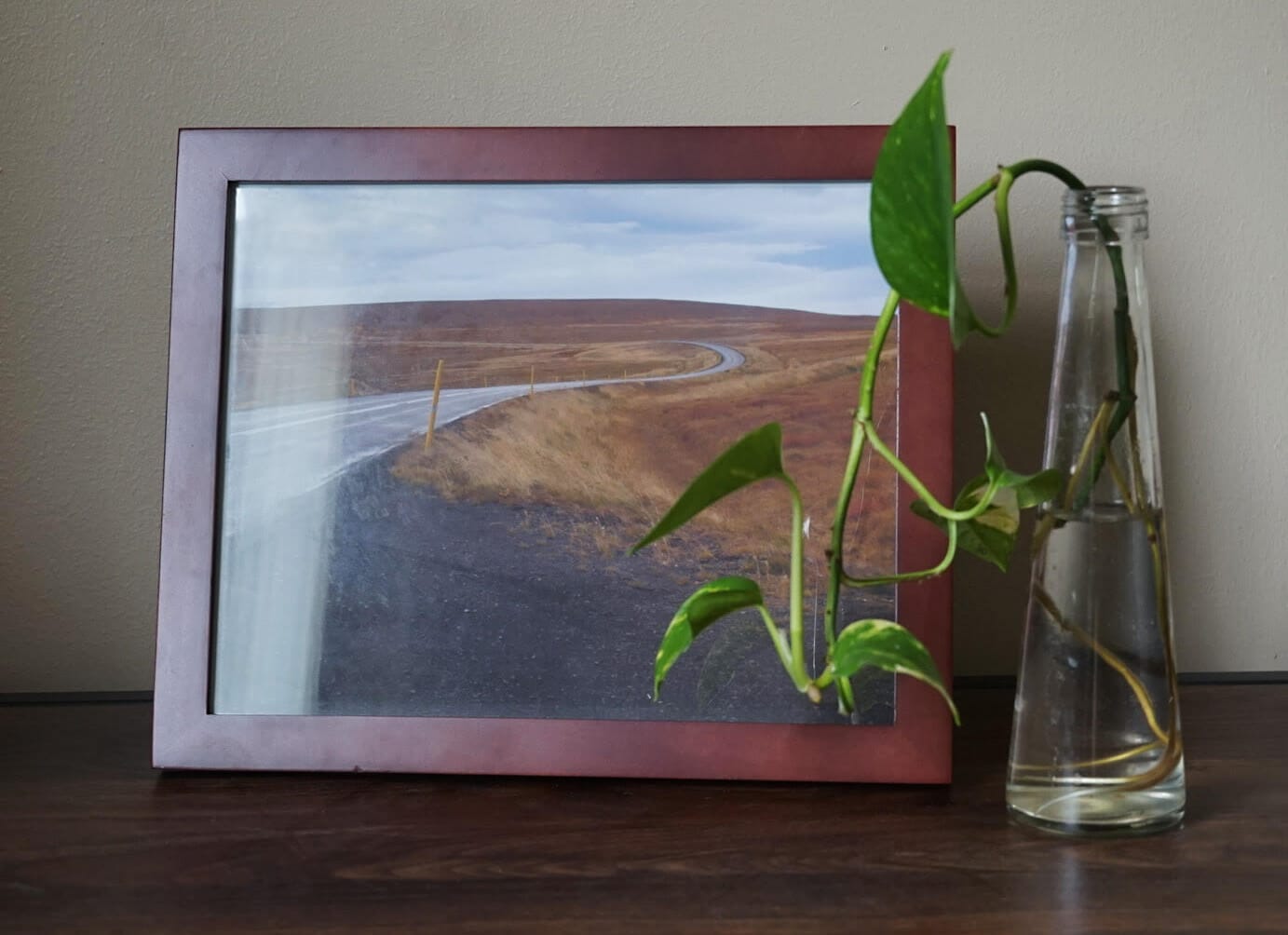 Gripes aside, there were some positive takeaways from the matte print. For instance, the smooth surface of the paper renders image detail well, rivaling the clarity of a glossy or luster print. At the same time, it doesn't pick up any hint of reflection, making it an excellent, attractive candidate for display.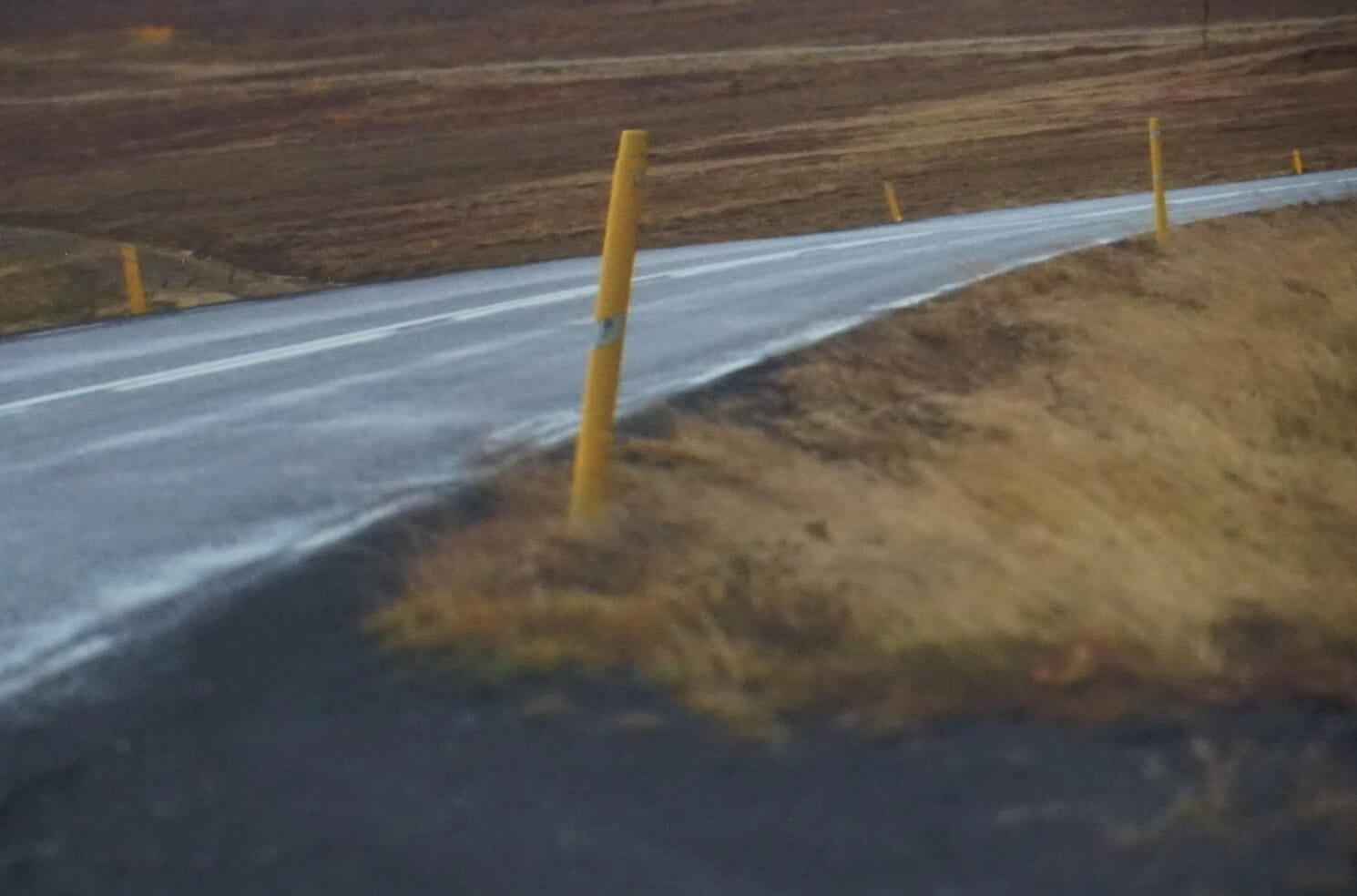 Printique Paper Print 3: 5×7″ on Giclee Fine Art (Medium Texture)
Out of the bunch, I was most satisfied with my Giclee Fine Art print. It was significantly more expensive than the previous two prints. However, the end product was well worth the extra cost.
Unlike the ultra-smooth Fuji Deep Matte, texture is one of the defining traits of Printique's Giclee print. It's not overpowering enough to distract from the image. That said, it certainly adds an artistic feel that wasn't present in the other test prints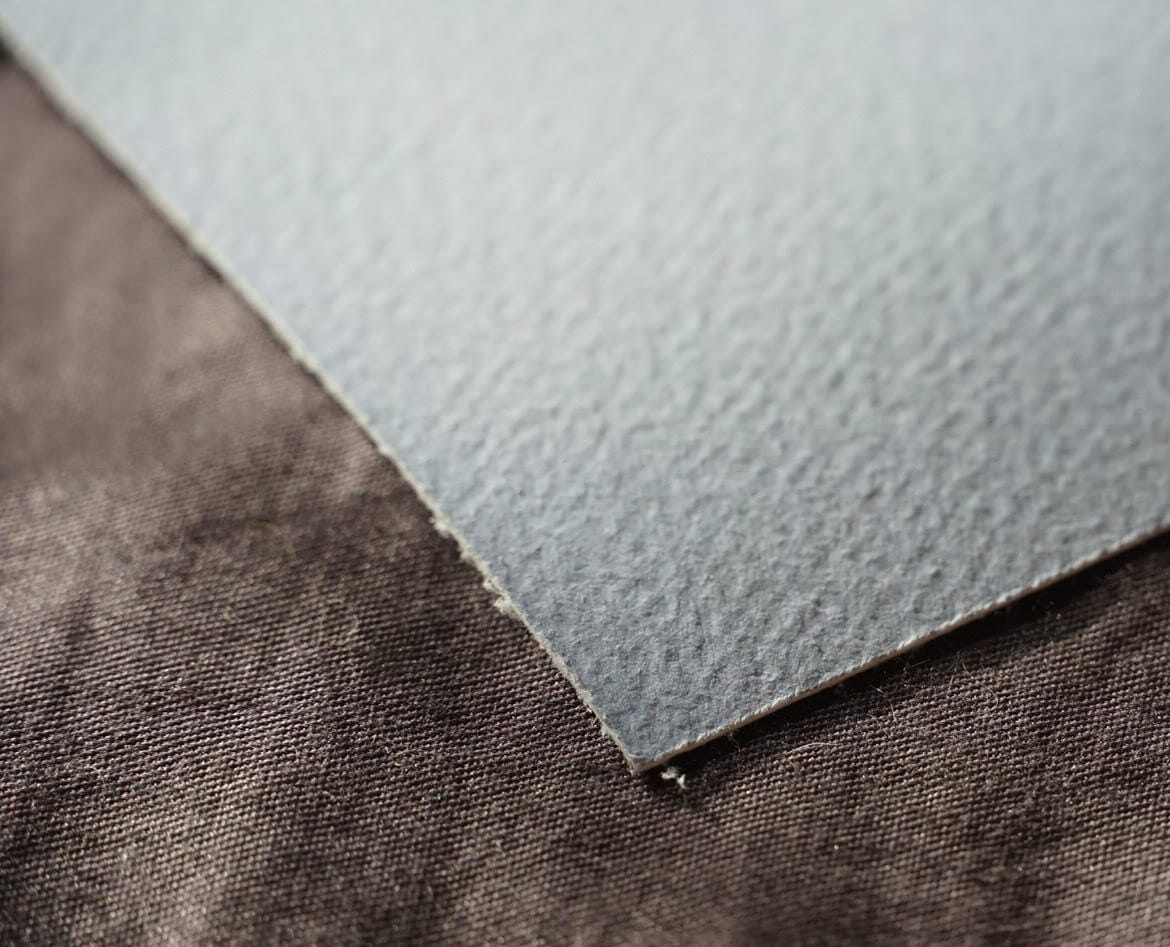 The slightly "ragged" look of this paper may concern some first-time users. But, should you find that your photo's edges aren't as clean-cut as you're accustomed to, it's not necessarily a botched job. Rather, it's the nature of the paper. Any excess fibers straggling along the sides of your print are easy to brush away.
What really made the Giclee stand out for me, though, was the print's vibrance. The colors and tones it boasts are much richer and deeper than what you'd find in run-of-the-mill matte prints. On top of that, all details are crisp –there's nothing lost in translation during the print process.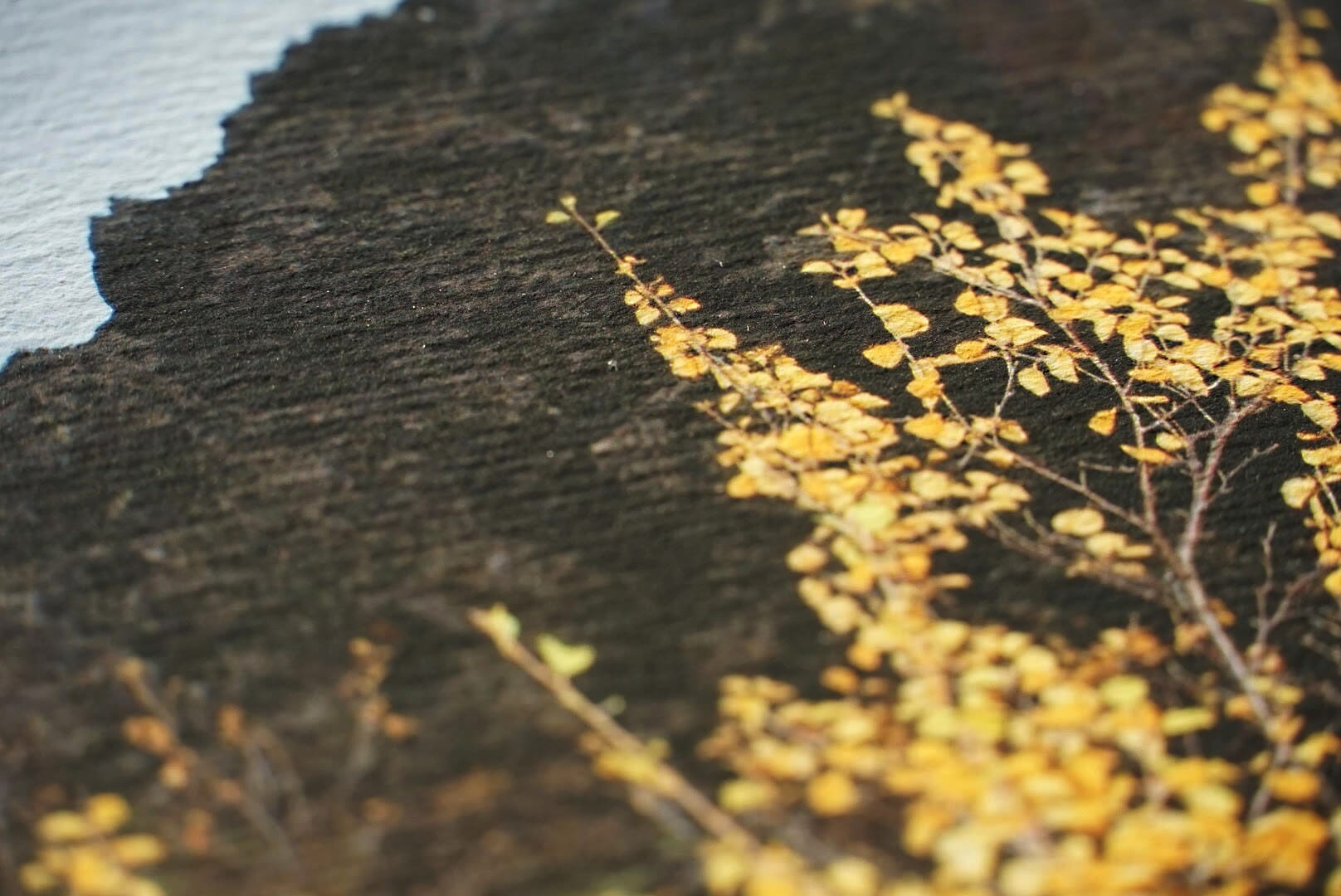 All of these visual aspects combine to make a gorgeous print. Without a doubt, the higher price tag will deter some. That said, there's no denying the quality and care that went into this product.

Our Take on Pritique Paper Prints
Printique's customizable presentation options immediately set it apart from competitors. The quick turnaround was unprecedented – especially considering that I placed this order in the midst of a pandemic! Yet, their efficiency does not come at the sacrifice of quality. All the extra steps they take demonstrate a level of customer care that you usually do not see from an online marketplace.
Unlike some large-scale printers, the folks behind this operation do not treat paper prints as an afterthought. With high-quality materials and Adorama's seal of approval, it's easy to feel confident about a Printique purchase.