Wedding days are some of the happiest of our lives, and most couples go the extra mile to ensure every detail is captured. But what happens to all of those treasured photos after the festivities have ended?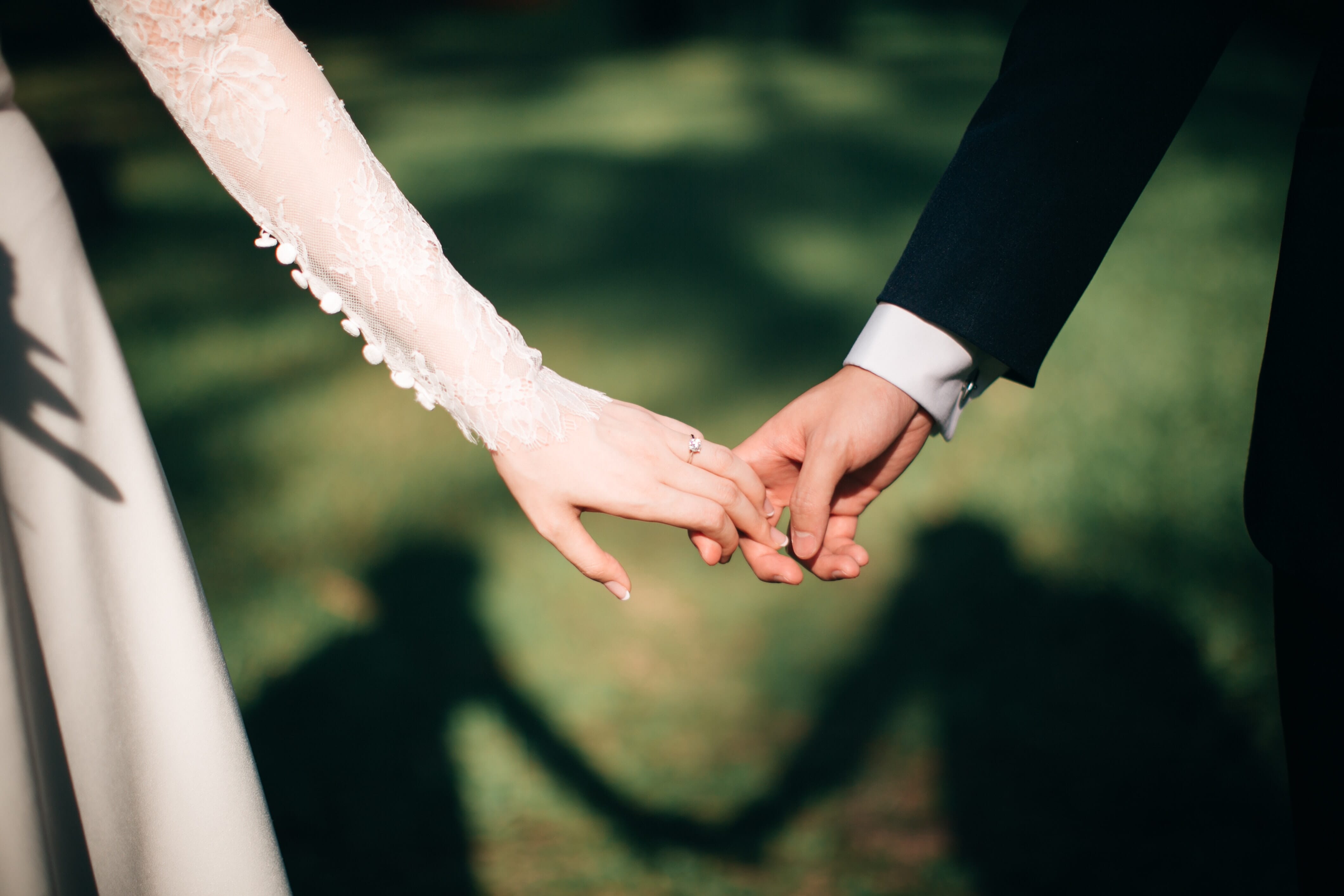 Are your precious moments getting the presentation they deserve? If not, there's a wide range of display options to get those files from your dusty hard drives. We've rounded up ten of our favorite wedding photo ideas in hopes that you'll bring your best memories to life!
Best Ways to Print Wedding Photos:
When you buy through links on our site, we may earn a commission at no cost to you. We evaluate products independently. Commissions do not affect our evaluations.
1. Order an Acrylic Print
Acrylic is often overlooked with all the print options available. But they're particularly well-suited for wedding photos in particular for a few reasons.
For starters, they're made to last. Sandwiched between metal plates and acrylic sheets, it's difficult to damage your photograph. While the surface of your acrylic may collect some small scratches over the years, the photograph maintains its integrity.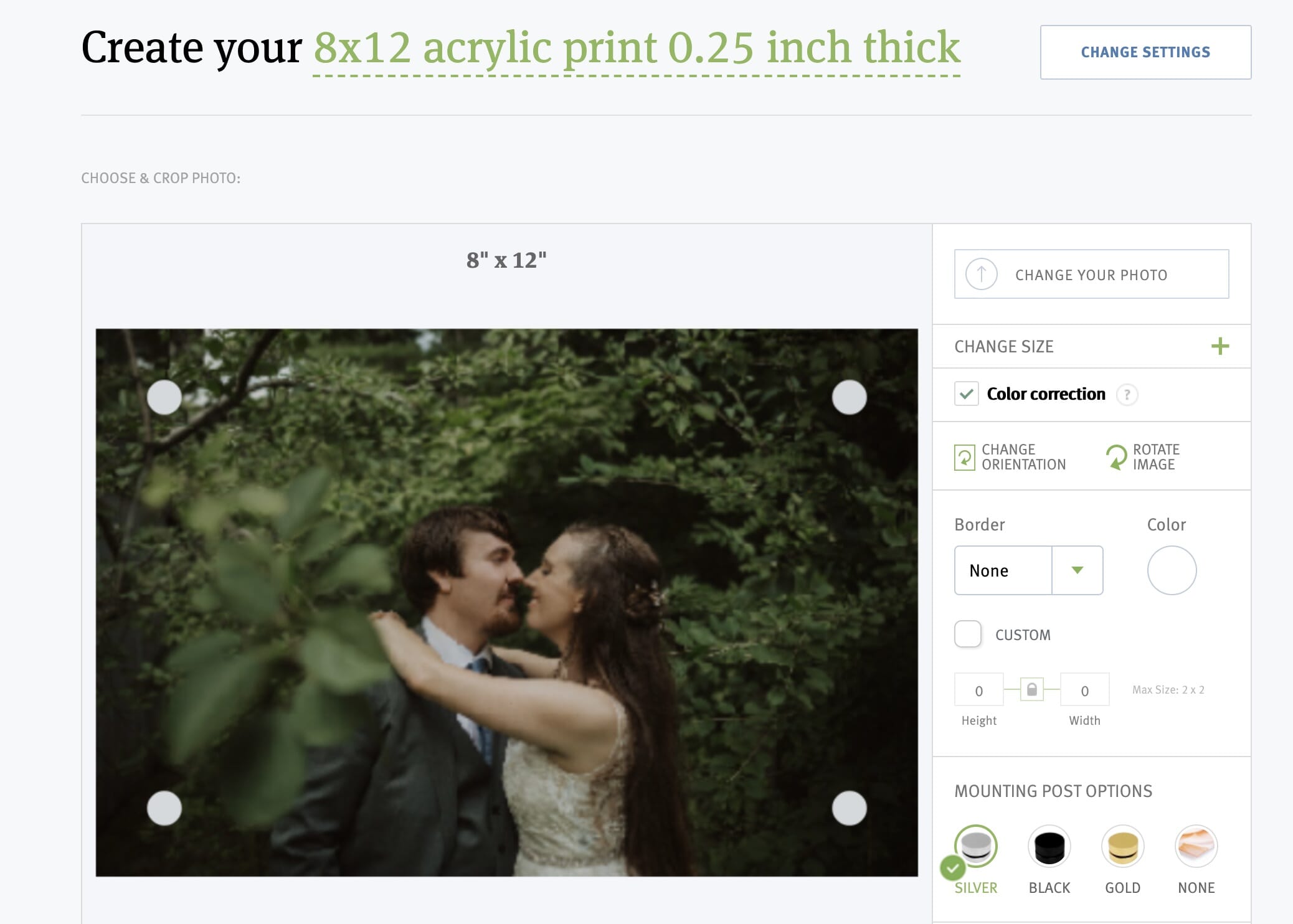 Because of the protective measures in place, the contrast and colors of the photo are better preserved. With a glossy acrylic covering, these prints demand attention. What's more, depending on the width of your acrylic, your piece may be able to stand on its own rather than relegated to a wall.
Realistically, the expense of acrylic prints is a bit restrictive. You likely won't want to purchase this treatment for every one of your images. Nevertheless, acrylic is an excellent way to memorialize that one special moment that you want to look back on often.
Our Print Recommendation: Printique Acrylic Prints
2. Order a Metal Print
In the same vein as acrylic, choosing to print wedding photos on metal is a worthwhile endeavor. Metal has a lot of the same benefits as acrylic, but there are a few differences to take into consideration.

While metal isn't as fragile as a paper print, it doesn't have the same layer of protection to keep out the elements that acrylic offers. There's nothing standing in the way of your photographic surface. For this reason, you'll have to be a little more cautious about accumulating scratches over time.
Related Article: The Pictorem HD Metal Print
On the other hand, there are more artistic options available when making metal prints. The application and material that you use can significantly impact the look of your print. Some techniques yield ultra-saturated, super-contrasty images. Brush applications offer painterly results that show off the material itself.
Unfortunately, one feature metal and acrylic prints share is their price point. While metal prints are gorgeous, show-stopping pieces, large prints are rather expensive. You may not want to fill your house with metal prints, but one or two pieces can make a statement.
Our Print Recommendations for Metal Prints: Printique, Pictorem
3. Create Canvas Diptychs or Triptychs
Are you looking to create a beautiful, bold display without shelling out a small fortune? Ordering a photo canvas or two may, very well, be an appropriate middle ground.
In particular, ordering a multi-panel diptych or triptych is an effective way to show off your wedding. For starters, doing so eliminates the need to invest in one gigantic, unruly piece. Plus, having a few photographs to play off one another often creates more interesting, dynamic displays than one image would do on its own.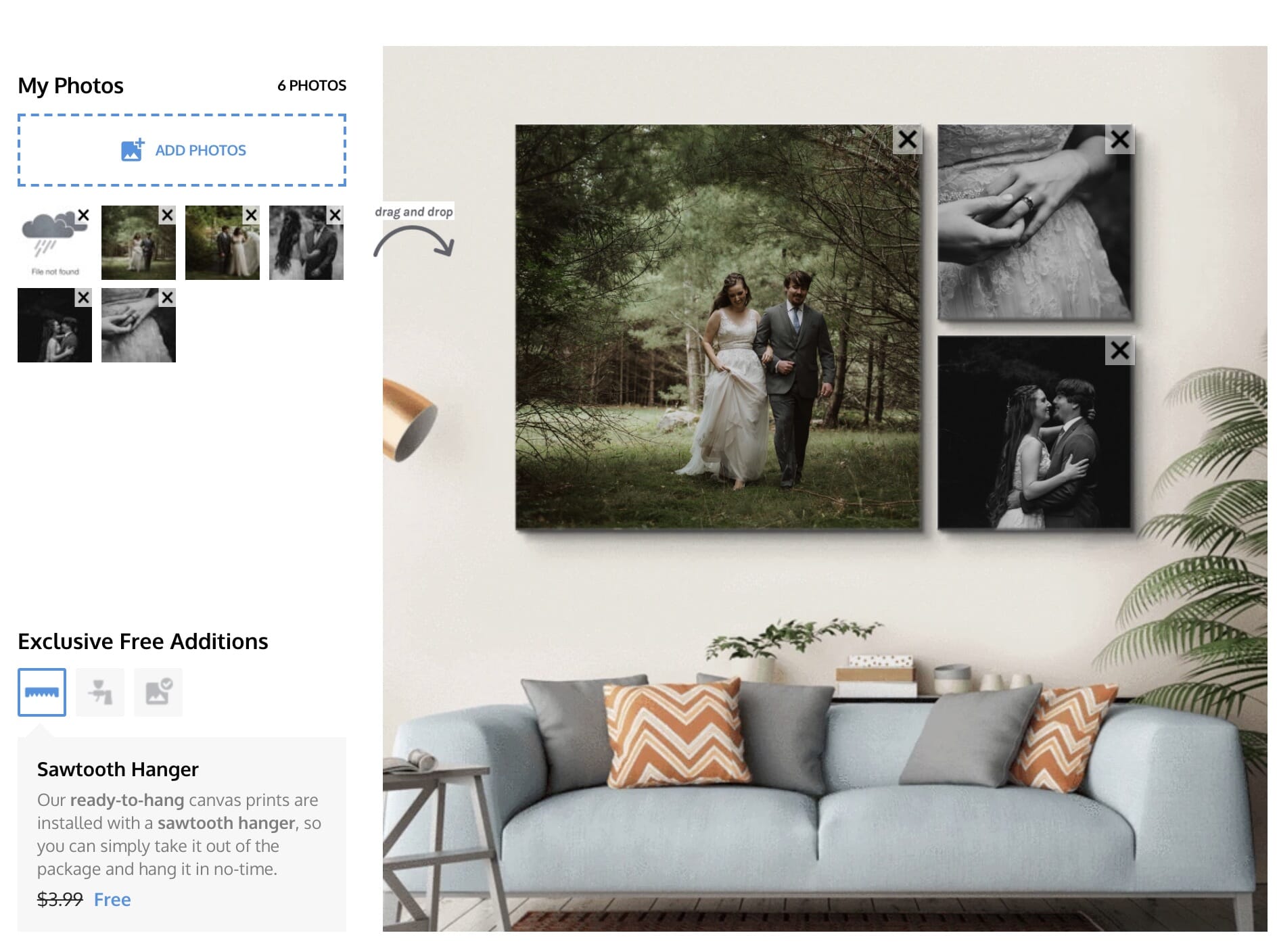 Another advantage of working with canvas over other specialty print materials? There are dozens of online printers to choose from. Whether you're on a budget or looking for specialty treatments, the variety of suppliers means that you're more likely to find a perfect fit.
Our Print Recommendations for Best Canvas Prints:
4. Convert Your Photo to a Painting
Okay, we realize that this option doesn't actually entail any print wedding photos. Even so, commissioning a painting based on a wedding photo is a one-of-a-kind, sentimental way to commemorate your big day.

Related Article: Turn Photos into Paintings
One of the great things about this particular display is that there's no limit to what you can do with your photograph. Depending on your style, you can order anything from stylized minimalist pieces to a photorealistic canvas. The medium you choose further impacts the look of your final piece.
Ordering a painting isn't as much of a surefire thing as a straightforward print. However, seeing how an artist chooses to interpret your favorite photograph is an exciting experience. What's more, these pieces are inherently unique. For a once-in-a-lifetime event, it's certainly a fitting display.
Our Recommendations for Photo to Painting Services: Paint Your Life, Etsy
5. Build Your Own Wedding Album
Professionally made wedding albums have been commonplace for decades. Why not try your hand at making one of your own? With the advances on-demand print presses have made over the years, creating a sleek wedding album of your own isn't unreachable.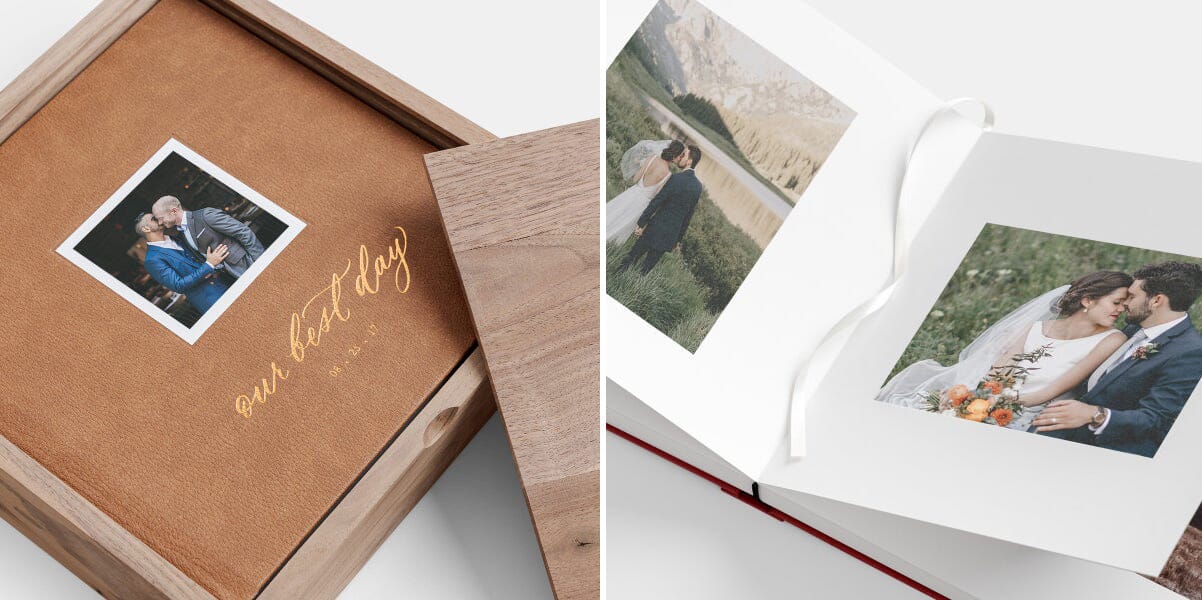 Because most vendors charge by spread count, you may not want to include too many pages in your album design. What's more, the fabric and leather-bound books made with specialty archival papers will cost you a bit more than your average photo book. That said, the results you'll receive are nothing short of professional grade.
Related Article: Saal Photo Book Review
Though the price point isn't ideal, building your own wedding album allows you to get creative. Most sites include intuitive drag-and-drop interfaces to help craft personal projects. Even if you don't want to spend much time thinking about design, some simple full-bleed spreads can be impactful
Our Print Recommendations for Photo Albums
6. Create a Series of Photo Books
If you don't want to invest in one expensive album, there are other solutions out there. Instead, you could break segments of the big day into a series of easily digestible photo books.
Each day, it becomes easier – and more affordable – to make a custom photo book of your own. And, while we mentioned high-cost productions in our last segment, there's a huge pool of less intricate options available for as little as $10 USD. For sure, it's an unconventional way of displaying a collection of wedding photographs. However, it's especially convenient if you don't want to edit down your photos too much.
Consider this – most professionally crafted wedding albums showcase somewhere between 40-100 photographs. However, a wedding photographer can easily make over 1000 images over the course of a day. Add moreover all the iPhone snapshots taken by loved ones witnessing. There are thousands of photographs that may not make your shortlist of images, but still have plenty of value.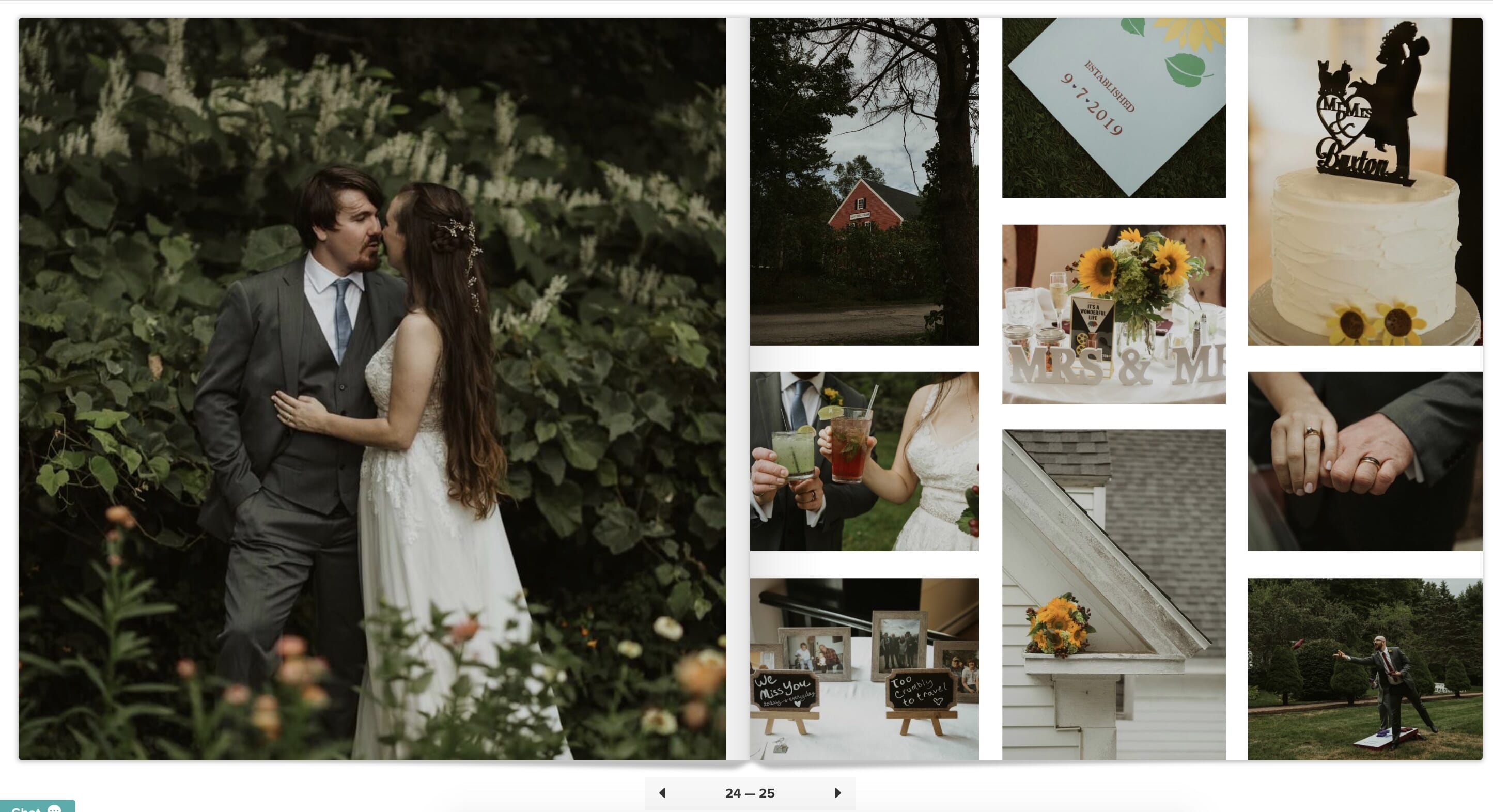 Breaking your big day up into a series of photo books is one way to reclaim those memories. Perhaps one volume could solely focus on the ceremony, and another could cover the reception. Should you like the results, you can keep going to include moments from a honeymoon, a bachelorette party, or other special traditions not included in the wedding itself.
Our Print Recommendations for Photo Books: Printique
7. Print at Home
If you've got the tools at your disposal, why not print wedding photos on your own? While it might not be the cheapest or easiest means of getting prints, there are a few advantages to taking on the challenge yourself.
While you'll have to source materials on your own, you're free to choose the size and style of your images when working from home. Nicer inks and papers won't be surcharged, meaning that you'll likely save money on high-quality prints. Without limitations or artificial fees, making fine art prints can be rewarding provided you have the skills and resources necessary to do so.
Related Article: Top Printers for Fine Art Prints
Another added bonus? There's no chance of mix-ups or customer service errors. When you're controlling the gears, you have the opportunity to tweak mistakes. Doing your own wedding photo prints may seem daunting, but it offers the most control possible over your finished piece.
8. Opt for an Engineer Print
Don't want to spend much on a large format photograph? No problem. This hack is an inexpensive, creative way to get some big prints on your wall.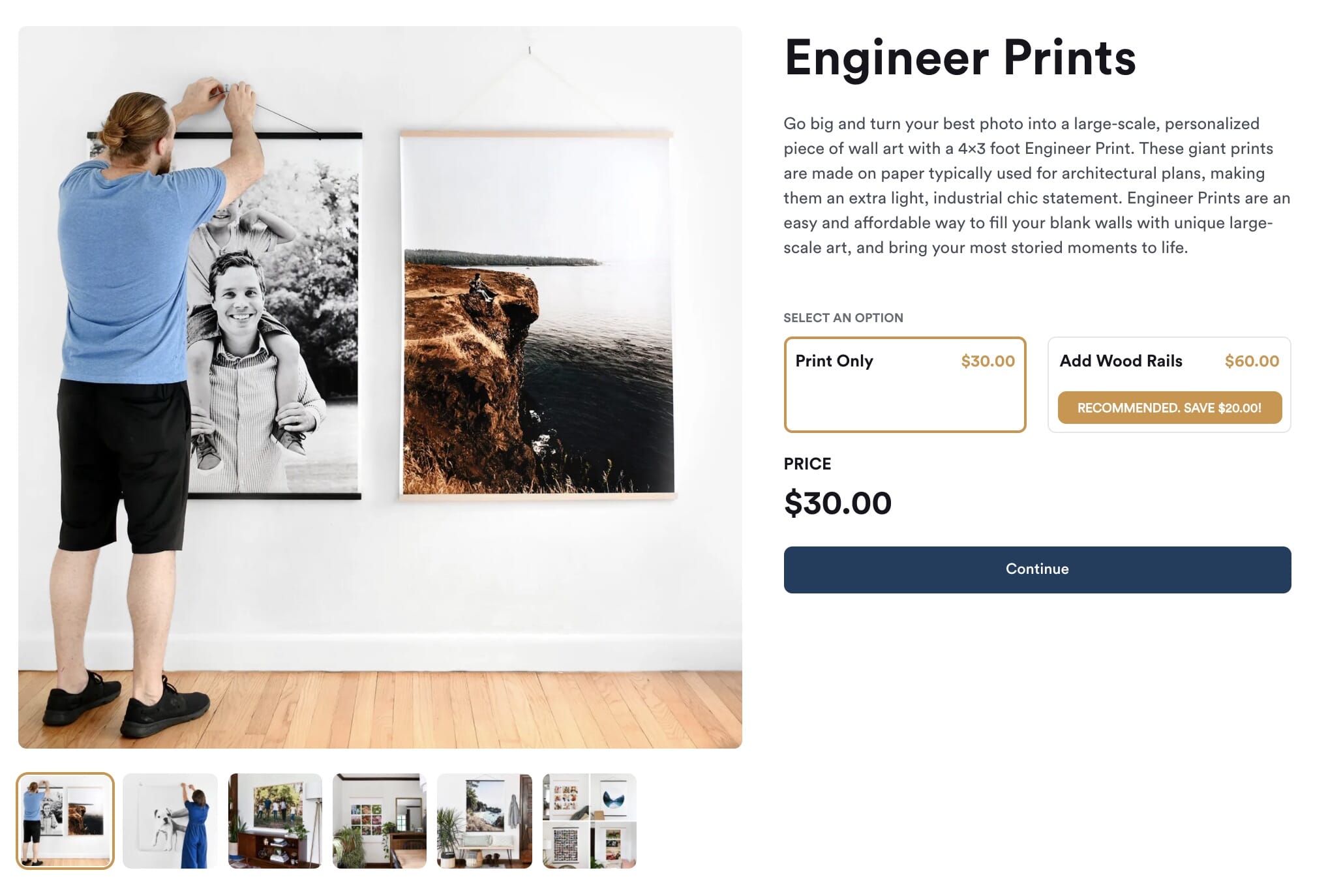 Engineer prints, usually relegated for blueprints, use large plotter printers to create low-quality images. These prints don't require the skill or finesse necessary to operate fine art printers. In turn, they're affordable and often available at local office supply stores. They probably won't last as long as a professionally printed piece, but the over-the-top display is eyecatching.
Keep in mind that some printers may not go along with printing your favorite photos as an engineer print. After all, more and more stores offer large format "poster" prints that, while still inexpensive, are more costly than the engineer print. Nevertheless, it's an option worth looking into should you want a big display with a tight budget.
Our Print Recommendations for Engineer Prints: Parabo Press
9. Order 4×6″ Prints in Bulk
Remember going to your local drug store to get a film developed and collecting a crisp stack of glossy 4×6″ photos? In the digital age, you can relive that feeling by ordering your favorite snapshots in bulk.
Much like the photo book series, we suggested earlier, ordering 4×6″ prints means that you don't necessarily have to edit down memories. Furthermore, this strategy is hassle-free. Instead of sitting down and designing layouts, you can select your favorite files and allow someone else to do the hard work.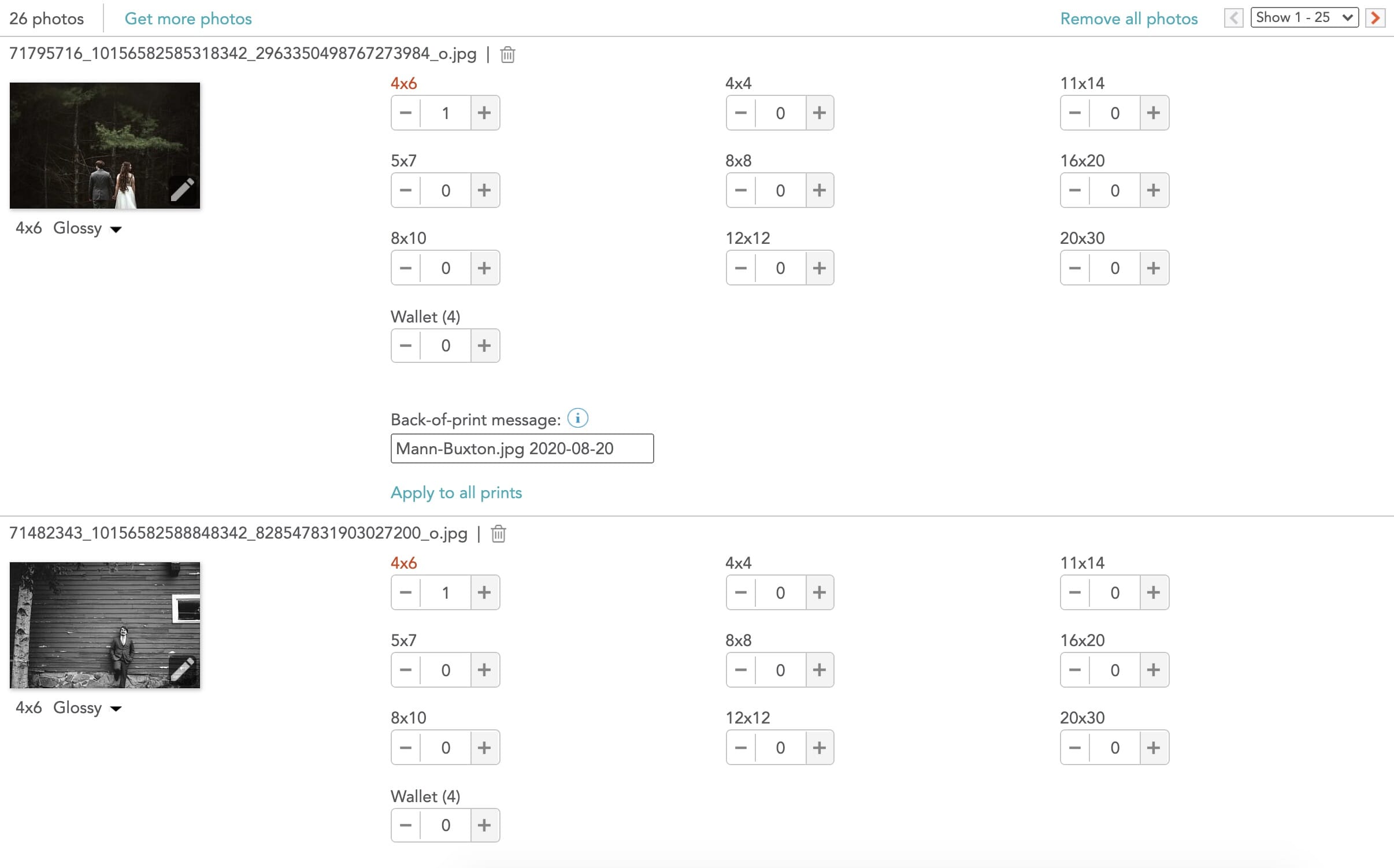 Of course, another advantage of ordering small prints is affordability. On average, glossy and matte 4×6″ prints alike will cost just a few cents per copy. However, a low price point doesn't necessarily mean that these prints aren't made to last. Stowed in an archival box in the right conditions, many online-sourced prints retain color and quality for years.
Our Print Recommendations for Photo Printing Services
10. Invest in Photo Accessories
While novelty photo gifts aren't for everyone, choosing to print wedding photos onto something unexpected can be fun. They don't have the same impact as a loud sprawling print or a well-crafted album. But, when push comes to shove, they're just as effective at displaying the moments that mean most to you
A calendar with your favorite image allows you to relive your wedding each time you go to check the date. A photo can make that mug you use each morning for coffee a lot more special. You can even snuggle up to a beloved picture printed on a pillow or blanket.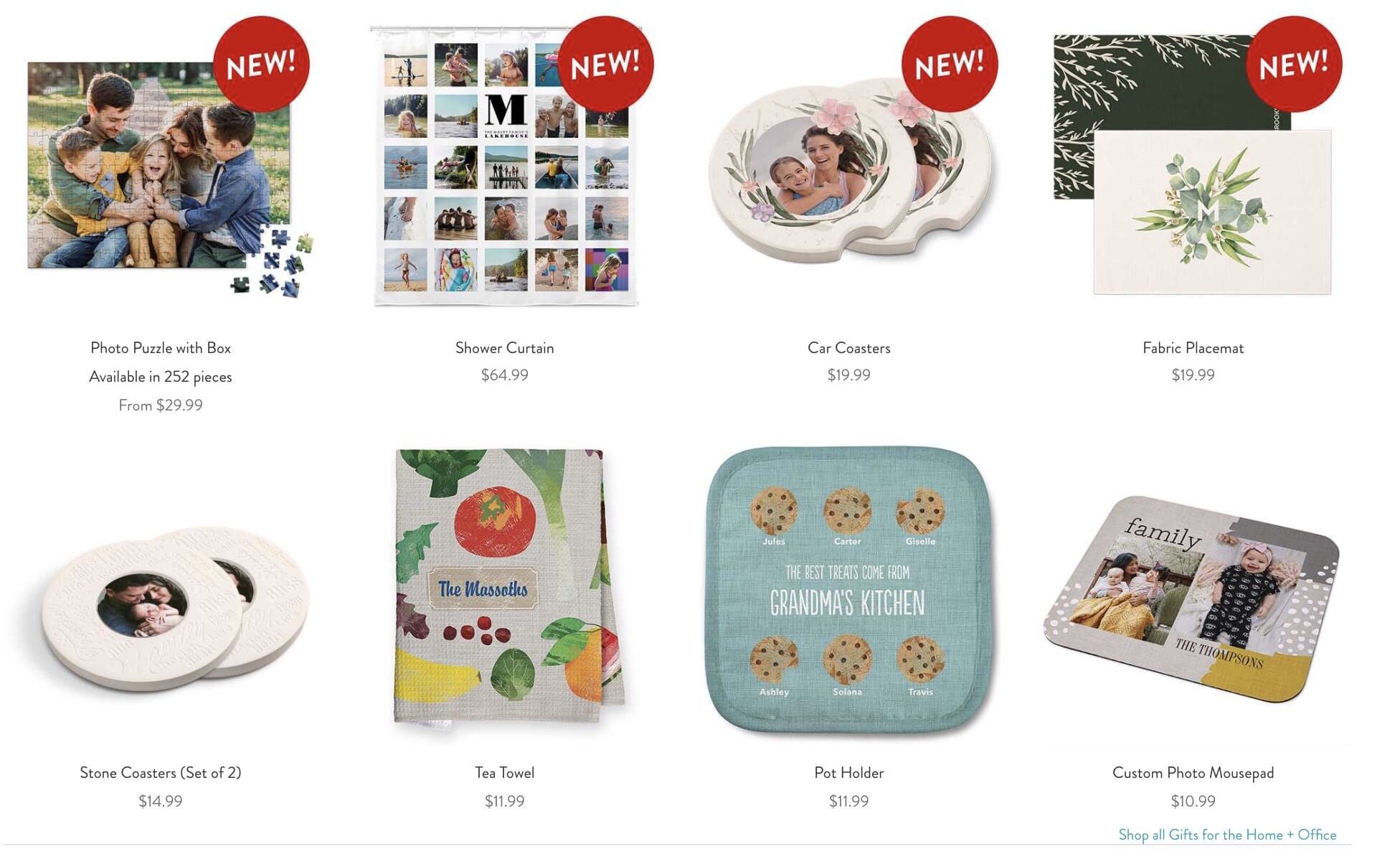 Vendors like Shutterfly and Snapfish offer dozens of gift options at affordable prices. Yes, getting your favorite photo printed on a pair of socks or a set of magnets is a little cheesy. However, these small reminders sprinkled in unexpected places can really brighten up your day.
Bring Your Big Day to Life!
Some people want a huge display for one special photograph, while others prefer to showcase a lot of little moments. No matter what you're seeking, there's a perfect print solution out there. No matter the size, budget, or style you're drawn to, we hope that these suggestions help you make the most of your images!