Let's face it – It's no secret that photography equipment is expensive, especially for beginners aspiring to become professional photographers.
Every year, new models are released, which means the market is always flooded with second-hand DSLR cameras. Among these second-hand models, you are bound to find brilliant bargains and hey, who doesn't love a great deal?
That is not all. Over the past few years, smartphone cameras have improved significantly. Unlike in the past when smartphone users had to do with 3MP, 5MP or 8MP cameras now smartphones are fitted with 13 MP, 16MP, 21MP cameras and above.
There are smartphone models that have dual cameras – front and back. As a result, this has created a trend whereby everyone now is a photographer (Check Instagram for proof).
A vast majority of people have decided to extend their passion of photography from smartphones to DSLR cameras. Since new DSLR cameras are expensive, many people have opted for used cameras.
Buying Used Cameras and Lenses: Warranties, eBay, Shipping and More
How and where to buy used photography gear. Plenty of tips by Tony Northrup.
The best thing about second-hand DSLR cameras is that they have been tried and tested. A vast majority will be available as a kit (second-hand DSLR camera with lenses and additional accessories) which is a bargain for a beginner. Why? You don't have to invest in new lenses, which are also costly.
The question remains – is it worth it to buy a pre-owned camera?
Let's find out!
When you buy through links on our site, we may earn a commission at no cost to you. We evaluate products independently. Commissions do not affect our evaluations.
Why You Should Buy a Second-Hand DSLR Camera
✔ Huge Discounts
Buying a brand new camera is a huge investment and many people don't have the financial means to go through with such a transaction. What you may not be aware of is that camera manufacturers usually price new cameras highly in order to cover their R&D costs as well as to profit from the new technology.
Let's face it. A second-hand camera is a great investment for you especially if you are an upcoming photographer.
When you opt for a second-hand camera, you get to enjoy huge discounts. The reason why a used camera has a huge discount is that the camera manufacturers release new models every year. As a result, a professional photographer will opt to upgrade.
Since the camera is slightly used, the seller will offer huge discounts for it so as to get it off their hands as quickly as possible.
As an aspiring photographer, you can take advantage of this and get to own a slightly used DLSR camera that will help to kick-start your photography career. In addition, you will get to save a lot of money.
Related Post: Best Places to Buy Used Lenses
✔ Great for Learning
As said earlier, smartphones have improved in terms of the camera. When combined with social networking platforms like Instagram and apps like Snapchat, everyone has now become a photographer. A vast majority of these people have opted to extend their passion for photography from smartphones to professional cameras – DSLR.
Brand new cameras are expensive and so as an aspiring photography student, such an investment is unattainable. Buying used lenses and a pre-owned camera can help to improve your training. For starters, it's slightly used which means it has been tried and tested. Although it may have a few scratches on the camera body, the lens, LCD display, camera sensor and other accessories are still functioning well.
Now that you have outgrown your point-and-shoot camera, the slightly used camera and used photography gear will help you learn new techniques. For instance, how to use different settings such as ISO, white balance, aperture, shutter speed, camera mode, automatic exposure bracketing and autofocus among others.
That is not all.
You will get to learn how to properly maintain a camera. For instance how to prevent fungus and dust from coming into contact with the camera sensor and how to clean the DSLR lens among others.
Upgrade Your Camera Without Breaking the Bank
As a college student aspiring to become a professional photographer someday, your dreams can be impeded by the cost of a new DSLR camera. If you rely on your smartphone camera, you will be able to capture amazing photos but this is not the best way to learn. Why?
Smartphone cameras don't have a vast majority of settings and features found in DSLR cameras. If you opt to continue using your point-and-shoot camera or smartphone, your learning curve will be impended. The only way to ensure that you get to pro status without breaking the bank is to buy a used camera.
A vast majority of used cameras are available as a full kit. You will find the seller selling the camera body, together with used photography gear such as lenses, additional batteries, strap, manual and memory card all in the original box. If you get the used camera body only, then it's highly advisable not to purchase it. Why? It may be stolen.
Armed with your used camera and used photography gear, you are now ready to become a pro photographer. All you need is to build your portfolio and the only way to do so is by taking several professional photos.
✔ Acts as a Backup
Let's face it. DSLR cameras just like other electronics common in our homes are susceptible to damage. For instance, the user may drop the camera accidentally when taking a shot. He or she may even knock over the camera by mistake while it's resting on the table. If this were to happen, the lens may be scratched or even crack. If the camera fell on the floor with the LCD display towards the floor, then it may crack or break.
That is not all.
Such accidents may leave dents on the camera body. On other occasions, the camera may need to be cleaned to remove dust or the presence of fungus. If the cleaning exercise is not complete and the photographer is supposed to complete an urgent assignment, he or she can use an old DSLR for the project.
The photographer can even carry the old DSLR to professional event shoots where, from time to time, he or she may use it to capture photos if the main camera is not functioning.
So, how do you ensure that a great bargain does not turn out to be a disaster?
Well, here is what you should look out for before buying used lenses and a second-hand DSLR camera.
Shutter counter
Scratches
Camera body
Sensor
LCD screen
Serial
Auto-focus
What to Look Out for Before Buying a Second Hand DSLR/Lens
Shutter Counter
The shutter counter is like a car mileage counter. Basically, it's a component that displays the number of shutter cycles. What you ought to know is that a vast majority of DSLR cameras have an infinite number of actuations that the camera is allowed to capture before the component is replaced.
Each camera manufacturer lists the number of shutter cycles for individual models on its website so a simple web search should provide you with the information for a specific brand or model. If you were purchasing a new DSLR camera, the transaction would be very simple – purchase the DSLR camera online or from a camera store near you and start taking photos.
With second-hand DSLR cameras, the process is a little different. Why? The DSLR camera has already been used and if this component is broken, then the camera is useless. Replacing the shutter counter is very expensive. You might as well go for a brand new DSLR camera.
What you need to know is that the higher the shutter counter value, the more photos that specific camera has been able to capture. Here is a rough estimate of shutter counter value for different DSLR cameras
Entry-level – 50,000 to 60,000
Mid-range – 100,000 to 130,000
High-end – 200,000 to 250,000
Want to know how you can get the true shutter counter value of a used DSLR camera?
Once you meet the seller, request for the DSLR camera and a snap a photo
Save the photo on your laptop or tablet
You need to find a good app or software that is able to display EXIF Meta data. A few examples to use include EOSInfo for Canon or PhotoME. Alternatively, Nikon users can upload a NEF file while Pentax users can upload PEF and DNG files on myshuttercount.com. (The platform also accepts JPG).
Apart from the shutter counter value, you will come across additional information like camera make, lens used, model and ISO setting from the displayed metadata. Since we are interested in the shutter counter value, you can locate it easily from the displayed data.
Before buying, take a few snaps with the camera at different shutter speeds. If it's jamming or there are squeaking sounds, the camera may be in need of servicing or cleaning.
Scratches
There are sellers who will include the kit lens along with the DSLR. This is common for entry-level and mid-range cameras. Before buying, inspect the lens for scratches. Start by inspecting the front and rear. Are there any scratches? If there are large scratches, it may indicate that the camera was dropped a few times. If the scratches are tiny, this may not have a huge effect on the final photo.
Check the lens barrel for any scratches or dents. It is important to ensure that the lens is able to move smoothly. If it's jamming when retracting or extending, then it's no good. Don't forget to check the aperture ring. If it's manually operated, ensure the movement is smooth.
Another issue you should check for is the presence of fungus. Fungus has the ability to damage the lens beyond usability. Before buying, ask the seller how the lens has been stored. If it has been stored in a bag for a prolonged period and not a dry area, then you should avoid it.
Status of the Camera Body
The physical condition of the camera body indicates how the owner has been treating the DSLR camera. So, what should you check out for? Look out for scratches and dents on the body. If the rubber grip areas are worn out badly, then the current owner may have treated the camera badly.
You can request the seller for some sample photos taken by the camera in the past. The reason for doing so is to check out the setting where the camera was frequently used. For instance, if the photos feature the beach a lot, then it may have been exposed to water and sand. If none of the photos feature any seaside shots, then the camera may have not been exposed to wet conditions.
It's time to check the dials and shutter button. If the wear marks are extensive, then the camera has seen some tough times. This is the same if the plastic fitted on the dials and buttons appears shinier than the sample photos taken by the camera.
Check the condition of the USB ports. Are the ports corroded and bent? How about the SD card port? Can you slide the SD card in and out with ease? What about the battery and its compartment? Can you open the cover and close it with ease? Is there a presence of rust in the battery compartment?
Camera Sensor
As you already know, DSLRs have removable lenses. As a result, dust may come into contact with the sensor. A presence of dust on the camera sensor will affect the quality of the picture. One of the best methods for determining the presence of dust on the sensor is by taking a sample photo with the camera. Choose any of the following backgrounds – daytime sky or white wall (should be well lit). Set the aperture to f/22 and snap a photo. How is the quality of the image?
This method can also help you to determine hot or dead pixels too.
On the other hand, you can take a sample photo with a dark background. Compare the dark and bright images. Alternatively, you can inspect the sensor physically. This is achievable by lifting the mirror release. Use the built-in camera options. Does the sensor display any dust particles or markings?
What you ought to know is that dust on the sensor can be cleaned off but if scratches are present, this presents a serious problem.
LCD Screen
Every DSLR camera is fitted with an LCD screen. Its purpose is simple. To frame shots, allow the photographer to review recorded images, display settings and menus. This tells you that that the LCD screen is an important component. Before buying a second-hand DSLR camera, you need to inspect the LCD display.
The first thing you should look out for is dead pixels. Dead pixels can be detected if the LCD screen is displaying a photo with a single color. What you ought to know is that dead pixels on the LCD screen will not affect the quality of your photos but they will affect your viewing in playback mode.
Check for scratches not only on the LCD display but the optical viewfinder too. If dust or scratches are visible, the only way to remove them is by taking the DSLR camera for full service. Don't forget to check for damage on the focusing screen.
Serial
The serial number of the camera is one of the best ways to identify if the camera was stolen or if it belongs to the current owner. When you arrange a meeting with a seller, request for the camera and as you are inspecting the lens, LCD display screen, sensor, buttons and other parts, take a moment to know if the camera is stolen.
You don't want to purchase a used DSLR camera only to end up being locked up in jail for handling stolen property. To know if the seller is legitimate and the camera is not stolen, ask the seller if you can call the local representative of the camera brand. If he or she refuses, cancel the deal and move on. If the seller accepts, proceed with the call.
During your conversation, ask the representative to check the details of the camera. A vast majority of brands request users to register their cameras immediately after purchase.
This helps to ensure that they are eligible for updates and better service provision. If the camera has had one owner, the details should match those of the seller. If the camera has passed hands a few times, you can use online services like CameraTrace.com, GadgetTrak.com or StolenCameraFinder.com. Alternatively, you can also search on Craigslist.
Another sure way to know if the camera is not stolen is to request for the following components – box, lens cap, charger, carry case, relevant cables and manual. If the camera comes with the above components plus extras like memory cards, extra batteries, lens filters and flashes, then it's a good purchase especially if it meets all other requirements as explained above.
Autofocus
It's always important to check if the autofocus is working. If there is a problem, it will frustrate the photographer during event shoots. One of the best ways to test if the autofocus is working as required is by focusing on a distant subject. Set the second-hand DSLR camera to live view and the switch to regular phase detect. During this time, you should also test both continuous and single AF performance.
In addition, you can opt to use LensAlign to perform autofocus tests. If the test displays AF errors that are noticeable, it's best you opt for another used camera. Why? As said earlier, an issue with the autofocus will frustrate your event shoots.
Additional Tips
It is highly advisable to meet the seller in person. Why? This will give you a chance to test the used camera and its features such as shutter counter, lens, buttons, LCD display, autofocus, battery, USB ports and SD card among others.
When meeting the seller, ensure that the meeting is scheduled during the daytime and not in the evening or nighttime. The reason for doing so is to ensure that you are able to clearly see what you are purchasing. In addition, it will give you a chance to inspect the camera and used photography gear for scratches and dents not only on the camera body and lens but the USB ports and LCD display among others.
It is also important to ensure that the meeting is held in a public place preferably where Wi-Fi is present. This will enable you to use available web platforms to know if the camera is stolen or not. In addition, you will be able to use other online apps to learn more about the shutter counter. Don't forget to bring someone with you – a family member or friend. This is for safety reasons.
Yes, there are several auction sites like eBay and classified sites like Craigslist but if you want to ensure that you get to purchase what is being advertised, it is highly advisable to complete the transaction in a face-to-face meeting.
Remember, if the deal is too good, think twice. Don't get suckered!
What if a face-to-face meeting is inevitable? Well, that means you have to purchase the used DSLR camera from an online web platform. Below are the most trusted online pre-owned DSLR camera dealers you should try out.
Where to Buy a Second Hand DSLR Camera
Planning to buy a second-hand DSLR camera? The days of having to browse the classified section of the newspaper looking for that special item are over. Today, the internet has become a host to online catalogs of used cameras making it easy for you to find what you are looking for. The problem is if you are not careful, you may end up being scammed.
To help you find the right used camera, we have rounded up the top three online used camera dealers.
✔ Amazon – Used Digital Cameras
✔ Adorama
Let's take a look at why they are the best platforms for you to purchase used cameras from:
1. KEH Camera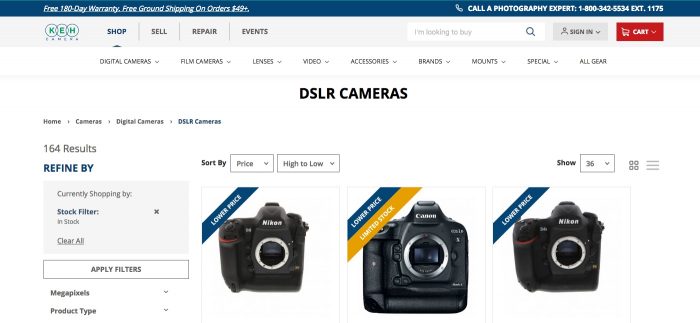 As the world's largest online used camera store, KEH was founded in 1979, and since then, it has served more than 1.5 million photographers. The company is highly trusted for its 10 point inspection process where a used camera or accessory is carefully inspected and graded thus saving the customer the hassle of doing so themselves.
To purchase a used camera via KEH, you need to create an account. Thereafter, you can use its advanced search functionality to find what you are looking for. In addition, you can opt to use the top brands section.
Apart from used cameras, you can also shop for lenses, accessories, mounts and film cameras from KEH.
Why is KEH a great platform for buying used cameras and accessories?
Has a 10 point inspection process that helps to find flaws and save the user the time to do it themselves
Has different search options making it easy to find what you need
Lists top brands such as Nikon, Leica, Canon, Sony, Hasselblad and Olympus
Provides great deals on pre-owned cameras and accessories
Offers excellent customer services
2. Amazon

Amazon is an e-commerce giant that is well known for providing an assortment of products from clothing to electronics and books. While it sells new products to customers, it also sells pre-owned versions of the same product. These are usually priced below the new products. As a result, they are great bargains especially for college students planning to learn photography or aspiring photographers planning to start a career in photography.
What makes Amazon the best platform to buy pre-owned cameras from?
Has a large selection of pre-owned cameras and accessories
Offers free delivery on certain purchases providing you with peace of mind
Amazon provides a platform for its customers to report or make complaints regarding the product or service offered
Accepts product returns and refunds your money
Has a rating and review system allowing you to know more about the seller and the product itself
Has a free price comparison tool
3. Adorama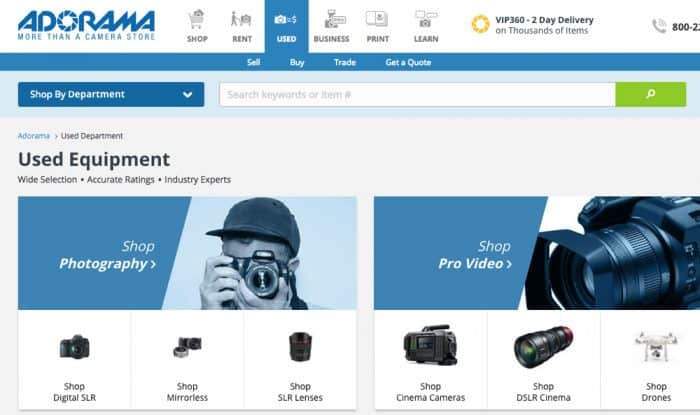 Adorama started as a store in NYC before growing to become a leading online dealer of pre-owned cameras and other photography accessories. The company has served customers for the last 35 years and today, it has extended its product offering to mobile computing, home theaters, home office equipment and education.
As a result of its exceptional performance and service, Adorama has been named as one of the top five electronic retailers of pre-owned electronics by Forbes.com, Consumer Reports and Internet Retailers Top 100.
What makes Adorama the best platform to buy pre-owned cameras from?
Has a wide selection of products – pre-owned cameras, PCs, tablets and video equipment
Has a physical store in New York
Allows users to test products before buying
You can shop both new and pre-owned cameras
Users have the option of renting gear too
So, which is the best platform between the three – KEH, Amazon and Adorama? I would highly recommend you try all of them because each has a unique feature or great deals that the other may not have which will work great for you.
Final Thoughts
Whether you are an aspiring photographer or a professional photographer, buying a used camera is one of the best decisions you will ever make. For starters, it acts as a great learning tool that is beneficial to aspiring photographers. In addition, one gets to save money thanks to the huge discounts offered with pre-owned cameras.
For professional photographers, pre-owned cameras can act as a backup in case the main camera is getting repaired or has issues.
All in all, used cameras are great. Just follow our checklist above when shopping for a second-hand DSLR camera to avoid being scammed.