GearBest.com Review
This GearBest.com review focuses on the usability, price, delivery and customer support.
Recently, we also reviewed a product supplied to us by GearBest.com – You can read our review of the SJ7 Star Action Camera here.
An Introduction
GearBest is a leading China based online retailer of electronics, electrical, communication, apparel, accessories and a variety of other products.
They are an online platform which sells mainly products that are manufactured in and shipped out of China.
The greatest advantage of this online shopping platform is the price. Just like most things made in China, the prices are hard to beat and impossible to find elsewhere else on the internet.
Usability of the Website (Desktop Version)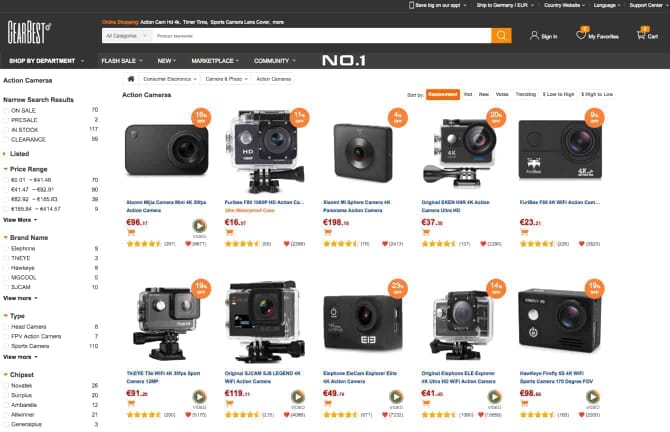 One of the better features of the website is its usability. It is clean, well designed with good navigation and quick access to the key features of the shopping platform. Shop by Department is what allows you to choose the product that you need under the segment that it is listed.
Usability of the Website (Mobile Version)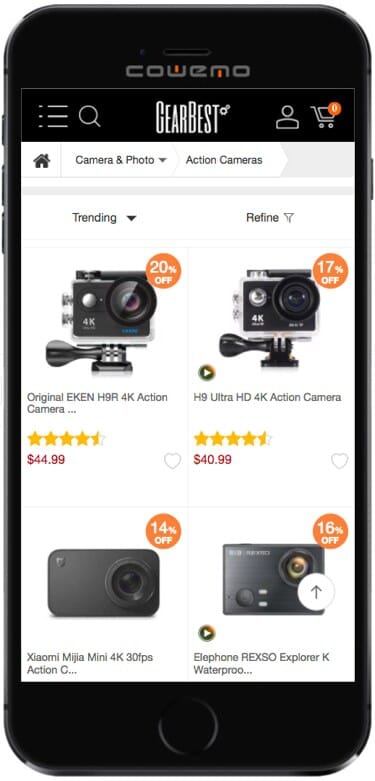 The mobile website is also a clean design. The functionality of the website are great.
The search button is prominently displayed at the top left corner of the screen and gives accurate suggestion which is instantaneously refined when you add additional letters.
There is also a suggested Popular Search, which is not exactly a great tool when you are looking for something specific. But it is just a reflection of what customers are searching on GearBest.com.
"Instant go to links" are leading to the different sections, which is yet another great feature. This is similar to Amazon. But unlike Amazon, here the links take you directly to the section that you want to go to and check out products that you want to buy. For speed purchase that is just perfect.
Quality of the Products
One of the major questions asked about buying anything online is the question of reliability. A majority of the products on GearBest.com are untested and you will hardly come across reviews or technical analysis of the products that are on sale here. Except for the odd product feedback and user generated images that are shared sometimes.
A lot of buyers have left positive reviews about the quality of the products that they have received. (see TrustedReview.com > GearBest)
Equally, other buyers have left feedback about the quality issues of the products that they have received. At the end of the day it comes down to a toss-up, as you don't know what you are going to get when you unbox.
User Reviews
User reviews of GearBest has been mixed to say the least. Initial reviews of the company have been very good. A majority of users who have purchased from GearBest had vouched about their product quality. Delivery has always been an issue for the website. It appears that they sell a majority of the lower priced products using unregistered post. And therein lies the root cause of a major number of negative feedbacks.
Customers who have received products via unregistered post have complained about the slowness of the delivery. There are a huge number of complaints about products getting damaged in transit and customers having to register a request for exchange/return.
Missing Products in Transit
A serious issue reported by many customers is of products getting lost in transit. It is not strange to hear that many of these missing products are those which had been sent out using unregistered post. And unregistered posts always run the risk of getting lost or damaged because of poor handling and issues in some countries due to unreliable postal service. The worst thing is if you opted not to have insurance for your package then you don't have the opportunity to claim compensation.
A customer who had purchased from GearBest and subsequently his purchase went missing had filed a complaint with the company. After many follow ups he finally gave up with the company. He mentioned in his feedback and that the support people sends out canned responses which often didn't make sense and didn't help either to resolve matters.
Finally, he received an offer of compensation to the tune of $40 in either credit points or credit to the original payment source. The original order price was $207.97 and the amount of missing order value was $91.59. So, evidently the 'compensation' did not make sense. This is just one of the many negative reviews that seem to be cropping up with disturbing regularity on the internet against GearBest.com.
If there has been a consistent worry that has to be the delivery schedule of the company. A majority of their products are shipped out using unregistered post and that often takes weeks and even months to reach the buyer.
Having said that, this is only the exception and not the rule when it comes to GearBest.com. As many of its other customers (a majority) have vouched over the years, GearBest.com delivers great products, at a reasonable price and delivers them, like this review from Andrea Capellini:
I've buy several products on gearbest. Great support from the website. Always special price and never a particular issue on shipment or delivery. Sometimes you have to wait a little bit to receive you products but worth it.
Purchase Security, Returns Policy and Other Consumer Protection Clauses
Contrary to what a lot of disgruntled customers have written, some of which has been detailed in this review, GearBest.com does offer a number of consumer protection schemes including a 45 Day Money Back Guarantee for faulty products. Y
ou can return any item that has arrived faulty within a period of 45 days from receiving it and GearBest.com will either issue either a replacement or send you a full refund. Return shipping is not paid for by the company for such items.
Dead on Arrival (DoA) items can be returned within 7 days of receiving them. Full shipping refund is provided for the return. You can choose to have a replacement sent out or have your money refunded back to you.
There is also a 45-day unconditional refund guarantee for unopened and unused items. Such items have to be returned at the expense of the customer and no refund for shipping is entertained. Only the price paid for the product is refunded.
Along with these you also get a one year free repair warranty for all products that are purchased from GearBest.com. As you can imagine they offer a comprehensive security and purchase protection for you. Apart from that they offer PayPal payments and each purchase you make is covered under the PayPal purchase protection. GearBest is thus a great avenue for you to purchase great products at reasonable price.
Customer Support
That leads us to the next major aspect about any online store – its customer support. Many customers have complained about the non-existent customer support of GearBest.com. This is a not the majority of course. The majority have raved about the great support that they have received from GearBest.com's excellent support team. They are always prompt in replying and in most cases solve an issue within 24 hours.
GearBest.com Review
Summary
GearBest.com is one of the fastest growing e-commerce platforms for Chinese Gearbest products and many individual store sellers. Overall the experience and user reviews are positive.
Price

Usability

Delivery Times

Cutomer Support