Direct Printing from an iPhone
The whole purpose that you have wireless printers is so that you don't need cables and or a computer in order to occasionally print your images. I agree that these days not everyone print their images shot with a smartphone/iPhone or for that matter even proper digital images.
Image shot with a smartphone/iPhone (and even digital cameras) are predominantly shared over social media or sent out wirelessly. Even clients are shown digital catalogs instead of printed ones (something that I fully disagree with). But then occasionally, there are times when you want to print something special.
Related Post: Best Smartphone Cameras
A beautiful smile on your kids' face perhaps, or a special moment that you want to keep in front of you so that you can see all the time, or a moment that you don't want to lose in the myriad of images and folders on your hard drive. Whatever may be the reason, a printer capable of printing photo quality prints and which is capable of printing via wireless is the solution.
Printing Using an AirPrint Compatible Printer
Your iPhone is perfectly capable of printing your images wirelessly using any printer connected to your wireless network.
There are a Few Preconditions (Before you Can Start Printing)
First thing, to ensure is that the printer and your iPhone are on the same wireless network.
Your printer must be AirPrint enabled.
You should also need to check whether your iPhone is within the range of the wireless network.
Takeaways
If your printer is not AirPrint enabled you will not be able to print anything. AirPrint is a wireless printing feature in Apple's MacOS and iOS operating systems. It is built into all iOS devices to enable it to print via a local wireless network. If any Mac devices that come with the AirPrint technology and are connected to a network via Ethernet they can also print using AirPrint.
Related Post: The Best Epson Photo Scanners
1. The Steps To Print (with AirPrint)
All print capable apps should be compatible with the AirPrint technology. Of course, you will need an AirPrint capable printer (see below a list of suggested AirPrint enabled printers).
The steps to print directly from your iPhone are:
Open the app that you want to print from.
Find the print option on the app.
Tap the print button/option after the image is opened
If you have more than one printer on your network and you want to print to a specific printer or a printer that is AirPrint enabled, you will need to choose the printer from the list.
Follow the printer prompts, select the number of images (or documents) the pages and the number of copies that you wish to print. This step is self-explanatory
Tap print
Related Post: Best Photo Book Printers
AirPrint Capable Printers
Related Post: Best Portable Photo Printers
2. Print Directly from your iPhone
without

an AirPrint Enabled Printer
(Wireless Direct Printing)
The above-explained methods require that you have an AirPrint enabled printer. But not everyone has an AirPrint enabled printer. These days many small offices or home offices have a wireless printer.
So, how does one directly print from an iPhone in such a situation?
In order to do this, your printer has to come with a feature known as Wireless Direct Printing. You would also need an app that is compatible with iOS and supports Wireless Direct Printing.
To print directly you need to connect your iPhone to the printer using Wireless Direct. There would be a button with a wireless icon on your printer. Press the wireless direct button. Then navigate to Settings > Wi-Fi on your iPhone. Look for the name of the printer. Follow the specific steps to connect the two devices and then follow the print steps explained under 'The steps to print'.
Related Post: Best Photo Printers
3. Other Printing Options (via a Computer)
This is the extreme hypothesis for those who own an iPhone but have no wireless printer to print from. Well, you always have the option to transfer your images from your iPhone to your computer. You can then print from your computer using any printer on the network or a printer that is directly connected via a USB port.
4. Via a Traditional Printing Service
Related Post: 9 Ways to Print Instagram Photos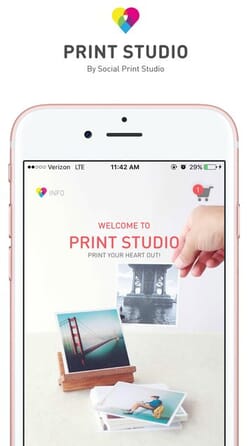 But what if you don't have a printer at all? Well, there are apps that allow you to upload your images to a consortium of online image printing solutions. Choose one from iTunes and install it. These apps allow you to upload your images to their platform and then order prints directly.
Several sizes are available. Plus, you also get to choose the paper quality as well as the preferred shipping option. The prints will be directly shipped to you upon payment. Alternatively, you can choose to pick them up when they are ready. Either way, you get the advantage of outsourcing the entire process. We will try to do a review of the best services at some later time.
Related Post: Best Professional Online Photo Printing Services (in the US)
---
As an Amazon Associate we earn from qualifying purchases. Certain content that appears on PhotoWorkout.com comes from Amazon. This content is provided 'as is' and is subject to change or removal at any time.