A. Shooting flying birds in the Wild
This Blog post is divided into two parts:
In Part A we share 6 tips on how to photograph birds flying in the wild with no limitations to your photography gear.
In Part B we will share 7 more tips on how you can shot a bird in flight in an urban surrounding using only your kit lens.
Related Post: The Best Cameras for Birding
#Tip 1: Use a Long Lens to Catch that Flying Bird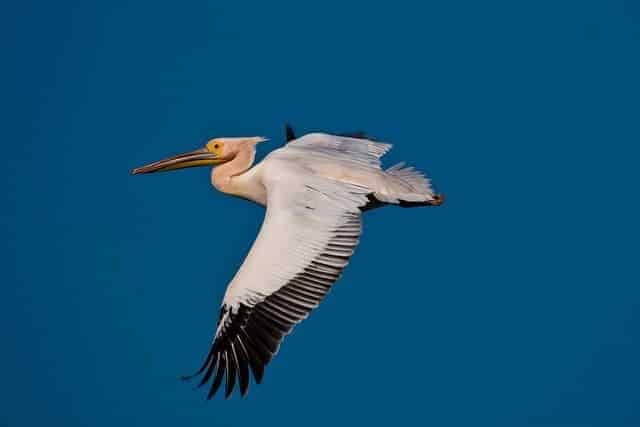 A longer lens is not optional but rather mandatory if you are serious about photographing birds in the wild. It is the only way that you can hope to get anywhere near a bird in the wild.
Photographing wild birds is not the same as shooting them in an urban environment, hence, a telephoto lens is mandatory in both situations.
Related Post: How to make great landscape photos with Telephoto Lenses
There are some good affordable telephoto lenses that you could look into. The Tamron 150-600mm f/5 – 6.3 is a really versatile lens.
It allows you to zoom in pretty close to a bird and fill the frame with it. The downside is it only opens up to f/5 and at its telephoto end to only f/6.3. In low light conditions, you will struggle to get a good exposure by using a fast shutter speed.
#Tip 2: Shoot in RAW
The RAW mode, simply speaking, gives you a world of flexibility when it comes to processing your images after you are done shooting. That's why you should always shoot birds in flight in RAW mode.
You can opt to choose between 14-bit or 12-bit RAW ensuring that the maximum amount of unprocessed information is recorded. JPEG images are processed by your camera and thus, you won't be able to do too much with them later on.
Related Post: RAW vs. JPEG and why RAW is better
#Tip 3: Use Negative Space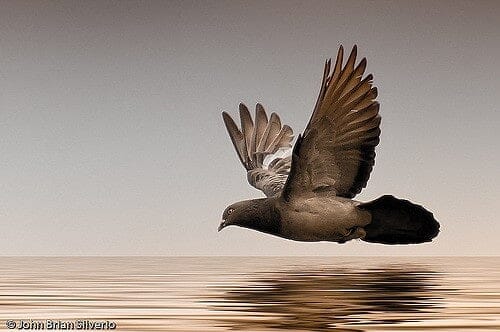 Negative space is the area around your subject. When you leave some negative space around your subject it does two things to your images:
First, it makes your images more interesting and
secondly, gives a sense of movement.
You would argue that the whole point of using a telephoto lens is so that you can frame very tightly.
That is ok. But at times, you could also try and leave some space, especially in the direction that the bird is moving.
#Tip 4: Shoot at continuous high

Set your camera to shoot in continuous high mode. At continuous high mode, your camera makes several exposures each time you press the shutter release.
This increases the likelihood of getting at least a few good shots. This is where a better camera really makes all the difference.
Better cameras will shoot at a higher frame rate than smaller ones. Thus, if you have one of the professional or even semi-professional bodies you have a better chance of nailing at least a few great shots.
Related Post: Choosing the right DSLR Body
#Tip 5: Choose the Right Autofocus Area Mode
Choosing the right autofocus mode can make a lot of difference in the context of the final photos. If you choose single-point autofocus, when the subject is moving about, like a bird in flight, you are likely to struggle with keeping the subject in focus.
Choose continuous auto-focusing and multiple AF points. This way your camera can track the bird and choose the right focus point depending on the vector.
#Tip 6: Make sure the Eyes are Sharp
Be it a corporate portrait shoot or photographing birds in the wild, the eyes are the focal point of any great image. If the eyes are not sharp the whole image is just a wasted shot.
True, it can be difficult to keep the focus on something that is as small as an eye of a bird, especially if it's flying around, but that's what separates the great wildlife photos from the average ones.

Shooting Birds in Urban Areas
B. How to shoot flying birds in Urban Areas
When you walk around in urban areas or in your nearby park you may not want to carry your heavy 400mm lens. Or you may be new to DSLR photography and you just got your first DSLR kit and don't want to buy that $2,000 piece of glass yet. Well, we got you covered :-).
Must Know: 7 Tips for photographing flying birds in urban areas with your DSLR kit lens Urban Birding, as explained in the video above does not require expensive equipment. You can make great shots of flying birds with an entry-level DSLR or mirrorless camera and a standard kit lens.
In fact, you could even use a good smartphone camera or compact camera to capture that flying bird and get a decent shot!
How to shoot flying birds using only a kit lens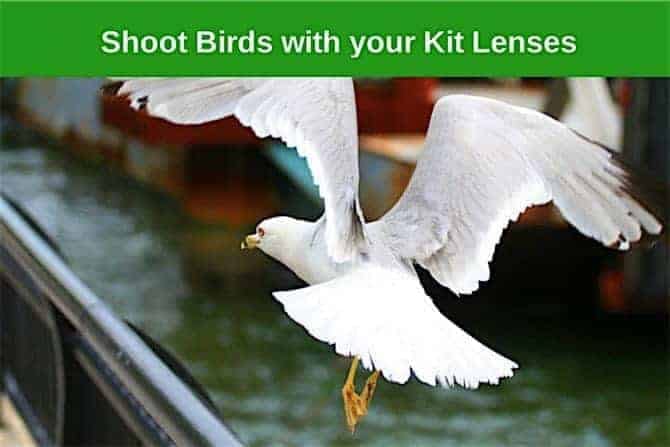 Sounds like a really tough assignment?
Is it really possible to shoot great images of birds in the urban jungle with nothing but your kit lens? (A kit lens is the standard zoom lens that normally comes with your new DSLR)
In this ever-increasing concrete jungle where on earth are the natural vegetation that can give a decent opportunity or two to shoot great bird photos?
Related Post: Shooting Flowers with your Kit Lens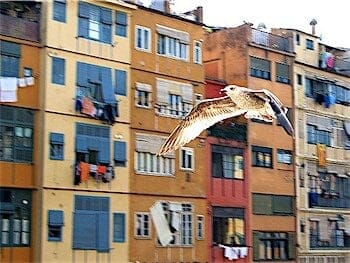 On top of that, kit lenses are notorious for their slow focusing speeds, fuzzy corners, and slower apertures make them unsuitable for bird photography.
Ask any expert about the possibilities and you would get a queer look.
But what if you are stuck with a kit lens and with no option to upgrade? Does that mean you absolutely cannot shoot good bird photos? Not really. There is no need to get disappointed, just because your first lens is a humble one.
1. The Approach: Light does matter a lot
Much like any other genre of photography, bird photography in the urban jungle too requires a bit of study, patience, and understanding of the basics of exposure and composition.
Some of your handicaps can be overcome by a creative use of tools and editing software such as Photoshop. But do keep in mind that there is no way to compensate for poor composition, shaky images and or poor lighting.
Side lighting such as when the sun is lower on the horizon creates a beautiful color cast. Additionally, this type of lighting is perfect when you want to capture the bird in all its bright colors perfectly illuminated with a soft light source. The golden hour of the day, as you can imagine, is a great time for birding.
Another advantage of side lighting is that it creates a beautiful catchlight. The fact that the sun's lower on the horizon means that the eyes are more likely to catch the light of the sun. Catchlight improves the quality of any portrait image. Without catchlight portrait images (be it humans or birds) appear lifeless.
2. The Challenges that come with a Kit Lens
Kit lenses are usually slower than their prime brethren. A standard kit lens like the 18-55mm or the 18-105mm Nikkor has a maximum aperture of f/5.6 at the telephoto lens end.
That is much too slow for something perched at 100 yards in thick foliage. This is why professionals never leave home without their telephoto lenses when going for birding.
Also, birds are small subjects. When you are further away from it, filling the frame becomes that much more difficult. This is the reason why professionals will always insist on something like a 300mm at the bare minimum or even a 400mm so that they can fill the frame with a bird. Even then, the key is in getting as close to the subject as possible.
With kit lenses like the 105mm or at the most a 250mm, there is nearly not enough options to fill the frame. Additionally, the slow aperture hurts badly.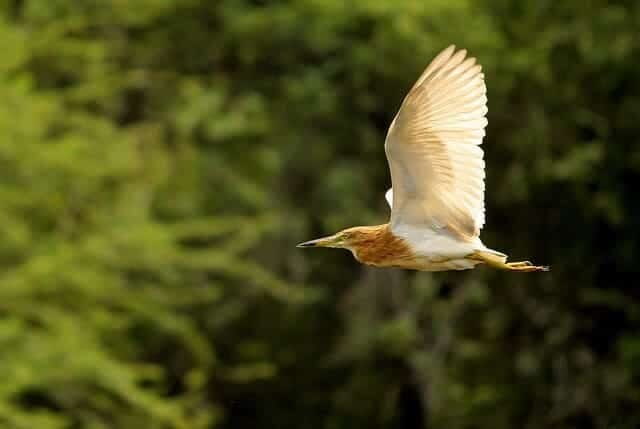 The alternative, as already suggested, is in getting close. Remember, you are shooting in the urban jungle and that means you will have minimum coverage when it comes to natural vegetation etc.
But one thing that works in your favor is the presence of many tall buildings overlooking parks etc. in a city. These provide perfect hideouts for you and your gear.
All you need to do is find a window that is perfectly aligned with the subject and start snapping. What you miss out on with a shorter focal length you can make up for by using clever use of the vantage points on buildings close to where the birds usually nest or hang out.
3. Dealing with Camera Noise
Noise means the noise of the shutter opening and closing when the exposure is made. One advantage of birding in the urban environment is that there is already so much noise around.
The ambient noise drowns out the 'click, click' sounds made by the camera as the mirror flips away and the shutter mechanism opens to record an image.
In the wild, this sound would have been a major drawback. In my experience when shooting with my 18-105mm I have found that if you are well hidden behind a window pane with just your lens protruding out, the sound does not scare the birds away.
It is only when the bird sees you and is aware of your presence is when it is likely to get scared.
4. Tripods and their Alternatives
For birding in the cities, you have to consider alternatives to big and bulky tripods because not everywhere you would get enough space to set up large tripods. You may also consider a monopod.
Related Post: Best Monopods for your DSLR
Smaller tripods such as Joby's Gorillapod are excellent alternatives to larger tripods that require larger space for setting up. Joby's Gorillapod have extremely flexible legs.
They are made of smaller individual leg joints. A typical Gorillapod can have around 2 dozen or more leg joints allowing you to set up your camera at the acutest of angles.
These tripods can be wrapped around smaller ledges, window panes and pretty much anything for setting up your camera allowing you to shoot from perspectives that are impossible to be achieved using traditional tripods with extendable legs. Additionally, you could add a ball-head for finer positioning of the camera.
5. Squeezing everything out of your Kit Lens
An 18-55mm lens is a really tough lens to shoot birds with.
The only way you can hope to fill the frame is not by zooming but by cropping, provided you have a very high-resolution camera. A high-resolution camera will allow you to crop and yet have enough resolution to maintain the quality of the image.
Cameras like the Canon 80D, the Nikon D5500 or the D3300 are great DX format cameras in that sense.
Among full-frame cameras, the Nikon D610 and the D810 have an incredible amount of resolution to go with the larger sensor size. You can shoot even with wide-angle lenses and then crop small areas and yet retain a lot of resolution. Ideally, however, a slightly longer lens is a better option.
6. Working with Fuzzy Lenses
Even a fuzzy lens can result in great images if you know its sweet spot and then slightly crop the image to eliminate the fuzzy areas. While cropping, however, ensure that you keep the original aspect ratio.
Most DSLRs will allow you to crop an image on the camera and let you choose the aspect ratio. If you prefer something that is less destructive, download the images on to your laptop and use Photoshop or any other editing software.
7. Please, no more bang in the middle compositions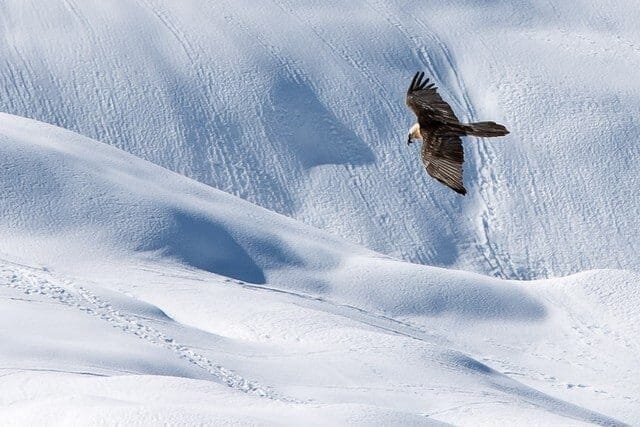 Almost all amateurs are guilty of creating compositions that are bang in the middle. While I am not particularly against such compositions, they are really boring.
You don't always have to follow the rule of thirds nor do you have to look for nailing a composition that meticulously follows the golden ratio, but try and move the subject off-center.
You will immediately notice that your images are looking a lot better. A bit of empty space (also known as negative space in photography parlance) never hurts. A bird looking off the frame and with a bit of negative space can make for an interesting composition.
We hope these tips on how to photograph flying birds will help you shoot some great pics of birds in flight mode :-). Wishing you good light, many birds in the sky and please feel free to leave a comment below.