Looking for the Best Drones under $200?
Drones came out of nowhere and became one of the most sought after products in 2016. Despite the growing restrictions on their usage, they continue to capture the imagination of the photographic and especially the video community. While professional drones capable of carrying a heavy payload (read: camera and lens) can be extremely expensive, cheaper options are also available. These are drones which come with built-in cameras and are easier to fly. This article aims at locating the best drones under $200 that you can buy right now.
✔ Best Drones under $200
1 .Blade Torrent 110 FPV BNF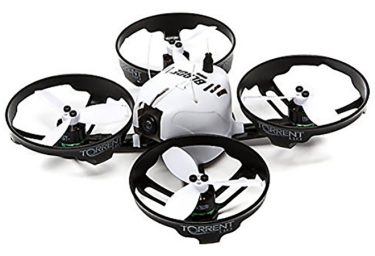 The Blade Torrent 110 FPV Drone comes with an integrated camera and a 150mW Video transmitter. The drone supports all raceband video channels. The drone has a 100 yard line-of-sight FPV range, giving you a limited scope to fly and control the drone. Onboard LED lights gives you constant feedback about the position, direction and orientation of the drone.
The only problem, and this is something that you have to live with, is the extremely limited flight time once the drone is airborne – 3 to a maximum of 4 minutes.  The battery on the drone is a small 200mAh. You get a USB charger for the same.
Powering the drone is a 14300 Kv motor that lifts it off the ground and keeps it moving in the air. Comes with Blade SAFE technology that prevents accidents.
The structure of the drone is made out of 2mm carbon fiber which ensures that the drone feels extremely robust yet extremely lightweight when in use. And yet it is capable enough to survive a fall.
Sale
Related Post: Best Drones under $400 (Amazing 5 Picks in 2017)
2. Drocon Navigator U31W Drone with HD Camera (720p)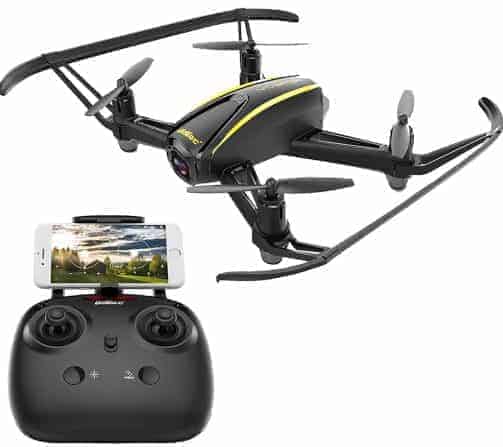 The U31W is a drone with a built-in HD camera capable of recording 720p HD videos. The drone comes with an interesting Headless mode that makes it easier for novice drone flyers to fly it. How exactly? One of the major problems flying a drone from a distance is identifying the vector that it is flying to. This comes from having to identify the nose (i.e., the direction of the drone). With the Headless mode, you can fly the drone without having to worry about that. This is because this feature allows the drone to be flown in any direction regardless of the direction in which the nose of the drone is pointed.
An additional advantage of the drone is the Altitude Mode. This mode is powered by a barometer. Makes it is easier to fly the drone at a specified recommended altitude. For a beginner or first time flyers keeping an eye on the recommended altitude and then flying the drone to get the perfect shots while all the time staying within the maximum flight time can be too much to handle. This mode makes this easy.
Related Post: Best Drones for Real Estate Photography (Top 5 Compared)
Easy controls. The Navigator U31W comes with a few easy controls for take-off, landing and emergency stop. Taking off may seem like an easy thing to do, but it needs some dexterity. Landing is tougher, especially when you are a beginner. Plus, if the drone is about to run out of flight time landing it in an emergency can be a bit of a hassle.
To counter all these situations and to give beginners a better time flying the drone, an Auto take-off/landing button and an emergency stop button is provided as well. Auto take-off and landing takes care of the drone's primary functions the emergency stop button lands the drone in a much more abrupt way than normally happens.
Another interesting feature of the Navigator U31W is the Out of Range Alarm. As soon as the Navigator U31W is going to go out of range of your controller, an alarm will sound intimating you that you are about to lose the drone.
Finally, you have App control over what you see. Comes in handy when shooting videos and stills.
Sale
DROCON U31W Navigator FPV Drone for Beginners with 2MP HD WI-FI Camera RC Quadcopter...
OPTIMIZED 2MP 120° FOV FPV WI-FI CAMERA: The DROCON NAVIGATOR will be your eye in the sky, providing you with real-time...
ALTITUDE HOLD MODE FOR BEGINNERS AND KIDS: The altitude hold mode lets you fly the drone at a specified altitude and it...
ONE KEY TAKE-OFF AND LANDING: This function allows a user of any level (beginner, intermediate or expert) to take-off...
HEADLESS MODE PERFECT FOR NEW USERS: Are you worried about controlling or losing the drone?? With the headless mode, you...
ONE-YEAR WARRANTY GUARANTEE: If you encounter any problem with the drone, need spare accessories or some advice about...
Related Post: DJI Mavic Air vs DJI Spark
3. Cheerwing CW4 RC Drone with 720p HD Camera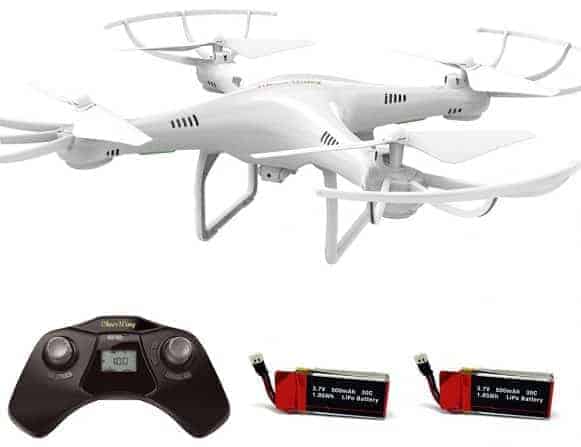 The Cheerwing CW4 is a RC operated drone with a built-in camera that is capable of shooting 720p HD videos. The drone comes with a 2.4 GHz radio controller. The maximum controller range is 50m. The flight time of the drone is a maximum of 6 – 8 minutes depending on the maneuvers that you do. The 3.7V 500 mAh Li-Pro batteries can be fully charged in about an hour.
There is a 2-megapixel camera built into the front of the drone. It is capable of capturing 720p HD videos and decent resolution photos while airborne. Don't expect something out of the ordinary as this is a humble drone with very basic camera capabilities.
The Cheerwing CW4 comes with a One Key Take-off / Landing feature. Just like the Navigator U31W that we discussed above, this facilitates an easy take-off and landing. Comes in handy if you are a beginner.
Just like both the previous drones that we discussed, the Cheerwing CW4 RC comes with a Headless mode. The Headless mode is suitable for the purpose of flying without the need to constantly monitor the vector in which the drone is flying. Sometimes keeping a tab on the direction, speed, obstacles in front and what you are shooting can be too much to handle. Especially if you are a beginner. The Headless Mode allows you to ignore everything and simply fly the drone.
The Cheerwing CW4 RC has another interesting mode – the Hover / Altitude mode. This mode, as the name suggests, comes with the ability to hover at a spot and shoot while in that position. The hover mode is quite stable and comes in handy when shooting exotic angles of everyday moments, selfies and other stuff.
Sale
Cheerwing CW4 RC Drone with 720P HD Camera 2.4Ghz RC Quadcopter with Altitude Hold...
Equipped with 2MP (720P) HD camera to take aerial photos and videos while flying! Bring a new perspective to your photos...
ONE KEY TAKE OFF and ONE TOUCH DOWN function: allow beginner to easy to fly the drone without any skill. One Touch Down...
Headless mode makes easier flight: Once the fuselage direction can not be recognized, it can enter headless mode so as...
Hover / Altitude Hold Mode: Drone altitude specified a flight mode. Beginners easy to manipulate; Aerial photography...
2pcs Batteries Included, double your flying time! It can be swapped or charged in place easily via USB with your power...
Related Post: 7 Best Drones Under $1,000
4. Holy Stone F181 RC Quadcopter Drone with HD camera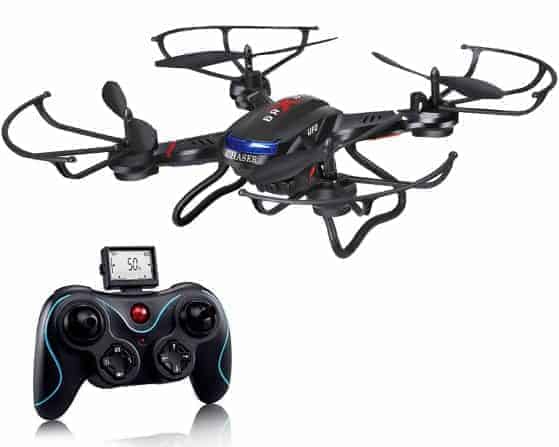 The Holy Stone F181 is a Radio Controlled drone and comes with a HD camera for making videos and stills. The system comes with an Altitude hold function. This function allows the drone the ability to hold its position in the air for as long as is necessary. Comes in handy when you want to shoot stills and videos while hovering from one position in the air.
The Holy Stone F181 RC comes with the standard Headless flight mode. This mode basically makes it redundant for you to have control the vector of the drone at all times. Plus, there is a single key return function. This function makes it possible to return the drone from where it was launched in the event of an emergency or when attempting normal landing just by pressing one button. This comes in handy if you lost sight of the drone or just want to make it return to base.
Additionally, it is important to note that the drone does not come with a built-in GPS system. Therefore you won't get that advantage.
There is an interesting 360 ˚ 4-way flip movement. This is purely an exhilarating movement that comes in handy when flying the drone in a free-wheelie mode for pure fun. This sort of flying is possible only because of the 6-axis Gyro on the drone. The drone has some amount of wind resistance, and that enables it to be flown both indoors and outdoors.
The Holy Stone F181 RC comes with a set of two batteries. You could fully charge both and use it to extend the flight time of the drone. The battery pack can be fully charged in about 80 minutes. The charge lasts for about 7-9 minute depending on the usage. The range of the drone is about 50 – 100m.
Holy Stone F181C RC Quadcopter Drone with HD Camera RTF 4 Channel 2.4GHz 6-Gyro with...
Equipped with One Key Return & Headless Security System to assist beginners and help prevent losing the drone
Altitude Hold Function: Powerful air pressure altitude hold function allows the drone to hover at it's current height...
One Key 360° 4-Ways Flip (left,right,forward,backward), Continuous Roll For Perfect Action And Wonderful Performance
Come With Two Batteries (BONUS BATTERY) For Longer Flight Time.
Range: About 50-100 Meters. Battery Flight Time: About 7-9 Minutes. Charging Time: About 80 Minutes. No FPV (First...
Related Post: Best Software to Edit Drone Videos
5. Cheering Syma X5SW – V3 FPV Explorers 2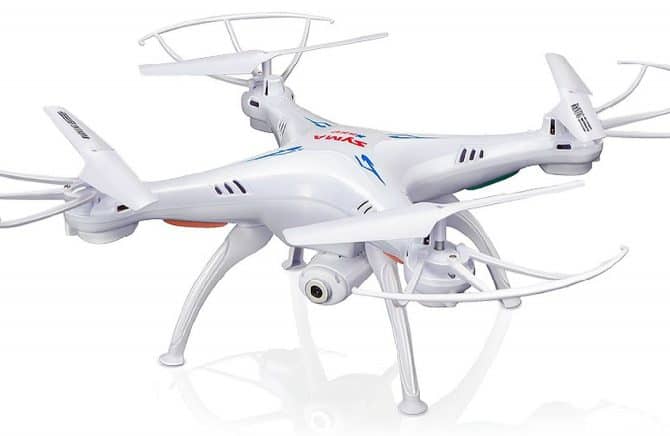 This is the second entry of a Cheering drone on this list. The Cheering Syma X5SW – V3 FPV is a quadcopter technically speaking. It has four rotors. Powering it's take off and flight abilities. It comes with a –axis Gyro and a headless feature among others.
The headless feature of the drone is one of its major USPs. This prevents the operator from having to constantly monitor the vector the drone is flying to. This makes it extremely easy for the operator to fly the drone by just having to concentrate on the actual movement and not the nose of the drone.
The 6-axis gyro is excellent for the purpose of flying the drone in any direction, keeping the camera steady while doing so.
Another feature of the Cheering Syma X5SW – V3 FPV is its FPV of the view that the camera sees. Comes in handy when flying. You can connect your smartphone with the drone via an app (available on android and iOS platforms).
The Cheering Syma X5SW – V3 FPV has a built-in HD camera. You can shoot interesting perspectives with this camera, from angles that are impossible to be shot using traditional cameras.
Finally, the 360 ˚ roll perspective is something for die hard drone fans. You will no doubt have some really entertaining time working with this particular feature of the drone.
Sale
Cheerwing Syma X5SW-V3 FPV Explorers2 2.4Ghz 4CH 6-Axis Gyro RC Headless Quadcopter...
Headless/IOC function. Usually, the forward direction of a flying multi-rotor is the same as the nose direction. By...
Equipped with the latest 6-axis flight control systems, 3D lock, More scheduled flight, operating more to the force!
Equipped with HD camera to take photos and videos while flying! Bring a new perspective to your photos and videos from...
Wifi FPV allows you to view photos & video while flying It supports any IOS and Android phones. The cell phone holder...
One key 360° roll, continuous roll for perfect action and wonderful performance.
6. DBPower MJX X400W FPV Drone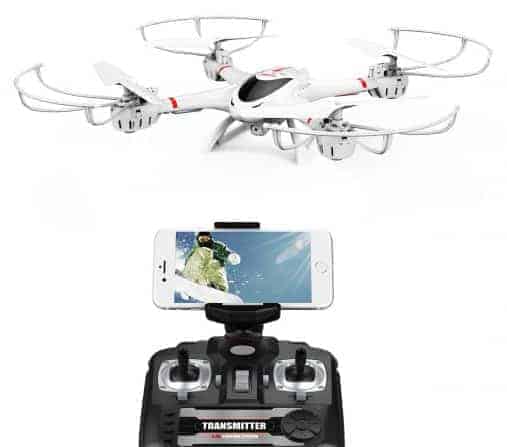 The DBPower MJX X400W is a FPV (First person View) drone. That means you can see what the drone sees using an Android or an iOS app installed on your phone.
The DBPower MJX X400W comes with a 2.4 GHz 4 channel transmitter giving you a good range of control for the drone. Speaking of transmission this is a FPV drone. That means you are able to see what the drone sees without. You need a smartphone app which will allow you to connect the drone with your device and then see what the drone sees in real time.
Plus, the videos that the camera shoots in FPV mode, are recorded both on your smartphone and your TF card which means you have the option to share it instantaneously with the rest of the world.
There is the standard Headless feature is also present. This mode has already been explained before. This mode is perfect for newbies and first time flyers. For expert flyers there is the 3D flip and roll flying options. All you have to do is press the function button and the drone will go into a controlled 360 ˚ flip in any direction you want to.
This is one of the few drones at this budget that has twin adjustable speed modes. You can select the speed at which you wish to fly and or record images / videos. And for night time flying there is a LED lighting arrangement which ensures that you are able to see which way the drone is flying to. The light is powerful enough to be seen from a really long distance.
Sale
DBPOWER MJX X400W FPV Drone with Wifi Camera Live Video Headless Mode 2.4GHz 4 Chanel...
HEADLESS MODE: Usually, the forward direction of a flying multi-rotor is the same as the nose direction, by using...
3D SPLIT SCREEN DISPLAY: Compatible with 3D VR HEADSET on MJX FPV APP, use your own VR HEADSET (NOT INCLUDED) to see the...
FPV REAL TIME TRANSMISSION: Connect your phone with the drone and the view will be shown directly on your phone, thus...
HIGH CAPACITY BATTERY: Control the X400W drone from 100 meters away and with the high capacity volume battery, you can...
ONE KEY 3D ROLL: With the latest technology of 6-Axis Gyro flying control system, it can fly very stable and take better...
7. Hobbico C-Me Social Sharing Flying Camera Drone

The Hobbico C-Me is tagged as a Social Sharing drone. It allows a single button sharing option of whatever you shoot with the rest of the world. It comes in an array of attractive color combinations which allows you to pick one that matches your style and preference. This is one of those rare few drones that are aimed at the selfie obsessed shooter. It is rightly called as the 'Flying Selfie Stick'.
The drone has a maximum of 8 – 10 mins of flight time when used on a fully charged battery.
The drone pairs itself with your phone via an app that works on both Android and iOS platforms. It allows you a first person perspective of what the drone sees giving you a scintillating bird's eye view of the world around you.
The drone comes loaded with nice still shooting and video shooting features. The 8 megapixel sensor can shoot nice high resolution stills and full HD (P) videos. It comes with a variable burst mode as well. You can intermittently choose between 3, 5, 10 and 15 shot bursts.
The rotors fold inward and when folded the whole drone can fit inside a pocket or a small bag giving you unmatched convenience. The drone has GPS connectivity which means you can easily check the exact location of the drone and fly it within a safe radius. Plus, you get Auto Take-off and Auto-landing features with it. A few professional features which you will mostly find in state of the art drones are Follow Me Home and Find Me. These two features allow the operator to locate the drone and the drone to automatically go back to the location where it was launched from when it runs out of power.
Sale
C-me Cme Social Media Flying Camera: Folding Mini Pocket Selfie Drone with WiFi, GPS,...
C-me flying camera is the ultimate flying "selfie stick" for capturing life's memorable events.
Anyone can fly it: intuitive app control takes only minutes to master and seamlessly interfaces with iOS and most...
Fits easily in a pocket, purse or backpack and is ready to shoot at a moment's notice.
GPS integration allows Auto-Takeoff and Auto-Land, Return to Home, Follow Me, and Find Me features.
Share instantly to Instagram, Facebook, Twitter and other social media platforms with the touch of a button.
Related Post: The Best Drones for the Pro Photographer & Video Enthusiast
8. Rabing Foldable Mini RC Drone FPV VR Wi-Fi RC Quadcopter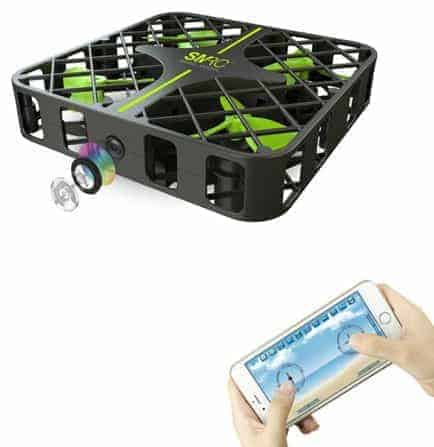 The Rabing Foldable Mini RC Drone is a small quadcopter that has a unique design. Al sides of this small quadcopter is neatly caged inside a protective mesh. This makes the quadcopter less susceptible to create an injury if it comes in contact with a human or bird when in flight. Also the design makes the quadcopter likely to survive a crash.
The Foldable Mini RC Drone can be controlled via your smartphone. You will need a mobile app that will allow it to be connected to your smartphone without issues. The smartphone becomes your radio controller when the Foldable Mini RC Drone is in flight.
Pneumatic positioning of the airpress ensures that the drone can hover without shake. This is useful when shooting pictures while hovering.
The drone come with the user-friendly headless flight mode. This mode, as has already been discussed before, allows the drone to be flown in any direction, regardless of the direction in which the nose is pointed at. There is also a 3D flip feature on the drone that adds a bit of spice when you are flying this enthusiastically.
Finally, the one key return function comes in handy when you have lost visual connection with the drone and want it to return back to home. On pressing this the drone will come back to the point where it was launched from.
Rabing Foldable Mini RC Drone FPV VR Wifi RC Quadcopter Altitude Hold Remote Control...
Protective Frame:All of the parts are protected by the stylish net cage productive frame outside, which makes the...
Pneumatic Positioning: Positioning according to airpress make it to hover accurately and steadily, which prevent shaking...
Mobile phone APP control (Wifi), image real-time transmission, self-timer mode conversion, easy to shoot, easy to read,...
6-AXIS FLIGHT CONTROL SYSTEM: Based on 2.4 GHz remote control technology, so it can be controlled more precisely, its...
3D-flip function and headless mode make your flight exciting and fun.With one-key return function, the drone can find...
Related Post: DJI Spark (New Amazing Drone Even Beginners Can Fly)