Creating a standout real estate listing involves capturing the property from all angles. That's why every serious real estate photographer needs a drone for excellent aerial shots.
Drones can get where you can't. They let you snap photos and record videos of properties from unique angles, providing potential buyers with a sense of how the property fits into the surrounding landscape. However, with a plethora of camera drones available on the market, finding one that fits your needs can be quite a challenge.
If you're looking to buy a drone but aren't sure where to start, don't worry! I've thoroughly researched dozens of options and compiled a list of my favorites. Below, I share the eight best drones for real estate photography in 2023, including options for all budgets and experience levels!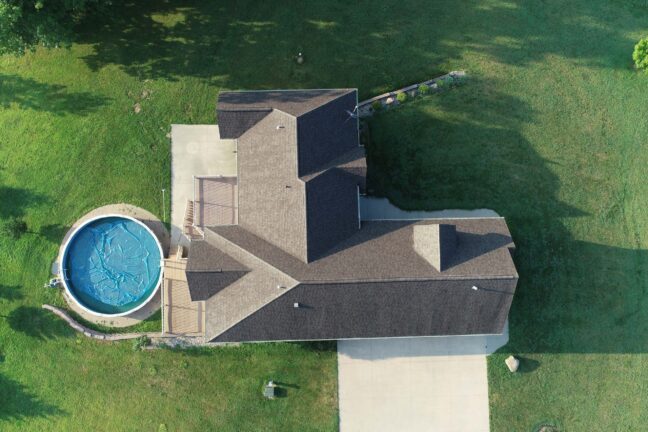 The Best Real Estate Photography Drones:
When you buy through links on our site, we may earn a commission at no cost to you. We evaluate products independently. Commissions do not affect our evaluations.
1. DJI Phantom 4 Pro+ V2.0
Our Pick
Great for professional real estate photography
The DJI Phantom 4 Pro+ V2.0, with its various flight modes, makes planning your real estate photoshoots easy and allows for unique angles and perspectives.
Pros
20 MP main camera with mechanical shutter
8 km transmission distance
High-quality RC with a glare-free screen
microSD card included
Cons
FAA registration required to fly due to the weight
Much larger and heavier than other DJI drones
My absolute favorite real estate photography drone is the DJI Phantom 4 Pro+ V2.0. It's a high-end drone that costs thousands of dollars, so it isn't a good pick for beginners – but if you're serious about purchasing a drone for still photography or plan to significantly invest in your real estate business, it's an outstanding pick.
The 20 MP CMOS sensor delivers high-quality still photos, and the camera uses a mechanical shutter, so you'll never experience any rolling shutter distortion in your photos.
In addition to the camera quality, this drone offers advanced flight controls. The transmission distance should never be an issue when circling buildings, as it has a range of nearly 5 mi (8 km). You can utilize various flight modes to plan your real estate photoshoots and effortlessly capture the properties from a variety of angles. These modes include options like TapFly and Draw mode (the latter lets you draw a predefined flight path at a fixed altitude).
The Phantom does come with some downsides, however. It weighs over 250 g, so you must register it with the FAA, and it's not the most portable model available. Additionally, as I mentioned above, the price tag is rather high. Only get it if you know you're going to take advantage of its impressive capabilities.
2. DJI Mavic 3 Pro
Also Great
Great for detail shots
The DJI Mavic 3 Pro boasts multiple cameras and provides high-quality detail shots thanks to the 166mm (28x) zoom.
Pros
20 MP main Hasselblad camera
12.8-stop dynamic range to get perfect exposures
Huge transmission distance of up to 15 km
DJI RC with a high-quality LED screen
166mm zoom
Cons
The battery life may be exaggerated
Relatively expensive
The DJI Mavic 3 Pro is one of the newest drones on the market, and its impressive features make it a top choice for anyone looking to become a top real estate photographer. Basically, if you want professional results without the bulk or price of the Phantom, it's the perfect pick. It's far more portable, and while it's larger than drones in the Mini series, you can easily take it to various real estate photoshoot locations.
The camera array is a standout feature of this drone. The main camera uses a 20 MP Four Thirds sensor that captures beautiful wide angle images. Then there are two more cameras; one captures 48 MP stills at 70mm, and the other produces 12 MP stills at an impressive 166mm. Unlike some drones, the Mavic doesn't have image-quality issues when working at telephoto focal lengths, so you can get beautiful close-up shots of specific property features.
If you're still learning to pilot drones, the omnidirectional obstacle-sensing feature will prove invaluable. It doesn't mean you can fly wildly, but it does make it far less likely that you'll crash the drone by accident. With a 43-minute flight time per battery, there should always be enough power to finish your property shots.
What I really appreciate is the main camera's Hasselblad design. You can shoot in full RAW file mode with an impressive dynamic range of up to 12.8 stops. Essentially, you get full DSLR quality but with slightly less control and fewer shooting features.
3. DJI Mini 3 Pro
Great for high-res shots
The 48 MP camera on this drone boasts a broad ISO range and a maximum aperture of f/1.7, making it perfect for high-quality still photos.
Pros
48 MP still photo resolution
HDR technology
DNG RAW file format available
Highly portable and lightweight
Cons
The 34-minute flight time is overestimated
No Wi-Fi capabilities to quickly transfer photos
The DJI Mini 3 Pro could very well be the ultimate drone for real estate photography if you're looking for a combination of portability and quality. Its compact size is remarkable, and if you're not keen on lugging around a heap of equipment, it's a great choice.
When compared to the standard DJI Mini 3, the Pro version sports a better sensor capable of capturing 48 MP still photos, meaning your real estate shots will boast outstanding detail. The advanced camera also features decent ISO capabilities, and with a maximum f/1.7 aperture, you'll be able to snap clear property photos regardless of the lighting conditions.
DJI claims that the standard batteries offer around 34 minutes of flight time, and though I think this is slightly exaggerated, the true flight time is still pretty solid. Additionally, with a transmission range of 1640 ft (500 m), you won't need to worry about flight distances when photographing properties. Transferring your photos to a laptop or desktop computer is a breeze as the drone accepts microSD cards, although you might need an SD card adapter or a versatile card reader.
Finally, for challenging lighting conditions, there's a handy HDR mode that ensures your real estate photos are always evenly exposed.
4. DJI Mini 3
Great for portability
The DJI Mini 3 Fly More combo includes a stylish carrying case, which makes the drone easy to transport to various real estate photoshoot locations.
Pros
DJI RC with a fantastic display screen
Easy to control
Lightweight drone body
Multiple flight modes and safety features
Cons
Only has a 12 MP camera
The 38-minute battery life is overstated
I happen to own the DJI Mini 3, and it's an extraordinary drone for the price. I'm speaking from personal experience when I say that the controls are intuitive and the recording quality is top-notch. Plus, the drone's excellent stabilization makes it a breeze to capture high-quality photos.
For folks looking for a portable option or even a high-level entry point into aerial real estate photography, the Mini 3 is a great pick. Though its photos are only 12 MP, the end results are outstanding. If you opt for this drone, I suggest going with the Fly More combo, which includes the DJI RC. Working with this controller is considerably better than using your smartphone; it's well crafted and the screen quality is amazing.
In terms of flight capabilities, this drone can reach any vantage point swiftly. The Return to Home feature is a favorite of mine, and you can set the altitude at which the drone travels back to its starting position to prevent potential collisions.
While the battery life is certainly impressive, the advertised 38-minute flight time might not match reality, especially if you're creating 4K video. Regardless, the Fly More combo includes two batteries and a carrying case, enabling you to easily transport the drone to various real estate locations and shoot for double the standard flight time.
5. Autel Robotics EVO II Pro V3
Great for low-light photos
With a maximum ISO of 44000 and an aperture of f/2.8, the Autel Robotics EVO II Pro V3 is perfect for challenging low light situations.
Pros
Upgraded transmission with frequency hopping
1-inch Sony sensor
Insane transmission distance of up to 9.3 mi (15 km)
Great RC with a high-quality screen
Cons
No capability to wirelessly transfer photos
The Autel Robotics EVO II Pro V3 is a real estate photography drone that can rival the top DJI models. The drone's controls and performance are impressive, and it offers a 9.3 mi (15 km) transmission distance, which is more than sufficient for your real estate photography needs.
Unlike some companies that overstate the battery life, when Autel Robotics claims that you get 40 minutes of flight per battery, it's a genuine estimate. This means you should never have to land midway through a real estate photoshoot due to a drained battery, and you'll have plenty of time to create high-quality real estate images.
The EVO II Pro V3 houses a Sony 1-inch CMOS sensor that enables you to capture high-resolution photos in any lighting conditions. Its 16x digital zoom allows you to focus on specific property features, and with a maximum aperture of f/2.8 and a maximum ISO of 44000, you can achieve swift shutter speeds in low light without substantially sacrificing image quality.
The drone's upgraded transmission system and its capability to switch between frequencies mean you should never lose transmission and risk a crash landing.
6. Autel Robotics EVO Lite Plus
Great for larger structures on a budget
The Autel Robotics EVO Lite Plus, with an impressive transmission range of 7.5 mi (12 km), can easily navigate around larger buildings, skyscrapers, and tower blocks when shooting.
Pros
Kit includes three batteries
1-inch sensor with a max ISO of 64000
360-degree obstacle avoidance
Cons
The RC does not have a built-in screen
There may be occasional initial control connection issues
If the Autel Robotics EVO II Pro V3 feels too steep for your budget, consider the Autel Robotics EVO Lite Plus. This drone marks Autel Robotics' first attempt to create a more affordable option for photographers. Despite the lower cost, it still packs a punch and works great for capturing property images in bustling cities where you need to navigate in tight spaces.
This advantage is due to its excellent transmission and flight controls. It features a three-way, 360-degree obstacle avoidance system that ensures it won't collide with unexpected objects, and the transmission range is an impressive 7.5 mi (12 km). The long flight range means you can easily fly up and around tall structures like skyscrapers and large office buildings.
The camera on this drone is outstanding; it offers a maximum aperture of f/2.8, and you can crank the ISO up to 64000. As a result, shots taken in challenging lighting conditions should still come out looking fantastic.
Another feature I like is the drone's auto-balancing, which helps you achieve the best exposure for each shot so that your highlights, midtones, and shadows all have good detail. The only drawback is that you need to use your smartphone in the remote, but the package does include three batteries.
7. Holy Stone HS720E
Great for real estate photography beginners
The Holy Stone HS720E is an affordable drone with excellent controls, making it a superb choice for real estate companies looking to start with aerial photography.
Pros
4K resolution
Simple controls that are easy to use
Various advanced flight modes to easily navigate around properties
Kit includes 2 batteries
Cons
Must use your smartphone in the remote
Advertised battery life can be overstated
Maybe your real estate business is ready to try drone photography, but you're still growing and don't have a massive budget yet. If that's the case, the Holy Stone HS720E makes an excellent starter drone. While it won't offer the same image quality and features as the top DJI drones, it's capable of capturing very nice photos, giving you a competitive edge in your property listings.
To avoid potential noise complaints, this drone uses brushless motors that are relatively quiet. Each battery provides a flight time of 23 minutes, and the Fly More kit includes two batteries. This length of flight time should be sufficient to complete at least one shoot per day (and perhaps even two if you're fast).
The 4K camera on the HS720E comes with stabilization to ensure consistently sharp photos, and the Sony sensor basically guarantees detailed photos with excellent contrast. Plus, it's easy to import your photos into drone editing software for further enhancements.
A good flight transmission range is essential because you'll need to fly your drone considerably higher than the property to capture adequate shots. With a transmission distance of 1640 ft (500 m), the HS720E doesn't offer the best range out there, but it should be just fine for houses and land parcels. At the end of the day, it's a reasonably long-range drone that won't break the bank, making it great for first-time fliers.
8. Holy Stone HS175D
Great for learning drone piloting
The Holy Stone HS175D is a cost-effective starter drone that helps users understand flight controls.
Pros
Numerous flight modes
Two batteries included
Lightweight
4K resolution with a 110-degree wide angle lens
Cons
Image quality isn't the best
The drone chassis can feel a little cheap
For those new to drone photography who are unwilling to spend lots of money, I recommend the Holy Stone HS175D. For under $200, you get a drone with decent capabilities, one that's perfect for learning the basics of real estate photography and getting used to piloting a drone.
The HS175D comes with a 4K camera that boasts a 110-degree viewing angle, so you can take fantastic wide angle shots of properties from above. The altitude hold feature lets you set the drone to hover at a specific height, making it easier for you to keep the drone steady.
The package comes with two batteries. In my experience, this is a big deal because flight times are often less than advertised, especially when using advanced flight features and a 4K camera.
The drone also includes an intuitive remote control that interfaces with your smartphone so you can see the camera feed as you fly. The Point of Interest mode is also fantastic for real estate photography, as you can program the drone to fly around a house while you capture photos and videos from various angles.
Professional Drones to Take Your Real Estate Listings to New Heights
Before purchasing a drone, please remember to check the license and registration requirements in your country of residence. Also, familiarize yourself with drone laws to avoid potential incidents. I'd recommend you look for apps that show you where you can fly safely and warns of restricted airspaces and problematic objects.
Now, which of the best drones for real estate photography is right for you? If you're a real estate agent looking to spice up your listings with aerial shots, entry-level 4K drones like the Holy Stone HS175D, the Holy Stone HS720E, and the DJI Mini 3 are all excellent picks.
However, if you want to specialize in real estate photography, the DJI Mini 3 Pro, the Autel Robotics EVO Lite Plus, and the DJI Mavic 3 Pro offer superior features and camera quality.
Last, if budget isn't a concern and you want the absolute best photo and video quality, the DJI Phantom 4 Pro+ V2.0 and the Autel Robotics EVO II Pro V3 are currently the top options on the market.
---
Disclosure/Disclaimer: As an Amazon Associate, we earn from qualifying purchases. Certain content was provided "as is" from Amazon and is subject to change or removal at any time. Product prices and availability: Amazon prices are updated daily or are accurate as of the date/time indicated and are subject to change. Any price and availability information displayed on Amazon.com at the time of purchase will apply to the purchase of this product.