Real estate photography has evolved immensely over the last 5-10 years. We have seen numerous different techniques and photography modes become incorporated that have enabled realtors to take their property presentation to a whole new level.
One such type of photography is aerial photography using drones. Manually piloted drone technology has improved hugely in the last few years, and realtors can now purchase some serious kit that can allow them to take superb aerial shots of their properties. This article looks at why using a drone could help your real estate venture, and which are considered the best drones for real estate photography – enjoy!
Why is a Drone Beneficial for Real Estate Photography?
Using a drone for real estate photography can open up a whole new world of possibilities. A drone can reach places that a human can't. A drone can take photos from angles and perspective that a human can't. A drone can fly up above a property to take some awesome aerial photos and videos – these are all things you simply can't do with a standard DSLR camera unless you have a huge ladder or a helicopter and neither of those things is practical!
Related Post: Best Drones for Still Photography
A drone equipped with a high definition camera can be used to take fantastic aerial shots of the exterior of a property. Furthermore, you can use it to take exceptional shots of the grounds and garden of a property and even the surrounding area and street for example. Alternatively, you can use a drone indoors to take photos of the rooms and passageways from higher angles than you could usually reach with a DSLR camera. In short, a drone can allow you to capture a property in a whole new light, and provide an interesting array of photos to give potential buyers a true idea of what they can expect.
What Features should you consider for your Real Estate Drone Purchase?
Now that you understand why a drone can really push your real estate photography to the next level, it is important to consider what features you require from your drone. Drones come in many different shapes, sizes, and types – some drones are simply children's toys, whilst others are built specifically for racing and traveling at ultra-fast speeds. A drone suitable for real estate photography should be neither of these. The following are three main features you should consider when purchasing a drone for real estate photography:
Camera Resolution
The actual camera is obviously the most important aspect of a drone for real estate photography. If you purchase an expensive drone and it transpires that the camera has a poor resolution then your money is wasted. Check the frame-rate and resolution of the video camera that is mounted to the drone, and also check what megapixel it can shoot at. Aside from the basic resolution and quality, look at other features such as what file type the camera can shoot in and if there are any special shooting modes.
Related Post: Airmagic Review – Easy to Use Drone Photography Software
Control Range
A drone only has a certain range that it will transmit to from your remote control. Some drones only have a range of a few 100m whereas others have a range spanning into miles. When using a drone for real estate photography, you must have a decent control range in order to be able to take those fantastic high-angle aerial shots. Imagine flying your drone above a house in preparation to take a photo, and the remote control suddenly loses transmission – you watch helplessly as your drone crashes to the ground! Don't let this happen – check the transmission range first!
Flight Time
Drones generally run on lithium batteries. You must charge these batteries before use, and each battery only provides you with a certain amount of flight time. It is important to check the estimated flight time of a drone before making a purchase. A real estate photo shoot could take quite some time, therefore purchasing a drone that only has a 10 minute flight time would prove detrimental. Ideally, you want a drone that has a minimum flight time of 20+ minutes.
Stability/Maneuverability
Finally, you must purchase a drone that can fly with a high level of stability. Imagine you are trying to take photos or video with a drone that cannot fly level, or keeps shaking, or keeps losing altitude. Some drones have built-in gyros and gimbals to help stability and to ensure that you can take photos easily with the mounted camera. Look at what stability features the drone has – does it have any automatic flying features or stability assistance?
Which are the Best Drones for Real Estate Photography?
Now that we have looked at why a drone is beneficial for real estate photography, and which features you should look out for, we can finally look at which are the best drones for real estate photography. There is no denying that these drones don't come cheap, but the investment will be worth it. Once you have purchased a drone and the necessary accessories you can then use it time and time again and you will soon make a return on investment.
The following 5 drones represent the best quality models for real estate photography – please note that the price range, features, and models are correct at the point of this articles publishing:
1. DJI Phantom 4 Pro
Camera Resolution: 4k/60fps
Range: 7km
Battery Life: 30 minute flight time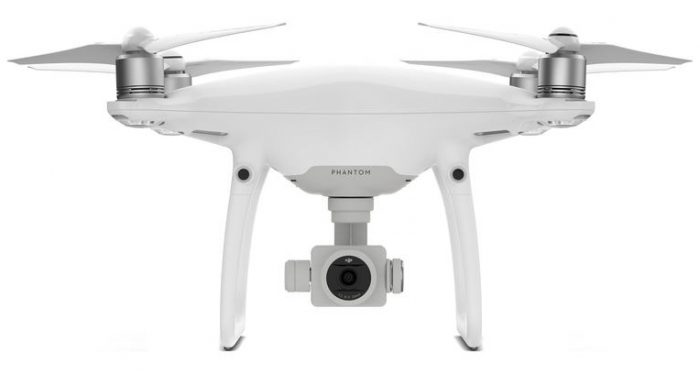 DJI is renowned as creators of awesome drones that have a fantastic array of features and their Phantom 4 Pro is certainly a magnificent model. This drone is regarded as one of the best available in its price range and it is a superb piece of kit, especially for real estate photography. Although you will probably never have to fly the drone this high, the Phantom 4 Pro has a range of 7km so you can easily use this drone to take those epic aerial property shots.
Furthermore, with a flight time of 30 minutes, this drone has one of the best run times available. The mounted camera has an effective resolution of 20mp and can operate at apertures of between f/2.8 – f/11. What makes the camera even more special however is that you can shoot in burst mode for multiple quick shots and it even has a bracketing mode if you wish to create HDR composites. Aside from the camera and video, the drone itself is really well made and a breeze to control.
DJI Phantom 4 PRO Professional Drone, Hobby RC Quadcopter & Multirotor, White,...
Camera with 1-inch 20MP sensor the onboard camera has been redesigned to use a 1-inch Megapixel CMOS sensor.
Five-directions of obstacle sensing. Please refer the Instructional Video and the User Manual before use.
More powerful video processing supports H.264 4K videos at 60fps or H.265 4K at 30fps, both with a 100Mbps bitrate
Note: Refer the Instructional Video and the User Manual before use which is highly recommended.
Max Flight Time Approx. 30 minutes
2. Yuneec Typhoon H Pro
Camera Resolution: 4k HD / 12mp
Range: 1.6km
Battery Life: 25 minute flight time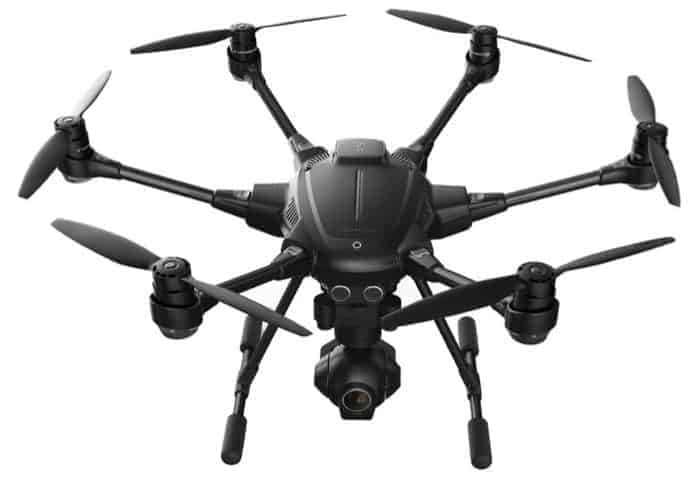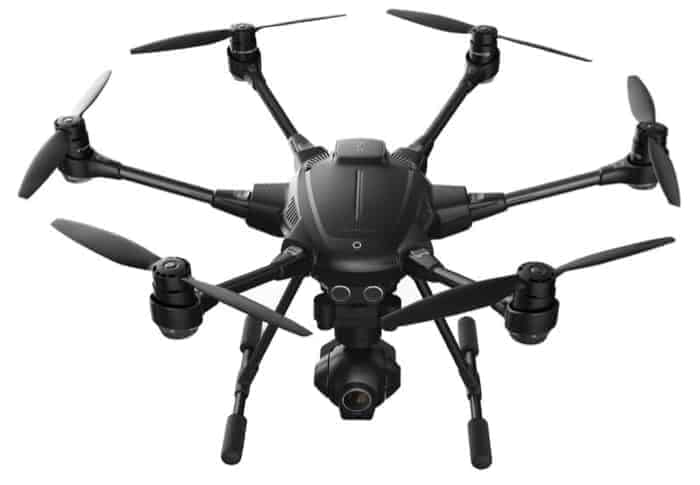 The Typhoon H Pro is a hexacopter that looks simply amazing. The camera has a 360-degree vision and is mounted underneath on a three-axis that allows for superb control and movement. Although the camera is only 12 megapixel in comparison to the 20mp of the Phantom, the quality of the photos is still amazing and the video capabilities allow for full 4k HD recording.
What makes this drone stand out is the array of features and controls which make piloting this drone a truly fantastic experience. If you are worried about crashing into objects when circling a property fear not; the Typhoon has sonar collision prevention which makes the drone stop automatically when close to an object.
Related Post: Best Software to Edit Drone Videos (Amazing 6 Desktop Apps)
Furthermore, if you want to take some aerial shots of a property, you can use the point of interest mode which allows the drone to circle around a particular object such as a house. You can even program the Typhoon to fly along a specific route if you want to take certain photos in succession. This drone really is built for professional use and will make your real estate photography stand out.
3. DJI Mavic Pro
Camera Resolution: 4k/30 fps
Range: 7km
Battery Life: 27 minute flight time
If you are looking for something a little less expensive than the DJI Phantom but still want a high-quality drone then the DJI Mavic Pro could be the perfect model. This model is much smaller than the Phantom but still has some fantastic features and a great camera too. The camera is stabilized with a tri-axis gimbal and has a resolution of 12mp or 4k/40fps. You can actually shoot long exposure shots up to 8 seconds, and you can shoot images in full RAW mode.
The drone is also equipped with an array of sensors and external cameras that ensure the drone will not crash into objects.
Additionally, the drone can hover precisely to allow you to get brilliant aerial shots, and ­it even has a tripod mode which reduces the sensitivity of the controls and allows you to make precise movements to get the perfect angled shot. Finally, this drone also has dual remote control features to allow one person to control the camera, whilst the other concentrates on the actual movement of the drone.
Update: New Model DJI Mavic Pro II is now available
DJI Mavic 2 Pro - Drone Quadcopter UAV with Hasselblad Camera 3-Axis Gimbal HDR 4K...
Equipped with a Hasselblad L1D-20c camera with a 20MP 1" CMOS Sensor, the Mavic 2 camera drone lets you capture gorgeous...
Up to 31 minutes flight time, 44 mph max speed, 907G takeoff weight, 3-axis gimbal for steady shots, 8GB internal storage, SD...
Functions include ActiveTrack 2. 0, Omnidirectional Obstacle Sensing, Hyperlapse, Low-Noise Design, Adjustable Aperture, HDR...
The standard remote controller offers up to 135 minutes of battery life on a full charge. Use with the DJI GO 4 App on your...
DJI GO 4 App requires iOS 10.0.2, Android 5.0 or above. Compatible devices include: iPhone 11 Pro Max, 11 Pro, 11, XS Max,...
4. Parrot Bebop 2 Adv
Camera Resolution: 1080p HD
Range: 2km
Battery Life: 25 minute flight time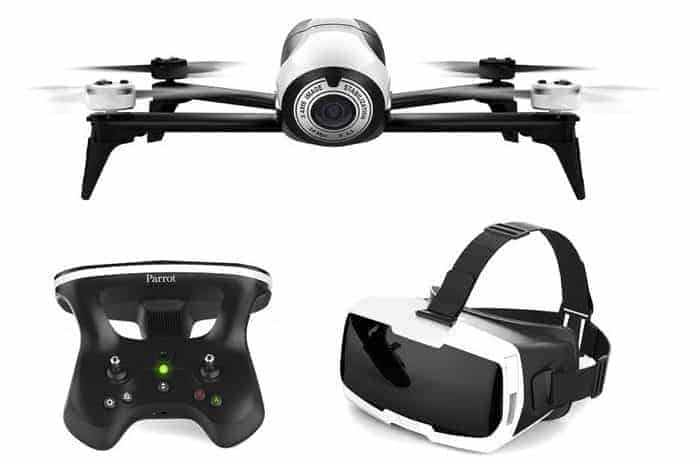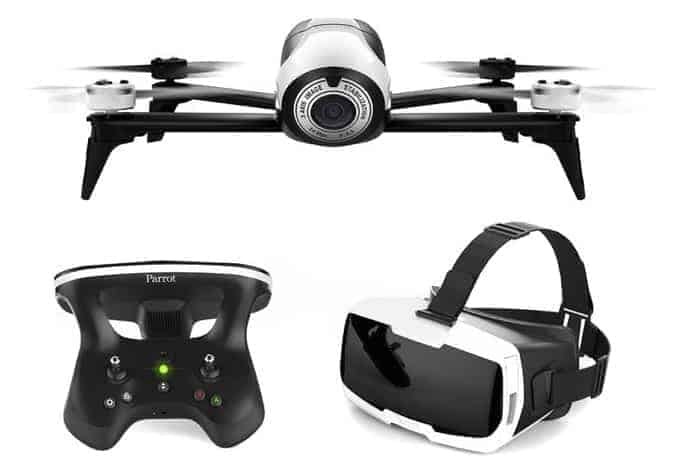 Parrot is another well-known creator of drones and the Bebop 2 Adventurer is a superb model with a great deal to offer. This drone is much cheaper in the price range and is a great entry-level drone that is easy to move and transport. With a battery life of 25 minutes and an effective flying range of 2km, the Bebop 2 can easily cater to your needs and will allow you great flexibility in your real estate photos. Furthermore, this drone is extremely quiet – one of the quietest drones we have heard so you do not have to worry about disturbing the neighbors or residents when piloting this model.
The camera is high quality and allows you to shoot HD photos with ease – the various different apps that come with the Parrot Bebop 2 also make it easy and intuitive to pilot and you can get some amazing angles. Finally, this drone also comes with amazing VR goggles that allow you to pilot the drone as if you were flying from the camera – this gives you a great deal of control.
5. 3DR Solo
Camera Resolution: Compatible with GoPro Hero 3 & 4
Range: 8km
Battery Life: 25 minute flight time
If you want a drone that offers flexibility and the ability to upgrade your camera then the 3DR Solo should be your model of choice. This drone does not have a fixed mounted camera, but instead, it has a mount that you can attach a GoPro camera inside. The 3DR Solo is compatible with both the GoPro Hero 3 & 4 and the company has actually worked in conjunction with GoPro to ensure that the camera's functionality can be controlled with the drone remote control itself. As time progresses, new GoPro models will be released, and you can then upgrade your 3DR too if you wish.
The design of the 3DR is durable and it looks extremely well built. Furthermore, it features a beautiful array of different flight modes that are perfectly suited for real estate photography. Finally, with a flight time of 25 minutes, and a range of up to 8km, this drone really can get you those awesome aerial property shots.
If you purchase any of the above 5 drones then you can certainly take your photography to the next level. When purchasing a drone for real estate photography, be sure to purchase some accessories too. We would advise purchasing several spare high-quality lithium batteries as backups, and also a card reader for your computer to easily transfer the photos and video from your drone to storage for editing.
Consider investing in post-processing software such as Adobe Lightroom too so you can make final touches to your photos afterward. Finally, before actually using your drone to take real estate photos, ensure that you have obtained permission and that any residents around you are aware of what you are doing. We hope you have found this guide to the best drones for real estate photography useful – why not make an investment for your future today?
---
As an Amazon Associate we earn from qualifying purchases. Certain content that appears on PhotoWorkout.com comes from Amazon. This content is provided 'as is' and is subject to change or removal at any time.