Flying a drone can be great fun, and believe it or not, it is considered a sport! However, drone piloting extends beyond flying technique and skill. A drone can be a great tool for photographers and videographers. Since we're not able to head outside right now, and sometimes the weather gets in the way of our plans, having one of the best indoor drones can be a great way to refine your flight skills in the comfort of your own home.
Why Buy a Drone to Fly Indoors
Piloting a drone is much more complicated than driving a remote-control car. You must consider the altitude, weather conditions, and dangerous obstacles. Drones are also more susceptible to breakages, with their plastic propellers and the potential for big falls. Learning how to control a drone effectively and safely is a must.
But why do this inside? Flying a drone inside offers the following benefits:
No adverse weather conditions
You have full control of the environment
You don't have to travel to learn
No possibility of external interference
Firstly, indoor drone piloting is not subject to wind or other adverse weather conditions. This means you can simply get used to the basic controls. Secondly, you have full control of your home environment – a bird isn't going to crash into your drone, and you know exactly where every object is within your house. This minimizes the possibility of crashes and damaging your drone.
In addition to this, indoor drones generally do not require registration – this means you can use them freely, without worrying about FAA drone regulations. Finally, using the best indoor drones to learn flying is convenient. You don't have to travel to a local park, and you can learn from the comfort of your own home – what could be better?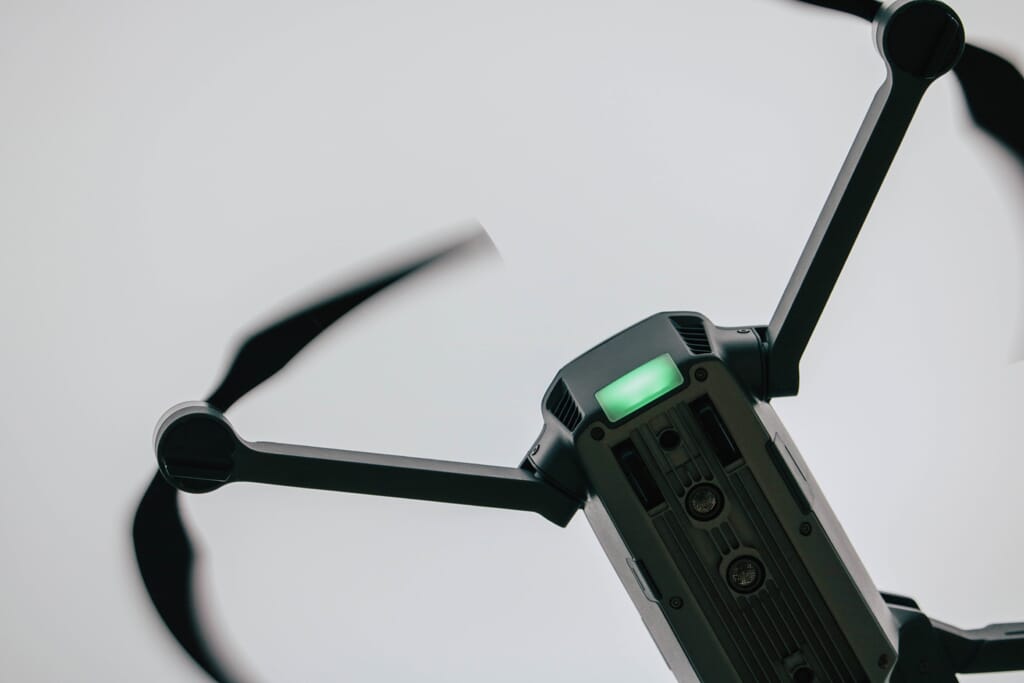 Best Indoor Drones to Improve your Flying Skills
If you want to take up drone photography as a hobby, the 7 best indoor drones listed below are the perfect place to start. We have gathered a range of drones including affordable models for beginners, and devices like the Parrot Mambo FPV that offer advanced functionality.
Dimensions – 132 x 132 x 40mm
Weight – 1133g
Battery Life – 10 minutes
The Parrot Mambo FPV is primarily a racing drone. It can, however, be used safely indoors. And thanks to its fast speeds and responsive controls, it is one of the best indoor drones for pure fun. Using this drone is a joy – it sounds like a hornet and zips through the air like a jet plane.
Putting aside the fun elements, this drone is well-equipped. Firstly, it has a good battery life of 10 minutes, and the remote control has an impressive charge life. Secondly, it has an optional 720p HD camera that you can use in conjunction with the FPV headset. Thirdly, the drone itself is robust, and if you do crash it, the blades and arms are easily detachable.
If you want to dive straight in and try your luck with advanced indoor drone maneuvers, the Parrot Mambo FPV is the best choice. The remote control is sensitive, and there is a couple of trick buttons that allow you to perform mid-air flips! This drone is not suitable for young children but is a blast for teenagers and adults.
Best indoor drone
Ultra-fast racing drone with 720p camera
The Parrot Mambo FPV is easily the best choice for an indoor drone – it is lightweight, has a decent battery life, and also has a 720p HD camera.
Dimensions – 83 x 83 x 58mm
Weight – 25g
Battery Life – 4.5 minutes
The Poke FPV Mini UFO Quadcopter by ARRIS is unbelievably small. Measuring 83mm at its longest length, this tiny drone will fit in the palm of your hand. This makes it an excellent choice for learning precision flying techniques and navigating through small spaces.
The standard packages come with the drone, a remote control, spare blades, and a charger. There is also a simple instruction manual that helps with controller setup and basic flying techniques. The remote is reminiscent of a Sega Megadrive controller – it is comfortable to hold, and the controls are intuitive.
With a flight time of just 4.5 minutes, don't expect to use this drone for prolonged periods. However, you can make use of the quick battery recharge time and fly frequently in short bursts. In terms of flying, the Poke FPV Drone is fun to use – the controls are semi-responsive but not the sharpest. It has quite fast top speeds, and it is stable whilst in the air. For beginners, and for a first foray into the world of drones, this is certainly one of the best indoor drones.
Affordable quadcopter with simple remote control
This cute drone has simple a simple operation and is fun to pilot indoors.
Dimensions – 150 x 75 x 75mm
Weight – 134g
Battery Life – 5 minutes
This is another great compact drone choice, perfect for indoor usage. The Cheerson CX10 is ideal for beginners and children. If you have never used a drone before and want to start somewhere simple – this is a great option. It is extremely affordable and relatively simple to use. Furthermore, despite its small size, it is robust and well-designed.
In addition, the Cheerson CX10 is available in a range of different colors and designs which gives you some personalization. The run time is just 5 minutes, but in these 5-minute periods, you can start to learn the basics of drone piloting. And, as you grow in confidence, you can alter the sensitivity of the remote, giving you more control and maneuverability.
If you are feeling adventurous, you can throw this drone from your hand to fly. It also has an automatic-hover mode and a button on the remote for performing simple flips. Thanks to its low price and ease-of-use, this is one of the best indoor drones for kids and beginners.
Tiny indoor drone perfect for first flying lessons
This small drone packs a punch and is the perfect device to learn the basics of drone piloting.
Dimensions – 99 x 93 x 40mm
Weight – 31.7g
Battery Life – 13 minutes
This Ryze Tech Tello drone uses technology from DJI's drone line-up. The build and style are similar to the Parrot Mambo FPV – this is a drone that is great for advanced indoor usage once you are comfortable with the controls. In addition to this, the Ryze Tech Tello drone has the best flight time of 13 minutes – this gives you ample time to practice maneuvers and learn how the drone works.
It is compatible with a headset, but this must be purchased separately – the basic package comes with the drone, battery and spare blades. In terms of functionality, the drone has automatic take-off and landing features. It also has an easy to use controller, but can also be piloted from your smartphone.
Once you have mastered the basics of flying, the Ryze Tech Tello has a 720p HD camera (5MP photo resolution) so you can practice recording drone footage and taking basic photos. This model is one of the best choices and is on-par with the Parrot Mambo FPV for best indoor drones.
Stylish drone with cool flying features
The Ryze Tello is a top indoor model and has some brilliant flying features like flips and stunts.
Dimensions – 320 x 320 x 320mm
Weight – 108g
Battery Life – 7-9 minutes
The Holy Stone HS 200 looks fantastic – it has a sleek design and durable blade arms that provide a stable flying experience. This drone is perfect for indoor usage, but once you are confident, it can be taken outdoors too. The remote control is advanced and has a holding clip to place a smartphone. This allows you to fly the drone from a first-person perspective from longer distances.
When flying indoors, you benefit from the ample flight time of 7-9 minutes. Moreover, battery charge times are fast. In addition, this drone has some useful features including one-key return home, built-in altitude hold, and built-in axis stability.
If you want to learn how to pilot a drone safely, the Holy Stone HS 200 is a top choice. The advanced features, remote control, and 720p HD video camera allow for additional learning. And despite the larger size of this drone, it does not require FAA registration.
Versatile model also usable outdoors
This drone offers great features for indoor usage, but can also be taken outdoors too.
Dimensions – 256 x 231 x 111mm
Weight – 743g
Battery Life – 10 minutes
The Altair Aerial AA108 has an unusual design. Each side of the rotor blades features a protective bar – this works well to prevent collisions and minimize damage to the blades and unit. An average flight time of 10-minutes puts this drone up with the best – the standard kit also comes with two rechargeable batteries.
For beginners, this drone has a range of useful features. For example, it has automatic takeoff and landing, and an emergency landing function. The controller also has three skill levels – beginner, intermediate, and advanced. You can learn how to fly a drone safely, and increase the skill level once you feel comfortable.
For those who want to venture into drone photography, the AA108 has a 720P HD camera that can record excellent video and take decent quality photos. The camera itself has a viewing angle of 120-degrees which provides a stunning wide-angle perspective when piloting the drone.
Portable drone featuring FPV mode and 720p camera
The Altair AA180 is a compact model that offers simple piloting and features like a 720p HD camera, and a spare battery.
Dimensions – 269 x 208 x 86mm
Weight – 18g
Battery Life – 6-8 minutes
The Blade Inductrix is a fully-assembled drone that fits in the palm of your hand. It is one of the best indoor drones for beginners due to its small size and durable design. A major bonus of this drone is its price, it is extremely cheap – you could consider buying a couple of these and have one as a backup.
It has an array of safety features that make it difficult to crash. For example, it has self-leveling technology that keeps the drone at a constant altitude whilst flying. It is also easy to pilot and has a decent flying time of up to 8-minutes.
Compared to some other drones, the Blade Inductrix operates relatively quietly due to the design of the blade housing. This is essentially a fun drone to use that allows you to quickly and safely learn the basics of drone piloting.
Ultra-compact drone for safe indoor flight
The Blade Inductrix weighs just 0.64 ounces and has a decent flying time of 8 minutes. For such a small drone, it has a surprising set of features.
Start Piloting Indoors, Now!
Learning how to fly a drone is a fun experience. It takes skill, great reflexes, and immense concentration. Once you learn the controls, and how the drone reacts to user input, you will be flying through your house like a pro!
The best indoor drones allow you to safely fly in your home in a controlled environment. As your confidence grows, you can then venture outdoors. The skills and control you have learned indoors should help prepare you for a greater outdoor adventure.
---
As an Amazon Associate we earn from qualifying purchases. Certain content that appears on PhotoWorkout.com comes from Amazon. This content is provided 'as is' and is subject to change or removal at any time.