Photographs are meant to be printed – some print them on walls, some print them on mugs, and the cool kids print them on shirts! With so many online services popping up offering photo prints on a stylish tee of your choice, it can be overwhelming to determine which printing service is best. Well, my friends, you've certainly come to the right place – here is our guide to the best photo t-shirt printing online!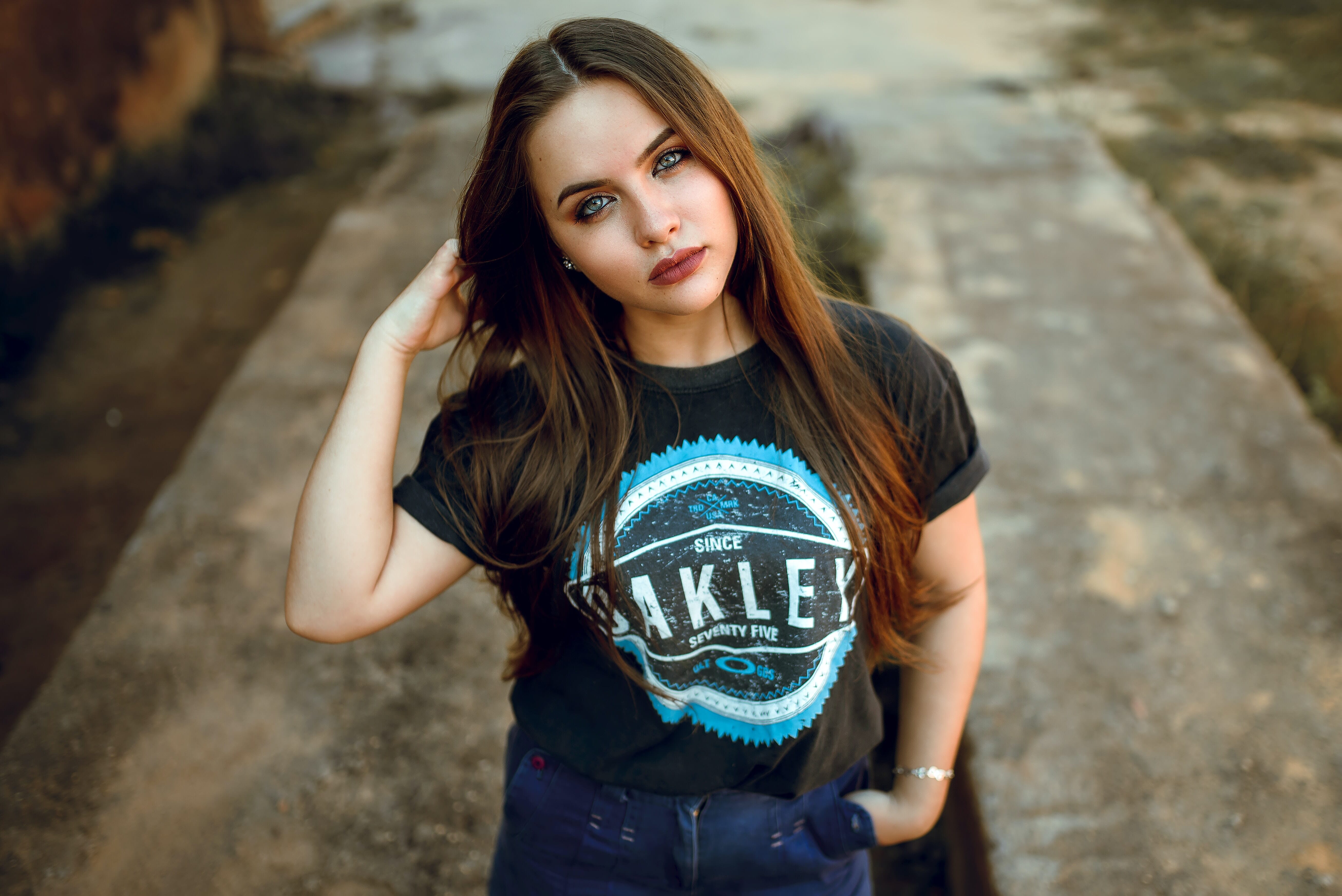 Best Photo T-Shirt Printing Services:
When you buy through links on our site, we may earn a commission at no cost to you. We evaluate products independently. Commissions do not affect our evaluations.
Best T-Shirt Photo Printing Services
1. Vistaprint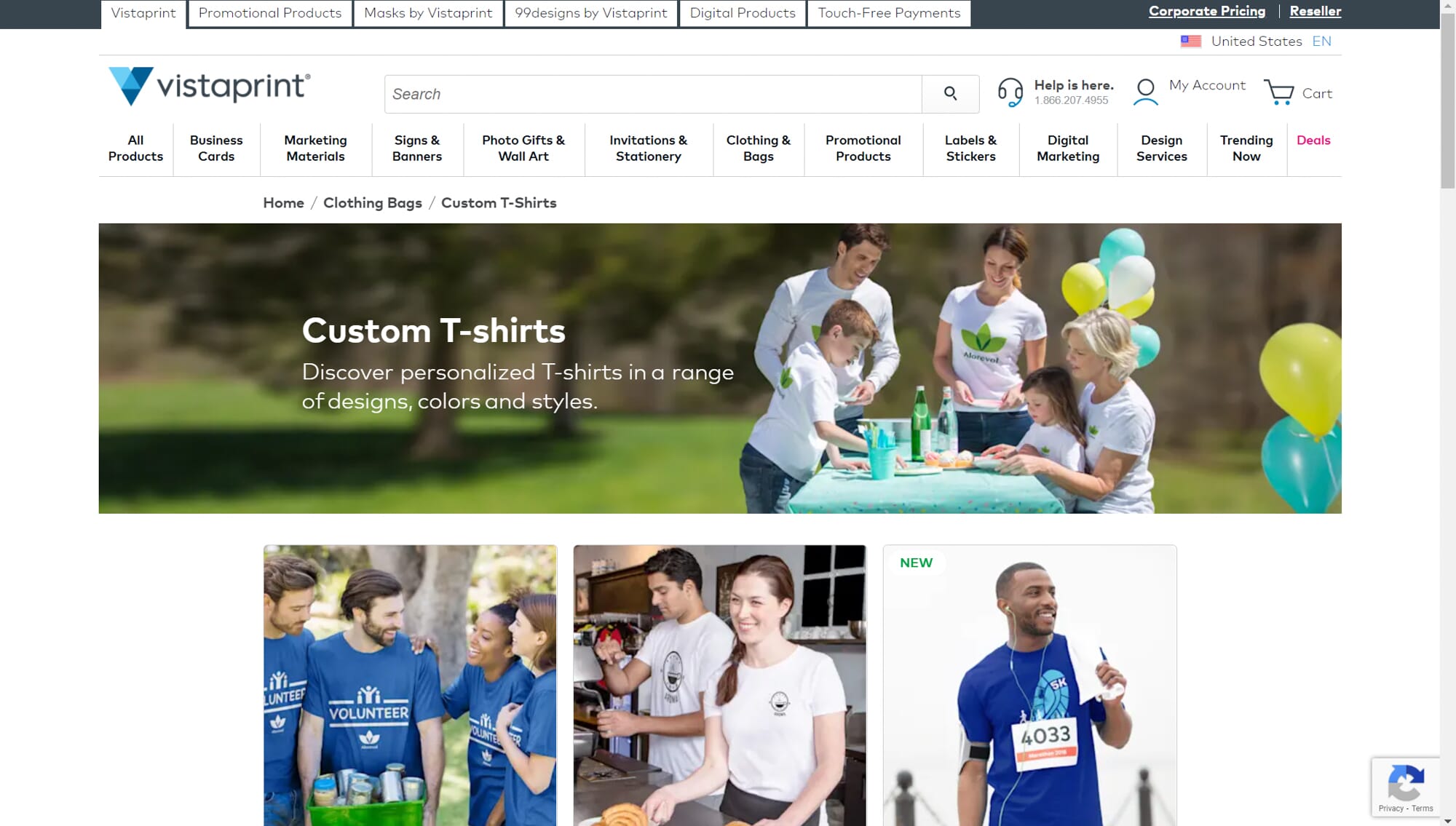 A known brand name
With a great history of printed products, Vistaprint is here to help you print your t-shirt ideas too.
Pros
Long standing company reputation
Excellent price
Long lasting print
Cons
Rougher print texture
VistaPrint is a name known far and wide in the business world, from making business cards to printing out marketing and signage material. But did you know that Vistaprint also offers T-shirt printing?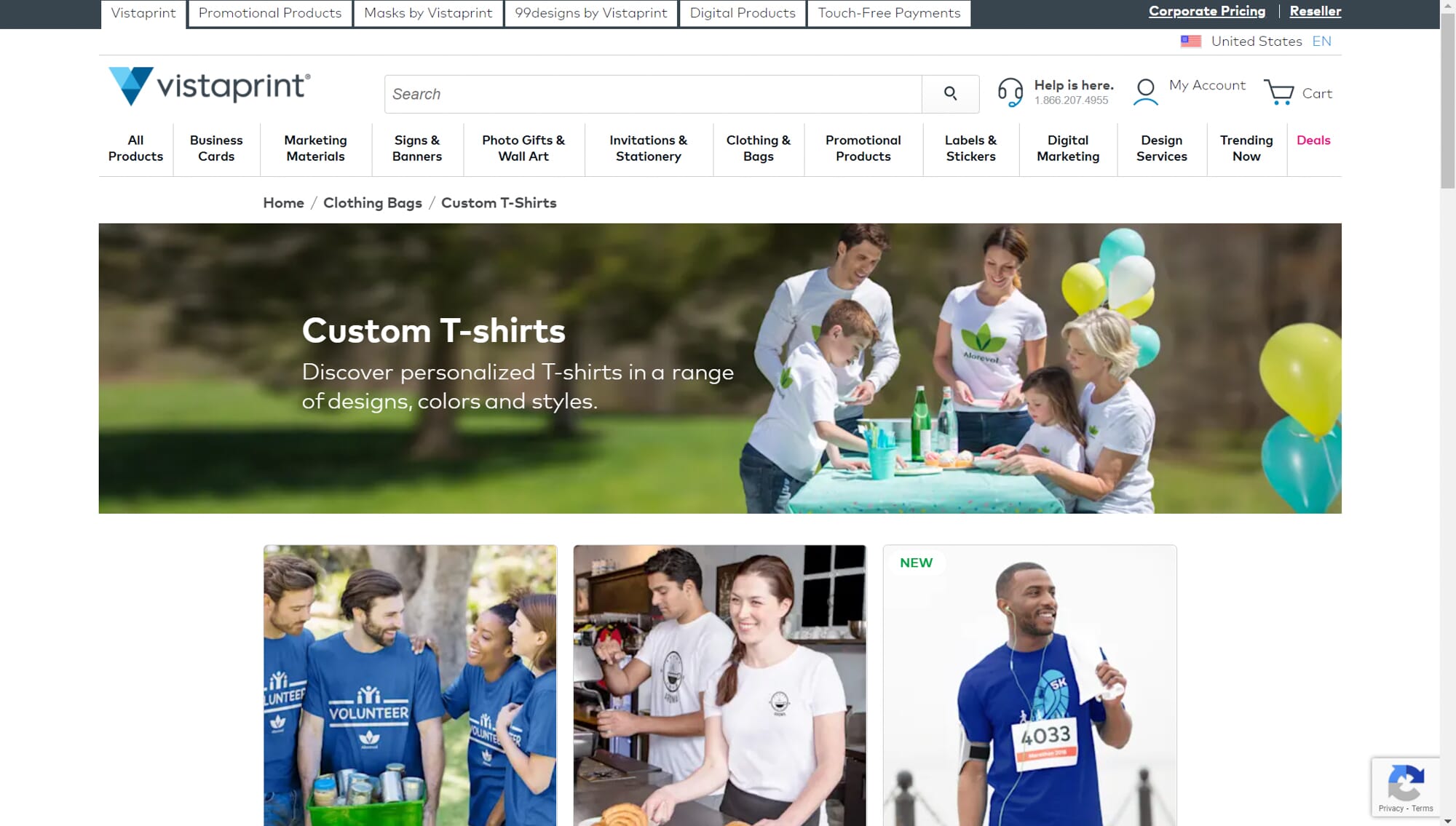 Being a personal patron of all sorts of printing options that Vistaprint offers, I can attest that for the price they charge – the prints are pretty darn good.
Prices range from $11 to $20+ depending on the shirt options you've selected. These prices are not bad at all. The prints themselves come out quite accurate, with details easily seen and crisply displayed.
The texture of the print itself is a bit rougher than you might expect, but it's not significant at all! The print lasts throughout the duration of many washes, and the website even accepts transparent PNG files.
2. Redbubble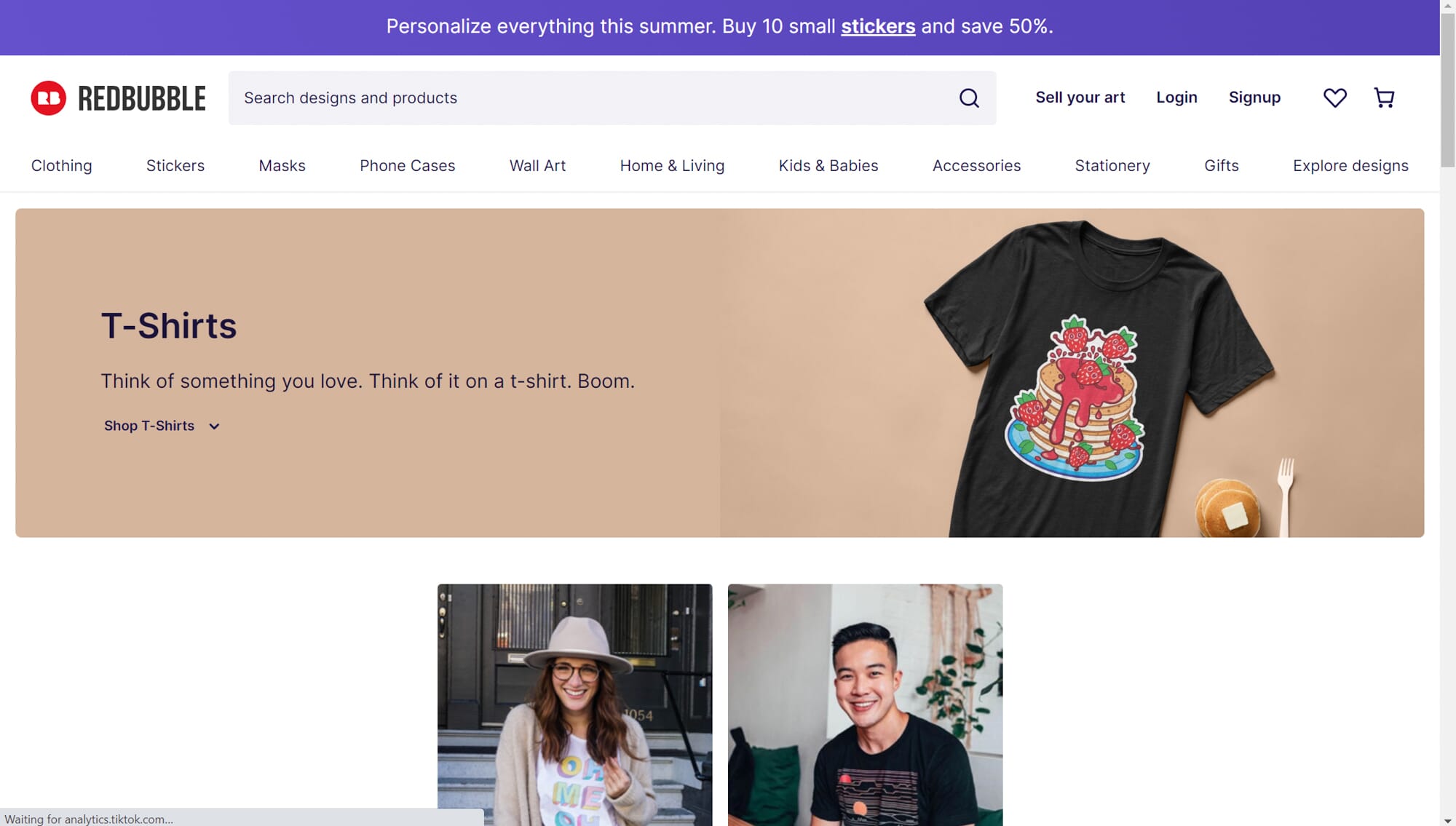 Make your shirts and sell them too
Redbubble is another known face in the industry for products, but also doubles as a great online store!
Pros
Good quality prints
Doubles as a marketplace to sell your shirt prints
Cons
Shirts are a bit thinner in material
Printing process causes a vinger-esque smell
Redbubble is another long-standing resident in the printing world, known for an array of photographic products. But, Redbubble is a bit different from other printing services on our list… because it's actually a store for creatives! Alongside making shirts for yourself, family, and friends, you can sell the designs to people all over the world (for a bit of side income).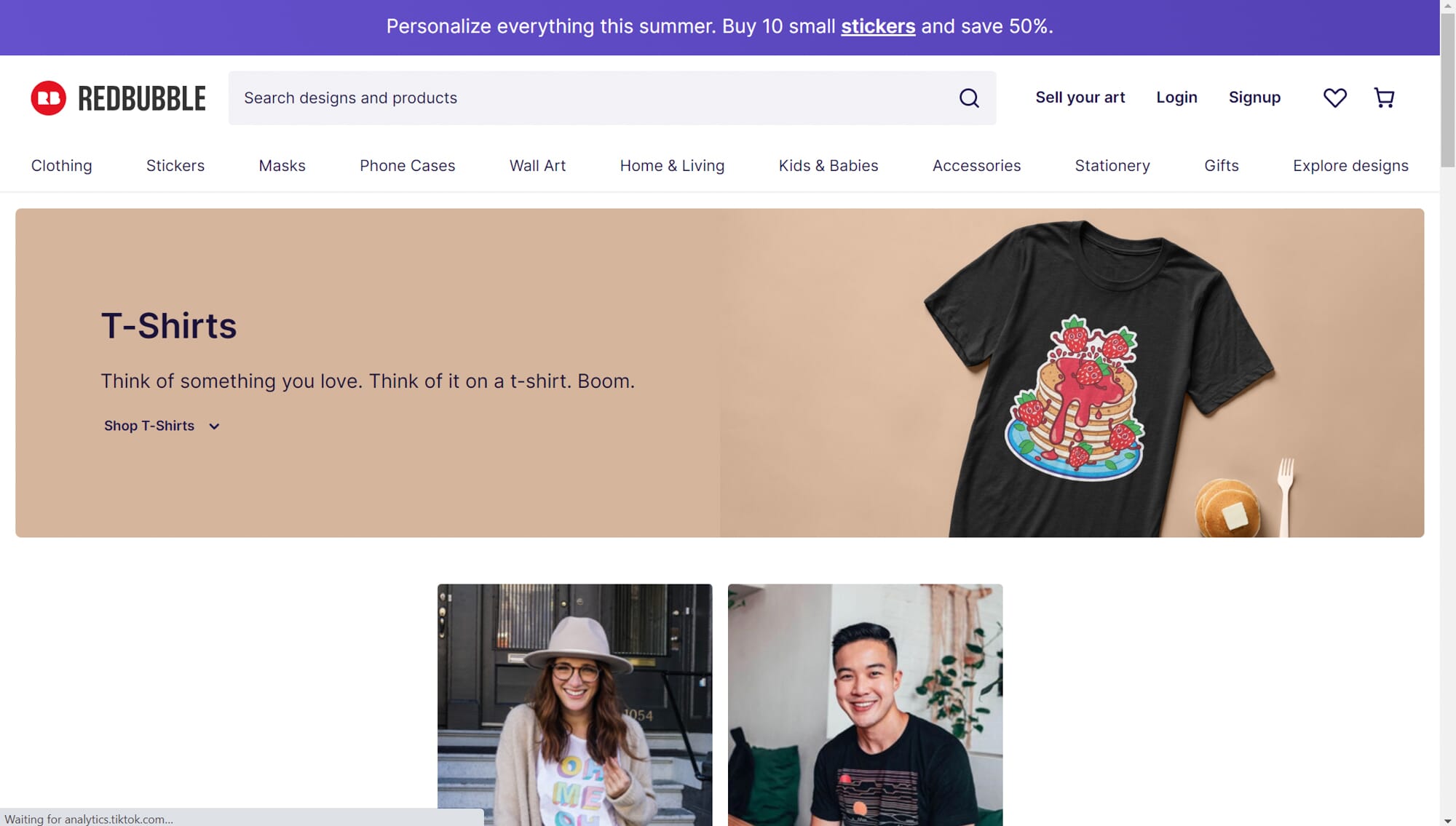 For yourself, as long as you're logged into your artist account, you can order all the products with your photographs (including shirts) at base cost. Otherwise, you set a rate based on how much you want to pocket after each sale and can sell your photographs as shirt prints to the rest of the world.
Related Post: Best Photo Canvas Prints
Regarding quality, Redbubble is quite excellent. The shirt material is soft and supple, with prints staying vibrant for a very long time (with reasonable care, of course).
The shirts are sometimes considered thin for the price, but they aren't transparent, so for most people, that's thick enough. The shirts do sometimes have a vinegar smell to them due to the printing process, but this also goes away relatively quickly.
3. Printer's Studio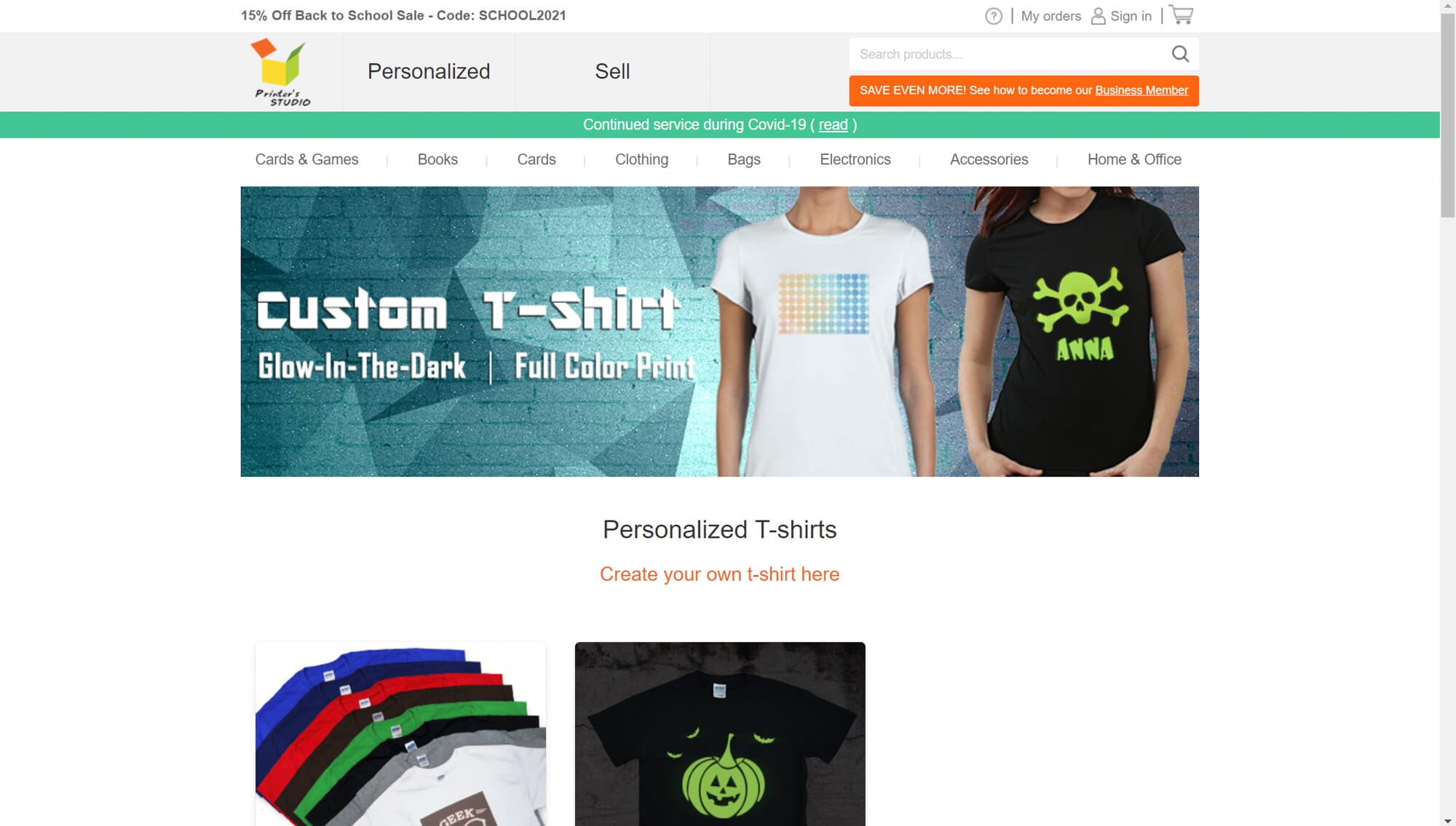 Durable shirts is the name of the game
Another good option, similar to Redbubble with a built-in marketplace.
Pros
Durable and long lasting shirts
Online marketplace built-in
Lots of customizable designs
Cons
The more durable shirts feel stiffer
The marketplace does not have a huge following in comparison to Redbubble
I love simple names, and Printer's Studio is just that! A one-stop specialty shop for printing your photograph on various products. Their t-shirt selection is great. They even offer templates you can customize, making for more creative photo t-shirts!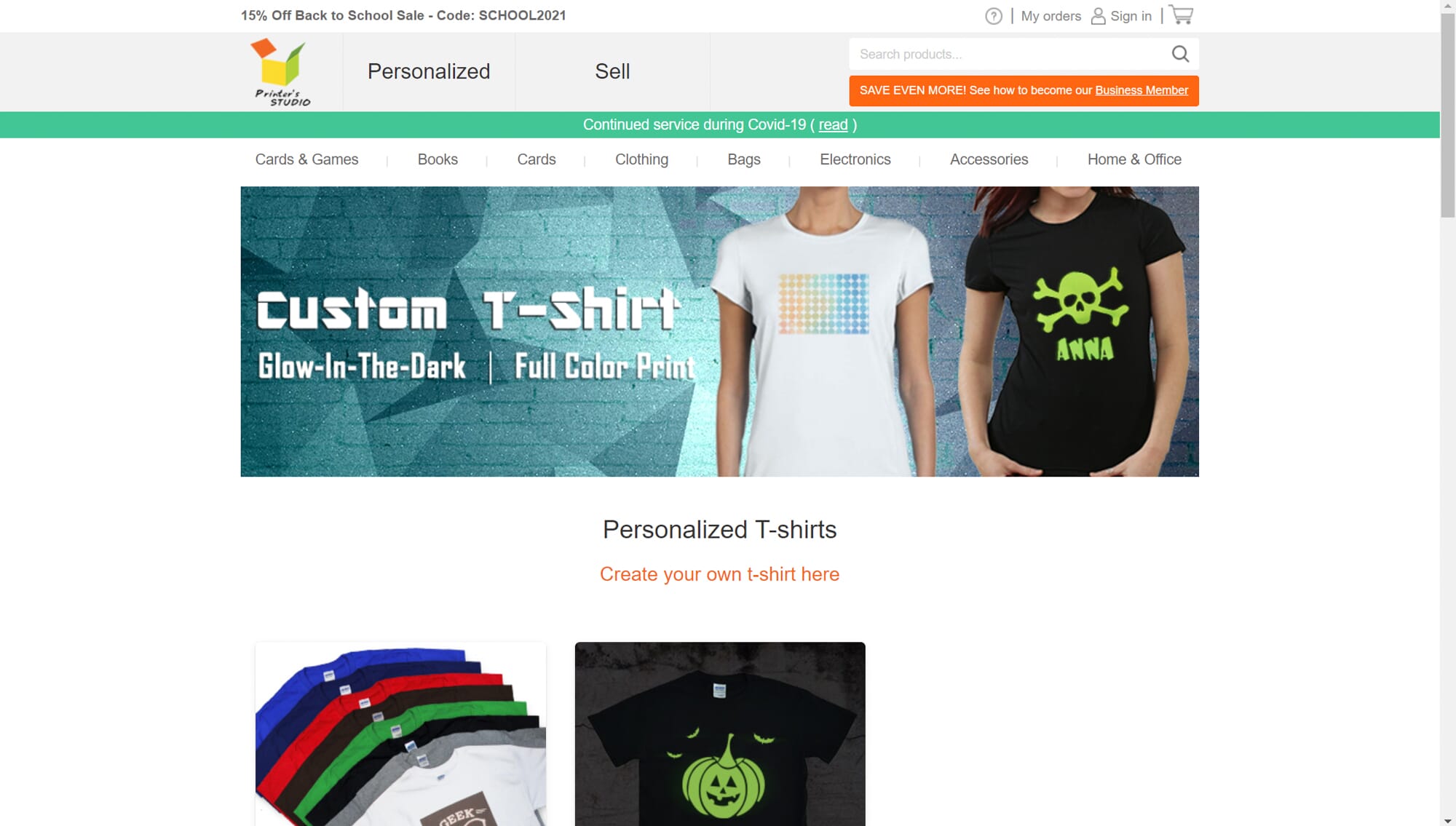 Shirts from Printer's Studio are on the stiffer side. But what is worth noting is that this adds durability. You can be certain these tees won't rip effortlessly. A great option for team shirts or corporate designs, Printer's Studio makes good options for bulk shirt orders.
Similar to Redbubble but with less of a known following, you can also sell your designs on the marketplace.
4. Zazzle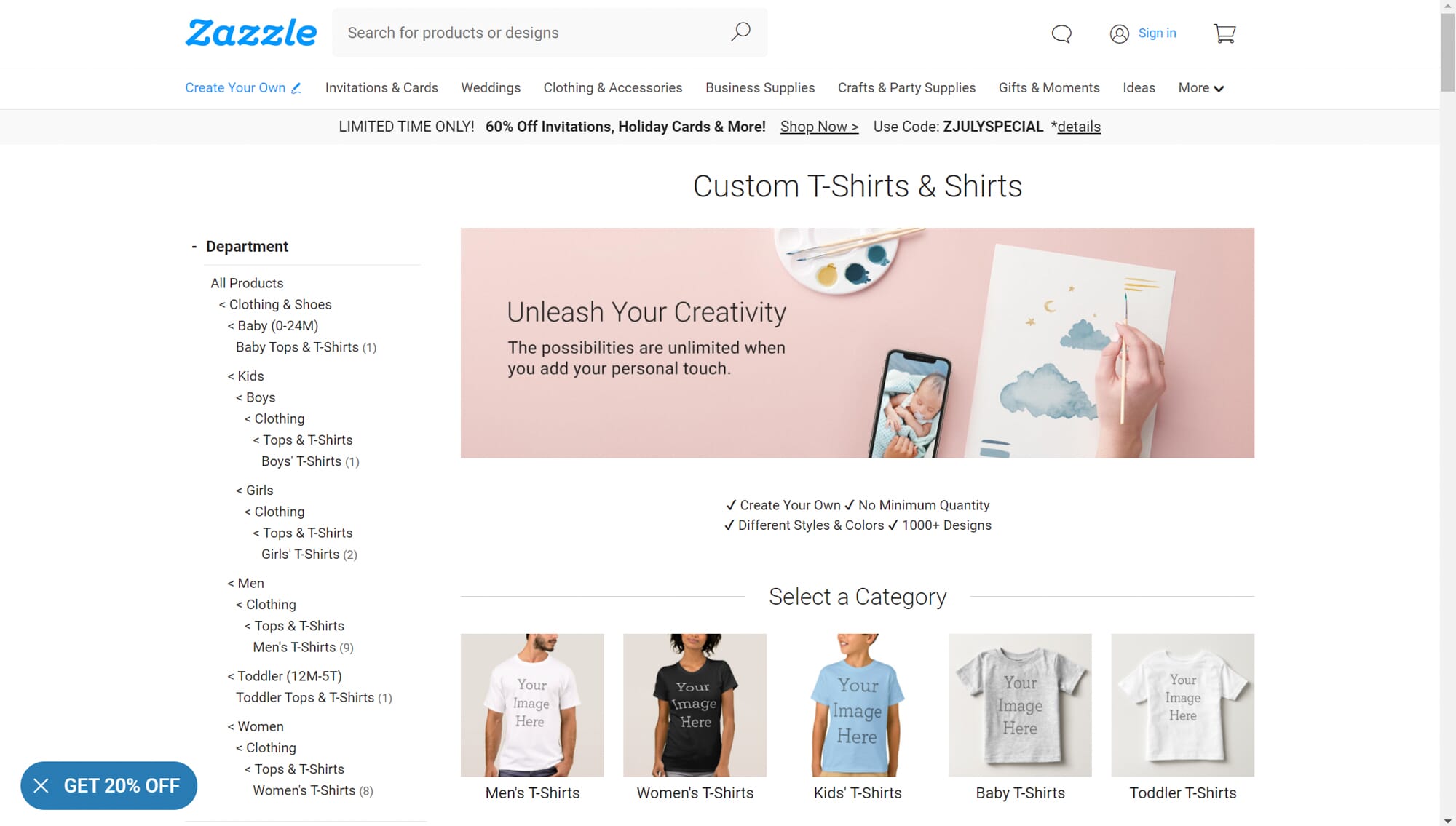 Razzle dazzle your friends with Zazzle
A great print on demand service with a lot of T shirt options.
Pros
A very large array of options, from fabric colors to fabric textures
Exceptional print quality
Cons
Higher price than competitors
Customer service can be difficult
Zazzle is as much fun to say as it is to use! This print-on-demand service offers a slew of options, including a large array of shirt colors (something not found commonly in other t-shirt printing websites) and even textures. With so many types of shirts to choose from, the possibilities feel rather endless!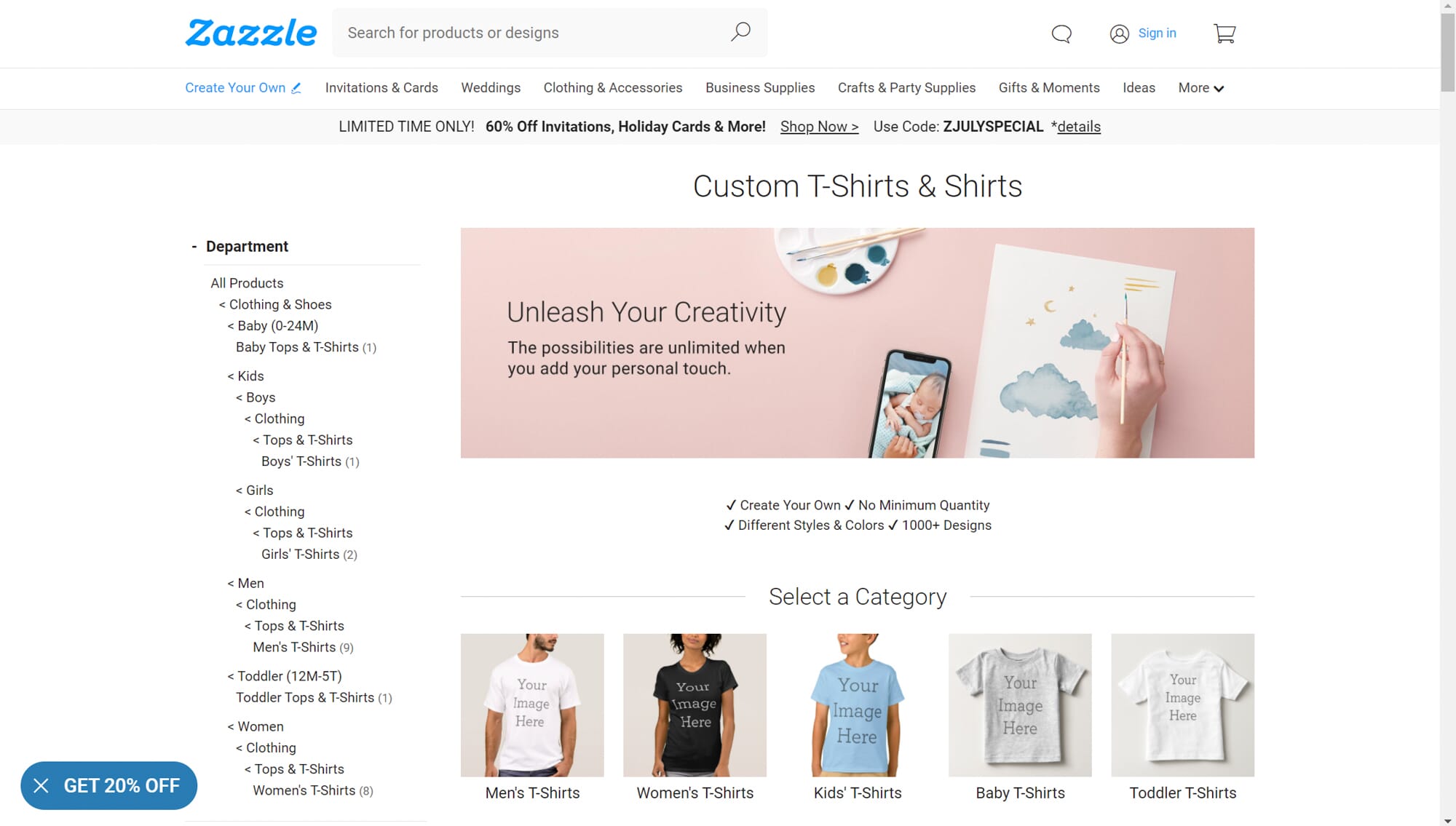 That being said, the cost is generally higher than competing companies. Features definitely do come at a price! Numerous customers can attest that Zazzle's print quality is pretty outstanding. Not only that, Zazzle backs their prints with a 100% satisfaction guarantee.
However, if you are one of the rare individuals to experience a problem with your print, the customer service team can be particularly difficult to get a hold of. This is definitely something to keep in mind.
5. Walgreens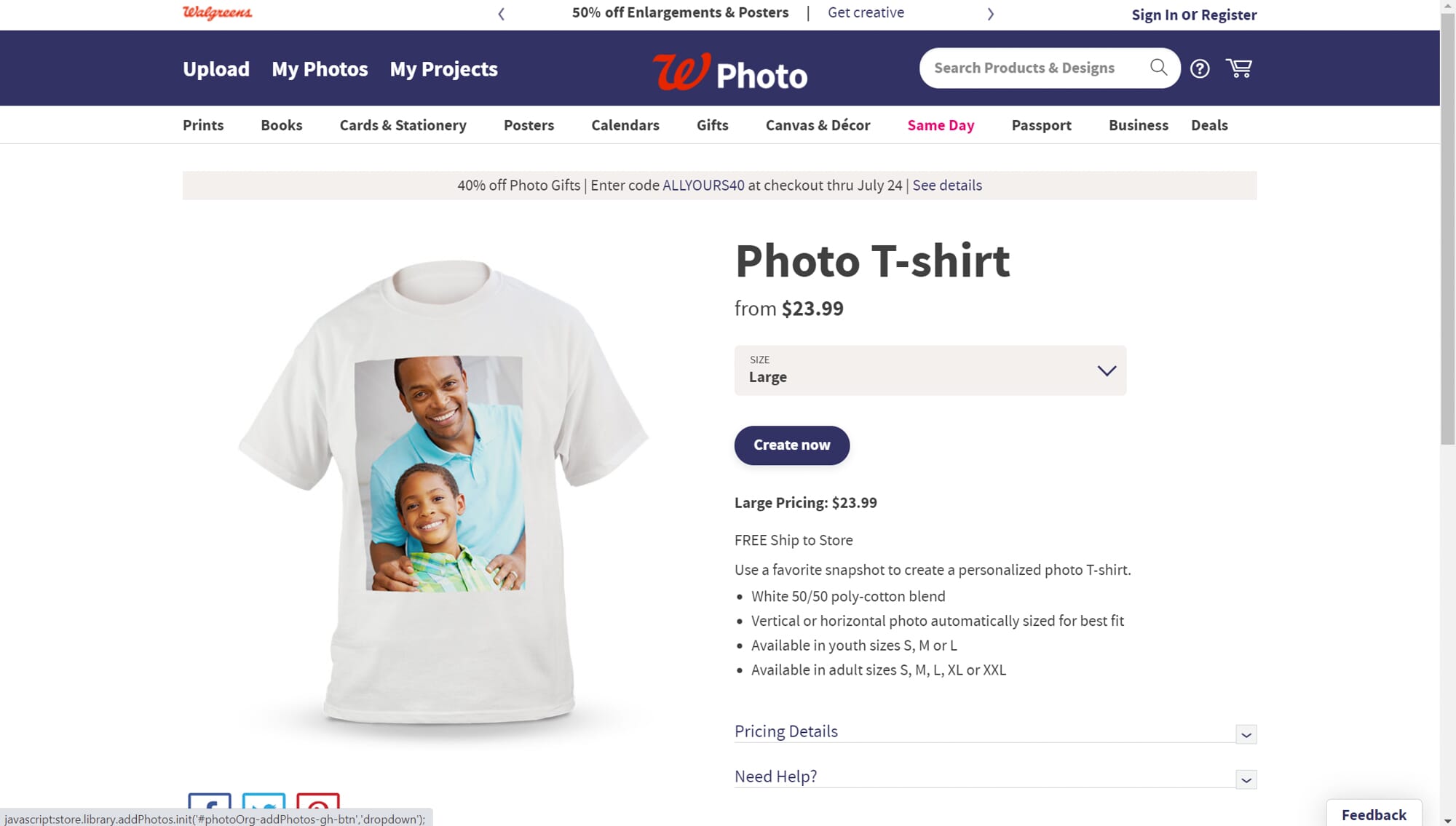 A Quick and Easy Consumer Option
For the every day person, Walgreens can be a quick and convenient way to get photo T shirts made.
Pros
Super easy to use for the every day person
Photographs print quite large on shirts
Free shipping
Cons
More expensive than other stores
Print quality isn't perfect
Shirt material is polyester blend.
Professional photographers like myself always scowl at the thought of having their work printed at a place like Walgreens, but even I can admit that there is certainly a market for these chain stores. For the everyday layman user, Walgreens' product printing options are actually not bad at all! Considering a shirt is going to be worn and weathered, the initial quality of the print isn't as painful to pixel-peep on as an actual fine art piece that hangs on the wall.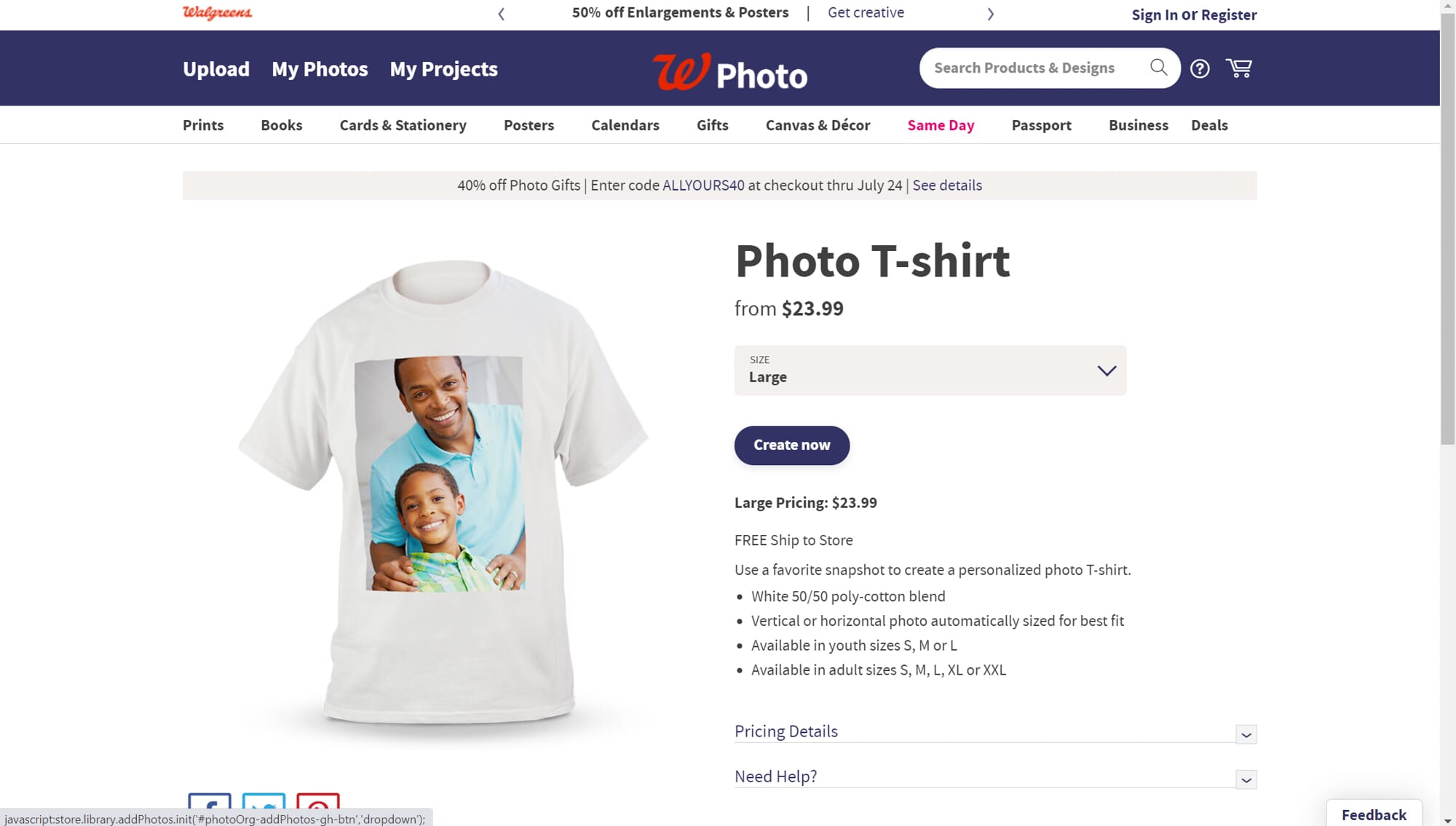 So if you're after a quick, accessible option Walgreens has a pretty easy method of printing t-shirts with your beloved photographs on them.
The shirts print a rather large photo size, making sure no one misses the fabulous shot you have proudly broadcast on your tee! The prices are higher than many other printing services, but the print is much larger than is offered in many consumer-level stores.
6. Walmart Photo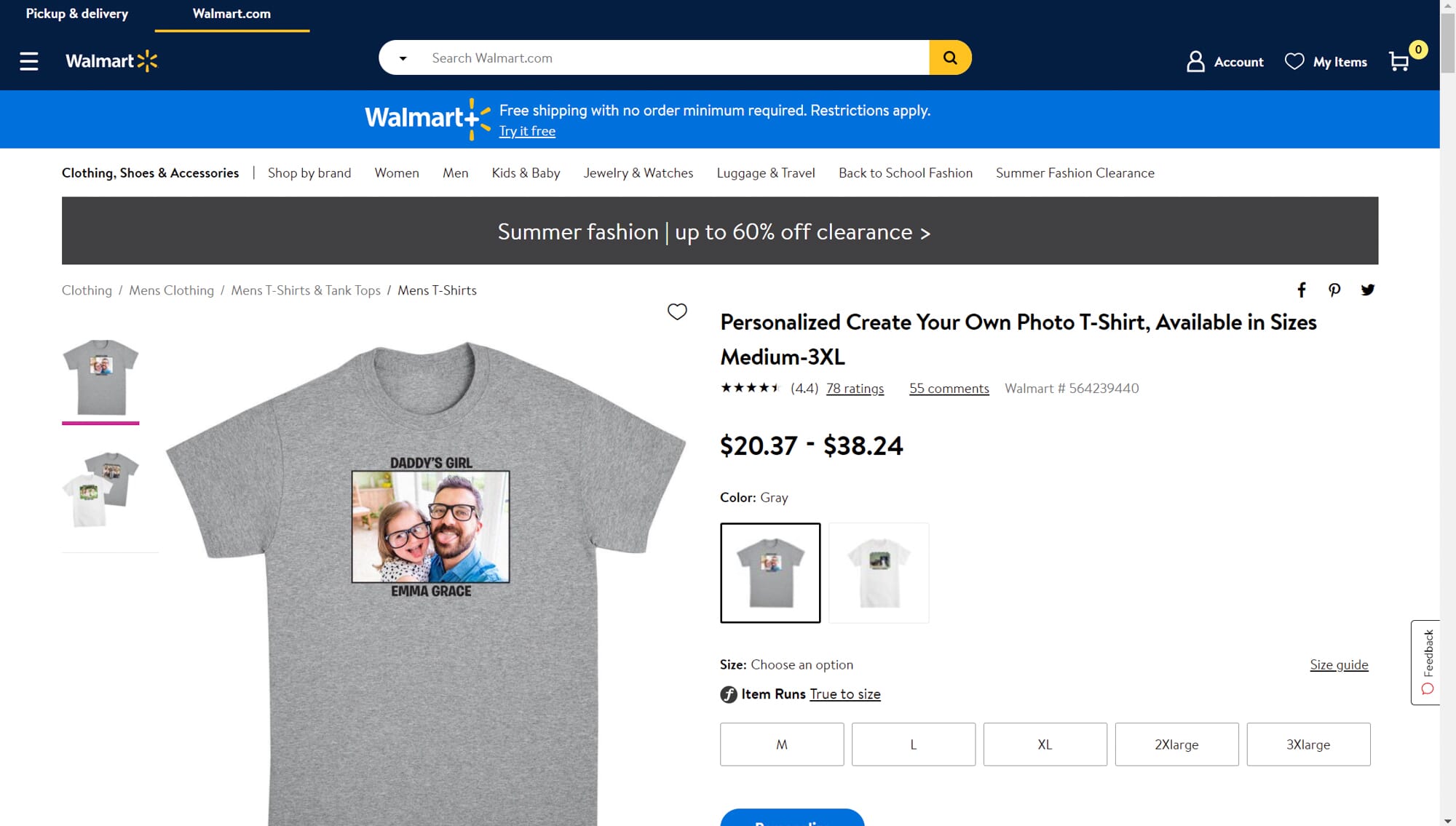 The Walgreens Alternative
Similar to Walgreens, Walmart Photo is another good consumer option.
Pros
Very comparable to Walgreens
Shirts are 100% cotton
Cons
Prints come out smaller than expected
If Walgreens isn't available in your area, Walmart probably is!
Offering pretty much the same as Walgreens, Walmart Photo is comparable in both shirt size, price, and print quality. However, the prints come out much smaller.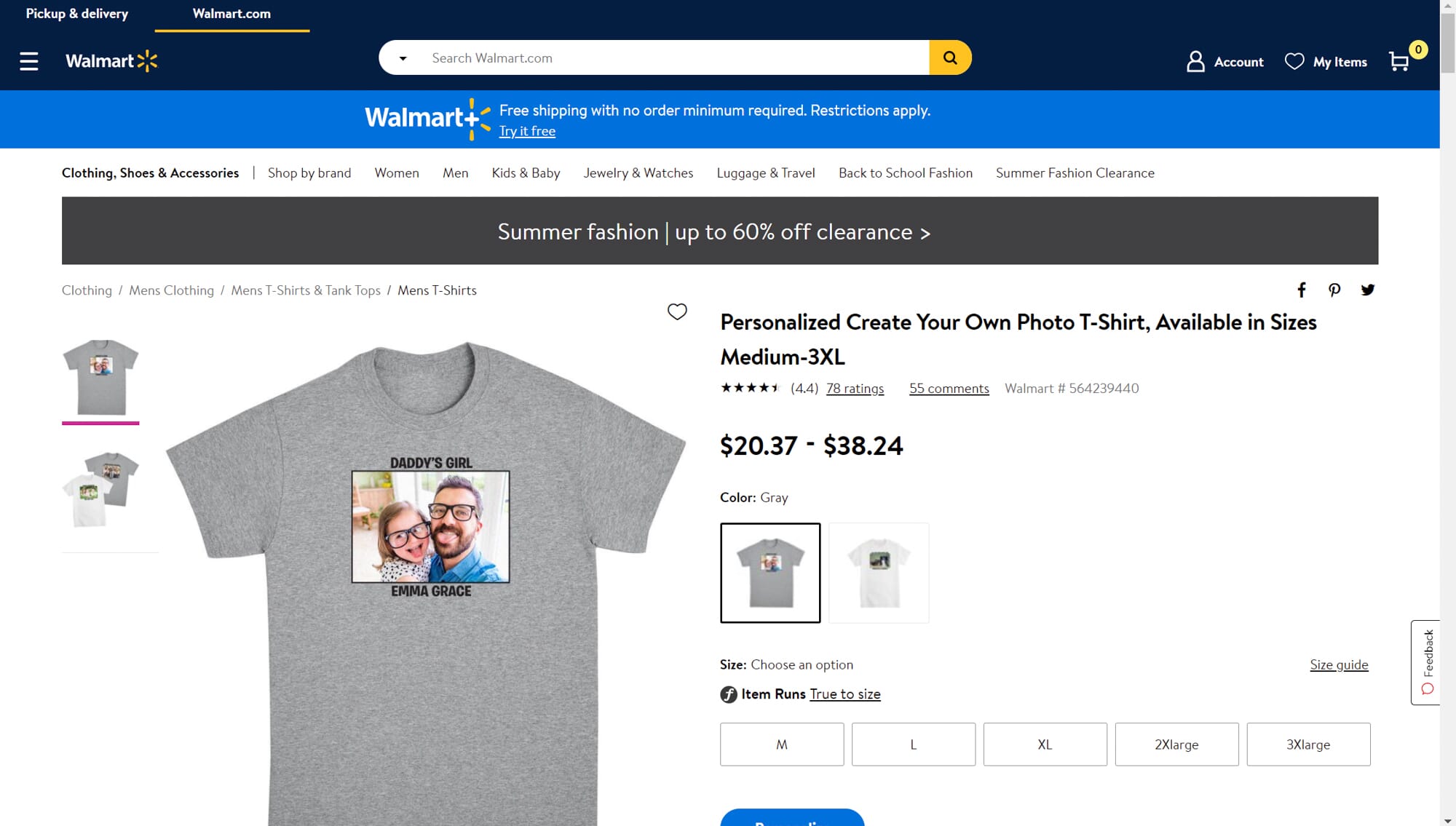 A big difference between the two, however, is that Walmart prints on 100% cotton while Walgreens is a polyester blend. This makes the shirt material a much higher quality.
If you're looking for a softer, premium feel option from your local retailer, consider the Walmart option!
7. Custom Ink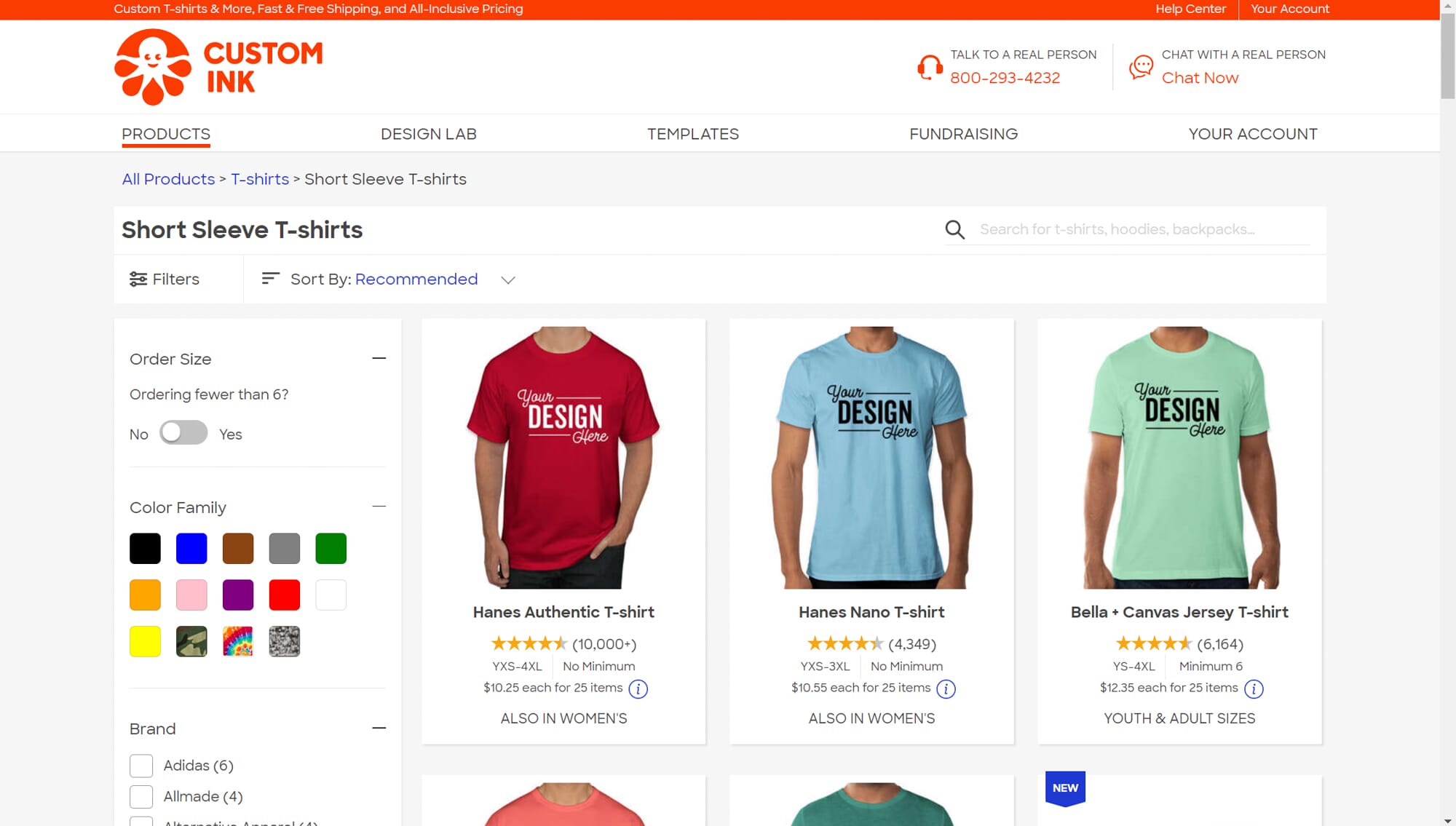 Top of the Line Options
For those that value top of the line options, Custom Ink has all that you fancy.
Pros
Company dedicated to very quality work
Incredible amount of premium shirt options
Ability to ship shirts directly to multiple addresses
Built-in design studio in the website
Cons
Larger base price than some competitors
If you want the top of the line, Custom Ink has you covered. A printing company dedicated to quality work, Custom Ink has an absolutely outrageous number of options for tees and great prints on them all! All the options are very reasonable in price, lowering in cost as you increase your order quantity.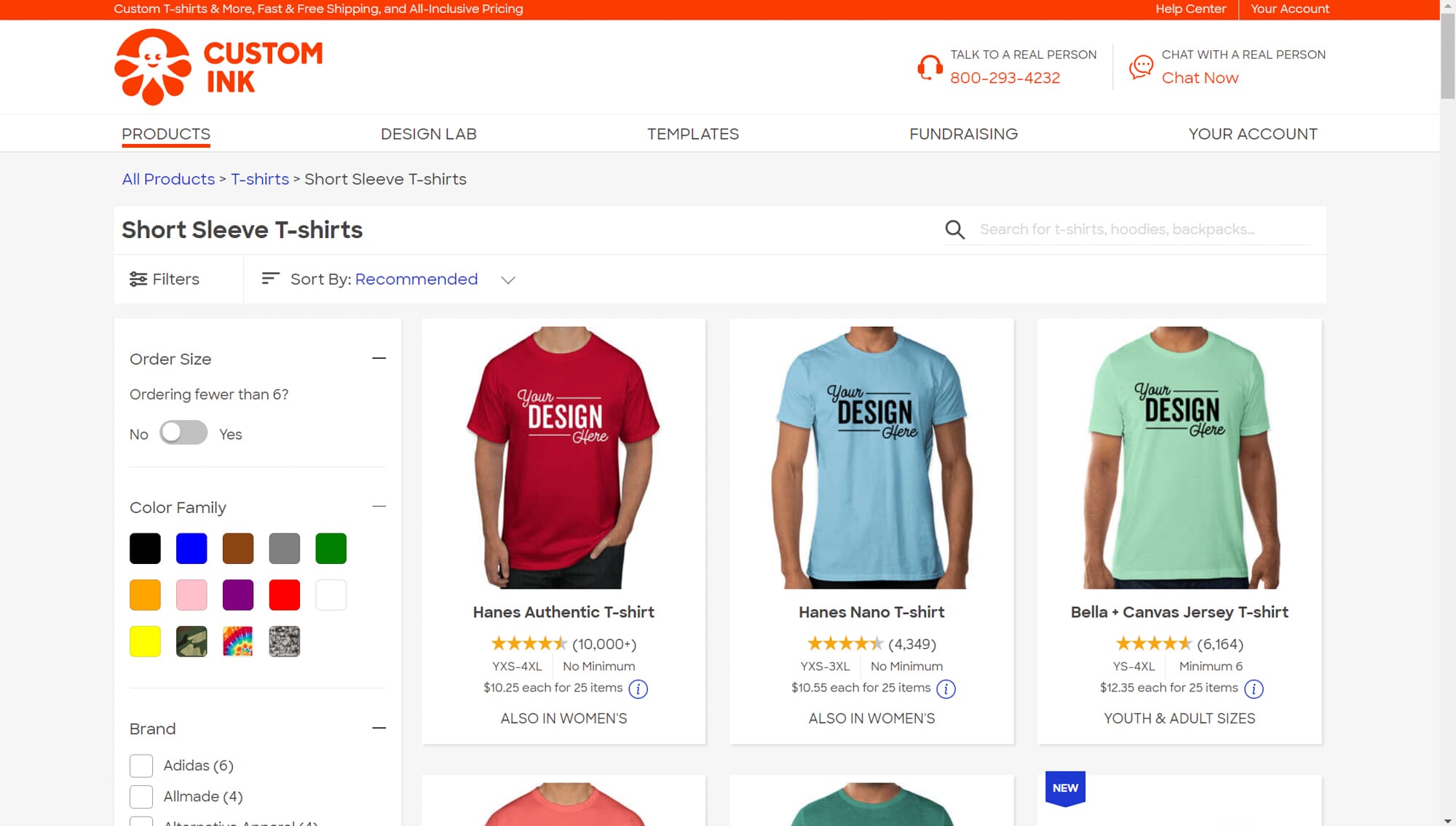 Besides the fabric selection, color selection, and printing itself, Custom Ink has some other features that make them a great choice. If you're ordering a set of shirts, such as for a business or a bachelorette party, you can actually have the shirts shipped directly to their new owners upon check out! It's a flat rate shipping of $6.95 per address you input, so you don't need to deal with the hassle of getting the shirts out to your friends, family, or employees.
Additionally, Custom Ink is also preloaded with a slew of designs to work off of and has its own built-in website designer to help bring your shirt vision to life.
8. CafePress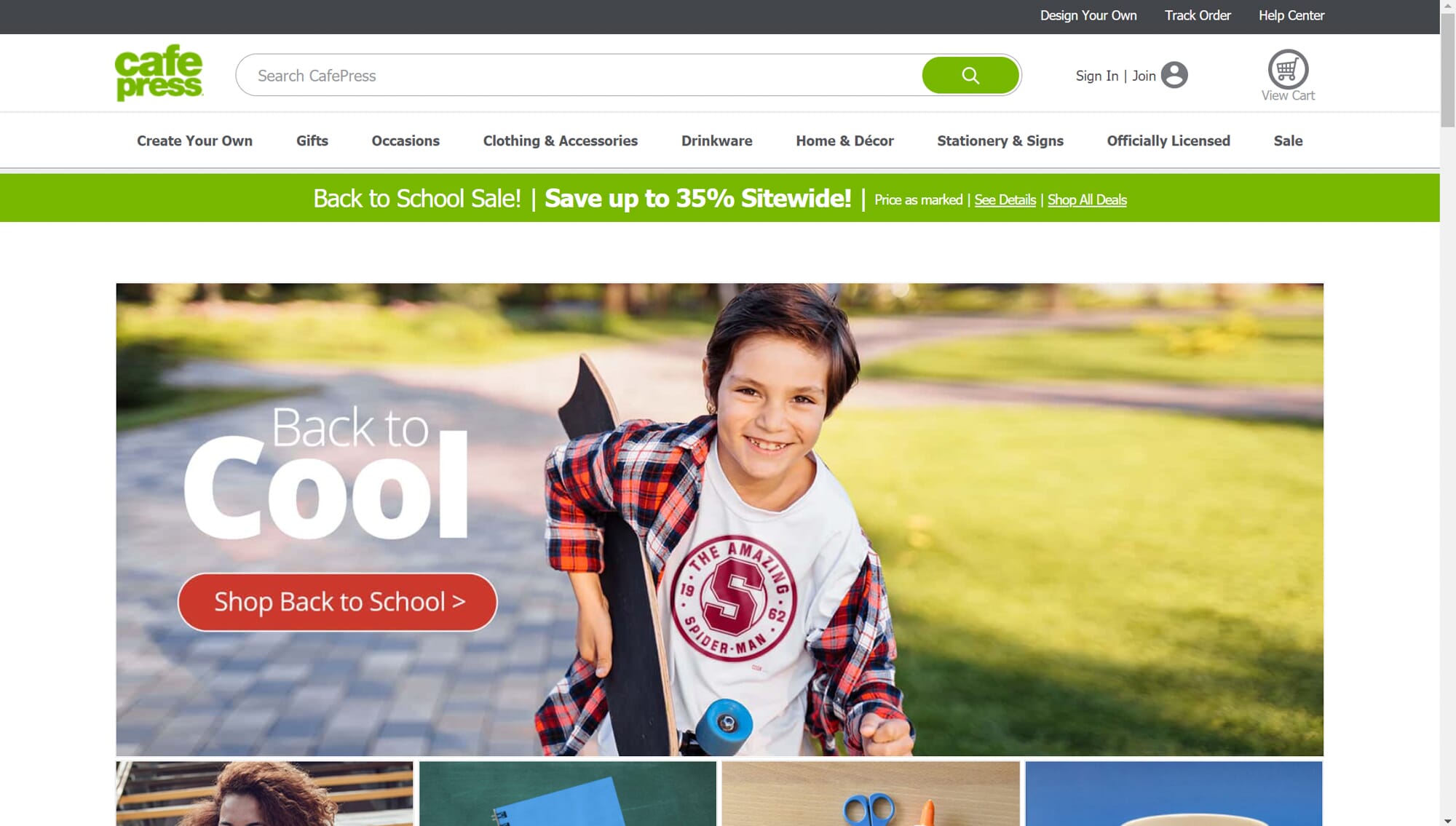 Best All Around Option
If you're looking for someone that does it all, CafePress is your company!
Pros
All the same options and features as Custom Ink
Specialty shirt types, such as maternity and pet clothing
Cons
Shipping has been reported to sometimes take longer
Hearing CafePress always makes me think of my favorite thing: coffee! A website whose own design inspired tremendous confidence, you can easily design the best photo t-shirt while sipping a great cup of Joe.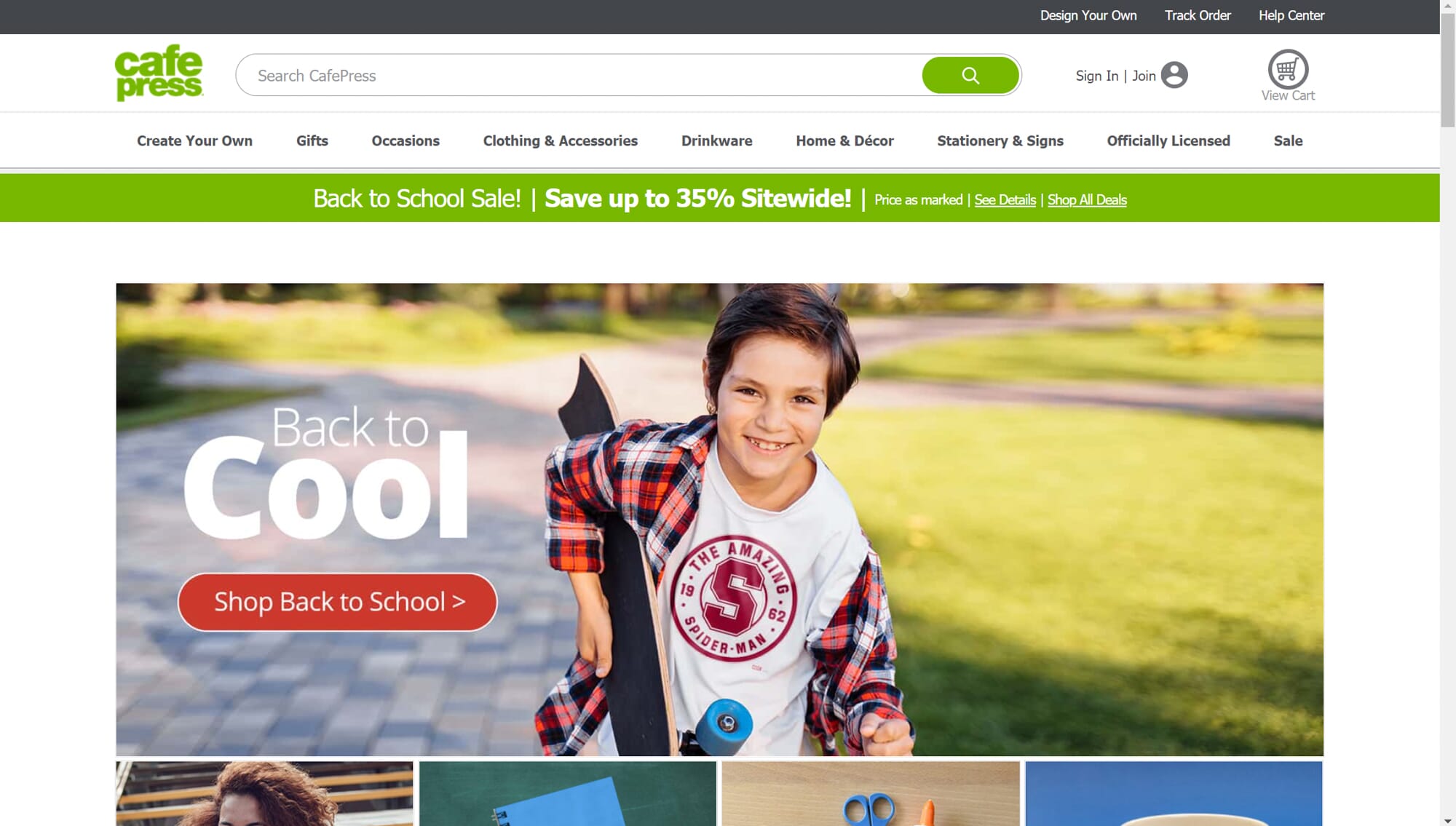 Very comparable options and quality to Custom Ink (honestly, we don't even need to repeat this information!), but where CafePress shines, even more, is the fact that they even have specialty options – like maternity shirts and shirts for your dog!

Creating a shirt is easy as can be, just upload your image and place it on to the shirt mock-up.
9. Printful
Best for Sellers
Excellent E-Commerce On-Demand Print Shop
Used by many businesses and brands alike, Printful integrates beautifully with online storefronts to deliver on-demand photo t shirt printing to your customers.
Pros
Integrates with many e-commerce solutions for on-demand printing
Fantastic print quality
Cons
Too pricey and not worthwhile for individuals
For those that are looking to print their photo t-shirts for sales, look no further than Printful. This is a remarkable online printing service that connects with your online store. This integration allows Printful to handle all the orders on your behalf – they receive the order request from your store and rush out to fulfill it!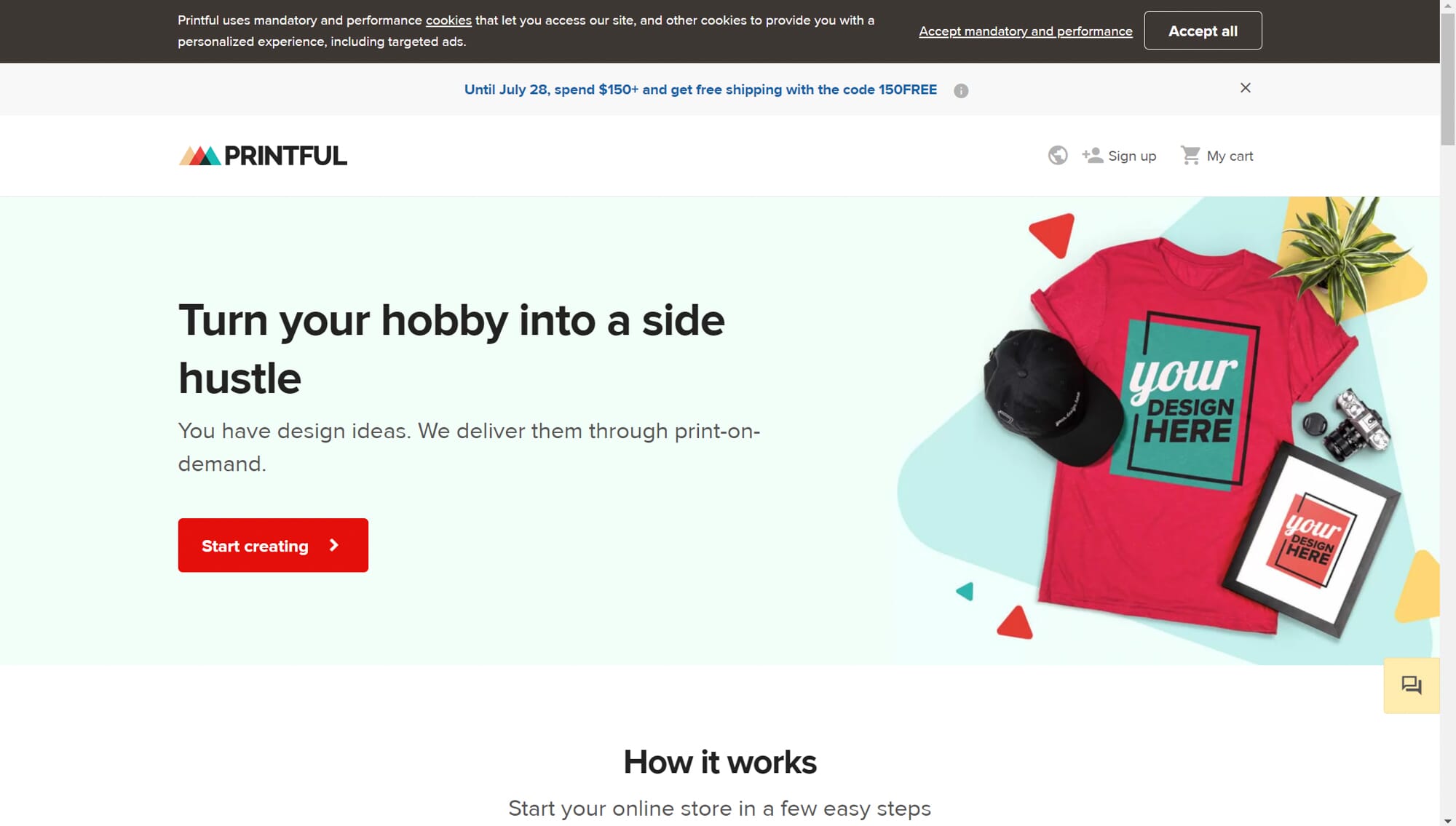 Although this option is not really useful for those that just want one or two shirts printed for themselves, it's a great choice for bulk orders or online sales. Many musicians actually turn to this company to sell t-shirt merchandise from their online merch stores.
10. Underground Printing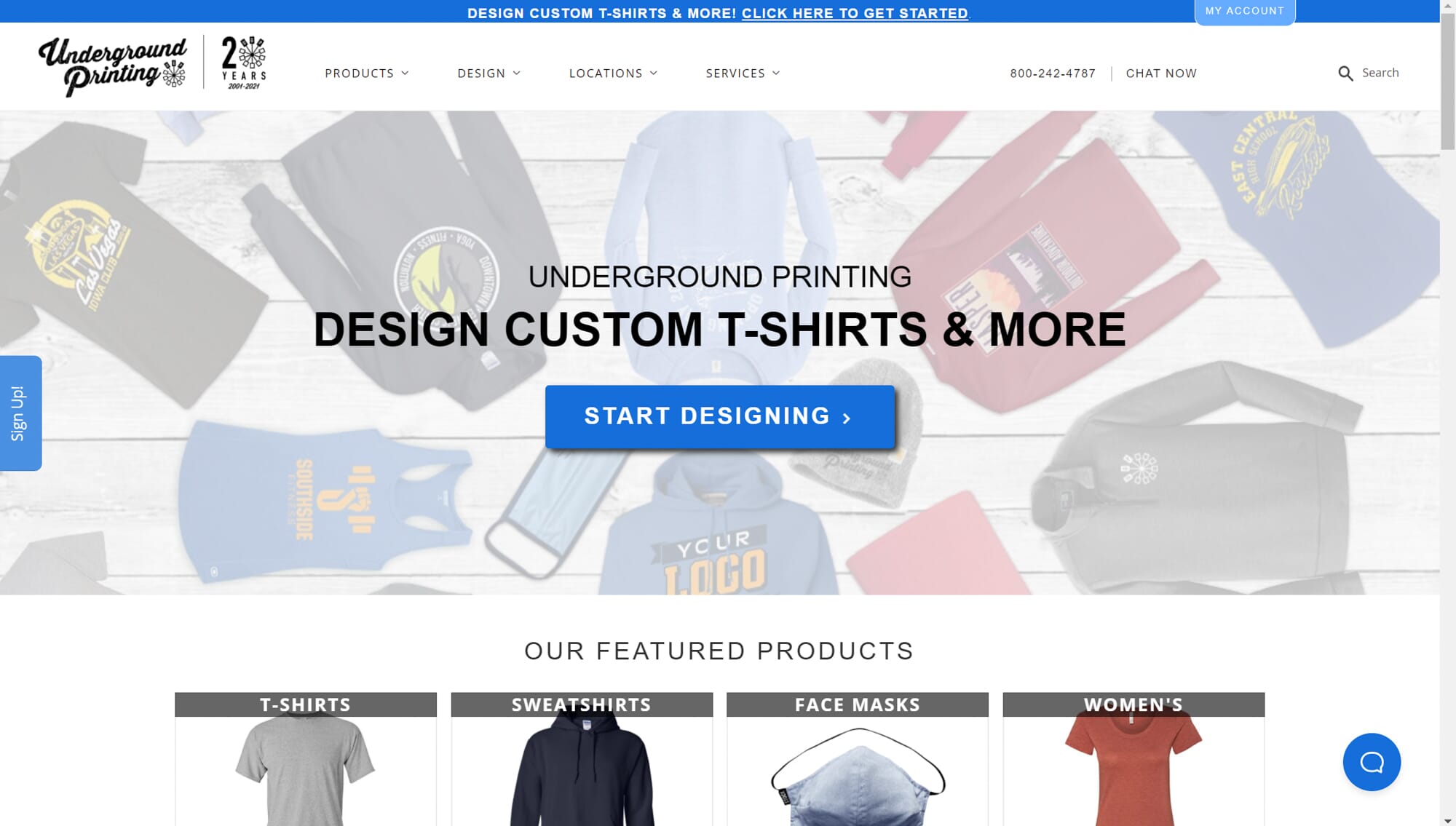 Brick and Mortar Fuses with Online
Underground Printing feels like a very intimate, one-on-one service with a real human helping you along the way.
Pros
Fast turn around time
Great prints
Excellent customer service – a representative is assigned to help you
Has a physical location
Cons
Photographs have to be approved before being printed
With a name as cool as Underground Printing, your interest must be piqued! Underground Printing features many of the same options, fantastic quality, and quick turnaround time as the others on our list, so we won't go through this description again. What makes Underground Printing stand out from the crowd is their one-on-one excellent customer service!

Print designs must be hand-approved by a representative, which can take a bit longer (so be patient) but ensures that your quality is top-notch. The rep then works with you to ensure that your print is up to your high-quality standards and is positioned correctly. Should there be any trouble, you have a real person there to help you out! Underground Printing also has physical store locations if you prefer that.
Which Photo T-Shirt Printing Service Is Right for You?
Of these choices, which one is right for you? Well, our overall favorite happens to be CafePress, for its slew of features and options! Vistaprint is also great, with its long-standing history of great products. Those who wish to sell their shirts would love Printful's many integration features, taking the hassle out of managing orders!
FAQ
What photograph formatting do you need to do for printing?
Make sure your photograph is converted to 300 DPI and is at its fullest resolution/size. The larger the image, the better the print. 
What types of photographs work best?
Photographs with contrast work really well for fabric printing. Matte or textured images don't print as well.
What orientation should the photograph be?
Photographs can be either horizontal or vertical orientation, does not matter! Simply depends on how you want the photograph to sit on the shirt.