What's the best touchscreen camera you can buy today? In this article, we share our favorite options, from high-end picks to budget-friendly – yet still powerful – camera models.
So if you're looking for a top-notch camera that offers flexibility for stills and video shooting, you're sure to find something that will suit your needs.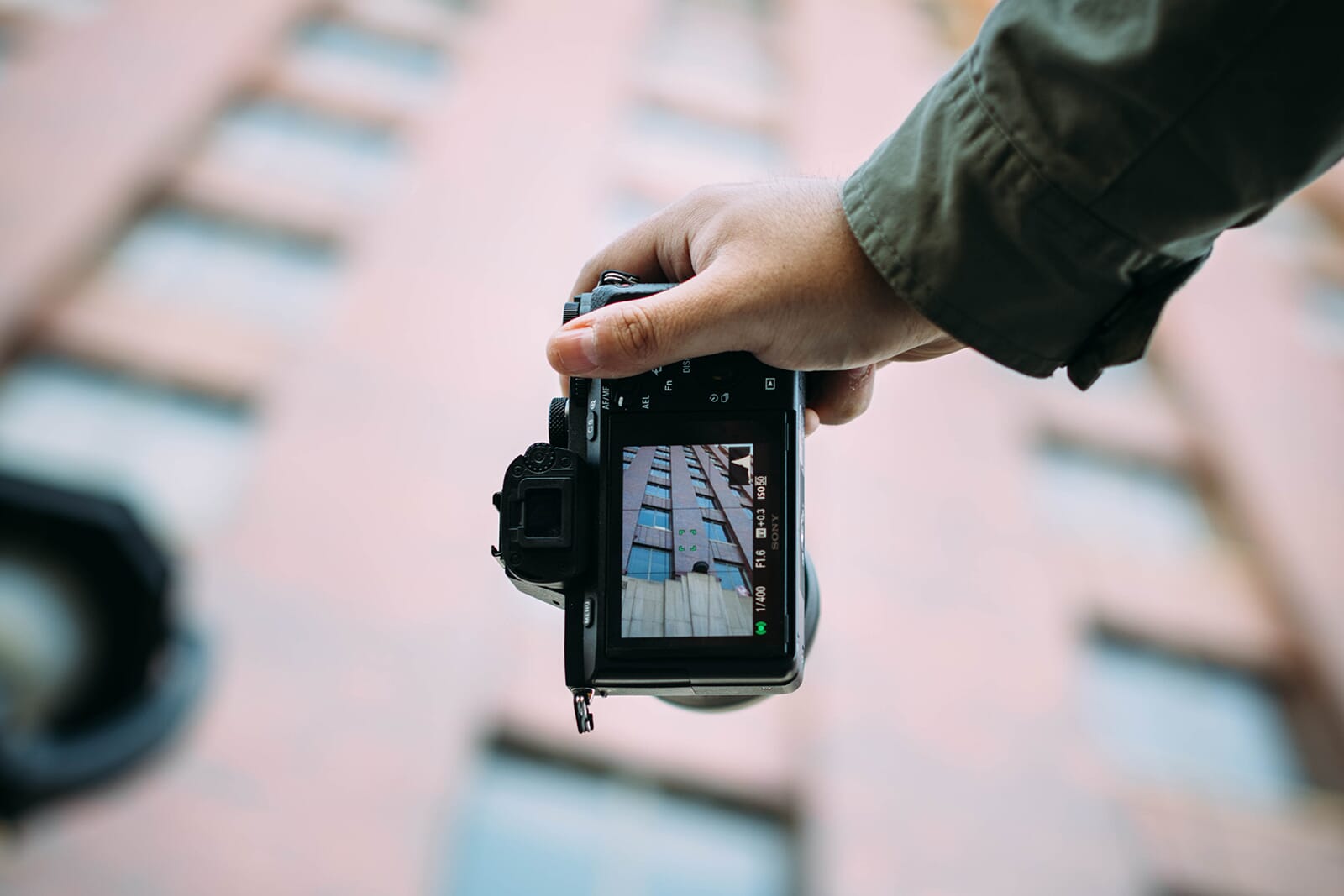 Best Touch Screen Cameras:
When you buy through links on our site, we may earn a commission at no cost to you. We evaluate products independently. Commissions do not affect our evaluations.
1. Nikon Z7 II
Our Pick
Great for professional photography
The Z7 II is a well-rounded camera with excellent image quality and autofocus.
Pros
47.5 MP CMOS sensor
Dual card slots for more photos
Ergonomic and stylish design
Cons
Relatively expensive
The Z7 II is Nikon's best mirrorless camera to date. With an impressive 45.7 MP image sensor and a striking resemblance to Nikon's existing line of acclaimed DSLRs, there's a lot to fall in love with. An integrated touch screen is among the camera's most attractive features.
The 3.2″ tilting LCD monitor responds to touch, making tasks like zooming in on playback and overall navigation really straightforward. The main menu is fully accessible at your fingertips. You may also customize and 'i menu' quick settings.
In line with many competing touch screen cameras, you may also set the desired autofocus point by touch. Thanks to 493 hybrid-detection focus points, the majority of your frame is covered and fully capable of pin-sharp accuracy.
2. Leica Q2
Great for low-light photography
The Leica Q2 is an exceptional camera that is great for professional low-light photography.
Pros
Durable exterior body with resistant coatings
High-quality 47.3 MP CMOS sensor
Maximum aperture of f/1.7
The Leica Q2 is an upgrade from the previous model and has numerous improvements. It has a powerful Maestro II Image Processor and an amazing 47.3 MP CMOS sensor. As a result, you can expect exceptional image quality, clarity, and contrast. It is also a brilliant camera for low-light photography.
Its lens is the Leica Summilux 28mm f/1.7 ASPH which is brilliant for wide-angle photography. Also, the maximum aperture of f/1.7 also helps greatly in low light compositions.
The touchscreen is a 3-inch TFT LCD screen that is highly responsive and offers excellent control over the camera. You can easily change the settings and shooting modes or focus your compositions. We also like that the exterior body is fully dust- and spray-proof. This makes it ideal for outdoor usage.
This touchscreen camera also has a fast and accurate autofocus system that can focus on subjects in less than 0.15 seconds. For video, you can also utilize the touchscreen and record at 4K 30fps. This camera admittedly has a hefty price tag; however, it is incredibly stylish, and certainly one of the best touchscreen cameras available for professional photography.
Related Post: Best Leica Lenses
3. Canon 5D Mark IV
Also Great
Great for versatile photography
The EOS 5D Mark IV is a powerhouse and can easily adapt to different photography types.
Pros
Great ISO range for low-light photography
Can record video in full 4K HD at 30fps
Dual Pixel CMOS AF
Cons
Touchscreen cannot be moved
For years, Canon's 5D series has reigned as one of the best DSLRs money can buy. So, it should come as no surprise to find the Mark IV among our favorite touch screen cameras.
The 3.2″ LCD monitor beautifully displays the high-res shots made with the 30 MP sensor fueling the camera. However, Canon is well aware that looks aren't everything. For that reason, they dedicate special attention to their touchscreen technology.
It goes without saying that the 5D Mark IV has many standard touch screen capabilities. For instance, it's easy to enlarge images or navigate through footage frame-by-frame. Likewise, you can touch to focus and even activate the shutter.
However, we're especially impressed with how easy Canon has made it to control and toggle the touch screen itself. Though it's not glamorous, being able to control aspects like touch sensitivity makes it easier to customize to your taste.
4. Olympus OM-D E-M5 III
Great for outdoor photography
This mirrorless camera has some cool features that make it suitable for outdoor adventure photography.
Pros
High-quality 3-inch LCD touchscreen
Weather sealed design
Excellent 121-point AF system
Cons
Doesn't have access to the best lenses
The Olympus OM-D E-M5 Mark III is the latest version of this popular mirrorless camera and has a few upgrades to the Mark II version. For basic image quality, this mirrorless camera has a 20 MP sensor which provides consistent image quality in various lighting conditions.
One of its best features is its built-in 5-axis image stabilization. This is one of the few current cameras to have in-body image stabilization. As a result, you can easily capture sharp photos and track moving objects. Also, when paired with an Olympus lens that has stabilization, you may not even need to use a tripod.
The autofocus of this compact camera is also great. It has a 121-point all-cross type phase-detection system. This offers superior tracking and is great for wildlife tracking and shooting moving objects. Combine this with the weather-sealed construction and you have a durable camera that is built for outdoor use.
The touchscreen is also of excellent quality. It is a 3-inch TFT LCD screen that can also be fully flipped out and rotated. This makes it ideal for vlogging and creating videos from different angles. The Olympus OM-D E-M5 III is a great mirrorless camera that outdoor adventurers could benefit from.
5. Sony A7R IV
Great for RAW image resolution
The Alpha 7R IV has a ridiculous 61MP Exmor R sensor for superior image quality.
Pros
61MP Exmor R sensor
Can shoot uncompressed RAW photos
Advanced AF tracking features
Another fan-favorite, the Sony A7 series is something of a darling in the mirrorless camera community. And, with a 61 MP image sensor packed into a package under 2 lbs, it's easy to understand why people love it.
In many ways, the LCD specs are very similar to its AR7 III predecessor. However, the touch response is about 1.5x faster. With 567 phase-detection and 425 contrast-detection points, that's great news for touch-activated AF users.
The stunning visibility that the touchscreen offers is worth mentioning as well. Brightness levels can be manually adjusted by five steps. What's more, the tilting LCD can be adjusted within a 107-degree range to aid when shooting at an unusual angle.
6. Canon Powershot G7X MII
Great for travel photography
The G7X Mark III is a compact camera suitable for travel adventures.
Pros
Built-in image stabilization for the lens
Can record 4K video at 30fps
Decent optical and digital zoom
Cons
Only uses the DIGIC 8 Processor
The Powershot may not look like much to some – the camera doesn't even have a viewfinder. However, this "shortcoming" made Canon more determined than ever to create a reliable touch screen.
The G7X MII is small and straightforward, but it doesn't sacrifice construction or image quality to meet these selling points. Rather, it uses Canon's resources to create a touch-friendly user experience that is easy to navigate and understand.
Though there are navigation buttons built-in, cruising through menus and settings is easily accomplished with a few taps. Users will also find that the easiest way to focus with the Powershot's fixed lens is without a doubt through the camera's touch-screen AF.
7. Panasonic Lumix GH6
Great for intermediate photography
The Lumix GH5 is a great mid-range camera for both photography and video.
Pros
25 MP micro four-thirds sensor
Durable exterior design for outdoor use
Can record up to 5.7k at 60fps
Cons
Expensive for the quality it provides
For videographers seeking a touch screen camera, the Lumix GH6 is a dream. A mirrorless with a 25 MP images sensor and 5.6K resolution, it's got the basics set in place to create gorgeous content. Touch screen technology puts it to use efficiently, aiding in all moving media endeavors.
The Lumix has 315 autofocus points to which it can instantly focus. However, the real game-changer is its smooth focus transitioning. Users may switch between points with ease while filming, and the camera will automatically adjust at an even speed.
The 3.2″, 1620k dot LCD monitor is articulated, allowing for a huge range of viewing angles. For vloggers or those keen on taking selfies, this unassuming feature makes Lumix a must-have touchscreen camera.
8. Leica SL
Great for low-light photography
The Leica SL is a stylish and well-designed camera great for high-end low light shooting.
Pros
Powerful Maestro-II image processor
Small and compact body design
High quality 4.4 MP viewfinder
Without a doubt, Leica's price tag is one of the priciest we've encountered. At a glimpse, not all of its specs stand out – its 2.95″ fixed LCD monitor has a decidedly average 1040k dots. However, their long history of innovation and excellent craftsmanship warrants the higher cost.
Unlike the Leica T or the Leica TL, the doesn't rely on the touch screen. However, it does make use of its touch screen to create an intuitive, seamless shooting experience for photographers.
In particular, the SL puts emphasis on its "hybrid operation". Its dynamic AF system allows you to tap to focus on any one of the 529 focus points. And, with swipe-activated settings and navigation, finding your way around this camera is on par with working a smartphone.
Leica even included an anti-fingerprint, anti-scratch coating to keep your display protected. Though not everyone can reconcile the expense, there's no denying that the SL keeps the user's experience close to heart.
9. Canon EOS R6
Great for sports and wildlife photography
The EOS R6 is a powerful camera with excellent autofocus and low-light capabilities.
Pros
ISO range of 10—102400
Excellent and fast autofocus system
DIGIC X processor for superior image quality
Cons
Relatively expensive
Canon has released two powerful mirrorless cameras and both have excellent touchscreens. The cheaper option of the two is the Canon EOS R6. This is a brilliant mirrorless full-frame camera that has some fantastic specs, and a high-quality screen.
For image quality, it has a 20 MP sensor. While this may not sound fantastic, it delivers superb photo quality via the DIGIC X processor. Also, it has a great ISO range of 100-102400 which makes it one of the best performers for low-light photography.
The autofocus of this camera is also advanced. It uses Canon's Dual Pixel CMOS AF and covers 100% of the focal area with 1053 AF zones. Aside from this, it also has advanced tracking options like animal tracking. It makes the camera brilliant for wildlife and sports photography – especially when equipped with one of the amazing Canon RF lenses.
The touchscreen is a 3-inch TFT LCD, and it can be fully rotated and flipped. The EOS R6 also has a versatile set of controls and buttons plus several configurable options. It is therefore easy to use, and you can essentially customize the camera to suit your needs. This is certainly one of the best touchscreen camera options Canon has released in recent years.
10. Nikon Z50
Great for beginners
The Z50 has a well-rounded set of features for beginner to intermediate photography.
Pros
20.9 MP CMOS sensor
Can record movies in 4K HD at 30fps
Simple and intuitive design
Cons
Touchscreen cannot be rotated outwards
If you want an entry-level camera with a high-quality touchscreen, the Nikon Z50 is a great choice. This is one of the lower-spec mirrorless cameras from Nikon's Z range. However, it still has a great set of features and benefits from the range of Z-mount lenses.
The Nikon Z50 has a 20.9 MP CMOS sensor and uses the advanced Nikon EXPEED 6 processor. This is combined with a fast hybrid AF system to give you a versatile camera that offers great image quality. You can also record 4K video at 30fps and also shoot 1080p HD at 60fps which is great for slow-motion video.
We also like the simplistic design of this mirrorless camera. It has a minimalistic set of buttons and the high-quality touchscreen is easy to use. You can compose photos using either the EVF or the touchscreen depending on your preferences. Overall, this is a great touchscreen camera if you aren't quite ready to jump up to a professional level DSLR or mirrorless camera.
Which Touchscreen Camera is Right for You?
You should now have a great idea of the best touchscreen camera available and other options. But which is suitable for you? This depends on your photography level, and what you intend to do with it. If you want an entry-level touchscreen camera, something like the Nikon Z50 or OLYMPUS OM-D E-M5 Mark III would make a great choice.
Alternatively, if you are ready to progress to professional-level gear, the Canon EOS R6, Nikon Z 7II , or Sony Alpha 7R IV offer fantastic capabilities and image quality.
---
Disclosure/Disclaimer: As an Amazon Associate, we earn from qualifying purchases. Certain content was provided "as is" from Amazon and is subject to change or removal at any time.