When it comes to photography gear, a lot has changed over the years. From image stabilization technology to size and build. The market is ever-evolving to suit our needs.
One of the ways the photography market has done this is by adding touchscreens to our cameras. These are versatile and include many great benefits. But now there are so many touchscreen cameras out there, picking the best touchscreen camera can be a challenge.
In this article, we share with you the best touchscreen cameras you can buy in 2019.
1. Canon G5 X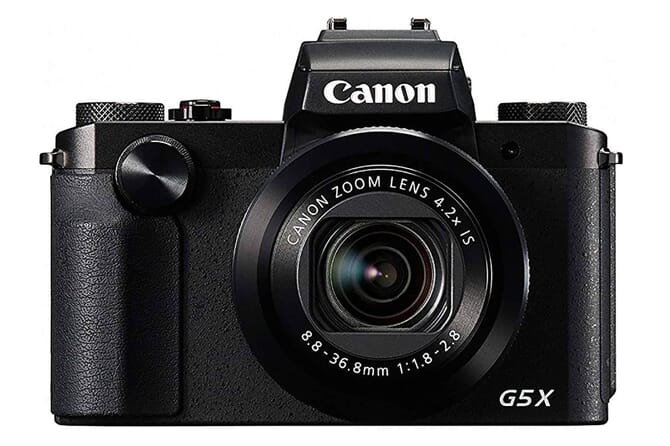 Canon has a lot to offer when it comes to touchscreen compact cameras. Among the most tempting of those options is the Canon G5X. Though there are a couple of newer releases in the Powershot G series, the G5X has aged well and still manages to provide just about anything a serious photographer could want. Among its many bragging points is its highly sensitive 20.2 MP BSI-CMOS sensor. It excels in low-light situations and is capable of capturing 1080p HD video at up to 60 fps.
With its DIGIC 6 processor, it consistently delivers excellent image quality and is capable of capturing RAW files. This ensures maximum dynamic range and detail in each and every shot.
The G5X boasts a 3″ fully articulating touchscreen LCD panel. Composed of 1.04 million dots, it provides an ultra-clear view, making it easy to hone in on the finest details of a shot. Additionally, the screen can be flipped inwards for extra protection.
For situations in which an LCD viewer is less than ideal, the camera also includes a handy viewfinder that drastically saves the camera's battery life. The G5X also retains physical buttons for photographers not fond of sifting through touchscreen menus and settings.
Related Post: Best Selling Point and Shoot Cameras (Updated Daily)
2. Nikon 1 V3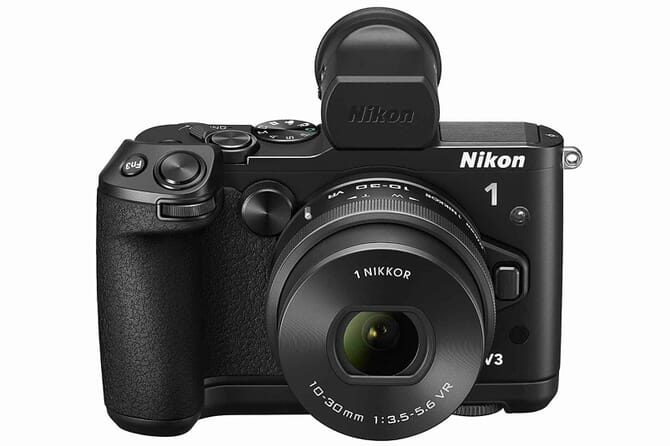 For over two decades, Nikon has been experimenting with the formula for the perfect touchscreen camera. Thus far, the Nikon 1 V3 ranks among the best the imaging giant has put forth. In the compact department, this is a flagship release, a camera featuring minimum lag, high accuracy, and maximum detail.
The camera also sports an 18.4MP CMOS sensor that can reach ISOs upwards of 12800. This makes it an excellent choice for image-makers accustomed to working with very little light. At the time of this model's release, its 4A image processor enables the fastest continuous shooting rate available in a camera, period. With the ability to produce high-quality RAW files and a solid build, the feel of this camera is very much reminiscent of a professional-grade DSLR.
Now, onto the most important part, the touchscreen. The 3″ tilting touchscreen LCD is sturdy and strong. With 2.3 million dots used to generate images, it has a slight leg up on its main competitor, Canon. Among the benefits provided by the addition of the monitor are 171 individual contrast-detection AF points. With the touch of a finger, it's possible to choose a focal point through the screen itself. But, if an LCD panel isn't quite your cup of tea, have no fear. Nikon also offers an optional electronic viewfinder for those accustomed to doing things the old fashioned way.
Related Post: Best Tablet Cameras
3. Sony A6500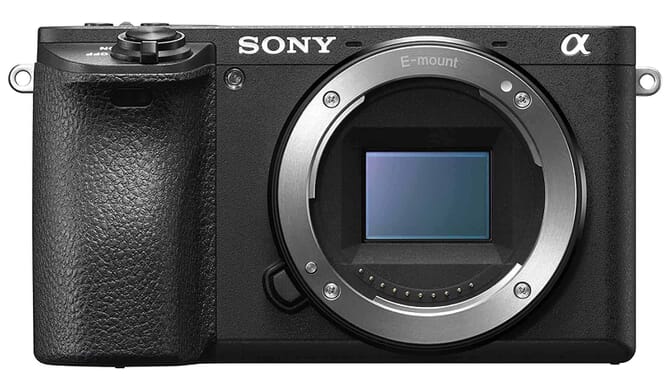 Lately, Sony has been making strides in the emerging mirrorless camera market. The Sony A6500 is no exception, offering the latest and greatest in mirrorless technology. With a massive 24.2 MP CMOS sensor, it packs a punch powerful enough to satiate the needs of any pro-level DSLR user.
Like a DSLR, the A6500 allows for the placement of interchangeable lenses. The first of its kind on our best touchscreen cameras list.
In many ways, the A6500 is comparable to its predecessor, the A6300. But, one of the biggest changes implemented (and what gives it a place on this list) is the camera's fixed 2.9″ LCD touchscreen. Among other things, it allows users to shift focus smoothly. With 425 phase-detection points, it's able to auto-focus in fractions of a second anywhere within a photograph's composition.
Related Post: Sony a99 II Review
4. Olympus E-M5 II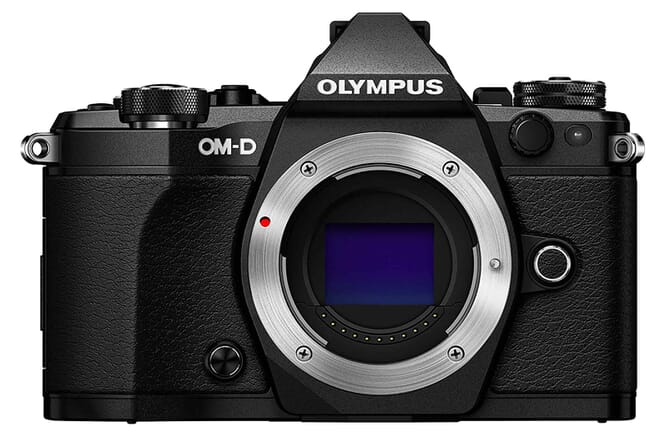 Another impressive mirrorless touchscreen camera, the Olympus E-M5 II is among the best compact cameras available. With a 16 MP CMOS sensor installed, it's able to process RAW imagery and works well in low-lighting situations, attaining ISOs as high as 25,600. It's durable, with a weather-sealed magnesium alloy body. It projects a level of professionalism not seen in any old run-of-the-mill point and shoot. What's more, like the Sony A6500, the Olympus has a lens mount, providing increased flexibility in the image-making process.
Related Post: Review of the Olympus E-M1 Mark II
The E-M5 II features a vari-angle LCD touchscreen composed of 1.03 million dots. Equipped with an incredibly intuitive user interface, the camera makes it really easy to capture images and video in a variety of aspect ratios. With the use of the touchscreen, it's even possible to shift focal points while simultaneously recording high definition 1080p footage. But, for a situation where the LCD panel just won't cut it, the camera also includes a high-resolution electronic viewfinder.
Related Post: Olympus Just Announced the OM-D E-M5 Mark III
5. Fujifilm X70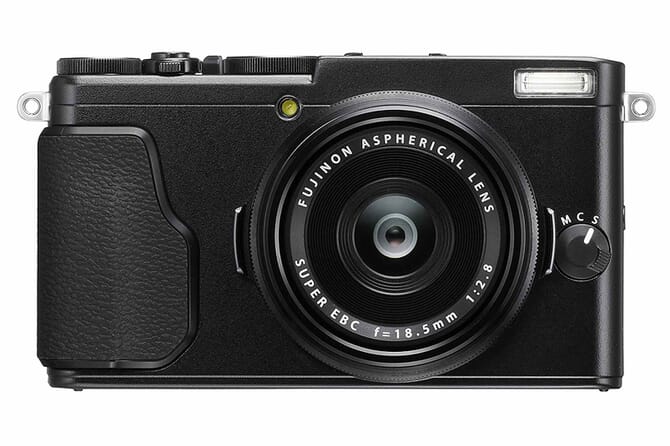 When it comes to Fujifilm's X70 camera, there's plenty that makes it worthy of a place on the list of the best touchscreen cameras. Its fixed lens is one of the most impressive around – at a versatile 18.5mm, it can reach apertures as wide as f/2.8! With its built-in electronic shutter, it can also stop time in its tracks with shutter speeds as fast as 1/32000th of a second.
Though it's X-Trans CMOS II sensor packs just 16.3 MP, it's still capable of capturing high-resolution images. This was once only attainable with larger sensors. Now, thanks to state of the art technology, it's all included.
The X70 is the first in Fuji's X-series to come equipped with a touchscreen monitor. Smartphone users, in particular, should have no problem adjusting to this camera. The X70 utilizes many of the gestures we're already familiar with – navigating is as easy as swiping between photographs and pinching to zoom in on details. The LCD is also capable of flipping upward to a 180-degree angle. Aside from being helpful when it comes to photographing odd angles, it's the perfect feature for taking top-notch selfies.
Related Post: Best Point and Shoot Cameras under $500 (Top 10 Picks)
6. Panasonic ZS100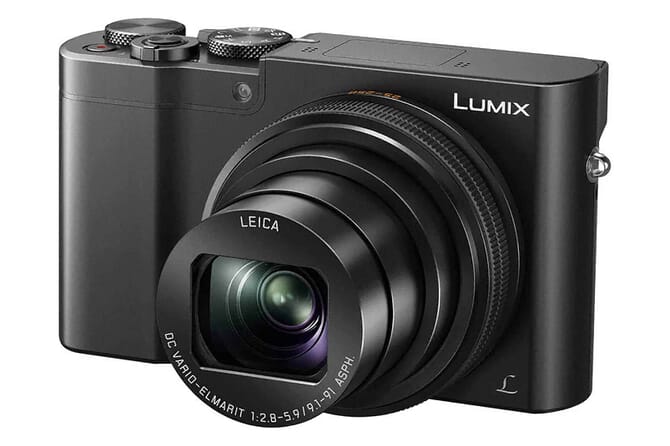 One of the Panasonic ZS100's most cherished features is its 4K UHD video footage equipped with the innovative ability to choose focal points in post-processing. But the Panasonic imaging technology doesn't end there. It's possible to take the Panasonic's 4K footage and extract 4K stills in a flash. The camera's 20 MP sensor contains minimal artifacts, and the Venus Engine image processor provides the most colorful pictures listed among these top-notch compact cameras.
The fixed Leica lens features a control ring mounted in place. This provides an experience reminiscent to fiddling with a DSLR. Aside from providing a range of 25-250mm, it also contains tilt correction and axis control technologies.
Like many of the compact cameras on our list, the ZS100 provides an electronic viewfinder capable of performing in almost any situation.
Also included is a 3″ fixed touchscreen LCD. Praised for its clarity and its ability to capture details, the monitor plays a crucial role in allowing users to see everything a picture has to offer and certainly makes it one of the best touchscreen cameras you can buy.
7. Samsung NX500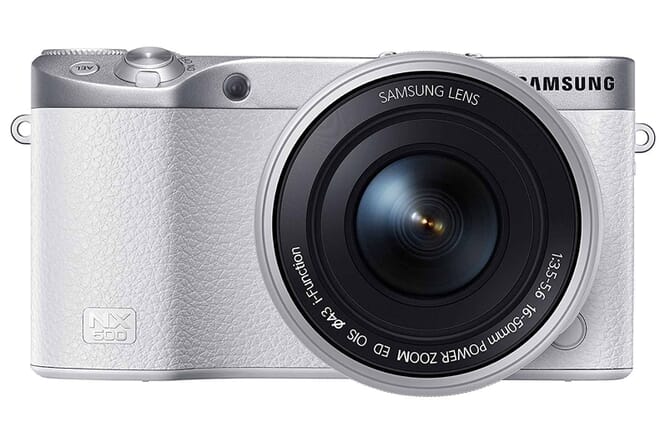 Physically, the Samsung NX500 stands out among other high-end compact touchscreen cameras, with a flashier design, it's not quite as discreet as its competition. However, in this little 10-ounce camera, there's a lot worth boasting about. Despite its small size, it's equipped with a whopping 28MP APS/C sensor. Utilizing backside illumination technology, it offers the most usable light possible to produce a rich end product regardless of lighting conditions. As a testament to its outstanding capabilities, the NX500 can go all the way up to ISO 51200. Like many of the cameras on our list, the NX500 can capture 4K UHD video footage. But unlike the competition, it utilizes HEVC technology to only use up half the space a standard recording would require.
It should come as no surprise that Samsung has invested some fancy technology into its touchscreen. A 3″ VGA AMOLED monitor, it's capable of tilting at a 90-degree angle and rotating up to 180 degrees. This means that in virtually any scenario, it's easy to get a view of what's going on. What's more, despite the advanced technological innovations employed by this camera, it's easy enough to understand. Impressive UI makes it simple enough to activate menus and control every aspect of your image in-camera.
8. Leica Q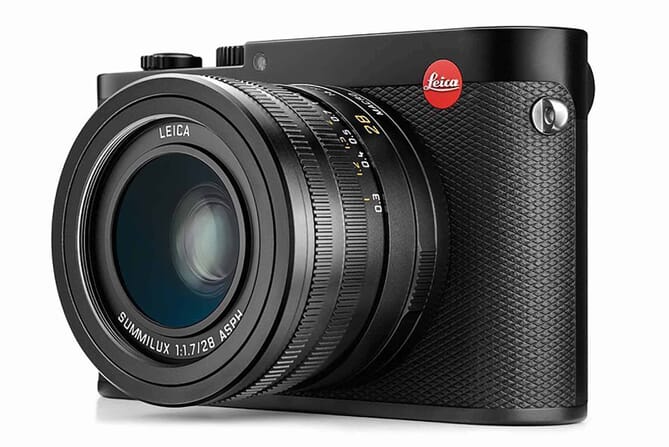 It's easy to be put off by the Leica Q's hefty price tag. However, there's a good reason that the Leica Q is included among the best touchscreen cameras and manages to sell among photographers.
For those looking for everything they could possibly want in a single body and a single lens, the Leica Q is worthy of consideration. Unlike the average point and shoot, the Q boasts a full-frame 24.4MP CMOS sensor, providing quality reproductions. The legendary Leica glass is an f/1.7 lens, an unheard-of feat for a compact camera. With these two aspects combined, the Leica Q produces pictures as close to perfect as possible.
A 3″ fixed touchscreen tops off the camera's aluminum and magnesium alloy body. For the most part, it's simple. Aside from providing a live view of its surroundings, the LCD also allows access to features such as contrast detecting auto-focus. The interface is simple – but make no mistake in thinking that this is a flaw on Leica's part. Rather, almost all of the camera's controls can be accessed by maneuvering the lens. It's hard to take a bad picture with a Leica, and the LCD included serves as a guide rather than a complete control panel.
---
As an Amazon Associate we earn from qualifying purchases. Certain content that appears on PhotoWorkout.com comes from Amazon. This content is provided 'as is' and is subject to change or removal at any time.