Today, the underwater world is more accessible than ever before. If you aren't a particularly confident swimmer or diver but want to see what the waters of the world contain, why not purchase a high-quality underwater drone camera?
These advanced drones can be piloted remotely, typically with a smartphone. They are also equipped with high-definition cameras so you can record footage and take photos underwater. Below, we share our top six underwater drone camera picks, including options for underwater photographers and videographers of all stripes.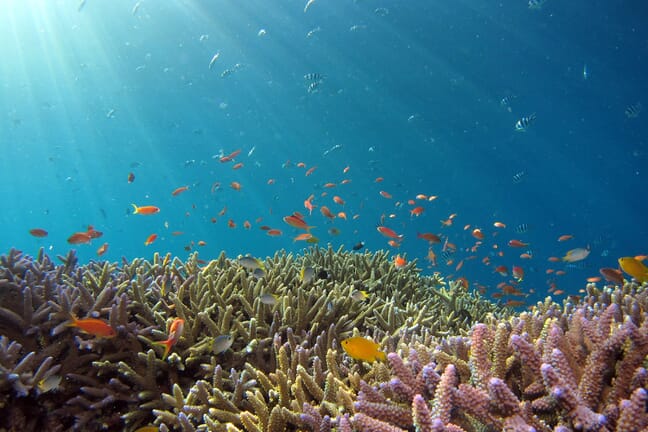 The Best Underwater Drone Cameras:
When you buy through links on our site, we may earn a commission at no cost to you. We evaluate products independently. Commissions do not affect our evaluations.
1. Chasing GLADIUS MINI
Our Pick
Great for smooth control
The Chasing GLADIUS MINI has advanced controls including a depth-lock feature so you can take photos and video precisely where you want.
Pros
12 MP camera with an f/3 lens
High-quality video recording at 4K
Great dive depth
Cons
FPV goggles are not included
Our top pick is the Chasing GLADIUS MINI due to its versatile features, excellent controls, and great camera specifications. For photography, you can benefit from the 12 MP UHD underwater camera that will capture marine life in crystal clear detail. And you can use it to record video in beautiful 4K resolution.
The lens enables separation between the background and the subject thanks to the f/3 aperture. Additionally, you can make sure that underwater subjects like fish and coral are perfectly illuminated due to the 3x 1200 lumen LED lights on each side of the camera. Although FPV goggles aren't included, the drone has excellent connectivity to these devices so you can get a great first-person view of the underwater world.
We also like the advanced controls of this underwater drone. It has an array of sensors so you should be able to pilot without issue. This is complemented by some diving features like a depth-locking setting where you can set the drone to maintain its current depth (which comes in handy if you want to explore a riverbed). In terms of capabilities, the unit can dive up to a maximum of 300 ft (91.4 m) and has a lengthy tether of 328 ft (100 m).
The remote control looks and feels like a gaming controller, which connects to your smartphone to give you a real-time feed; that way, you're never in danger of crashing or losing the drone. There are also two joypads that allow you to seamlessly control the height and movement direction for fluid video recording and photography.
2. QYSEA FIFISH V6
Also Great
Best for immersive control
The FIFISH V6 includes virtual reality goggles for amazing immersion. You can even control the drone's movements by turning your head!
Pros
Great maximum ISO of 6400
Wide f/2.5 aperture
Includes virtual reality goggles
Cons
Relatively expensive
For professional photographers and videographers, the QYSEA FIFISH V6 is a fantastic pick. You can take 12 MP RAW photos and record 4K video. This is enhanced by the ultra-wide 166-degree field of view and the f/2.5 aperture. As a result, you should be able to capture epic underwater photos in dark conditions.
Other camera features further the usefulness of this underwater drone. For example, the maximum ISO of 6400 is ideal for low-light photography. The drone can also record video at 240 FPS so you can capture the underwater world in slow motion. If you want your subjects to be brighter, the unit is equipped with a 4000-lumen LED light.
This drone takes immersion to the next level. It includes a virtual reality headset, and it also features somatosensory control, which means that you can direct the drone's movement simply by moving your head! As a result, you can explore seas and rivers while concentrating on the scenes unfolding before you.
It is a relatively robust model, and a full battery charge should last for up to four hours. Plus, you get other useful features like depth hold, image stabilization to reduce motion blur in your photos, and an HD live broadcasting tool.
3. Chasing DORY
Great for beginners
The Chasing DORY is a fantastic budget option for beginners who want their first taste of marine photography.
Pros
Decent diving depth
Easy control via smartphone and tether
Two 250 lumen LED lights on the front
Cons
The camera only takes 2 MP photos
If you're a beginner and are just starting out with underwater photography, the Chasing DORY could be an excellent choice. It's a budget-friendly underwater drone camera that still has excellent controls, photo quality, and features to get you started.
So you can move the drone freely underwater, it has a 46 ft (14 m) tether and a maximum diving depth of 49 ft (14.9 m). You can easily control it via your smartphone. Simply connect the tether to your phone, and by using the accompanying app, you should get a live underwater feed. The recording and photo quality aren't outstanding, but you still get 2 MP photos and 1080p videos.
Photos and video should both look clear and burst with colors due to the dynamic image enhancement and color restoration algorithms that the camera automatically applies. You can get great background separation on subjects like fish due to the maximum f/1.5 aperture.
You can expect a full charge to last for an hour. Additionally, the drone is relatively compact and lightweight, so you should easily be able to fit it in your backpack when traveling. The package includes the underwater drone, the tether, a buoy, and a carry case.
4. Chasing M2 ROV
Great for professional work
The Chasing M2 ROV is a professional underwater drone camera that allows you to mount other devices like a GoPro for enhanced flexibility in your photography and recording.
Pros
The mount can support various devices
Built-in 64 GB SD memory card
Omnidirectional controls
Cons
The included camera may be limited
For serious shooters, the Chasing M2 ROV is a superb option. It offers some of the best controls available and even boasts omnidirectional movement (which means you can move it in any direction seamlessly for fluid video shots) and an anti-sand jam motor to prevent potential underwater loss.
It does include a camera that is great for photography and videography; however, you can mount other devices, too. For example, the drone supports some diving cameras, external lights, and even mechanical arms for underwater exploration and recovery.
This device is ideal if you prefer long recording sessions or want to take large quantities of photos. This is because it is equipped with a 64 GB SD memory card that is easy to access. The standard battery has a decent life, but for professional work, you may wish to upgrade it for improved longevity.
You can manage and pilot the drone using the complementary app, which includes some excellent features such as live broadcasting. Lastly, you can pilot the drone at depths of up to 328 ft (100 m), and it has a horizontal tether that reaches up to 656 ft (200 m).
5. Chasing F1 Fish Finder
Great for beginners
The Chasing F1 is primarily a fish-finder drone but also has excellent features for underwater photography and videography.
Pros
Decent diving depth
Simple to control via a smartphone
Durable build
Cons
Better for video recording than photography
A great option for beginners is the Chasing F1 Fish Finder. This is primarily meant for fish finding, but it also offers solid underwater photography and video recording. The device has two parts: the top unit that floats on the surface of the water, and the tethered camera that is connected to this unit.
In terms of quality, the camera offers both day and night views and 1080p video resolution. You can connect to the camera via your smartphone and view the footage in real-time. And due to the connectivity, you can actually share videos and photos on social media with your friends and family. This includes one-click sharing to TikTok, Instagram, and Facebook.
When using this underwater drone camera, you can expect a usage time of up to six hours per charge, which is far superior to typical flying drones. The tether can reach a maximum depth of 65 ft (19.8 m) from the main floating unit so you can easily explore things like coral reefs and riverbeds. When controlling the drone via your smartphone, you also get a host of useful information such as water depth and temperature.
6. Geneinno T1
Great for different water conditions
The Geneinno T1 has a durable shell and can be used in choppy waters thanks to its six-thruster design.
Pros
160-degree wide-angle camera
Durable and robust waterproof casing
It can be controlled via the remote or smartphone
Cons
Better for videography than photography
Our last pick is the Geneinno T1, a drone that offers a great combination of control, features, and camera quality. You can use it in various underwater conditions including choppy waters due to the powerful six-thruster motor, and you should be able to control it easily and direct it where you want without issue.
You get complete directional control and full altitude control up to depths of 492 ft (150 m). It boasts a tethered design, so you should never lose it. The camera has a wide viewing angle of 160 degrees, and you can take high-resolution photos and record videos at 4K.
The controls are quite flexible as you can operate the drone either from the included remote control or your smartphone. The unit does have the capability to be connected to VR goggles for FPV control, though the goggles are not included in the package. To ensure that the underwater world is visible, the drone is equipped with a 4000-lumen LED light.
The drone itself is incredibly sturdy and features military-level waterproofing; it can also withstand extreme pressure. This means that you should be able to use it in various water conditions, including rougher oceans. The battery, when fully charged, lasts for up to four hours, so you can work for long periods of time without stopping.
Find the Perfect Underwater Drone!
Underwater drone cameras are still in their infancy, and we expect more advanced models to be released in the near future. For now, you have a decent selection of high-quality underwater drones for both photography and videography regardless of your skill level or purpose.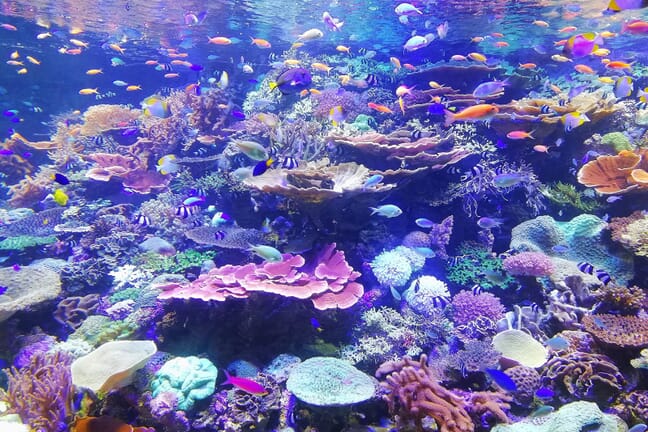 Beginners can benefit from the simple controls and functionality of models like the Chasing DORY and the Chasing F1 Fish Finder.
And for professional work, there are more advanced products like the QYSEA FIFISH V6, the Chasing M2 ROV, and the Geneinno T1, though our favorite overall model is the Chasing GLADIUS MINI.
---
Disclosure/Disclaimer: As an Amazon Associate, we earn from qualifying purchases. Certain content was provided "as is" from Amazon and is subject to change or removal at any time. Product prices and availability: Amazon prices are updated daily or are accurate as of the date/time indicated and are subject to change. Any price and availability information displayed on Amazon.com at the time of purchase will apply to the purchase of this product.