Nothing beats the feeling of making a photograph you're proud of. Between fiddling with cameras and meticulously adjusting sliders, print-worthy photographs aren't simple feats. For your best work, you'll probably want to show it off on a canvas print.
But, before you can proudly display your finished piece, there's an important question you'll have to answer – what is the best canvas size for my photo?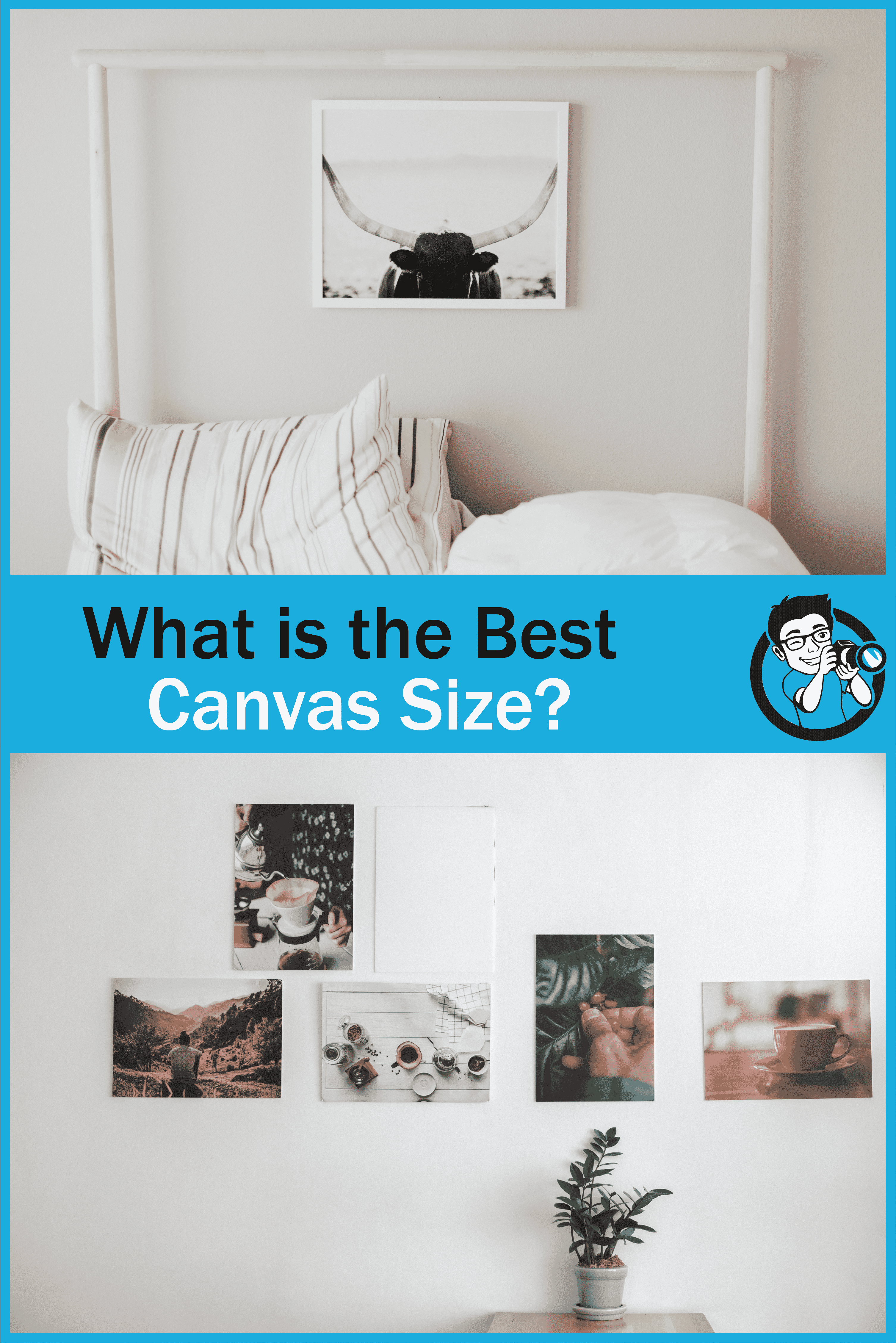 The answer is not as straightforward as you might think.
There are physical limitations on how large any one picture can be stretched while retaining some degree of clarity. What's more, certain images lend themselves aesthetically to certain sizes or require cropping if you select a disproportionate size.
The number of factors that play into making a decision can be intimidating. However, the choice becomes a lot easier when you examine each factor on an individual scale. Step by step, we've broken down the basics you'll need to consider when choosing your canvas size.
When you buy through links on our site, we may earn a commission at no cost to you. We evaluate products independently. Commissions do not affect our evaluations.
Step 1: Choose Your Shot
Photography is an art of trial and error – getting a result you're happy with often requires patience and ingenuity.
However, every now and then, you'll capture a frame that begs to become a photo print. Finding an image that really speaks to you is the first step in the equation.
Thinking about the content of your shot may play a role in determining the right size for it. A landscape, for instance, runs the risk of losing detail when relegated to a small print. Therefore, it's a common candidate for larger format pieces.
However, choosing a canvas size isn't all a matter of taste. There are technical restrictions that also make a difference. Though you can set a file to be as large or small as you'd like, there's only so far an image can go before it begins to lose its visual integrity.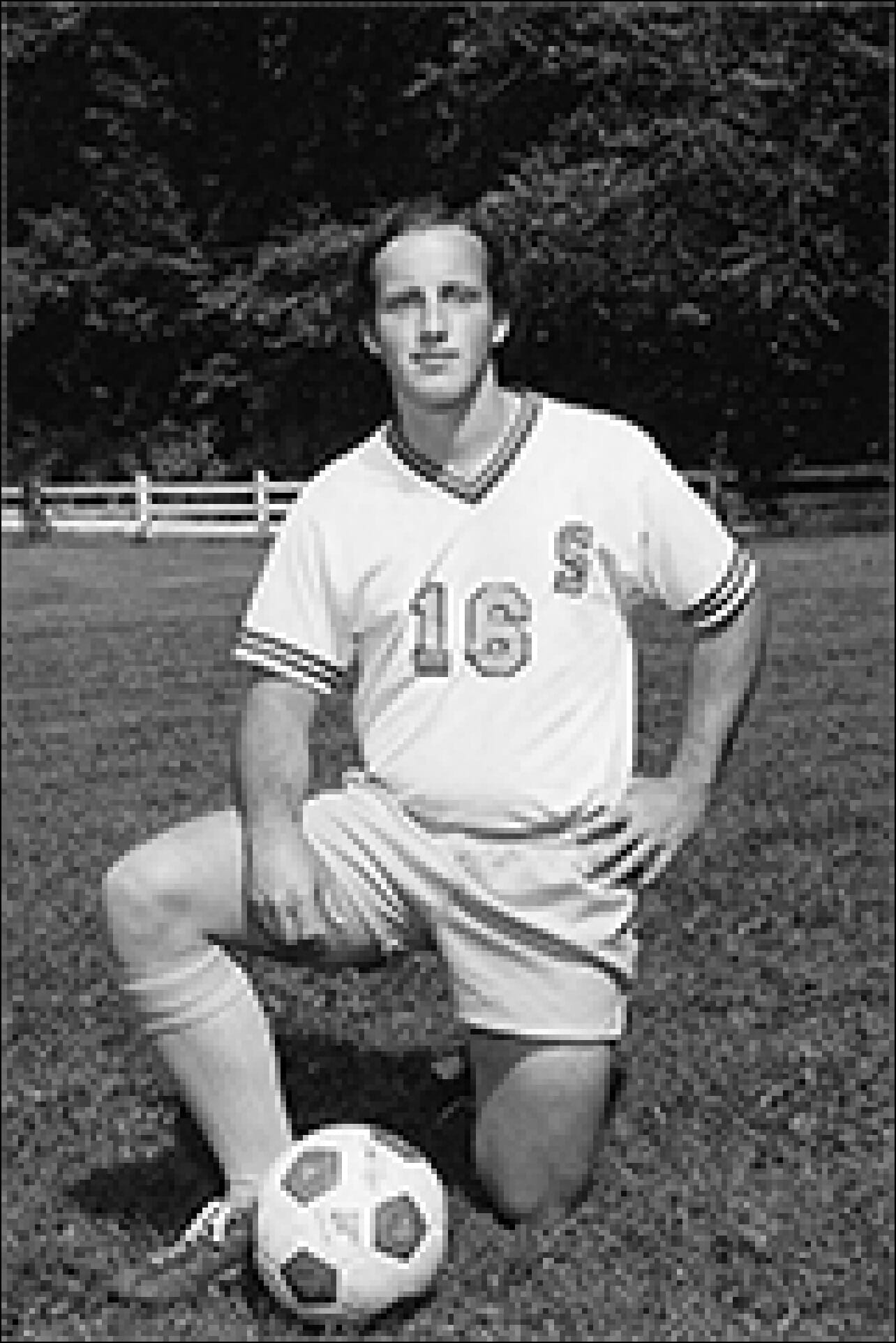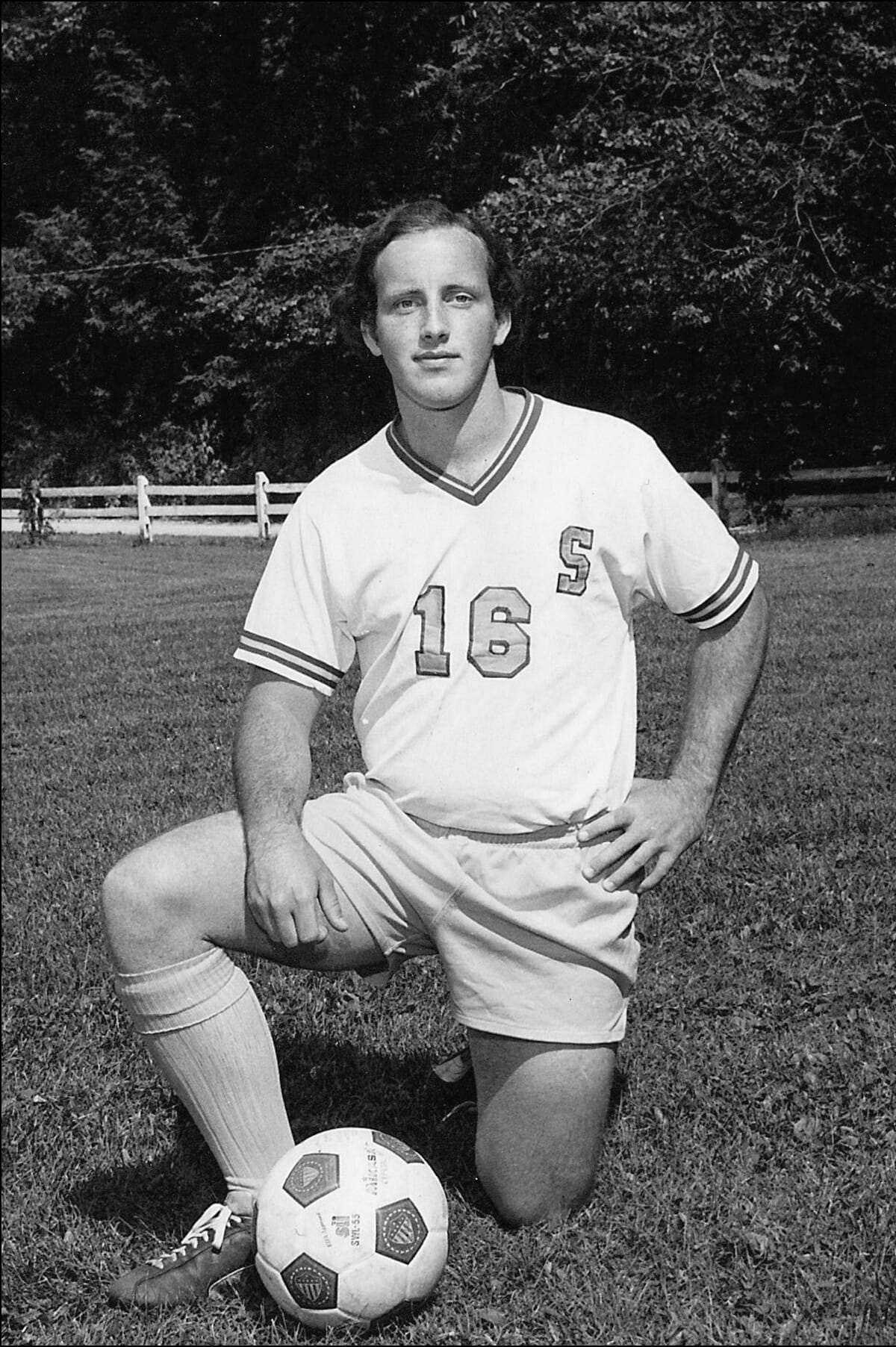 At 8×12″ and 300 DPI (or "dots per inch"), it's easy to see the details in the portrait below. However, let's say I scanned this image at 20 DPI rather than 300. Instead of 28,800 pixels to work with, I'd only have 1,920. As a result, a great deal of clarity would be lost.
Some photographers might try to "save" a shot by increasing DPI manually. Unfortunately, you can't create something out of nothing. If your original file doesn't have much to work with, your software will try to fill in the blanks, often producing an even messier file.
As an example, my mother emailed me this image measuring 3×3″ at 72DPI some time ago. Displayed on the left, you can see that there's a fair bit of pixelation happening, making it an unsuitable candidate for print. Increasing the DPI to 600, as seen on the right, doesn't actually fix the pixelating. Instead, it adds a fair bit of distortion and halos around the edges of objects.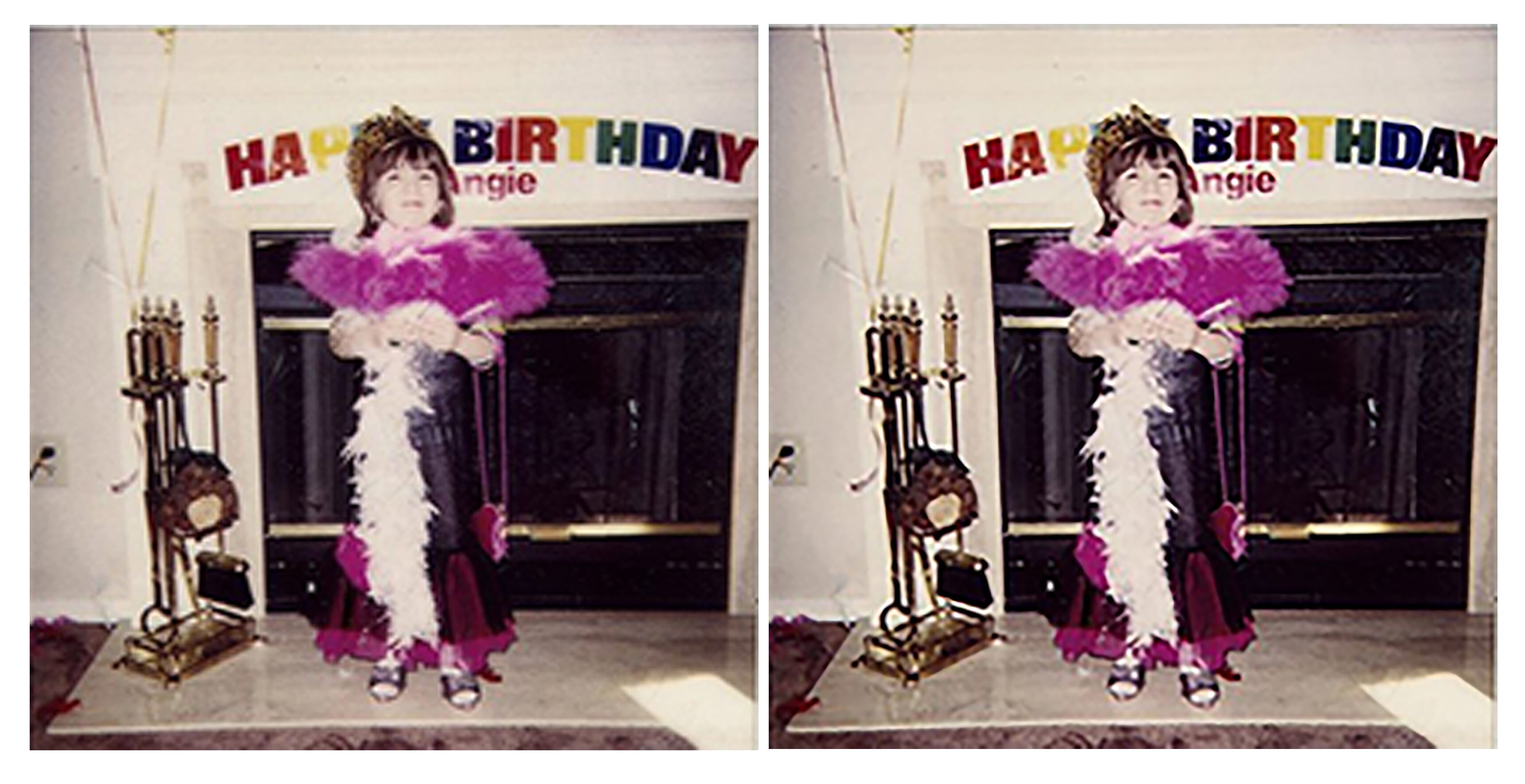 The number of pixels you capture per frame depends on your sensor size, measured in megapixels.
A 12MP iPhone camera will never offer as much flexibility as a 24MP full-frame camera because it just doesn't collect as much information. The more information you have to work with, the larger your canvas size can be.
Related Post: Smartphone vs Camera
Step 2: Choose Your Space
Take a moment to think about the space you have in mind for your photograph. Is it an image that you'd like by your bedside? Or are you looking for something to jazz up the walls of your living room? Different sizes accomplish different goals.
Obviously, your intentions for the photograph will impact the size that you should opt for. Less clear-cut spaces require an eye for aesthetics and some intuition to make an informed decision.
A 5×7″ print may not make much of a statement hanging alone on a wall – however, it's the perfect size to sit at a desk or end table. Likewise, a larger 36×48″ canvas will likely look out of place in a cramped corner. However, it'll likely fit right in floating on the spacious wall above your sofa.
For inexperienced printers, it can be hard to envision canvas sizes by numbers alone. Consider drafting up a scaled visual aid to provide a better idea of how the piece will fit before ordering your print. If you're still struggling with the size, going with a common option is usually a good bet. You'll have something that most customers thought was the ideal size. On Canvaspop's website, they note that their most popular size is 36×24 inches. This is a relatively large size, but it shouldn't be too big for most people.
Sometimes, a single image won't be able to stretch large enough to take over an entire room. Luckily, printing small doesn't have to be a death sentence if you're willing to think a bit outside of the box.
One option to strengthen a small image is to pair it with other small images. It's true that on its own, an 8.5×11″ photograph will look bare on an empty wall. However, when that small print is paired with 15 other small prints, you suddenly have the equivalent visual impact of a 34×44″ image. Finally, you should think about the distance between your viewer and the photograph when choosing your canvas size. If people be up close and personal, maintaining a high resolution is absolutely essential. However, if people will be viewing from several feet away, you'll likely have a bit of leeway to print a lower-res image.
Step 3: Choose Your Budget
The sad truth is that one of the largest roadblocks when choosing your canvas size will be your budget.
For those tight on cash, getting the print that you want may involve cutting some corners.
The general rule of thumb is that the larger you print, the more you pay. Likewise, you can expect extra fees if you're printing at a custom size outside of the normal list of aspect ratios.
While a few extra inches may not seem like much, even slight increases in size can significantly raise your bill.
Take a look at the price differences we sourced from a few of the most popular canvas print producers: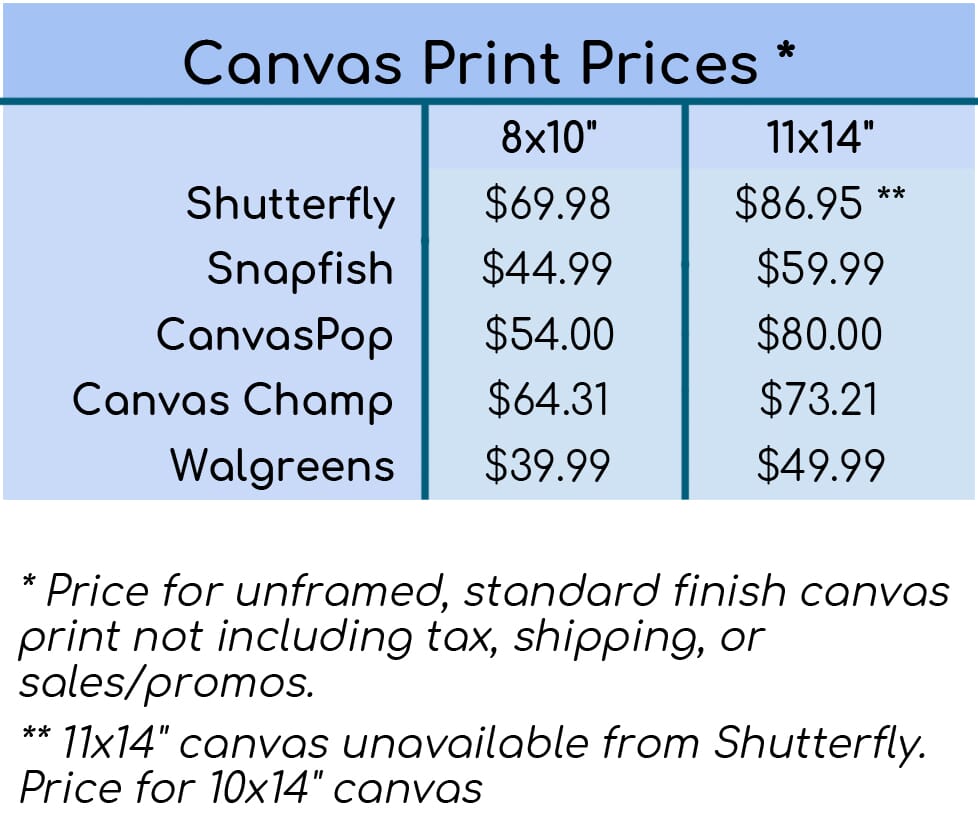 No matter the printer, canvas customers can expect prices to climb anywhere from $10 to as much as $30 when switching an order from an 8×10″ to an 11×14″ print.
Of course, each vendor has its own set of prices to sort through, its own set of promotions, and its own materials to choose from. Research and reviews reveal which businesses produce great results and which provide the best deals. More importantly, they can show where the two intersect to meet your specific needs.
Making a Decision
Choosing your canvas size shouldn't be a split-second decision. Just like you wouldn't take a photograph without focusing the lens or applying a filter at random, it's a matter to be carefully calculated. A canvas print's size plays an enormous role in its impact and appeal.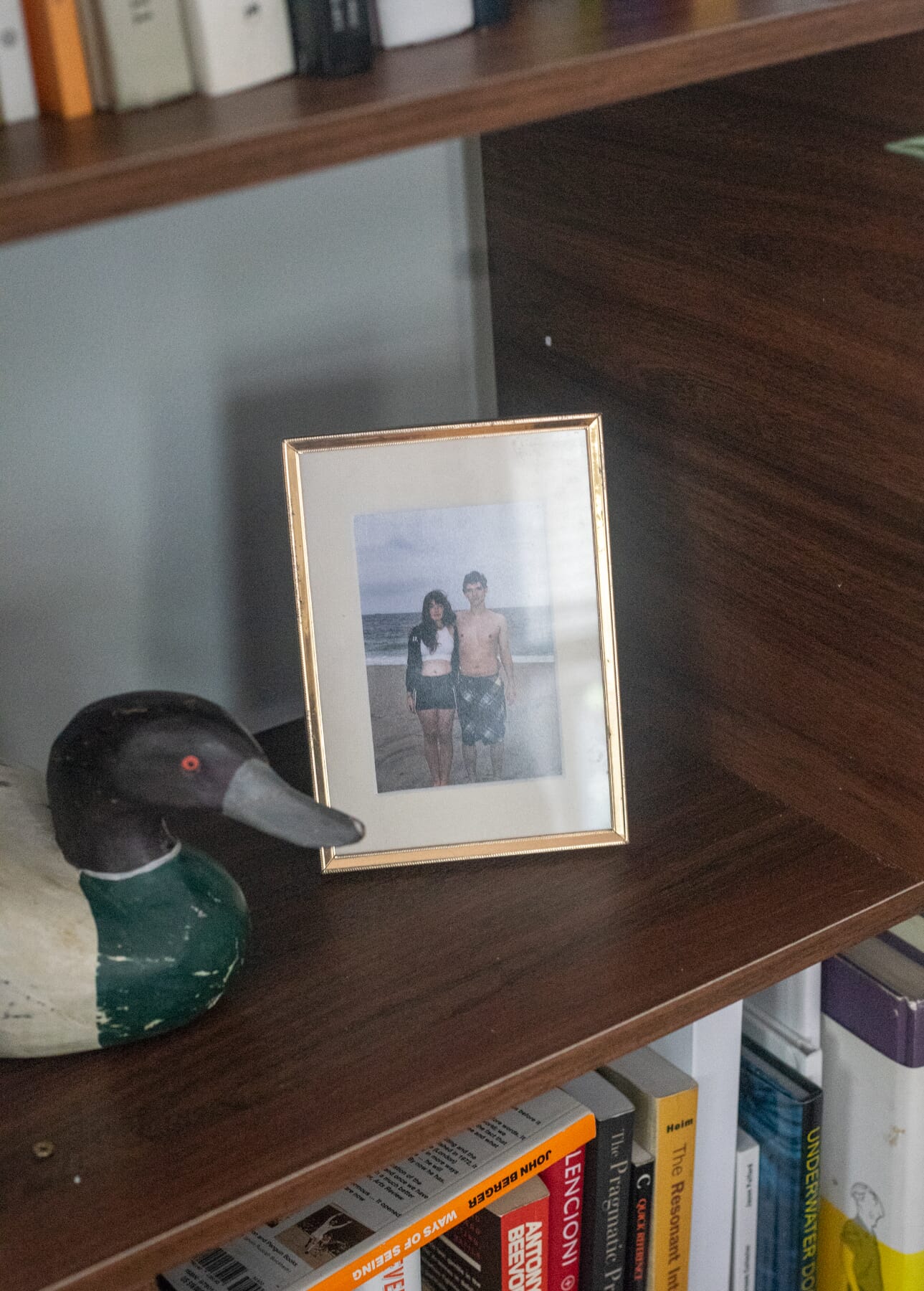 Every photograph has its limits. However, once you know how far it can go, the decision boils down to the resources you have at hand and the creativity you conjure up. There's no "right" answer on choosing a canvas size. However, contemplating content, space, and budget can lead you to the solution best suited for you.