Getting started with drone photography can be an incredibly exciting adventure. Choosing the right drone to get started, however, can be quite the challenge! There are plenty of criteria to consider and of course, budget plays a big part. If you are looking for a cheap long-range drone with a camera, you have come to the right place!
We have gathered a list of eight fantastic drones that have excellent cameras and long-range transmission. This means you can safely fly them over longer distances and capture some amazing photo and video footage. Our picks include popular drone manufacturers like DJI, Holy Stone, and Altair Aerial. What's more, each model is no more than $500!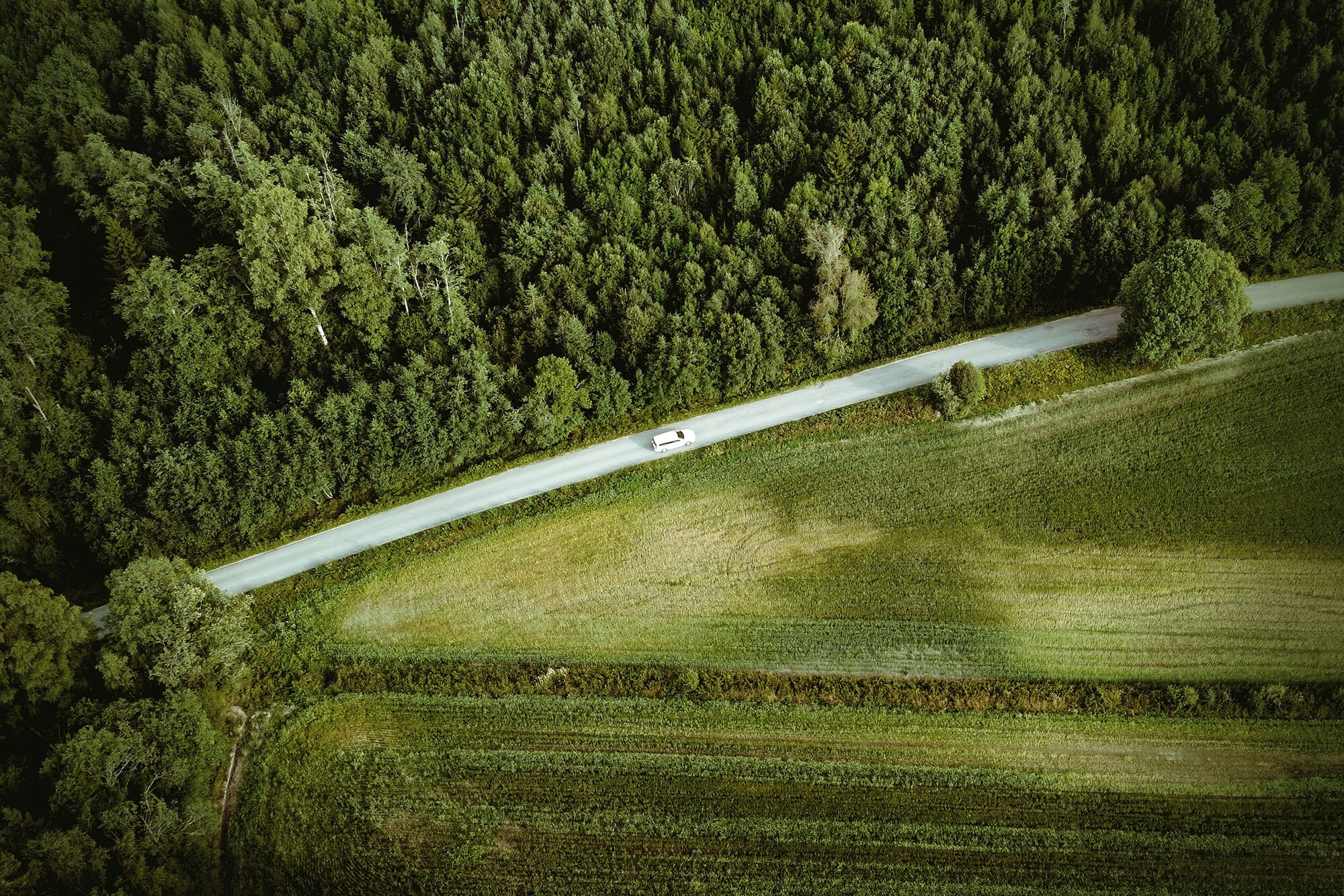 Best Long-Distance Drones with Camera:
When you buy through links on our site, we may earn a commission at no cost to you. We evaluate products independently. Commissions do not affect our evaluations.
1. Holy Stone HS720
Our Pick
Affordable, with excellent features
The HS720 has it all – a long transmission range, high-quality camera, and a decent flying time.
Pros
3000 ft/915 m transmission range
Various flight modes and controls
Decent flight time of 26 minutes
Cons
Does not come with a mini SD card
Holy Stone has a fantastic range of powerful drones. However, the Holy Stone HS720 is a great cheap long-range drone with a camera for less than $500. The transmission works via a strong 2.4 GHz signal and has a maximum distance of 3000 ft/915 m. This is exceptional and will give you amazing creative opportunities with your drone photography. It also has a useful FPS return home feature. This allows the drone to return to you automatically when the battery is low.
In terms of photography and video, the HS720 has a 4K UHD camera that offers fantastic quality. It also has a host of useful features to aid your recording. For example, you can set the drone to fly around a point of interest. It also has a cool "follow me" function which is great for action and sports videos, or even making your own course content!
Overall, the HS720 is a well-rounded drone with everything you need. The battery gives a flight time of up to 26 minutes, and it takes around 5-7 hours to charge. For ease of use and storage, the drone is also foldable and weighs just 16.20 oz/454 g. If you get this drone, don't forget to buy a separate memory card as this is not included.
2. Altair Aerial Dagger
Also Great
Lightweight, compact, and fast
The Dagger has a high-quality 4K camera and a decent set of features at an affordable price.
Pros
4K UHD recording quality
Lightweight and compact
A great set of flight controls
Cons
Limited transmission compared to other models
Altair Aerial has a great selection of smaller drones for kids, but they also have some higher-spec drones like the Altair Aerial Dagger. The Dagger is another excellent drone that is affordable but has a solid array of features. Although this drone does not have the range of the HS720, it can still fly up to 1000 ft/300 m. This should be more than enough to take spectacular aerial photos and video.
In terms of design, this drone is also compact and lightweight. It is foldable and weighs just 8.8 oz/250 g. The brushless motors are also powerful, and the drone can fly at a maximum speed of 20 mph. This gives great flexibility and control for your media capture.
The camera is 4K UHD and has an optimal flow stabilization system. This means that your photos and video will be smooth, and you can easily track subjects. It also has three useful functions for safety. These are one-touch return, out-of-range return, and low-power return. Essentially, your drone should never crash, go out of transmission distance, or fall if its battery fails. We would like to see a longer flight time, as the battery only lasts 15 minutes. However, this still gives you plenty of time to experiment.
3. DJI Mavic Air
Amazing transmission range
With a 6.2 mile/10 km no-wind transmission range this is a great drone for aerial landscape photography.
Pros
10 km/6.2 mile no-wind transmission range.
12 MP resolution camera.
Compact and foldable design.
Cons
Not the latest model.
DJI is one of the top producers of drones. One of their flagship models is the DJI Mavic Air. The current model is the DJI Mavic Air 2. However, this exceeds our $500 max budget. You can buy a renewed model of the DJI Mavic Air, though. This original model is still fantastic and certainly doesn't lack in features or quality.
For transmission, this drone can fly up to a staggering 6.2 miles/10 km without wind. Yes, over six miles! That's ridiculous. This immense transmission range is perfect for exploring vast landscapes with your drone and taking long-form landscape videos.
The Mavic Air also has a stylish and compact frame. It weighs just 15.2 oz/425 g, and its four blades can be folded into the main body. As a result, it is easy to carry and store when traveling. The camera can record at 1080p and has a 12MP effective resolution for still photos. It also has some cool photography modes like HDR, burst shooting, and auto exposure bracketing. This makes it ideal for still-life drone photography. Finally, this drone has a great flight time of 21 minutes and has a remote control that is easy to use.
4. DJI Mini 2
Also Great
Amazing features and control
The DJI Mini 2 is an exceptional drone without any real flaws – its great for advanced drone photography and videos.
Pros
31 minute flight time.
3-axis motorized gimbal for stability.
Simple and stylish remote control.
Cons
Blades can break when handling.
If you do not want a renewed drone, but still want a DJI model for less than $500, check out the DJI Mini 2. This is the latest version of this drone model, and it has some amazing specs. You would not believe what is packed into this small drone.
Related Post: Best Drone Video Editing Software
It literally fits in the palm of your hand and thus makes for a fantastic travel drone. It doesn't lack features either. For example, the DJI Mini 2 has a 12MP resolution camera that can record in 4K. This means it is great for both photos and video. It also has a brilliant flight time of up to 31 minutes. It even benefits from the same transmission distance of 6.2 miles/10 km as the DJI Mavic Air.
In terms of control, we also love that this drone can resist level 5 winds. Combine this with the 3-axis motorized gimbal and you have a drone that is capable of capturing smooth photos and videos regardless of the flying conditions. This really is a great cheap long-range drone and it even sports a stylish controller that works in conjunction with your smartphone.
5. Hubsan Zino Pro Plus
Great transmission range and camera quality
The Hubsan Zino Pro Plus is a powerful drone with a 5 mile transmission range and 13MP camera.
Pros
13MP camera capable of 4k/30fps recording.
5 mile/8 km transmission range.
Great safety functions for safe flying.
Cons
Not as light as some other drones.
Next, we have the Hubsan Zino Pro Plus. This is a lesser-known drone manufacturer, but the Zino Pro Plus is up there with the best drones on the market. It has a brilliant range of features and also costs less than $500.
Firstly, it has a maximum transmission range of up to 5 miles/8 km. This is not far off the levels of the DJI drones and will allow you to get some unique perspectives from your photography and recordings. It also has one of the best flight times in this list of up to 43 minutes. This makes the drone incredibly versatile and a pleasure to use.
For media capture, the Hubsan Zino Pro Plus has a 4K UHD camera that has a 13MP resolution. It can also record at 4K/30fps. When combined with the 3-axis gimbal camera stabilizer, you have a drone capable of high-quality, smooth footage and photos. Moreover, you can get stunning time-lapse photography and shoot automatic panoramas with this drone. It also has some cool flight features for better safety. For example, it has an auto GPS return to home feature, and a low battery return to home function.
6. DROCON DC-08 FPV Drone
Budget Pick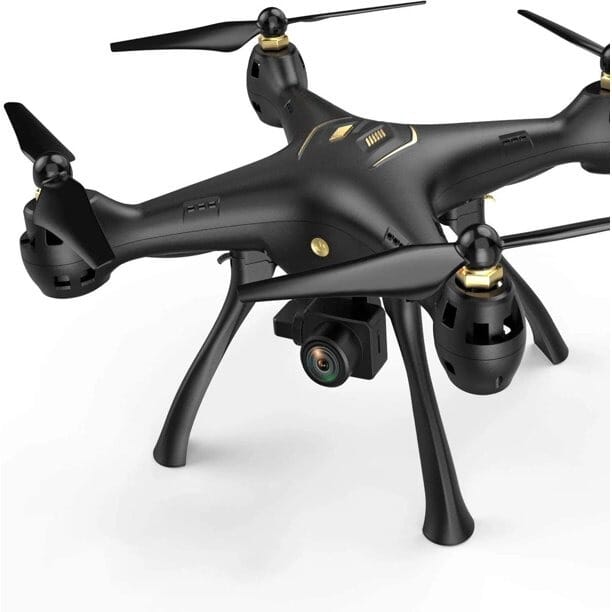 A great budget option
The DC-08 is a solid beginner drone with a decent transmission range and set of features.
Pros
1080p recording quality.
A good selection of safety functions.
Solid and durable design.
Cons
Only has a 15 minute flight time.
The DROCON DC-08 FPV Drone is a brilliant budget option for those who do not want to spend anywhere near $500. It is a great drone for beginners but still has some fantastic features. For stills and videos, it has a 1080p camera that offers a wide-angle 120-degree field of view. It also features gimbal stabilization for smooth recording.
In terms of transmission, it has a 5GHz Wi-Fi transmitter that has a maximum range of 1400 ft/420 m. Whilst this can't compete with the previous models, it's still impressive and allows you to explore landscapes in great detail. For flight time, it sits on the lower end at 15 minutes, but this is still decent. The battery also has a reasonable charging time.
We also like the flying features this drone has. For example, it has a GPS follow-me feature which is perfect for sport and action recording. It also has an auto-return feature and a built-in feature that prevents it from flying out of its 420 m transmission range. If you want a budget drone to start learning this hobby, the DROCON DC-08 is a good choice.
7. Ruko F11 Pro
Decent transmission range and controls
The Ruko F11 Pro is a great beginner drone due to its intuitive controls and great flight time.
Pros
Up to 60 minutes flight time with dual batteries.
4K UHD recording.
Foldable design for easy storage.
Cons
Not the largest transmission range.
The Ruko F11 Pro is a lesser-known drone but is packed with features and offers great utility. It has a 4K UHD camera with a wide-angle 120-degree FOV lens. It also has shock absorption, and its brushless motors will allow you to easily keep the drone stable to capture smooth footage. It can remain stable in up to level 7 winds.
We also like that this drone has a dual battery slot. Each battery can last up to 30 minutes which gives you a maximum flight time of 60 minutes. The transmission range is also decent at a maximum of 1600 ft/500 m. This is maintained by the strong GPS signal.
If you are new to drones, the Ruko F11 Pro also has some useful flight features. For example, it has an auto-return mode, and a one-key take-off and land function. The design of this drone is also great as the wings can be folded for easy storage. For beginners looking for a cheap long-range drone with a camera, the Ruko F11 Pro is a solid choice.
8. Holy Stone HS700E
Pros
22 minute flight time.
4K FHD recording and photos.
GPS assisted flight for easier usage.
Cons
Larger than some other drones.
Our last pick is the Holy Stone HS700E. This is another great drone from Holy Stone and features a quadcopter design. It has a 4K FHS camera that also has an adjustable angle which gives you greater flexibility in your recordings.
For transmission, it can fly up to 2624-3277 ft depending on the flight mode. This is good and when combined with the various flying functions, it gives you great versatility. For example, it offers GPS-assisted flight and an automatic return home function.
The HS700E also has a decent flight time of 23 minutes. When the battery is running low, it will also alert you so you should never lose the drone. We also like the simple setup and controls that this long-range drone provides.
Which Cheap Long-Range Camera Drone Should You Go With?
We hope you have found this guide useful. You should now have an idea of the different types of drones available. But which camera drone is right for you? Before investing in a drone, think about how, why, and where you will use it first.
Is distance the deciding factor? If so, a drone with a much longer transmission range like the DJI Mavic Air could be the right choice. Perhaps you simply want a cheap drone to practice with and enter the world of drone photography. If so, a budget option like the DROCON DC-08 FPV Drone could be perfect.
Alternatively, you may want a drone for recording HD video and high-quality photos. If so, the Hubsan Zino Pro Plus or Altair Aerial Dagger with their 4K UHD cameras would certainly help. Whichever drone you choose, remember to have fun, and get creative with your photography and videography!
---
Disclosure/Disclaimer: As an Amazon Associate, we earn from qualifying purchases. Certain content was provided "as is" from Amazon and is subject to change or removal at any time.