If you've been struggling to find the perfect gift for a Mom in your life, you've come to the right place. Whether it's a large canvas print, custom painting, or something more practical you have in mind, these Mother's Day photo gift ideas will not disappoint.
At PhotoWorkout, we've really had the opportunity to test out products from various printing companies, giving us first-hand knowledge of what's the best on the market. For most of these printing companies, if you're looking to find out more, you can easily find a review on our site!
Now, let's dive right in and take a look at our 20 perfect Mother's Day photo gifts!
20 Mother's Day Photo Gift Ideas
1. A Custom Mother's Day Photo Card from Printique


Nothing sets the tone of personal touches more than a gorgeous personalized card for the special mom in your life. While most cards might finally find their way to the trash, this card is sure to be meaningful for years to come.
Related Post: Printique Review – Photo Book, Canvas, Metal, and Framed Prints
Printique is a top-notch company and their photo card prints will not disappoint! So what are you waiting for? Start Mother's Day on the right foot with one of these photo cards!
2. A Canvas Collage from CanvasWorld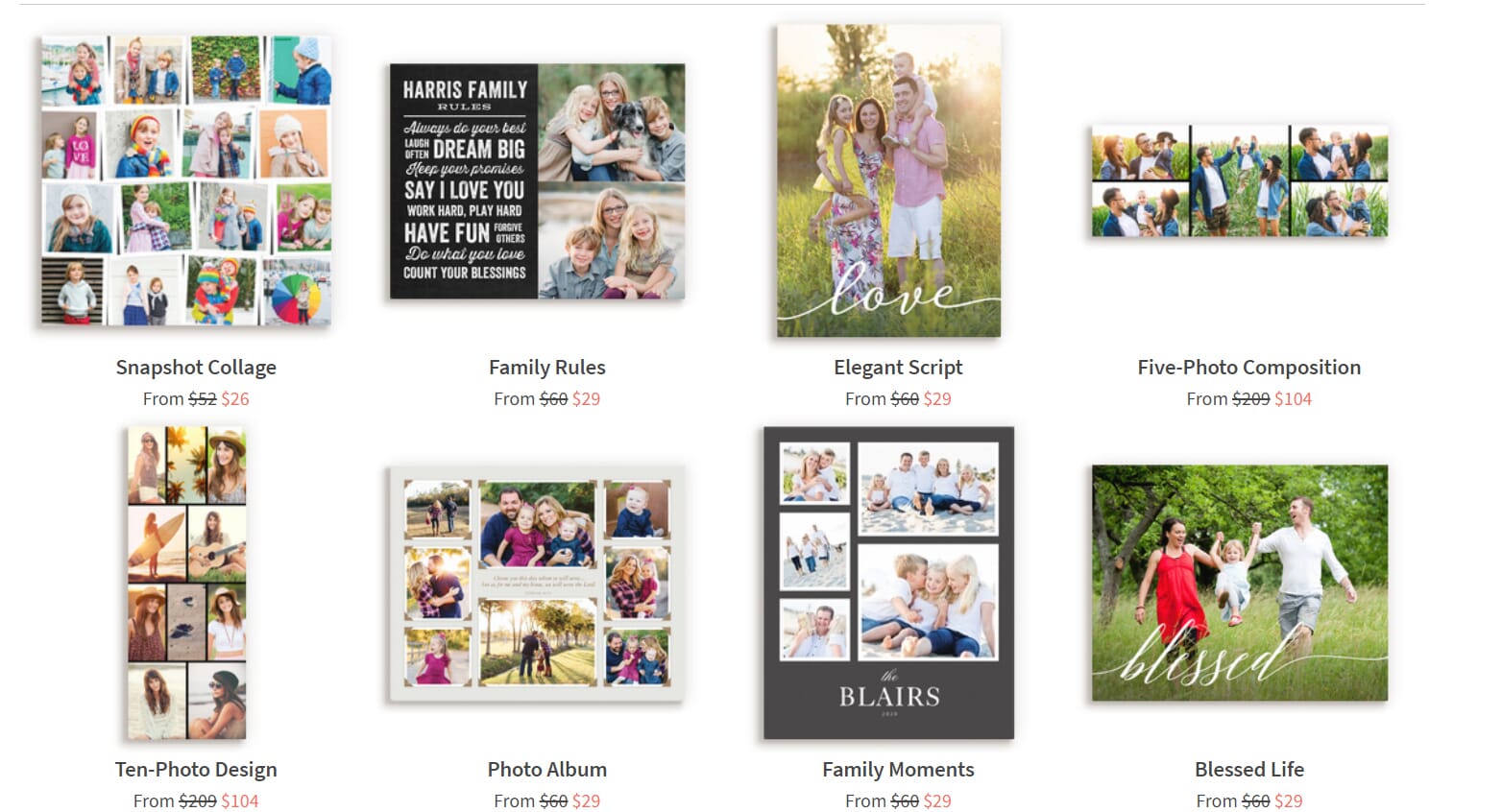 Canvases are a great gift for anyone; they can be hung up in the house, or placed on top of a piece of furniture. Whether it's art prints or photo prints, nothing quite beats a canvas. But for a treasured family member, you might be struggling to find the perfect picture for a canvas.
Related Post: The Best Canvas Printers
That's where a canvas collage from CanvasWorld comes in! You can pick multiple pictures and have a perfect montage of your favorite pictures. We'd put this at the top as one of the best Mother's Day photo gift ideas!
3. A Framed Canvas Print from Mixbook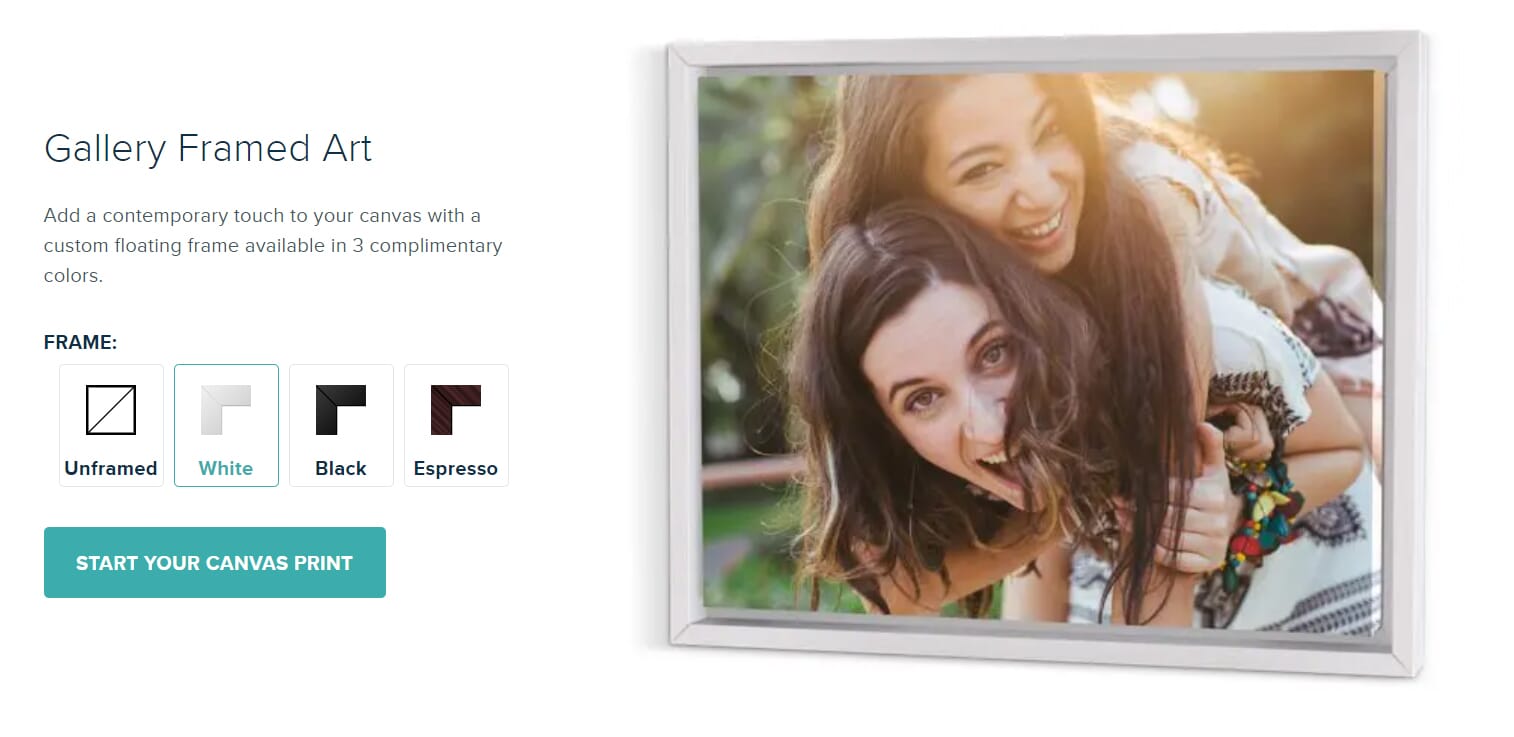 Don't get me wrong, canvas prints look great as standalone items on display. But a frame might be the finishing touch you've been looking for. Mixbook offers some stunning framed canvas print options. Frames come in white, black, or espresso wood design and can really give canvas prints a new look.
Related Post: Mixbook Photo Book Review
Mixbook offers some really high-quality printing services so we know that any mom would be impressed by their framed canvas prints.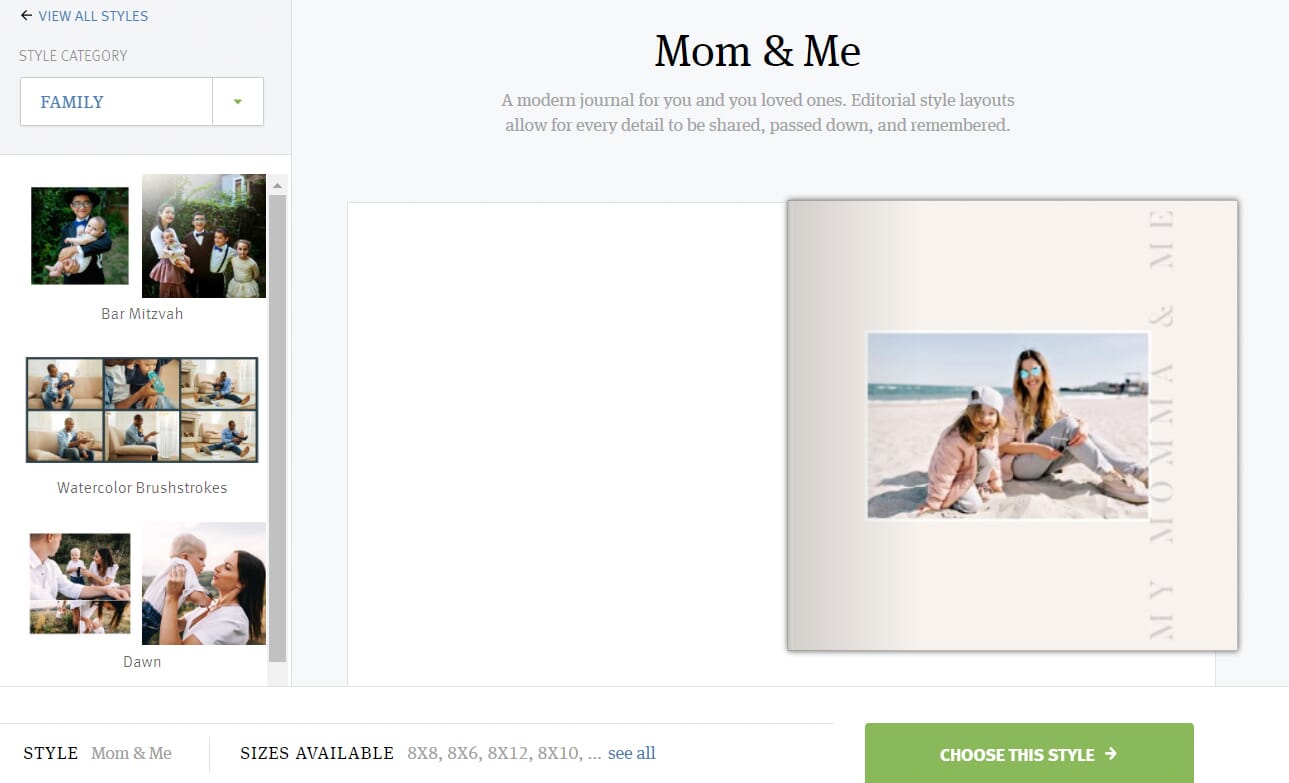 Printique really is a great printing company, which is why another one of their products makes it to our list. This time, it's a photo book. For something that really highlights your special bond with your mom, the Mom & Me photo book is a winner. A spread specifically designed for a mother and child relationship. While this might be more ideal for younger children, I still think it could work well for an adult child and mother relationship, too.
The photo book is available in a range of sizes and styles to suit your needs.


If you're on a budget of sorts, CanvasDiscount has plenty to offer at exceptionally low prices whilst still offering high-quality printing (trust us, we've tested their products!). Now, we suggest the metal print from CanvasDiscount because it really is a unique way of printing your photos and in comparison to competitors, the price is substantially lower. We know that moms all around will love this cool, unique printing style.
Related Post: CanvasDiscount Canvas Print Review
That being said, if a metal print is out of your price range, a standard canvas print can be found for an exceptionally low cost.


We love Canvaspop products and this photo collage is no exception. Printed on canvas (as the name would suggest), you'll get a stunning print with your own hand-picked photos. Canvaspop is always going above and beyond for its customers so we have no doubt that this product will be a winner. And if you're not happy with the product, the customer service team is incredibly helpful.
Related Post: Canvaspop Review
Right now, Canvaspop has a Mother's Day gift deal on offering 55% off personalized prints using the code LOVE4MOM. If our rave reviews aren't enough to draw you in, we're sure this deal will get you interested!
7. A Unique Acrylic Photo Block from Mixbook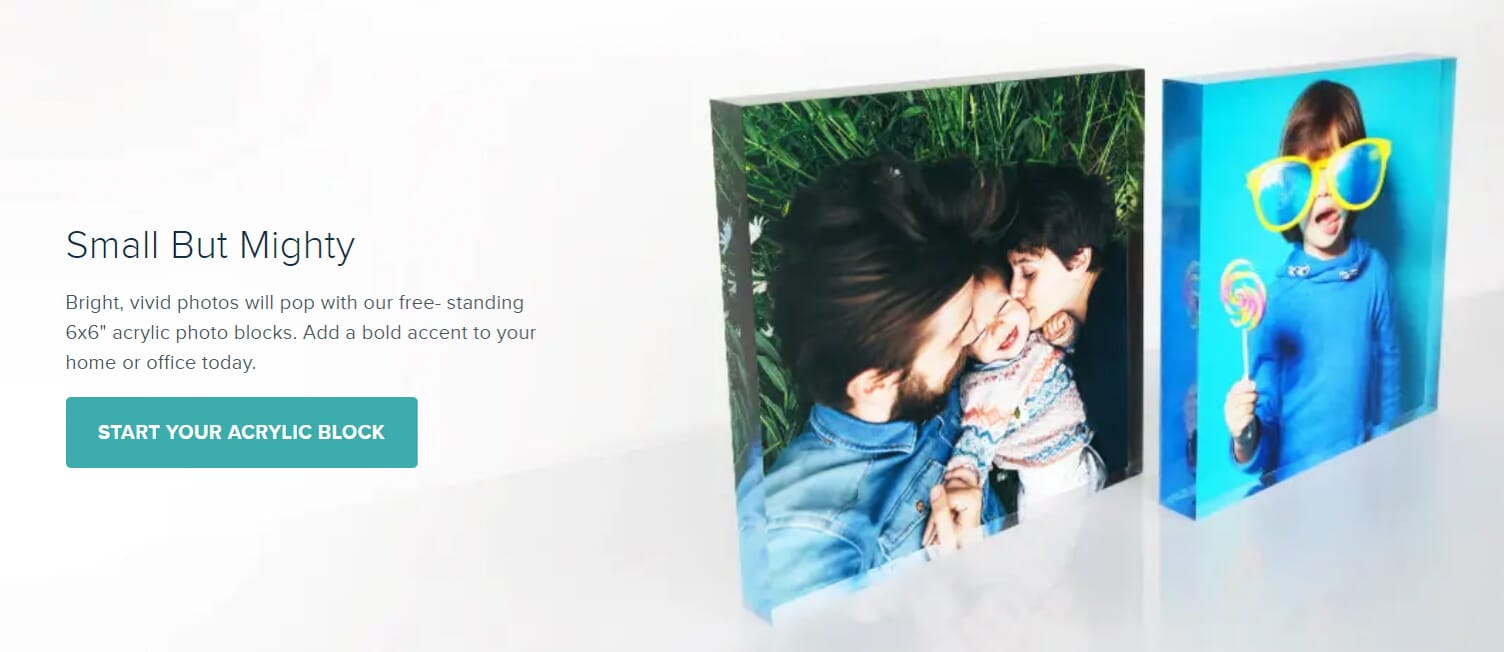 Mixbook is making it onto our list again, this time with a gift for Moms with limited wall space (or a lack of interest in hanging prints). An acrylic photo block is a perfect freestanding gift that isn't too big. It would sit perfectly on a piece of furniture and can be a real show-stopper. The coloring in these blocks is stunning and they'd really add a personal touch to any space.
Related Post: Mixbook Photo Book Review
This gift would also be perfect for a mom who spends a lot of time working at a desk.
8. A Hand-Painted Photo of Your Choice from Paint Your Life (with Express Service)

If you want a gift that will really wow mom, a hand-painted photo from Paint Your Life is a perfect choice. This kind of service isn't cheap but the product you get is unbeatable. Your photo will be transformed into a work of art by a talented artist. Not only that, but you can also select the artist based on their style and choose your medium.
Related Post: Paint Your Life Review
But be sure to act fast if you want to get your hands on one of these pieces, standard processing takes a long time so we'd highly recommend using the express service and ordering today!


Does the Mom in your life have a beloved pet? If so, this is a gift that's bound to go down well. Canvaspop has recently introduced a pet portrait print to their canvas printing line-up. The unique style of this print is made to really add a pop to a photo of a furry friend. If you have access to pictures of a pet you have in mind, get started with this funky pet portrait.
Related Post: Canvaspop Pet Portrait Review
You can still make use of the incredible 55% discount using the code LOVE4MOM on this order!
10. A Timeless Desk Calendar from Parabo Press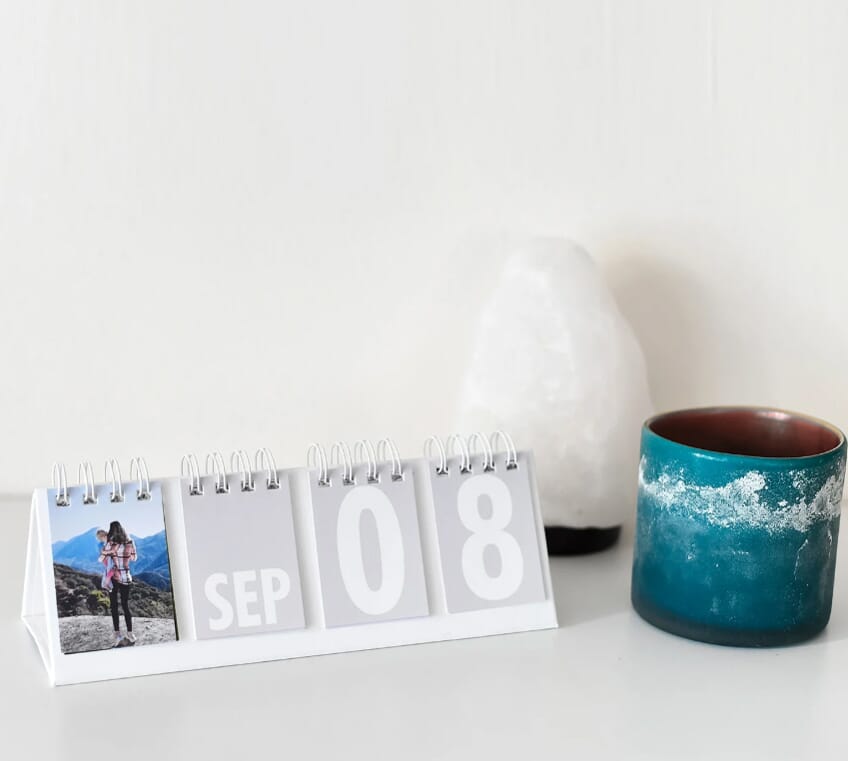 Making a personalized calendar every year is no easy feat. But having a personalized desk calendar that can be used year after year, sign me up! Parabo Press has adopted this genius idea, giving you a unique gift that never gets old. The style of this calendar is something that would fit well in any space and we know moms all around will love it.
Related Post: Parabo Press Review
An added bonus is that Parabo Press has currently got a mothers day sale running, offering 20% off your entire purchase with the code MOM20.
11. A Personalized Laptop Sleeve from Photobook America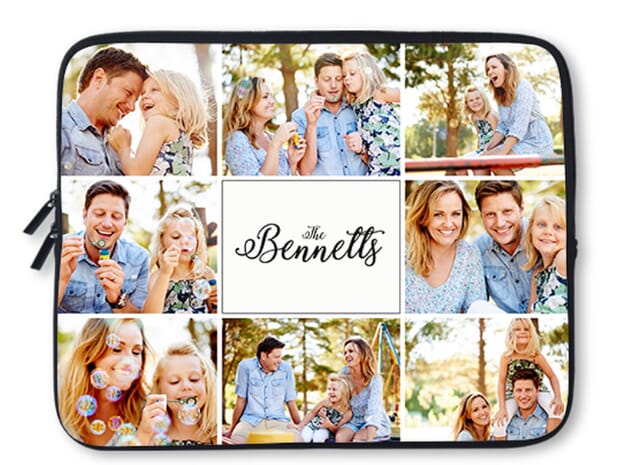 For tech-loving moms, we love this Mother's Day photo gift idea. A personalized laptop sleeve is bound to go down a treat. This is definitely a gift for those looking for something more unique as it's not something you'd find every day. For moms that hold their family dear to them, having a sleeve to carry around their laptop in with their family's beaming faces printed over it is sure to be a hit!
Photobook America is also offering 20% off using the code MDAY20.
12. Cute Mini Metal Prints from Mixbook


We mentioned metal prints above, but we LOVE these mini metal prints from Mixbook. These small prints would be perfect as a set for display in a home or office setting. We think these are a great alternative to standard prints, giving a small collection of photo prints that real gift factor that you just wouldn't get from a paper print. Not only that, but metal prints also have added longevity when compared to freestanding paper prints.
Related Post: 31 Photo Print Ideas
We couldn't recommend this product enough for people looking to finish off a gift or aim for something on the smaller side that's still incredibly meaningful.
13. A Plush Photo Blanket from PrinterPix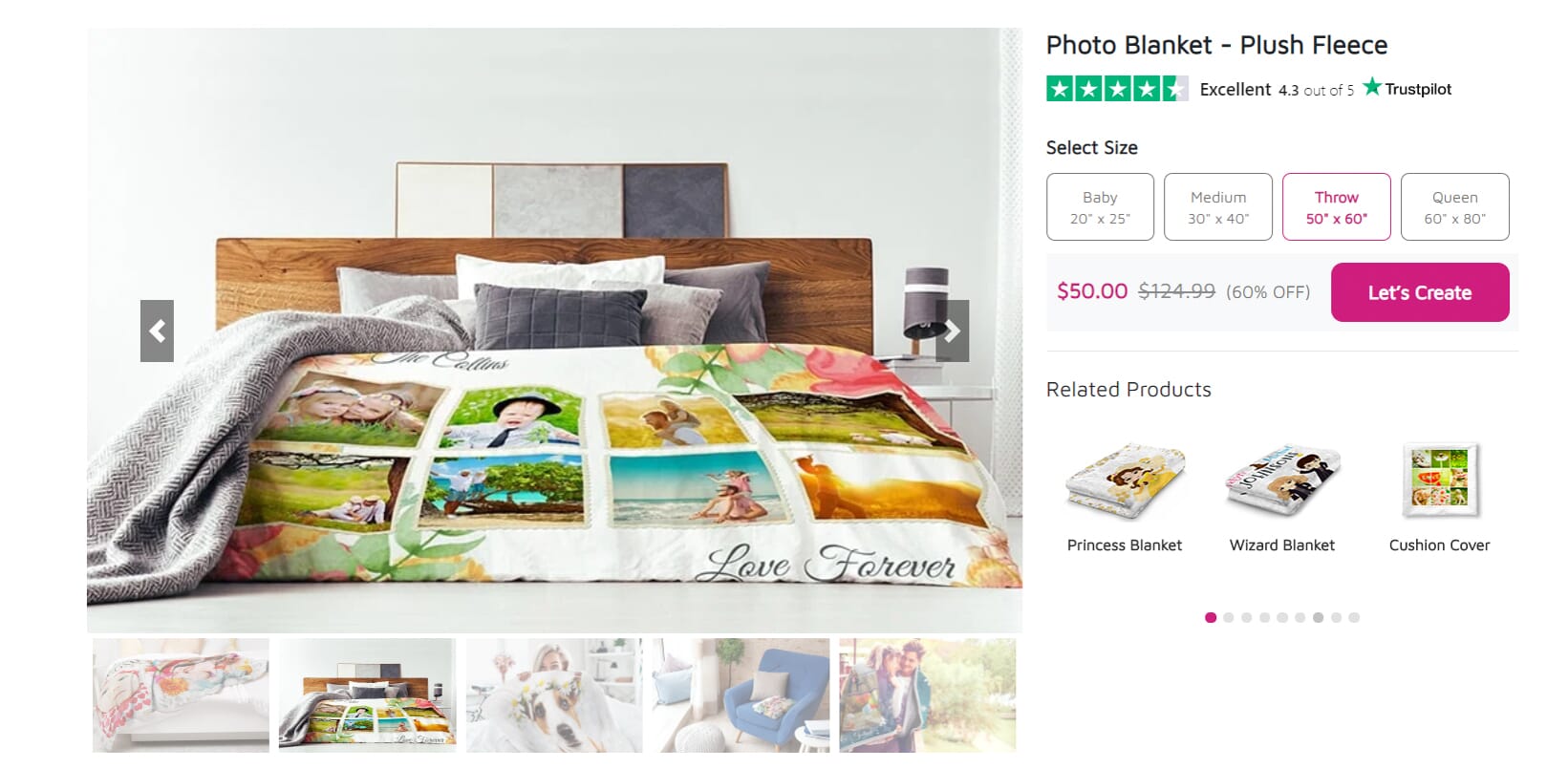 We might be well on our way to the summer months but a photo blanket is bound to be a treasured gift for all moms. A blanket can keep us warm in the colder months, but it definitely still has a purpose in the warmer months, too. It can be used for lounging around outside in the sun! So while it might seem like it's a limited gift, a photo blanket from PrinterPix is a lot more versatile than it seems at first glance!
Make sure to use the discount code 60SPRING for a whopping 60% off an item in your cart!
14. A Matching Mug and Coaster Set from Vistaprint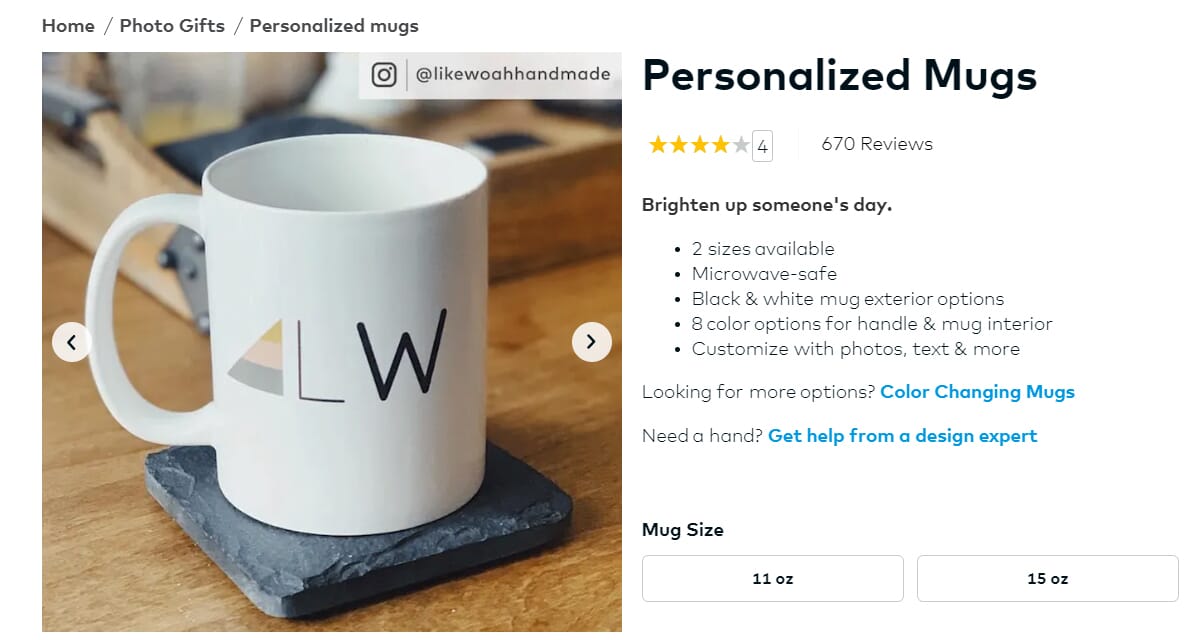 These two items don't come as a single package on Vistaprint, which is quite a surprise, but we figured that a set is that bit more meaningful than a single item. For coffee lovers, this is a great gift! Personalized mugs have been a classic for many years and we don't think they're going away anytime soon. Add a coaster and you've got the perfect pair!
Related Post: Vistaprint Photo Book Review
One thing that's great about Vistaprint is that there's a huge selection to choose from, so if you feel like you need a little more to add to your Mother's Day gifts, Vistaprint is definitely worth a browse!
15. A Freestanding Photo Print Set from Parabo Press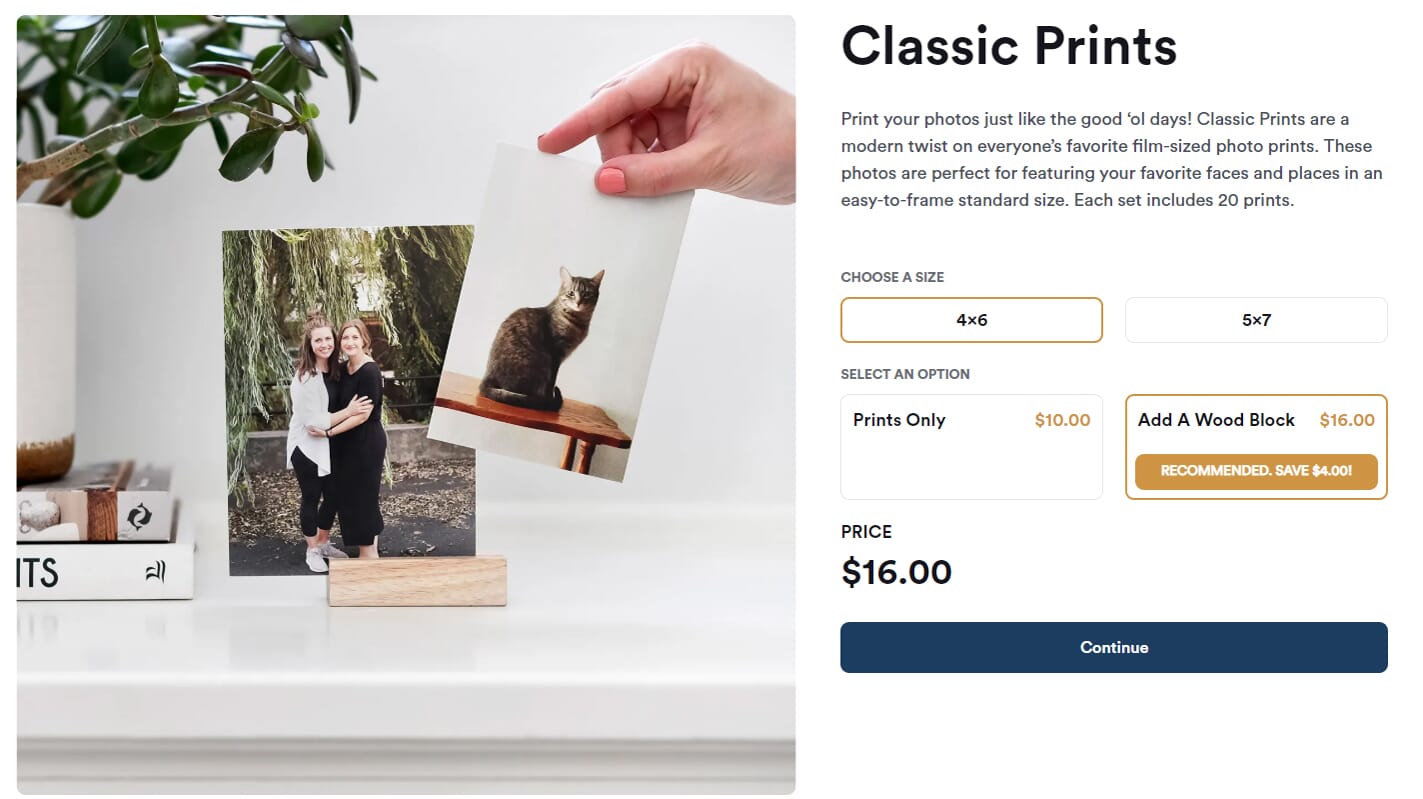 Parabo Press is one of our favorite printing companies for unique display options, one of these that we think you (and the mom in your life) will love is the wooden block! If you head on over to ParaboPress and order some of their classic or square prints, you'll see an option to "Add a Wood Block". This is a perfect display option, allowing you to change the photo on display simply by switching out the photo!
Prints from ParaboPress are high quality and we cannot recommend this Mother's Day photo gift idea enough! As we previously mentioned, be sure to use the code MOM20 for 20% off your entire order!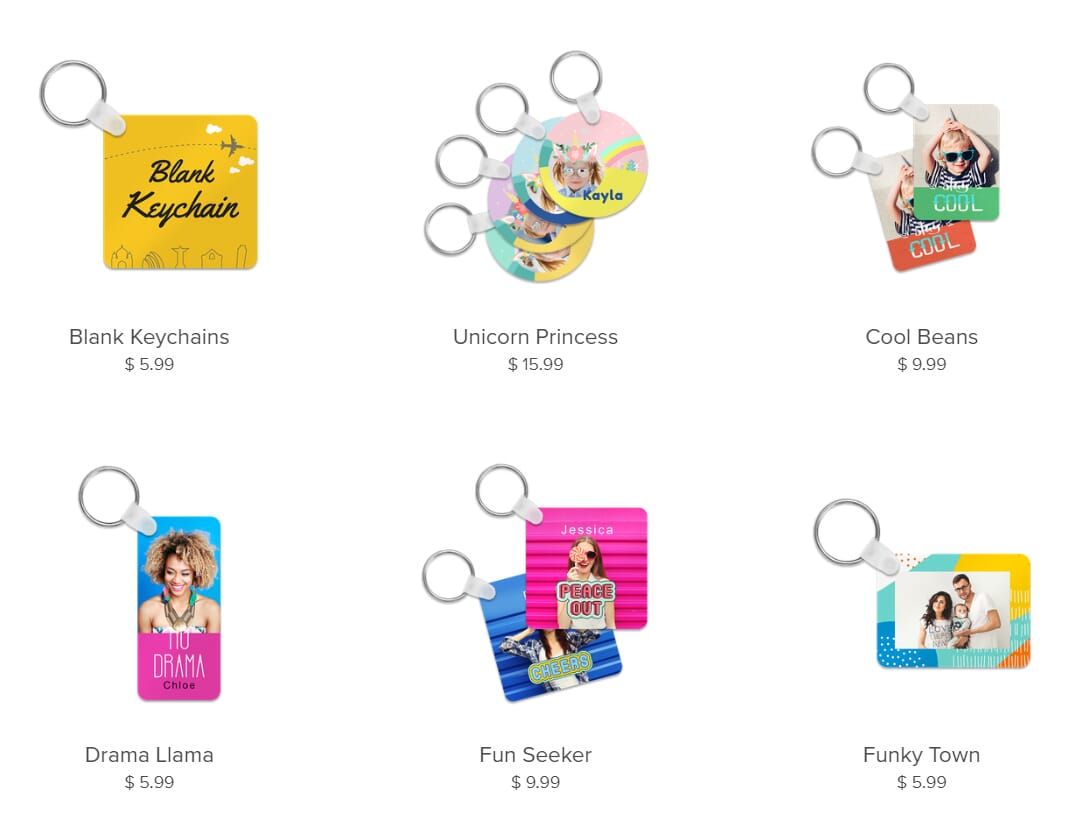 For moms on the go or families that are spread far and wide, a keychain can go a long way in reminding people of their loved ones (or how much they really are loved!). This Mother's Day photo gift idea is one that would really finish off a set of gifts! There are lots of great keychain styles available on Photobook America so we're sure you'll find something you love. And if not, you can get creative and upload your own design to the blank keychain style option.
Don't forget to make use of the discount code MDAY20 for 20% off your purchase!


If making a photo book sounds like a daunting task that requires too much time and effort, you're in luck! Shutterfly is currently offering its Make My Book service for free! This means you just have to choose your book size and style, upload your pictures, and leave it to the professionals. You pay the price you would for a standard photo book but get the layout expertise and finished product from a professional in this department for free!
Related Post: Shutterfly vs. Mixbook: Comparing 2 Great Photo Books
Now for some people, there might be a worry about not liking the finished design. The great thing about this service is you get to approve the finished product. If you don't like it, you can do some extra tweaking yourself before checking out!
18. Fridge Magnets from Snapfish


A collection of magnets will spruce up any fridge-freezer and they might be just the gift you had in mind for Mother's Day! Take a few of your favorite photos featuring the mom in your life and your family and print a set of magnets using Snapfish's easy-to-use interface. You can pick from a range of styles on the Snapfish website and add a range of embellishments and text to your liking!
One of the great things about Snapfish is their products are reasonably priced and there are often some great deals on the site!
19. Stylish Hexagon Canvas Prints from CanvasChamp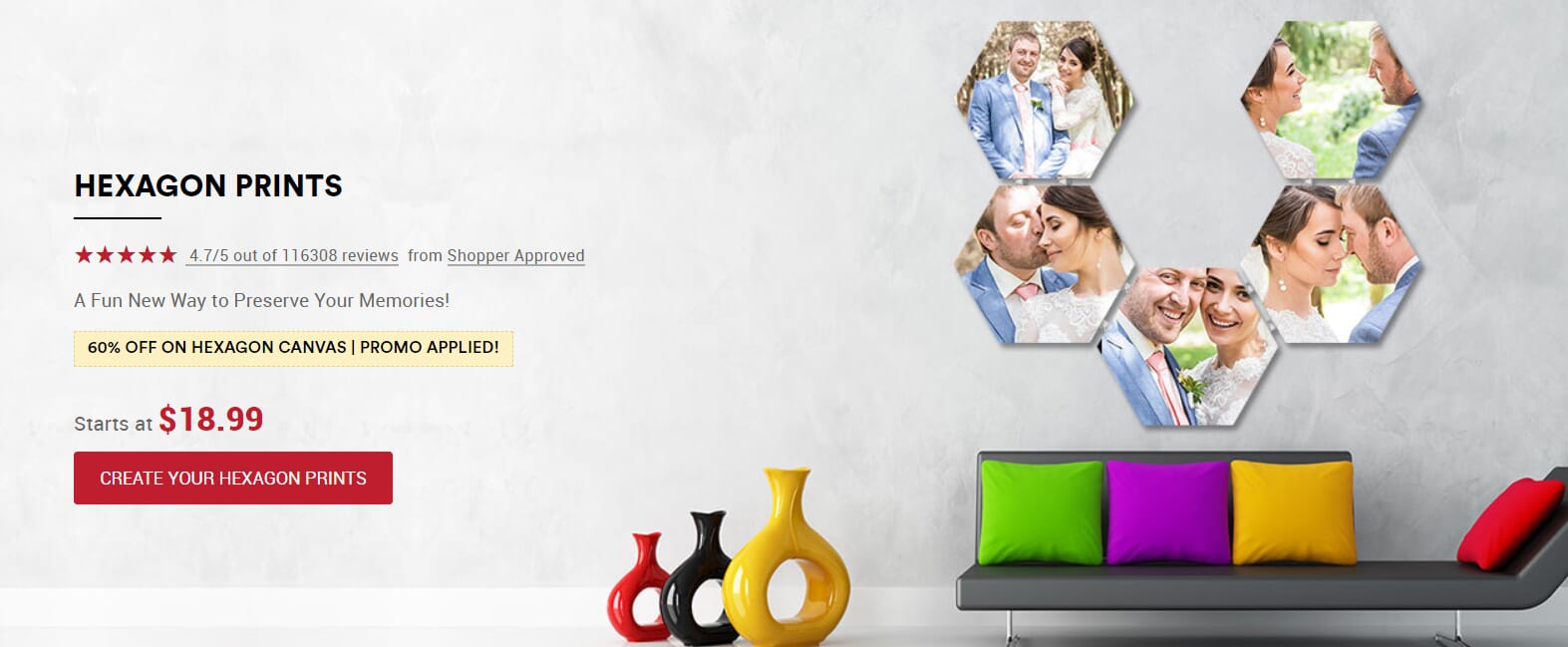 These prints are really cool and would work well for making a photo montage on your wall! The hexagon canvas prints from CanvasChamp are like nothing you've ever seen before. This makes them a perfect gift for a mom who has style! And if you'd like, you can keep adding to a hexagonal collection year on year.
Related Post: CanvasChamp Review
Right now CanvasChamp is offering 60% off their hexagon canvas prints, but you better act fast before the deal ends. They also have the discount code LOVEUMOM for free shipping on orders over $49.99!
20. A Forever-Favorite Canvas Print from Canvaspop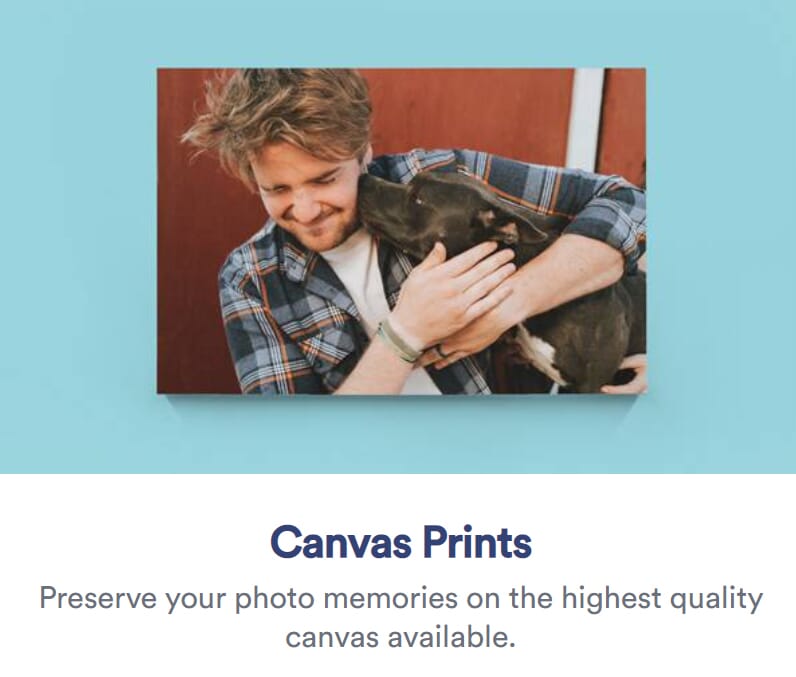 We're mentioning a classic as we reach the end of our list because we feel like this is a favorite that never gets old! There are many canvas printing options out there but Canvaspop is our firm favorite.
If you're looking to get a custom-size canvas print or even just a standard size, Canvaspop has you covered and will not disappoint. Their canvas is of the highest quality, ensuring your print lasts a lifetime. They also have a 100% love guarantee, so if you or the mom in your life isn't satisfied, they'll be more than happy to refund you or set up a new order!
Don't forget to use the 55% discount offer using the code LOVE4MOM.
Mother's Day Photo Gift Ideas: Wrap Up
Hopefully, this comprehensive list has given you plenty of Mother's Day photo gift ideas to choose from! We're certain she'll love any of these gifts.
Why not share your thoughts and family reactions to these gifts in the comments below!