PosterBurner may not be the most well-known print lab, but as the name suggests, it produces a variety of posters in a slew of sizes.
However, PosterBurner is so much more than just a poster printer. Here is our review of PosterBurner, its order process, and its products to help you decide if the lab deserves your business!

When you buy through links on our site, we may earn a commission at no cost to you. We evaluate products independently. Commissions do not affect our evaluations.
PosterBurner: Overview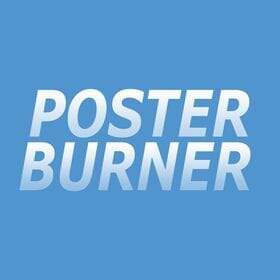 More than just posters!
This versatile lab aims to provide great customer service, high-quality prints, and a variety of products for photographers.
Pros
Fantastic glossy poster print
Lots of unique product offerings
Ordering is easy
Cons
Shipping is limited and expensive
The matte print was very disappointing
The website is outdated and the upload process is slow
PosterBurner is a small lab that ships to both the United States and Canada. The company's mission statement focuses on "giving artists, professional photographers, and everyone an option to get the highest-quality prints at a reasonable price."
Based on the testimonials and reviews displayed on PosterBurner's website, the company appears to cater to artists looking for a more intimate and personal approach to product printing. PosterBurner works directly with customers to make their printing dreams a reality and prides itself on its ability to turn smaller images into poster-sized prints.
What PosterBurner Has to Offer
At first blush, the website feels rather outdated, and the blue color is a bit jarring. This is just personal opinion, but it doesn't feel like a lot of effort was put into the design. And while website quality doesn't necessarily correspond to print quality, internet presence is a rather important part of attracting clients.

PosterBurner makes more than just posters. Yes, it offers a variety of poster prints and sizes, but PosterBurner also does metal prints, canvas prints, banners, magnets, puzzles, and so much more. Name any popular photographic print product, and PosterBurner likely creates it.

PosterBurner also offers a few products that are pretty unique and aren't sold by similar labs such as Shutterfly, one of which is a custom license plate.
PosterBurner also offers photo editing and restoration; simply upload an image (or a series of images) and let PosterBurner's staffers do photo restoration, collage making, and other types of editing. You can even set the print size you want and the staff will ensure that the resolution matches.

PosterBurner even has a little blog that has information worth reading.
Ordering Process

The PosterBurner ordering process was quite simple! The interface does feel outdated, and it seems that the website has a slow uploading system – the images took quite a while.

However, once the images were uploaded, selecting products was simple. Just pick what you want and off you go! What we did appreciate quite a bit is that the website suggests print sizes to fit image ratios and sizes that best fit the file resolution. This extra touch emphasizes that the company cares how your images turn out!
We ordered three different products: a glossy poster print, a matte poster print, and a metal print.



Shipping
Only one shipping option was presented: Priority. Therefore, we expected that the products would arrive quickly, and they did; we received our order in just a couple of days.

We were quite pleased with the packaging, which kept the prints in great condition. The posters both came in the same hard tube, and there was a bag inside to further protect the paper from damage. This was similar to how we had received posters in the past from labs that clearly cared about their products.
The Products
Now for the moment of truth: How did the prints look?
Glossy Poster Print

First out of the tube was the glossy print! As the image had been in the tube for a while, we used some heavy objects to hold it down. It will go into a frame once we purchase one, so we weren't bothered by the roll (and it's standard for poster prints, anyway).

We loved the way this image came out! It's vibrant, it's sharp, and it captures the mood perfectly. The glossy texture isn't so overwhelmingly shiny that you can't have it near a light source; it features the perfect level of gloss and clarity.

The feel of the paper is wonderful, and we could instantly tell that the poster is high quality. As a matter of fact, the feel of the actual gloss is pretty satisfying!
Matte Poster Print

While we loved the glossy print, the matte one was very disappointing. We've ordered matte prints before, and this one fell short in a few key ways.
For starters, the colors seem to have disappeared. The rich oranges faded to subtle yellows. The contrast also disappeared, so the blacks of the wolfdog look similar to the plants in the background. The sharpness vanished entirely. The fuzziness is very noticeable.

Yes, matte finishes do soften images, but the integrity of the images shouldn't disappear. The blacks, the whites, and all of the midtones play a key role in a photograph, and altering these characteristics so significantly isn't good for a professional print lab.

The paper is an odd choice – it feels thinner than the glossy print. In fact, this matte print reminds us of the result you get when using a normal office printer to print a color image.
Metal Print

We were really looking forward to seeing how the metal print turned out, especially since PosterBurner isn't known for its metal prints.
The result? Mediocre.


The color and sharpness is wonderful! We were very pleased by the rich purples and blues, and the lab did a great job of replicating Aimee's skin tone.

The back features a nice built-in stand and fastening, which was much appreciated! Some other labs make you fasten the hooks to the metal print, but this print already came with them in place.

Our complaints have to do with the metal quality. Although the print is lightweight, it came with a chip in the corner that is very noticeable.

When we investigated the chip, even more of the print chipped off, suggesting that the print is some sort of stick-on coating. It's very strange and definitely not well-attached to the metal. Unlike other metal products that feel like the print was fused with the metal, this seems like the print was just stuck to the top.
Pricing
The products themselves are quite competitively priced – not too low but certainly not too high! Discounts seem to be frequent (we checked the website several days in a row and kept seeing more pop up).
What got us, though, was the shipping.
Shipping is quite expensive, which makes the entire order less affordable. We enjoyed the fast shipping speed, but we definitely didn't want to spend over $30 on shipping. The website claims that you can choose your shipping speed, but we weren't given a choice for any of the products.
Is PosterBurner a High-Quality Print Lab?
PosterBurner Review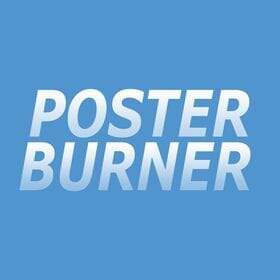 Store Name: PosterBurner
Store Description: PosterBurner is a versatile print lab. It may not be as well known as larger printing companies, but PosterBurner offers a variety of interesting products, including posters, metal prints, and more.
Website and First Impressions

Product Offerings

Print Quality

Price
PosterBurner Summary
PosterBurner offers great personalized service, but while the variety of products is quite impressive, the quality suffers in certain places. That said, we were extremely impressed by the glossy poster prints!
Pros
Glossy poster prints look fantastic
Offers popular photo products and more

Easy order process

Blog articles are a nice touch
Cons
Shipping is expensive
The matte print was lacking in quality
The metal print came chipped
Website is outdated
Uploading is slow
PosterBurner is a mixed bag. We did enjoy the quality of the glossy poster print, but the matte poster print was disappointing. Overall, PosterBurner just isn't up to the standards of similar labs.
That said, PosterBurner is less expensive than comparable options, so you should certainly factor that in when setting your product expectations.