Ricoh Theta S Review
Video Quality

Image Quality

Editing Software

Build Quality

Price
Summary
Overall we give the Ricoh Theta S 4 out of 5 stars and recommend this camera to anyone who wants to get started with 360˚ video recording.
We had a close look at the spherical video camera Ricoh Theta S VR. In the following in-depth Rico Theta S analysis we highlight the pros and cons of this little 360 degree camera, which is now available for under $200.
Spherical Videos: a New Way to Record Videos
One of the things that have always been a limiting factor for photography is that it is about capturing a two-dimensional image of a three-dimensional scene. A combination of factors always rules the perception of the depth of an image.
These factors include:
the focusing point,
the aperture used,
the distance between the focusing point and the camera
and between the focusing point and the background and so on.
This limiting factor will never change. But demands from consumers and the natural tendency to improve the way we do things is a propelling force stimulating developments in diverse areas.
The Ricoh Theta S Spherical VR is one product that was born out of the necessity to create a unique approach to the way we make photos.
Ricoh Theta S Sample Video
Click on the video and move the mouse around to see every angle of this recording.
Ricoh Theta S Digital Camera (Black)
360 Degree Spherical Panorama images and Spherical Videos up to 25 minutes
Live view function on mobile device; Wi Fi communications protocol: HTTP (open spherical camera API 7 compatible)
Transfer videos directly to your mobile device without the need of a computer
Full HD Video at 30fps , 360 Degree Spherical Video Supported by YouTube
Charge the battery by connecting it to a PC using the supplied USB cable
History of the Camera
Ricoh is a company that is originally into producing photocopying machines and other allied devices, made somewhat of a departure from its usual line of business when they envisioned and then brought out the Theta. But today, the third generation Theta S has fit perfectly into a world that is warming up to the concept of virtual reality.
As the name suggests, the Ricoh Theta S Spherical VR is a spherical virtual reality camera. It evokes the same feeling as if you are there at the place where this image was taken.
Because it can create an image that gives you a 360˚ spherical perspective of the place. This is also why it is known as Virtual Reality. Its ability to take 360˚ photos comes from the twin 12-megapixel sensors and twin wide angle lenses.
Specifications
Very quickly these are the specifications of the camera.
Twin 12 megapixel 1/2.3″ sensors
Two lenses of f/2 fixed aperture
Full HD video recording at 30 fps
Live streaming using the USB or HDMI ports
ISO sensitivity of 100 – 1600
Auto exposure using Auto Shutter and ISO
Priority Modes
Manual exposure up to a minute
Maximum shutter speed of 1/8000 sec (video mode) and 1/6400 (still mode)
Built-in Wi-Fi, live-view and camera control using compatible devices
Internal Memory of 8 GB
Compatible with Google Maps and Street View
Integrated tripod mount for easy use with tripods
Integrated lithium ion battery
Design of the Camera
The camera design hasn't changed much from the original Theta. It is still a slim, hand-held device that shoots VR photos. The two ultra-wide angle lenses on either side of the camera capture high-resolution images which are stitched together to form one perfectly spherical image to produce that virtual reality feeling.
At the bottom of the Theta S, there is an integrated ¼" – 20 tripod mount. This allows for easy mounting with a tripod for better stability and sharper spherical images. Also at the bottom of the camera are two connection options. A micro USB port and a micro-HDMI port.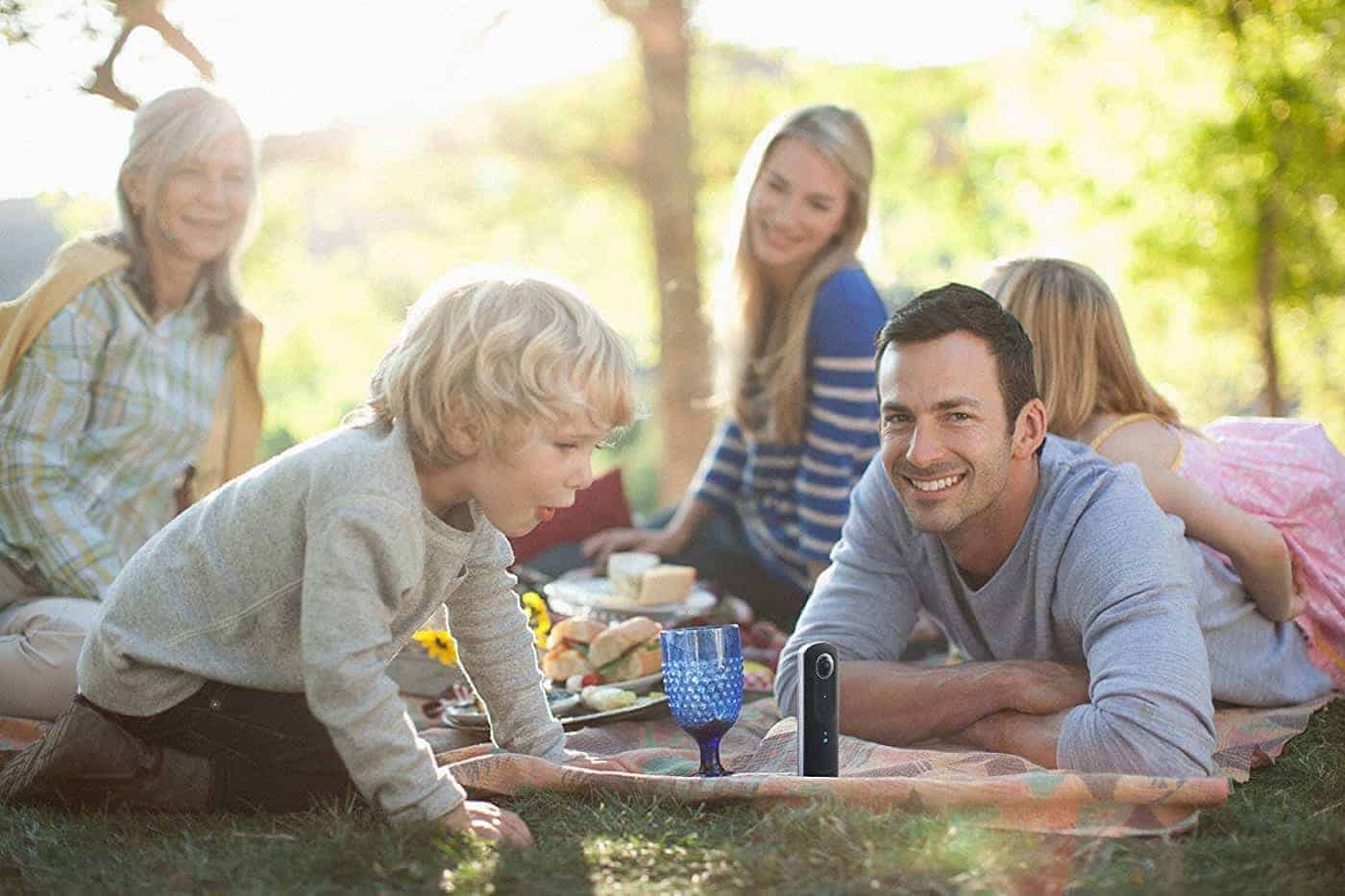 Regarding physical camera controls, the Theta S has four controls.
One turns on and off the camera;
one will toggle the Wi-Fi and
one that switches the camera from still to video mode and vice versa.
The final button is the one that takes the actual pictures or starts the video recording depending on the mode that the camera is switched to.
The thing that you will miss, however, is the absence of a LCD screen. The absence of the screen means you are stuck using your phone or tablet trying to compose and frame your shots (after having paired the two devices).
Another problem is the form factor, which is mobile. That invariably means you will be wielding it like a smartphone.
In other words, you would likely be making shots where your face is close to the camera. I suppose you'd be thinking what is wrong with that? Well, you don't want to be close to a camera that shoots spherical stills or videos. Your face is going to be distorted like nothing you've seen before.
Related Post: Review of the SJCam SJ7 Star Action Camera
Lens and Still Imaging
The Theta S has twin camera lenses. These lenses have a fixed aperture of f/2. F/2 is a good enough aperture to shoot in most lighting conditions. This is where the Ricoh Theta S probably wins against some of the other spherical shooters.
The optics of the lenses have a folded architecture which allows for two lenses to be fit inside such a slender frame. The lenses are designed to have a fixed focusing range of 3.9″ all the way to infinity. Ideally, that is what you would want because that will allow you to have deeper depth of field for your VR images. The twin lenses powered by the twin 12-megapixel sensors produce a combined (after stitching) 14.4-megapixel image of the file specification 5376 x 2688 pixels.
The twin lens design has its disadvantage too. You cannot store away the camera in the usual way because there are lens elements on either side of the camera!
ISO
The Theta S has a native ISO range of 100–1,600. A range large enough to shoot images in most lighting situations.
Video
The Theta S is capable of shooting full HD videos at a maximum frame rate of 30 fps.
The compression options available are MP4, MPEG-4 and AVC/H.264.
Built-in mic records Ok quality sound.
The internal memory of the camera is a smallish 8 GB. At the most you can record a maximum clip length of 25 minutes or 4GB of recording at a time.
A total of 65 mins of full HD resolution video can be recorded using the internal memory.
Or if you shoot only stills, you can record something around 1,600 full resolution stills.
The main disadvantage of the memory specifications is that it is fixed. You cannot add an external memory card and extend the capacity. That is a turn-off. This means you cannot hope to shoot for an extended period with this camera.
Sharing videos on social media is always a two-step process. You have to first encode the video using software that is available for Windows as well as Mac.
Direct uploading to YouTube won't work. Alternatively, you can upload to theta360.com. The problem with the second option is that you can't upload more than 10 seconds of the video.
Still shooting
Still shooting is pretty much automated too. But you do have the option to change a few things around. One of them being the exposure adjustment. You can dial in the exposure from -2 EV to +2 EV. In the priority modes, there is the option to change the shutter speed.
You can change it from 1/8th all the way to 1/6400 sec. There is an ISO mode as well. ISO can be adjusted from 100 all the way to 1600. Apart from these, there is a manual mode too. Manual mode allows you to change all of these settings at the same time. Despite being a tiny camera, the Theta S comes with 11 white balance presets as well.
Connectivity
Built-in Wi-Fi allows you to control your camera, start and stop recording and do a few other things by connecting your camera to your mobile device. You can check your composition via the live-view option as well as share your videos and stills seamlessly without any issues over the wireless connection.
The spherical images are easily shared on the Theta 360 website and then shared on social media. You can share the spherical images on Google maps as well which is where most people tend to share along with their review of a place. This helps others desirous of visiting the place to learn about it and get a feel for it.
Theta S is compatible with Google's full suite of street view services. This is done via the Open Spherical Camera API. This app allows you to publish your photos on Google Street View.
Related Post: Best Cameras for YouTube Videos
Battery
The Theta S's integrated lithium-ion battery can give approximately 260 shots per full charge. The battery is easily chargeable via an included USB cable.
Live Streaming
The Theta S is live streaming capable. Thanks to the HDMI and the Micro-USB ports that the camera comes with. Live streaming is possible at a frame rate of 30p full HD. You can also choose 720p 30 fps and 720p 15 fps or the 480p 30 fps.
Conclusion: Does it Make Sense Buying?
Very simply the Ricoh Theta S is a low budget entry level spherical camera that gives you decent picture quality for both videos and stills.
At the time when the Theta S was launched, there were not many options for shooting spherical videos and stills and certainly not using twin cameras and at this price point. Things are slightly different now.
There are a few options in this price point. And certainly, there are quite a few options at higher prices.
Indeed, the Theta S should be appreciated for what it is – an entry level spherical camera that introduces you to an entirely different perspective to what you have been accustomed to shooting.
Theta S vs the Newer Theta V
For about $100 extra, you get the 4K recording/30 fps newer version of the Theta: the Ricoh Theta V 360 Spherical Camera.
Ricoh Theta V 4k 360 Spherical Camera
Theta V shoots hi-def smooth 360 Degree video at 30 fps @ 3840 x 1920 pixels or 4K. It supports the H.264 file format for...
Hi-res 360 Degree spherical stills & video with improvements to the image quality. New Qualcomm Snapdragon processor has...
Theta has a 4-channel microphone that supports 360 Degree spatial audio recording built in Omnidirectional audio is recorded...
The world's-first Remote Playback capable fully spherical camera allows users to wirelessly playback 360 Degree images and...
Wireless LAN transfer speed (WLAN, MAX): 2.4GHz, 3mm: 20Mbps; 2.4GHz, 10mm: 10Mbps; 5GHz, 3mm: 50Mbps; 5GHz, 10mm: 10Mbps....
However, the reviews especially regarding the picture quality and software of the Theta V 360, haven't been that positive; hence we recommend the Theta S model if you just want to get started with 360-degree recordings).
Theta S: Best for Entry Level 360˚ Video Recording
What the Theta S does is it gives you an entry into the world of spherical videography and photography.
Sure, it is not the best camera for these purposes, but it gets you started. And in that sense, the Ricoh Theta S is a decent buy.
---
As an Amazon Associate we earn from qualifying purchases. Certain content that appears on PhotoWorkout.com comes from Amazon. This content is provided 'as is' and is subject to change or removal at any time.